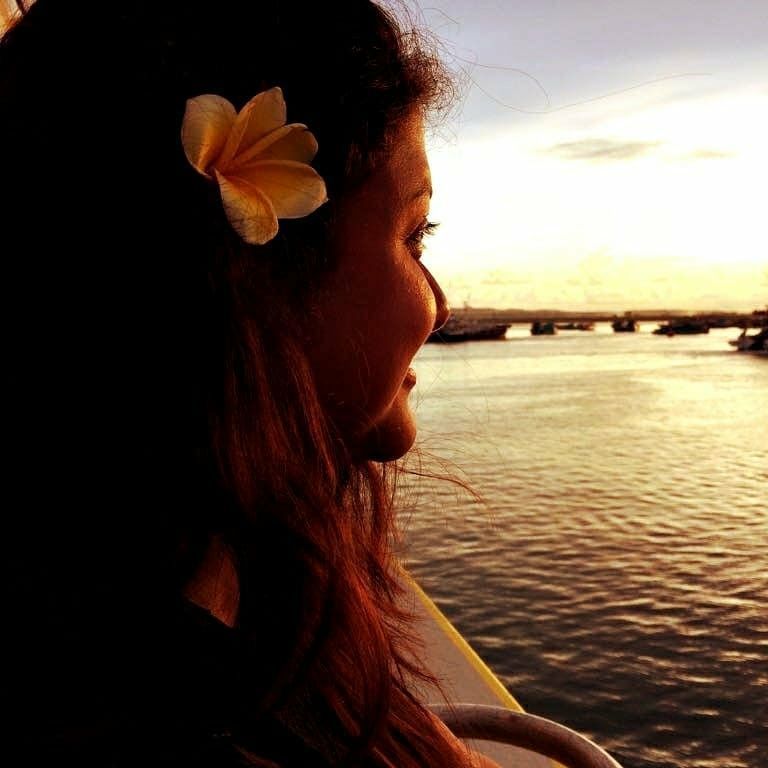 Why to Visit Bali?

This small slice of earth adorned with golden beaches and centuries old temples may seem like a perfectly happy country. But behind this veil of a sun kissed smiling face lies a cold, foggy economical crisis. The fragile, unstable Indonesian economy has made Bali one of the most popular shoestring budget destinations on world atlas. This place is almost like second home for European and Australian tourists in sultry summer. The exotic picturesque coastline kissed by blue crashing waves, volcanic peaks waiting to be climbed, endless green stretch of rice paddies, spiritually awakened ancient temples and perfect blend of modernism and traditionalism had turned Bali a fancy place for vacationing.
How to get Bali: There are several airlines that connect Bali from India. We flew with Thai Airways from Kolkata through transit in Thailand.
The Visa: Travellers from India don't need any Visa to enter Indonesia for visit up to a month. Hence, you can easily get a 30-days Visa on arrival at The Denpasar International Airport.
Trip Duration: A week is a good enough time to visit Bali in a touch-and-go way. But I met many tourists from Europe and Australia who spent more than a month to explore every nook and corner of this island. So it's entirely up to you how do you want to travel. There's a lot of places we haven't visited due to the satanic time constraint. But it was our first time visit in Bali and we would keep our fingers crossed for next trip to strike off our Indonesian bucket list thoroughly.
The Pocket:As mentioned earlier, the only challenge Indonesia is currently fighting with is a broken, unstable economy. 1 INR is approximately equivalent to 214 Indonesian rupees (IDR). So when you're in Indonesia, be prepared to walk, talk, eat and sleep in lakhs. I would recommend to carry IDR and not US dollars. The local shops, restaurants and public transport mainly deal with IDR. Even if you pay in USD, they give change in IDR. So it would be wise to avoid exchange charges every time. Whether you're a rough & tough backpacker or a tourist with leisurely vibes, Bali has all sorts of accommodation to offer you. From a low budget dorm to sophisticated private water villa, you can keep your choice broad. We stayed in four star Bintang Kuta hotel and got quite cheap price.
So if want to be a tourist and not a traveler in Bali it would cost around INR 55K-60K/ person.
Taste Buds:When it comes to food, you can satiate your taste buds and indulge in food venture without making a hole in your pocket. Indonesian food is one of the vibrant and colourful cuisines in the world with intense flavour. Over the ages, many races from different parts of world like Indian, Chinese, Arabian, Portuguese, English and Dutch have left their unique marks on Indonesian cuisine. Never ever miss to try 'Nasi Goreng'- a typical Indonesian meal including fragrant stir fried rice served with chicken, prawn, omlette and green salad.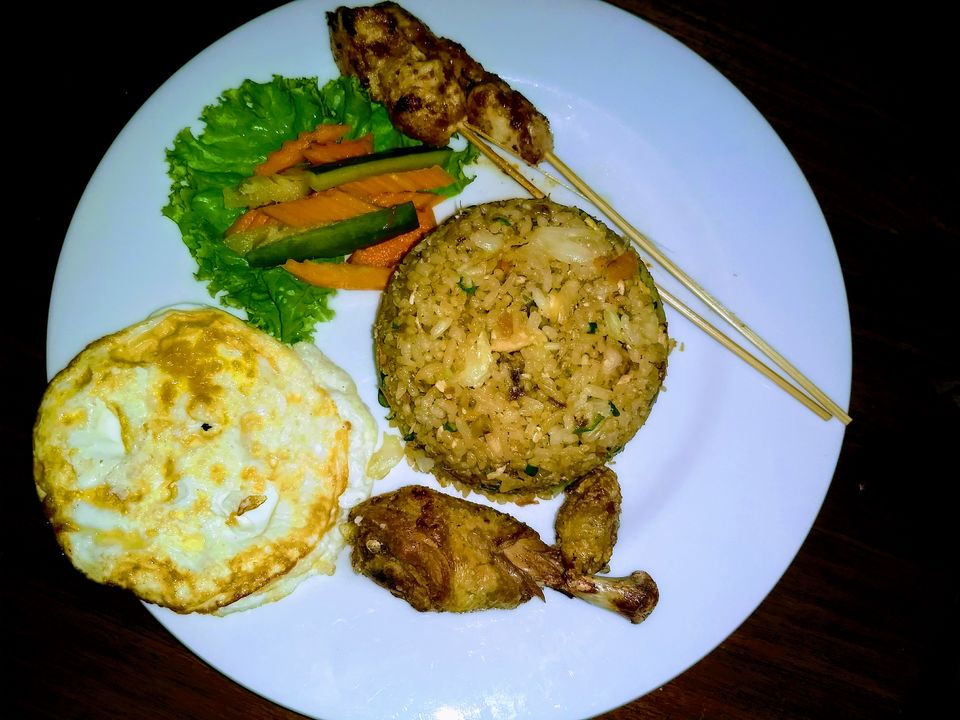 Credit: Saheli Bera

Another popular dish is 'Babi Pangang'- grilled pork cooked with fresh herbs and spices. Almost around every corner of Bali you would find restaurants, cafeteria and thousands of hawkers selling street foods on their carts (known as warungs). If you are a foodie and a spice lover, Bali has so much to offer to enrich your Gastronomical journey.
Bintang Beer is an award winning brand of beer from Indonesia and is absolutely loved by the tourists from all over the world. While soaking in sun by the beach/pool, buy a bottle of Bintang. It's cheap.
Mark the Calendar: Almost everyone suggests the summer (April-June) or the winter (December-January) is perfect time to visit Bali. However, I would suggest target March for a Balinese vacation. During Christmas and New Year it remains overcrowded with European and American tourists. In summer Australian tourists starts flocking towards this island. If you don't want to ruin your trip by crowd, schedule your trip in March. It remains quiet and almost dry. Prices also go down this time. You may get murmuring of soft rain sometime, but mostly the sky shines bright after fifteen to twenty minutes.

The People: The first thing we noticed was the charm and mystical smile of Indonesian people. Almost everyone did welcome us with their heart melting smile and warm polite gesture. One thing I learned from Balinese people, how to ignore every cotton-picking thing happening in this universe and rise above that. Indonesia is a flawed country. It's going through many economical, social and political crisis. But those amazing people have depicted the picture of Bali with an impression of happy smiling face. There are lot of tribes and ethnicities. But the foundation of Indonesia is established on their magical unifying power. They not only love the differences but beautifully embrace them. As it's a popular vacation destination, most Balinese people are friendly and outgoing by nature and can speak English. Our tour guide Mr. Reditha was a wonderful person with an amazing sense of humour. He answered the tiniest query we made about Indonesian people, culture, food and tradition. His contact number is +6281936227839. He is active on WhatsApp 24x7 and would be glad to assist you any time if you go on a trip to Bali. As an Indian, I felt they carry certain knowingness about Indian people and Indian culture. They love Bollywood music and almost everyone knows who Shah Rukh Khan is.
Breathe the spiritual air: Bali is famed as 'The Land of Gods'. It is home to some of most beautiful, sacred and ancient temples in world. Unlike most of the Indonesian people who believe in Islam, Balinese people practice Hinduism. Initially we confused the local homes as temple, as they have typical shrine like architecture everywhere. Most of the streets and squares are decorated with massive statues of Hindu Gods and other mythological characters/events. When it comes to rituals and religious practices, Bali and India has a lot of common things to share. Every morning they start a day with puja and prayer. The ladies wash their front yard, lit candles and pluck frangipani flowers to offer in puja. After dusk almost everywhere in temples, at market places, in the populous streets and quiet backstreets, at hotel lobby and restaurant they play Vedic Hindu chant to spread positive energy in air. The sacred sound of chants, fragrant flowers, incense of candles is intoxicating enough to attract huge foreign arrivals from decades.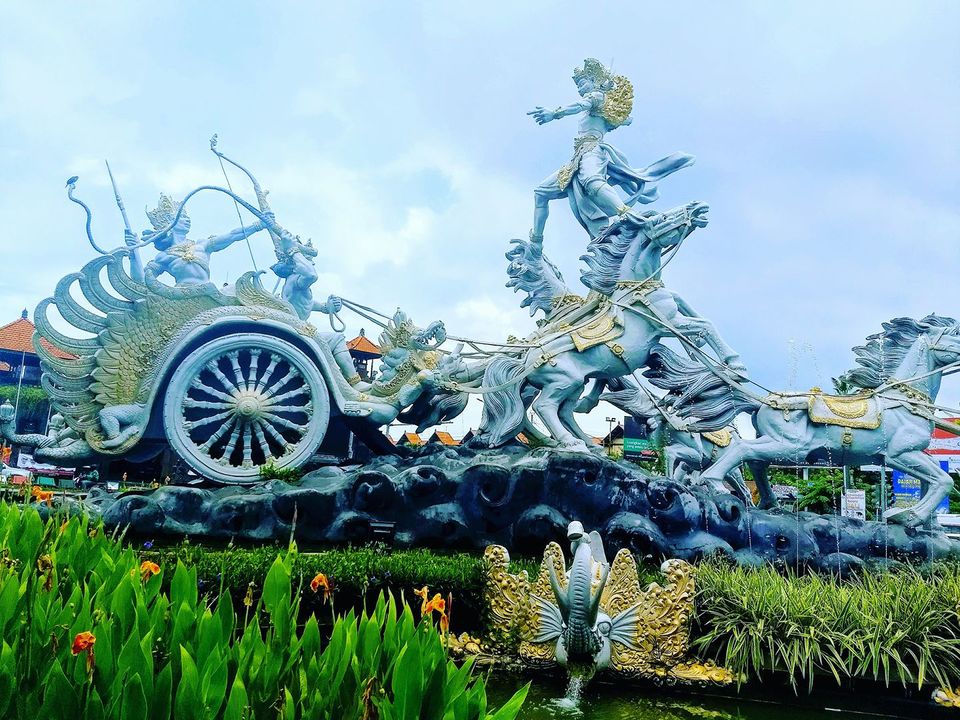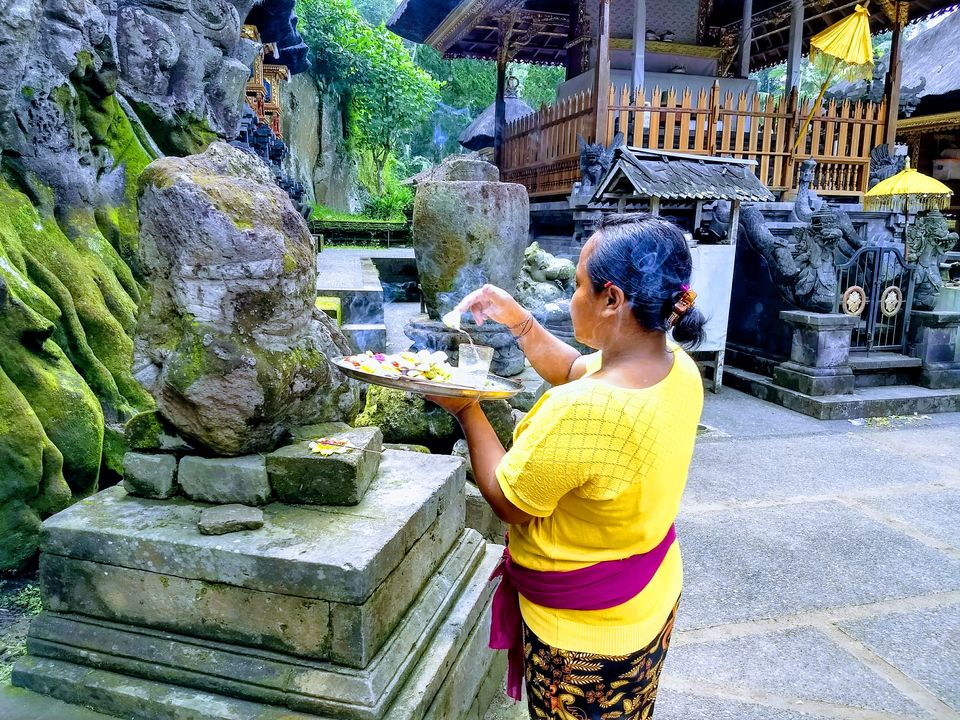 Credit: Saheli Bera
Places to visit in Bali:

Goa Gajah Temple: Just six Kms. away from central Ubud, this cave is nestled in thick forested hills. It is a famous archeological site with great historical importance. The centuries old rock carving is still unspoiled and maintained to its original glory. Inside the narrow, dark cave there are three Lingams dedicated to Lord Brahma, Vishnu and Maheshwar. Outside the cave lies a pool featuring statues of six Hindu angels holding vases, flowing out small fountains and making pool at the bottom.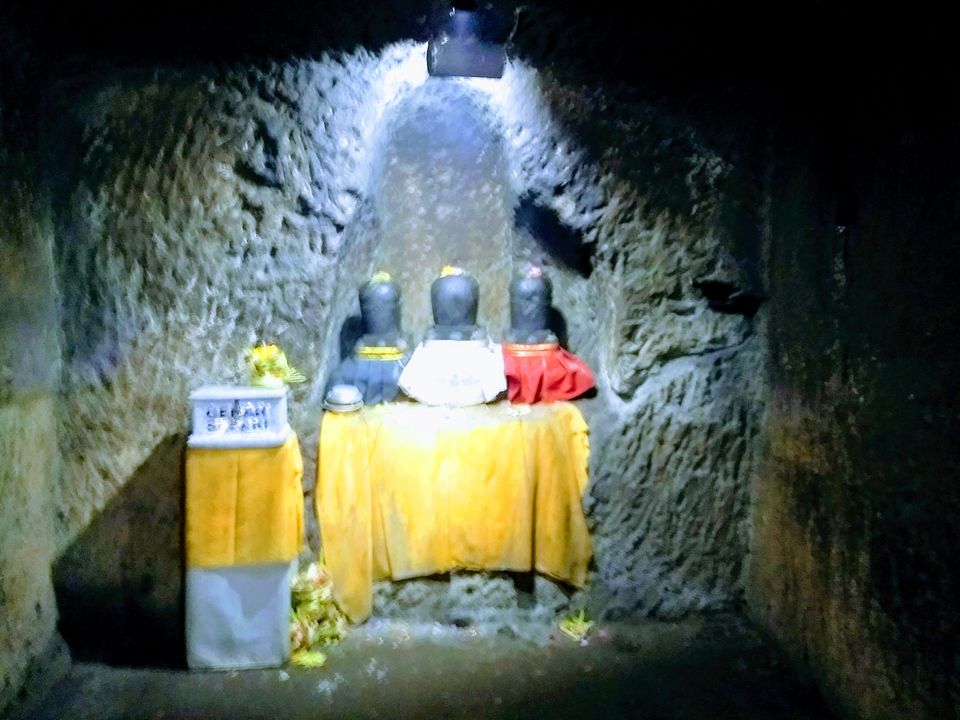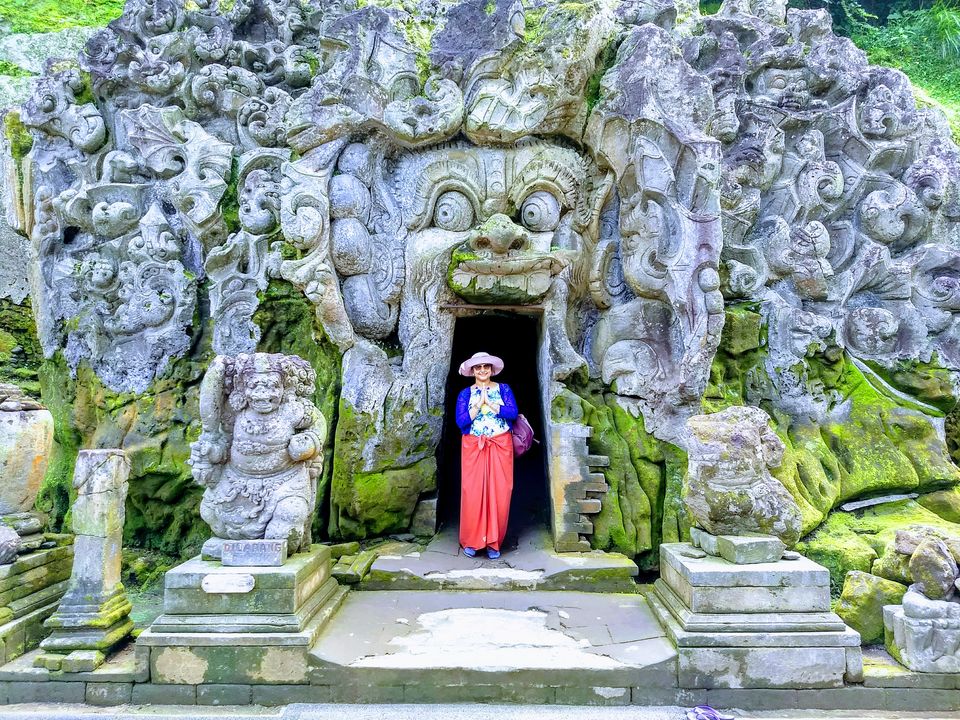 Credit: Saheli Bera
Uluwatu Temple: This temple is perched on one end of a semi-circular cliff. The nature offered us an unmatched joy over here. We walked through dense green forest on one side and turquoise blue waves crashing and foaming against the cliff on other side. It evoked like an oil painting on a canvas. The naughty Balinese monkeys however interrupted our state of awe. You need to be carful or else your camera or mobile phone may vanish into forest forever. In the afternoon you can visit kecak dance by local Balinese performers.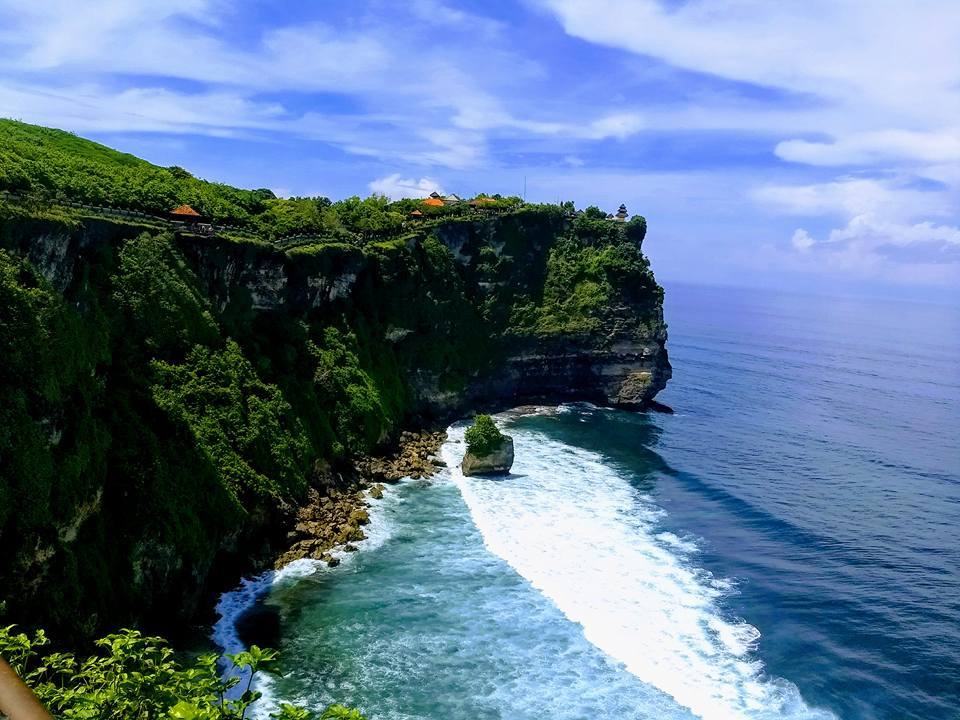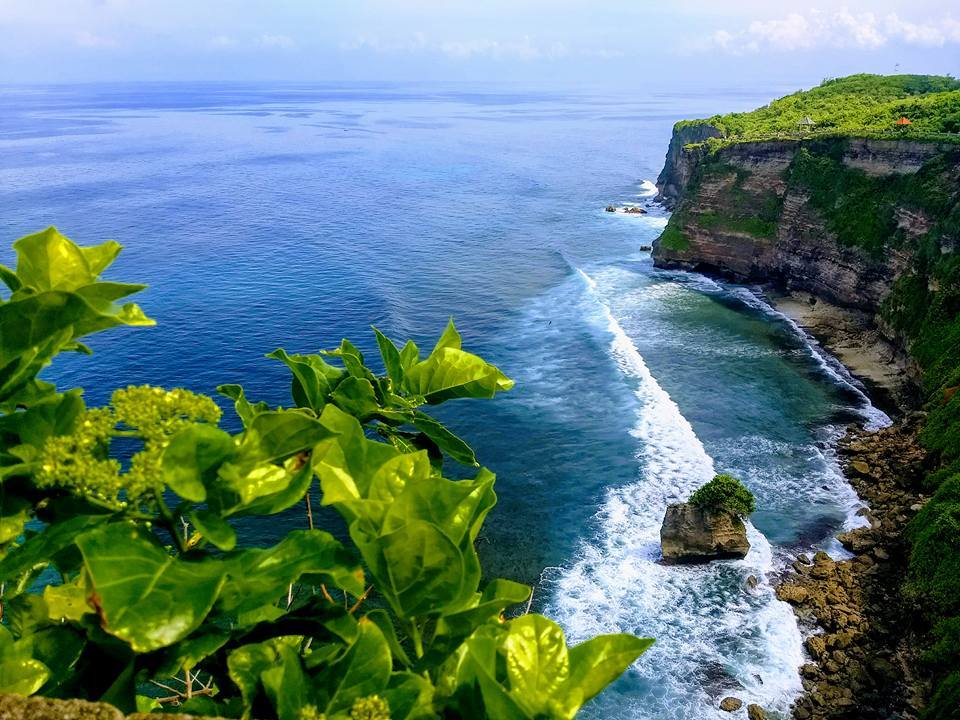 Ubud Village: The village of Ubud is the centre of traditional Balinese crafts and dance. This tiny village dotted with beautiful temples carries a unique picture of Bali. The road is flanked by endless stretches of green rice paddies with local farmers busy with planting and harvesting their corps. The skilled Balinese artists devote a glorious amount of time in making stunning artwork in the roadside shops. Our vehicle passed through many narrow lanes and by-lanes. Amidst the rows of Frangipani and other anonymous trees, distant chirping of birds, hollering children tapping the car window, we found a true essence of rural Indonesia. In this tour we visited a local gems & jewellery shop and a handicraft shop.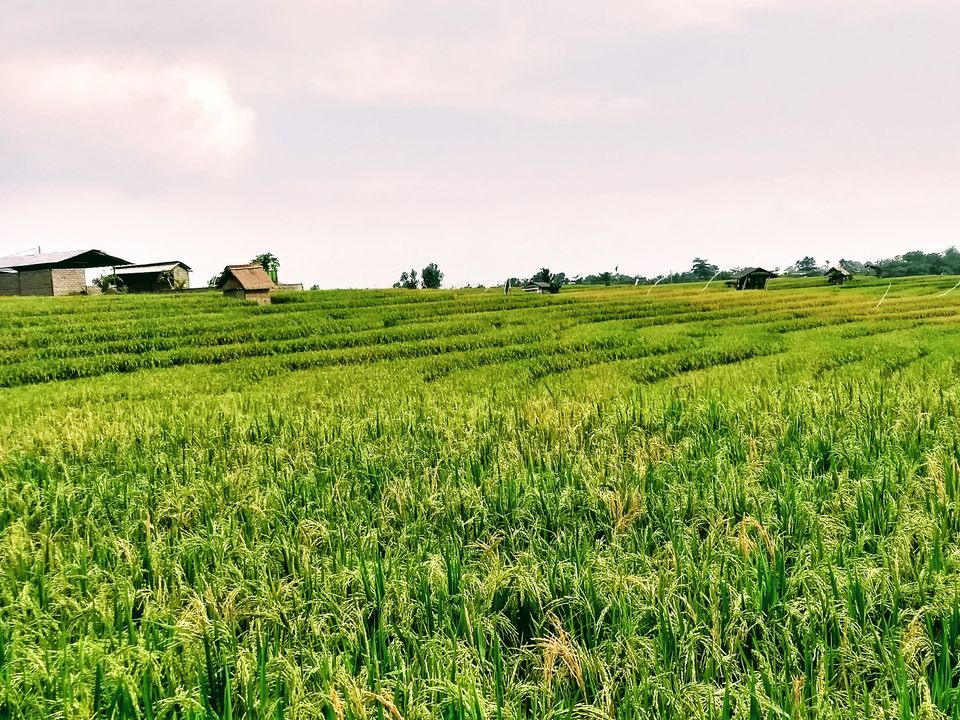 Credit: Saheli Bera
Tanah Lot Temple:
The contineously breaking waves of Indian Ocean have intensified the beauty of this ancient Hindu temple by many folds. The unique off-shore setting with mystical sunset in the backdrop have undoubtedly made this destination among not-to-be-missed places in Bali.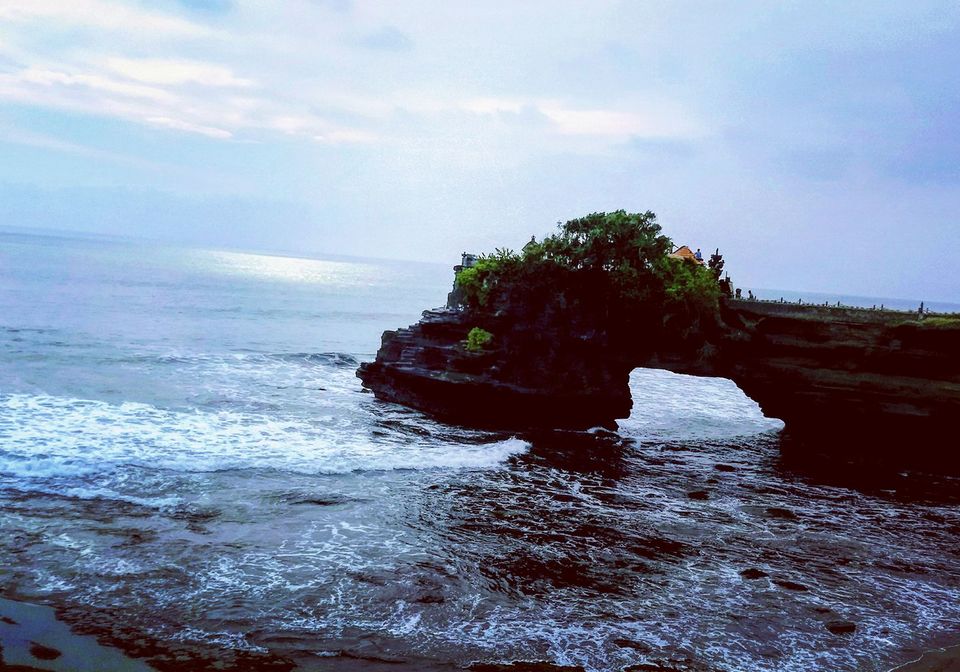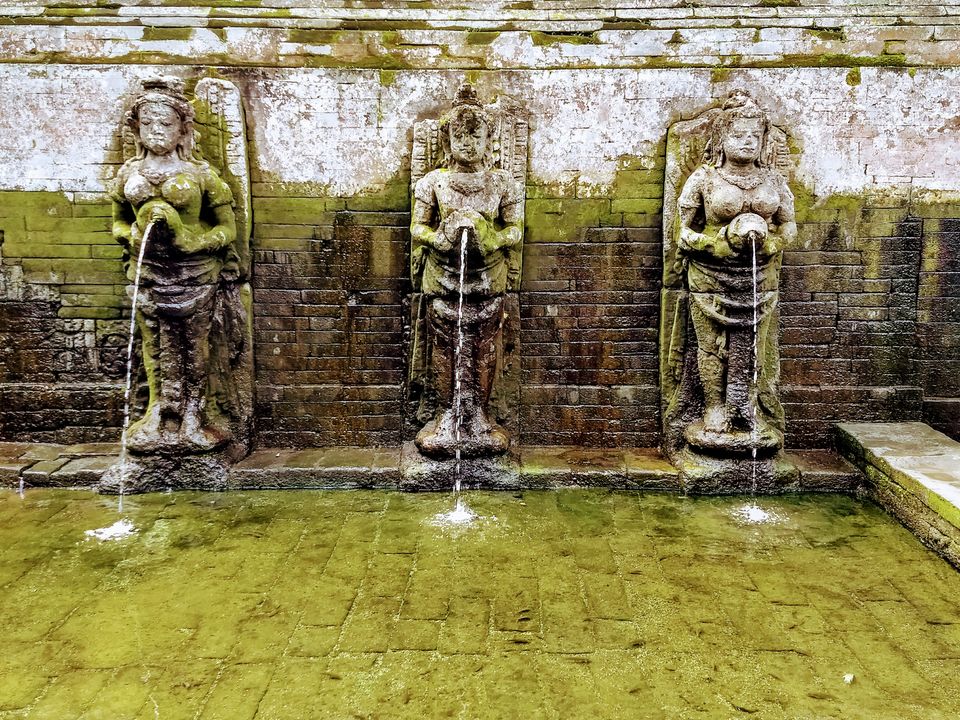 Credit: Saheli Bera
Feel that Adrenaline Rush under water: If you are in Bali and don't let your adventurous self soar high, probably it is the most pathetic injustice you would do to yourself. Bali is a perfect place for enjoying all kind of water sports. We went to Tanjung Benoa beach and did sea walking for the first time. We walked through a huge school of colourful fishes swimming around us and fed them under the vast blue ocean. That tickling of butterflies in stomach gave us endless thrill and excitement. Chasing the unknown outcome, the uncertainty, the deep rooted fear do help us to grow to a great extent. We paid 95 USD for this activity and 35 USD for making underwater photos and videos. Though we also tried water skiing, flying fish and Banana boat ride but the experience of sea walking was unbeatable one.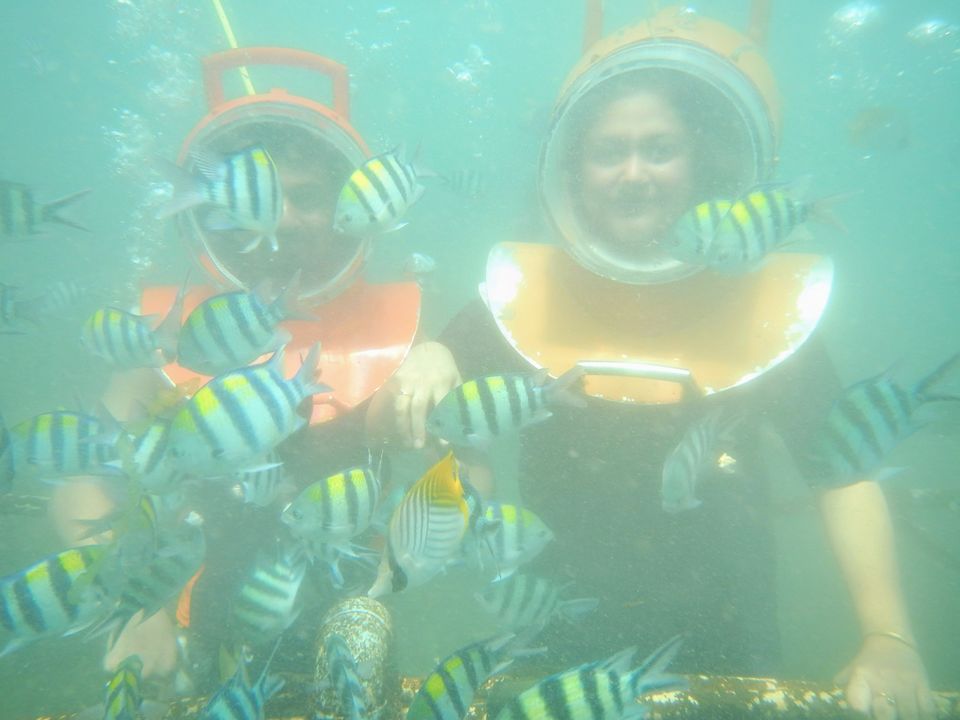 Credit: Saheli Bera
Hike the Volcano in Kintamani:
If you are or aren't a hardcore hiker, go for Mt.Batur hike. It's a moderately difficult one. This is not just an ordinary mountain but an active volcano. The hiking starts early in the morning around 3 am- 4 am. We passed by the calm and silent Batur Lake nestled peacefully in the lush green valley. Once we finished all the way spiralling up to the summit, a beautiful jaw-dropping sunrise view was waiting to greet us. As I always say, from the summit we not only get the best view, but discover the best version of ourself. The victory of strength over weakness always gives us immense joy and confidence. In the afternoon, we took lunch in a local restaurant at Kintamani, overlooking the post card perfect view of Mount Batur adorned with feathery clouds floating around the blue sky.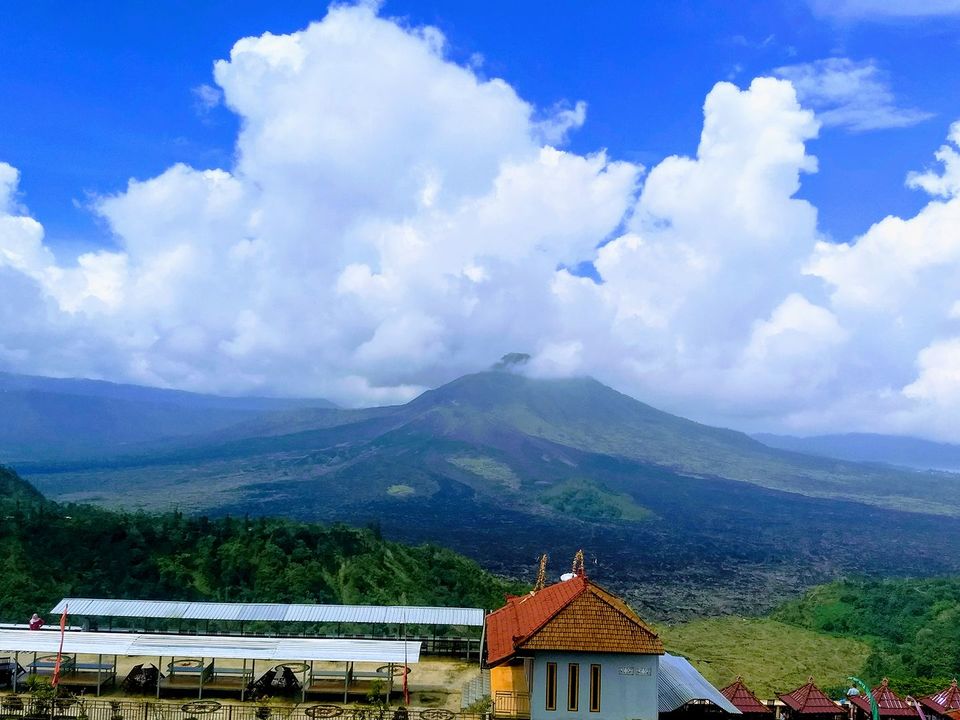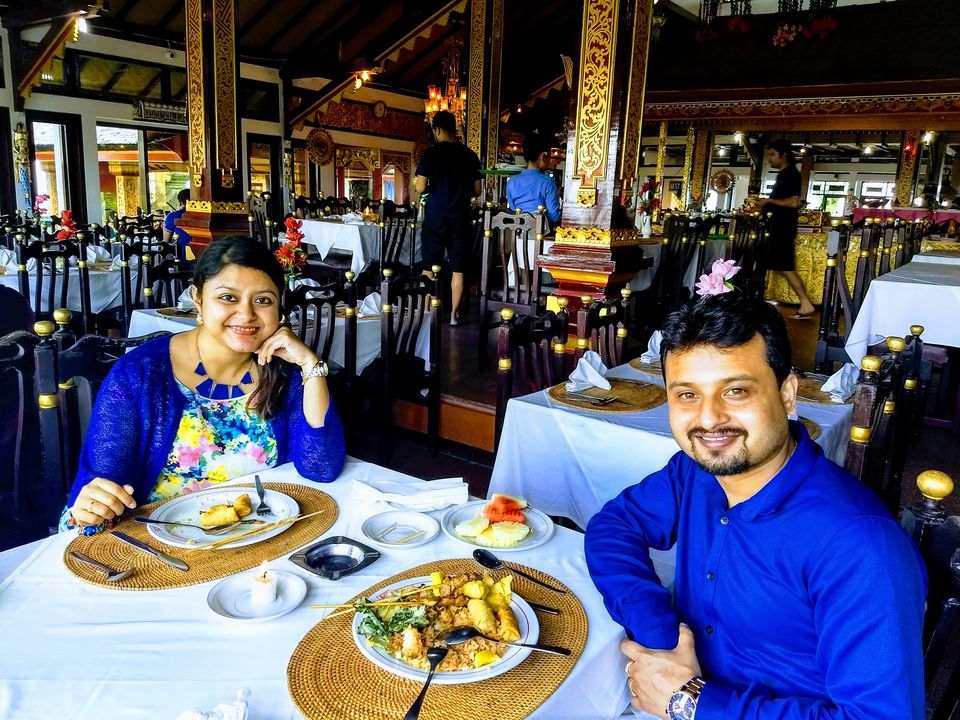 Coffee Plantation tour/ The strange Luwak Coffee:
An escorted tour through coffee plantation is another highlight in Bali tour. Balinese coffee is among the world's best and most expensive coffee. The tour guides not only speak fluent English but also broken Hindi with Indian tourists. They elaborated the coffee making process while strolling through the coffee garden. Upon visiting this farm they offered us a free trial of twelve different flavours of coffee/tea. However, the Luwak coffee from Bali stands out from a crowd of other normal coffee. It is produced from the coffee beens digested by 'Luwak' (civet cat). The beens are collected from Luwak dropping and is processed further. We showed zero intention to taste Luwak coffee though, but it's the most desired coffee brand all over the Bali. You can also buy coffee from the shops of farm. We found the shops to be a little overpriced. We bought Balinese coffee from duty free shop of airport at much cheaper price.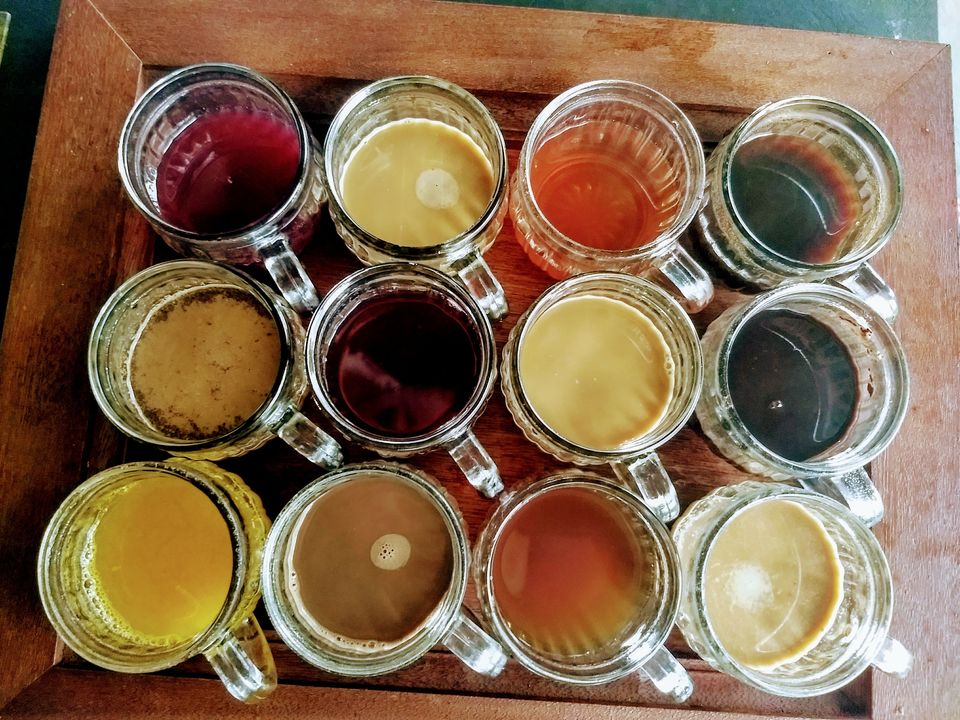 Credit: Saheli Bera
Sunset Cruise Dinner: I have seen fair share sunrise and sunsets across beaches, mountains and lush green forests with a gentle touch of solitude. But this enchanting sunset at Benoa Harbour was exceptional. This place was bursting with immense energy. The tourists ran harum-scarum all over the place purposelessly. Trending English and Hindi songs were playing loud in background. The waves oriented themselves in beautiful patterns. The ships whistled for their hectic departure and arrival along the harbour. But when the sun was just a moment away from sinking down the horizon, the infinite cloud-laden skyline started changing its shade from red to orange to pink. I personally detest the idea of watching sunset or sunrise spoiled with disturbance and chaos. But the pink-orange hue silenced all fussy noise around me and enveloped my mind with calmness. In this four hour cruise trip the tourists enjoyed live music, magic show and international buffet dinner. However, the sunset was the only thing I loved about this trip. Afterward, I was just fighting to manage an isolated corner in cruise to enjoy the splashing sound of waves and cool ocean breeze but couldn't find any. If you feel claustrophobic in crowd and prefer solitude over all nigh party and disco (like me) then don't go for this cruise dinner.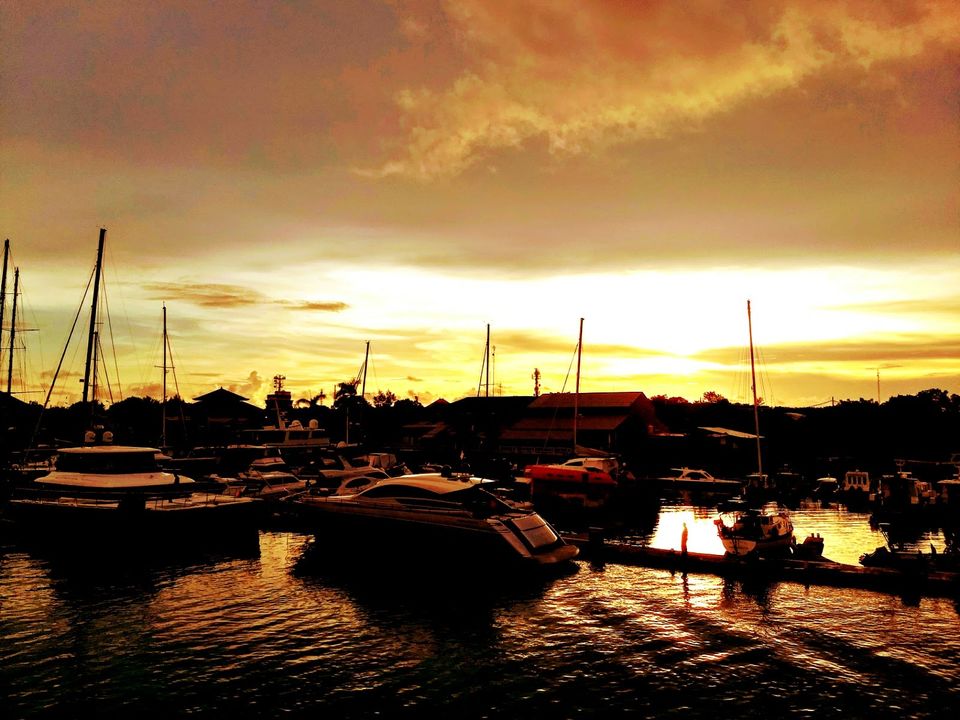 Credit: Saheli Bera
Due to extreme shortage of time we had to choose Bali over Paris or Switzerland for our honeymoon. But when we came back from this trip, we found, while lazing around the beach, hiking the volcano, experiencing that adrenaline rush under water and enjoying the breathtaking view our togetherness had strenghthened even more. Bali is place that gets under your skin in a moment but would refuse to leave your mind forever.
Frequent searches leading to this page:-
top Bali tour packages with price, Bali honeymoon package from Delhi India, top places to visit in Bali for honeymoon, best places to visit in Bali for honeymoon, best places to visit in Bali Indonesia for honeymoon, best places to visit in Bali for bachelors, best places to visit in Bali for singles