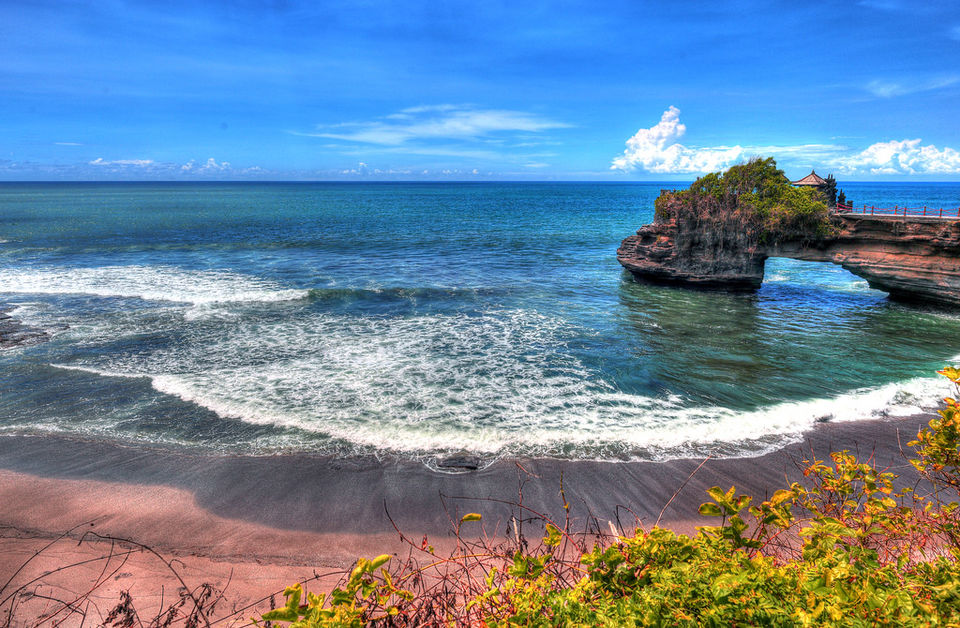 If you're of the impression that beach-hopping is the only thing to do in Bali, you're mistaken. This gorgeous country has so much more to offer than picturesque views of the sea alone. In fact, there are very few places in the world that can compare to Bali's magnificence; the waves are majestic, the sunsets dreamlike and the night sky crystal clear. And if all of that wasn't enough, it is a haven for lovers of art and culture.
It doesn't matter if you're going there for the first time or are a regular visitor, unless you've tried your hand at these 11 not-so-usual activities, you have missed out on the true Bali experience.
1. Explore life underground: Gala-Gala and Uluwatu Beach
Bali is known for its serene beaches, exotic wildlife and intricately carved temples, but if you've not been to these two places, you have truly missed something amazing. The first one, Goa Gala-Gala is a unique underground house located in Nusa Lembongan that was hand-dug with a chisel by a 70-year-old local. It took him 15 years to complete. It is like a fully functional house above the ground with its bedrooms, kitchen and even a sitting area.
The second place is a natural marvel — a whole cave below the beach. The Uluwatu Beach is a popular spot with surfers, who usually use the cave underneath as a resting spot between their surfs. There's a temple above it, which is also a popular tourist destination.
2. Try the Luwak Coffee
Bali is extremely famous for its cycling tours, which usually include a kopi luwak coffee tasting session in the morning. Make sure to check with your tour provider before you head out. Kopi luwak or "cat-poo-ccino", as jokingly called by locals, is coffee brewed from seeds that have been eaten and excreted by Asian palm civet cats. Just try not to think of the fact that the stuff you're drinking is brewed from cat poop. After all it is an international delicacy!
3. Watch the Kecak Fire Dance
A massive performance that lasts for well over an hour, the Kecak fire dance is intriguing and intimidating at the same time. It is accompanied by a large male-only choir, singing, swaying, standing up or lying down as the fire dance goes on and the story develops. The dance is performed at various locations across Bali, so you can choose the area depending on where you are staying. However, it is a nightly affair and Uluwatu is one of the most popular destinations to witness it.
4. Visit a traditional healer
Everyone goes to the spa in Bali. What everyone doesn't do, is take the unconventional route and instead go to a balian (a traditional Balinese healer). Where else can you improve your health through ancient medicinal practices?
Most hotels have recommendations for local balians. A consultation usually reveals your underlying health problems, after which you get suggestions for balancing and purifying your body. These might include holy baths, meditation, massages, and even body painting.
The famous balian Ketut Liyer, who was mentioned in the Hollywood movie Eat, Pray, Love, can be found in Ubud. He sees only 25 patients a day and charges a higher consultation fee than most other balians.
5. Learn to ride the waves
Surfing is one of the most popular tourist activities in Bali. Different schools offer hour-long lessons for tourists who want to try their hand at the adventure sport. The condition of waves — strong but not too wild — at most of the beaches in Bali, make it an ideal destination for novice surfers. Odyssey's Surf School is amongst one of the most popular places to learn
6. If you're a partygoer, make sure not to miss the Sky Garden
This is one of Bali's most popular party destinations. It has been named the number one clubbing location in the state and houses eight pubs and clubs under its roof. If you're looking to scream your lungs out and dance the night away, this is the place for you. And for when you're looking for a little break from all the madness, you can head to the rooftop for some respite.
7. Visit Waterbom
Waterbom is a must-go for any traveller who is a theme-park fan. From extreme water slides to gentle rides, it is a fun place to spend a day out with family, both, for the young and old. It is in fact one of Asia's best theme parks till date and has a particularly interesting ride called 'The Climax'—a slide with a trapdoor that plunges you at least four stories down into a pool—a must try for water-slide lovers.
8. Witness the Devdan show
This theatrical tribute to Indonesia is a one-of-a-kind show that will have you spellbound from the get go. Partly designed by the stage and artistic directors of Cirque du Soleil, this dance brings modern and traditional elements together in a 90-minute-long performance. Everything from colourful kites, to dancing troupes and dragon props appear on stage to create a visual delight. The show is performed four times a week at the Bali Nusa Dua Theatre. The tickets can be booked online beforehand at www.devdanshow.com
9. Come face to face with the dead
If you're not easily spooked by ghost stories, try testing your courage by visiting Bali's very own island of the dead—Trunyan Island. People here don't bury or cremate the dead, they just let the dead bodies be. If you make a trip here, you'll find skeletons (some even hundreds of years old) staring you in the face. Interestingly, despite such methods of disposing off the dead, the place never reeks. The reason for this is the perfumed scent from a Taru Menyan tree that masks the smell perfectly.
10. Try flyboarding at Nusa Dua
Flyboarding has become quite the rage on the internet with new viral videos showing up on our feeds everyday. Now you can try this extreme sport in Bali itself. In flyboarding, you wear boots connected to a board which is connected to a water hose and you can be propelled to as high as 15 metres Tanjung Benoa Beach is the place to try it.
11. Ride a submarine
If you want to explore the underwater world but are not up for snorkelling or scuba diving, try getting into a submarine for a change. What was a pipe dream for normal folks up until a few years ago, has been made a reality in Bali. Tourists can now go under the sea up to depths of about 150 feet in an air conditioned submarine that can take as many as 36 people in one ride. One trip, which starts from Amuk Bay, usually lasts about 45 minutes and lets you experience the best of the underwater diversity.
Tried your hand at one of these activities? Share your experiences with the community.