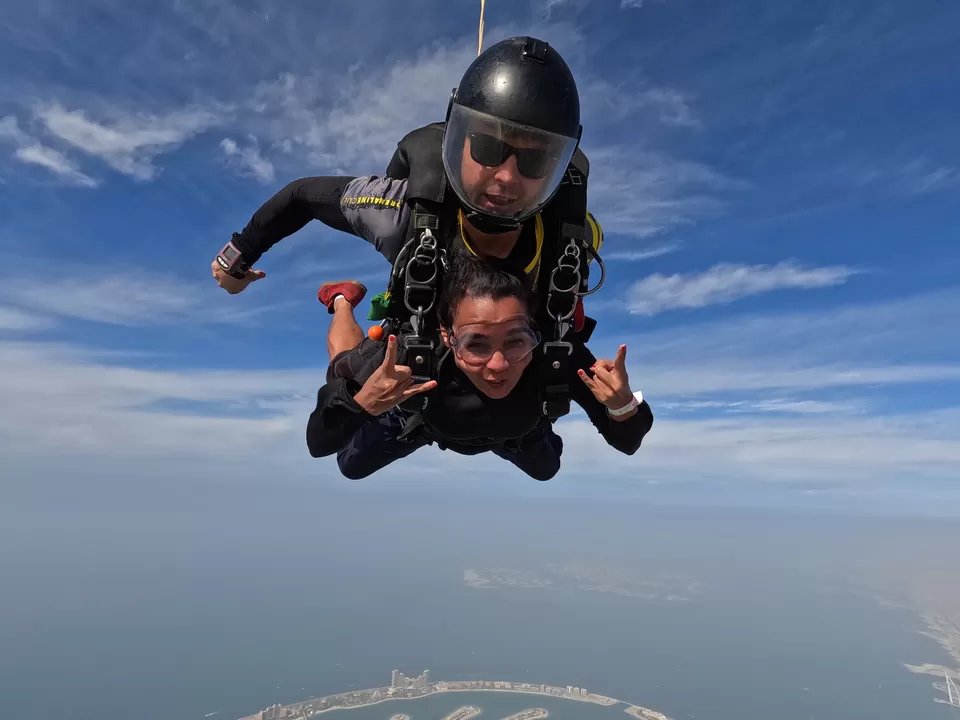 Five years back, I was very much fascinated with an idea of collecting stamps on my passport. Time was different and I was more of a rookie traveler and I was still discovering my travel style or I can say choices. Travel is solitude for me. When I visit places, I focus on the history behind monuments, cultures and people. All these things enrapture me. These were my choices of travel and I have always felt peaceful exploring that.
Then I met my now husband, we are very different people and that difference also gets reflected in our choice of travel. He had a different perspective on travel which he still has and that perspective is adventure travel. When we were discussing it for the first time, I was surprised because I was always interested but I never tried to explore that. With his companionship, I am also trying Adrenaline pumping activities and I must say it's something that I never knew I wanted to explore, but I needed to.
We have been together for four years, to this day we have been on the roads of a lot of cities not just exploring their culture or food or history but also experiencing the thrill they can offer.
Today, we enjoy each other's choices and I think for that we have each other to credit for. This is an advantage of having different kind of personalities, you get to learn from each other and evolve into better human being.
Luxury travel is hardly our choice and that's for both of us. We both love backpacking trips and treks as well. We enjoy budgeted trips. And I guess that makes us traveler.
On that note, I would like to put more light on the 'Sky Diving' trip we have taken to Dubai for our fourth Anniversary. Last year we decided to sky dive for our fourth. We explored some options around Pune and at the same time my husband found information on 'Skydive Dubai'. Dubai is not a city we anyway aspired to go anytime in the last few years. Reason being we prefer green mountains and we are more of a trek people than shop people.
But when we read about the 'palm drop zone' and saw pictures of palm island view, we were haunted by an idea to skydive over the same. Dubai's 'Skydive Dubai' is amongst world's top skydiving companies and palm drop-zone is one of the most spectacular views that you get via skydive.
And, then we took a call to take this trip and crossed this off our bucket list. I can proudly say that we are starting out 2023 with a thrilling drop at Palm drop zone and soaked the view and experience the thrill of 13000 feet.
Trip Information and Booking Procedure.
We did our booking via - SkyDive Dubai
They offer 2 categories
Tandem Skydiving Over the Palm
Tandem Skydiving over the Desert
We did tandem over the palm as I already mentioned, we fell in love with Palm Island View.
You can book via website, they have slots starting from 8 in the morning. You can book way before or on time depending on availability of slots. Once your booking is done, you will get a link in your email to sign a waiver. You can do this before reaching there or if you have not, still no worries they have iPad screens their to do it on the spot too.
I would recommend a morning slot reason being, it involves paragliding and wind is a very important factor for that. On some mornings they have to start very late until wind is favorable to fly. In that case if you have morning slot, you will still have a chance to finish on the same day. If you have afternoon or late afternoon slot, your turn may get pushed to the next day on such occasions. We had a 8:30 am slot, but sky diving was done post afternoon because of wind conditions.
Additional Information
You can not scuba dive or have alcohol 24hours before your dive. There are also some other regulations , they are here - Tandem Requirements
This company had clause that you can get the refund of the whole amount if you were unable to skydive due to the wind and they also had the facility to reschedule the dive within a period of a year if you are unable to make it on the day.
Current cost is AED 2,499. Local currency rate would differ depending on the exchange rate on that day.
The whole diving experience starting from plane would take 20 min. Plane ride will be fun too :P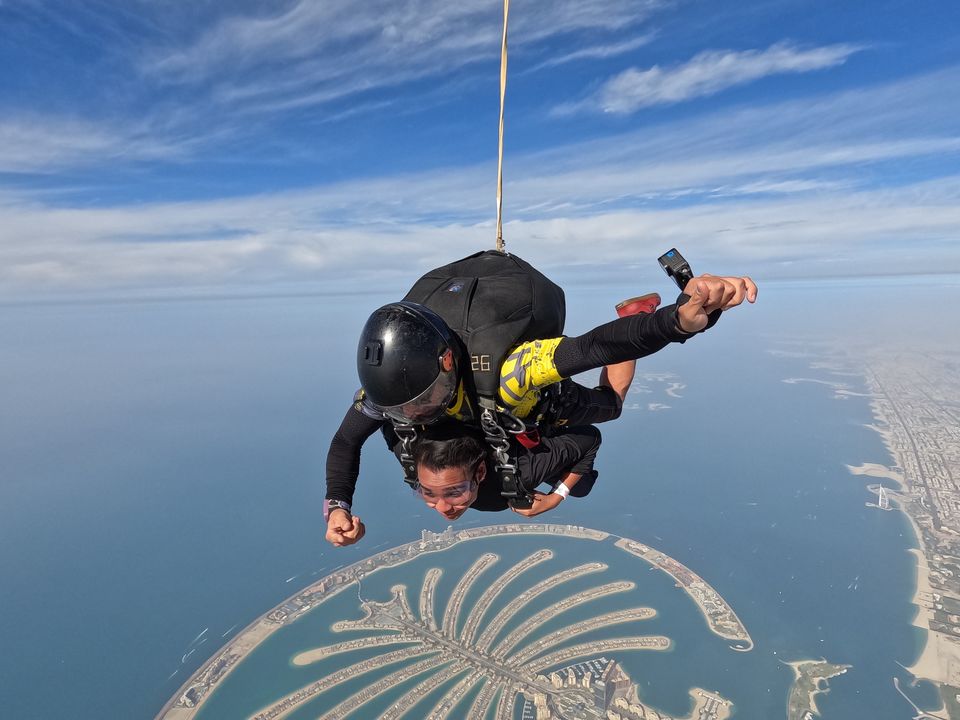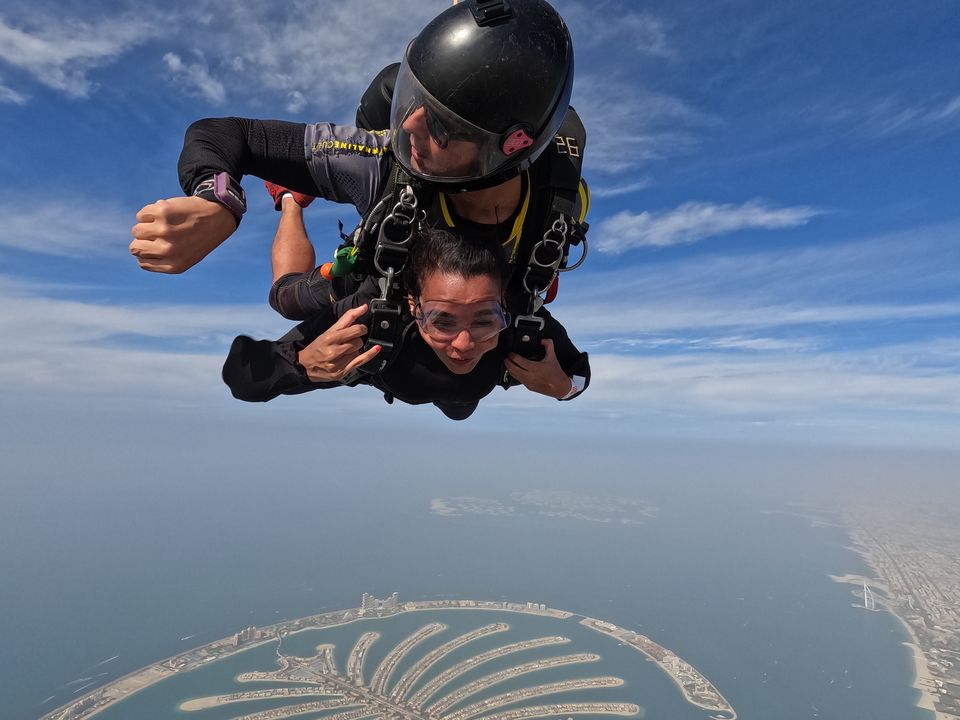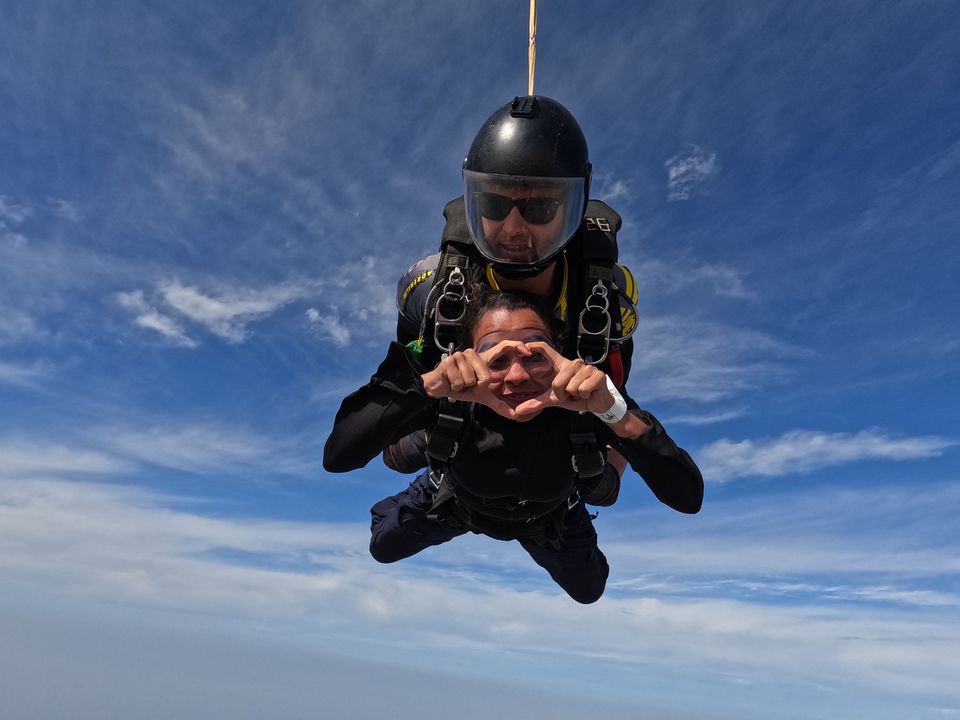 I was going to write words about the view, but I think photos can speak for itself so I am leaving that to pictures.
Sometimes all you need is 60 seconds (freefall) of insane courage and I promise you something great will come of it.