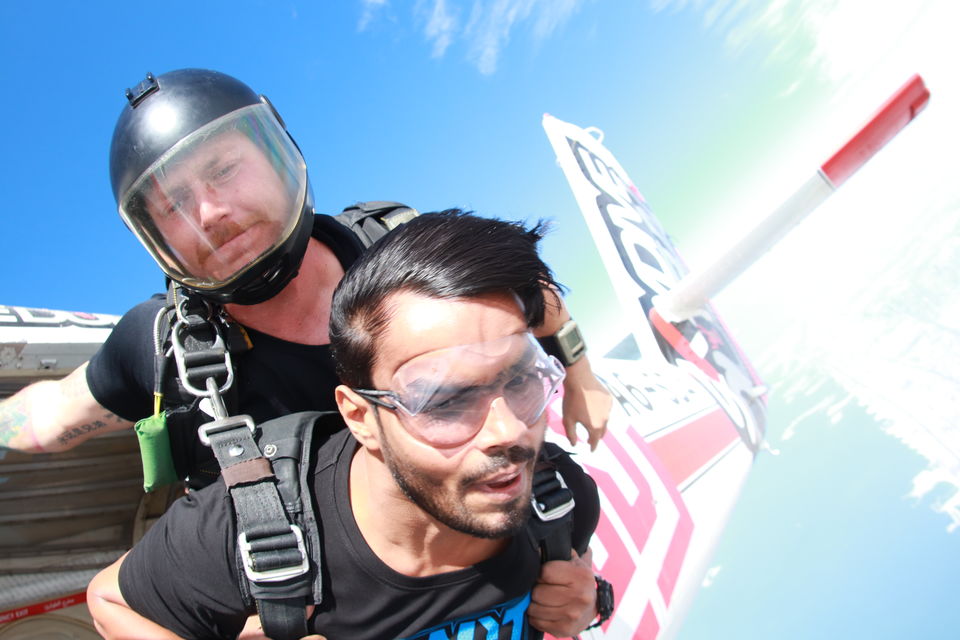 Skydive Dubai is an ultimate experience which you can't miss whenever you are visiting Dubai. Let's talk how much will the Skydiving in Dubai Price in Rupees and how you can book it online.
Skydive Dubai operates out of two locations. The Palm DZ, its premium drop zone is located within the limits of the emirate, while the desert DZ is located about 35 km outside the city.
You can book Skydive Dubai tickets on Headout. Try my coupon code "200JOURNEYS" to get flat 10% on each new booking. This promo code is valid on all activities & adventures in Dubai.

You can also book tickets on Klook or GetYourGuide with some available discounts.
I am always ready for adventure. So, how can I leave a chance to fly in the open sky? And, when in Dubai, the excitement can go beyond the control.
Both, me and my brother planned numerous things to do in this county. Sky Diving was one of the main reasons for Dubai's trip. But, on the day of this event, we both were highly nervous but curios to do this thing as well.
The whole cab journey to the skydive destination was amazing. In a nutshell, we both enjoyed the whole day a lot. This memorable dive in the free and clear sky of Dubai was mesmerizing.
So, I am here to share the whole experience with you. Also, I will share all the crucial information if you also want to enjoy sky diving when you are in Dubai.
We selected the leading skydive service firm in Dubai. Once we entered the premises and did 50% payment of the whole activity, they give us a form. All the visitors must have to fill this form with proper details along with other paper works.
The charges for skydiving in Dubai in rupees are 2200 AED (INR 45,000 Approx.) for a single person and for the desert skydive, you have to pay 1900 AED ( around INR 37,000) . They offer on-sky photography services included in this price.
They allow the users to choose different skydive batches in different time frames. We selected the 11:15 AM batch for ourselves. Also, they were very much concerned about security.
They show every one of us clips in which basic security tips were described. The total height of this skydive was 13000 feet.
Once we were fully equipped with the security gear, we were taken to our planes along with the professional divers. These divers got attached to our security belts placed on our backs and front.
Also read : Burj Khalifa ticket cost in Indian rupees
When the plane reached the required height, we jumped along with our primary divers along with our separated cameraman. I loved the photography services a lot.
They took perfect clips and photographs. The whole data was handed to us in a professional pen drive. I landed safely without any injury but lots of memorable moments. I will suggest everyone have this experience once in your life if you visit Dubai.
I personally did not find the prices of this activity too high if we look at the services and levels of adventure we receive. In this whole Dubai trip, this is the most amazing and memorable day and a thing for me.
It was hugely mesmerizing to see Dubai's palm island from the sky. So, if you are an adventure lover and haven't experienced the sky diving yet, this is a must experiencing thing for you in Dubai.
You can see my YouTube video base on this complete skydive experience. To get the real time experience of this SkyDive Dubai you must watch the following Vlog.
For the whole Itinerary and other things that you can do in Dubai kindly this playlist on YouTube.
JUST DO IT !!!