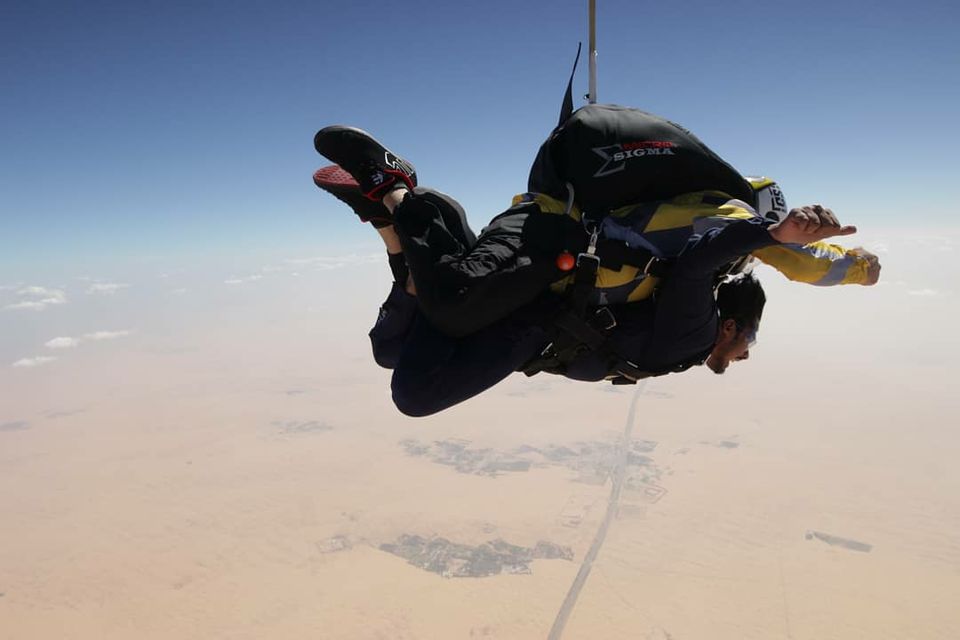 It all started with planning a trip, the couple plan, don't we all do it? The heart desires a scenic location and to be with the love of your life. So you begin to watch your bills, start saving and you spend all your free hours planning the trip. You get it all organized and are so happy getting your tickets and bookings confirmed. But alas, as the story goes the other half of the couple stops talking suddenly and realizes that it wouldn't be possible to go on the planned getaway.

Sounds cliché right? That's how my first trip to Dubai was planned. A broken heart and a hunger for adventure. And yes, the plans to ring in my 25th birthday in Dubai now seemed pretty damp.
Dubai, as a destination, is packed with activities to give you all kinds of adrenaline rush. The city is full of life, and loved by all age groups. Dubai serves you with huge skyscrapers, hiking avenues and boating in mountains. It boasts of the best shisha and belly dance in the middle of a desert. But what my broken heart yearned was much more. I needed something to heal, something to loosen myself, something that would make me forget my misery. The Dubai Skydive was the answer and I was drawn to it the most. Yes one of the world's best places to skydive seemed to appeal even to my broken shattered heart.
Skydiving in Dubai posed 2 issues – a like-minded companion and the cost of the dive. One of my close friends happily agreed to come along to celebrate my milestone birthday in Dubai. Friends are so much more reliable than girlfriends. But as easily the first problem was solved the second of booking the dive and the costs were hurdles.
Sky diving was so exciting, but getting quotes and rates from various options on the internet were too tiring and frustrating. Then by luck, finally we got saved and even our money, my boss introduced me to his friend who is in the business of travelling.
Mridul did a good job of making our bookings easy and keeping the budget in check. All the bookings and services provided were great and the best part- he also provided us a discount on skydiving which isn't provided even by the official skydive people. This taken care of, we landed in Dubai all charged up for 4nights and 5days. We did some city tour and explored the Burj-Khalifa, The Palm Jumeira and many other parts of the city for the first three days, as the best – The Dubai skydive was reserved for last day.
On the D-DAY, my 25th birthday all I could think of was about the skydive. We woke up with adrenaline rush, blood rushing through veins with the mixed feeling of excitement and fear. I felt like Hrithik Roshan of ZNMD. So with similar confidence we went through the training of skydive and then came the time to board the plane. Our legs were locked and confidence stooped low down to the level of Farhan Akhtar of ZNMD, but just like Farhan, we did board and then took the plunge. Up above from 14000 feet up in sky we did jump with all the chaos in mind and adrenaline reaching its peak. Oh my god! Dubai looked even more beautiful from the top and also my life felt beautiful. That's when the skydive trainer asked, 'What you gonna do if you land and are alive?' I answered the question, and I still don't know the path to my answer and how am going to achieve it, but one thing I surely learnt was – life is beautiful and when you start falling just think of getting up and being alive and not stopping – if you stop – you fall and die.
Cheers!!
Chinmay Gadekar
Advertisements
REPORT THIS AD
Chinmay Gadekar Uncategorized Leave a comment May 9, 2020 3 Minutes
Thanks for joining me!
Good company in a journey makes the way seem shorter. — Izaak Walton

Chinmay Gadekar Uncategorized Leave a comment May 6, 2020 1 Minute
Cre