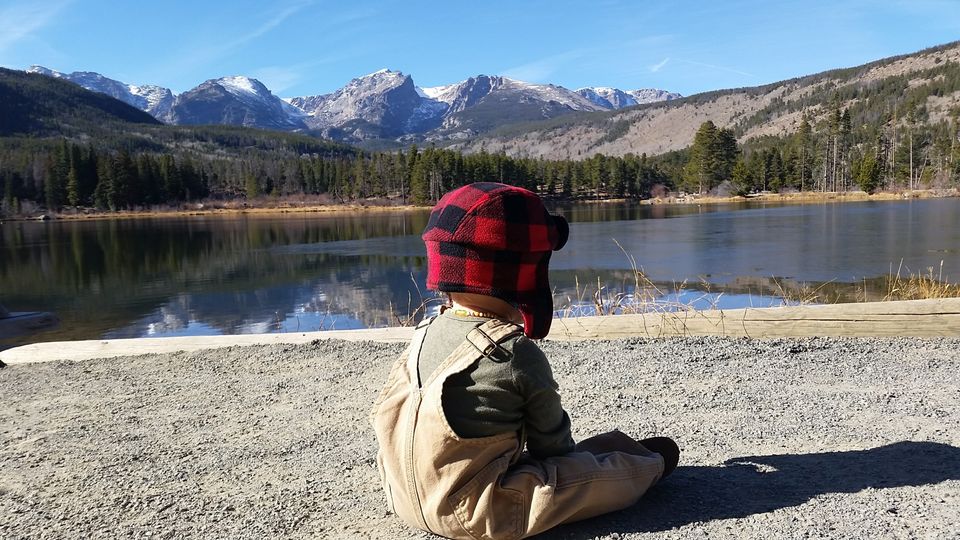 Most people who are even a little familiar with Rocky Mountain National Park (RMNP) know about Bear Lake. It's a beautiful little lake surrounded by forest and mountain views. It has a nice little 0.8 mile loop with a small elevation gain of 45 feet. Even at a slow pace, you can tackle this in an hour.
This is NOT that lake.
You see, RMNP gets something like 12,000 visitors a day. And it often times feels like all 12,000 of them go to Bear Lake. When something in RMNP is well known. it's where people go. Especially since this is a hike that can be enjoyed by all ages and fitness levels.
But every.single time. I've visited RMNP, signs are posted to "take the bus to Bear Lake" and "Bear Lake parking full". The trail itself is crowded and you feel like more of a tourist than someone sauntering through nature.
So allow me to introduce you to Sprague Lake. You'll actually find this lake on the way to Bear Lake!
After a VERY brief walk from the lot to the lake, trees will open up to present a serene lake, and breathtaking views of the Continental Divide.
I came across Sprague Lake through a moment of frustration and desperation. My family from the midwest was visiting and I needed a beautiful hike that could be tackled by grandparents and toddlers, obviously Bear Lake came to mind.
Cue Lot Closed signs.
We agreed we didn't want to hike with hundreds of other people, so when I saw a little brown sign for Sprague Lake, I took the left.
The loop around Sprague Lake is comparable to Bear Lake at 0.9 miles and only 10 feet of elevation gain.
But the best part?
THE LACK OF PEOPLE! I've gone back to Sprague Lake four or five times since that day and always have we been one of a few groups. It's not crowded, and you can easily get beautiful photos without people in the way.
** I am an early riser and always recommend getting to RMNP before 10AM **

#hike #family #RMNP #SpragueLake #BearLake #rockymountainnationalpark #mountains #beauty #easyhike #outdoors