I was lucky enough to spend three months of the summer in the USA working for a Summer Camp - if you're not sure what that is, think of the 'Parent Trap' movie. It had been a life long dream of mine to work in such a place, and although it wasn't everything I had hoped it would be, I still met some incredible people, created great memories and gained the opportunity to travel in the USA for the following month.
Before I left for camp I had some ideas of places I'd love to visit but no plans set in stone and just hoped I'd meet some people to join the journey. Skipping forward, I met my awesome travel buddies (Laura, Brittany, Amy & Nick) and so that left us with the big question, where do we go?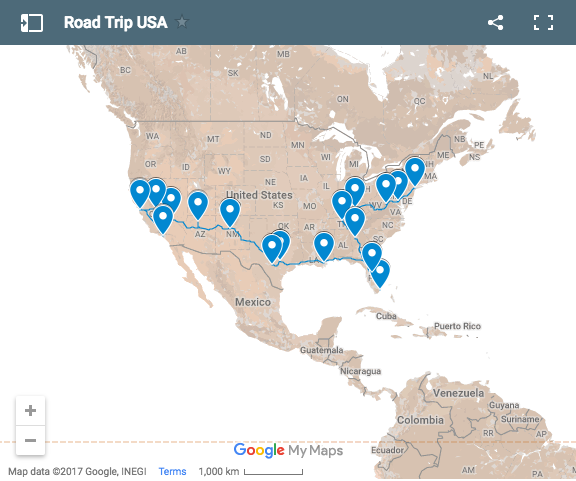 Laura and I had some time to kill in the office, so we spent a good month or so researching all the wonderful places the USA has to offer. This gave us a fairly ambitious wish list of all the places we'd love to visit, including New York, Washington DC, Universal Studios, the Grand Canyon, Las Vegas and LA.
From doing research on buses, car hire and flights, it was quite clear we'd have to hire a car to keep within our very limited budgets and to get to everywhere we wanted to go. We managed to score a good deal ($1500USD) for the 30 days hire through Alamo which included our one way drop off fee and they even gave us an upgrade on the car!
Planning the route itself was fairly easy, but also part of the adventure! As we knew what our main stops would be, we hit those into Google first. As the States is SO big (as everyone kept telling us) we would have to make some stopovers at places we had never heard of or knew nothing about! This was part of the fun; if we knew we had a big drive we would put the route into Google maps, zoom in at the rough halfway point and pick a town or city with the biggest letters! A pretty basic way to plan but it made for an excellent adventure!
Look out for my next post where I'll be sharing my experiences in New York - the first stop on the Road Trip!
Thanks for reading!
Gnome x
This post was originally published on Genome On The Globe.