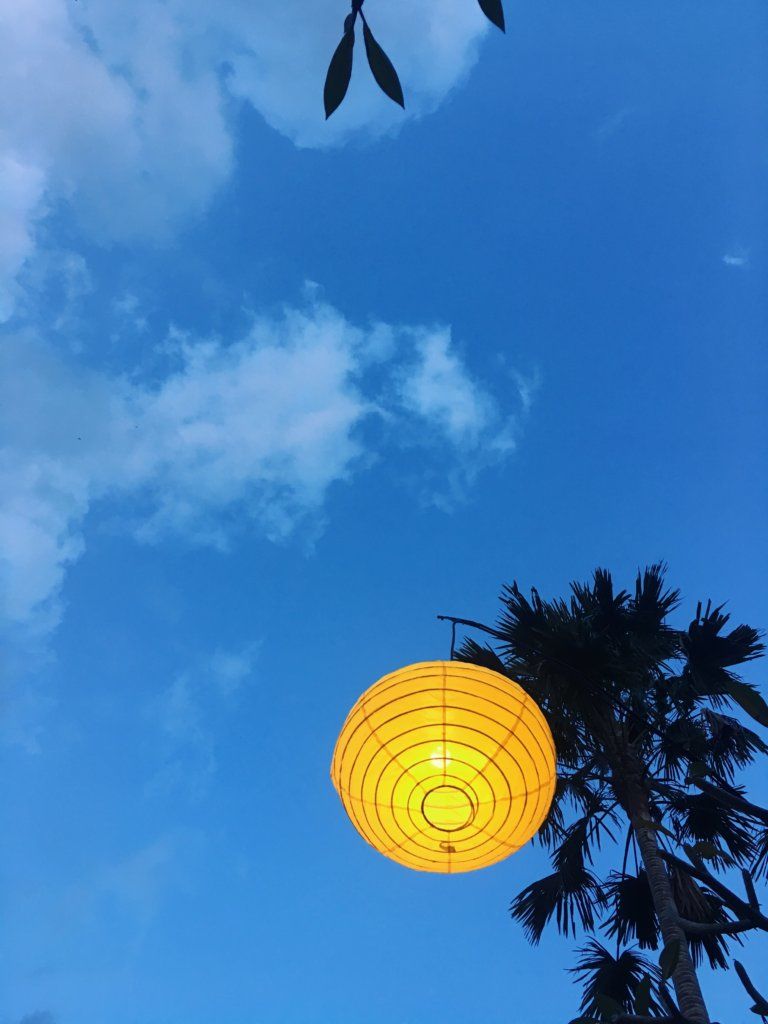 I think the first memory I have of Bali is Samba De Bencao playing in the background. If you don't know what I'm talking about, maybe you weren't moved by Elizabeth Gilbert's Eat, Pray, Love. Her writing and her existential angst were etched on my impressionable mind as I imagined her cycling through paddy fields. Yoga, beaches, Ketut, and a fresh start-were all the beacons of Bali. Find out what happens when Be For Beauty travels to Bali for the very first time!
Years went by and Bali never came to my agenda.
Cut to reality.
After not having traveled with my sister, Pragati for 15 months (she ditched me for Switzerland and Spain), we were traveling to a Bali with our...wait-for-it...extended family. I was going to Bali with my mom (yes!), Pragati, Anurag and Niyati-and 11 members of our big, fat Sindhi family.
Getting To Bali In A No-Frills Airline
After a fabulous week with Pragati was spent working and shopping, it was time to head to the airport and let the vacation begin.
However, our holiday to Bali started with cab delays and multiple callbacks from the family. With Delhi traffic sending us into panic mode, we made it to Indira Gandhi International Airport, Terminal 3. Check-in followed by a mini-drama over one of my aunt's baggage allowance, immigration took about 45 minutes.
My poor brother in law, Anurag, a frequent flier was told not to go in the lounge for the beer, and stick to the food court.
10.05 boarding means 10.05. We were left behind, branded as latecomers. I laughed it off while my mom was visibly embarrassed.
Long Haul Flights: My First Time In Air Asia
I was really antsy about going to Bali in Air Asia. But we'd gotten a good deal. Besides, how different could it be right?
Wrong.
There is no concept of leg room. I have better legroom in my Uber. Be positive, Manavi, I told myself. You have to spend 5 hours on the plane. Without an entertainment system. Or a book. A book that you managed to leave on your bed 'coz you ran out of space.
I gave up on sleep as soon as the pilot announced descent.

As we touched down on a sunny morning at Kuala Lumpur International Airport, my body was stuck to 05:00 am IST.
A couple of long walks (I don't take the travelator) later, I brushed my teeth and made my hair.
We found The Living Cafe and sat down for breakfast.
An hour later, we sat on a much better flight (still Air Asia) and headed onto Denpasar, Bali. I kept sleeping and waking up.
Then, I saw something.
I marvelled at the expanse of endless waters, spotting the plane's minuscule shadow in the ocean.
We were here.
Bali: Immigration and Visa
I'd read online that when heading to Bali, the visa is on arrival but costs about USD 35. Some websites had said USD 25. But when I reached to a crowded immigration line, I realized why tourism is their best industry. Lined up with Americans, Ozzies, and us Asians, there are NO visa charges.
You get two stamps, a kind smile and an exit.
A warm welcome by Smailing Tours, our official caretakers and tour guides hired by Lushescapes, we sat into our mini-vans. Since we were running late on schedule, our excursion to the Tanah Lot temple was canceled.
Tired and dehydrated, I was bummed about being late but looking forward to chilling in my villa. As we sat in the bus, August, our personal guide started telling us more about Bali.
Why is it so humid? Someone asked him.
You've come at the end of monsoon and the beginning of summer. So it won't rain too much, but it's going to be a bit humid. Leaving Delhi at 41 degrees Celsius, I wasn't going to be getting any respite. The temperature might be 10 degrees lower but Bali weather was so sticky, it was literally draining me out. Dea Villas, Canggu, Bali: Hello to our humble abode
A 400-meter walk inside a small gulley, Dea Villas welcomes you like a small estate would in Sainik Farms. Hamptons for all of you Americans.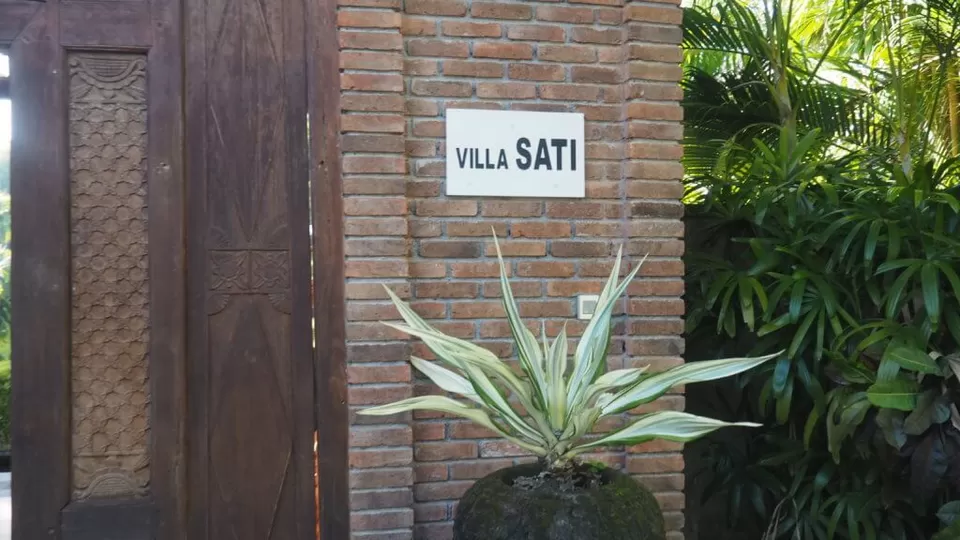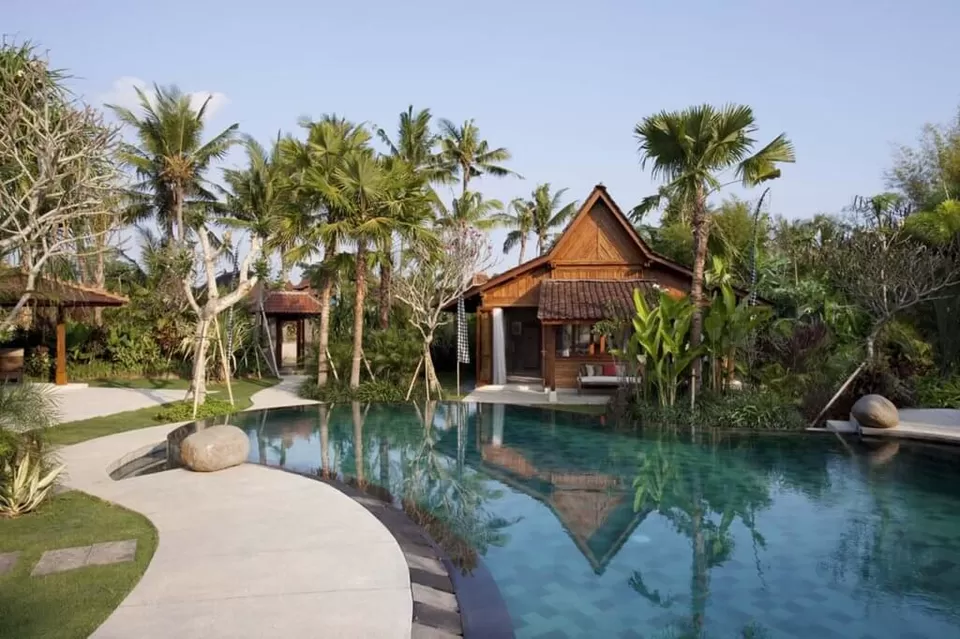 First impression: Dea Villas
You're struck by the aesthetics and the vibe of the estate. Lush green lawns, little ponds with goldfish and water elements everywhere, this was the Balinese vibe I'd hoped for.
Stoked to see the place, I was told we're sitting in Villa Sati: a four bedroom villa with its own swimming pool and sundeck area.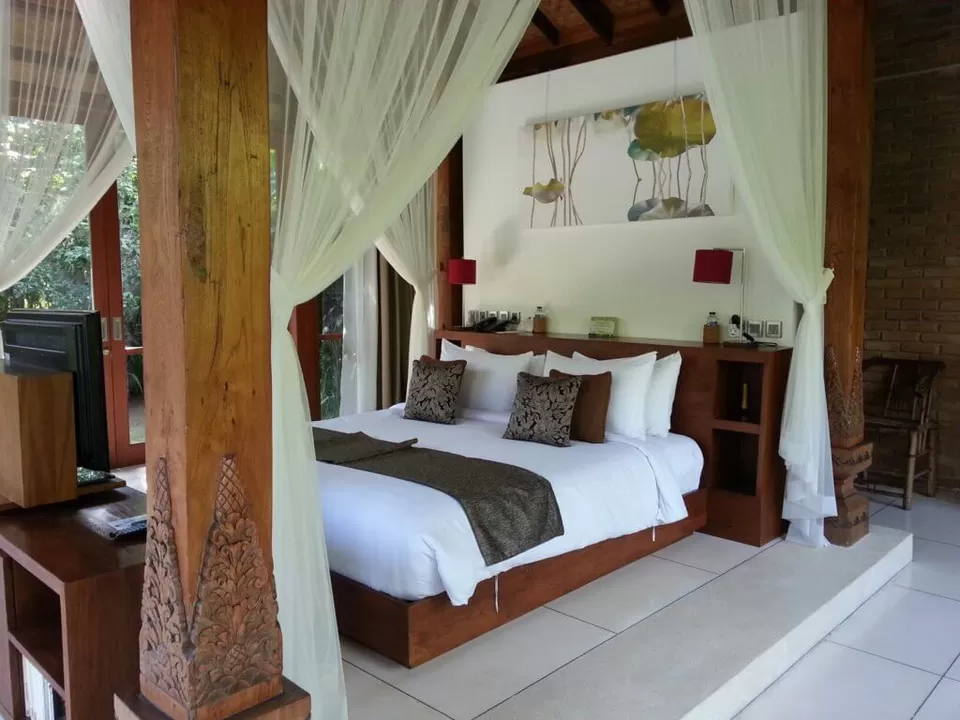 Dea Villas has 4 villas: Sati, Amy, Parvati, and Radha, all of which were previously booked for my big fat Indian family. But after a few canceled, our family was nestled in Sati and Amy.
To read my full review of Dea Villas, click here.
Day 1 Highlight: Picnicking and Farming in Ubud
A 6 am wake-up call later, I finally got out of bed at 7 am. Feeling refreshed and happy to see Mum sipping on her morning tea, we enjoyed breakfast (love you dragonfruit) and headed for a 1.5 hour long ride to Ubud. Till now, we'd realized that while Bali's economy had caught up due to its tourism, Balinese roads could not handle the traffic. As the views changed and my ears started closing, we realized we were entering the countryside towards Ubud.
Our first stop was in Tamanbali at a traditional Balinese house where our guides told us a bit about Balinese traditions at home. We saw some locals making products out of straw and other musical instruments at home. Added for the munchkins with us, our next stop on the itinerary was a local school where we met and sang with beautiful Balinese children. Sidenote: they have beautiful hair and smiles and are so friendly to interact with.
Playing with kids put me in a great mood to start our small hike, if I may call it, through a village in Tamanbali. Passing through houses and temples, it soon became really hot and uncomfortable.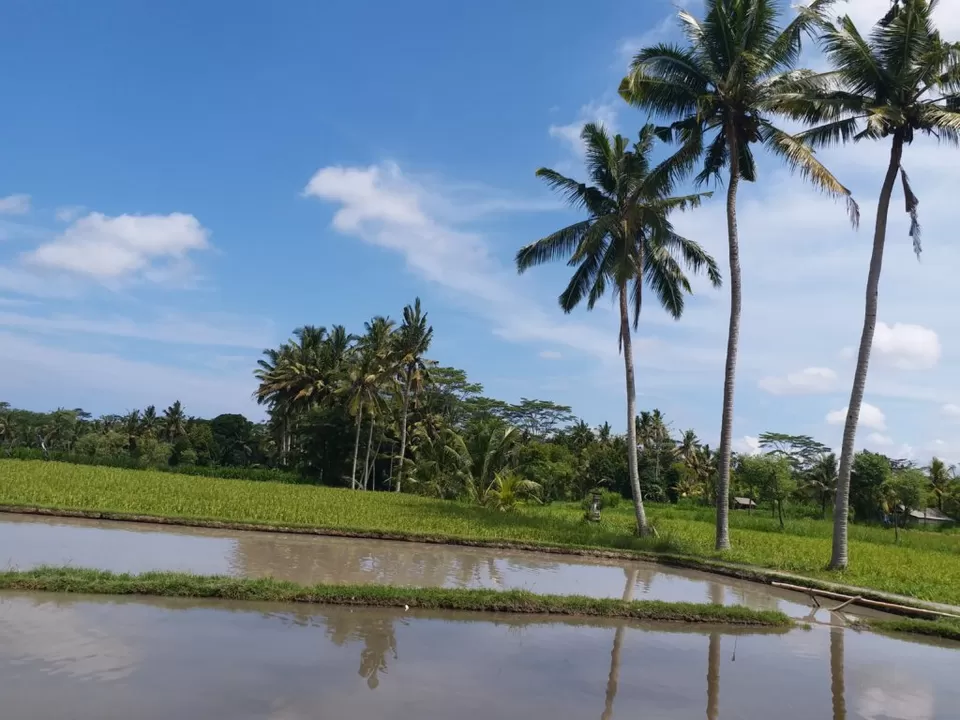 In the middle of the fields was a beautiful set up just for us! A rice farming experience for those who wanted to try, there was sit down area made with thatched roofs: complete with a few snacking treats.
We all made the most of the coconut water and dug into the tender coconut as some tried traditional rice farming!
Besides the weather proving to be a dampener, the Balinese countryside proved to be picture perfect.
Nevertheless, my day was very good. 90 minutes later, I put on my Speedo and headed to the pool for an impromptu party with Bintang, massages and great conversations.
Day 2 Highlights: Nusa Dua and Balinese Food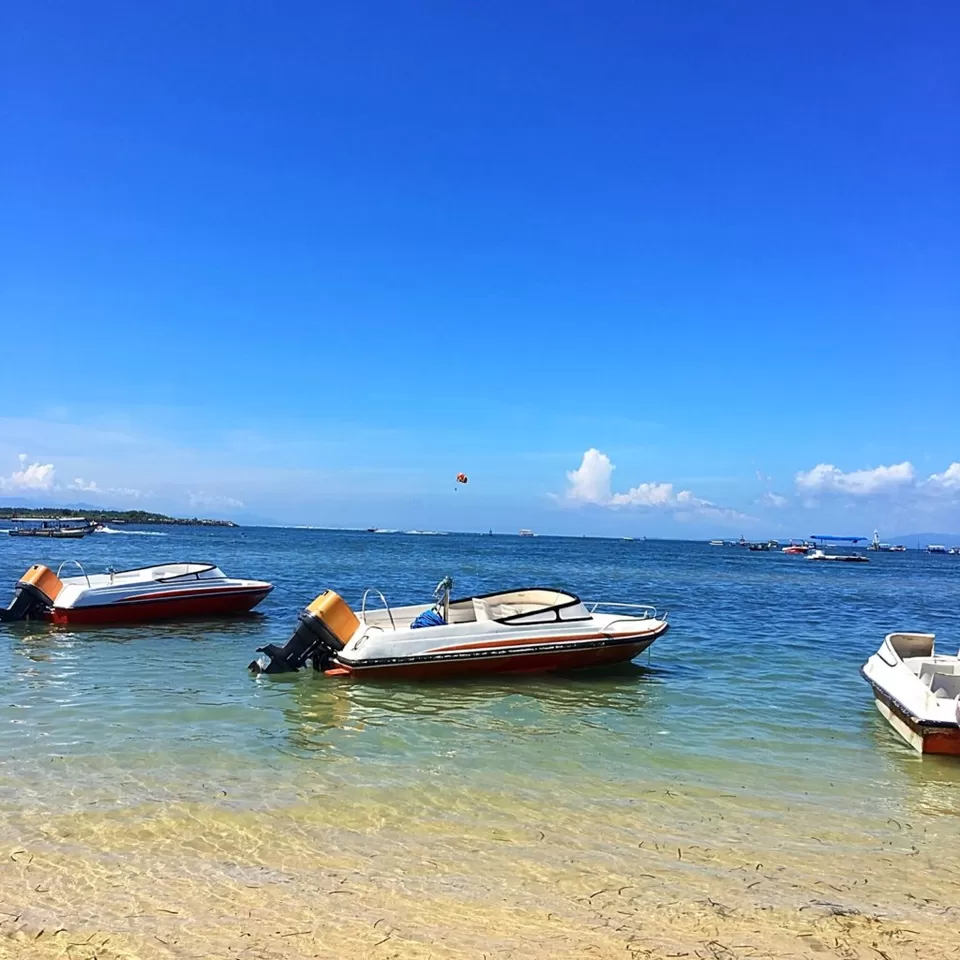 A bath in my statement tub at Dea Villas followed by breakfast, we made it to Nusa Dua on one of the hottest days of the month. Far from my expectations on clean beaches of Bali I'd read about, Tanjung Benoa Watersport Club overlooked one of the dirtiest nightmares. With the temperature up to 38 degrees, we decided to put the children in the pool almost immediately.
A stroll on the beach which proved to be very hot, I came back to my cabana at the club and helped myself to some Bintang and nachos. A couple of people from our group headed to Turtle Island whereas some others proved to be daredevils and went paragliding and jet skiing. If you live for water sports and activities, here is a complete list of activities as well as prices to help you plan your trip.
I was certainly not on the right side of the Nusa Dua beach and I found the water quite dirty-a stark contrast to what I'd read online. If you're a beach person, triple-check the weather and plan your beach visits in early mornings and late afternoons to avoid sun allergies and general exhaustion.
My biggest regret was not being able to go smaller beaches I'd pinned onto my account for years. (I made up for it in 2018).
Regret was soon replaced by a unique dining experience at Bumbu Bali.
Ranked #2 as the places to eat in Tanjung Benoa (Nusa Dua), we enjoyed nasi goreng, sambal, steamed fish, sate lilit (chicken satay-the infused with lemongrass), lalah manis, lawar (chopped coconut, garlic, and chilli with chicken) and lots more.
Due to a late lunch followed by a lot of traffic, we regrettably missed a sunset ceremony organized at Tanah Lot Temple. Calls were made and a cleansing ceremony about Balinese faith and culture was performed in the evening. This also fell in line with Galungan, a 10-day festival that had just gotten over in Bali due to which tall bamboo poles known as Penjors were up through the city.
A night out at Rock Bar, Ayana Resort and Spa
For me, my focus was to head out for the night. I had heard of Rock Bar and convinced my sister Pragati and my brother in law Anurag, to come out. Seeing they were bored of playing cards every night, we decided to head to Ayana Resort and Spa. Located at Jimbaran, we went much further than we had in the day, all because I'd resolved not to miss another thing on my bucket list.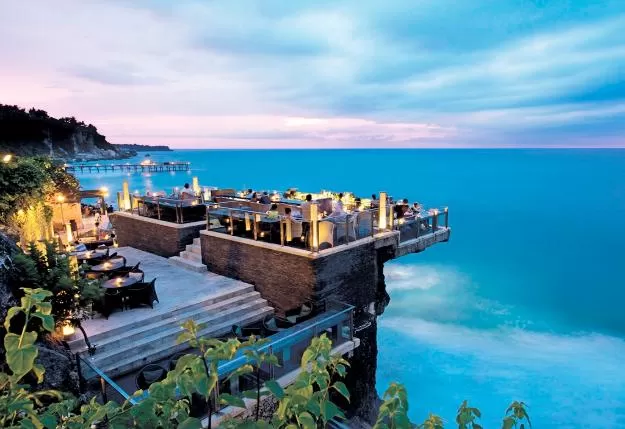 90 minutes later, we arrived at Ayana Resort and Spa and 1 km inside the resort, we got off at the entrance of Rock Bar. If Dea Villas was spacious, this was epic. Acres of lush greens, infinity pools, and water bodies, we walked at least a kilometer to reach the trolley that takes you to Rock Bar. Set on a limestone cliff, Rock Bar is so much more than a bar. A treat for the eyes and the ears, the views of the serene waters lit with minimalist lanterns which you can see from afar is a sight not to miss.
Since we went on a Saturday night, we were not able to go down or take in pictures since it was pitch dark. If you manage to go in the day, there is a Kisik grill and an infinity pool for you to enjoy. We headed to the main deck in front of the bar and picked a place with the best view. While I ordered a Chamomile Gin & Tonic (I thought I'll have something other than Bintang), Pragati and Anurag made the most of their cocktail menu with Spa on The Rock and Rock Ice Tea.
We enjoyed our fill of Chicken Popcorn, Assorted Dumplings, summer rolls and chocolate banana toast from their Tapas menu. While I don't remember the exact amount we paid, it was below than USD 150 (exclusive of the cab).
Highlights of Day 3 and 4: Exploring Seminyak
Our last two days were spent shopping, chilling in the pool and exploring Seminyak.
A 30-minute ride away from our hotel, Seminyak square is like any other mall you'd see. With surfing brands, and swimwear brands like Roxy, Havaianas and Drifter Surf Shop, the square is home to both global and local brands.
Steering away from designer boutiques and labels, I picked up a few pair of shorts and a summer dress from Seminyak square for Delhi summers. While shopping I realized, Seminyak is not as cheap as I'd hoped it would be and it was as good as shopping in Delhi. After buying some souvenirs, our group split up into coffee drinkers, spa-goers, and walkers-daredevils who chose to walk around Seminyak in the humidity (I was obviously the latter).
A scoop of pecan butter gelato later, I explored a few more boutiques offering good fabric quality at store prices. Some of these include Mercredi -I suggest you check The Bali Bible if shopping is on your agenda. Later in the afternoon, 4 of us decided to send off the others to the villa and headed to Seminyak-Kuta road. With August, our tour guide telling us we should bargain, we explored a street full of crochet items, cane furniture, lamps and lights, candles and other items. My biggest purchase would have to be a pendant light fixture I bought for 600,000 Balinese rupiah (USD 45) which was something I'd been meaning to buy for a year now.
The same evening, we saw a Gamelan performance by 11 musicians along with a dramatic replay of Ramayana from Hindu mythology. While 30 minutes would have been enough, I thought the performance was too long. Seeing that we were all Indians and already knew the story, I think I would have enjoyed Balinese folk tales much more. From their makeup, outfits to their performances, the cast was incredible. This was followed by a personal tutorial with one of their musical instruments called the angklung.
A gala dinner later, the night came to a joyful end.
Getting back to New Delhi
Packing, goodbyes and a stack of hand baggage later, we left Bali and arrived for Kuala Lumpur. The flight was definitely worse on the long haul from KL to New Delhi. We planned not to sleep and made the most of these moments, bonding and planning the next trip.
I'm still hungover Bali: vowing to go back to Bali and spending more time on the beach!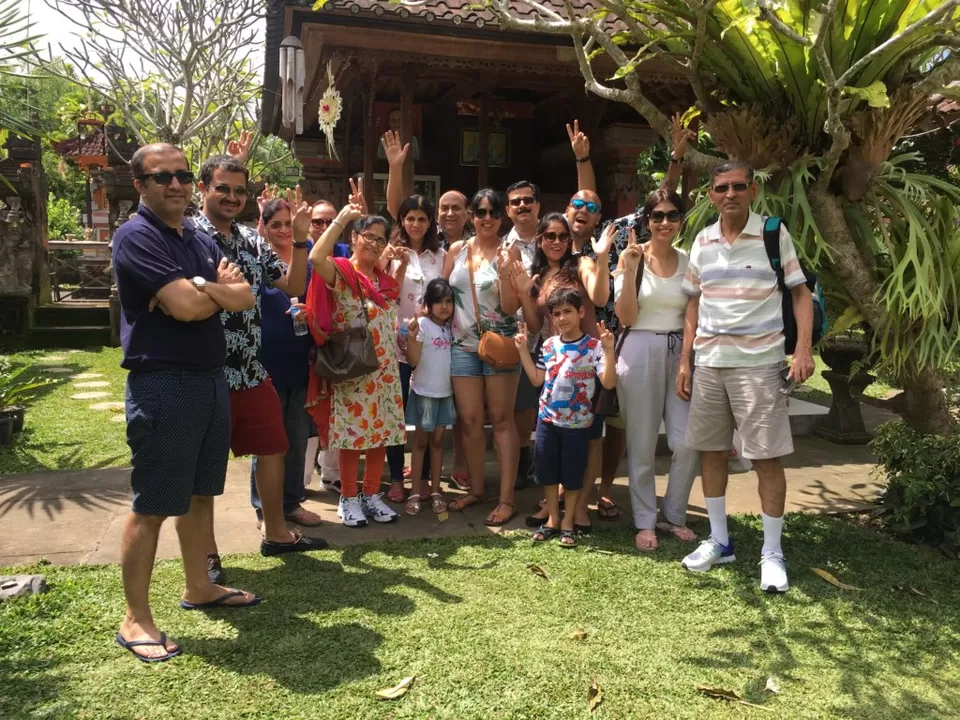 If you're planning a trip to Bali or open to visiting Bali this year, this breakdown of how much we spent should be helpful!
Flights per person: 388 USD i.e. Rs 25,000 via Air Asia Stay at Dea Villas, Excursions, Commute: 777 USD i.e. Rs 50,000 Separate fee for Water Sports (USD 50 and above), Massages (9 USD-27 USD) and Shopping (USD 200)
Our trip was planned and executed by Abhishek Dadlani, Lushescapes I Our wonderful guides Tracy and August were from Smailing Tours I Indian Catering from Queens Tandoor, Bali