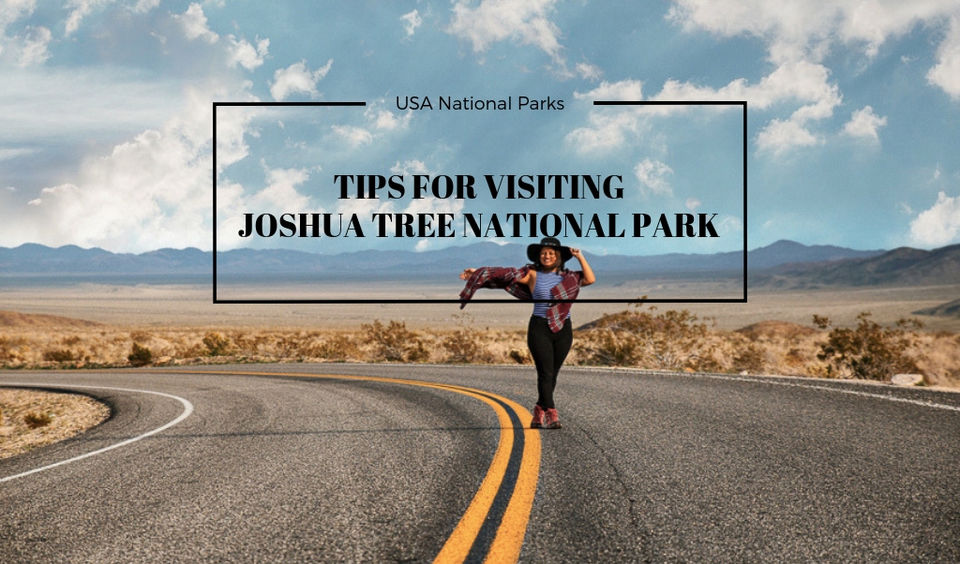 If you have landed on this blog post that means you are heading to southern California. Let me tell you one thing – You are going to love it. In just few hours driving south – east of LA , you are about to witness a landscape that will blow your mind away. This landscape and wildlife that comes with it are now protected in Joshua Tree National Park and we owe our thanks to Franklin D. Roosevelt for having the foresight to see the beauty in a vast desert landscape that most considered to be harsh and inhospitable. Yes , in 1936, he created Joshua Tree National Monument in Southern California, protecting nearly 800,000 acres of Mojave and Colorado desert ecosystems. In 1994, Joshua Tree became the nation's 54th national park. Joshua tree national park is always open, 24 hours a day, seven days a week year-round, making winter a great time to visit with lower temperatures. But before you pack your bags , venture out in desert , its always good to know about the territory you are about to explore. So here are the tips for visiting Joshua Tree National Park.
Fun Fact : Joshua Tree National Park is named for the Joshua trees (Yucca brevifolia) native to the park. Joshua trees themselves are supposedly so named because, upon seeing them, Mormon settlers were reminded of a biblical story of Joshua reaching his hands to the sky.
Joshua Tree National Park is an Ancient Desert :
Yes you heard it right , you are about to explore a desert – and that too over 790,000 sq acres of it. The Mojave and Colorado deserts combine in Joshua Tree National Park making it unique and home to flora and fauna. Since this is desert be warned that there is:
No Water
No Electricity
No Grocery/food store
No street lights
No flush-kind toilets
and even No cellphone reception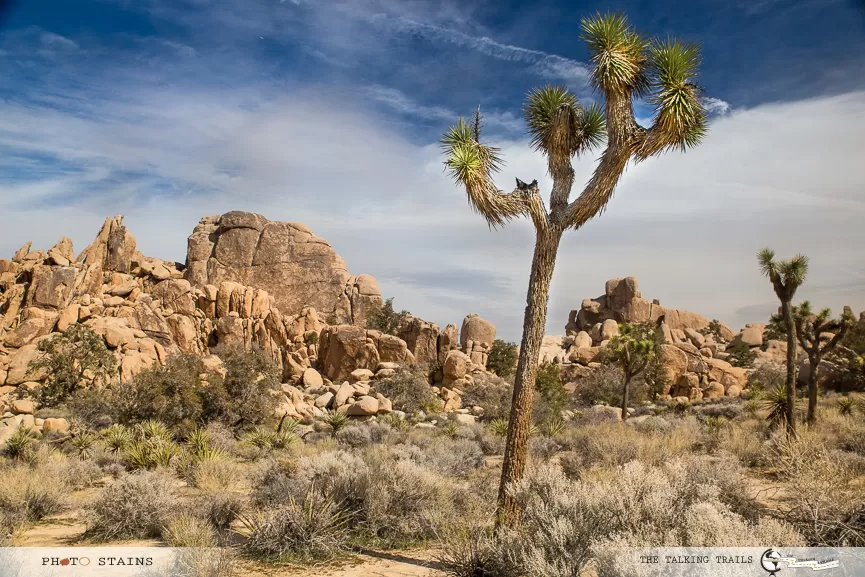 Choose Entry to the Park wisely :
As I said the park is huge. Depending on the hikes and areas you would want to explore , pick the entry to the park accordingly. Else you might end up spending a lot of time in driving. Distances are huge in the park. Joshua Tree National park has three visitors centers to help you get the lay of the land within the park. The Joshua Tree Visitor Center is found within the Village of Joshua Tree (northwest); the Cottonwood Visitor Center is in Cottonwood Spring (south); the Oasis Visitor Center is in Twenty-nine Palms (north); and the Black Rock Nature Center is found at the Black Rock Campground (northwest) and open October through May. Since we were driving from Los Angeles , we entered the park taking Park Blvd road and it worked out perfectly for us as most of our hikes were in the west part of the park.
Note : The main entrance to the Park is in the town of Joshua Tree, and it often has long wait lines specially on weekends and holidays. Try West Entrance (Hwy 62, in Joshua Tree) or North Entrance (Hwy 62, in 29 Palms) for shorter lines
Temperatures vary greatly between day and night :
This is disclaimer for anyone who is visiting Joshua tree national park in summer specially. The temperatures are ruthless. There is absolutely no shade in any of the hikes so protect yourself as much as you can from the sun. If you are big on hiking , I will highly suggest to attempt the hikes early in the morning when the heat is bearable , take rest in the afternoon and then head back to the park in the evening. For night photographers also , its better to go prepared as the temperatures drop considerably at night , making it really cold. As I said before there is no water in the desert – keep yourself hydrated in whatever you do :) .
Note : I visited the park in mid February and was surprised how windy and cold it was. Even though sun was shining on us all the time , it was extremely cold. We were dressed in layers and trust me we wore mittens and woolen caps all the time.
Be Mindful of Desert Dangers (Snakes , Scorpions ,Cacti) :
Other than temperature variations , no water , no food, no gas etc considerations – there are other dangers in Joshua that you need to be mindful for. Cactus, Joshua trees, and yucca plants all have dangerous spikes, spines, or thorns that can be really painful if they come in contact with your skin. Take it from me coz I rubbed my thigh against a small Joshua tree as I was coming out of a narrow space and damn it gave me such a big pain. Joshua Tree National park is known for spiders, scorpions and snakes. It is advised not to put your hand in crevices and while hiking or climbing in the park, always look before you place your hands or feet. Avoid stepping or reaching into places you cannot see.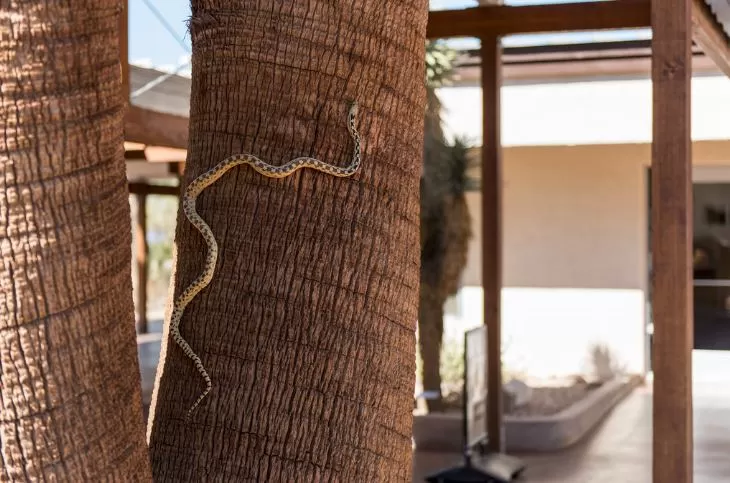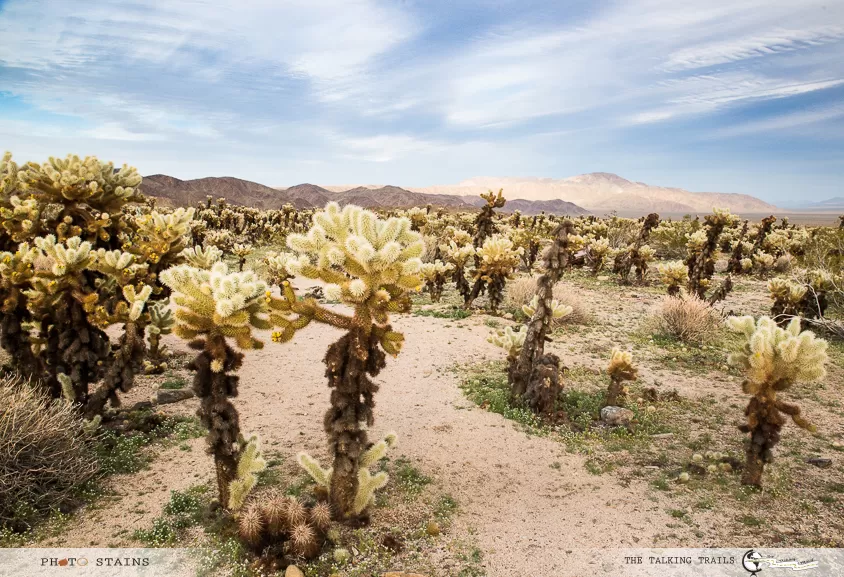 Get Your Pass at the Visitors Center rather than park entrance:
You will save so much time if you get your entrance pass at visitors center. On weekends , it really gets crowded and you might have 50 to 100 Rvs and cars lined up to get into the National Park. If you take your Pass from the visitor Center , you can bypass this line and voila , you will be inside the park before you know it. Also I will highly suggest to invest in Annual Pass, specially if you know you will be visiting several national parks in a year. The Annual Pass provides entrance or access to more than 2,000 Federal recreation sites for FREE for the next twelve months. Its worth spending those 80 $.
If you plan to camp , you are in heaven :
There are over 300 campsites in Joshua Tree. Campgrounds usually fill on weekends October through May. From mid-February to mid-May (and during holidays) campgrounds usually fill throughout the week. During the quieter summer months, all campsites are first-come, first-served. There is no running water or electricity in the campsites – so you need to bring everything you need.I was surprised to see people camping in mid February considering it was incredibly cold. But then talking to a couple who told us there camping experience , I could say – It would truly have been magical. You get to sleep under a zillion stars and wake up in the middle of the California desert in drop dead silence. Must be a lifetime memory.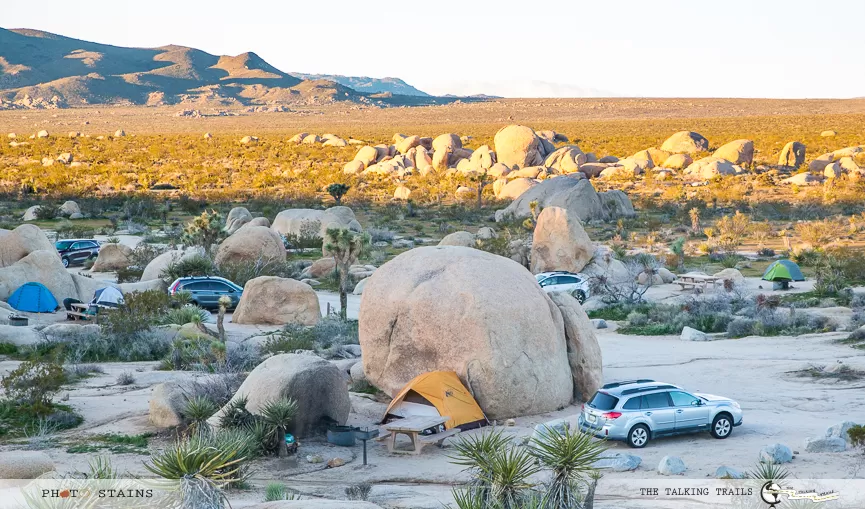 Note : The fee for camping in the park is typically $15 per night. But since campgrounds are first come , first served – have alternate overnight plans ready. There is no firewood within the park. If you're hoping for grilled hot dogs and s'mores, be sure to stop at a grocery store or gas station outside the park to pick some up.
Stay local – Try AirBnB :
If camping is not your thing , there are a lot of AirBnB options in the town of Joshua. I will highly suggest to stay local as you will be able to explore the park even late at night and get back to your cozy bed in no time. There are no big luxury hotels in the nearby towns , however there are some really funky , bohemian-feel houses that you can enjoy with a true desert spirit – thanks to airbnb. Most of houses will have a nice fire pit , a hammock and an awesome outdoor space to enjoy a night below the stars.
Visit Keys View Point at sunrise :
This view-point sits at the crest of the Little San Bernardino Mountains, providing panoramic views of the Coachella Valley. I felt this point was best if visited at sunrise. I learnt it hard way because we arrived there around 3 pm or so , and due to wind and sun rays being vertical in the valley , it was hard to get a clear view of entire valley. It is one of those view points which provide you with a vista over Palm Springs, Salton Sea and on a very clear day you can even see a mountain in Mexico. In afternoon there was considerable haze and it was really tough to capture the beauty of the desert.
Be mindful of attempting long trails in afternoon:
Ryan Mountain trail and 49 Palms oasis trail are two most popular hikes of the park. Both are over 3 miles one way kind of hikes. That being said I will highly suggest to not attempt this hikes in a leisurely manner or if you do not know your fitness level. There have been cases of helicopter rescues and carry-outs from these trails all because of medical conditions such as asthma, diabetes, or heart trouble. Please assess your fitness for these hikes and if you have doubts, choose a less strenuous hike. These hikes offer no shade so come prepared with enough water , energy bars and immediate medical supplies in case u get dehydrated.
The park is perfect for Night photography :
Joshua Tree is one of the best places for stargazing in the country and why not? Located in the High Desert (3000-5000 ft above sea level) and far from any major cities, there is absolutely no light pollution. The East side of the park is best for stargazing. Out East there is very little light pollution from cities, since the closest major city (looking East) is Phoenix, about 300 miles away!
Note : Before you head out to do night photography , on a summer day , I would still suggest to wear high boots to avoid any snake bites ( coz you never know!) and you will want to have a moon-less sky :)
I hope you plan a trip to Joshua Tree National Park soon and these tips come handy. Next on the blog , I will share a detailed itinerary in terms of hikes and things to see to have an ultimate family fun. Do share with me in comments below about your experience in Joshua. Thank you so much for stopping by.