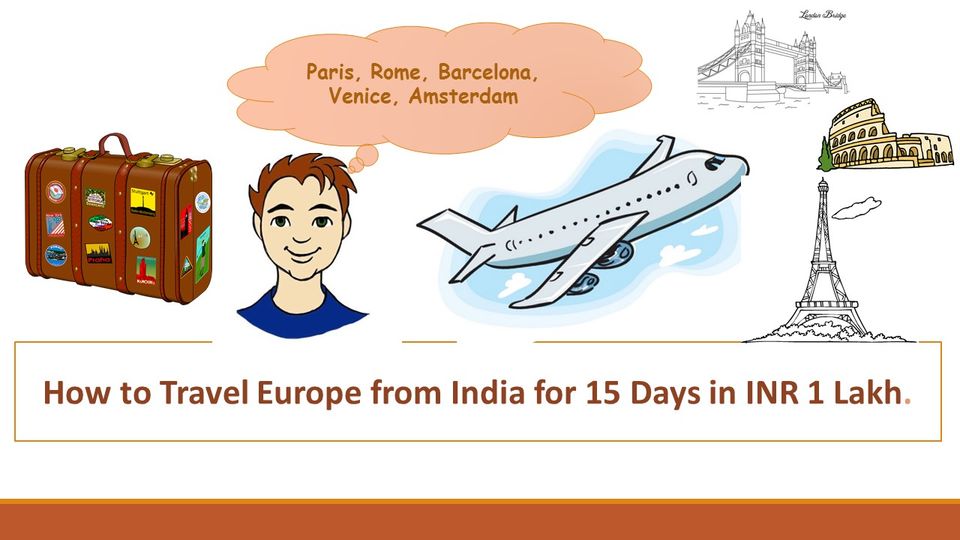 Europe is a dream destination for most of the travelers around the globe. Few of us are lucky enough to materialize their plan as it needs a lot of planning and money as well. Most expensive part of our travel plan is flight booking. This article is dedicated to guide you for booking of best available flight and establish your camp city in europe where you will be arriving and departing.
Flight Booking

Flight rates are very dynamic and keeps changing most of the time, one simple way to book perfect flight is follow skyscanner, by following I don't mean to set a notification for your destination e.g BOM - CDG. Following means, checking it regularly by typing India (not a city, insert country) in FROM tab, leaving TO tab blank and select cheapest month in DEPART and RETURN section. Key point to remember is you have to decide your date of travel based on best available rates, if it is not fixed already.

After clicking on search flights you will get rates of flights for all the countries. As you will scroll down you can check best available rates for almost all european countries. Remember these are not exact prices at that same moment. skyscanner shows price which has been shown by carrier in last few searches.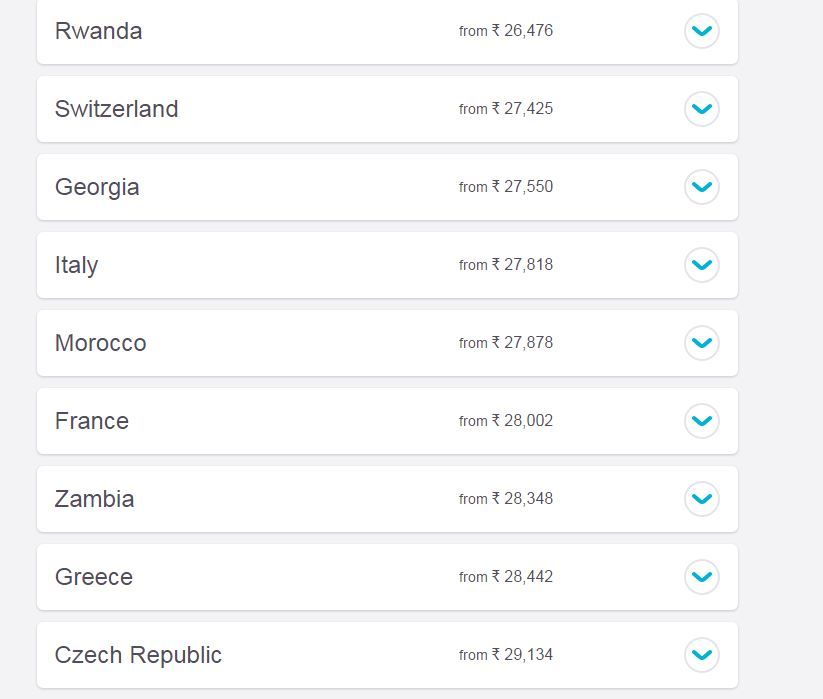 As you can see above prices for Switzerland, Georgia, Italy, France and Greece are almost same. You can decide your country of travel at this stage and go ahead to check prices for different cities.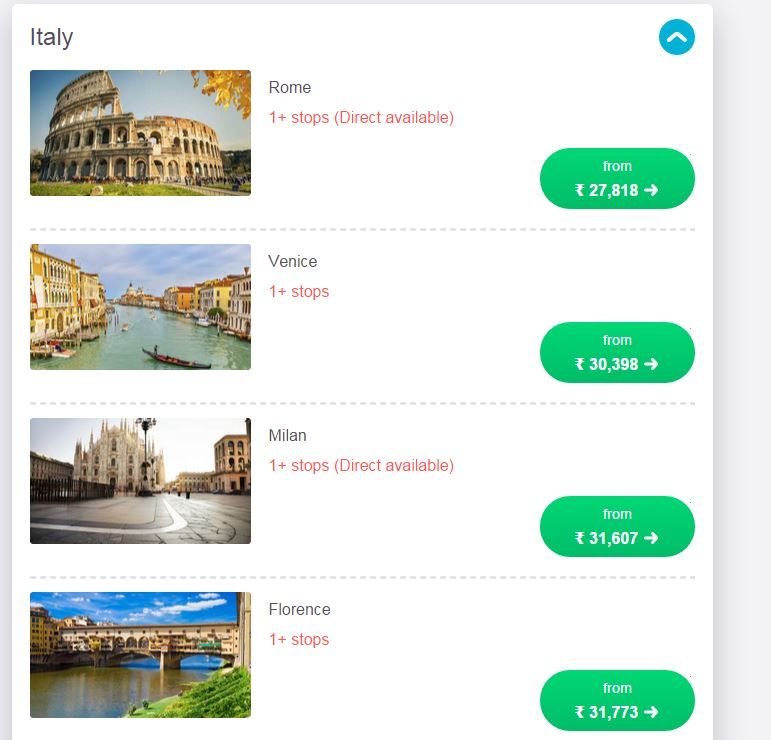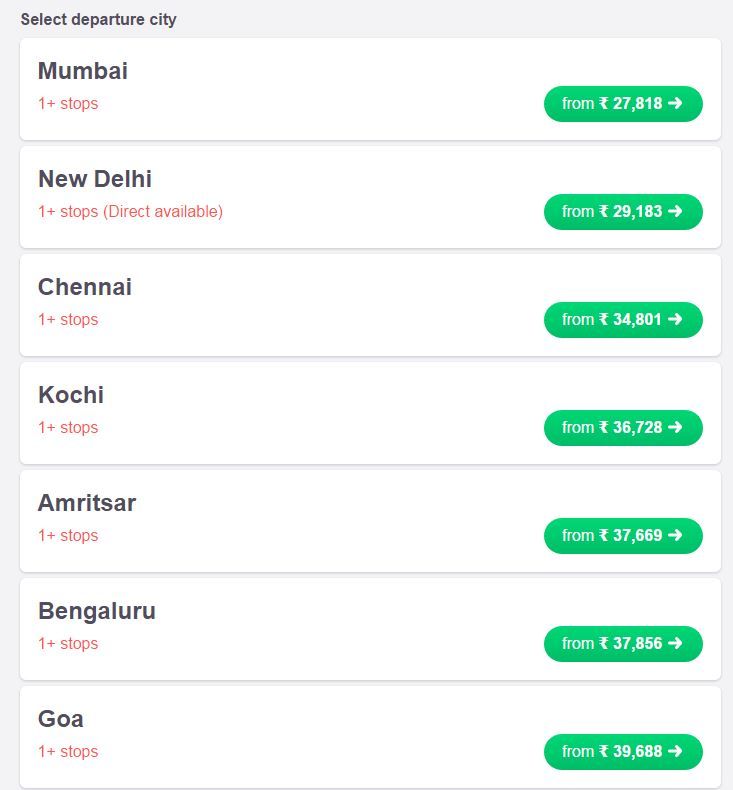 Once you will click the right arrow in front of any country, you will get prices for each city from indian cities. You can decide your boarding and arrival point and move forward to check dates.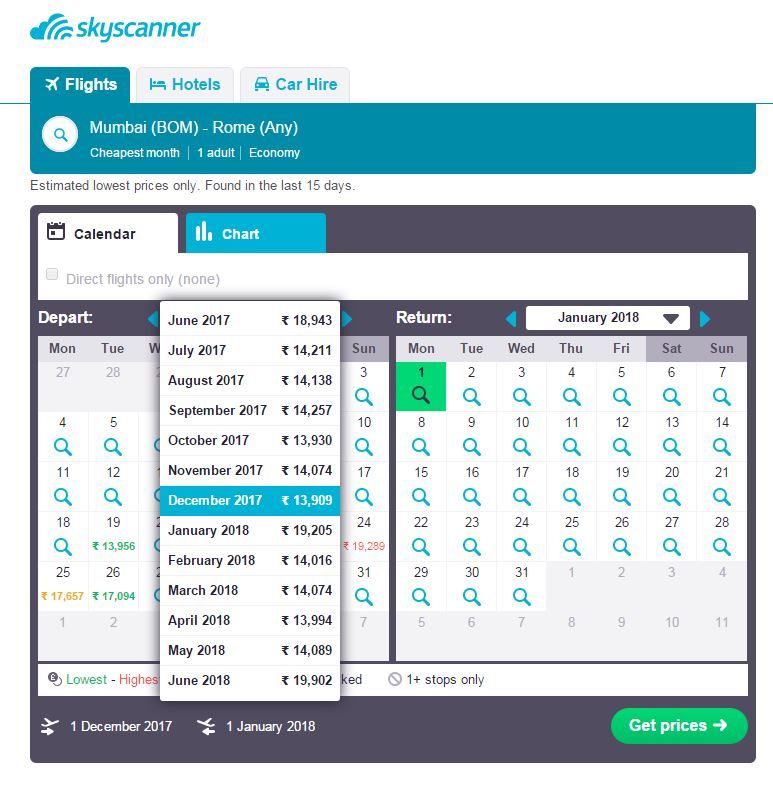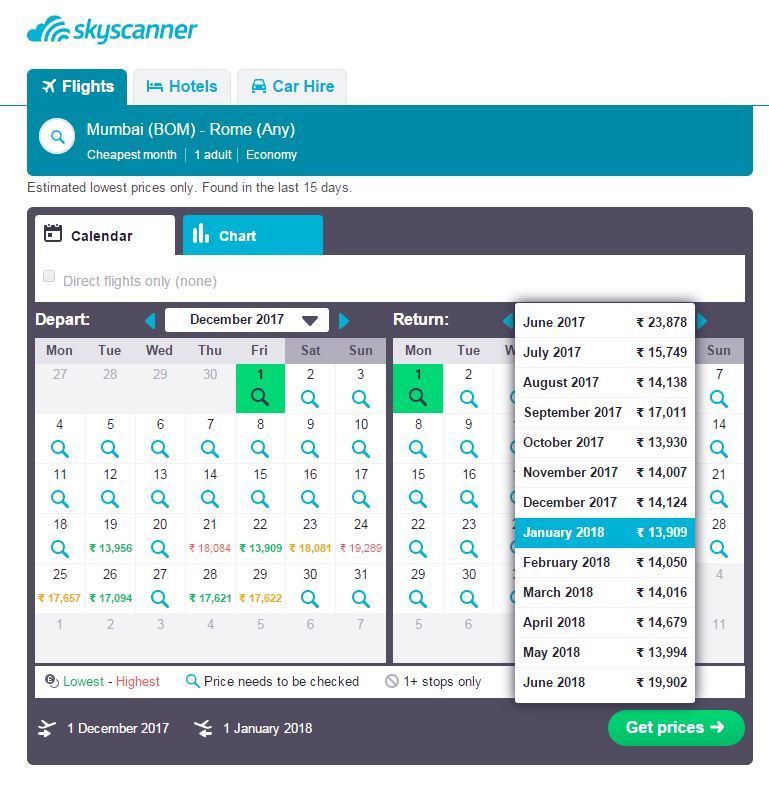 Once you boarding and arrival airports are final, you can check for dates by clicking on price tab shown in right side of the screen. It will show you the cheapest available fare in next few months. However you can click on depart and return tab and check rates for each month, in case you wish to travel in a particular month.
As per your convenience and available rates, you finalize a date and click on dates to get the details of carrier. As shown above cheapest flight available from Mumbai(BOM) to ROME(FCO) is departing on 19 December and Returning on 7 January. Carrier is Kuwait Airlines and total duration of travel is 12 hours and 10 hours with 1 layover.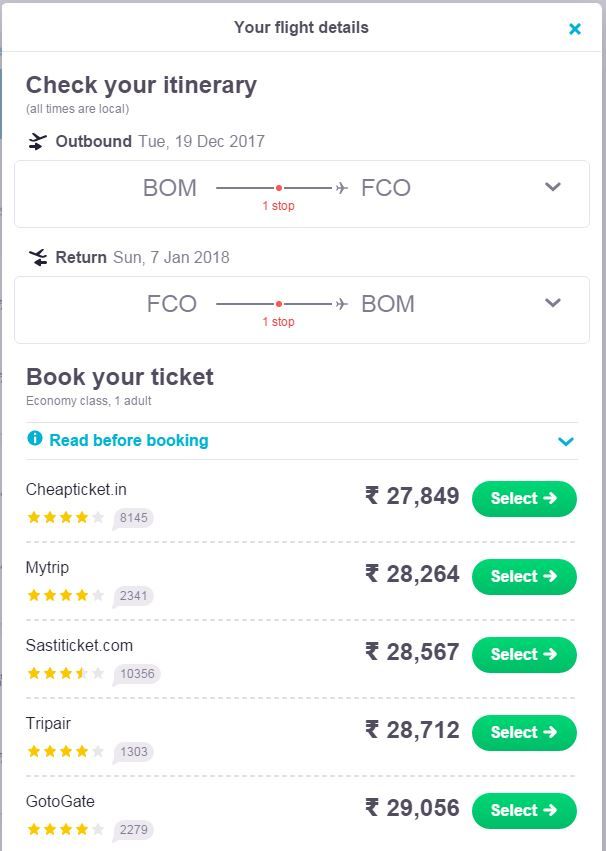 You can chose your carrier based on travel duration and layovers and click on select tab to get the list of prices of same flight in different portals. Again to remind you that prices shown in skyscanner is based on recent search results of a particular portal and actual price at the time of booking may differ. Before cementing your plan please click on select and it will redirect you to corresponding portal where you can check exact prices at that moment.
Key points to remember is skyscanner does not book any flights, it just shows cheapest fares between all portals and redirect you to corresponding portal. Another thing to keep in mind is checking terms and conditions of individual portals. Check for hidden charges such as cancellation, online check in, baggage allowance etc. Always check for departing and arriving airport details too, particularly while booking connecting flights. Orly airport in Paris is 41 Kms from Charle De Gare and there is no way you can board a connecting flight if time difference is less than 3 hours.
Return Ticket : Mumbai - Paris = 30,000 INR
For saving on intercity transportation check my next blog.
Frequent searches leading to this page:-
Europe tour packages for family from Delhi, Europe tour packages for family from India, Europe tour packages for family from Mumbai, Europe tour package from India, best things to do in Europe during winter, best things to do in Europe, unusual things to do in Europe, extreme things to do in Europe