Finding cheap flights to your desired destination is definitely not an easy task. Especially when you are planning a trip to abroad and are looking to save some money on the flights.
Honestly, I would find it difficult to find cheap flights as well. But slowly, over the last couple of years, I have been able to find cheap flights to almost all of my travel destinations.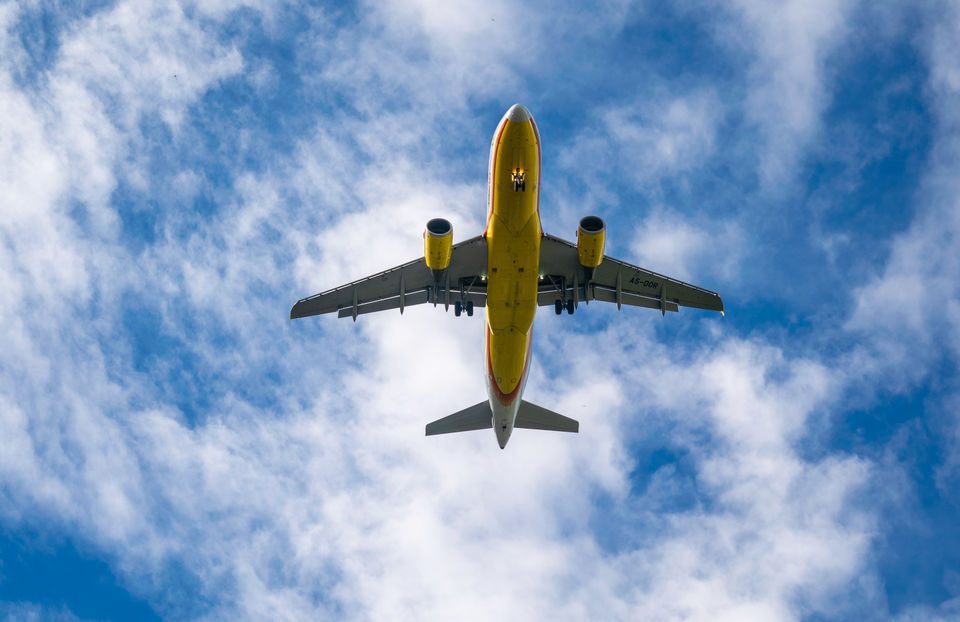 So, now I have an idea on how you can plan a budget-friendly trip with cheap flights.
Note: You need to be slightly flexible about your travel dates to get the cheapest deals.
Here are 10 steps that can help you get cheapest flight tickets for any place you want.
Step 1: Decide on your travel destination and tentative dates
The first step is the easiest one–decide on where to go and when to go.
However, if you are one of those people who is not fixated upon a particular destination then this is what you should do. Go to a website like Skyscanner or Kiwi and then enter your departure country. Next, choose the 'Everywhere' option in the destination. Sky is the limit!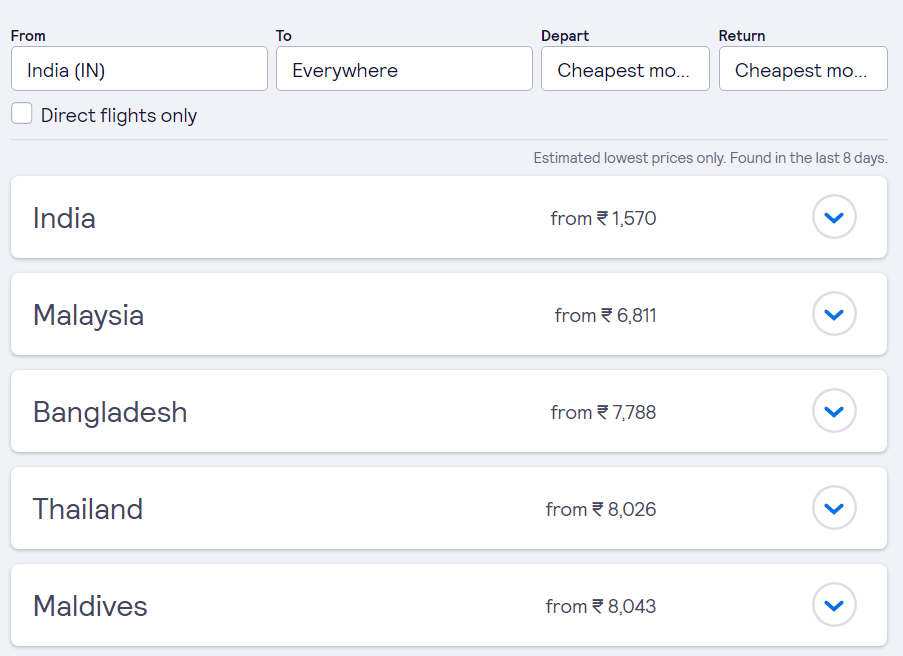 Once you have a country in mind, you can start looking for cheap flight tickets.
Step 2: Get on to your browser's incognito mode to look for the flight tickets
Why, you may ask. Most of these flight websites store cookie information what kind of tickets you are looking at along with the dates and the destination. As a result of this, you see higher fares the next time you search for tickets.
So, whenever looking for flight options, always search in the Incognito mode.
Step 3: Use kiwi.com to find possible dates combination
Since I am mostly flexible about my dates, I usually use Kiwi to find the cheapest itinerary plan for a trip. This is because they offer you an option of date range for both departure and return date.
So, it becomes easy to find a 10-15 days itinerary without having to try all combinations. Because Kiwi does it all for you. So, just enter the origin country and the destination country and then choose your trip length.

After that, choose your departure date and look for a wide date range as shown in the picture below.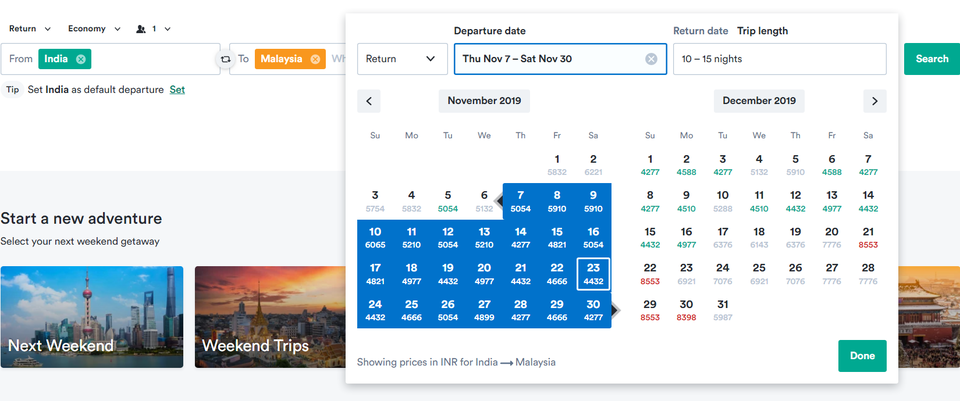 After inputting this all, click on 'Search Flights' and you will be shown a list of possible date options with the cheapest prices.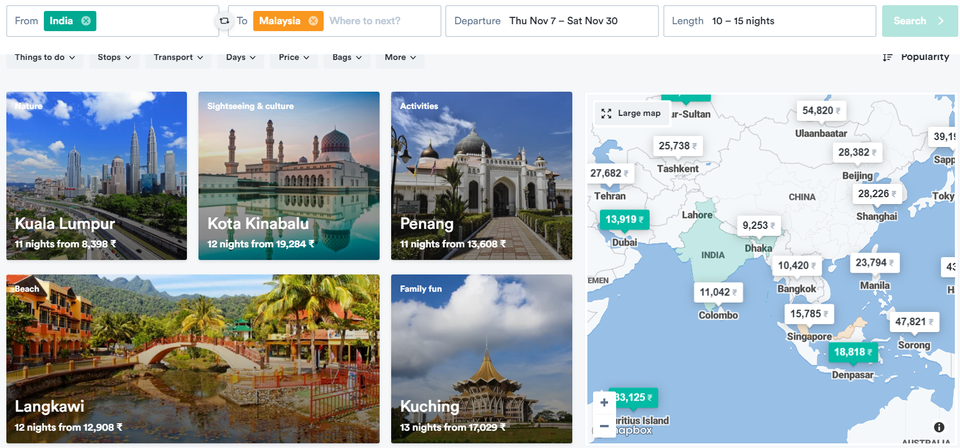 You can choose one of these cities to get more detailed flight details along with layover time information. This way, you can find the best dates for your trip which will cost you the least amount of money.

If you are able to find decent rates, you can skip to the 6th step.
Step 4: Use Skyscanner to find the cheapest travel month
For people who want the option of the cheapest travel dates, it is best to check on Skyscanner as well. So, when you are looking for cheap dates for a particular location, you can choose the date as 'Whole Month' and select 'Cheapest Month' as the option.
This will give you the cheapest month to go to the particular country and will highlight the cheapest dates in this month as well.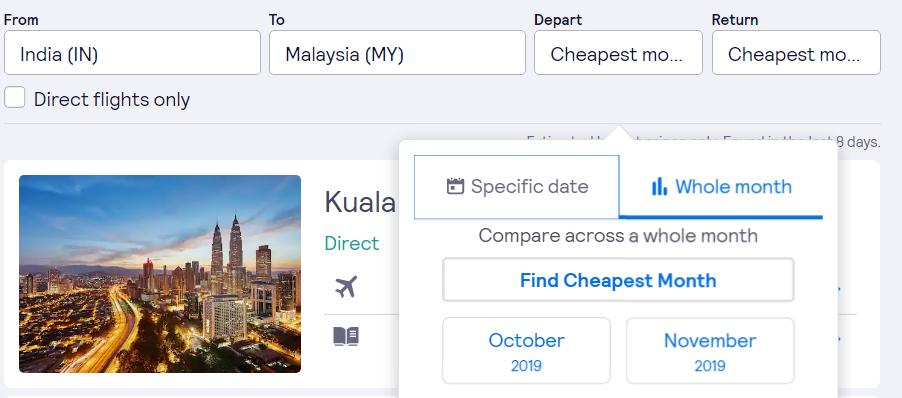 Step 5: Use Kiwi to find the itinerary for the cheapest travel month
After finding the cheapest month to travel, you can use Kiwi website to find the possible dates as mentioned in the 3rd step.
Step 6: Finalise the tentative dates and start looking for flights on different websites
Once you have found the best travel dates for yourself, you can start looking at different airlines. However, make sure that you are ready to book your flights immediately else the prices might increase if you end up waiting.
You can choose to check the prices on the airline websites that usually come up on these websites.
Another option would be to compare the flight prices to websites like MMT and Expedia. Make sure that you put some effort in looking for your dates because you could stumble upon on a deal.
Step 7: Check the baggage limit and layover time
One of the most important things to check when looking for flights is the layover time and the baggage limit. If you are okay with huge layovers, you will easily find the cheapest tickets.
However, if you aren't okay with a layover time of 5-15 hours, then you will need to choose carefully. Also, make sure that the flight that you are choosing has a sufficient baggage limit. Because otherwise you will end up paying a lot at the airport and it won't be a cheap flight for you anymore.
Step 8: Double check the visa requirements, cancellation policies, and other flight details
Another important thing to check is the cancellation policies, refund policy, and other things when you are booking your flight. If there is a layover, check the Visa requirements for your destination and your layover city. Sometimes, you aren't allowed to stay at an airport if you have a layover of more than 10 hours.
So, in such cases you will have to buy the Visa. And if the Visa cost is equal to a faster flight to your destination, then no point in going for a long layover.
Step 9: Look for a website that offers any deals or discounts
Finally, once you have looked at all necessary details, it is time to just browse a little and check out if you can find any deals or discounts. There are many websites which offer week day discounts or some special Credit/Debit card discounts.
So, you can look at all these options before choosing the one that suits your trip best.
Step 10: Book your flights after reviewing all the information
Once you have found the cheapest flight option on the website, book your tickets immediately. Make sure you enter the correct personal and passport details and review the dates and everything.
Pay for the flight and enjoy an epic trip to your desired destination!
Honestly, I have followed these steps countless times now. I used it to find out a great deal about my Seychelles and Mauritius trip which cost me Rs 47,00o for flights (Mumbai - Seychelles - Mauritius - Mumbai). I have also found return flights for places like Italy, London, etc. for Rs 34,000 on the websites following this method.
So just make that little extra effort and and save on money. After all, money saved is another trip earned!
Get answers to all your travel related queries on the go with Tripoto Chat!
Explore the best of travel inspiration on Tripoto Instagram!