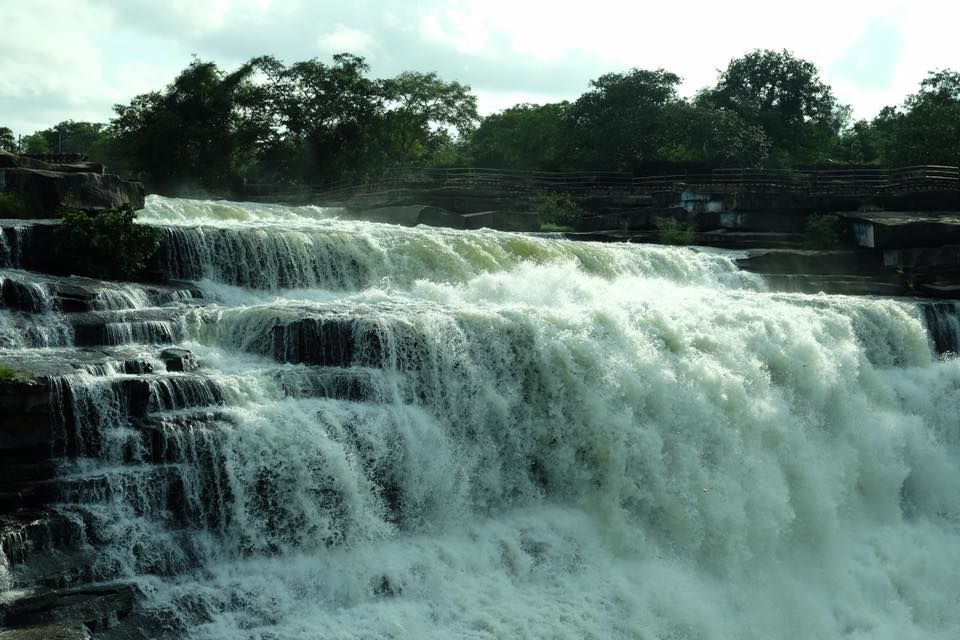 If I told you about a place filled with Waterfalls, a thousand-year-old fort surrounded by lush green mountains, it would probably remind you of Rajasthan or somewhere in Maharashtra. But what if I told you that I am talking about Varanasi? You probably won't believe but it is true.

Every year, millions of tourists who visit Varanasi, also pay a visit to Vindhyachal, an abode of Goddess Durga located an hour away from here. This little town is located on the road that connects Banaras with Allahabad. Vindhyachal is located in Mirzapur district where a part of Eat Pray Love was shot. Mirzapur is unlike anything that you would imagine Uttar Pradesh to be. Surrounded by pristine Vindhyachal Ranges, there are several temples, hiking spots and waterfalls scattered all around the region.

The main Vindhyavasini temple is one of the known Shaktipeeths. She is guarded by Lal Bhairava whose temple is located on the outskirts of the city. Vindhyavasini Temple is one of its kind that houses 3 supreme powers Maha Lakshmi, Maha Kali and Maha Saraswati in the sanctum. Other temples located here included Kali Goh temple, Ashtabhuja Temple, and Rameshwar Mahadev Temple.

The origin of Vindhyachal is said to be more than 5000 years old. This is very much evident by the fact that there are many prehistoric caves and paintings found in the nearby places. These caves are not much frequented by tourists and you can find researchers from India and overseas busy studying them. Some of these places include Mathava, Kauva Khoh, Hathwani, Ghoramangar, and Lakhma. These paintings belong to Neolithic and Chalcolithic Age and are an important key in identifying the traces of human origin.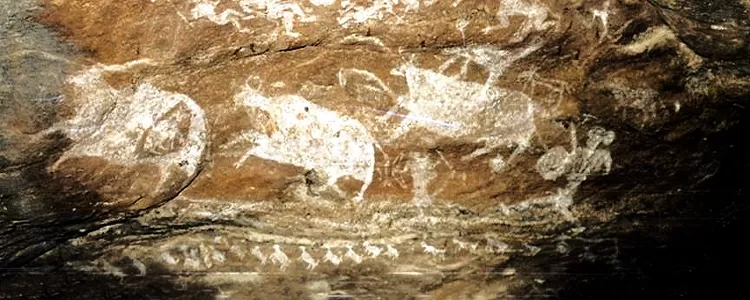 Some of the important rock arts now reside in the Allahabad Museum but most of them still exist in their natural form inside these caves. An important tip, if you wish to visit these caves then better negotiate with the driver about the commute and always travel in groups. Chances are that even your driver and locals won't know much about the place.
The pristine beauty of Mirzapur lies in the fact that the mountain range is filled with local flora and fauna. There are a number of waterfalls around this area. The kingdoms that flourished here constructed some amazing forts that can still be accessed by train, boat, and road.

Vindhyam is probably the most popular and well known waterfall of this area. This waterfall is located at a distance of 14 km from Mirzapur station and can be accessed by autorikshwas. The best part of this waterfall is that at a certain point of the day the sunlight passes through the water and forms a double rainbow. You'll have to be patient to see this wonder of nature. You can also visit Tanda Waterfall, a relatively smaller waterfall at a distance of 2 km from here.
Sidhnath Dari is located at a distance of 60 km from Varanasi and 20 km from Mirzapur. This 100 feet high waterfall is a visual treat during the monsoon. In summers and the winters, the local families visit this place for picnic. Sidhnath Dari is also a popular hiking spot among the locals and the walk between the dense forests is an experience to remember.

Chunar Fort is located on the banks of River Ganga. You can either visit this fort by taking a boat from Varanasi or taking a train till Chunar from Mirzapur or Banaras itself. The fort has amazing views of sunrise and sunset. You can also glimpse fresh water Dolphins and Turtles. Chunar Fort is the fabled fort from the popular 90s series Chandrakanta.
Vijaygarh Fort is about 20 km away from Chunar. This fort is known for the network of channels harnessing fresh water from Ganga. Because of this technique, the water in the fort doesn't dry.
Like Sidhnath Dari, Lakhaniya Dari is an untouched spot that is only known to the locals. This beautiful waterfall is not as huge and grand as Sidhnath Dari but the sheer greenery surrounding this region is simply breath taking. During monsoon, the intensity of the waterfall rises and so does the greenery around the place. The winters are the perfect time to hike in this area.

Mirzapur is a perfect destination for those who wish to escape the crowd of Varanasi and have a more natural and spiritual experience. Other known places around this place are the Ghanta Ghar that was constructed in 1891, the ancient Ojhala Bridge and Punjyala River.
How to travel – Mirzapur is located between Banaras and Allahabad. Regular buses ply between these locations and can be reached in an hour from Varanasi. One can also take a train from Allahabad or Varanasi and get down at Mirzapur station.
Where to stay – You can either find a hotel in Mirzapur or travel till Vindhyachal to spend your time away from the crowd. The hotels of Vindhyachal are slightly on the higher side of the budget.