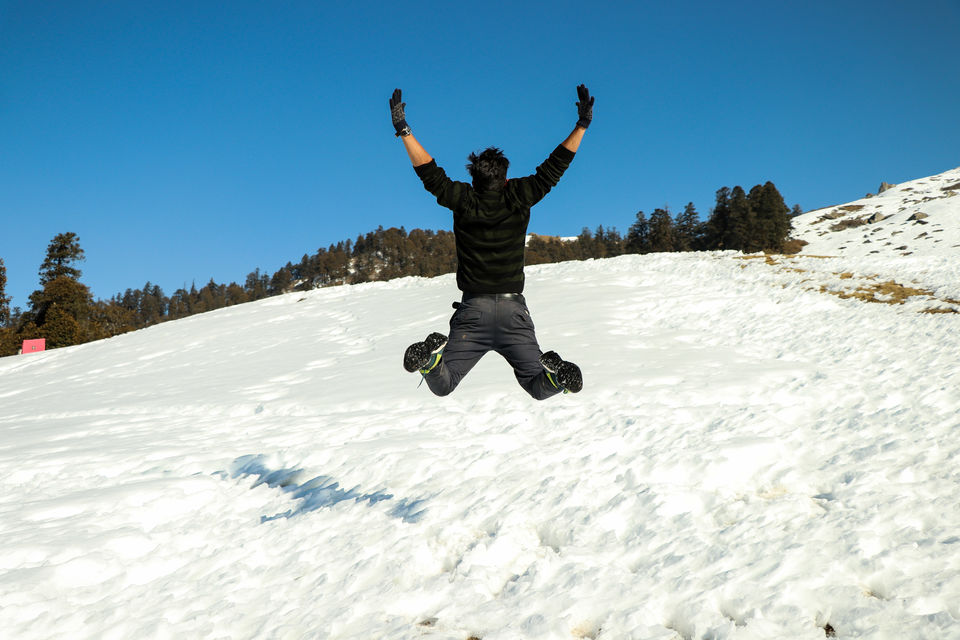 Placement session is the time when an engineering student rediscovers what stress is. Being adjusted to hassle-free lifestyle, last five months were grueling, and like everyone else, I wanted a break.
I had been to Himalayas 4-5 times before but never for a trek, so this time my friends and I decided to go for a trek ( we wanted to check our physical endurance too).
Since we all were new to trekking, though little expensive we decided to go with Indiahikes as by the reviews, it seemed safest, and we were in no mood to spoil our first trek experience.
So out of winter treks available on Indiahikes, we narrowed down our choices to three treks.
1. Brahmatal
2. Har ki dun
3. Kedarkatha.
Due to some reason, Har ki dun trek was called off by Indiahikes, and early dates for Brahmtal were not available so being little impatient we booked for Kedarkantha Trek ( 12 Jan ).
1. Reaching Gaichgaon ( Basecamp for KK trek Indiahikes )
We started our journey from Varanasi and reached Dehradun with a mixed journey of bus and Train. Being welcomed by cold winds in Dehradun, we were contemplating our decision of choosing Winter Treks in Himalayas .
Indiahikes provided an option to opt for a cab from Dehradun to Gaichgaon, but we decided to go with Bus as it was cheap (the difference was about 1000 INR/ per person).
A bus at leaves for Naitwar at 08:00 from Mussoorie Bus-Stand of Dehradun and reached Naitwar village at about 04:00.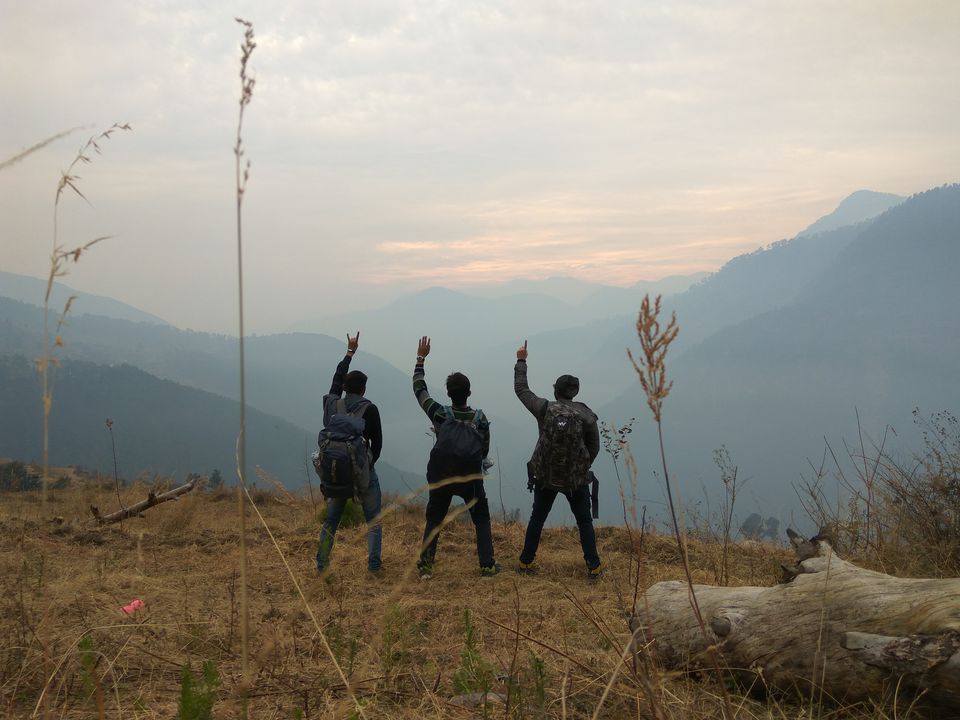 With 1990's songs and people requesting to take a leak every 30 minutes bus journey was really amusing.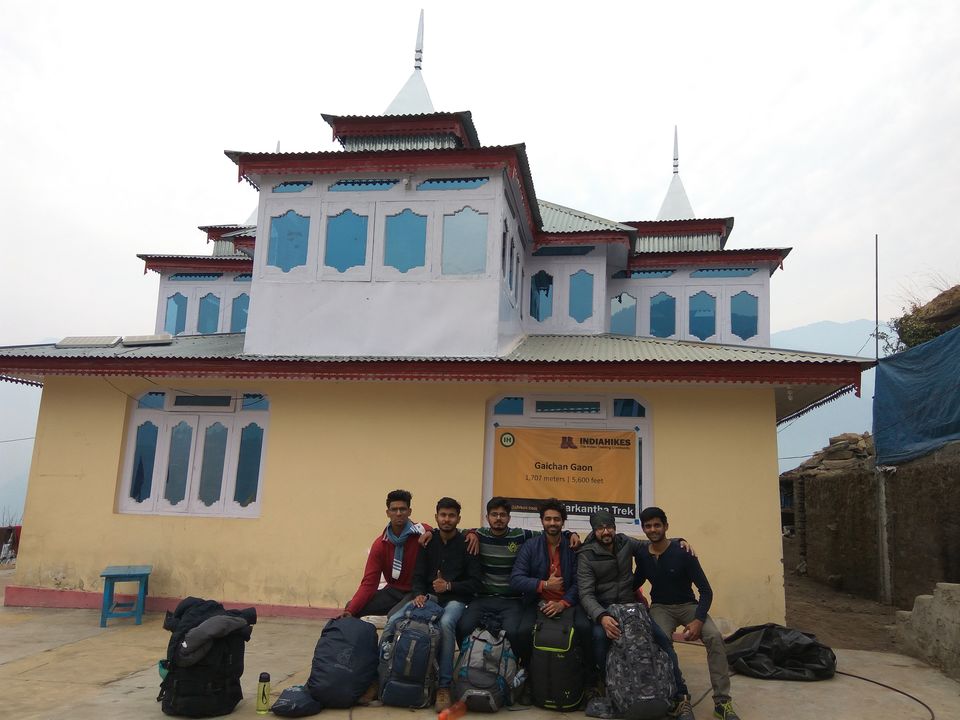 The distance between Naitwar and Gaichgaon is about 2 Km, but due to steeply ascend it took us around 40 minutes to reach Gaichgaon(Our Basecamp), it was like a mini trek for us before the start of the trek.
We were allotted beds in a shared lounge of 13 ( A dog also joined us in night). After having evening snacks, we met our Trek Guides Subhash, Jairam and our Trek Co-ordinator Satej.
Satej left his job as Senior Software Engineer at Vodafone to be trek co-ordinator with Indiahikes and knowing that made some IT people think about their jobs :p.
2. Gaichgaon to Julota
Going from 5,600 ft to 8,950 ft.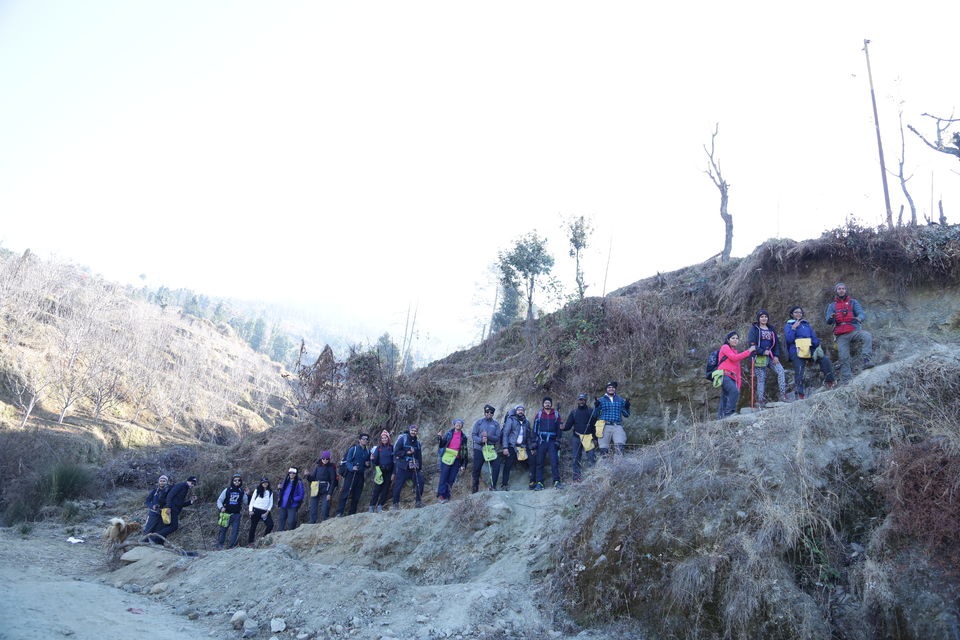 Like military schools there was a wakeup call by Satej at 6.00 in the morning, it was tough to wake up this early that too in such cold.
Group was given a little briefing about how to use all the tools during the trek and all.
The first day was expected to be challenging as we were going to cover the maximum distance on the first day of Trek.
At pinnacle of excitement after war chanting of "Har Har Mahadev", We started at about 8.00 in the morning, I thought of walking along Jairam so that I can talk about his experiences in Himalayas and Trekking.
First sentence that came out of his mouth was "Its really easy trek, I can do it in 1 day" and I thought like "what the hell man, I am excited for doing a trek in 4 days which can be done in 1 day ????", all my excitement washed away for a moment. But later I realised that for completing this trek in 1 day you need at least 4-5 year of experience in trekking and Stamina of a Horse.
We took 30 minute rest at Hetwar village and DSLR guy's got busy clicking pics with local people.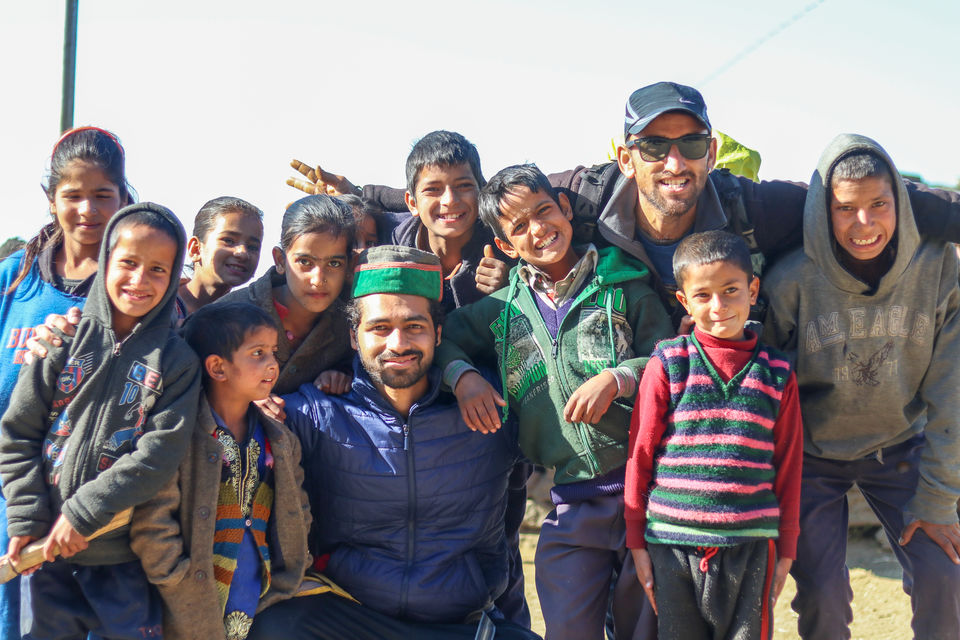 After little more demanding ascend we reached our first campsite Julota. Surrounded by Pine trees, with beautiful yellow tents pitched in campsite looked exactly like the kind of we see in movies ;).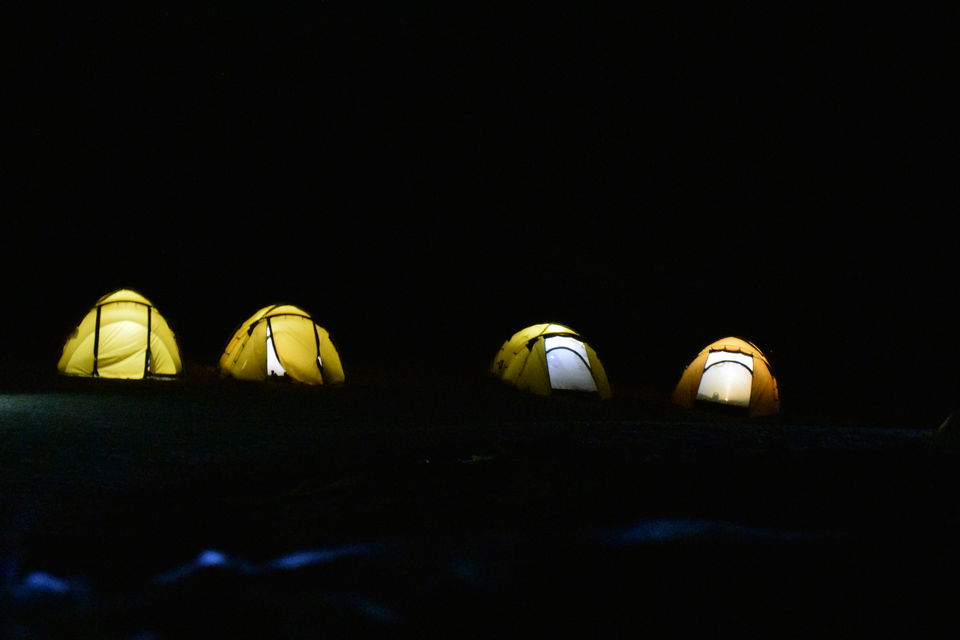 After some evening activities, we had our dinner and I spent good 30 minutes stargazing, it was mesmerizing.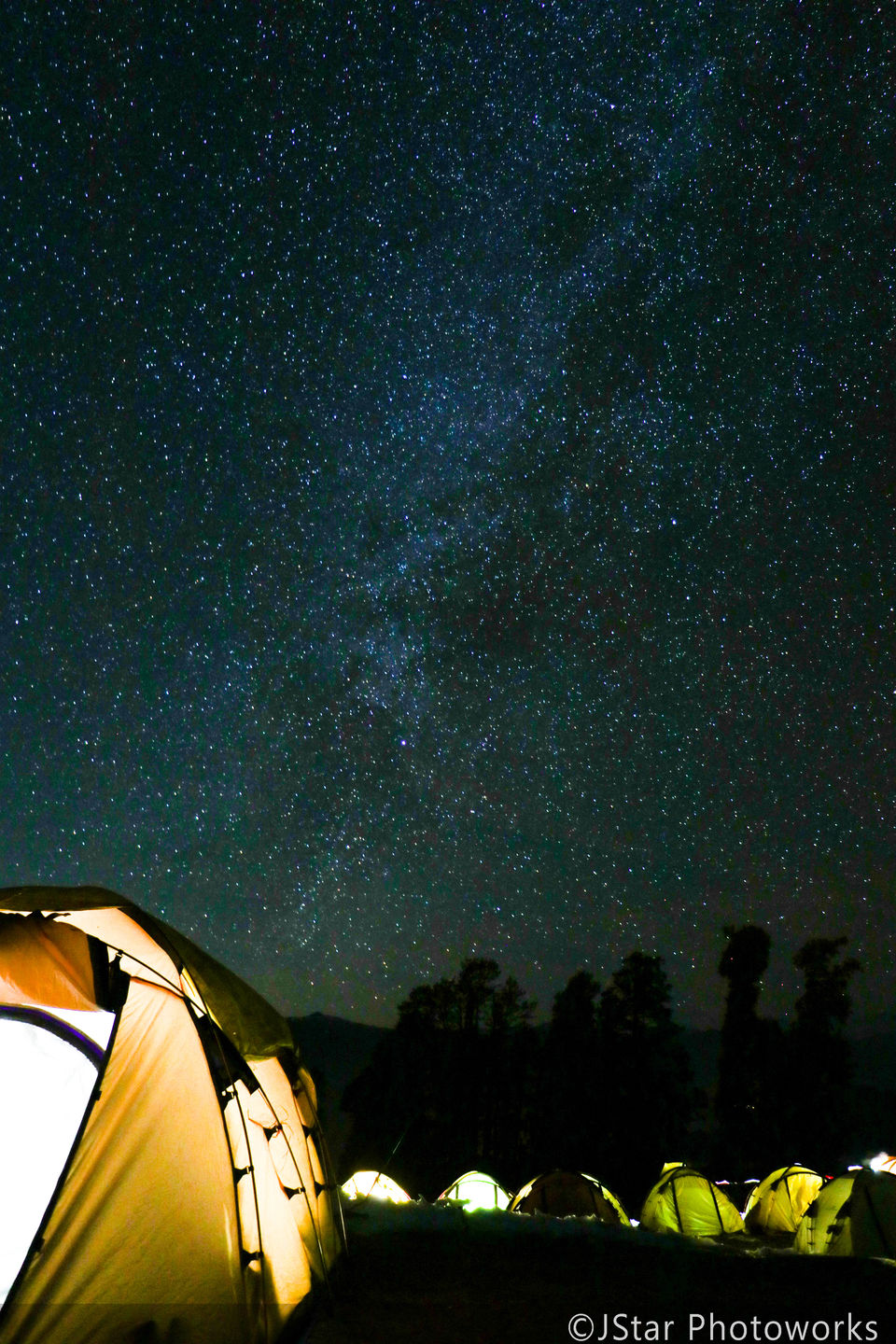 3. Julota to pukhrola.
Going from 8,950 ft to 10,800 ft
Starting with some stony roads soon we were in the deep forest. A lot of fallen trees due to decay showed that place was untouched. After 40-45 minutes of walk,First glimpse of snow refilled everyone with energy and soon everyone was clicking photos.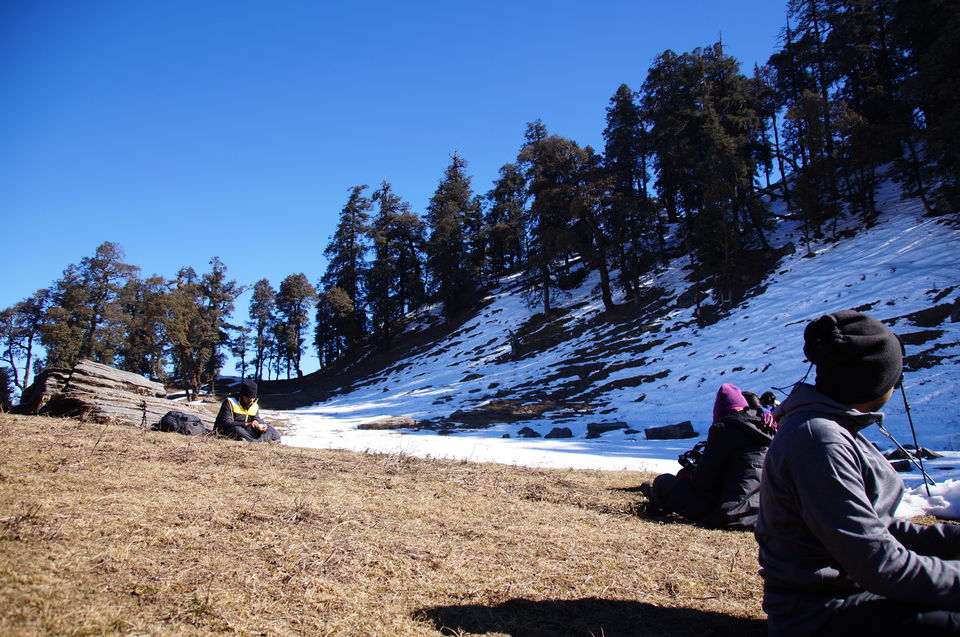 After Passing three gorgeous meadows, we reached our campsite Pukhrola and I was first one to reach there ;). Ascend for the day though being short was a little challenging due to increase in height and strong cold winds. Due to lack of water resources in the way, I wasn't able to Hydrate myself well and like most people I had a mild headache.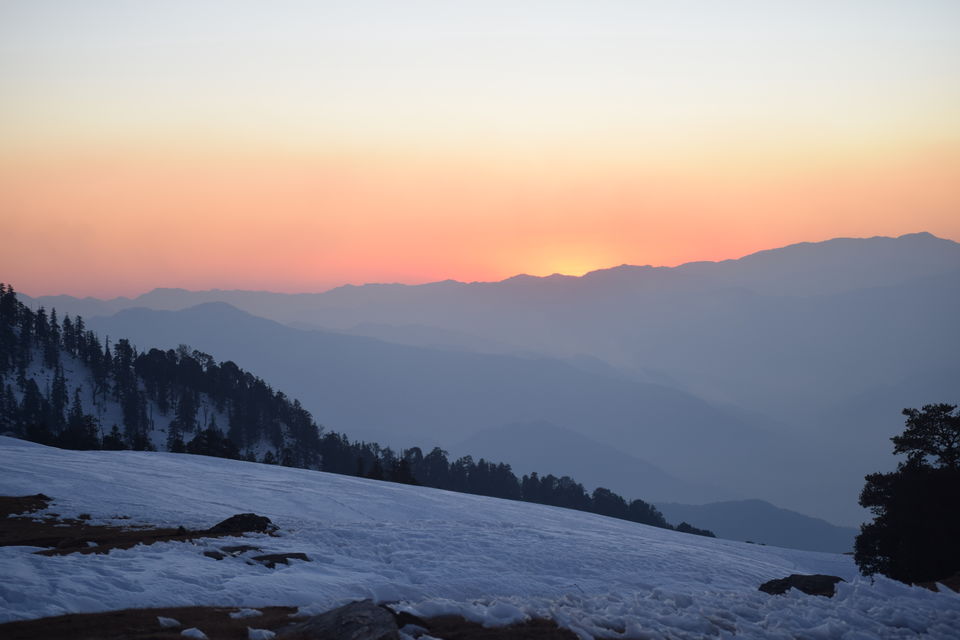 Now on one side was snow covered kedarkanth summit and on another side was a splendid sunset view, out yellow tents looked like flowers in white snow the whole view was LEGEN-DARY ;)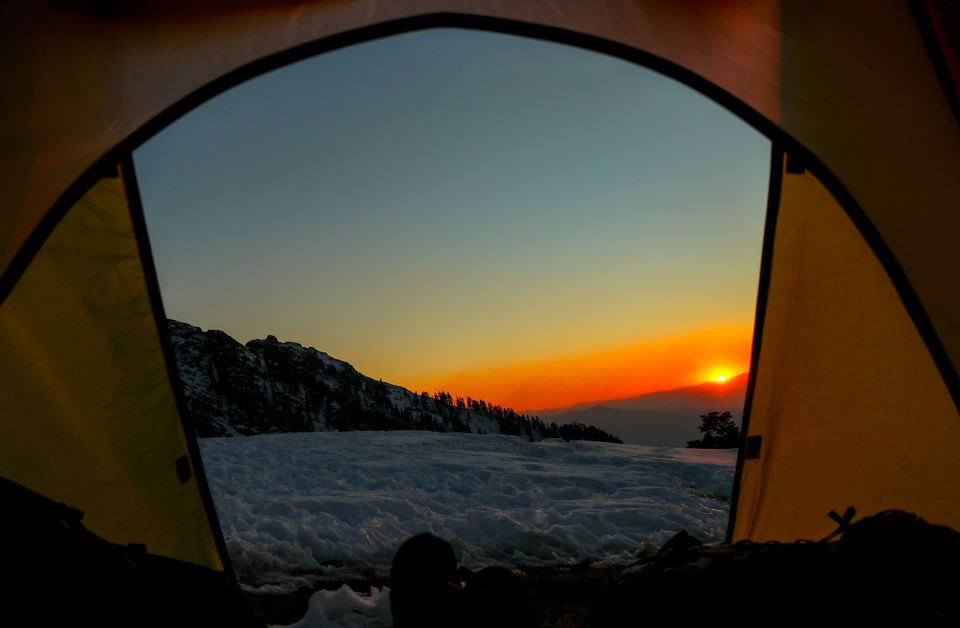 The kitchen staff was playing cricket and as expected some of us joined them but for very short time as ball they used was hard and in those cold winds, it was hurting bad to catch even a slow-paced ball.
Since everyone desperately wanted to see the Sunrise on Kedarkantha summit next day so everyone agreed on starting the trek at 4.00 Am the next day and wake up call was decided to be at 3.00AM.
After the technical briefing from technical guide Aryan we had our dinner ( we had Gulab Jamun for dessert at such heights )at 6.00 PM everyone started preparing for early morning trek next day.
Temprature was below zero and we were given double sleeping bag, dreaded of touching cold water some of us didn't wash our tiffin boxes and those who did, did it with gloves on.
4. Pukhrola to summit to munrola
How can you expect someone to wake up at 3.00 AM in -5 temperature ? So we were late by 40 minutes in everything. It was so cold that fingers and toes were hurting, which came to ease only when we started walking. During this time rest was more hurting because as soon as we took a break, fingers and toes used to get frozen.
at about 6.15 we could see a beautiful horizon, some of us took it for sunrise and we paced a bit up and reached the summit at 7:00.
There were really strong winds at the summit, everybody found a place behind big stones to avoid the winds and waited for sunrise.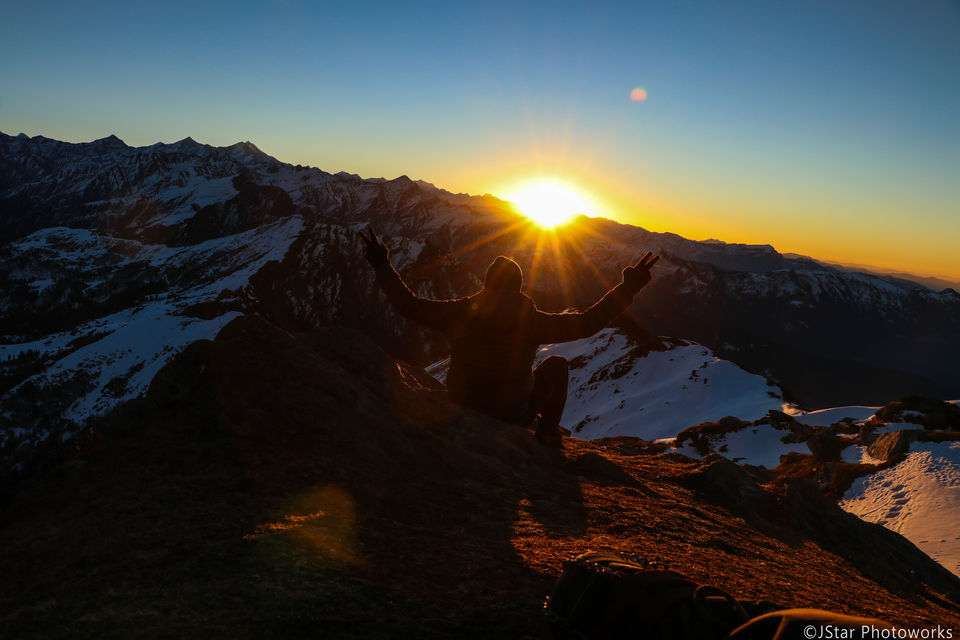 Then came the magical moment of sunrise for which everyone was eagerly waiting, everyone enjoyed it for about 30 minutes with clicked some pictures.Then we started to descend.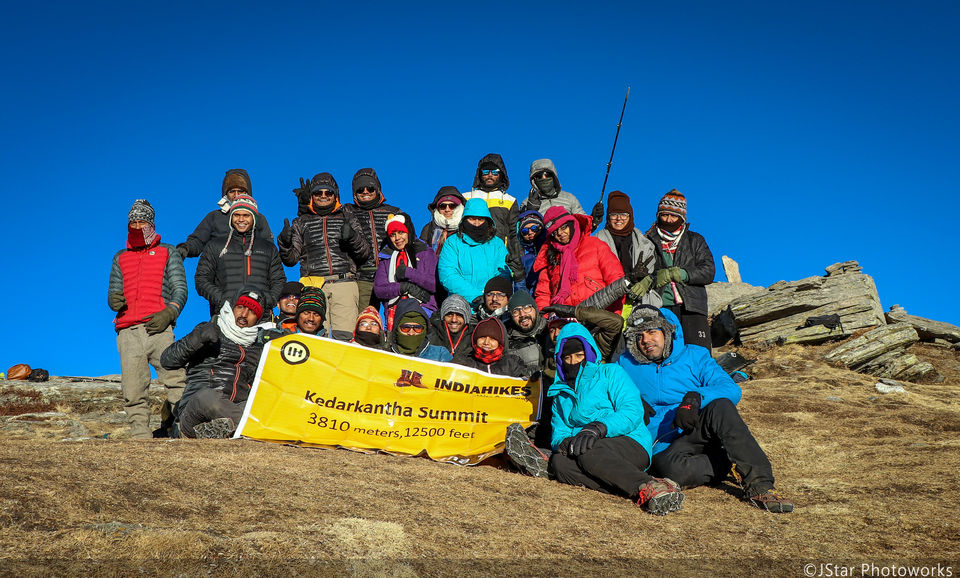 Descend was easy, everyone was going at their own speed. It had been about two weeks since it snowed but we still managed to have 2-3 slides on snow and it was enjoyable. We reached our campsite Munrola by 9.30 a lot earlier than expected.
Trek was almost over and everyone wanted to make the best out of remaining time, after dinner we gathered in one camp and Subhash told us some mythological stories and we played cards till midnight before going to sleep.
5. Munrola to Sankari
the trail for this day was worst there was no snow, it was all hard stone and 4-5 hour walk on these gave me a sharp pain in my left knee.
I passed bt Juda ka talab after about 2 hours of walking, JKT was not in its best state at that time, half of it was melted and honestly, it was not as much beautiful as I expected it to be ( maybe the timing are to be blamed ).
Walking at their speed, everyone reached the Sankari village by 2.00 PM. Out stay was organised in Gypsy Hostel, the hostel was amazing.
We went out for Momos in the evening. Non-veg people went out for dinner in a Dhaba in village and all Veg people went for dinner at home of Hostel manager.
I was in the Veg league and the localities food was really fantastic, food was little less spices so that you were able to feel the taste of stuff used in it.
In the morning we again to take an economical way we opted for a bus from Sankari to Dehradun instead of the cab but this time we were 9 people instead of 6 ;).
6. Making it more economical.
If you are tight on budget, I will say you should go with YHAI as its cheaper but then again IndiaHikes provides way better food and trail it uses it better than rest of trek organisations. So its a kind of tradeoff of 3k vs food and a good trail.
If you go with Indiahikes, you can save some money by using Bus instead of Cab.
If there is not too much snow and you are confidently fit you do not need the trek Pole ( I rarely used it ).
Instead of renting shoes from IndiaHikes I will suggest to Buy one instead ( it will be a one-time investment).
Overall Experience.
For Beginners who do not do much physical exercise, this is an Ideal trek.You will enjoy a wide range of splendid views on the trail and it will not be much hard on your body, you will fulfill your lust to stay in camps with beautiful scenery.
Pic Courtesy : Pictures used were clicked By Jitendar, Aayush and Abhishek my trek buddies ;).