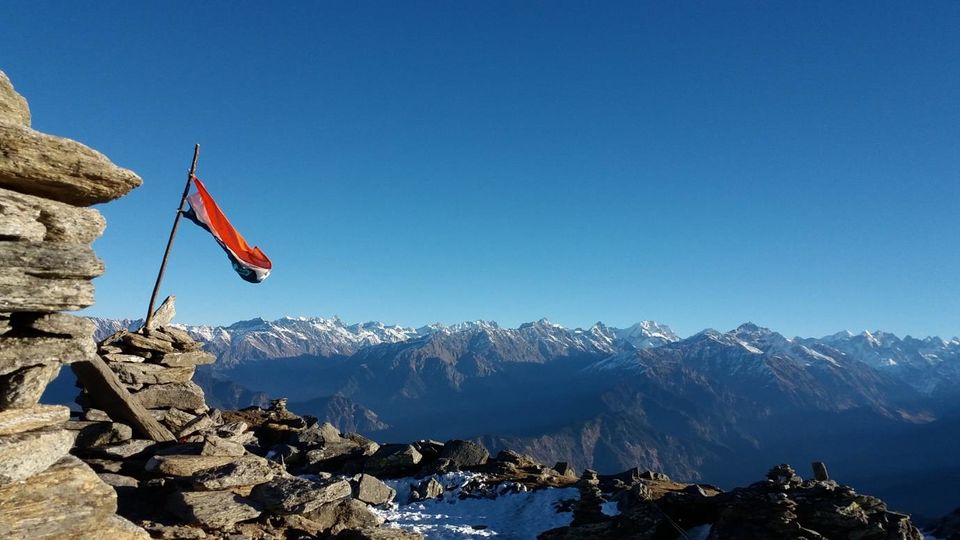 After a long gap of 31 years I listened to my inner call for trekking. I started exercising for last 6 months and booked my trek to Kedarkantha summit on 4th of Jan 2018.
Kedarkantha (12500ft)a summit on Uttaranchal. I choose 'India hikes' a professional tour conductor in Himalayan Range. In each and every trip they provide professional trek leader & guides who have sufficient experience in Basic and Advance Mountaineering Skills.
I started my preparation with an hour jogging and climbing staircase up&down with weights for six month until I finally set out for Dehradun from Kolkata, via Delhi.
In Dehradun, I was surprised to realize that I was the only person in his early 50's. The rest of the trekkers comprised of youngsters aged between 22 to 34 years. So in Dehradun, the last nail in the coffin of my youth was hit when the rest of the hikers addressed me as "UNCLE" !!!!
Our trek started from Naitwar which is around 8 hrs drivefrom Dehradun . Our Bolero drove along the side of river Yamuna and then River Tons until the motor-able road ended in Naitwar. There is a nice wooden bungalow arranged by Indiahikes for our stay that night. It was there that we met our Trek leader and associate Trek Instructors.
In Naitwar we had to undergo a strict medical examination and our blood pressure was monitored. My hard work for the last six months finally paid out when I passed these tests with flying colours.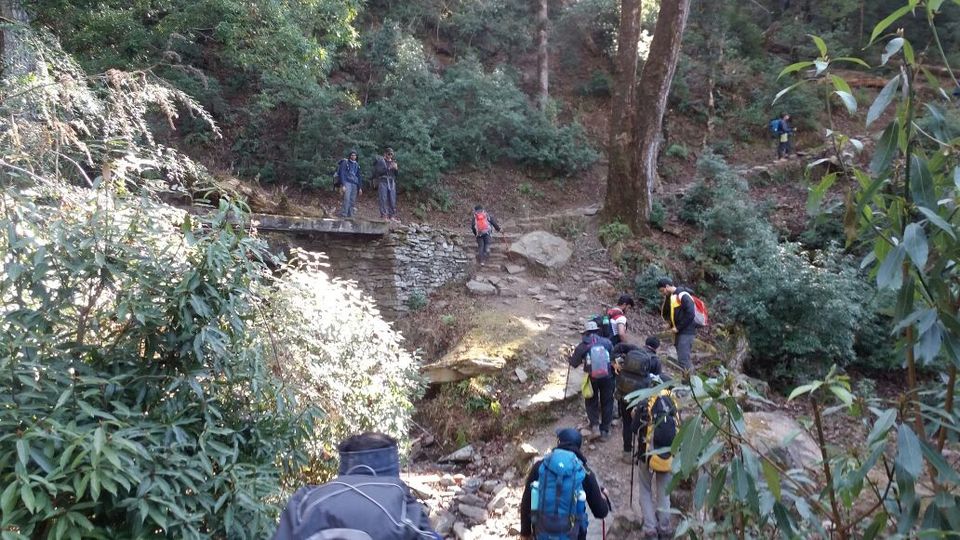 We started walking from Gaichan Gaon( 5600 ft) to Jalouta (8900 ft) . As we srated walking, terrace farming, village meadows, pasture lands filled with live stocks, everything that I had once marked as 'cute HIMALAYAN HABITAT' disappeared. We felt ourselves become one with mother nature once we entered Govind National Park & Sanctuary.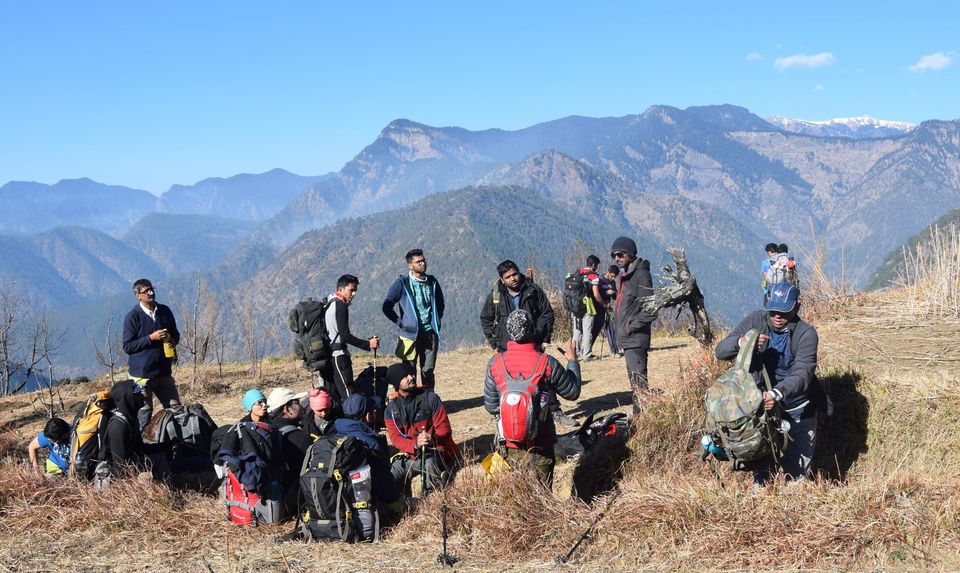 Once we entered the snow covered area, we started feeling breathless forcing us to take rest every 15 minutes. At the end of the stiff climb, we reached our target camp Jalaouta.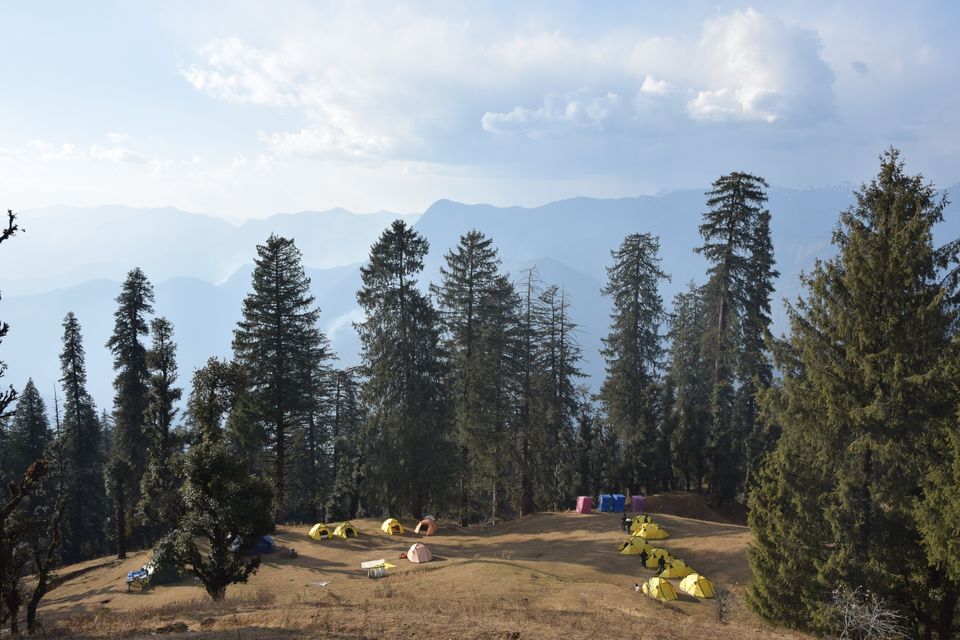 Our base camp was equipped with D-tents. Snuggly, cozy sleeping bags awaited us in our tents but this joy was marred by the realization of high altitude sickness when I observed some of our fellow trekker needed medical attention for low oxygen. Myself still doing well.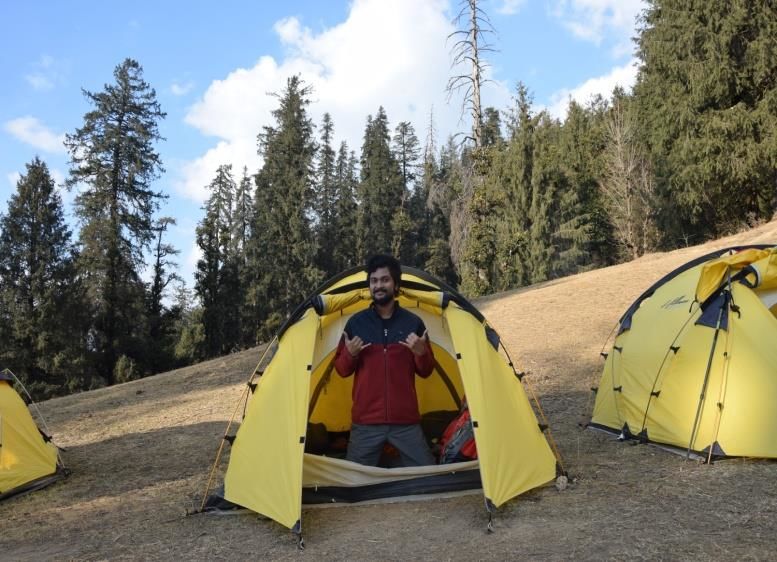 Next day trek was completely on snow mesmerizing beauty of nature even though other trekkers off loaded their rucksack to mule but I was quite comfortable with my rucksack.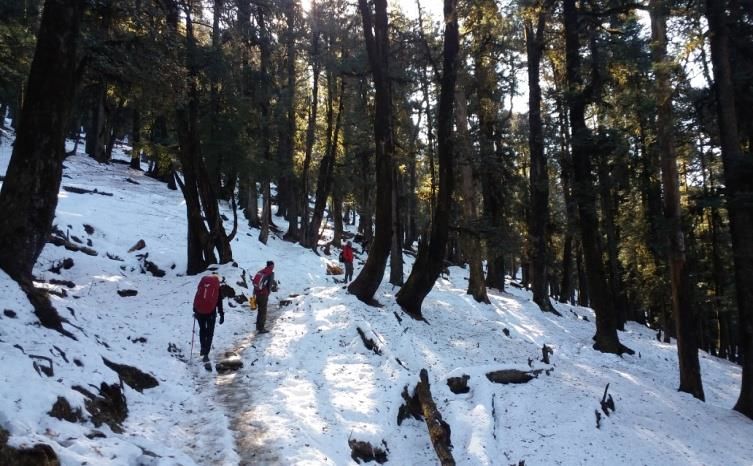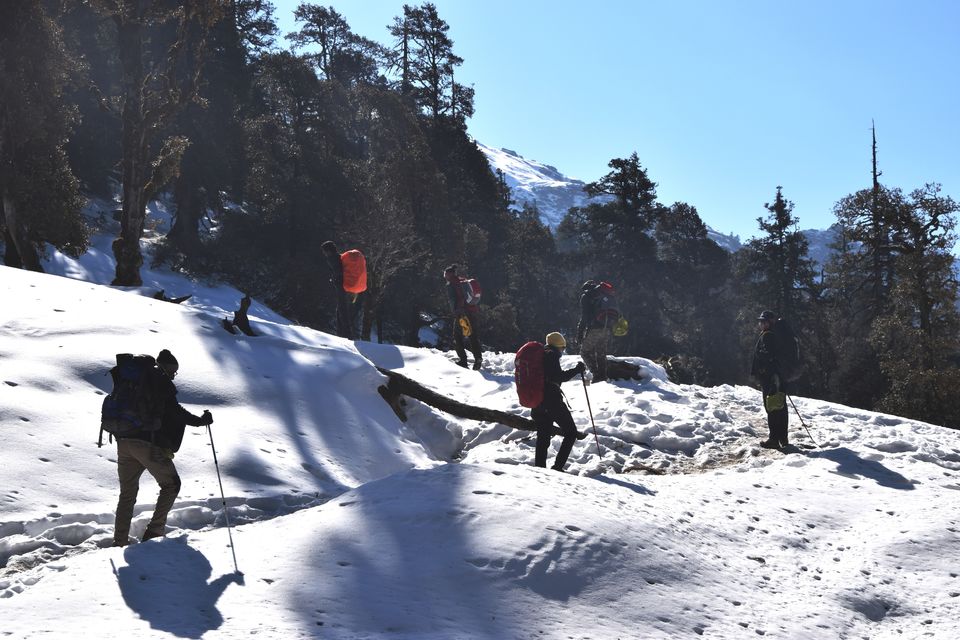 Reached our Pukhrola Base Camp (10800 ft) just before lunch . Temperature was 12 degrees below freezing. I witnessed many peoples literally crying even though it was bright sunny day. Here we met our technical instructor for final ascend. We put on micro spikes and gaiters to watch out from slippery ice. Our Next day itinerary was explained by our technical instructor. It was decided that we'll leave the camp at around 5am to get a view of the sunrise from the top.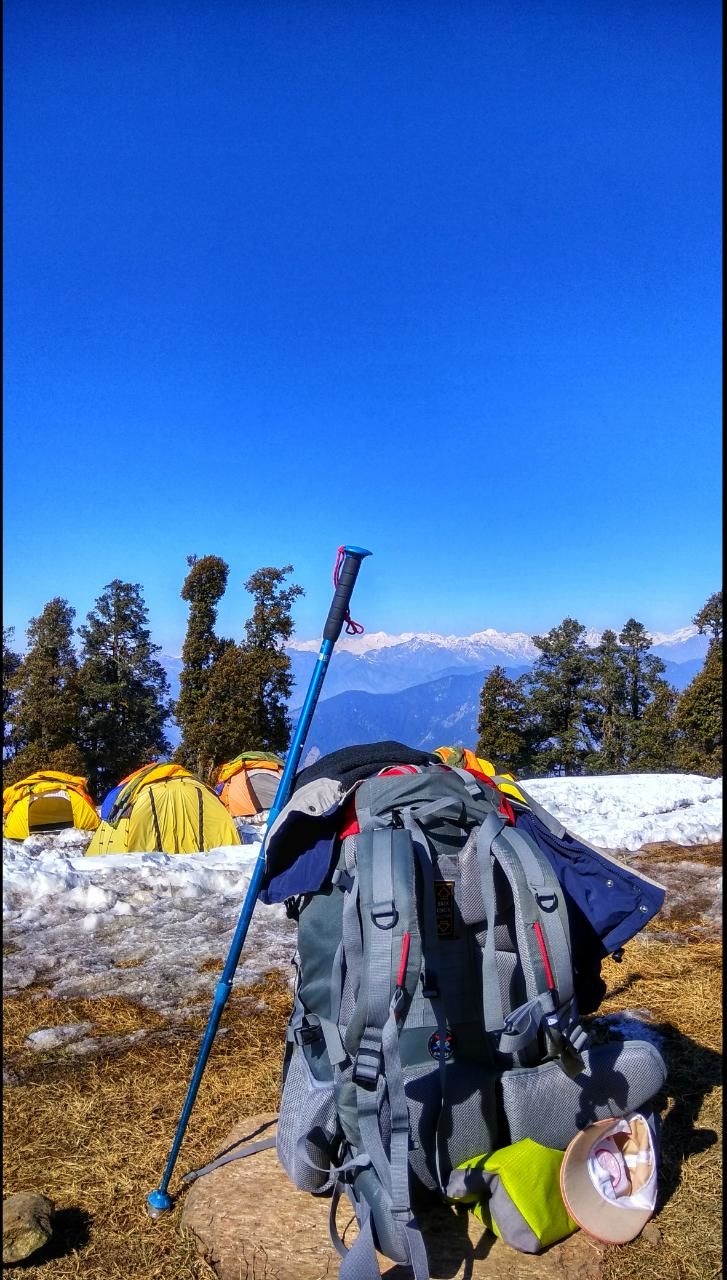 For the first time in my life I experienced unmanageable cold wind and astonishing night sky with millions of stars and meteors together. The white snow patches were glittering in the star light. The look of Kedarkantha in starry light is unbelievable. Few of  my fellow trekkers were medicated with Diamox to cope with the thin air. But still I was doing well. I planned to carry my rucksack on final climb as suggested by our trek leader.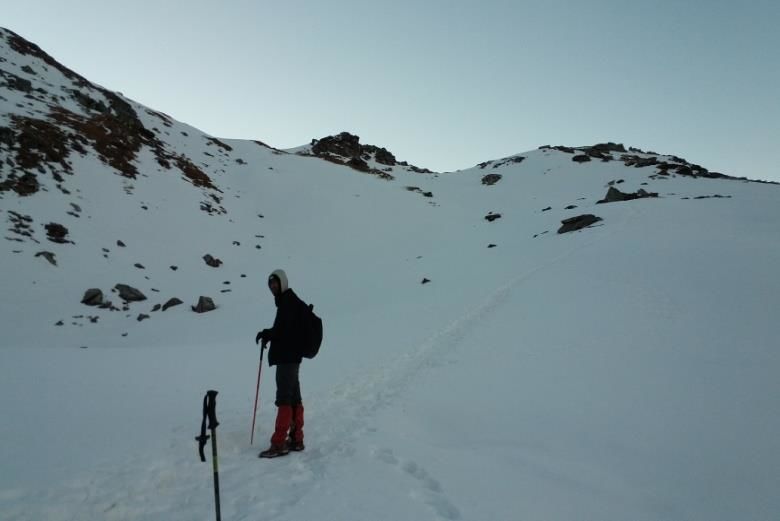 On final moment at moon lighted 5AM we started to summit . Long trail of trekkers equipped with headlamps and trekking poles started marching towards the summit. That day our trek leaders formed the trail in a different manner, slow hikers at the front and fast trekker will follow them .He shouted "Hum sab ek sath summit pohuchenge, sab ko lekar. Lekin raste mein rukna nahi, nahi to jum jaoge."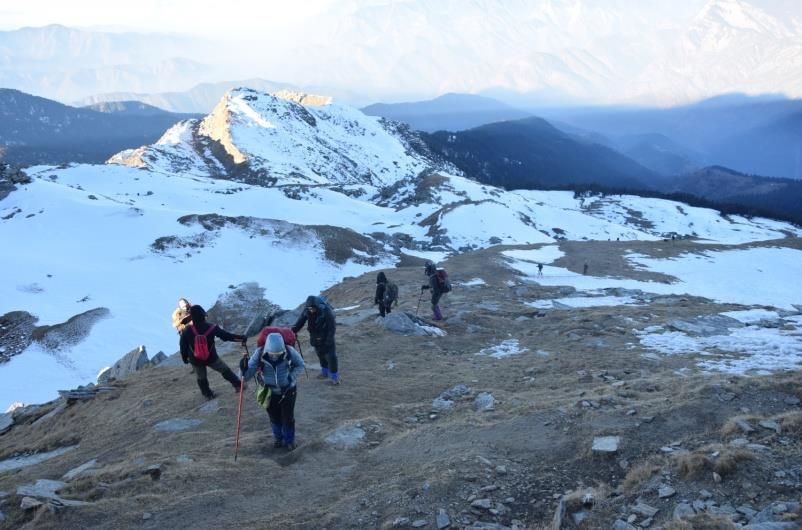 Trekker kept on climbing against all odd, some were crying due to extreme cold, some want to descend due to breathlessness. Everybody continuously motivated one another that we shall keep moving, and not stop. Suddenly I noticed my hand gloves slipped away and fell from my hand somewhere in the trail and I did not sense anything. My fingers were numb. We had four instructor encouraging us to maintain pace and trail. With the first light we reached summit. Warm sun rays invited us in to the Summit.
On the summit, our instructor pointed out some peaks like the SwargRohini and some other which were even at a distance of 350 Km. Everybody congratulated everybody for success. The view around us was unbelievable. After a short 1 hrs rest we started descending . It was quite easy we slide down in snow stiffs to our next camp Munaila (10200 ft). Descending from Munaila to Sankri via Frozen lake Juda ka Talab was excellent.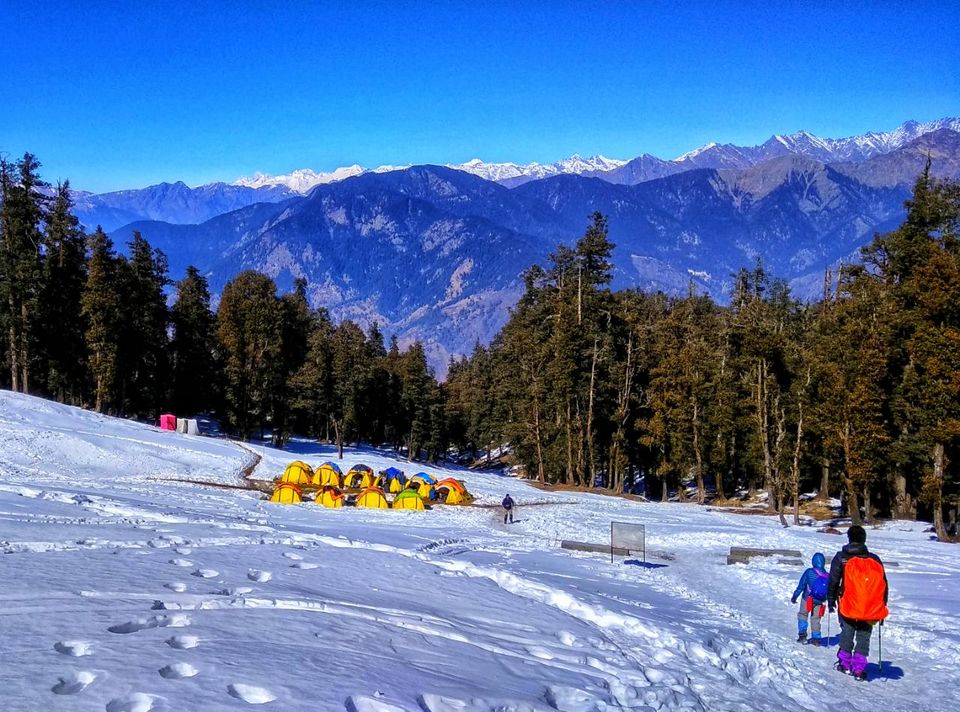 After this trek, I'm confident about my mental and physical condition. Came back to Kolkata without the need of external oxygen or any medical assistance. Everybody should experience a trek in the Himalayas for betterment of mental and physical ability.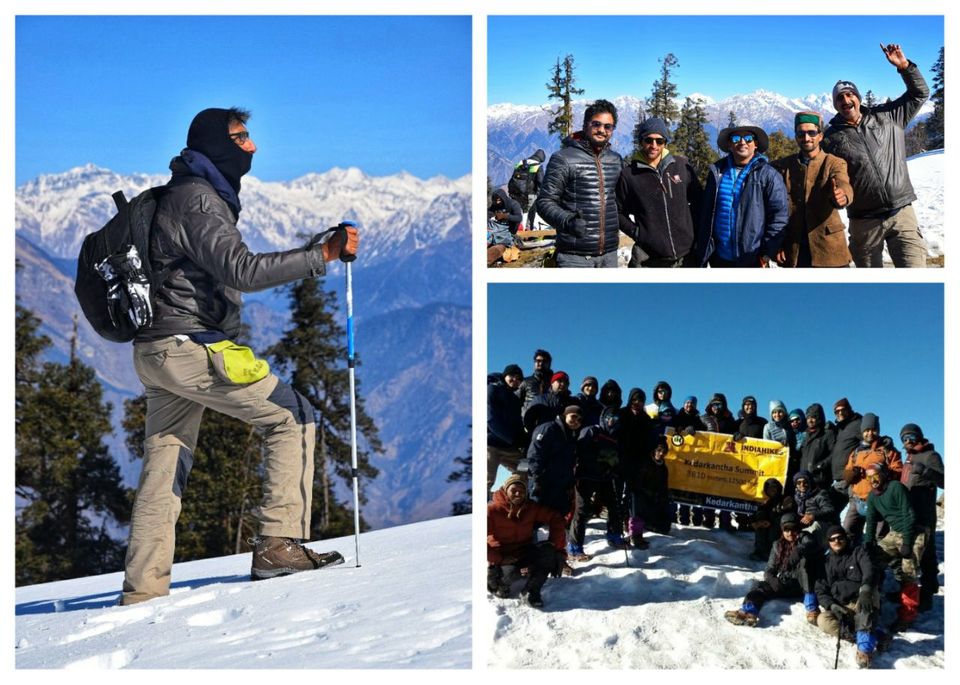 Happy to be a small member of the Himalayan Hikers. Would love to see some more oldies in my next trek.