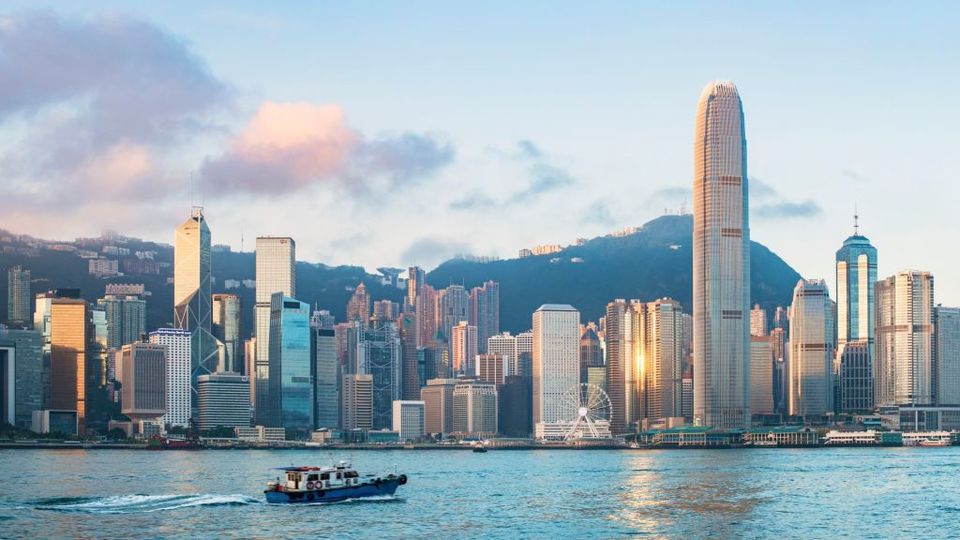 Hong Kong is a concoction of contrasts - it is home to a skyline that is a vertical exhibit of glass and steel skyscrapers graced in a spectrum of neon lights, and yet retains the chaste culture of a city silhouetted against the quiet, serene, nonchalant hilltops!
Not many cities in the world project the symbiosis of exquisite disparities. Hong Kong, however, is a city where dreams, differences and deftness are conflated. It is a perfect congregation of the Eastern and Western cultures, a place which is equally known for its natural beauty as much as for its towering skyline, a city known for its classical, yet contemporary culture! Even with all the infrastructural notoriety, Hong Kong hasn't atoned its soul. Till date, it remains one of the most distinctively creative hubs around the world, a showcase of diversity - an esplanade decorated by artists, chefs, entrepreneurs and designers alike; a city known for off-beat hikes and some assorted old-school experiences!
Tsim Sha Tsui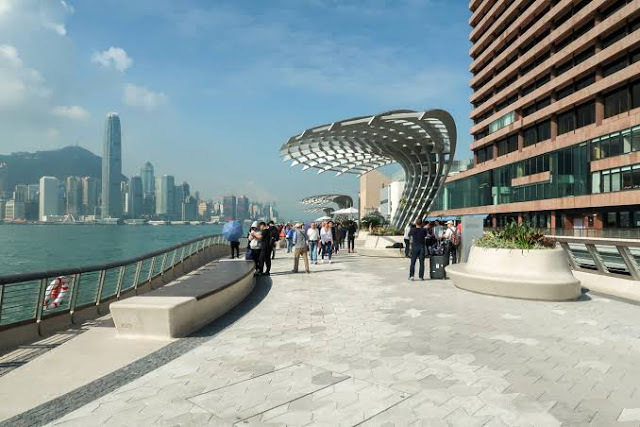 Cutting through the centre of this ginormous city is the Victoria Harbour. Criss-crossed with busy commuter boats and ferries, wooden catamarans, and gargantuan super-ships, it embellishes Hong Kong's trademark of an embedded seafaring heritage. West of the harbour is the South China Sea, shimmering into the horizon past distant outlying islands - the remnants of Hong Kong's previous incarnation as a quiet, seaside fishing village about half a century ago.
The city of Hong Kong provides a multitude of divine experiences. However, the thing that will imprint the 'Hong Kong Way-of-life' in your mind, is the busy, yet content lifestyle!
On my first day in Hong Kong, I chose to simply savour the city's jovial and lively atmosphere, sitting alongside the harbour and embracing a fascinating transition as the buildings reflecting amber gradually dress up in a plethora of colours as the Sun sets!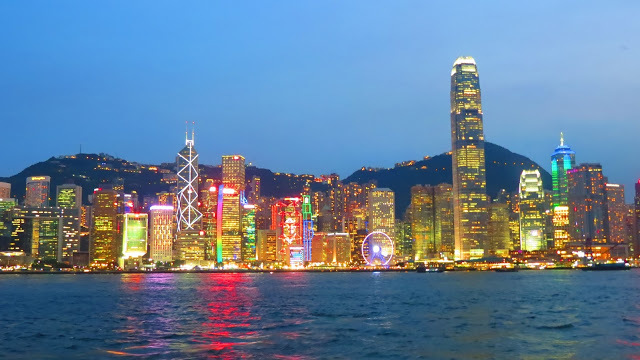 I fell in awe of this place the moment I saw it. Tsim Sha Tsui might as well be considered a city-centre - it is a paradise for shopaholics and night-owls! Casual eateries and eclectic local shops are packed along the adjacent colourfully-lit Nathan Road, luxury malls on the Canton Road are almost always boasting with crowds, and the Tsim Sha Tsui Promenade, next to the Victoria Harbour, is one of the most lively places in the city to spend your evening. Here, local artists - musicians, singers and dancers - bring life to the otherwise monotonous streets; and while you are still taking in the stunning views of rainbow-coloured skyscrapers on the other side of the harbour, hoards of shoppers and tourists continue to pour in the area!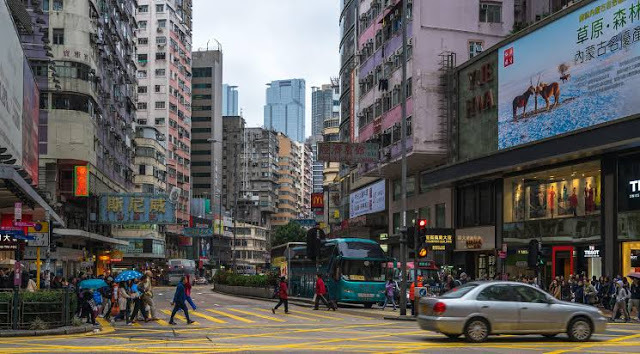 Victoria Peak
If you line up the places to visit in Hong Kong by popularity, the second place on the list has to be Victoria Peak.
If Victoria Harbour is a place to see the city's skyline, the Peak is a place to experience the incantation brought about by it!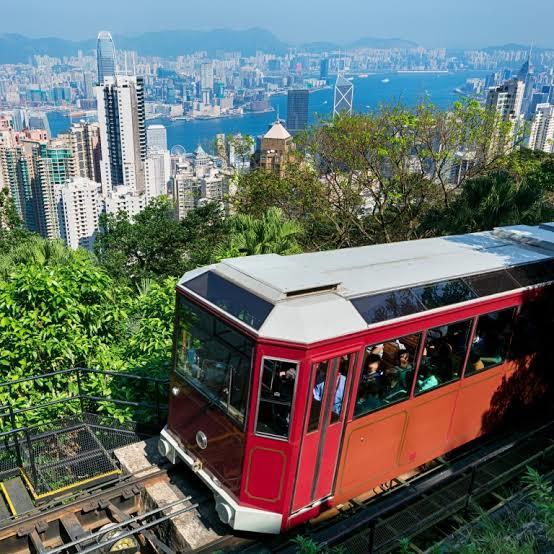 I took the Peak Tram to reach Victoria Peak. The revered Peak Tram is a unique way to experience the bounty of Hong Kong's wonders; and I can pretty much guarantee not many people would have experienced riding in a tram inclined almost forty-five degree uphill! The tram covers a distance of roughly 1.5 kilometre from the the base (popularly known as the Central district, on the Garden Road) to the Peak, gaining an elevation of about 400 metre. This tram began service in 1888 and remains to this day, Hong Kong's most impressive attraction of engineering!
Once you reach the top of the Victoria Peak, you are again greeted by a multitude of shopping plazas, eateries and cafeterias; wherever you go in Hong Kong, shoppers and foodies are never disappointed! And when you finally set your feet on the top wooden deck meant to experience the panorama this magnanimous city provides, you would, almost certainly, be taken aback by the view that lies upfront!
It feels as though Hong Kong city was built to look graciously picturesque and stunning from up here.
Victoria Peak is the viewpoint where you are greeted by mesmerising harbour, mountain, and skyscraper views. It is easy to understand why this place is one of Hong Kong's most revered and renowned attractions!
However, the only way to beat the crowds is to get here as early as possible; the Peak opens up at 7am, and if you show up a couple hours late, you're looking at a one-to-two-hour long queue - tram and deck lines cumulatively. If the queue for the Peak Tram is unbearably long, one can take City Bus from Central Harbour Pier instead, however, it is really not quite as intriguing, I must say! The best way to enjoy the Victoria Peak, the way I did, is to come here early morning, embrace the surreal views from the deck and then grab a bite at the food plaza atop the Peak before descending.
HK Disneyland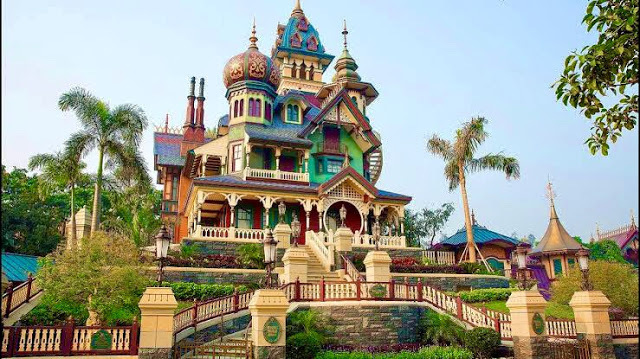 Well, this place neither needs any exposition nor any characterisation - if you visit Hong Kong, Disneyland has to be on your list! Usually, it is a dilemma for people to choose between the Ocean Park and Disneyland, and rightly so. While Ocean Park is the largest theme park by area in Hong Kong, I must say, nothing really beats the vivid and lively diabolism brought about by the Disneyland! Now, I will be quick about Hong Kong Disneyland, a lot has been said and shown about this stunning 'other worldly' place, and though pretty cliche, you would certainly miss out the child-like excitement Disneyland has in the air if you don't include it in your itinerary!
The Hong Kong Disneyland is located on Lantau Island. It is recommended to book the tickets online in advance. The Disneyland Resort Metro Line runs from Sunny Bay Station to Hong Kong Disneyland Resort multiple times per day, every few minutes. One can easily reach the Sunny Bay Station from Tsim Sha Tsui Metro Station. Being one of the largest and most renowned theme parks in the country, it is inevitable that this place will be swarmed with both locals and tourists at any given day. However, as with most theme parks around the world, the golden rule is to not visit a theme park on a weekend, and perhaps, you will be lucky enough to be blessed with smaller queues, lesser crowds and in general, a better experience!
And one more thing: One is never too old to visit Disneyland! So if you are in Hong Kong, believe me, you would not want to miss this!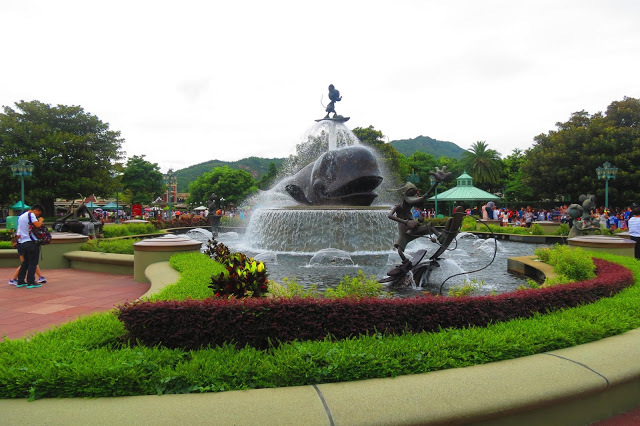 Dragon's Back Trail
The Dragon's Back Trail is the most popular hike in Hong Kong - it is easy to access, easy to complete, surreally scenic, and ends on a sublime beach!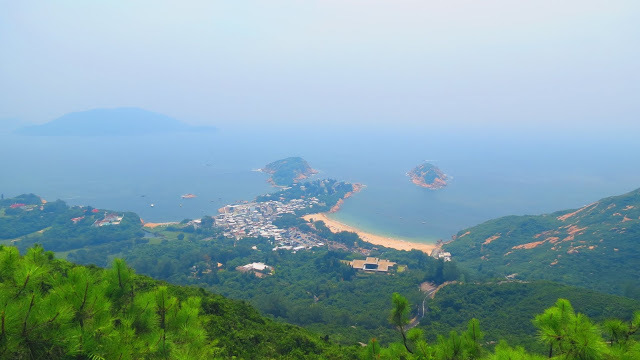 For many people, the Dragon's Back Hike is their induction into hiking in Hong Kong. It is also a great way to see the other side of Hong Kong, to highlight the contrasts that Hong Kong so well presents - the side with no skyscrapers, the side flourishing with trees, sandy beaches, and the blue chaste seas! The Dragon's Back Hike is located on Hong Kong Island, which means that it's easy to get to, and is well connected. Take the Island Line metro to Shau Kei Wan Station, look for Bus No. 9 at the Shau Kei Wan Bus Terminus, and wait for your stop 'To Tei Wan, Dragon's Back'. One you get off at To Tei Wan, follow the path leading up the hill to the Dragon's Back Hike.
Dragon's Back Trail provides a perfect blend of adventure, action and alacrity; take this hike and you would certainly forget that you are a short distance from a modern, dynamic city!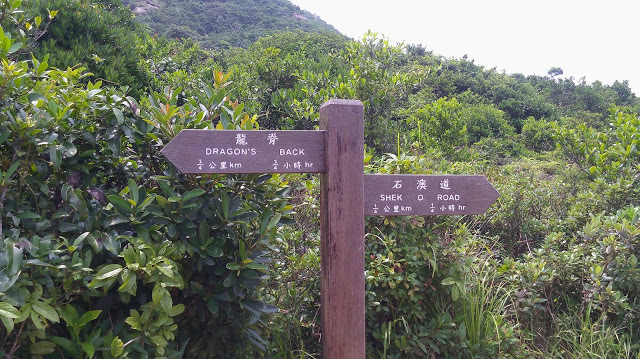 After about 20 minutes into the hike, one arrives at a scenic spot overlooking the breath-taking scenery of Shek-O Beach in the east and the scintillating Dragon's Back in the north-west. One can walk right from here, towards the rocky area for unencumbered views of Shek-O. Continue on the undulating spinal ridge of the Dragon's Back (yes, that's where the name originates from) till you reach Shek O Peak. At 284 metres high, the view from Shek O Peak is the perfect place to take a break and enjoy the views of Shek O, and Big Wave Bay.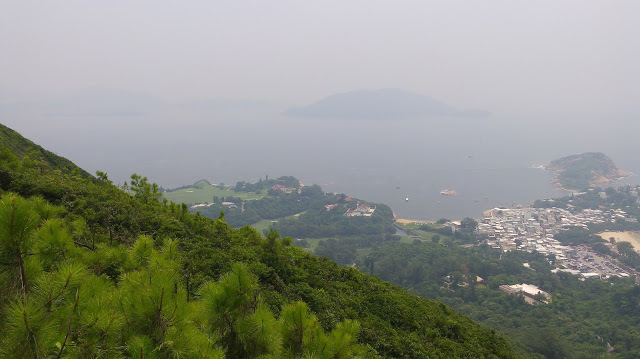 Continue for another couple metres ahead of Shek-O Peak, and you will reach the Dragon's Back Viewing Point. And all the efforts you took to reach here seem just rightly done when you can get views of Tai Tam Harbour, and the pristine beach and waters underneath! For me, this trail was unlike any other hikes I had done. Dragon's Back Trail provides a perfect blend of adventure, action and alacrity! On a good sunny day, when the weather isn't too humid, take this hike and you would certainly forget that you are in a couple hours' distance of a modern, dynamic city!
Hong Kong City
Peter Jon Lindbergh, the prominent food and travel journalist, once famously said:
"Life in Hong Kong transcends cultural and culinary borders."
After all, what is travel without roaming around in the city without a concrete itinerary for a day or two - tasting the local food, walking in the gardens, and experiencing the local market? The city of Hong Kong provides a multitude of divine experiences - from the riches of Disneyland to the chastity of Dragon's Back, from the awe-inspiring views from the Victoria's Peak, to the sublime and lively Tsim Sha Tsui Harbour. However, the thing that literally distinguishes this city, and perhaps, will imprint the 'Hong Kong Way-of-life', in your mind, is the busy, yet content lifestyle!
Hong Kong, often referred to as the 'Oriental Pearl', has been largely influenced by history, its geographical location, and the blending of Western and Eastern cultures. Life for locals here is indeed very fast paced - they walk fast, eat fast, speak fast, and live fast. The usual norm is that 'time is money' and 'efficiency is the key to success', however, in the spare time, they also pay great attention to relaxation and living in the moment, for a quick lark in the nature is just hours away!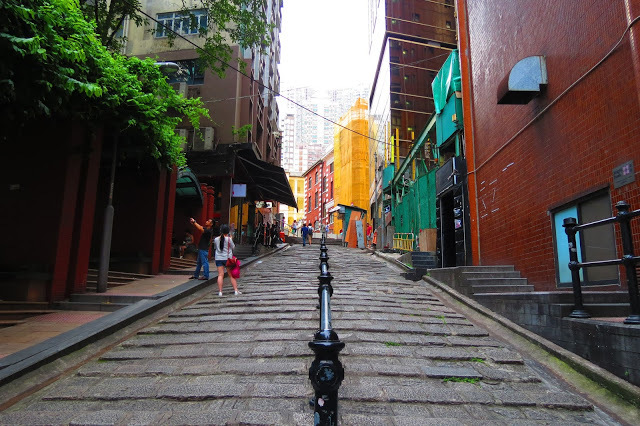 To experience a day in equipoise with the local life, have a breakfast in the 'cha chaan teng' (Hong Kong-style café), where you can chow down on the best local breakfast dish - French toast with peanut butter and condensed milk, sitting on road-side tables around the Sham Shui Po, an old-school neighbourhood packed with colourful 1960s architecture; vibrant street markets hawking material, buttons and zips, and generations-old restaurants.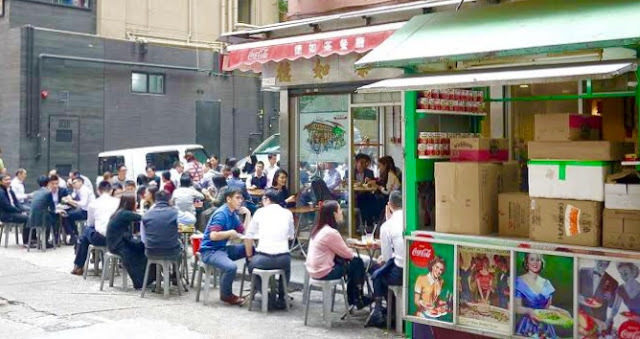 Later, take the metro to Mong Kok, one of the most densely populated corners of the world and home to mile-long Ladies Market (Tung Choi Street, Mong Kok), where you'll find everything from branded T-shirts to silk pyjamas and painted fans, to handbags (leather, silk, faux and fake). From here, you can either hop back on the metro to Tsim Sha Tsui or walk down neon-drenched Nathan Road, hitting all the tax-free shopping malls until you reach the old Clock Tower, which graces the Tsim Sha Tsui waterfront!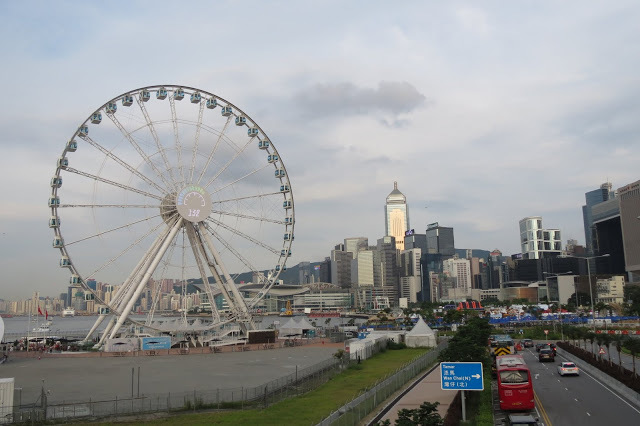 In Hong Kong, you can shop, trek, and just roam around without a firm plan, and yet, your experiences will be far from banal. The silence in the air will be broken by continuous honking on the roads and junctions, the aura of reticence will be disrupted by roadside shops and continuous hoards of crowds, but everything will carry a tag of congeniality with it - you will never feel alone, lost, or apprehensive!
They say Hong Kong is a city where you can rehabilitate, resuscitate and rejuvenate! It is a city where man-made architectural excellence resides in harmony with the traditional luxuriance, cultural affluence and natural effulgence.