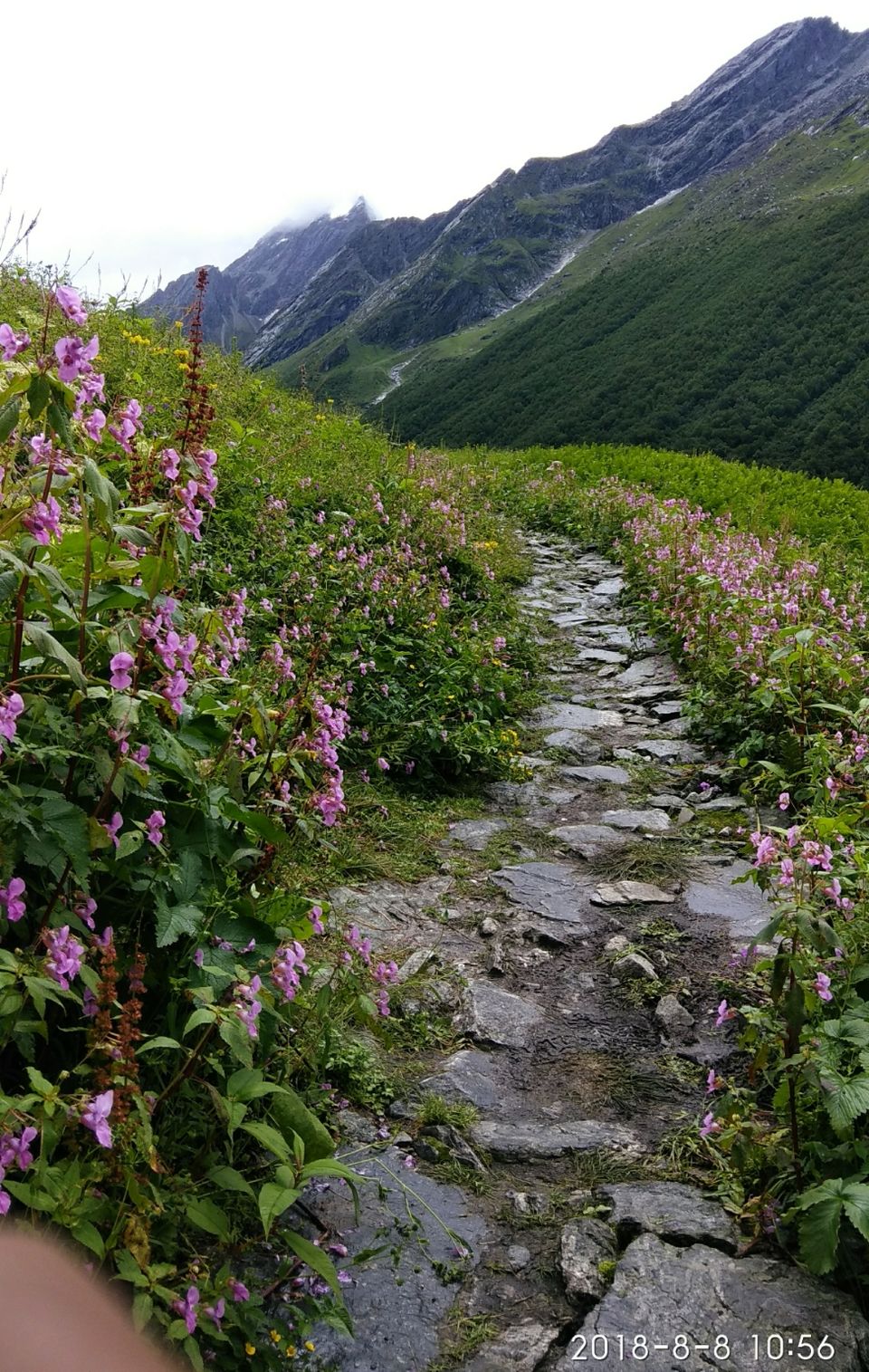 As they say just jump into the waters and you'll know how to swim, my trip mirrored the very essence of these words. With just a ticket to Delhi in hand and my vague wishlist of the places I always wanted to explore, I started off from Hyderabad and the rest was history. I had no further journey tickets, no hotel bookings and no return tickets as well. That made me a free bird who just wanted to fly as far and as high as he could.
PS : I tried to mention every minute feel of the itinerary here. Also please note that I had decided to do a very leisure kind of trip and not just hopping between the places. You can remove the leisure days if you want to pace up yours.
Hyderabad to Delhi to Haridwar
It was a saturday and just the start of my vacation but having not wanted to waste even a single hour of my trip, I took a flight in the wee hours from Hyderabad's RGIA to Delhi's IGI. From Delhi's ISBT I took a bus to Haridwar and reached by the night. Man trust me what a wrong time it was to be in Haridwar in August. Lakhs of Kavariyas (Lord Shiva's followers) throng to Haridwar each day to pay their reverences to the mighty Lord Shiva. With everything fully jam packed but luck being by my side I managed to find a beautiful backpacker's hostel and retired for the day.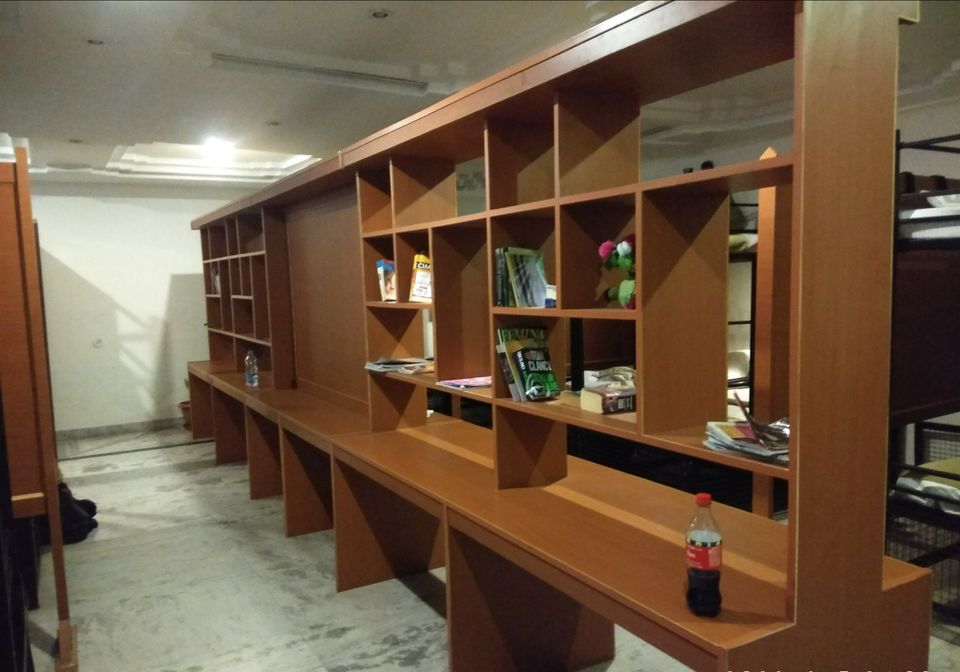 Haridwar to Rishikesh
▪️Ganga Aarti
It was a leisure day for me as I did not want to rush further soon. I used this day to explore Haridwar and Rishikesh. With numerous temples around and huge number of pilgrims present, I visited a couple of them that were close by. The best way to explore Haridwar/Rishikesh is just roam around like nobody is watching you. I had my food at the ever famous Choti Wala restaurant. In the evening by 5 pm I made myself ready for the 7pm Ganga Aarti. I managed to grab the seat in the first row on the small ghat near Hari ki Pauri known as Malviya Dwip that resembles a small island. That is the best place to witness the divine Ganga Aarti as you can see the priests performing the aarti directly infront of you. The reverence that is payed to a river is one of a kind in the entire world and it depicts that Ganga is not just a river but whole culture in itself. Just after the aarti finishes the priests over the mic asks all the visitors to take an oath promising to not pollute the river Ganga and preserve its sanctity.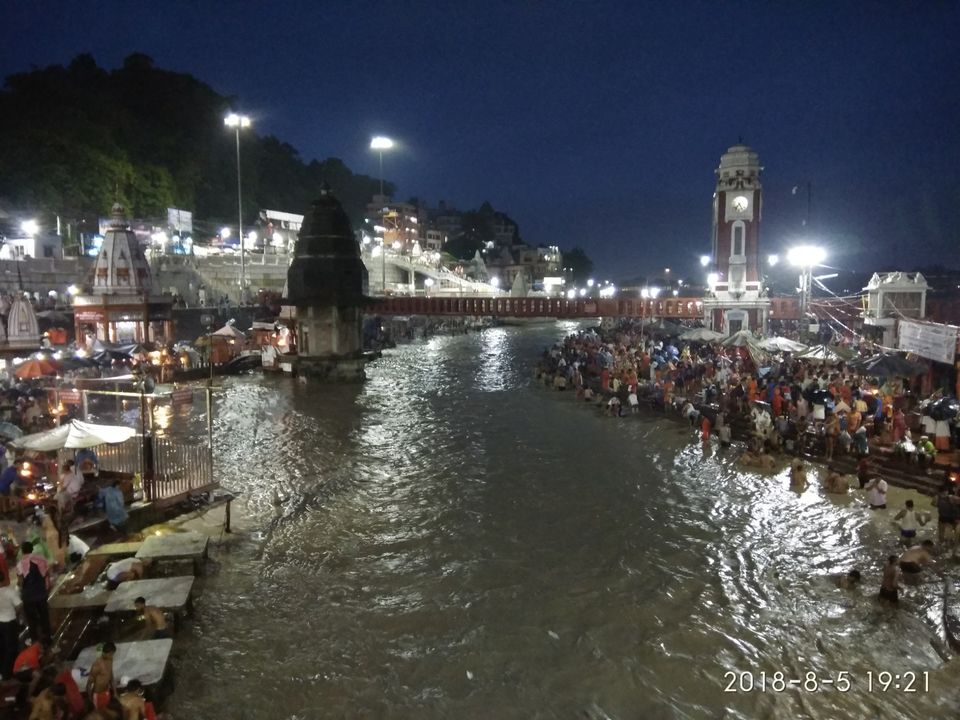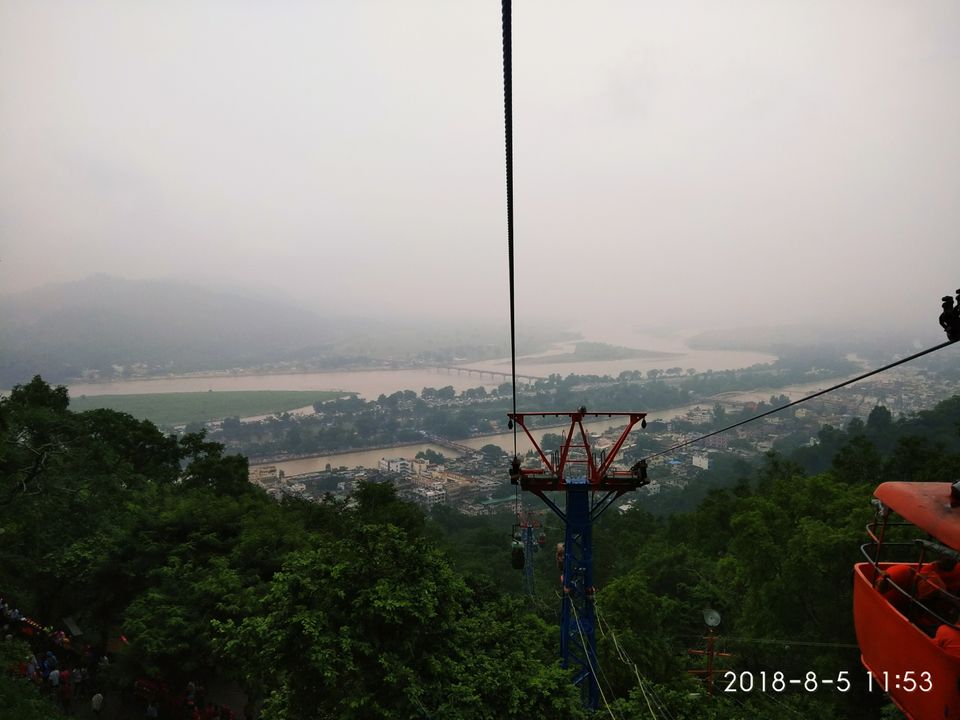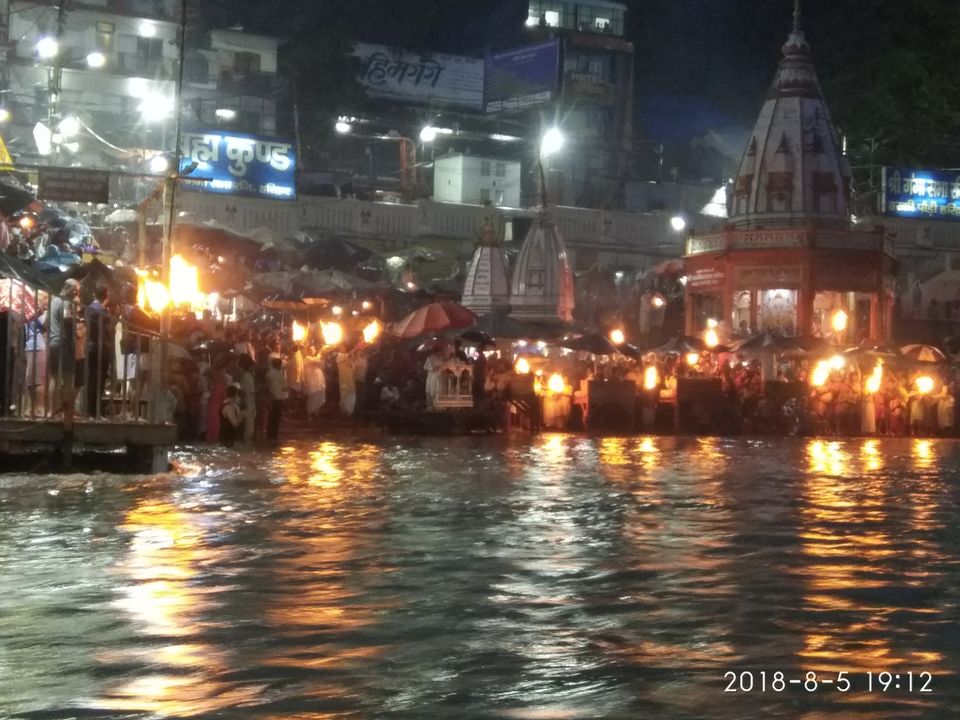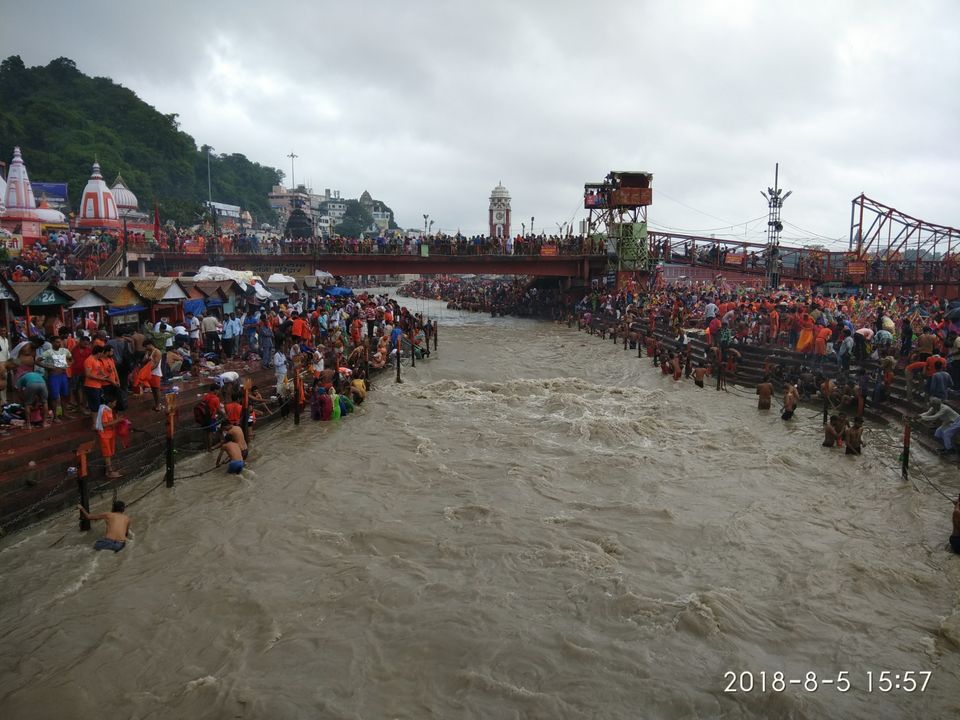 Rishikesh to Joshi Math
▪️Confluence of rivers at Devprayag.
Started by 4 am from Haridwar to reach Rishikesh. But due to the over flooding of the piligrims it was 7 am by the time I reached Rishikesh. And to my surprise all the buses to Joshi Math had already left. But hell yeah ! where there is a will there is a way. I had done a break journey Rishikesh-Karnaprayag-Chamoli-Joshi Math. On the way at Devprayag you get to see the confulence of the rivers Alaknanda (coming from Badrinath) and Baghirathi (coming from Gangotri) which form the mighty Ganga. It was evening by the time I reached. Found a fabulous hotel hosted by Mr and Mrs Shah to checkin with a natural water stream flowing just by its side. Exploring much of Joshi Math wasn't possible as it was already dusk so I decided to hit the bed early. I'll describe about the beauty of Joshi Math on my day#7.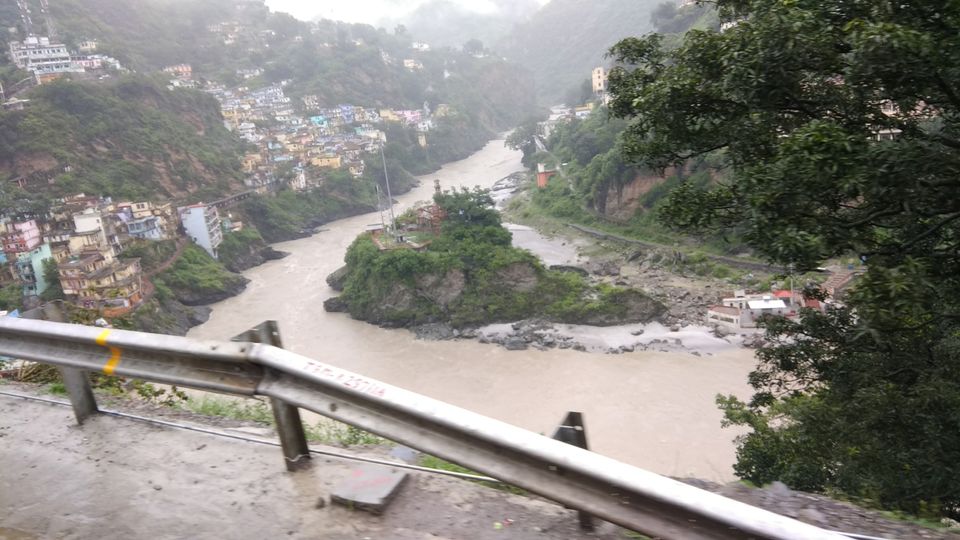 Joshi Math - Ghangharia
▪️The trekking path itself.
▪️Gurudwara at Ghangharia.
After the last day's fail to catch the bus on time, I made myself available at the bus stand by 6 am dot (Rule of thumb in the mountains). I left most of my luggage back with the hotel's owner and just carried stuff required for 3 days. I even had my laptop left away with them but believe me, my stuff left back was as safe as it would had been with me. There are shared taxis that take you to Govind Ghat and further to Pulna. The newly built road to the first village Pulna on the Govind Ghat-Ghangharia track reduces your trek distance by 4 kms. I made my biometric registrations done for my Hemkund Sahib visit here.
My trekking business to Ghangharia starts. It was a 10 km trek with beautiful landscapes, waterfalls all around and the river Lakshman Ganga with all its might flowing by my side all through the trek. The mid way you reach Bhyudar, stop for lunch and start again for the next 6 kms. By 4pm I reached Ghangharia. And again the charm of luck being by my side I found a lovely hotel at a shoe string price which I booked for two days straight. When I first saw the Gurudwara Sahib at Ghangharia the only question on my mind was, "How can some one at such altitudes provide free food and accomodation to anybody & everybody who seek their shelter irrespective of one's religion ?" I was already a big fan of Sikhism but that event made me an ardent one.
The one thing about Ghangharia that I liked the most was that your mobile phones do not have network connectivity there except bsnl and they as well have a very limited range. The coming 2-3 days you are really at peace, away from all the unnecessary technological advancements of the society. Just you and the pure nature around.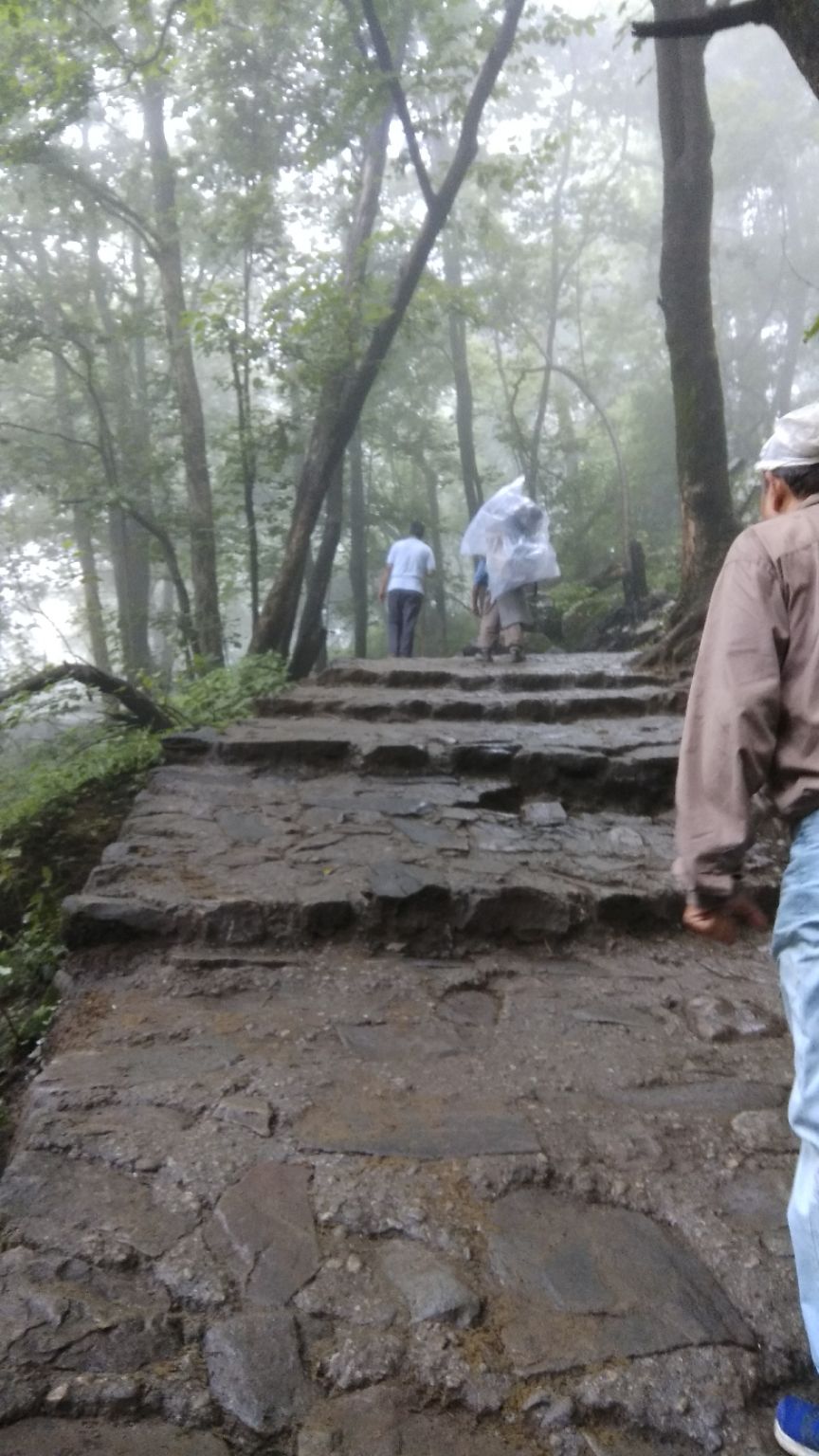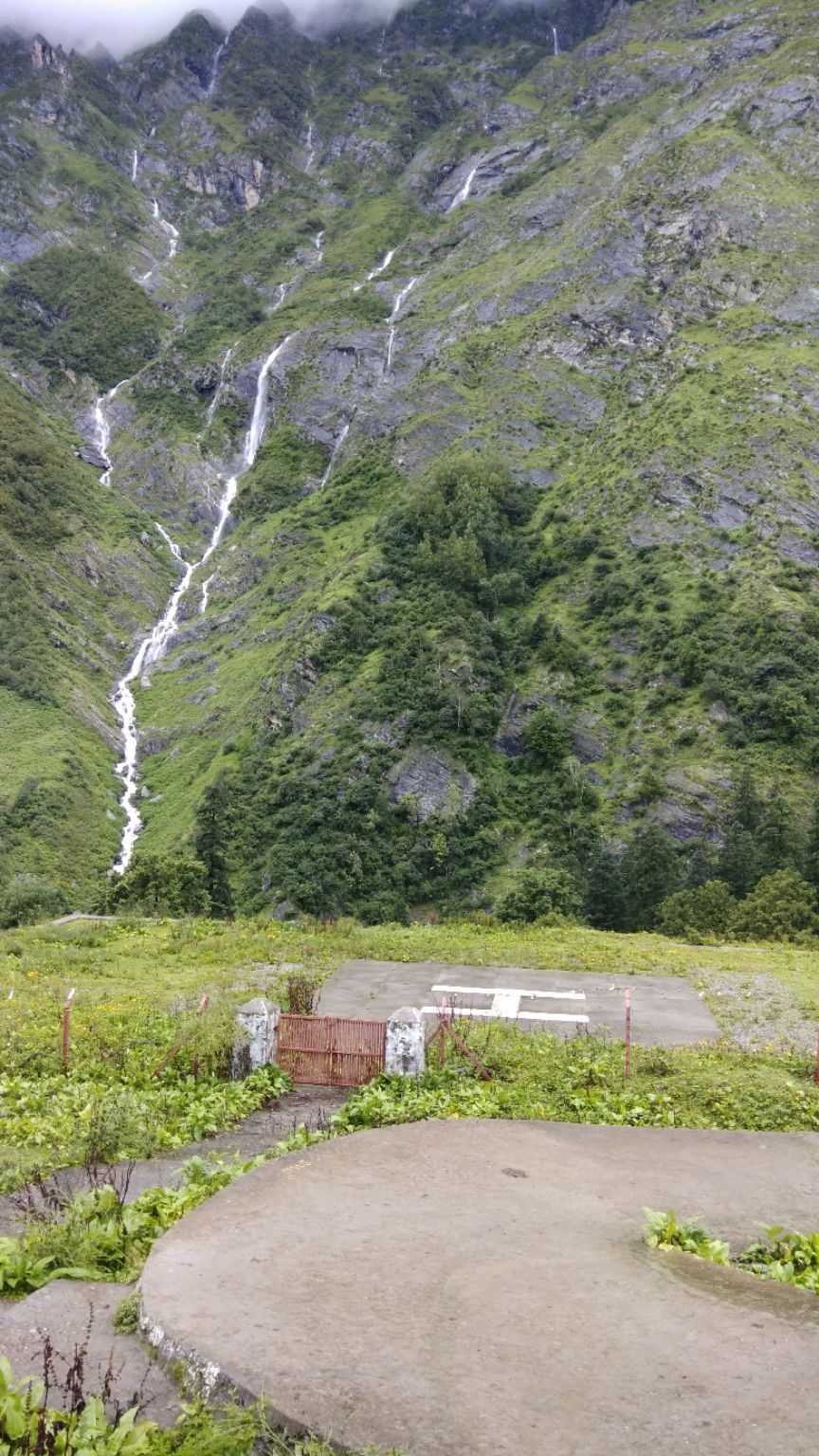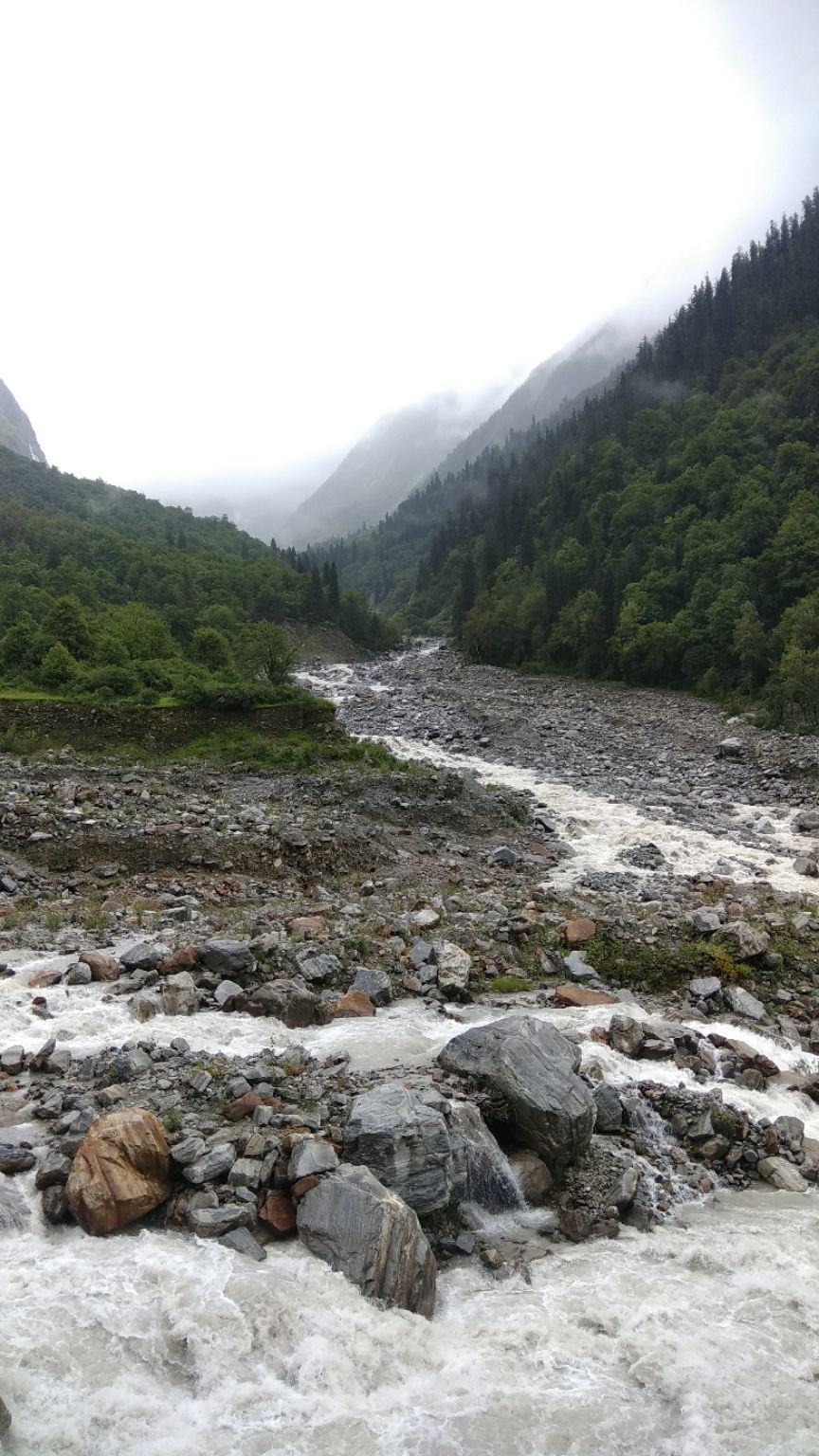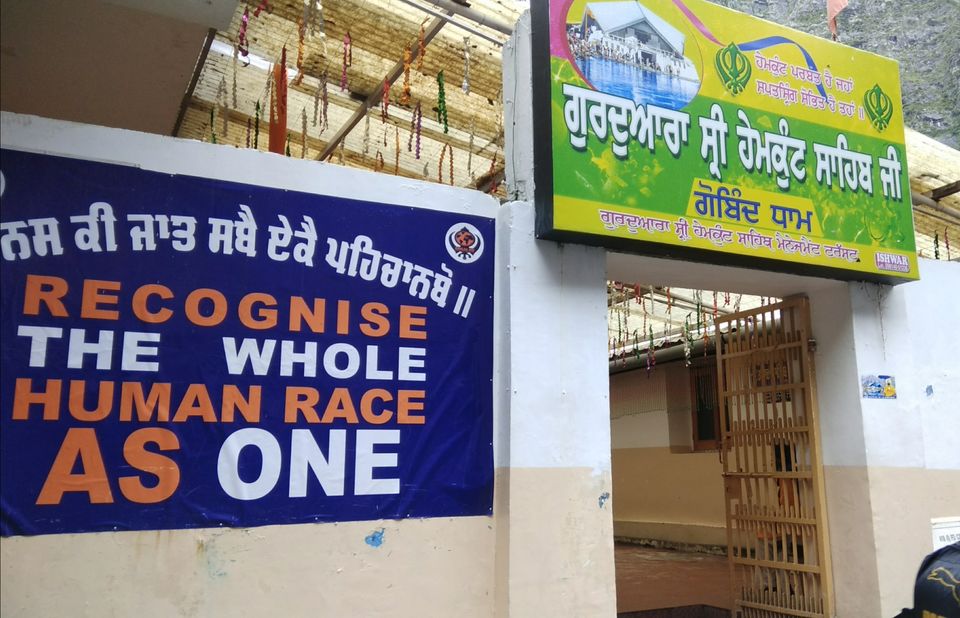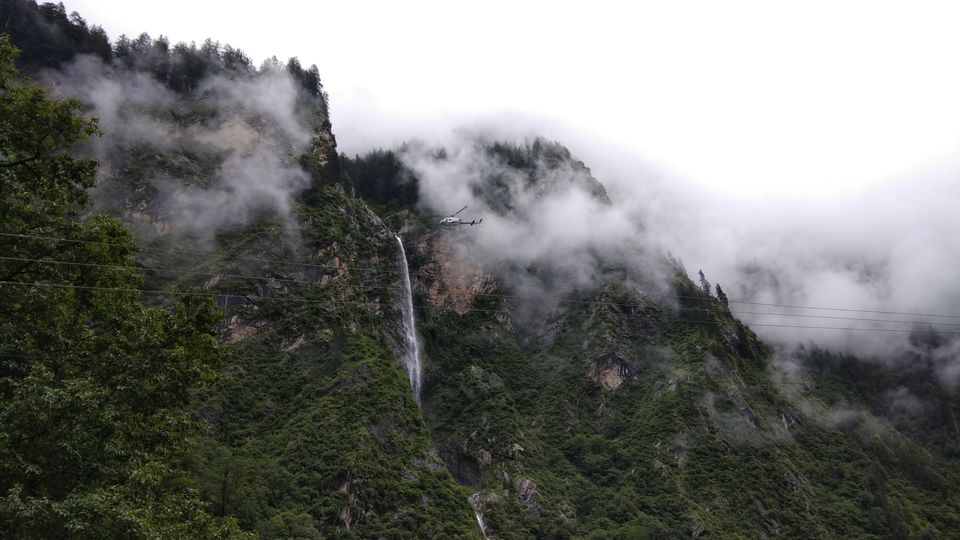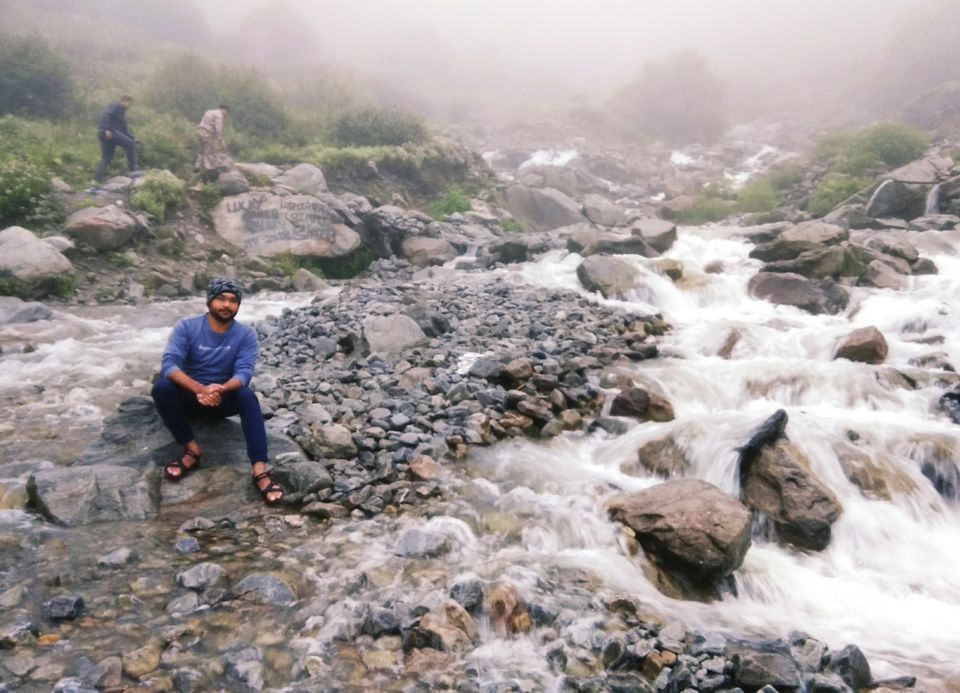 Ghangharia - Valley of Flowers.
It was 7am and the temperature in single digit, I started off from Ghangharia to the VoF with little lunch packed as you do not get any inside. The valley remains open only between 8am and 5pm as it is a biosphere reserve. I made my entry at the National Park's office with an entry ticket of 150 INR and proceeded. It is a 4 km trek with flowers welcoming you all through the way. The first sight of the valley makes you drool as you see a lush green, colorful valley surrounded by snow capped mountains at a distance. The valley itself is 10 kms long out of which I managed to cover some 6. There are around 500 different species of flowering plants out there in the valley. They say that the valley changes its colors through out the season. It starts off as green in July then blue colored flowers take over in few weeks followed by the pinks and whites in coming weeks. The most favourite of all is the queen of the Himalayan Flowers 'The Blue Poppy'. Its color so bright and attractive that once you see it you cannot let it go off your memory.
Finally the lunch time and guess the venue ? Fall side ! (sounds similar to the pool side right 😎) I found a place on the rocks near one of those water falls that melts down from the glaciers. Man ! what a place to have your food. And you know the best part ! You do not need artificial mineralized water anymore, just refill your bottle from these streams. Never in life I found air and water so fresh that you don't actually need any food to stay alive. Then I visited Joan Margaret Legge's grave situated in the middle of the valley, the lady botanist who fell off the cliff while first exploring the flowers in the VoF. Time to trek back to Ghangharia. I reached by around 5 pm and after dinner and a casual walk, I called it a day.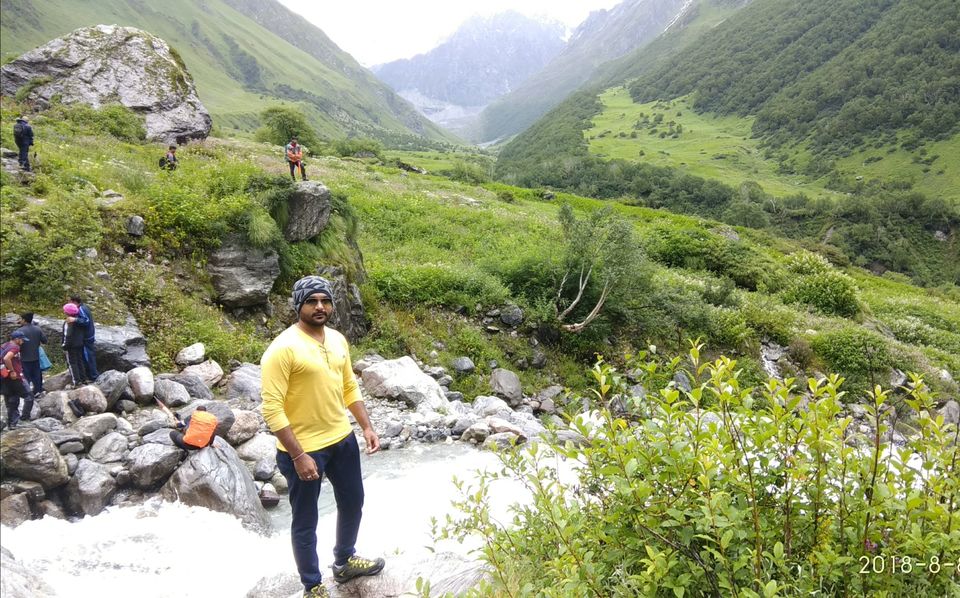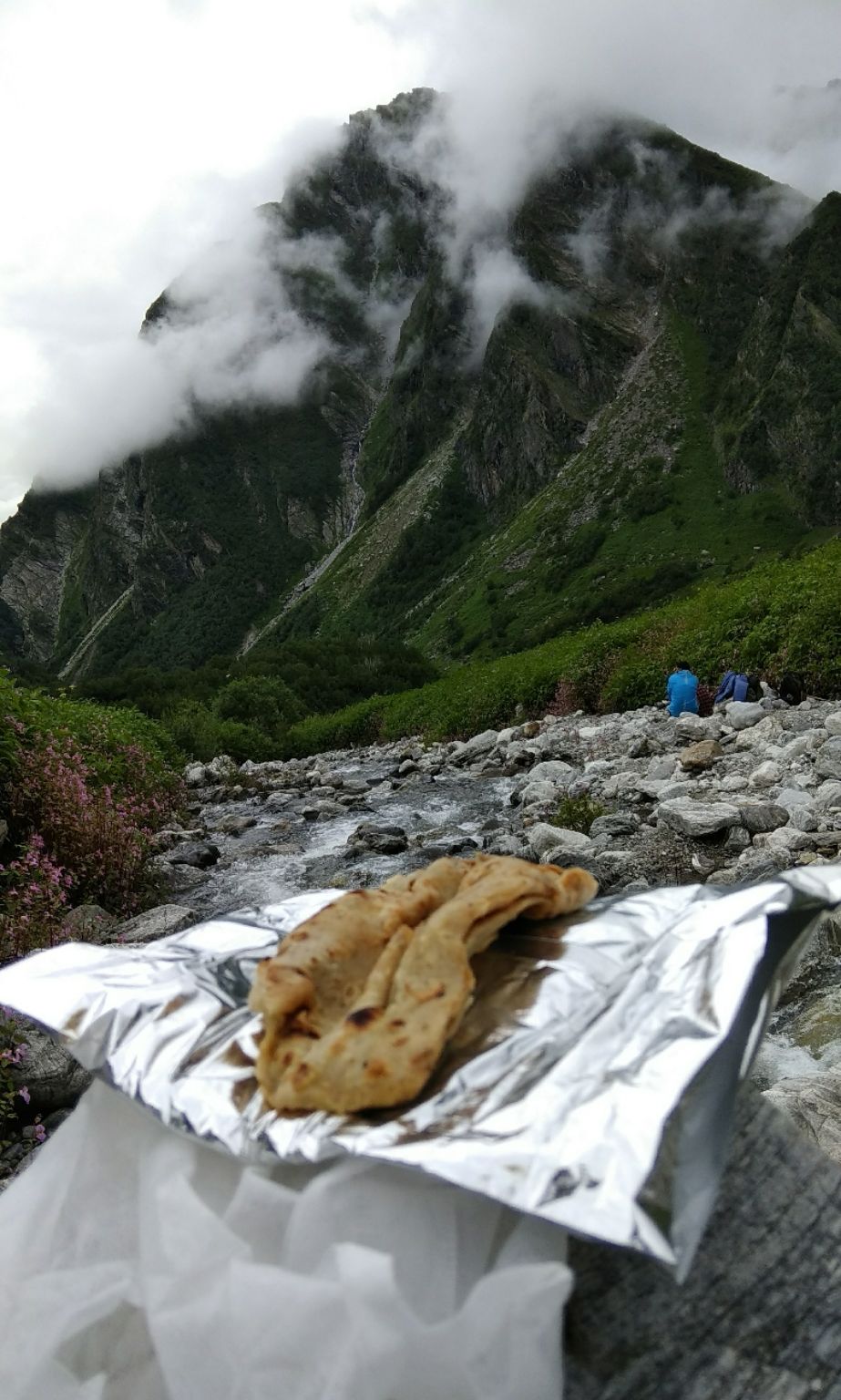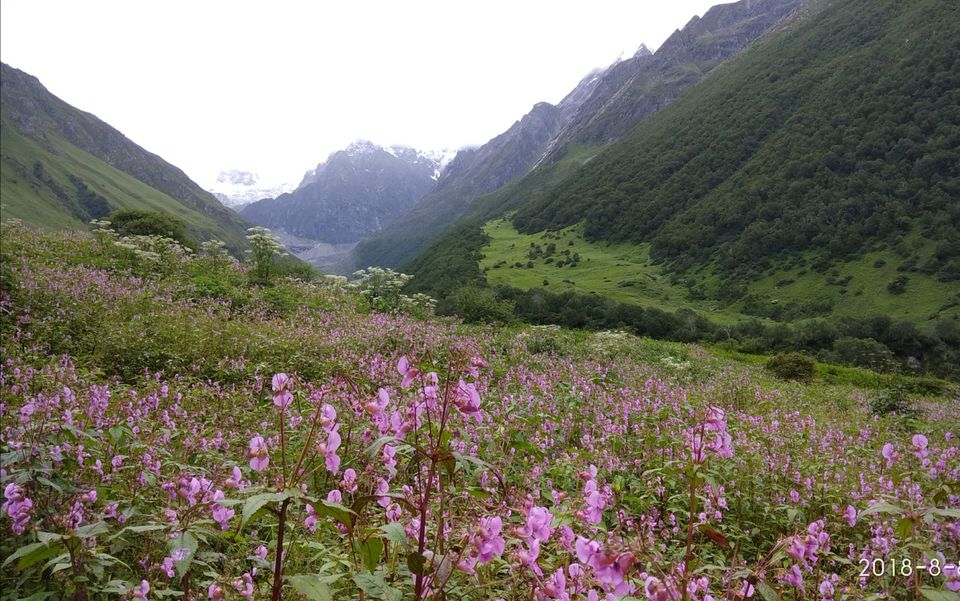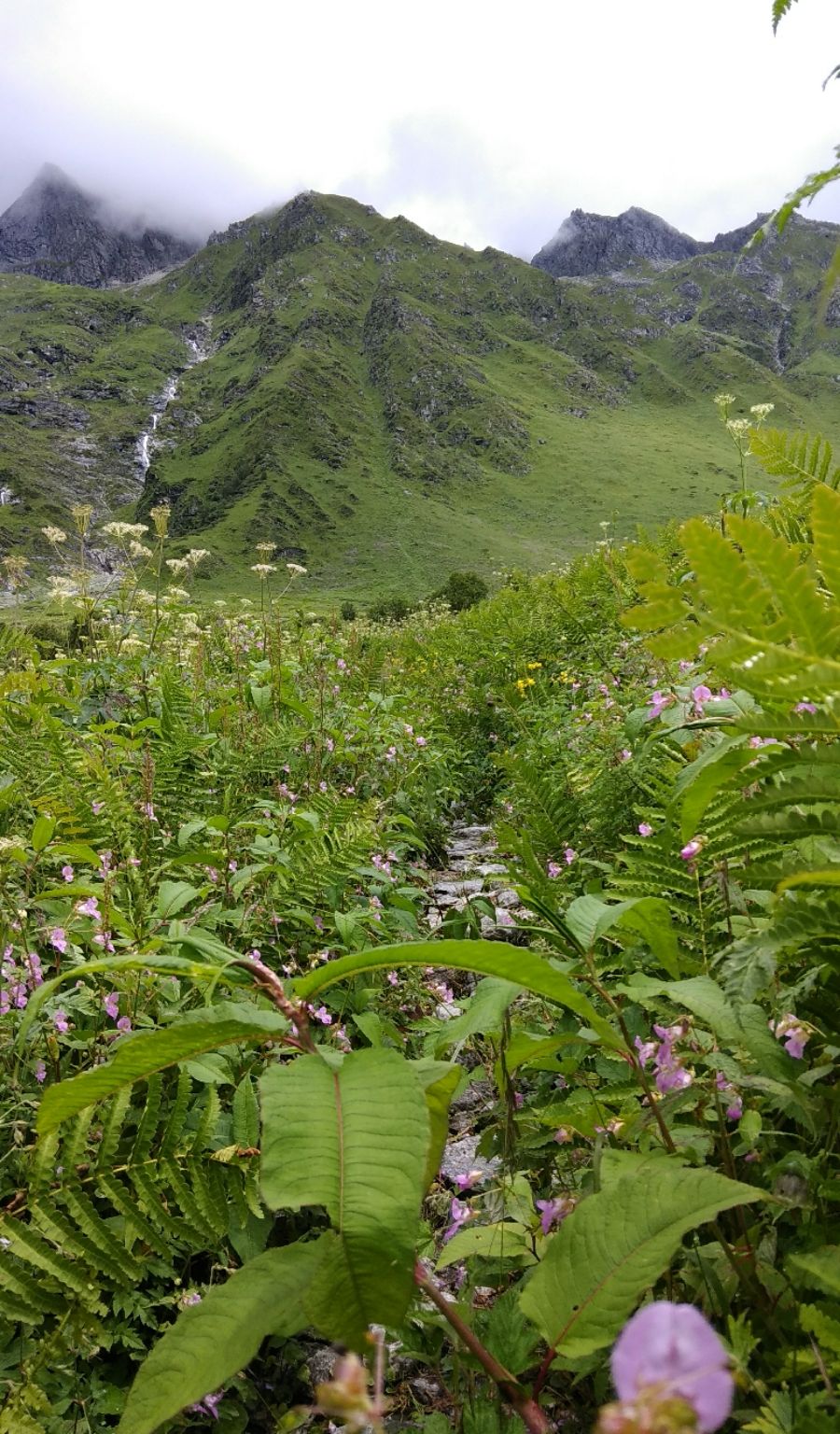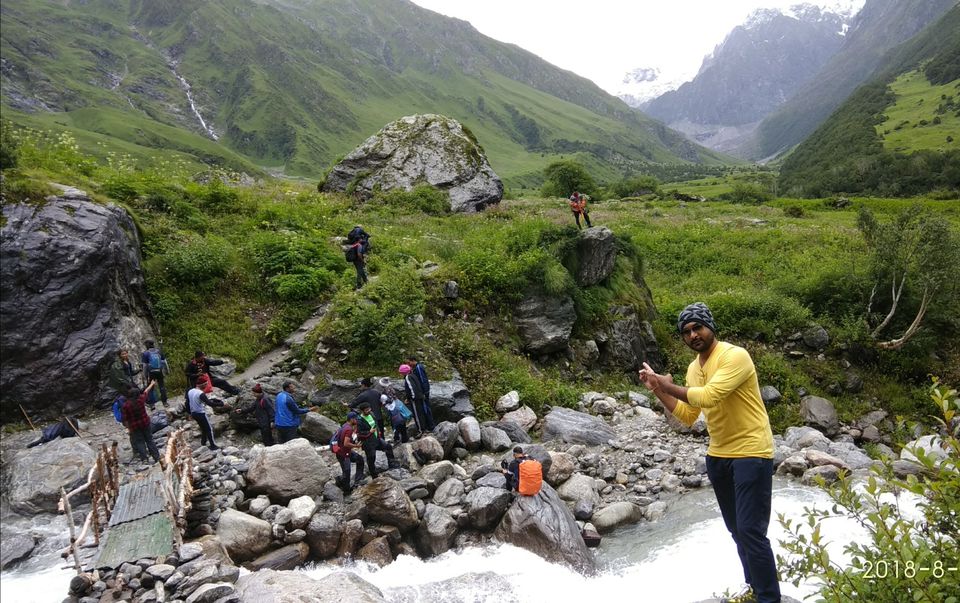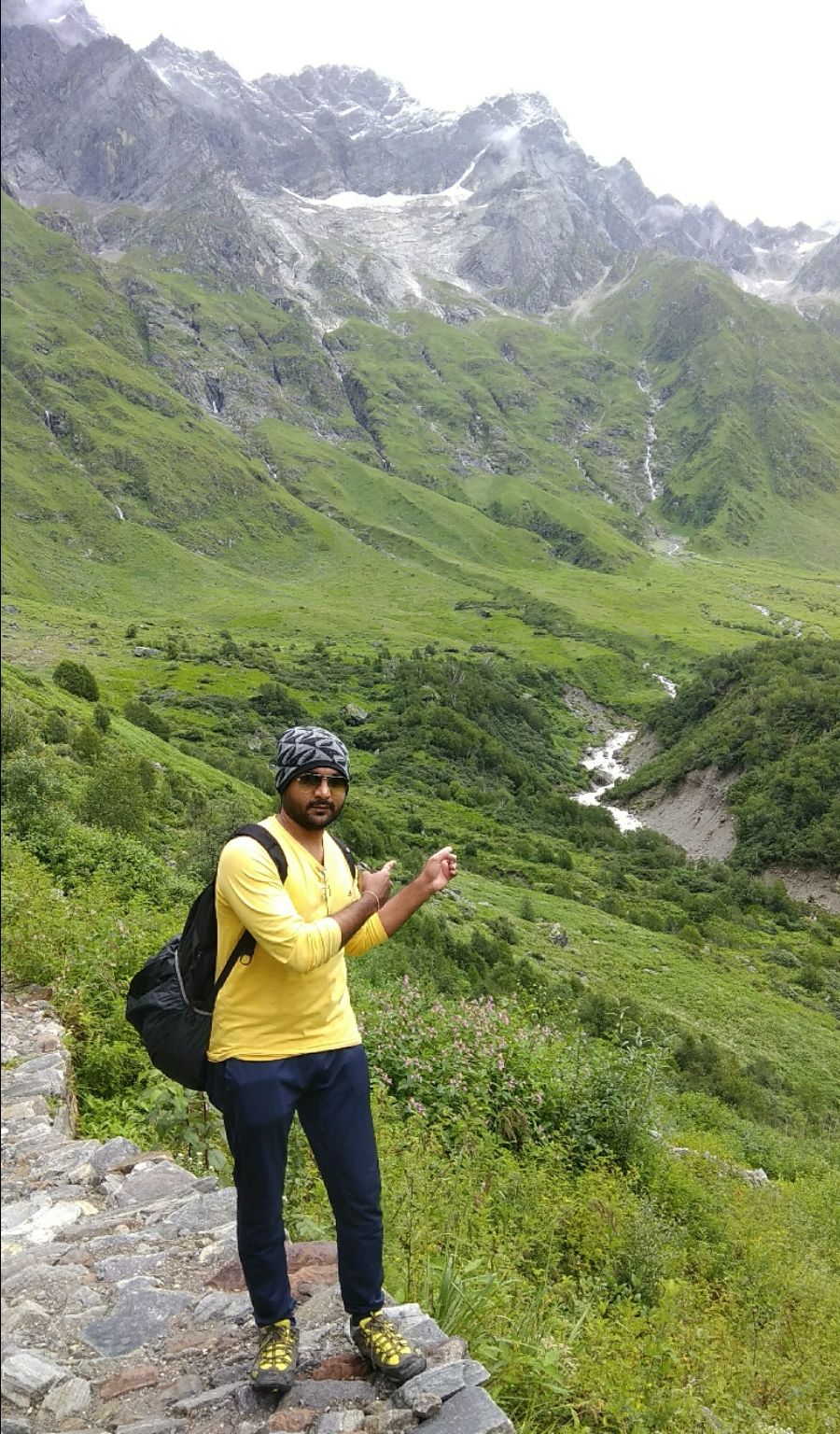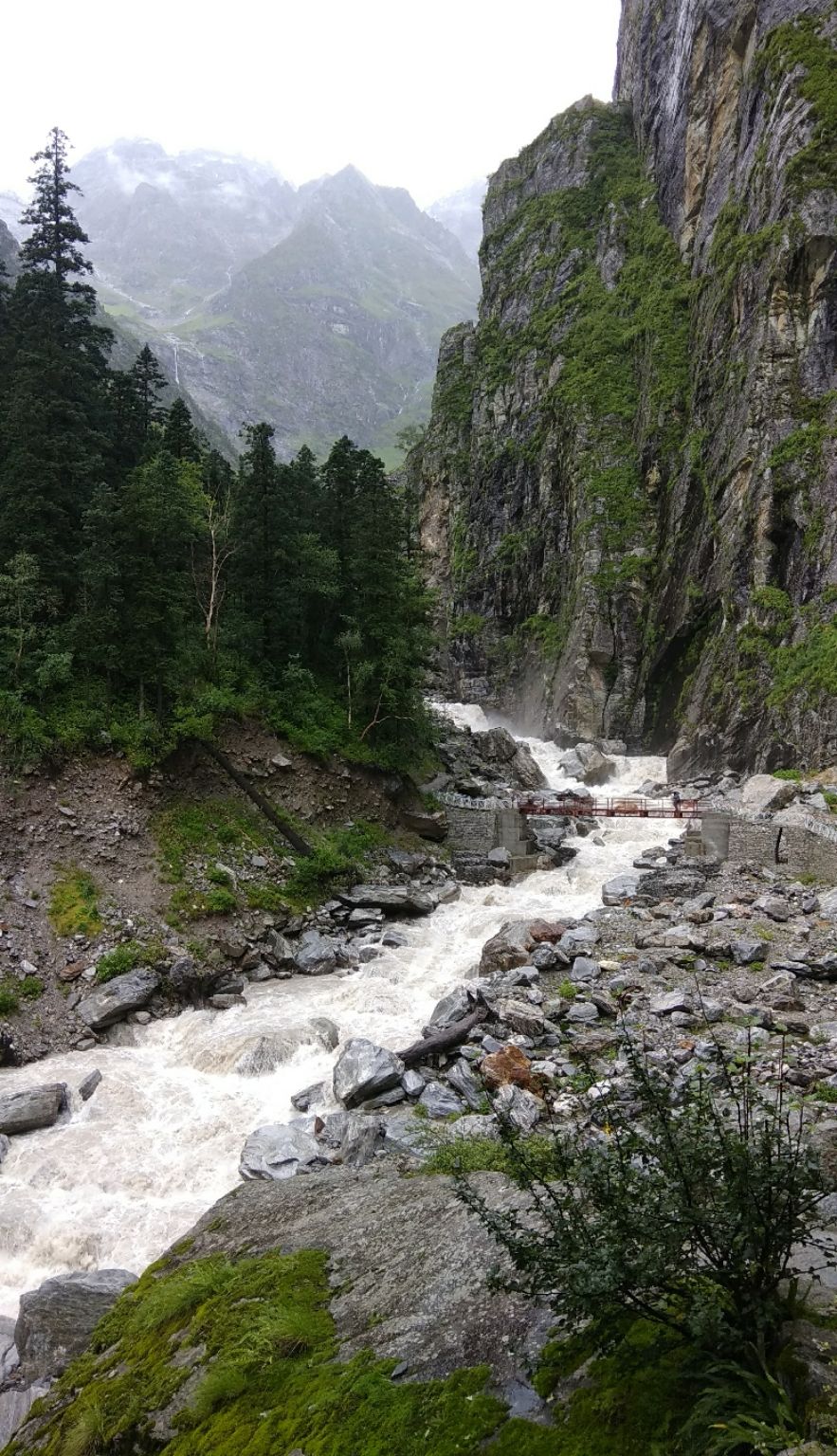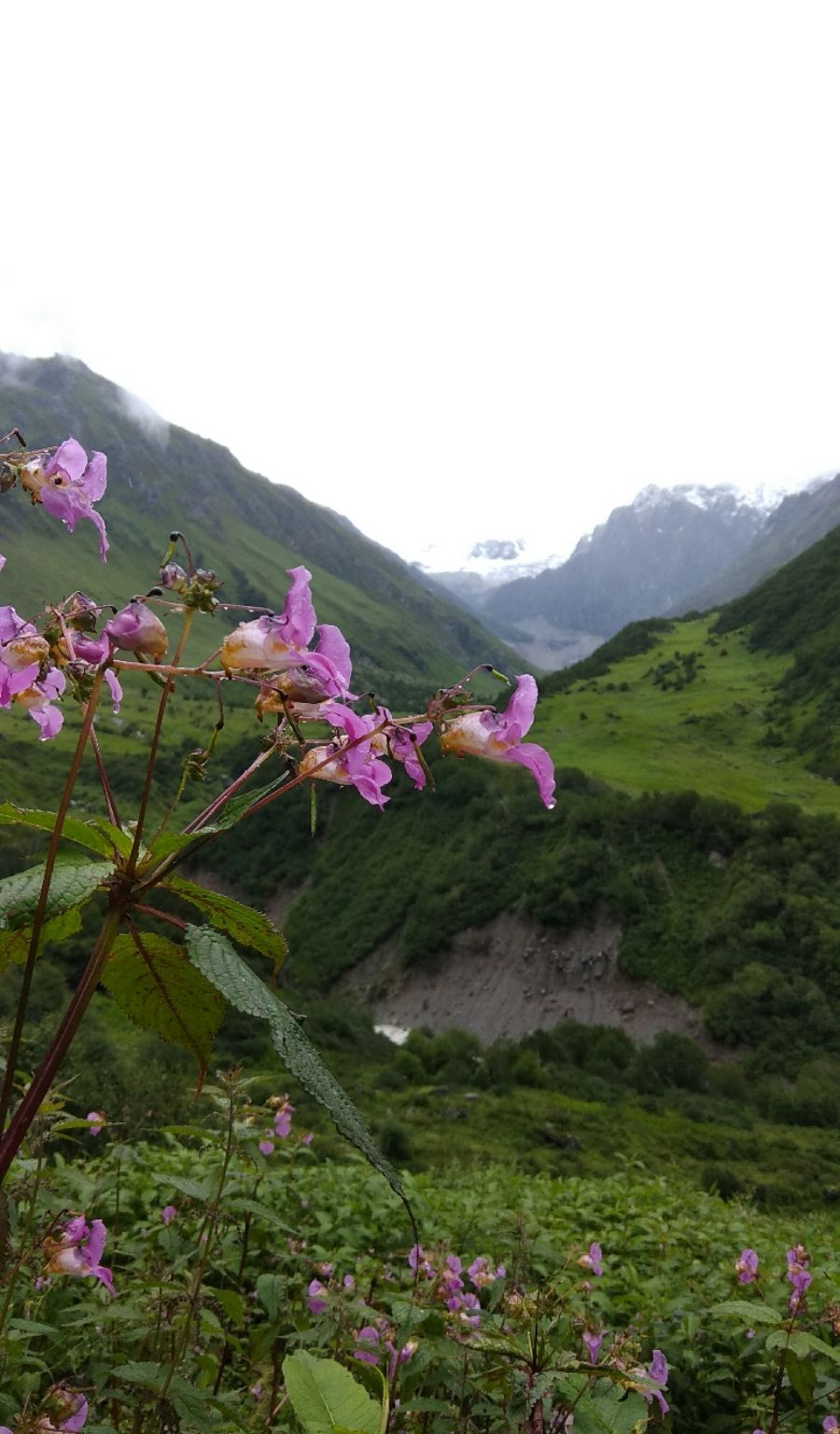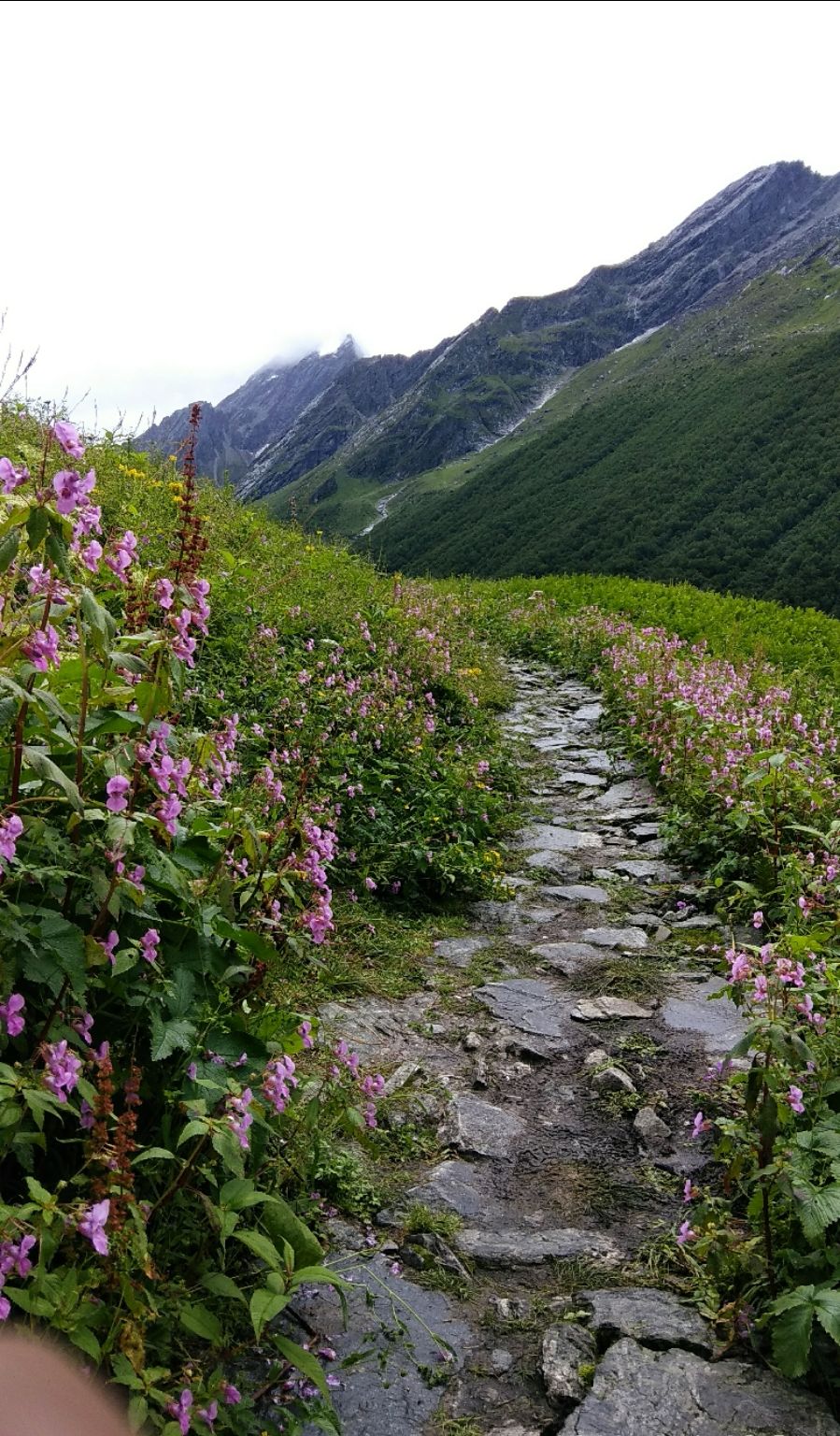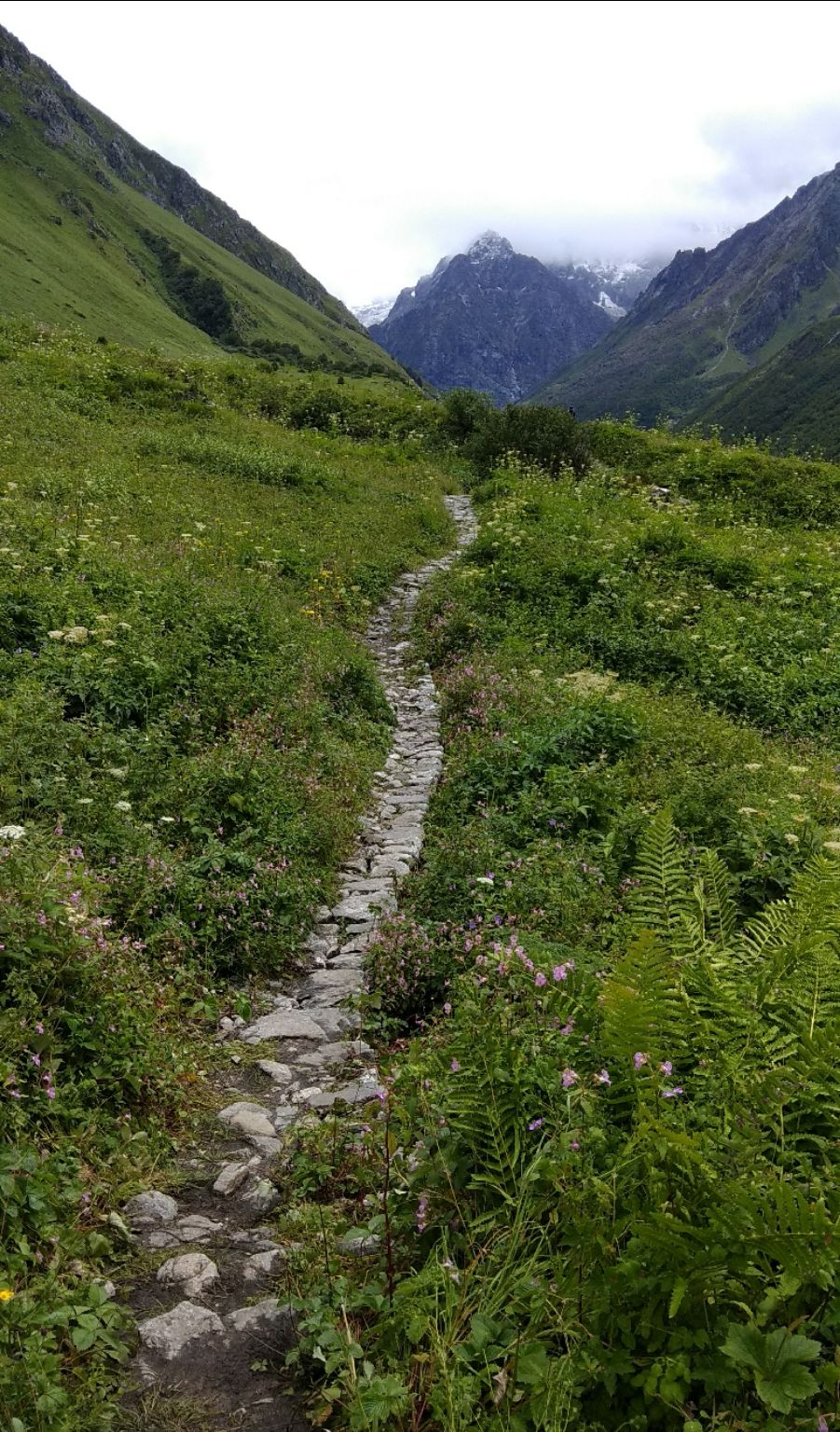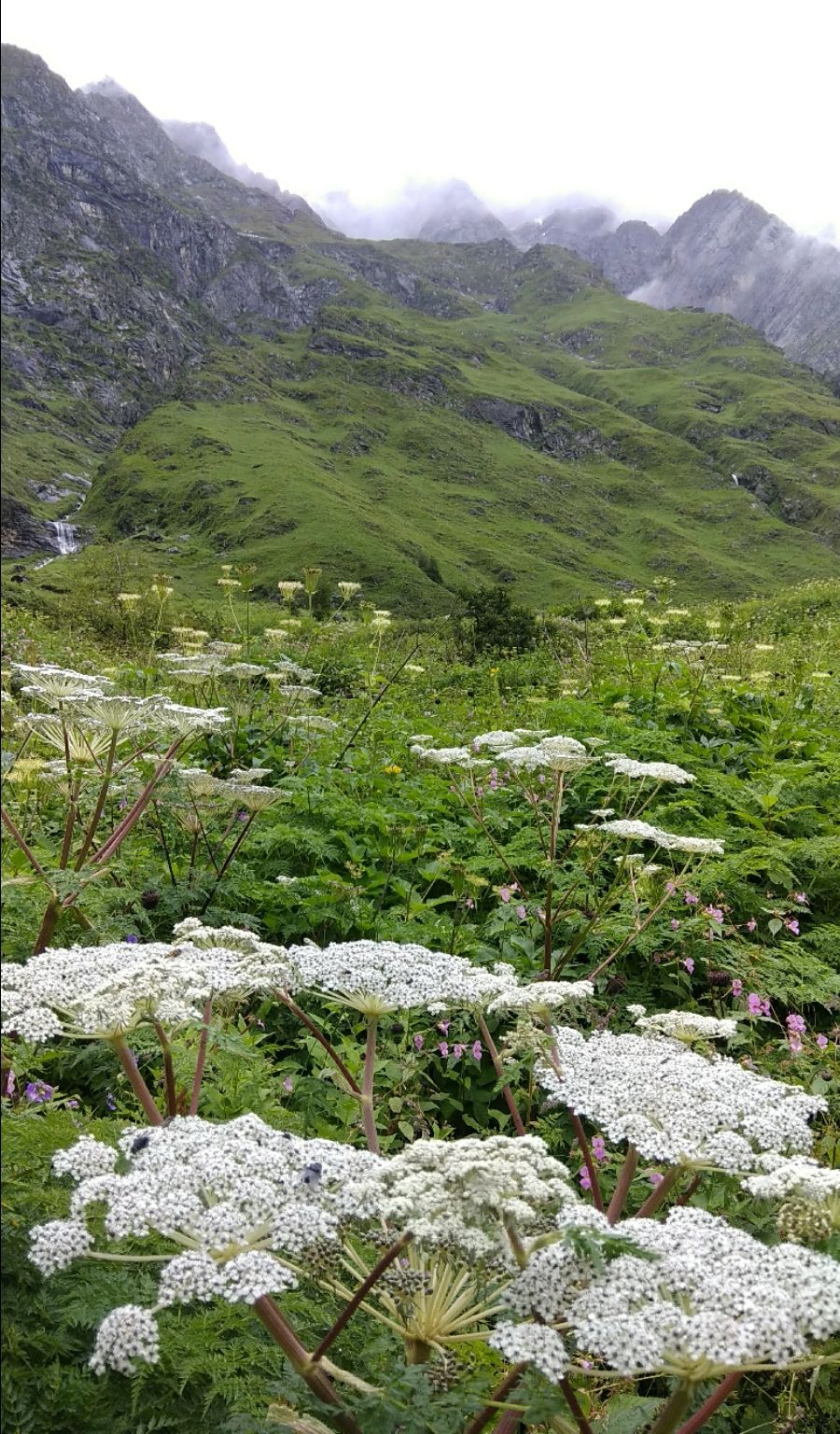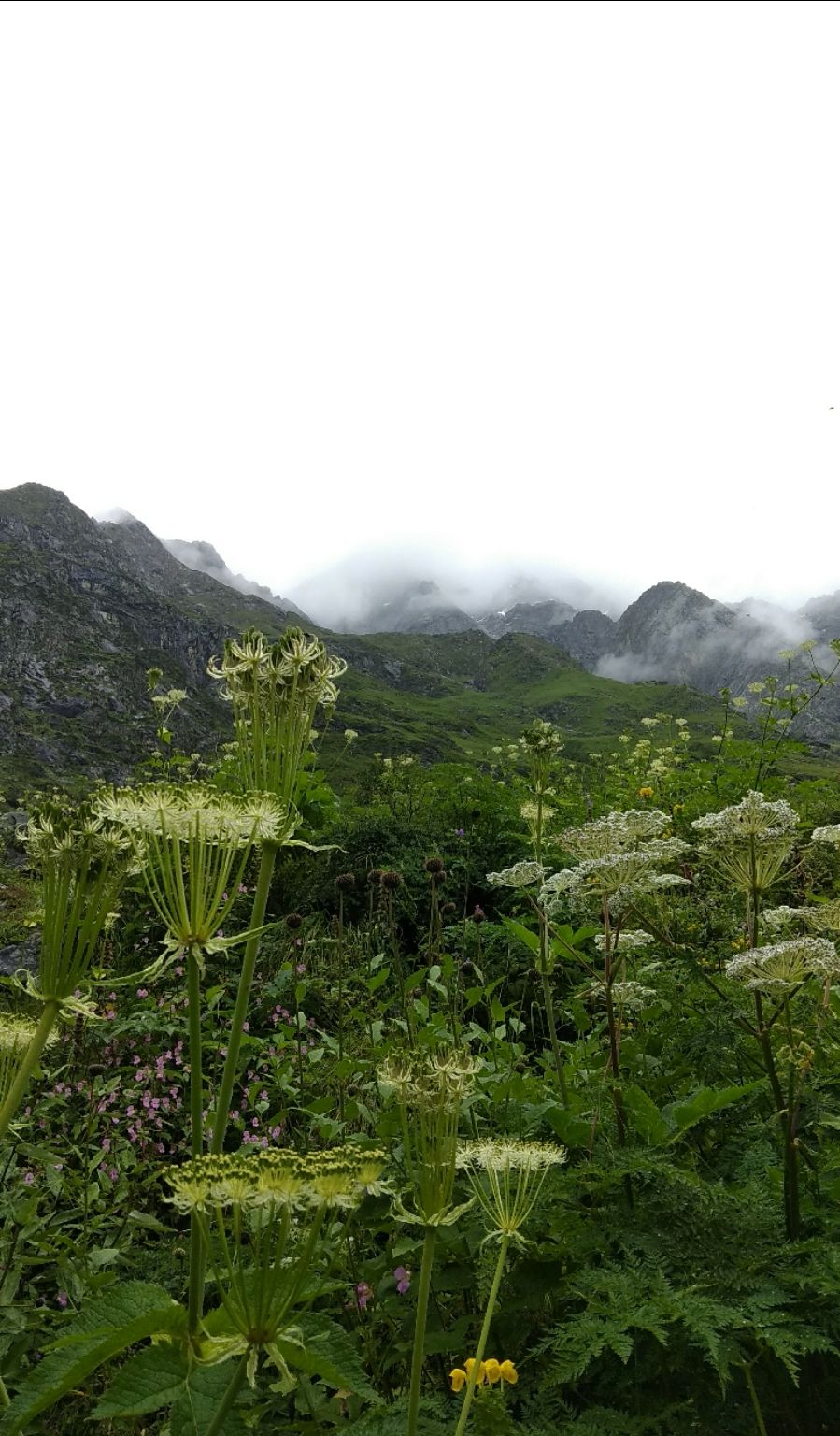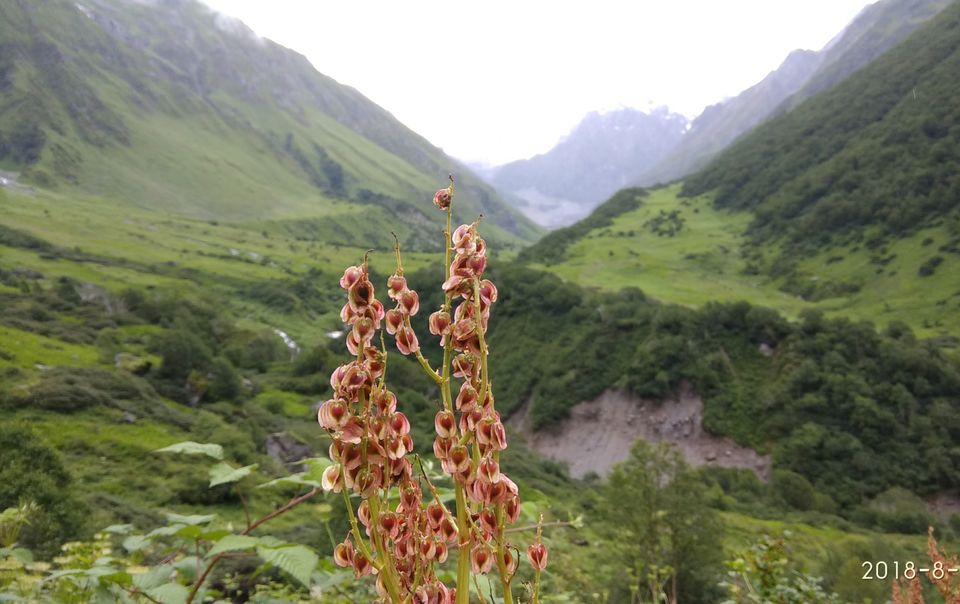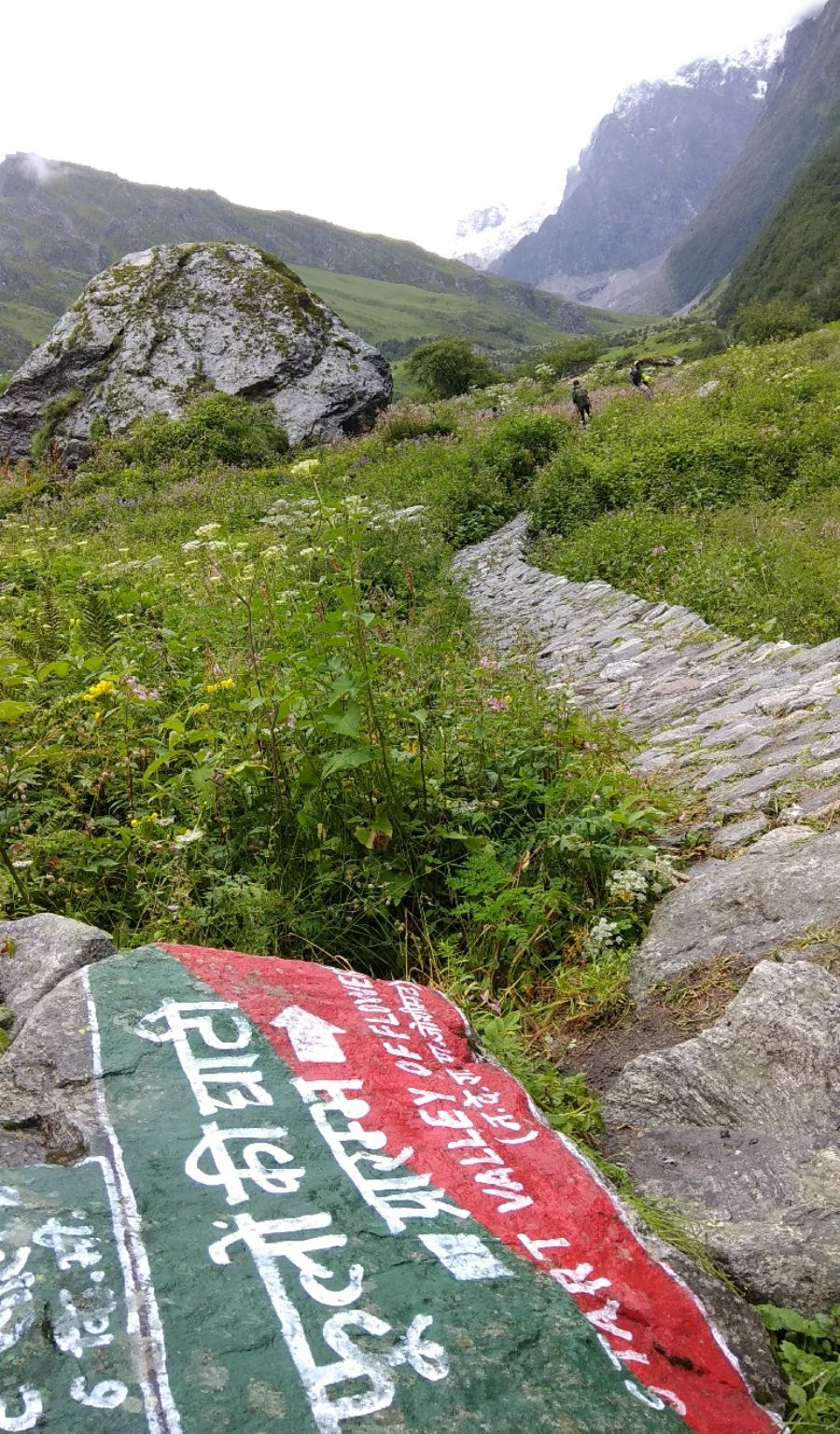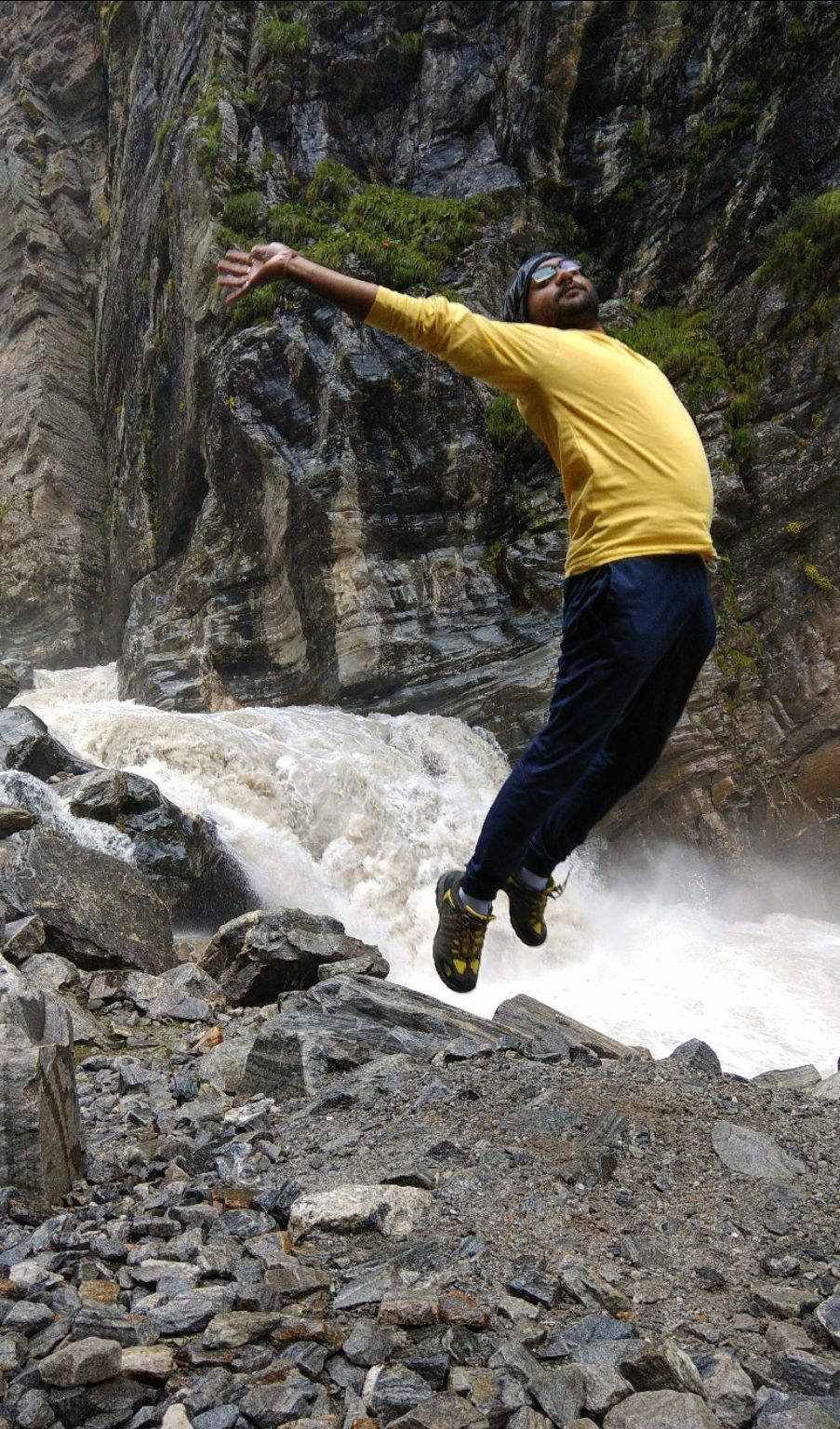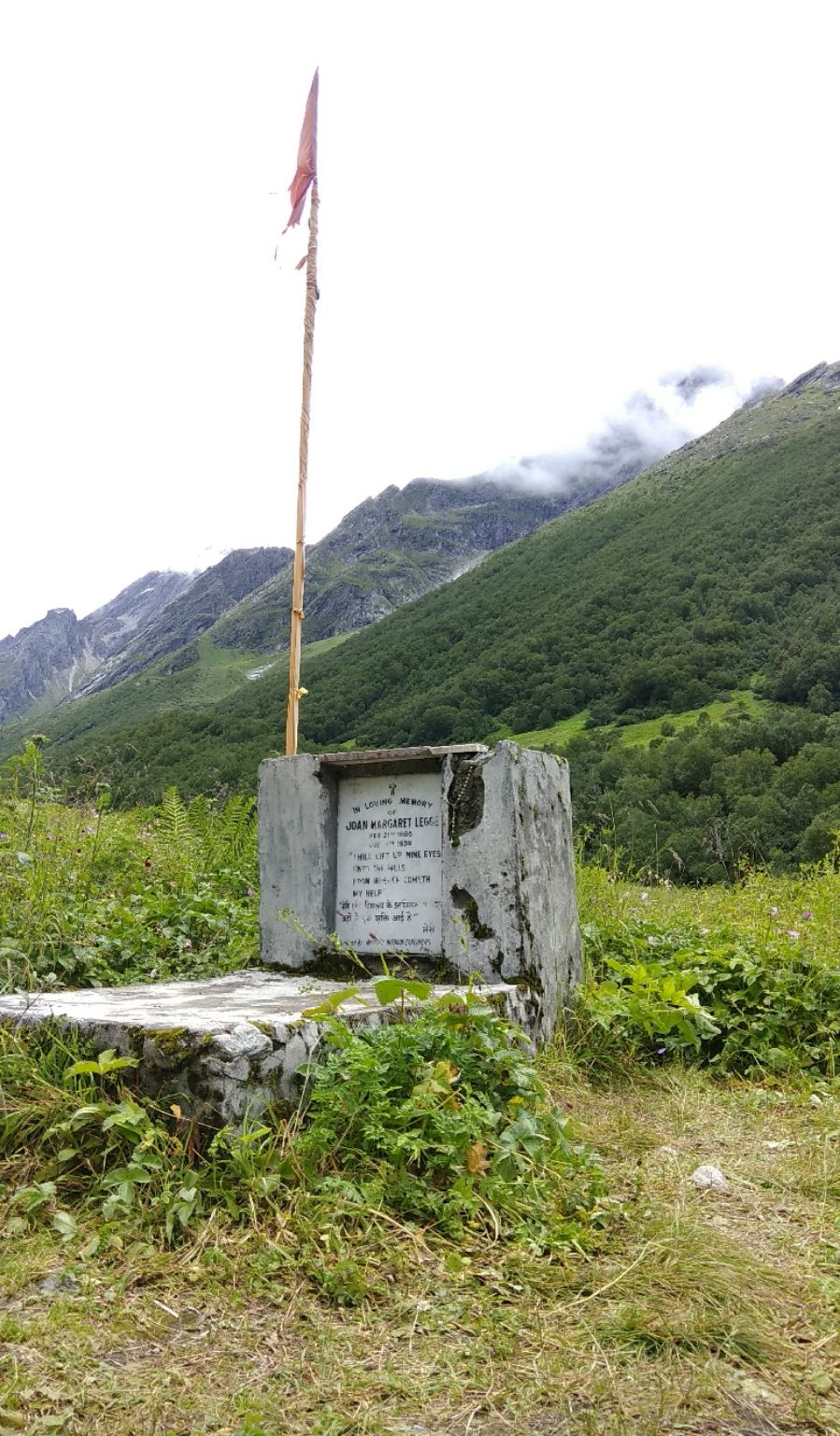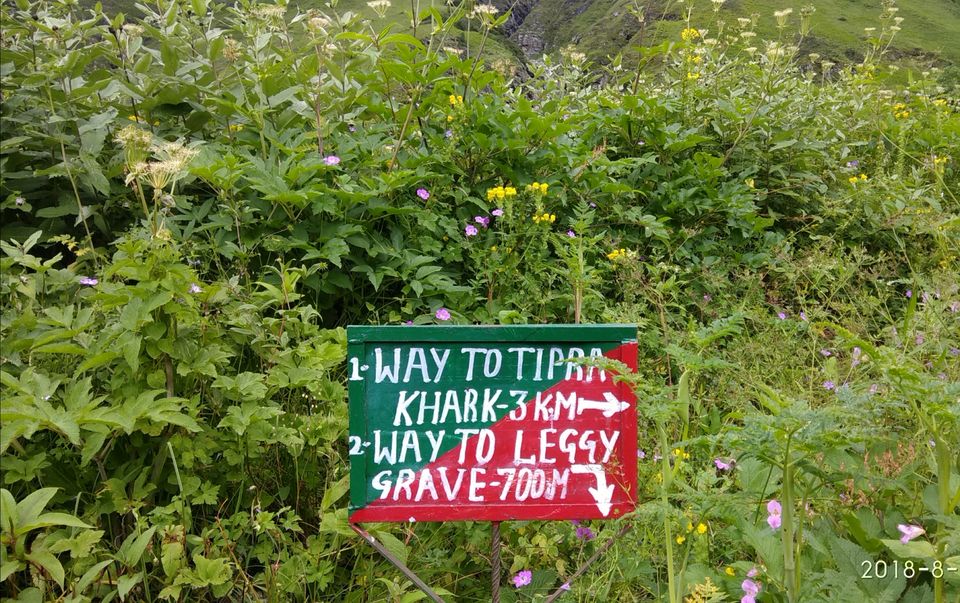 Ghangharia - Hemkund Sahib.
With a much difficult 6 km long trek waiting for me I got myself ready by 6 am. The trek to Shri Hemkund Sahib is no easy. You raise your altitude by 1500 meters on foot from 3050 mts at Ghangharia to 4600 mts at Hemkund. The steep path combined by yesterday's sore feet made it more challenging. But to my surprise I did not feel even a bit of it as through out the way you see many Sikh elderly people paving their way to the top which gives you all the required boost. I was more inspired by two little sardarjis aged around 7 who were chanting 'Satnam Waheguru' and advancing like they have attained super powers.
On the way you get to have the first sight of the rare Brahma Kamal, the mythical flower whose numerous references exists in Hindu mythology. One such says that Lord Brahma was born out of it. They say that this flower blooms once 14 years and that too for few hours between the dusk and the dawn, lucky to have sighted some of them.
With strained feet and heavy breath you once feel like giving up the trek but the almighty wanting you to visit him, imparts sudden burst of power into you and you finally make it to the top. It was 11 am by the time I reached. Just that image of Gurudwara Hemkund Sahib with the serene lake Hemkund by its side, surrounded by the snow capped mountains takes your breath away for a moment. I took a dip in the chilling Hemkund lake and it took all my tiredness away. The water in the lake comes from a glacier near by which eventually flows out to form the Lakshman Ganga (a tributary of the river Ganga). At 15,000 feet the clouds cover the whole place every few minutes and recede away just like in a dream land. There are two Ardas (prayers) daily at 10:30 am & 12:30 pm. Sitting inside and listening to them makes you feel like you've got the true meaning of life. As the clock ticked 2pm, it was time to start the return to Ghangharia because it would take 3 hours to get back. The return journey being more scenic than the onward as you get to see some breath taking views from 15,000 feet and as the evening approaches the clouds get more dense and mist all around. It was 5 pm by the time I reached Ghangharia. Having already checked out of my hotel earlier the day, I stayed for that night at the Gurudwara's accomodation and felt previlaged to be housed there.
PS: The accomodation and food in the Gurudwara at Ghangharia is free of cost. Its at your will to donate what ever you feel like.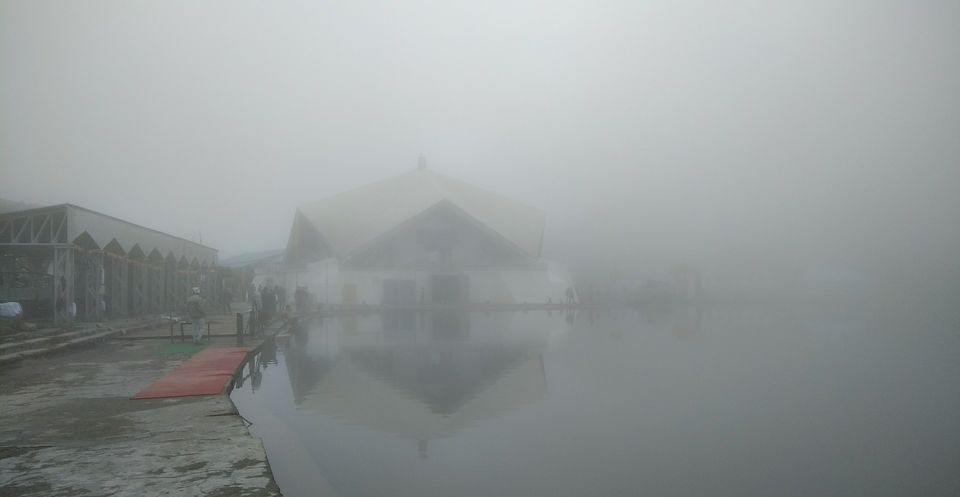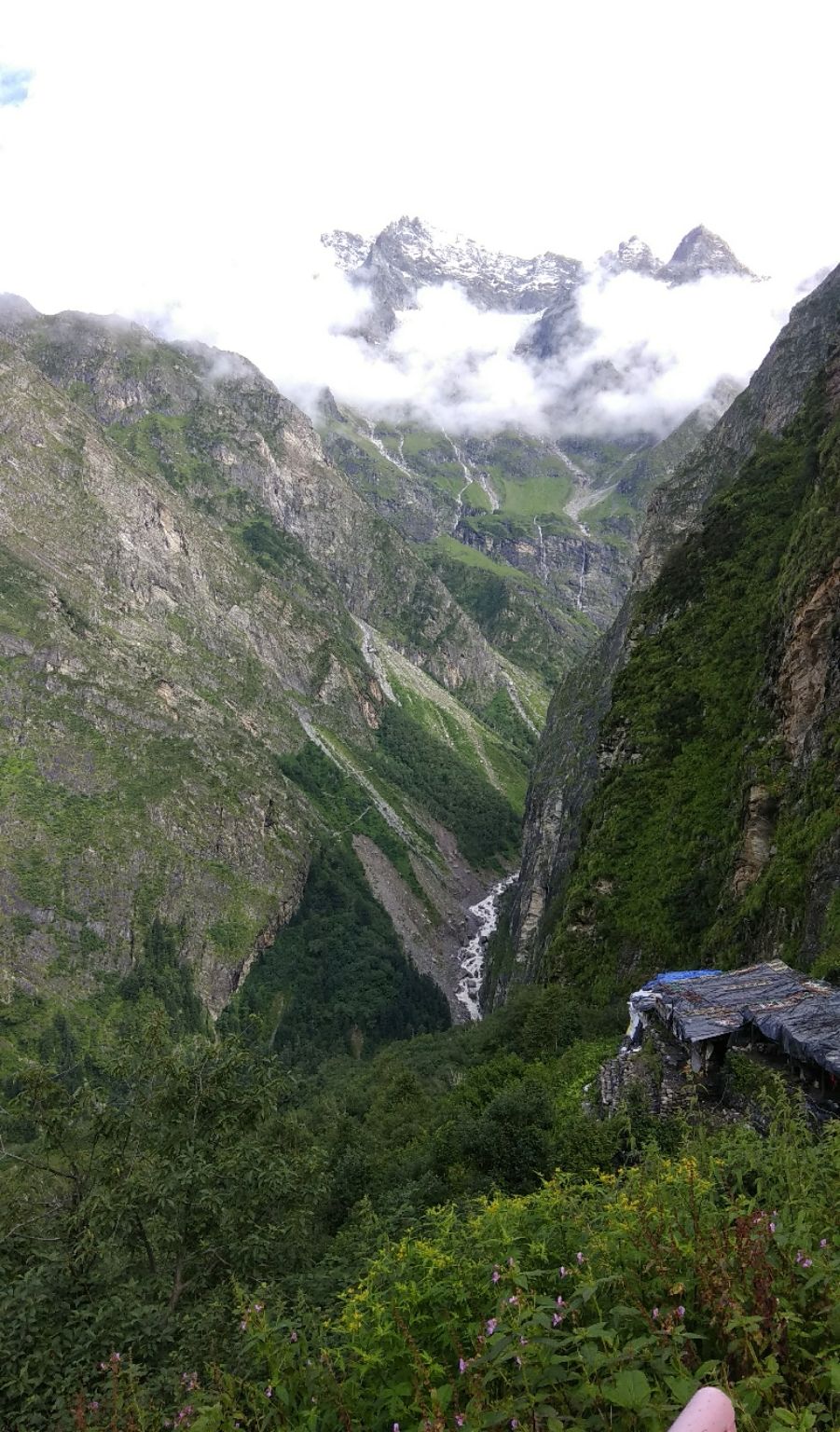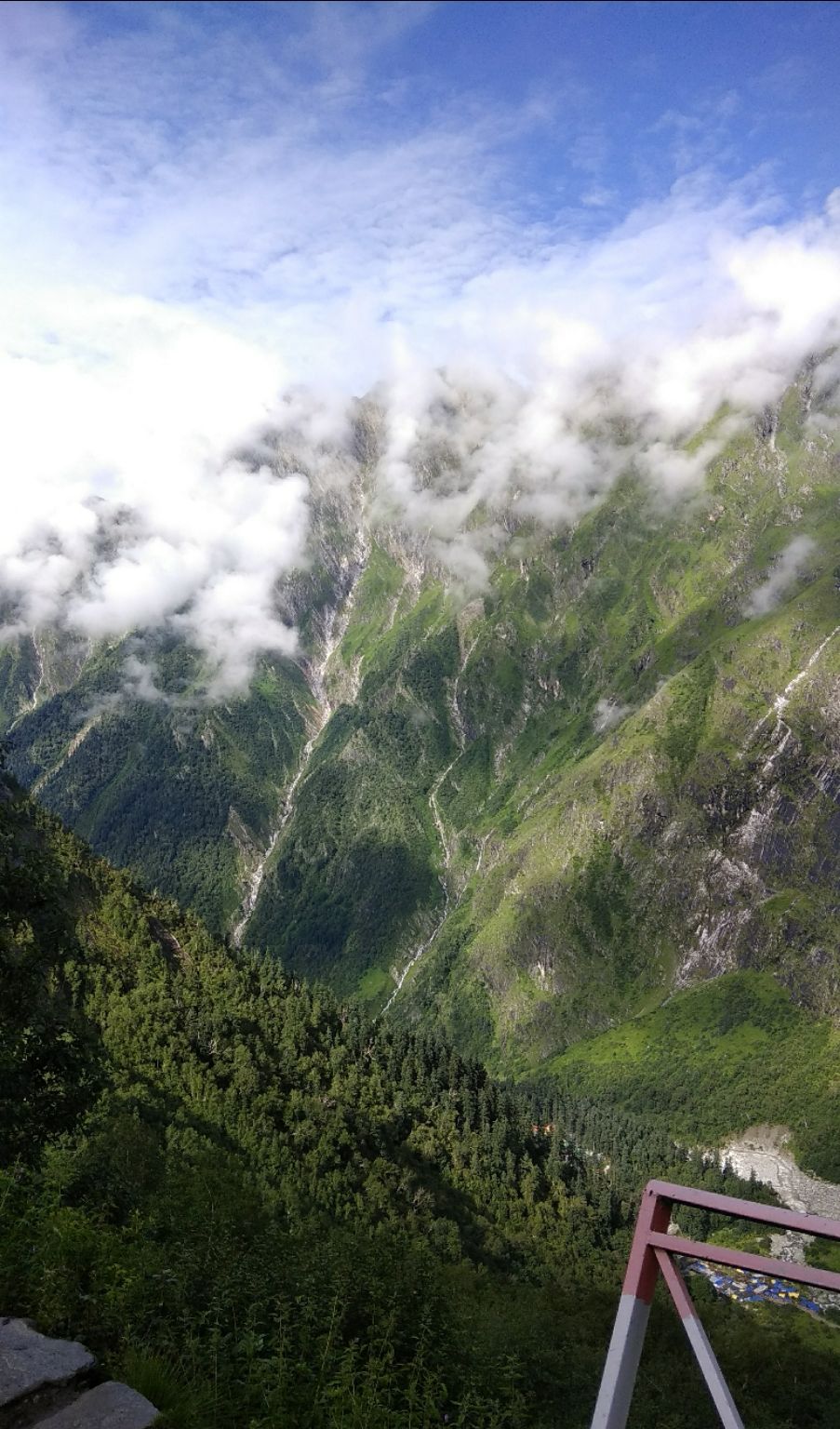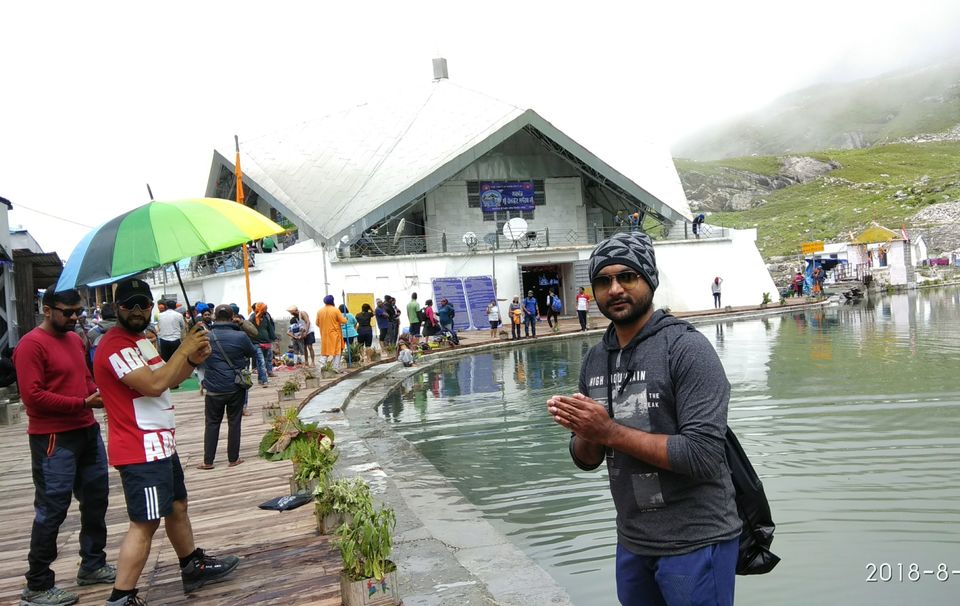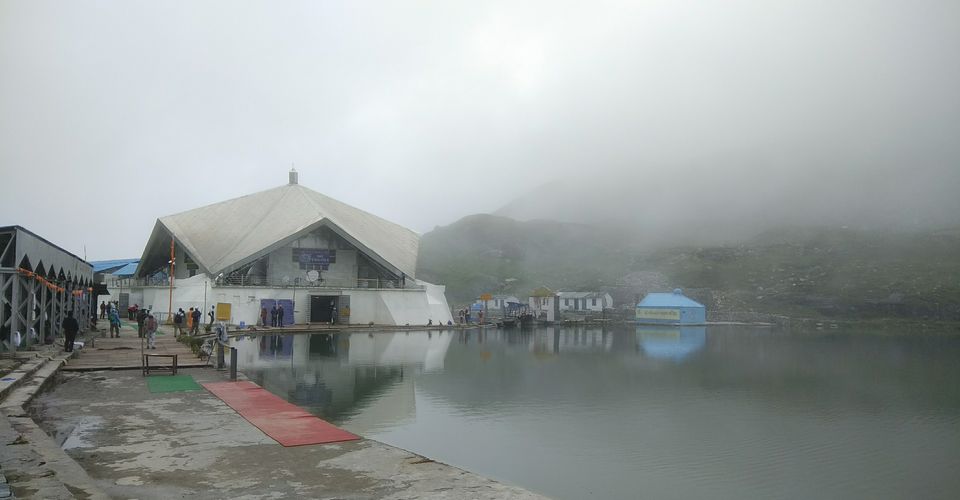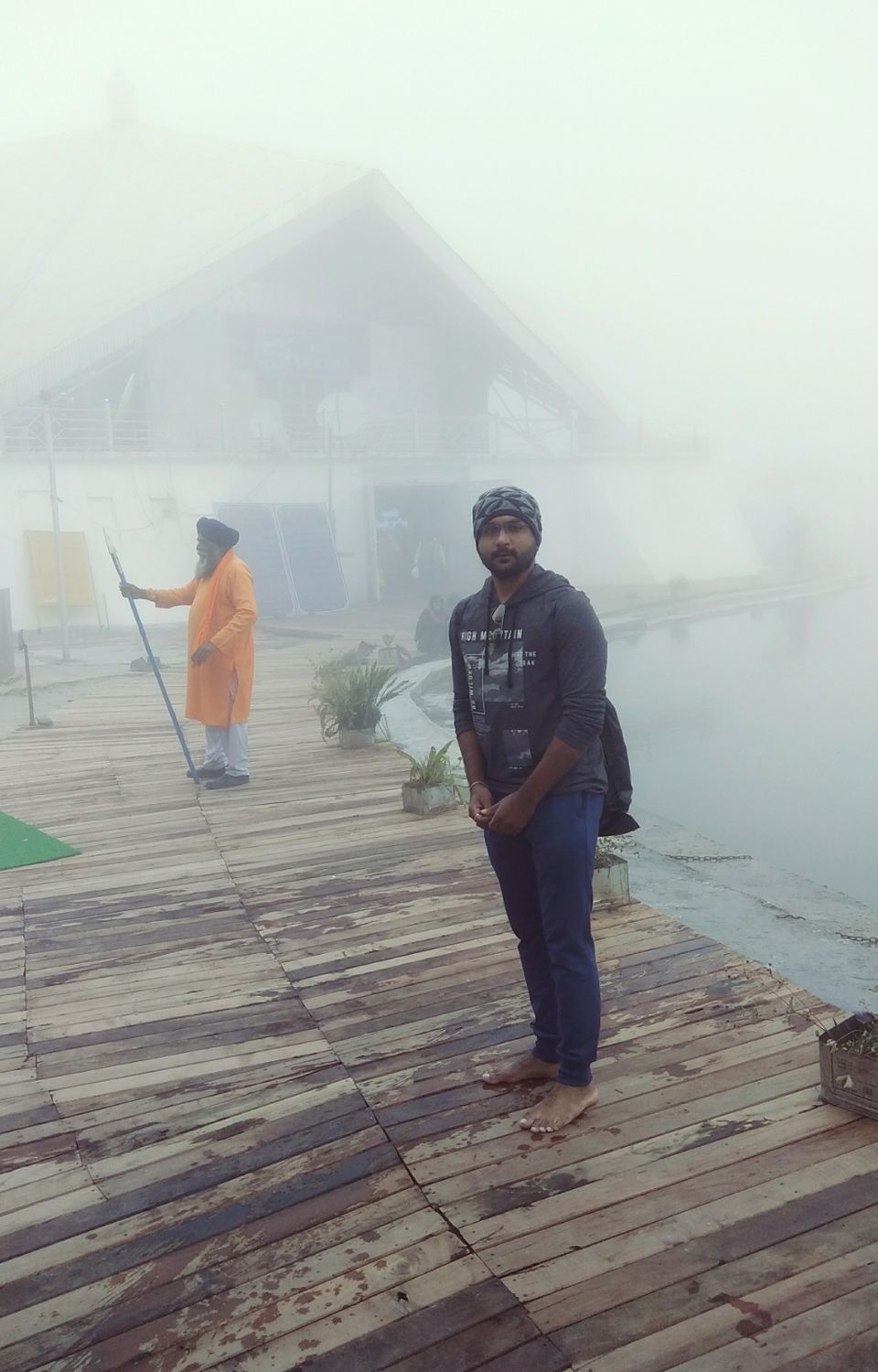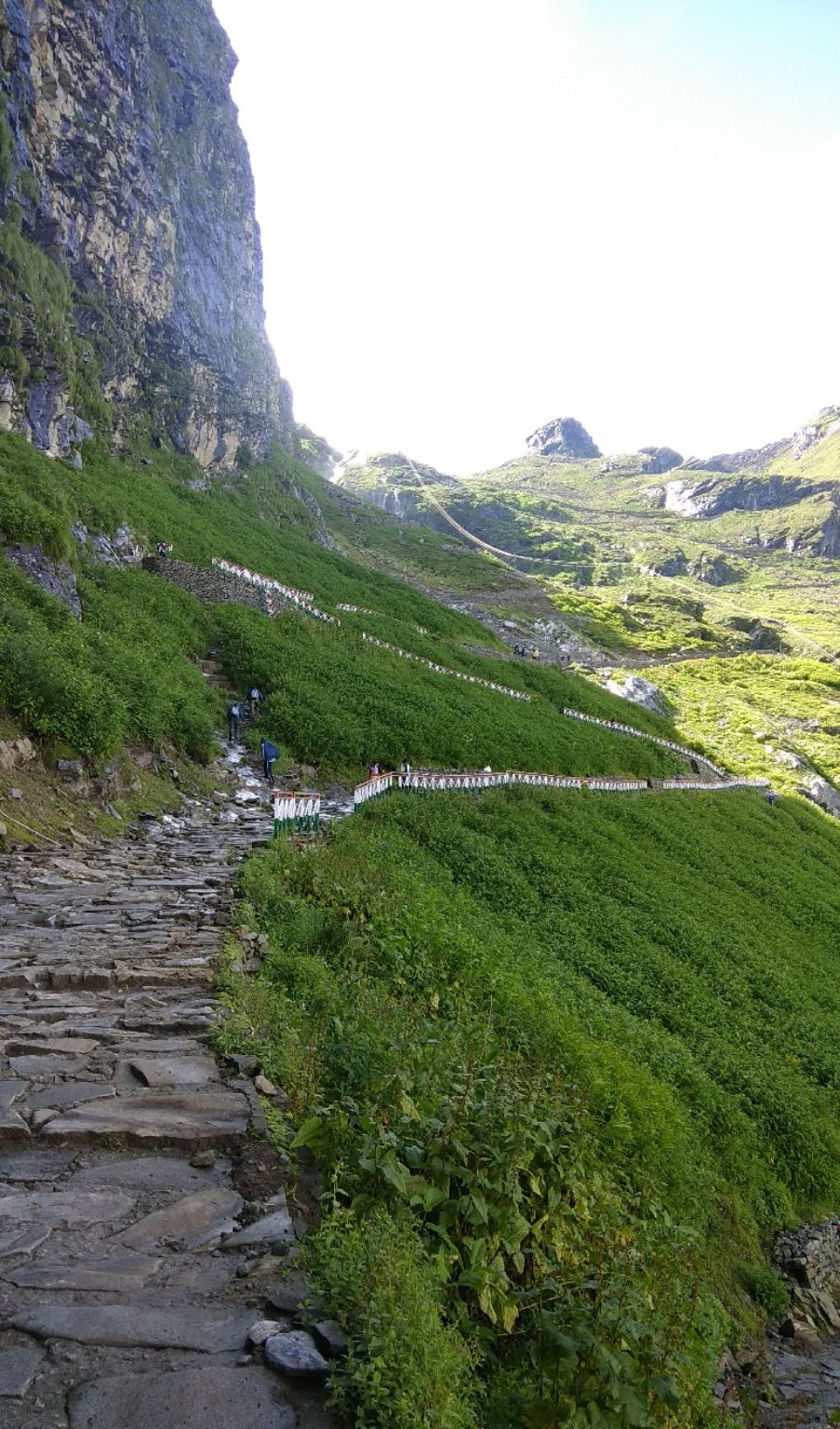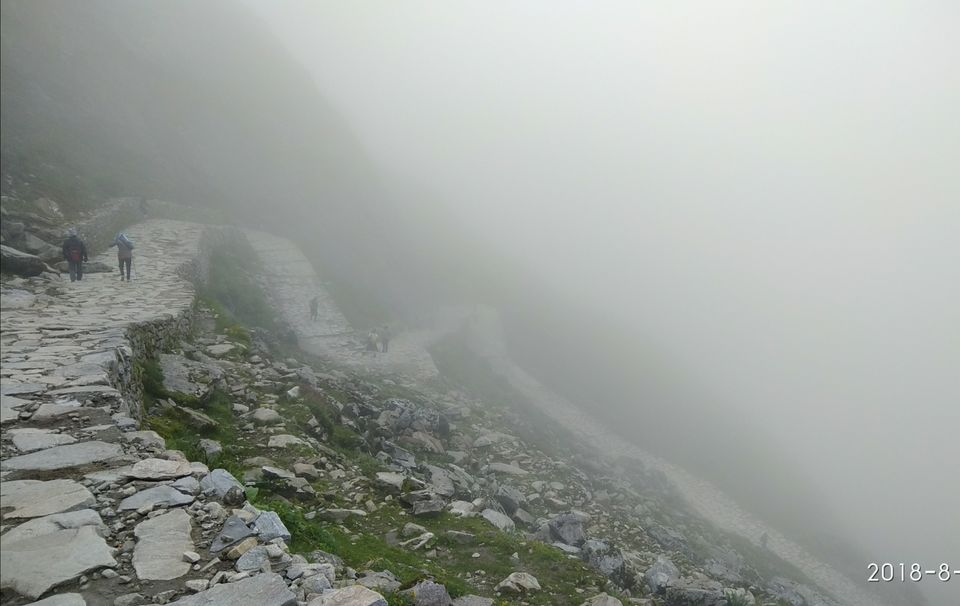 Ghangharia - Joshimath
▪️Shankaracharya math/monastery.
▪️Narasimha temple.
Having done with the VoF and Hemkund Sahib, it was time to get back to Joshimath from Ghangharia. One thing I forgot to mention earlier was that there is a helicopter service between Ghangharia and Govind Ghat (the 10 km trek that I had done on day #4) and guess the time it takes to drop you to back Govind Ghat ? "4 minutes!". The fare is usually 3500 INR but they've reduced it to 2875 INR for this season. I took that opportunity and got a ticket for the flight on the spot. It was hell of an experience flying through the valley which I can never forget in my life. Flying through those mountains felt exactly like one of those Jurrasic Park movies, just the dinosaur was missing 😉
By 10 am I was at Govind Ghat ! From there I got a shared taxi to Joshimath and it took around an hour to reach and I checked in the same hotel. Time to explore Joshimath.
The actual name of this place was Jyotir Math and it is one of the 4 maths or monasteries that were established by Adi Guru Shankaracharya in the 8th century AD. The main importance of this place is that it is the winter abode of Lord Vishu as he descends from Badrinath and stays here at Joshimath through the winters when Badrinath remains closed. Speaking about the beauty of this little town, all I can say that it looks like one of those beautiful hill stations straight out of a scenery with clouds crouching every where. It was drizzling in the evening and I took a joy walk through the streets and got lost in its beauty. Not to forget, there is a fast food guy right infront of the Gurudwara here, he makes some yummy spring rolls and aloo tikki.
Auli, the famous skiing destination is just 12 kms from Joshimath and you have a rope way as well to reach there. But I had no time left to explore Auli so I had reserved it for my future travels.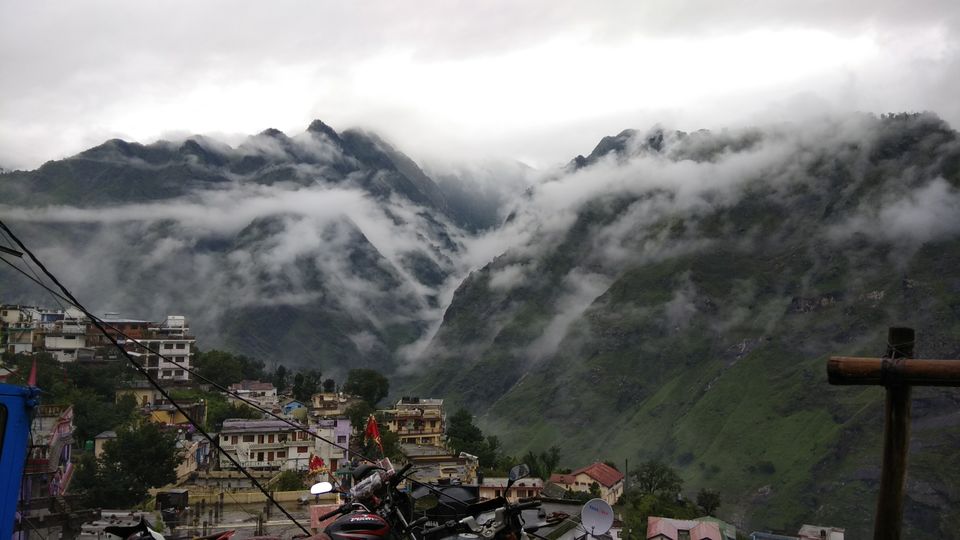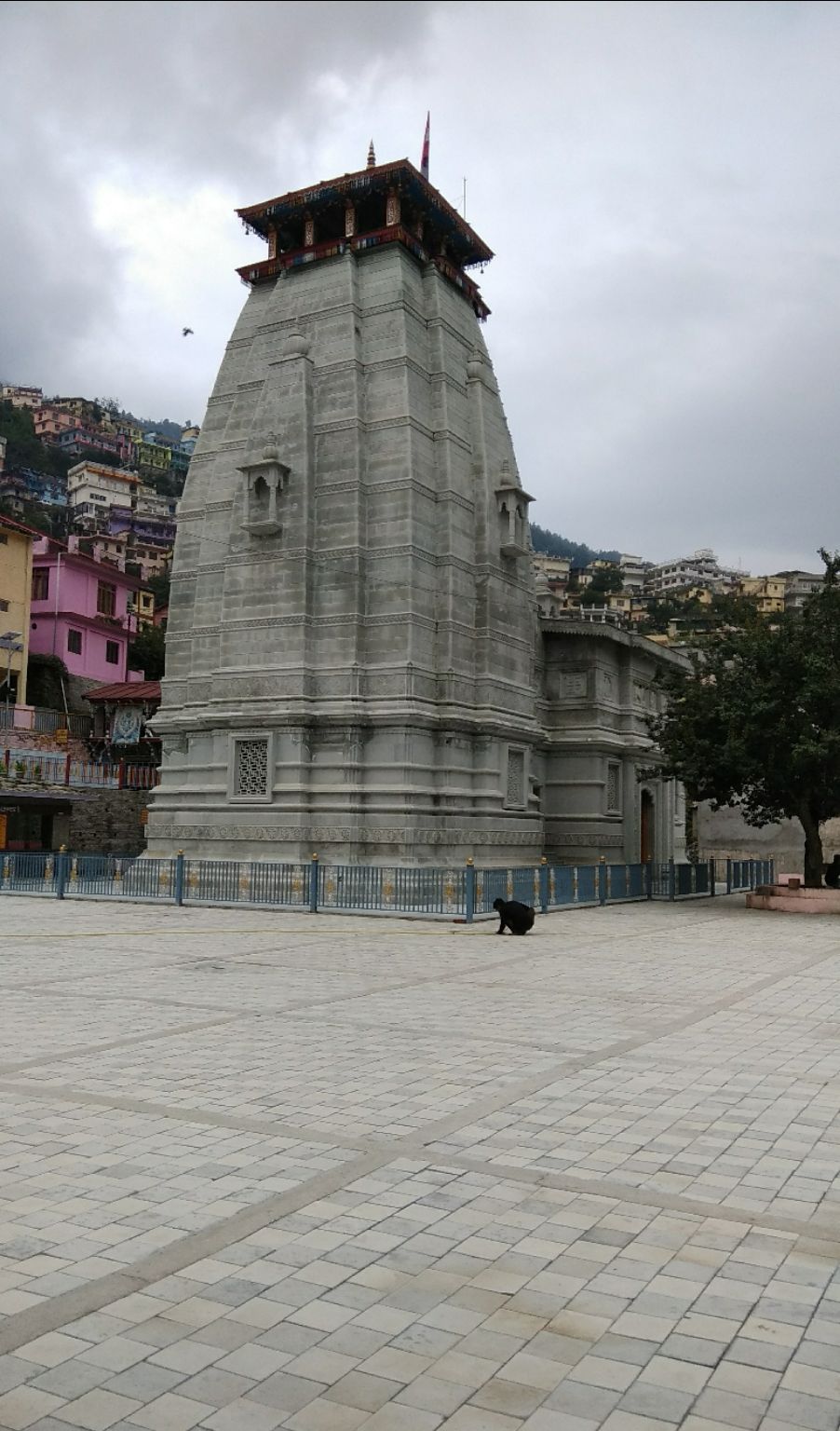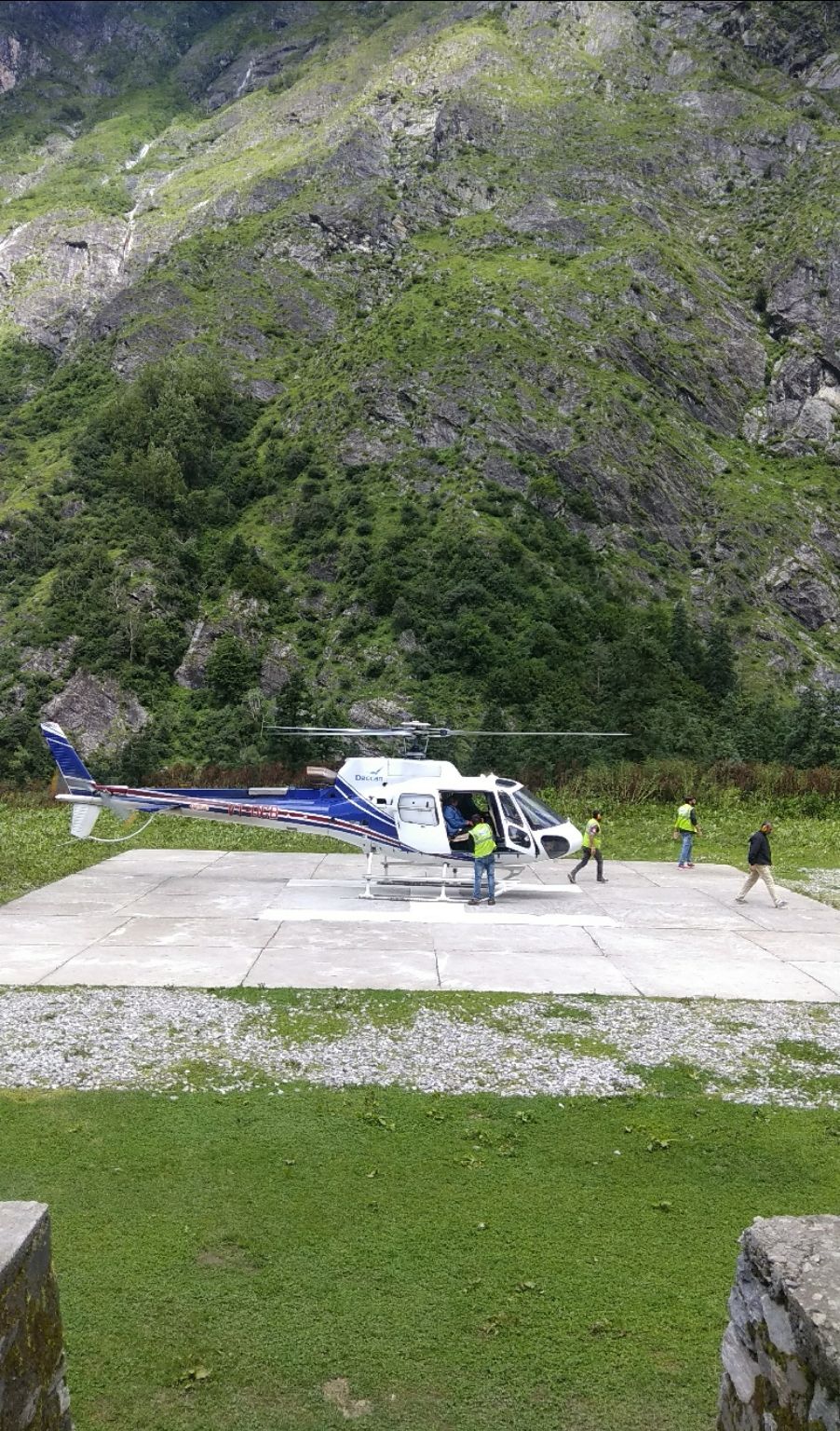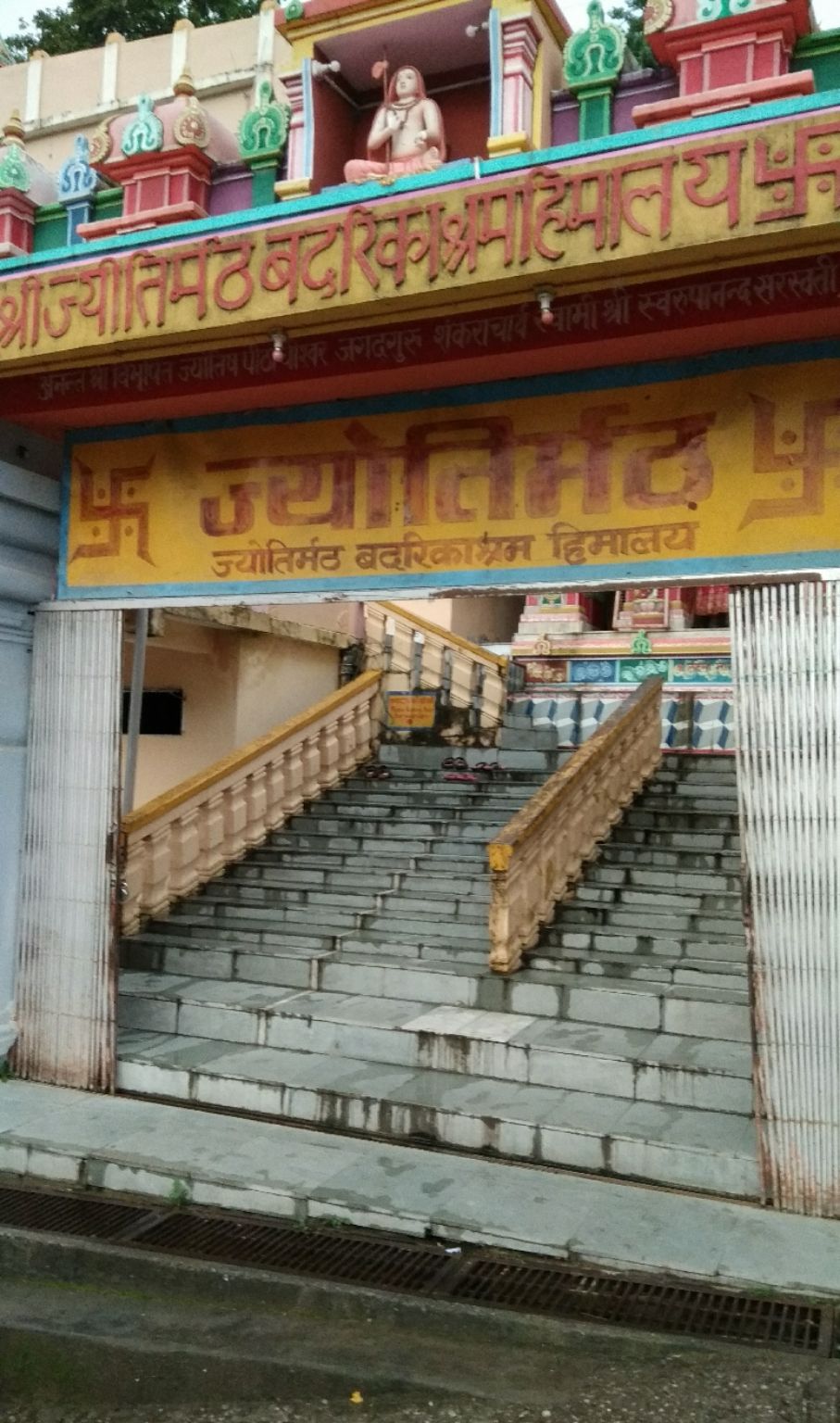 Joshimath - Badrinath
▪️Badrinath temple.
▪️River Alaknanda.
I started off by 7 am from Joshimath to Badrinath and took a shared taxi which was a comfortable 1.5 hour ride. On the way I was surprised to see cannabis growing on the road side and people not bothering about their existence. With numerous media houses scaring away people of heavy rains and land slides in Uttarakhand, I was lucky enough to have handful of visitors to the temple. I sat inside watching the rituals and listening to the chants as if I had all the time on this earth. The river Alaknanda flowing by in its fiercest form conveys a message that nature is not always soft and should not be taken for granted. I chose to stay here for a day and keep Mana for the next day though it can be explored on the same day.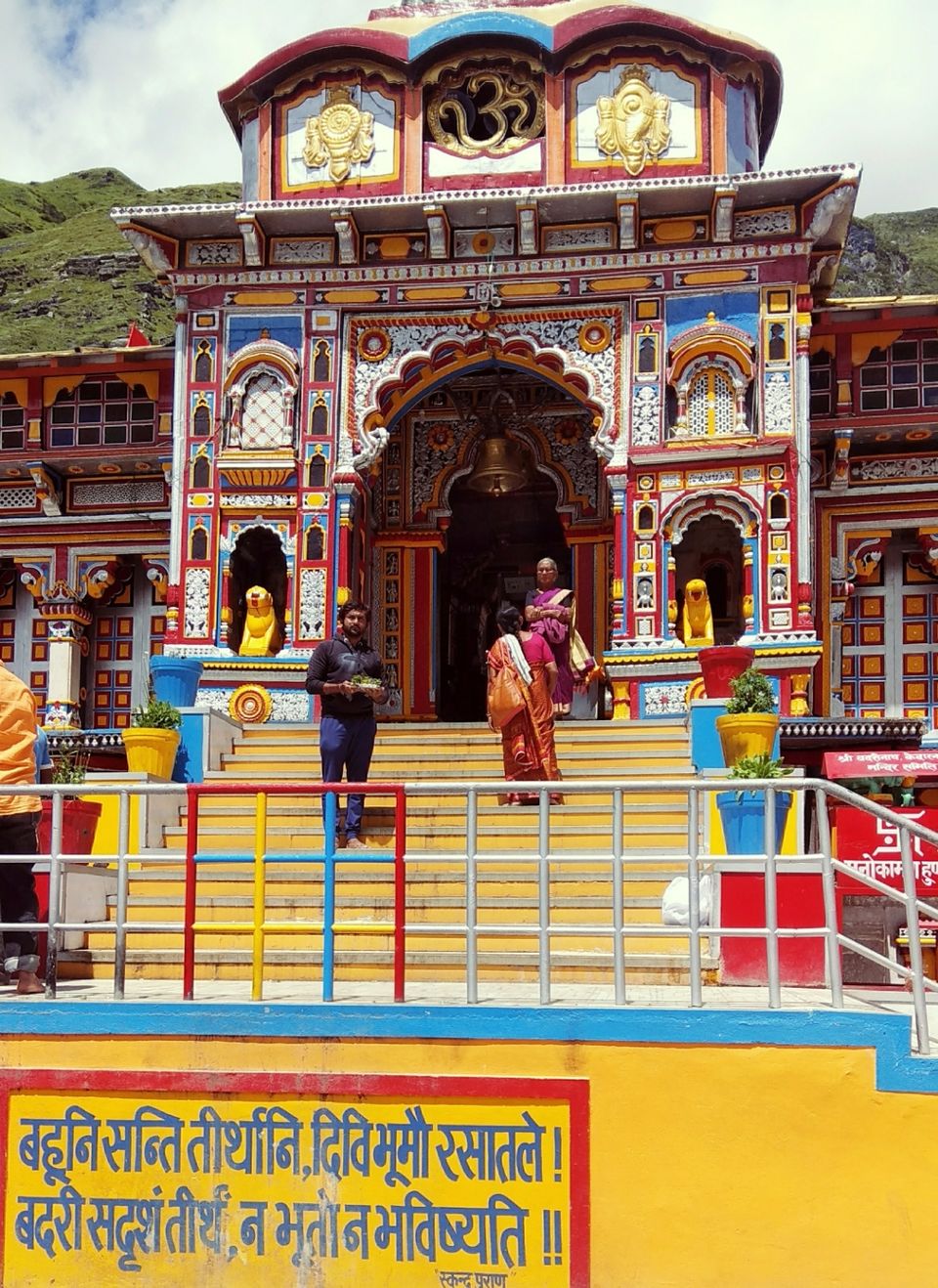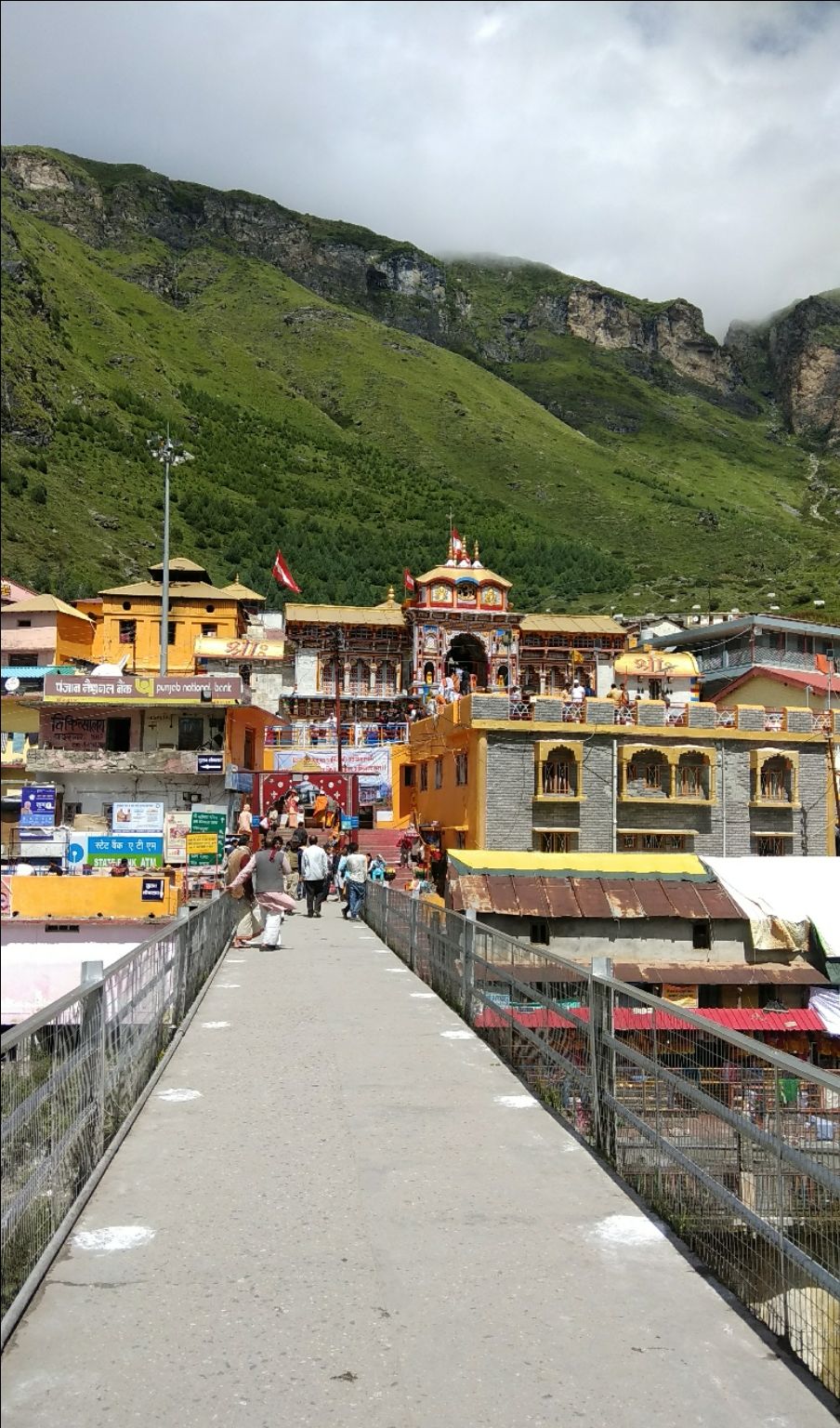 Badrinath - Mana
▪️Bhim Pul.
▪️Vyas Gufa (cave).
▪️Vasudhara Falls.
▪️India's last cafe.
Mana, the last Indian village before the Indo-Chinese borders take over. Being just 3 kms from Badrinath, I chose to walk. On the way in the back drop you see the Vasudhara falls falling from a height of 400 feet whose waters turn to mist by the time they touch the ground.
Mana has not just the distinction of being India's last village but it has a very important place in India's mythology as well. I visited Vyas Gufa (cave) which is believed to be the place where sage VedVyas composed the Mahabharata epic being dictated by Lord Ganesha. Then comes Bhim Pul (A natural rock bridge) over river Saraswati. It is believed that Bheem, one of the five Pandavas, threw a huge rock in order to make a path to join the two mountains so that Draupadi could easily walk over it. The last memory of the trip was a coffee at the India's last cafe. Time to get back to Joshimath. I took the public transport and got back to Joshimath that evening.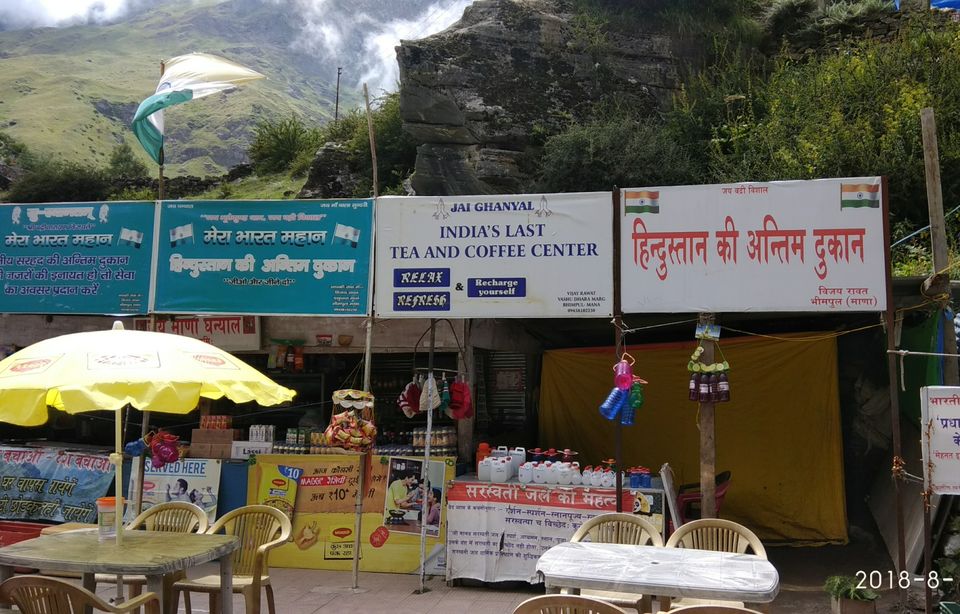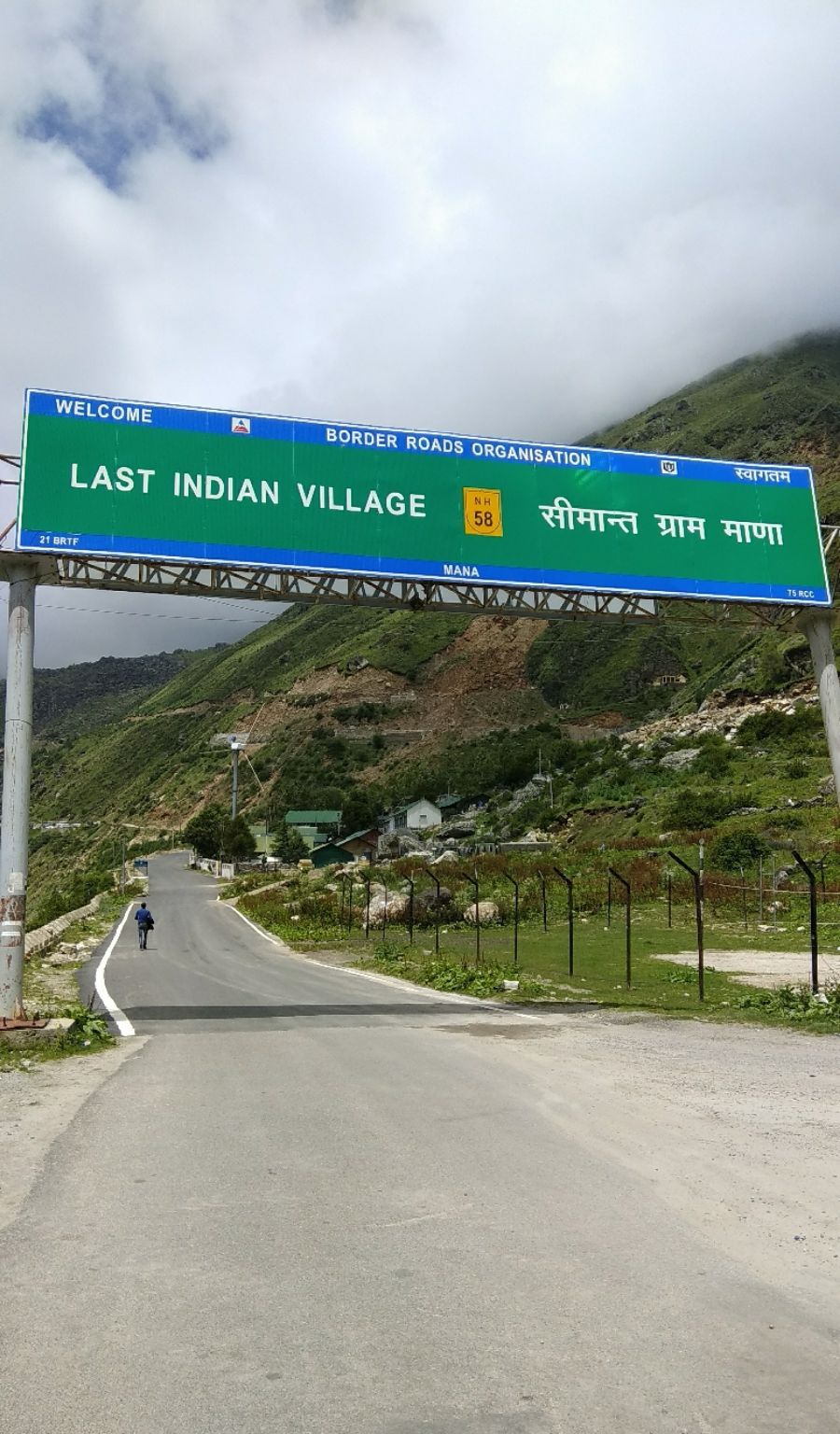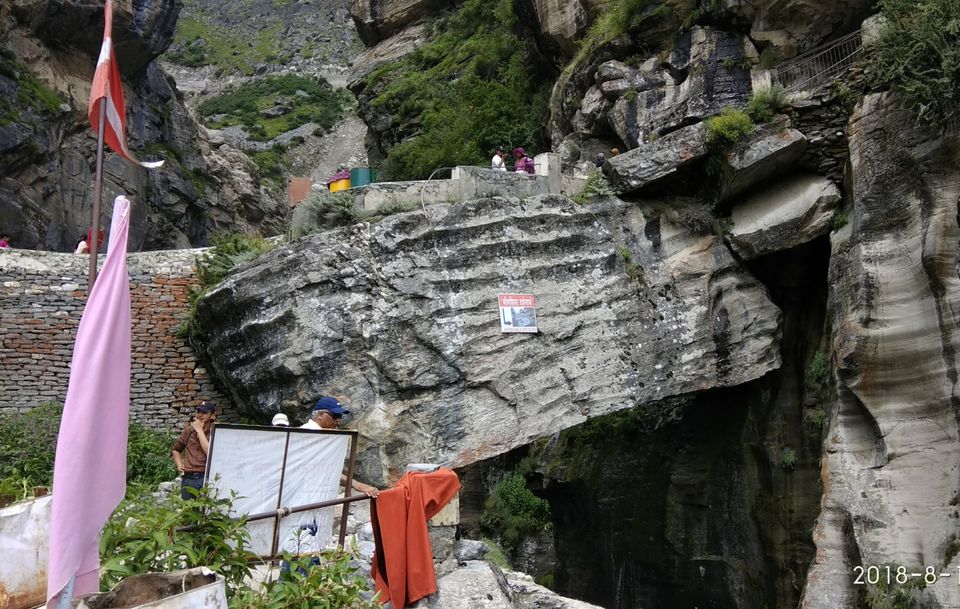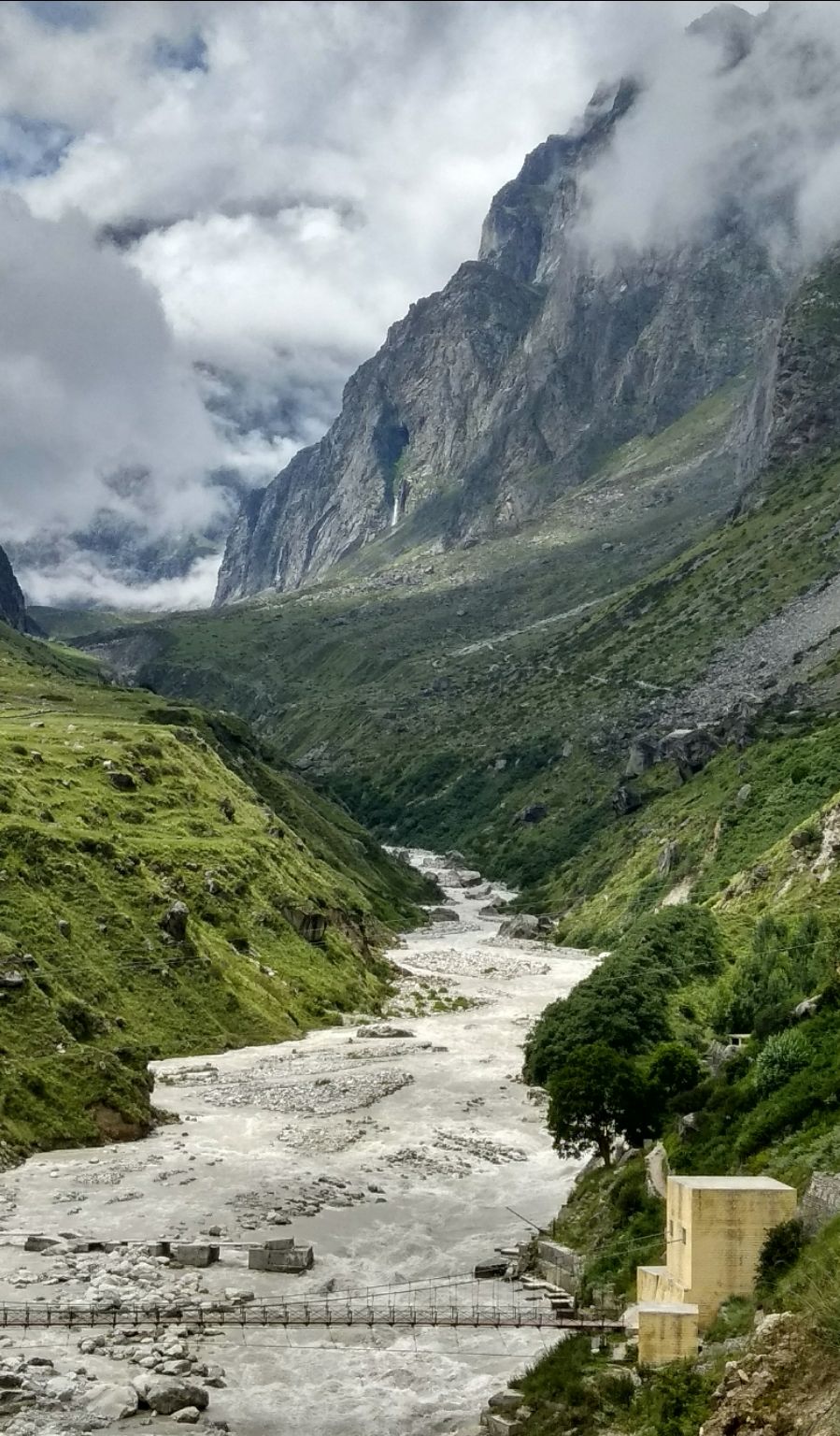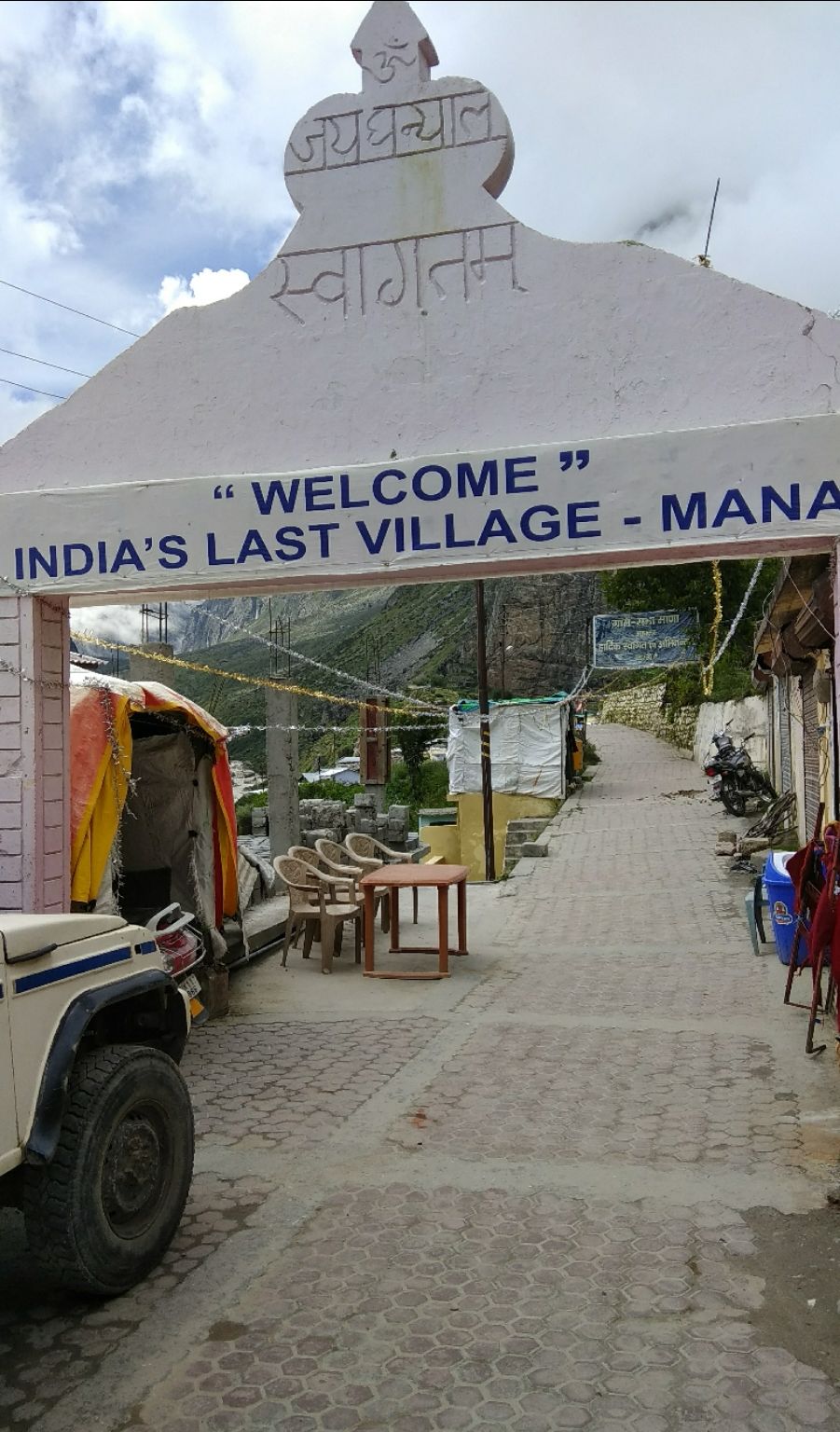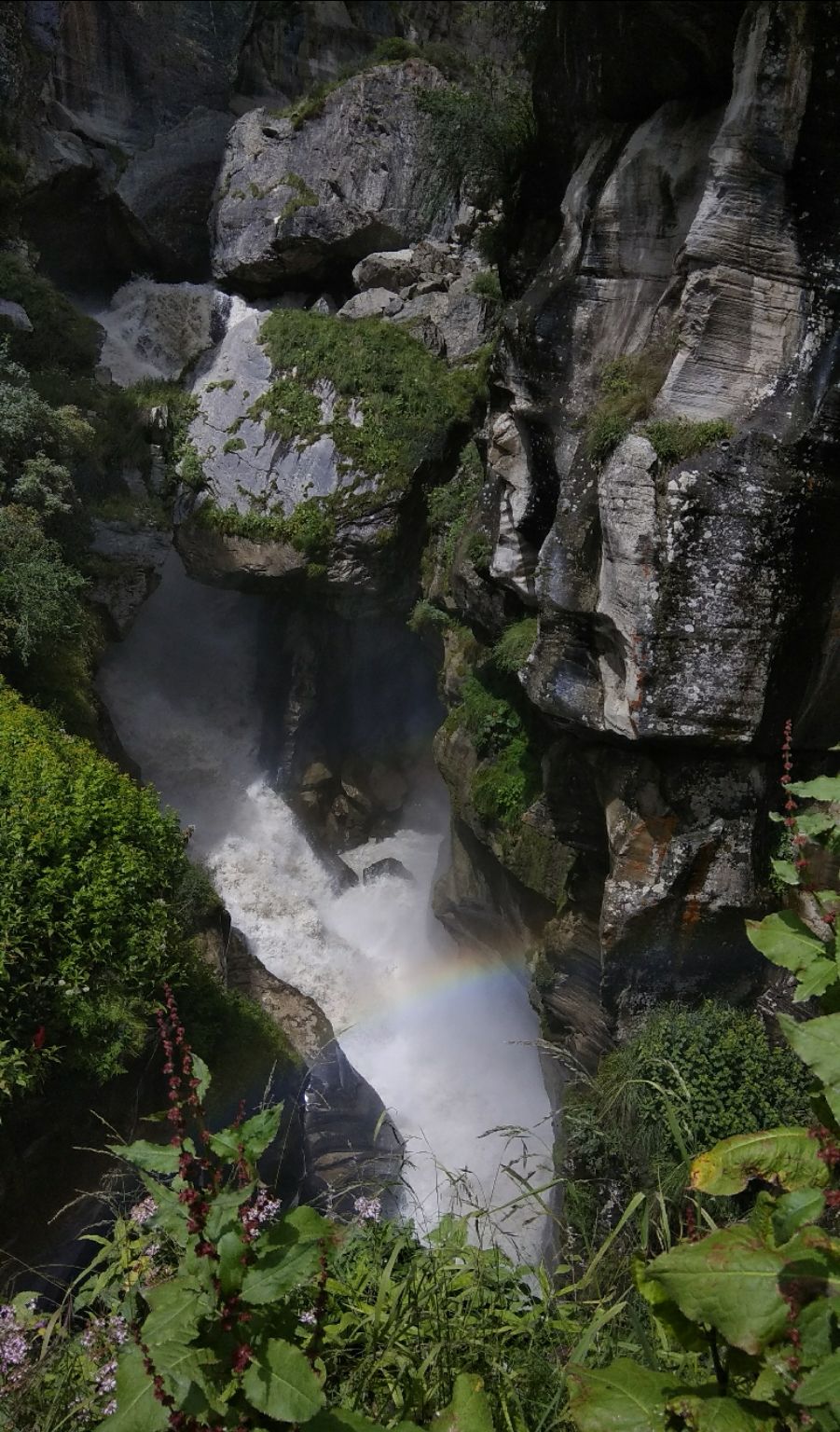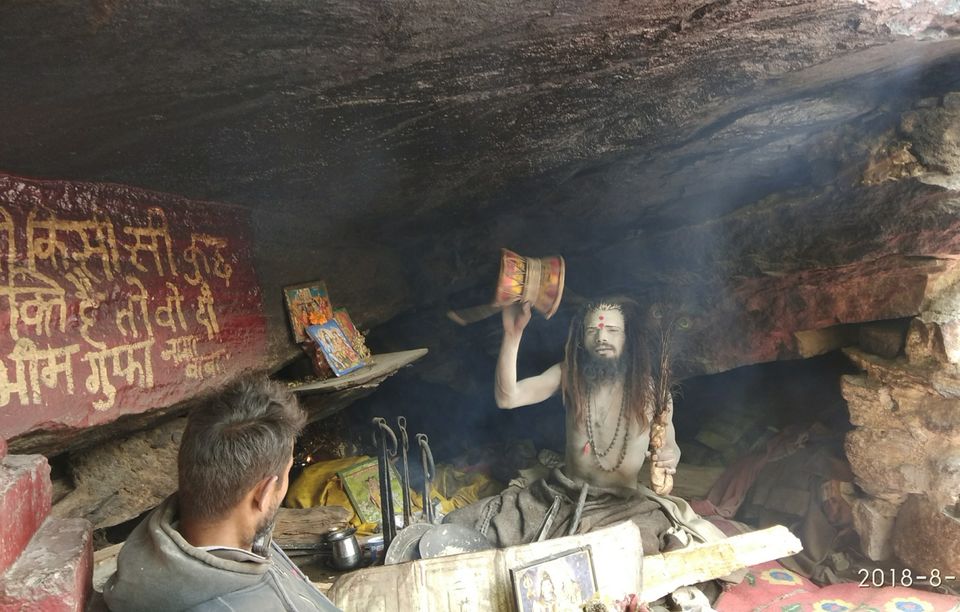 Joshimath - Haridwar
I started off from Joshimath early in the morning by 6 am to Haridwar. It wasn't a smooth ride in the mountains today. Had encountered couple of land slides on the way which increased the travel time but finally managed to reach. Being the last day of my trip and not wanting to spend at the hotel I explored the markets of Haridwar a bit on my foot
Haridwar - Delhi - Hyderabad
Took a Shatabdi from Haridwar to Delhi and further travelled back to Hyderabad.
The saddest part of every trip is its end because you have to be back to the ever mechanical life. But I found a way to overcome these post vacation blues. Guess how ? Start planning the next vacation right away 😉