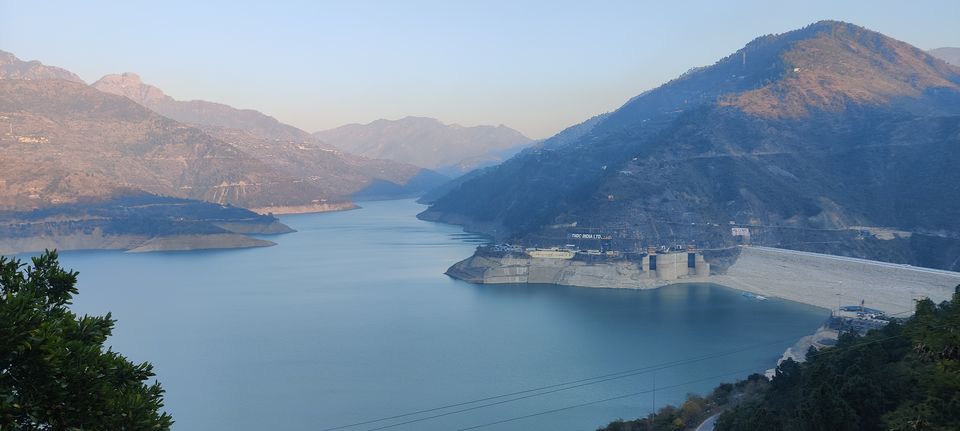 There was a long weekend holiday in last week and we were planning for a trip. I live in Dehradun so we already visited approximately all the nearby places of Dehradun like Mussoorie, Dhanaulti, Rishikesh, Haridwar. After a little research we finalized too visit Tehri Dam. Tehri was a small town in Tehri Garhwal District situated on the confluence of Bhagirathi and Bhilangna Rivers in Uttarakhand. This town got submerged in the water to create a large catchment area and this way the town of Old Tehri became The Tehri Lake, Asia's largest man made lake. The town of Tehri was evacuated to make space for the Tehri dam, and the population has been shifted to the town of New Tehri.
There are two ways to reach Tehri. First is Via Mussoorie - Dhanaulty - Chamba and second is via Rishikesh - Chamba. We started our journey in our car approximately at 8 a.m. in the morning from Dehradun via Mussoorie which is 35 km approax from our house. we reached mussoorie in one and half hour and took the way to Dhanaulty. As it is winter season we were lucky to found fresh snow on the way to Dhanaulty. The roads & trees were covered in fresh snow which was very mesmerizing. There are so many maggie points on the way where you can enjoy the delicious taste of maggie and chai with beauty of nature. we have also taken a short break & enjoyed maggie.
Again we started heading to Chamba with scenic beauty of mountains with snow covered trees & hills on our way. There is a small village named Kanatal, a hill station between Dhanoulty and Chamba & it is a must visit place to have a short getaway with himalayan views.
After travelling approximately three hours we reached Chamba. Whole city is situated at mountain cliffs & we were feeling like we were in a foreign country. Now we have to travel only 16 kms to reach Tehri Dam and after 30 minutes we were on the bank of Bhagirathi river and we were surprised how nature surprise us every time with its beauty & nature, no matter how many times you have already seen it. We enjoyed the view of the great and beautiful river surrounded by mountains. There are a lot of sports activities which you can enjoy like motor boating, jet speed boat ride, water skiing, zorbing banana boat ride, hot dog ride, paragliding etc. which we enjoyed a lot, after that we headed towards the view point of Tehri Dam which was two km above from where you can see the broad view of Tehri dam.
There are floating cottages in the river in which you can stay and also other cottages on the bank of river in which you can enjoy the night and wake with the memorizing view of sun light on the river coming form behind the mountain and it is just like heaven for nature lovers. There was only one good hotel LeRoi near the river. You can also stay in Chamba and Tehri town.
But we had not planned to stay there and we had to return to Dehradun at the same day. So after spending 2-3 hours near the river we started our journey back to home. And this time we took the way through Rishikesh.
So this was our one day trip of Tehri and everyone who is planning to visit Mussoorie. Please don't be limited to Mussoorie and Dhanoulty only. You must add 1-2 days more in your trip for Knatal, Chamba and Tehri.