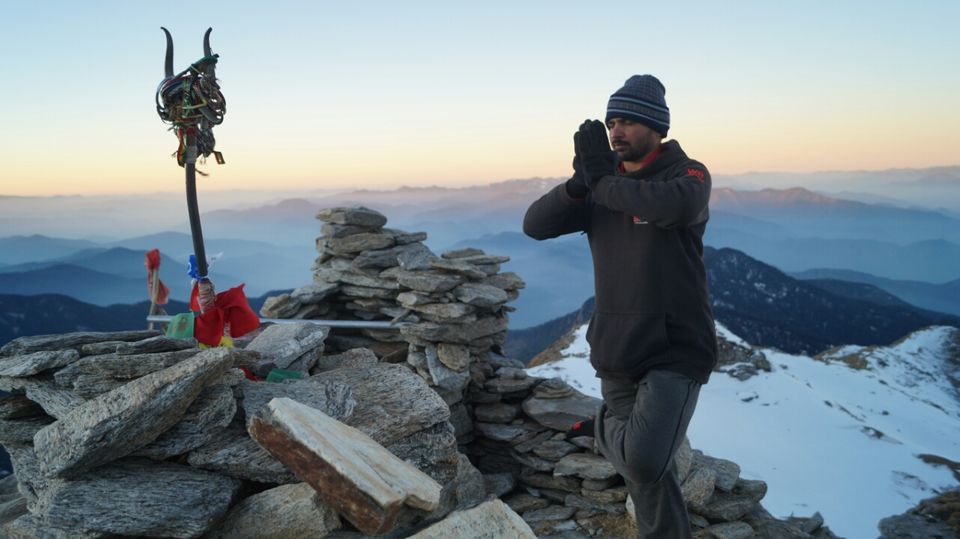 (Dear Friends I can't write & speak in English very well,so any mistakes in my writing pls ignore it - Thanks )
Day 2

First day of our trek we are reported at base camp SANKARI village on late night 7 pm dated 27 Dec,2015.

After day one we wake up early morning 5 am on day two for morning excercise & breakfast. After breakfast we are go to acclimatization walk . And the point is that there is no time for rest. After complete our lunch all participants came for a orientation & snakes.

This is my first winter snow trek &  I celebrated my birthday first time . SANKARI village is so small so I can't arrange cake or other things.but I found some small trophies in market to celebrate my birthday. Really it was an amazing celebration of my life.
Day 3
Third day of our trek is so tired & painful for all participants. Trek rout is very hard and there are so many small rocks, dust , hills , snow . So we say that was a mixed route. A route was from SANKARI to JUDA TALAB higher camp site . This camp is fully snow covered mountain peaks & also near a frozen lake JUDA .we saw a four highest mountain peak near SANKARI and it is Swarga Rohini, Black Peak, Bandar Punchh, Kala Nag .
Day 4
Early morning of day 4 our group departure for next higher camp LUHASU at 9 o'clock. Our trek leaders are so friendly. So they give permission to enjoy one hour on frozen JUDA TALAB . Juda talab to Luhasu is very beautiful trail . 4 o'clock our group reached Luhasu.
Day 5
Wonderful day of our trek was fifth day. On this day we wake up early morning 3 o'clock & trail 4 o'clock for KEDARKANTHA peak & return before 11 am . Because there is very cold wave on height . All participants succesfully completed KEDARKANTHA trail and return at Luhasu 1 o'clock . After complete our lunch a group members are departure for lower camp HARGAON  .
Day 6
Last day of our trek is very easy & stress less. All group members left HARGAON 9 o'clock morning and reach SANKARI base camp at 1 o'clock . First all participants went to bathing ,because all members not bathing last 5 days Ha..Ha..Ha... After complete lunch some participants leave our camp . My group also leave base camp & stay in SANKARI village for a night . Because our bus for Dehradun was next morning. So we are free after 4 pm and spent some time and photography in SANKARI.
Such a amazing trekking experience in my life . I never forget Kedarkantha in my whole life. Thanks to YHAI to give me an opportunity to make some goods friends from another states & explore this wonderful place of HIMALAYAN MOUNTAIN RANGE.
Dhaval Patel
Search on FB I'd - रखडती भटकती आत्मा
Search on Insta - the_mountaineer