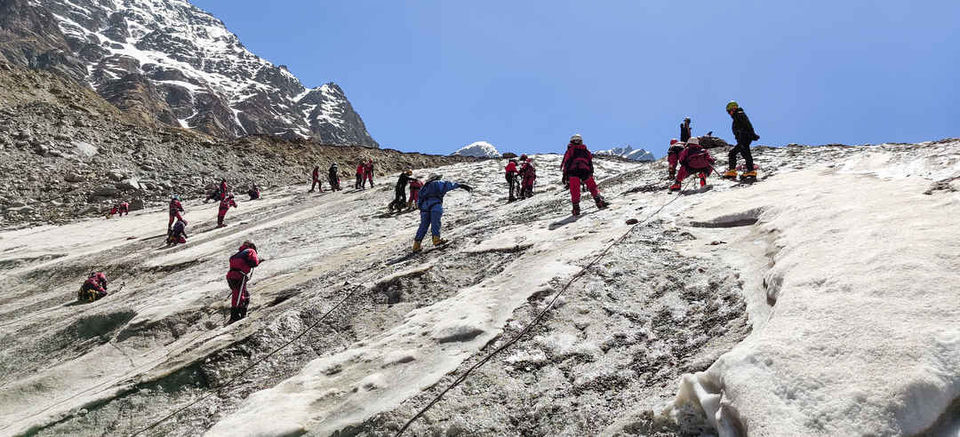 Read this before you go for a Basic Mountaineering Course (BMC).
If you have decided to go for a Basic Mountaineering Course, then this is probably one of the best decisions of your life. You are in for one crazy adventure. However, chances are you are really confused about a lot of things and have lots of questions. Well, that is exactly how I was feeling so I am going to share a few things I really wish I knew before I went for my Basic Mountaineering Course at Nehru Institute of Mountaineering (NIM), Uttarkashi (Uttarakhand, India).
Topics covered- Course Schedule, Course Fees, Application Process, Medical Form, List of things provided by the institute, List of things you need to carry from home, Reaching and Returning from NIM, Food Arrangements, Network and Charging Facilities, Physical Fitness, Certification and Grades, Special tips for women.
I have also made this video in which I have given an in-depth explanation for each of these topics with the help of pictures and videos and shared a few more details.
Note- All the information is based on my personal experience at NIM. This article is not sponsored.
Course Schedule
The course includes training on rock, ice and snow along with lectures on topics related to mountaineering. It is mostly a 24-28 day course depending on the institute. The general schedule at NIM was something like this: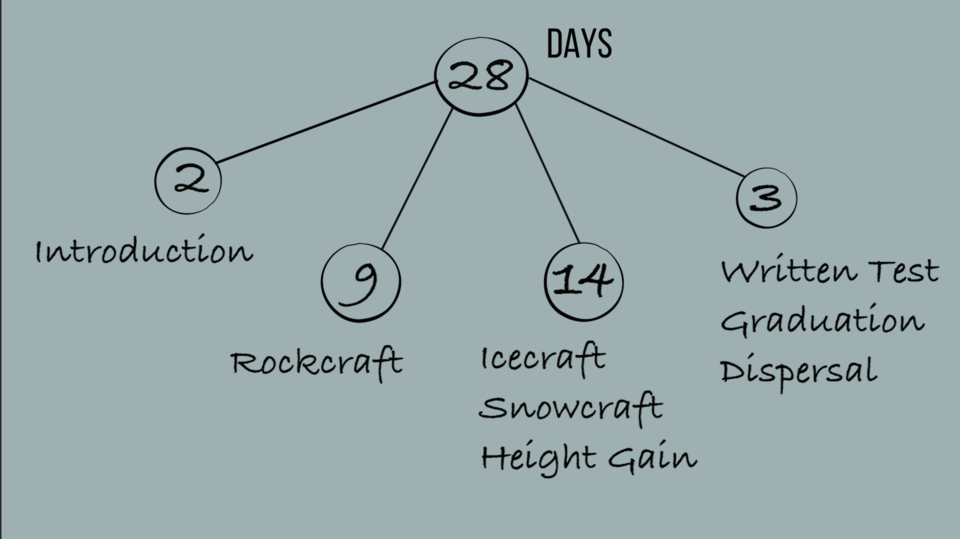 The day normally started at 4:30 am and ended by 9 pm. Every rope (group) would stay together in one room at the hostel and later on in one tent.
Day 1-2: At NIM- Physical Exercise, Introduction, Hill Walk, Lectures, Medical Check-up, Equipment Distribution, Forming of Ropes, Yoga.
Day 3, 7, 8: At NIM- Physical Exercise, Artificial Rock Climbing, Lectures, Yoga.
Day 4, 5, 6, 9, 10, 11: Rock-craft Training at Tekhla, trekking to Tekhla (10 kms in 2 hours) return journey by bus (2 night stay at Tekhla, rest of the days was same day return), Lectures, Yoga.
Day 12-14: Trek from Bhukki to Base Camp- Moving from NIM to the mountains to stay there for next 14 days for ice-craft and snow-craft training.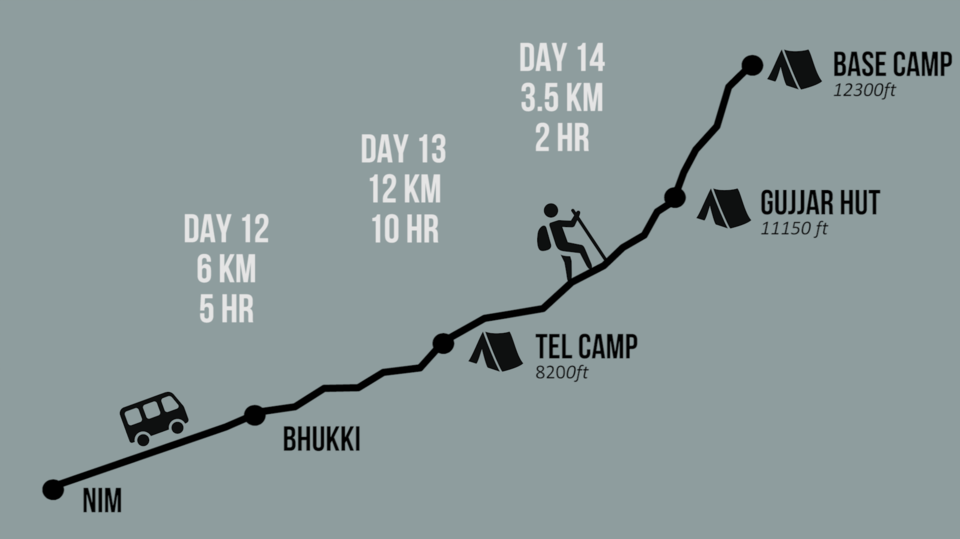 Day 15-21: Stay at Base Camp, Ice-craft and Snow-craft Training, Lectures.
Day 22-23: Stay at Base Camp, Height-gain (15,400 ft), Ropes & Knots Test, Navigation Test.
Day 24-25: Return Trek, Back to NIM.
Day 26-27: Written Exam and Graduation Ceremony
Day 28: 6:00 am- Dispersal
Course Fees
The course fees is about ₹15-17000 depending on the institute and the year in which you do the course. (The course fee is different for foreign students).
Application Process
Eligibility- Anyone who falls under the required age limit (usually 16-40 years, may differ from institute to institute) and is generally healthy can apply (no major diseases/major injuries/recent surgeries/heart condition). There is no special criteria, special training requirements or selection process.
1. Full application process is mentioned on the website of the institute of your choice. Follow it step by step.
2. Generally, first you have to check the earliest available batch on the website. The most popular institutes have a wait list of 1-2 years.
3. Fill the online application form, upload your Photo, Aadhar Card, Medical Form and Indemnity Form and pay online.
4. If online facility is not available then you have to download the application form and send it by post along with the required documents as mentioned on the website.
5. The course fee can be sent by Demand draft, NEFT or Online payment or whichever method is mentioned in the admission procedure, on the website. Once the payment is received by the institute, you will get a confirmation email/call.
"I don't want to wait for 2 years. Is there any way to go earlier?"- Sometimes there are cancellations just before a batch is about to begin and if you contact the institute and request them to let you come on short notice, they sometimes agree.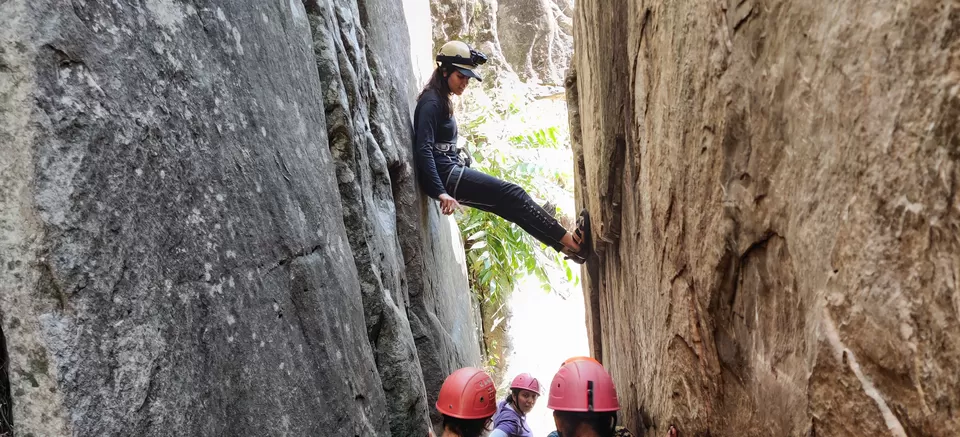 Medical Form
This is just a basic formality so don't worry about it.
1. Go to a Pathology Lab/Hospital and get Urine and Blood Tests done for everything mentioned in the lab section.
2. Take the Urine and Blood Test Reports to a Family Doctor/General Physician. He/she will fill the lab section as per the reports. For the rest of the sections, they have to generally examine you and if they find you generally healthy, they just have to put "normal" everywhere.
Note- You will have to get this done twice. Once at the time of application and once when you are actually going for the course. When you are going for the course, you don't have to carry the medical reports with you, just the medical form is enough. You have to undergo a basic, rudimentary Medical Check-up on the 1st day of the course.
List of things provided by the institute
1L bottle, mess tin, spoon, cup, sling, 2 carabiners, harness, helmet, small trash pouch, windproof suit, rucksack (backpack) (100L), rain cover for the rucksack, 1 big plastic bag (for protection inside the rucksack), rock climbing shoes, feather jacket, sleeping bag and liner, carry mat, gaiters, snow shoes, crampons, ice-axe.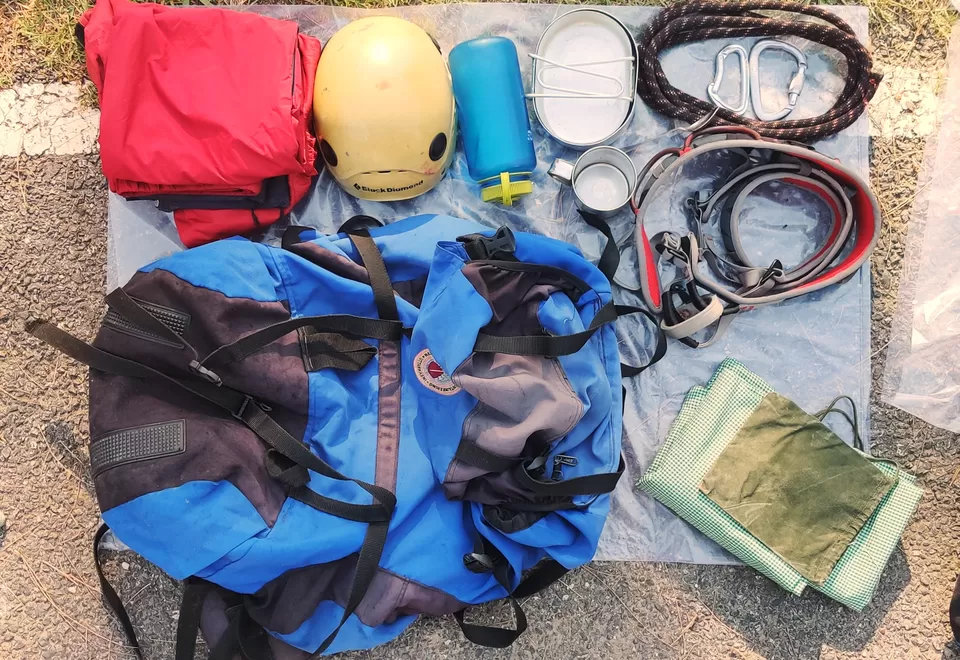 Note- If you lose any of these items then you have to pay a fine.
Backpack/Rucksack
The institute provides a 100L rucksack. This is the rucksack you are supposed to take to Tekhla as well as when you move to the mountains for 14 days. When you leave for the mountains, you will only carry the things you need in that rucksack and you will put all your extra things in your bag and leave it behind at the institute itself. It is good with big side pockets but the shoulder padding is not that great so your shoulders might hurt.
If you don't want to carry the rucksack given by the institute and you wish to carry your own rucksack for the 14 days that you live on the mountains, make sure it is at least 90-100L, nothing less than that. If you wish to use the rucksack provided by the institute then the bag/suitcase you bring from home can be of any type as that will just be kept in your room. You will not have to carry that around.
List of things you need to carry from home
This is the list given by NIM <https://e348c630-5a28-4fe0-9748-18ac2c3a781d.filesusr.com/ugd/25f551_ca8716d84c664296888774126e074a82.pdf> They expect you to bring all of the items in this list from home. You will find most of these items in Decathlon.
Note- While you are staying at NIM, you can wash and dry your clothes, but you will get very little free time to do that and you will always be really tired. So instead of washing your clothes again and again just carry extra clothes (extra t-shirts, bottoms, undergarments and socks), because you can bring extra luggage to the institute. It will all just be kept in your room.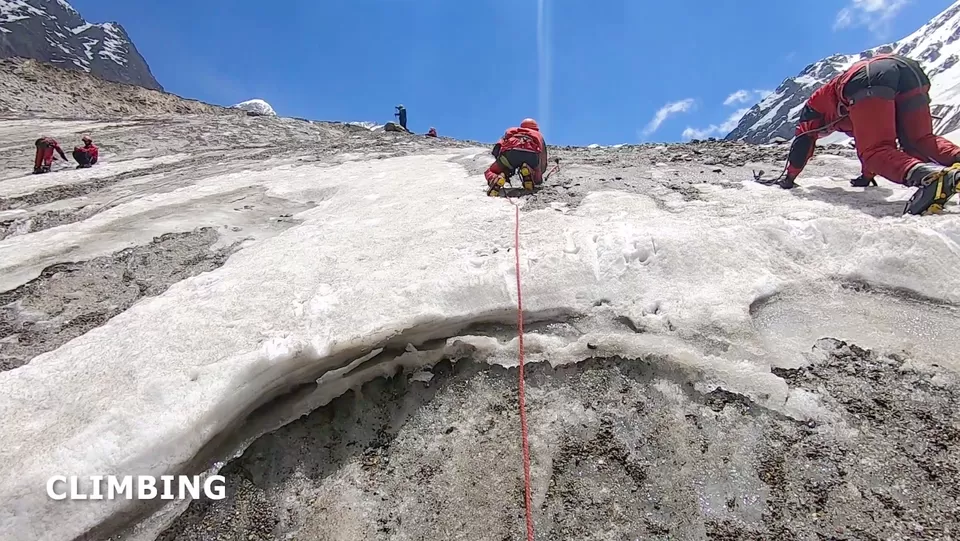 Here are a few more tips regarding what to pack:
1. It is not compulsory to buy a special trek pant or trek suit. Normal track pants and t-shirts will do. Clothes of dri-fit/dry-fit material are helpful. I had just used 1 pair of waterproof gloves but you can carry that as per your personal preference. I would recommend a poncho over a raincoat as it is lighter and longer so you don't need bottoms.
2. Eatables- You can carry dry fruits and dry snacks. For the 14 days that you live in the mountains, they provide chocolates, candies, biscuits and dry-fruits.
3. You can carry sachets of shampoo and conditioner. Carry face-wash, moisturiser, lip balm and paper soap/Dettol Squeezy.
4. Trekking shoes- Carry good quality, water resistant and preferably high ankle shoes as they provide good ankle support. (Suggestion- Decathlon Trekking or Hiking Shoes/Action Trekking Shoes). If you are buying new shoes, break into them. Wear them 3-4 times on a short hike before you go for the course to avoid shoe bites. If you decide to carry high ankle shoes, wear long socks inside that come above your ankle to avoid friction and shoe bites.
5. NIM Store- During my batch, we did not get time to go to the market and we were asked to buy whatever we want from the shop in the institute itself. It had everything needed for the course. Including poncho, detergent, shampoo sachets, dark goggles, chips, chocolates, souvenirs like NIM t-shirt, caps etc. If you want to withdraw money, withdraw it before entering the institute. There is an ATM in the main market at Uttarkashi.
6. Carry some extra money. You will have to pay about 200 rupees for insurance, about 100 rupees for graduation ceremony photographs, and also to eat something at the canteen. Since there is no network at Base Camp, you can make one call every alternate day from the satellite phone at Rs.50/min. Carry as little money and valuables as you can because theft may take place around you. You can even carry a lock for your bag for extra safety.
7. In addition to the list given by NIM, here are a few extra things you can carry. They are not compulsory but they might be helpful. Running shoes (physical exercise and running in high ankle trekking shoes can be uncomfortable), slippers, power bank, multipurpose scarf/bandana, hydration pack, 1L water bottle, detergent, small napkin, tissues/wet wipes, anti-bacterial/anti-fungal powder (to prevent rashes, infection, reduce smell), deodorant, ORS, very basic medicines (Medical Incharge always has all the medical supplies), 2 big extra polythene bags (when you go for training, you only have to carry some things in the rucksack. You can keep the rest of the things in these extra bags and leave it in the tent to keep things organised so you don't have to empty your rucksack every morning before you go for training).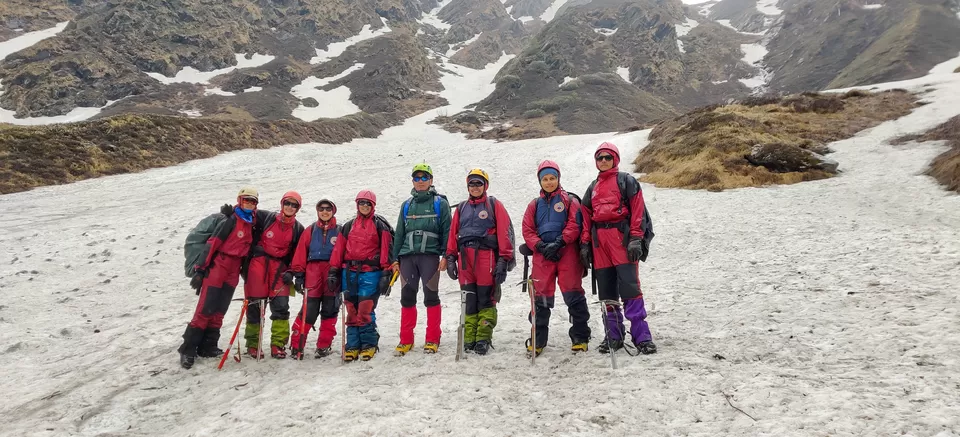 Reaching and Returning from NIM
Closest Railway Station- Dehradun/Rishikesh
Closest Airport- Jolly Grant Airport (Dehradun)
You can also take a bus from Delhi to Dehradun/Rishikesh. These buses are quite frequent and affordable. You need to reach the institute one day before the start date of the course. You can reach by late evening also, it is not a problem.
From Dehradun/Rishikesh you have to go to Uttarkashi by road which takes about 6-7 hours. A lot of buses go from Parade Ground, Dehradun and Natraj Chowk, Rishikesh that cost about Rs.300 per person. I would suggest that you reach Dehradun or Rishikesh in the morning or the previous night because it is a lot easier to get buses and taxis in the morning. You can also take a share taxi or coordinate with your batchmates before hand and travel together in a pre-booked jeep and split the cost. It may cost anywhere between 500-1000 per person. Once you reach Uttarkashi Main Market, NIM buses are arranged to take you to the institute. They go from Hotel Bhandari at the Uttarkashi bus-stand every 3-4 hours. (Usually 02:00PM, 05.00PM and 09:00PM)
Dispersal is at 6:00 am on the last day of the course (28th Day). There is nothing happening at all on that day. In fact, you get completely free one day before itself. The NIM bus drops you to the main market of Uttarkashi and from there you can easily take a bus to Dehradun/Rishikesh or you can even prebook a taxi and ask the driver to pick you up from NIM itself.
Note- There is a Facebook Group called Nehru Institute of Mountaineering Fan Club. You can use it to get in touch with your batchmates, ask queries, coordinate and travel together. You can even create a WhatsApp group and post a link for everyone to join.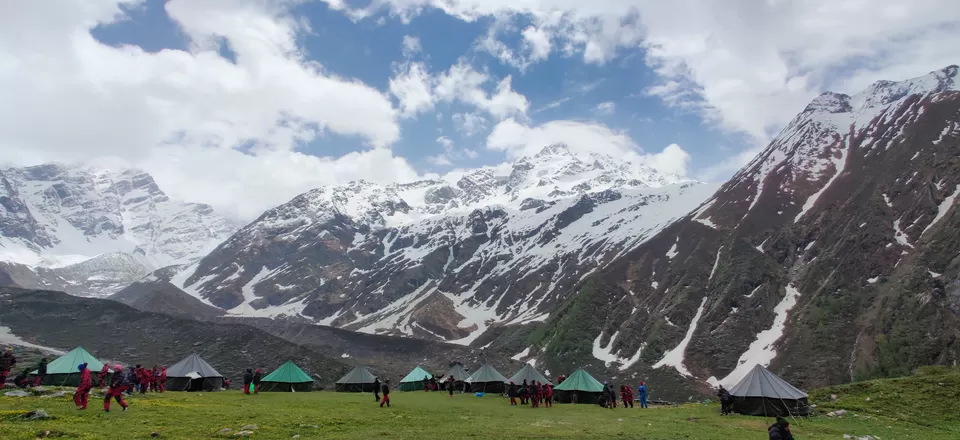 Food Arrangements
The food is simple, healthy and home-style. It is usually North Indian food with some roti-sabzi/dal-rice. Most of the meals have one option for non vegetarians- either egg, chicken or mutton. There is extra cheese, butter or paneer for vegetarians. They also give fruits, tea and juices from time to time.
Network and Charging Facilities

Physical Fitness
A lot of people ask (even I had the same question at that time) "How fit do I have to be for a mountaineering course?" "How many push ups/pull ups/squats should I be able to do so that I am ready for the course?" "What is the benchmark?" Some people say that if you can run 5kms in 30 mins- that is good enough.
The honest answer is- there is no benchmark! The truth just is that no matter what you do, you cannot be COMPLETELY PREPARED for this course. The course is designed in such a way that at some point or the other you will feel challenged. Everyone has their own strengths and weaknesses and not everyone is good at everything. I'll give you an example. During the physical exercises (at NIM) in the morning they used to make us run for 3-4kms. I was running ahead and a few people were running way behind me and were getting tired faster, but those same people were walking much ahead of me while trekking and during height gain and I was getting tired much faster. Similarly, some people will be better at carrying weight but not that good at climbing even if they are strong. Therefore, it is very hard to say what the exact targets for strength and stamina should be, because everyone's body is different and the ability to adjust to altitude has a big role to play in this. So the best thing you can do is to do your personal best when it comes to preparation. In my honest and completely personal opinion, this is how you should train:
1. Stop worrying about what others say the target is, but this does not mean you take it lightly. Set your own goals and be ambitious about them.
2. Ideally, start preparing 6 months before the course, and if not 6 then at least 3 months before.
3. Stamina- Time how many kilometres you can run with the help of mobile applications like Nike Run Club/Strava/MapMyWalk. Everyday try to reduce your time as compared to the day before. Alternatively you can cycle/swim. Breathing exercises help as well.
4. Strength- Work on legs, upper body and core strength and everyday increase the number of repetitions you do of each exercise. You can check on youtube for a variety of strength exercises and their correct forms. Some important exercises are squats, suryanamaskar, push ups, crunches, planks, calf raises, pull ups and mountain climbers.
5. Practice walking with a heavy backpack. (start with 8 kg and go upto 18kg) You can increase the time gradually and you can even try going uphill.
6. Optional- You can practice climbing on an Artificial Rock Climbing Wall.
If you are still confused about how to prepare yourself physically, then HMI has a work out plan that can help you get started- https://hmidarjeeling.com/pre-course-workout-plan/
Tip- Keep one day in a week as a rest day. That is important. You can probably run (cardio) on 3 days and do strength exercises on 3 days. Don't forget to warm up before you start and to stretch and do cool down exercises after you finish.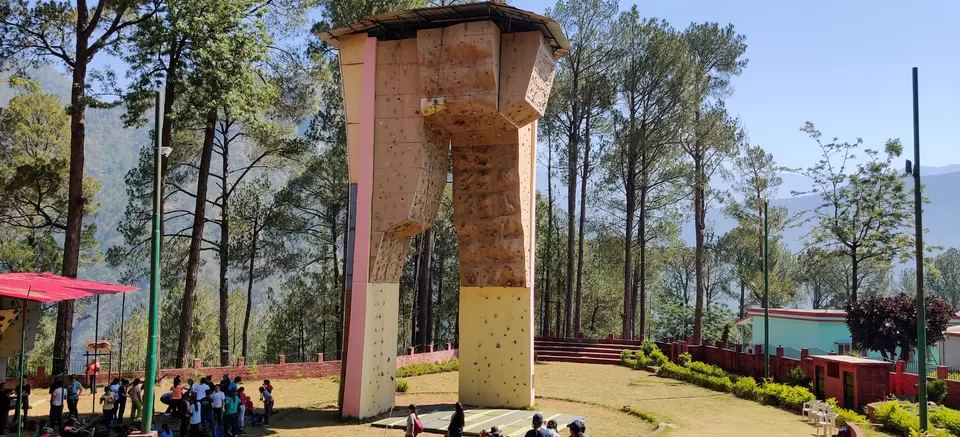 "Do they take any physical fitness test at the institute?"- No, they don't. At least during my batch there was no such thing but that does not mean that you don't prepare and go because the fitter you are the easier it will be for you to successfully complete the course.
"What all will they make you do in terms of physical activity?"-
1. They make you do physical exercise every morning where they make you run for 3-4 kms along with patches of different types of jumps without any break (some patches are uphill some are downhill) and after that they make you do strength exercises like squats, push ups, crunches, etc.
2. There is a lot of climbing involved (on the artificial rock climbing wall, natural rock, ice and snow) for which you require overall body strength.
3. Trekking- 15kms with an 18kg backpack. This requires stamina as well as strength (especially lower-body).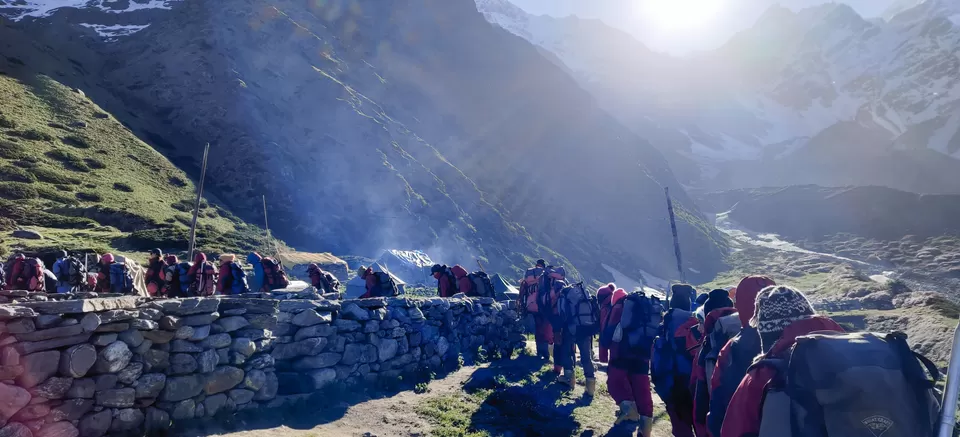 Physical fitness is very important for this course. Not only will it have a positive impact on your grade, but you will also be able to enjoy the course a lot more if you are physically fit. For 6 months, if you are regularly and sincerely working on your stamina and overall strength (upper-body, lower-body, including core), then you will be prepared. There is no doubt about that. Well, as prepared as you can be because irrespective of people's fitness, everyone has a different ability to acclimatise to a high altitude. At a high altitude you tend to get breathless very easily even by doing a small task. Just because you are fit does not mean that there is a lesser chance of you getting AMS (Acute Mountain Sickness). It is advisable that you have been on at least one or two high altitude treks in your life before you go for a Basic Mountaineering Course to see how your body adjusts to a high altitude. Also, make sure your BMI and Haemoglobin is normal because that impacts your overall health in the mountains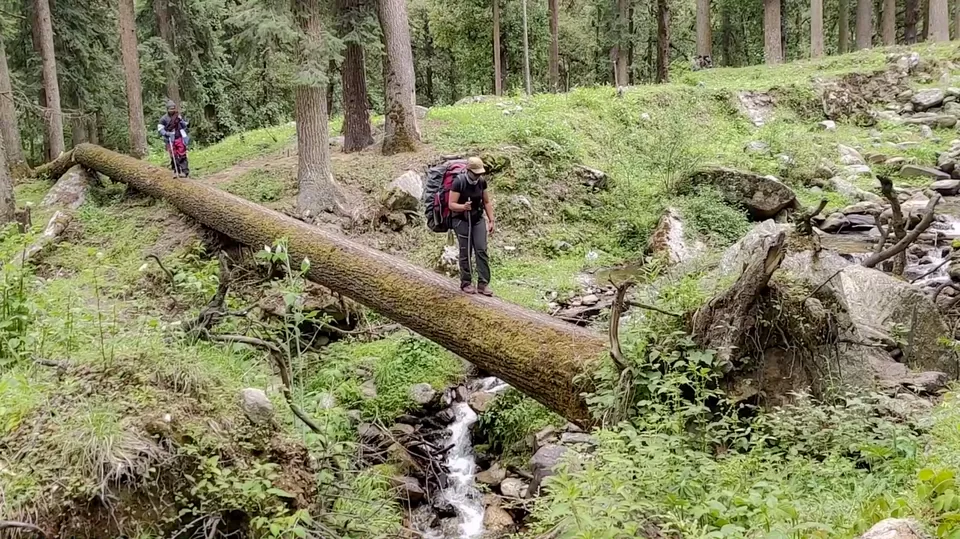 Certification and Grades
On the graduation ceremony you only get the Ice Axe. The certificate is sent to your house by post about 2 months after completing the course. You will get a certificate no matter what grade you get but to qualify for the Advance Mountaineering Course you need an A grade and based on my personal experience I will tell you a few things that I think are likely to have a positive impact on your grades:
1. Physical fitness and performance in training/trekking
2. Mental strength and will power- having a positive attitude, pushing yourself even though you are tired and not giving up
3. Discipline and punctuality (always try to be 10 mins before reporting time but never ever be late.)
4. Written Exam- It will be general and quite basic so don't worry about it. Questions are objective/one liners like MCQ, fill in the blanks, name the following etc. The weightage on this is not as much as it is on your performance in the actual training. Apart from this there will also be a test on ropes and knots.
5. Showing team spirit and good leadership skills can be an added advantage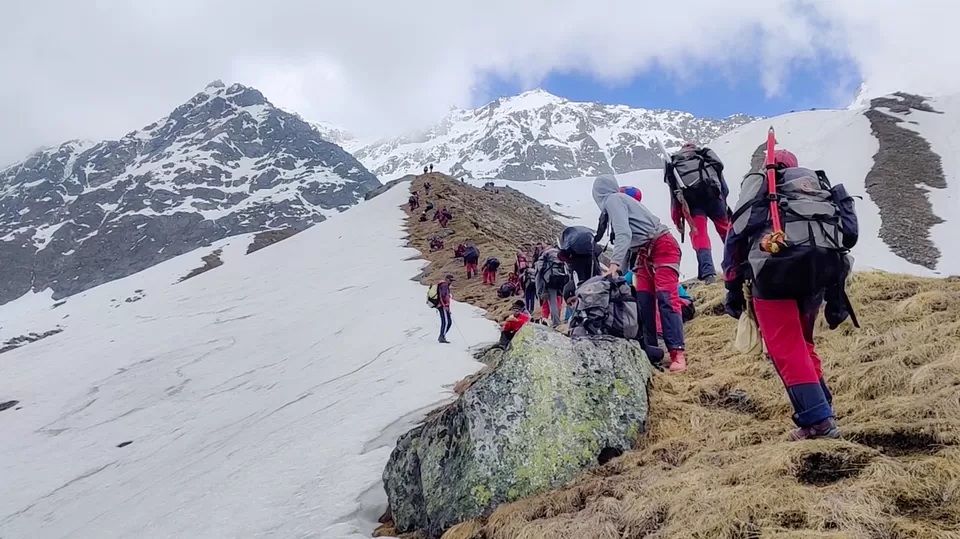 Here are a few things that I think may have a negative impact on your grades.
1. Bad behaviour/fighting/arguing or disrespecting any instructor or your rope-mates
3. Skipping an entire activity or giving up- Attempt all the activities, attend all lectures and demos. Do not "bunk". If you are skipping anything, do it only if you are seriously unwell. Attempting and not performing that well is still much better than not attempting something at all or refusing to do something that is generally expected from all trainees. (Example: giving your bag to the porter instead of carrying it yourself or going to Tekhla by bus instead of trekking there with everyone else. Instead you can walk slowly at your own pace) Trying is important.
Tip- Remember, you are being observed all the time and you are expected to be self-motivated and self-aware.
4. Smoking drinking etc. is strictly prohibited (you will probably get expelled) and it will have a poor effect on your performance.
Tip- If you don't do that well in one activity, that does not mean you will get a bad grade. Your grade depends on your overall performance in all the activities combined. It's not like if you are doing the best in all the activities and you are an outstanding performer only then you will get a good grade. No, as long as you attempt all the activities, don't give up, show sincerity and discipline and do your personal best you will be okay.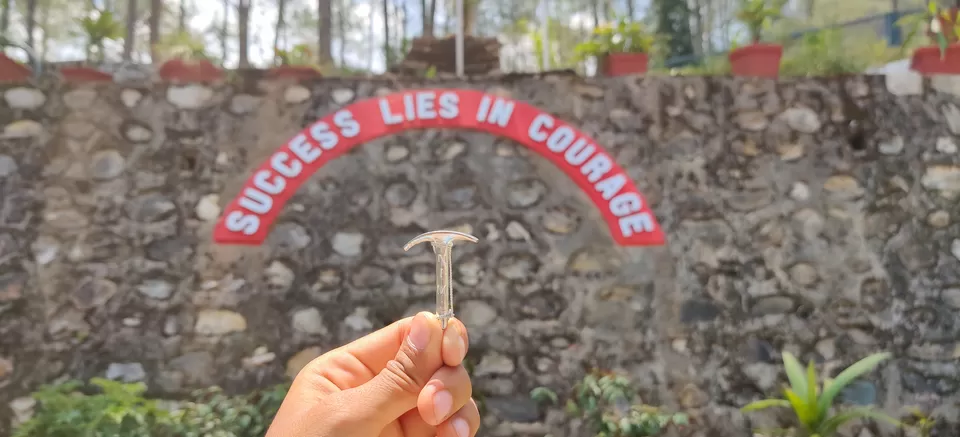 Special Tips for Women
1. You can tie your hair in braids/plaits for the mountains to keep your hair set and free of knots. Lot's of girls even cut their hair short before coming.
2. Bras- Carry low or medium impact sports bras. Daily wear bras do not provide enough support and high impact sports bras meant for running/dancing can get suffocating as they are too tight and restricting for a prolonged activity like trekking.
3. Menstruation/Periods- Dealing with periods during this course can be challenging especially when you are living in the mountains, trekking from one camp to another or going for training. At that time, there are no proper toilets around for changing your sanitary napkin or proper dustbins to dispose them (so you have to keep it with you in a ziplock bag till you find a proper dustbin). Long hours of walking and sweating may even lead to rashes.
Which is why I would suggest you to switch to a menstrual cup because they are lot more comfortable during physical activities, they don't cause rashes, you don't have to change again and again, you have to empty it much lesser times, there are less chance of staining and you don't have to worry about disposing anything. If you decide to switch to a menstrual cup then start using it 2-3 months before the course as it may take some time to get used to it.
When you have your period try not to skip walking or any other activity. Try to push yourself if possible.
To be honest, the course is challenging and you will be outside your comfort zone. You will have some good days and you will have some bad days but if you give it your best shot and do everything whole heartedly then I can assure you that you will have the best time of your life. You will make some really nice friends and some amazing memories. So go have a lot of fun! Cherish every minute of it. It is a once in a lifetime sort of an experience and I wish you all the very best for it!
I have tried to cover most of the topics in this article. If there is something I have missed or if you have any other questions, then you can ask me in the comments section.