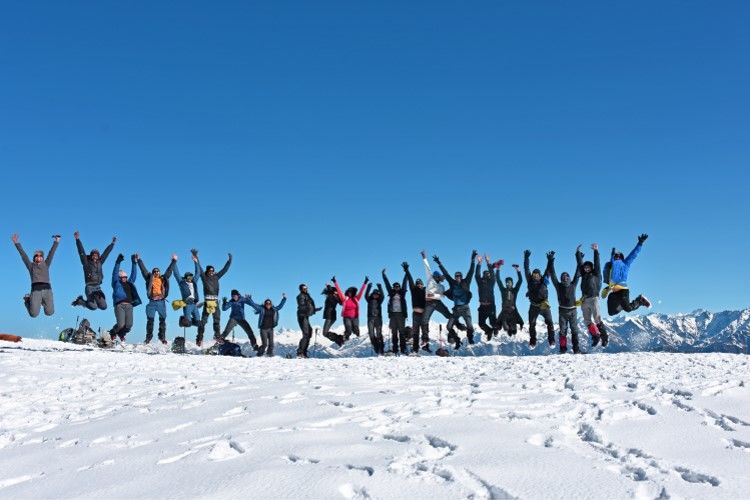 Kedarkantha is a mountain peak of the Himalayas in Uttarakhand, India. Its elevation is 12,500 ft (3,800 m) Kedarkantha is located within Govind Wildlife Sanctuary in Uttarkashi district
The climb to the peak of Kedarkantha starts from a small village called Sankri. There are a total of 13 peaks of the Himalayan range visible from the Kedarkantha peak. There is a lake called Juda-ka-Talab, the locals say that once upon a time Lord Shiva meditated at Kedarkantha. Its name implies so from the droplet fallen from Shiva's hair to form this lake named as Juda-ka-Talab located at 2,786 m. It usually takes 4 days to complete the climb of the Kedarkantha peak.
Kedarkantha trek distance: 23 km Approx.
Kedarkantha is a trend starter and one of the most popular and best winter treks of India. There are various reasons for this.
It has gained its popularity due to the views, terrain, flora, fauna, and ease with which someone can complete it.
The word Kedarkantha is made of up two words Kedar + Kantha, literal meaning – 'Throat of Lord Shiva'. This trek has a whole lot of fascinating mythical stories attached to it.
Kedarkantha is not to be confused with Kedarnath, as these two are completely different.
Kedarkantha is a 6 days long trek in Govind PashuVihar National Park. As you begin your climb up the trek, you will be able to view peaks of Swargarohini, Bandarpunch, Kalanag, and Draupadi ka Danda around you on all days of your trek. The star-studded sky in the night is one of the best that you will ever see.
On your way up, you will come across large clearings or open grounds that will provide you not just an excellent view but also a sense of nature's beauty.
The place was initially just a grazing ground for shepherds and a temple for villagers. Over the period it has gained popularity among trekkers and turned into a buzzing place for tourists.
Thanks to the thrill-thirsty Indians!
One of the earliest discovered commercial winter treks in India, Kedarkantha peak has held the mind and heart of millions of Indian trekkers throughout its history.
The sheer beauty it holds captivates your eyes and heart.
Trekking on Kedarkantha is much more than what it looks like over a couple of photos on your screen. It gives you a sense of satisfaction and achievement.
How is the weather like?
In Summers:
Kedarkantha is an all-around year trek and however, the views you will get to see depend on the weather conditions.
The temperature during the summer months varies from 10 – 20 degrees Celsius.
The warm weather and ample sunshine results in lush green landscapes and trees filled with leaves and flowers.
One of the best things about the Kedarkantha trek in the summers is the flourishing trees and flowers. While trekking, you pass through several trails of stunning rhododendrons and gorgeous oak trees. As the temperature remains very moderate, the entire route becomes extraordinarily colorful too.
In Winters:
During winters Kedarkantha trek is packed with heavy snow and offers your beautiful views of snow-topped Himalayan mountains. Sun's reflection from the snow-studded mountains makes the mountains glow.
The weather becomes extremely cold in winters and the actual temperature dips to -5 degrees in winter. Due to wind gusts, the temperature feels like -10 to -15 degrees.
Your campsites are placed on grounds full of snow. An itinerary planned for half-day treks and balance half rest period make sure that you get ample time to enjoy the snow.
What's the best time to visit?
Honestly, the best time to visit Kedarkantha depends much on the trekkers. This trek in itself is beautiful, but the experience varies with the changes in the season.
For people who like to trek amidst the green environment with comfortable weather, summer is a good time to take on this trek. But if you are looking for some excitement winter is the time to go. The fresh snowfall, trees covered with snow makes it an amazing time to visit the place during the winters.
Though it is difficult to set out a particular month as the best time to undertake this adventure, the majority of the trekkers choose winters to conquer this peak.