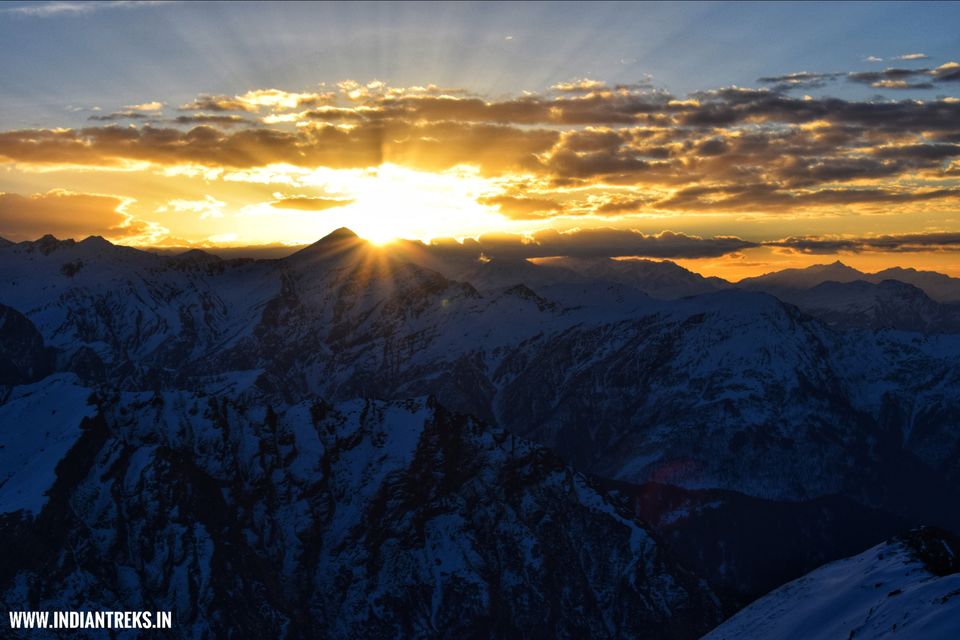 Drive from Dehradun to Sankri (6,450 ft, 220km, 8 hours)
We will leave from Dehradun by 6:30 am and reach Sankri approximately by 5:00 pm. Sankri is a beautiful small village which has a few small dhabas and shops. We would be staying overnight in a guesthouse slightly up the road. We would reach Sankri at the time of sunset, which makes for a beautiful setting, as the Swargarohini peaks stand over the ridges beyond Sankri. Kedarkantha Trek - Classic Snow Trek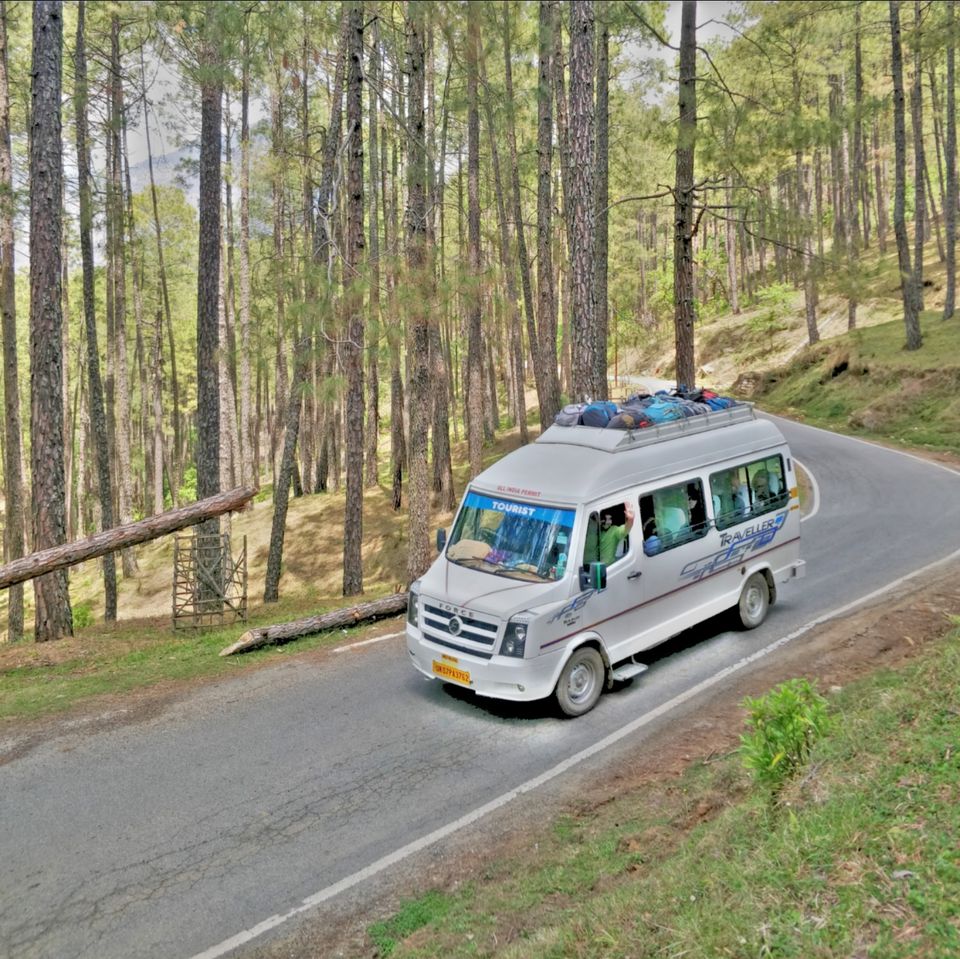 Trek from Sankri to Juda Ka Talab (9,000 ft, 4km, 5 hours)
Today, we will leave for trekking and reach our campsite, Juda ka Talab. We will leave at around 9:00 am after a sumptuous breakfast at the guesthouse. We will leave Sankri passing through another small village of Saur, from where the trail takes us to Kedarkantha. The path goes through pine forest until we reach a ridge, which opens up into a wide trail. After we have completed almost a quarter of our trek, we would catch up to the stream, we have been hearing. This is the last spot to fill water bottles until Juda ka Talab. As we carry on the same trail, we go through pine and maple forests and the trail becomes dense and narrow again until you reach Juda ka Talab. Juda ka Talab makes for a perfect campsite with a large lake on the left and dense pine and oak forests on the right. The lake was once two lakes that are now conjoined to make one. Enjoy the sunset with evening snacks and explore the area.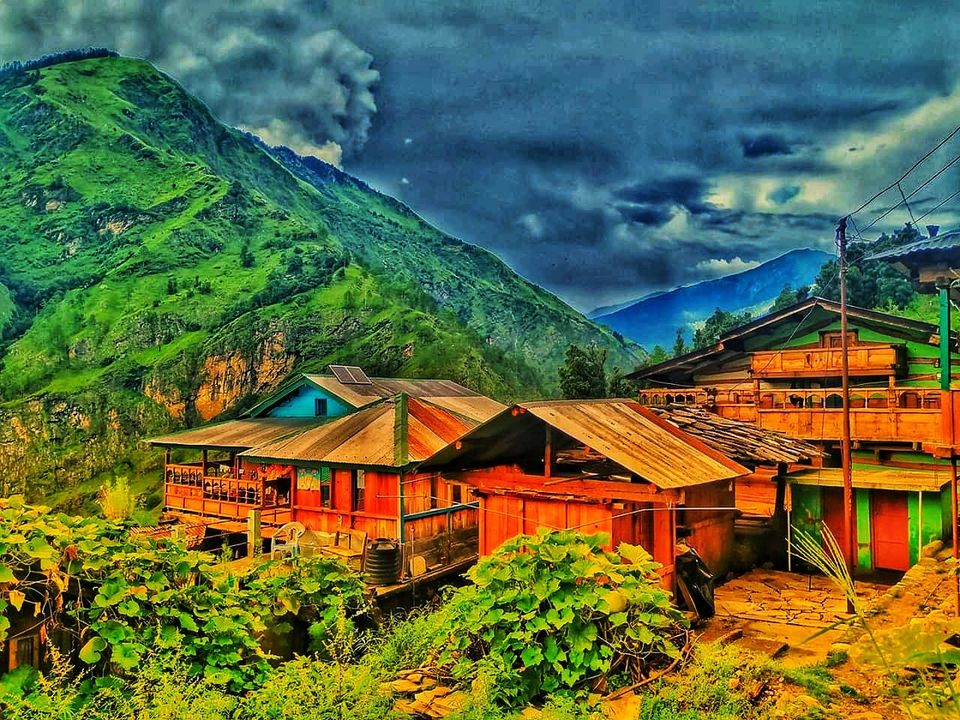 Trek from Juda Ka Talab to Kedarkantha Base (10,600 ft, 4km, 4 hours)
Today, we start our day with hot tea and breakfast and then head towards Kedarkantha Base. As we leave Juda ka Talab, the trail is straight and rises to an elevation at the edge of the lake and goes into the dense pine forest. As we continue to walk on the ridge for another half an hour, the ridge opens out to another open field. You will find a shepherd's hut here where you can take a break and relax for a while as we have less than a thousand feet to climb to the Kedarkantha base. After a short climb, in the shadows of oak trees, the route opens up into a field again. Look behind to absorb and enjoy the panorama of snow ranges surrounding Kedarkantha peak. As we climb up higher, usually over snow, we reach our destination, Kedarkantha base camp site. Snow- capped mountains like Ranglana, Kala Nag, Swargarohini, Bandarpoonch, stretch from your right to your left.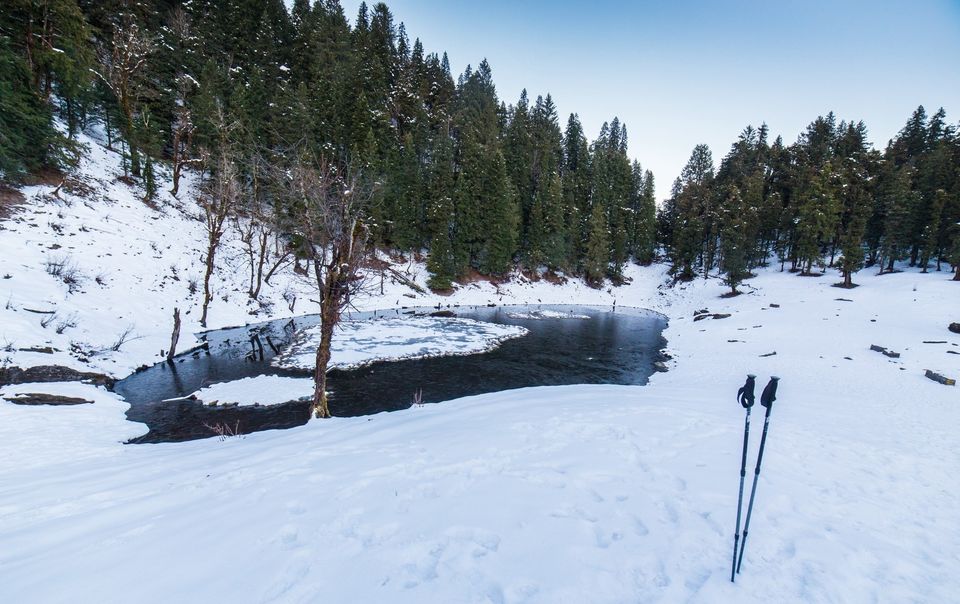 Trek from Kedarkantha Base to Kedarkantha Peak and back to Kedarkantha Base (12,500 ft, 6km, 7-8 hrs)
We wake up a bit early for the beautiful sunrise from the Kedarkantha base; the Kedarkantha peak is clearly visible from the base. We then move forward with our day with a hot cup of tea and breakfast.
There are many trails to go up to Kedarkantha Peak, the best route is from the northern elevation of the summit, it takes 3 hours to climb the summit from the campsite. The mountain top is marked by a trishul-like arrangement of stones that points to the sky. The mountain top gives a 360° view of the snowy mountains of Uttrakhand. The Gangotri and Yamnotri , Chansil and Kinnaur Kailash are a few of the ranges that are visible from the top. There is a straight forward descent from the peak to the Kedarkantha base, the route we would take is full of oak and pine trees and many frozen streams. We reach back in the evening and finally relax after an eventful day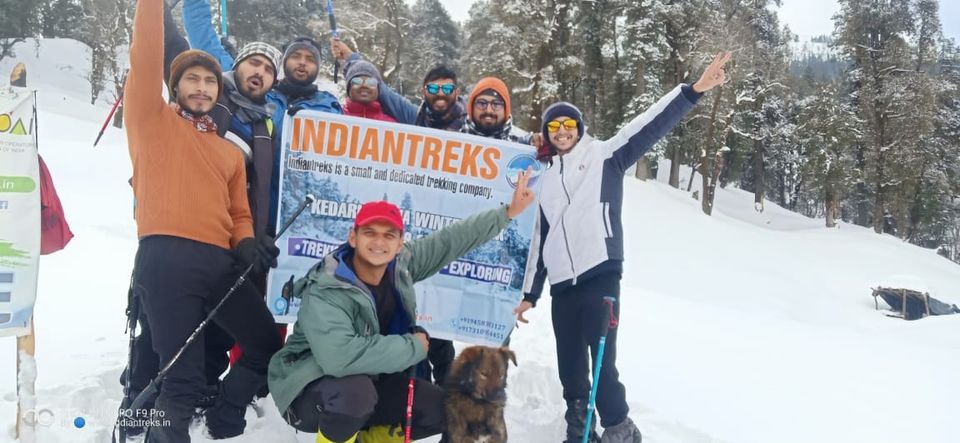 Trek from Kedarkantha Base to Sankri (6400 feet, 6km, 4-5 hrs)
Today, we head back to Sankri after we fill our stomachs with sumptuous breakfast. The path to Sankri is filled with stones and is basically a descent through pine trees with a stream on our left which is a good spot to fill water. We start on this path walking past the cluster of four huts and through deep dark pine forest that engulfs the route as it moves further away from the ridge. The hike route gets even more beautiful as it spirals down to a pine forest that leads to Hargaon. The trail evens out and progressively goes downhill through pine forest to come to another ridge. From this elevation point, we can view the open Har ki Dun valley and as we climb down, we encounter apple orchard and potato farms. The trail divides numerous times and each division leads to a different part of Sankri. In the evening, we reach the guesthouse and enjoy dinner there before we head to our beds to rest.
Kedarkantha Trek - Classic Snow Trek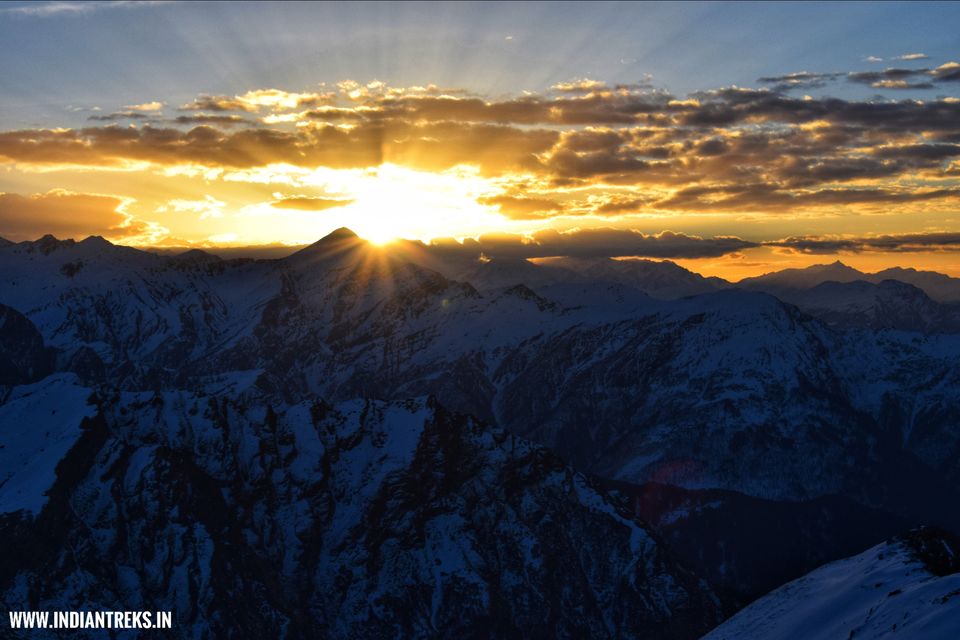 Sankri – Dehradun Drive back (220km, 10-11 hours)
We start our 10 hour long drive from Sankri to Dehradun after breakfast. The drive would be one a kind with pine forests and rivers as your view as your drive down. We will stop for lunch in between to enjoy food in the midst of such beauty. We will reach Dehradun by 8:00 pm.
"Kedarkantha Winter trek"
Kedarkantha Trek lies in the Govind Wild Life Sanctuary and Govind Pashu National Park in Uttarkashi district of Uttarakhand. The drive to Sankri (from where the Kedarkantha trek starts) is one of the most picturesque drives in the Himalayas through Mussoorie, Purola, Mori, Netwar, along with the Tons River. Kedarkantha trek is one the easiest treks in the Himalayas to enjoy thick snow cover.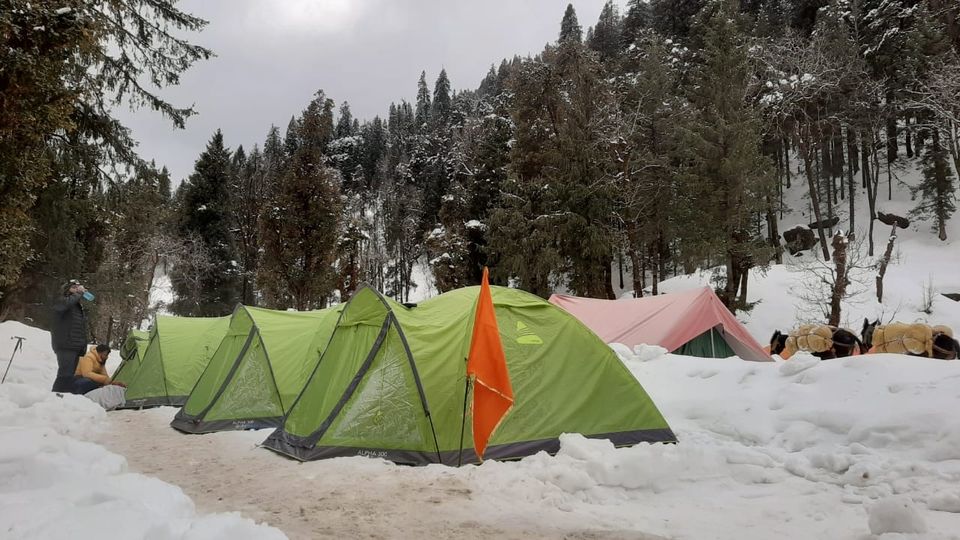 "Geographical Information"
Region: Uttarakhand
Duration: 6 Days
Grade: Easy
Max Altitude: 12,500 Ft.
Trekking Km: 20 Kms.
Trail Type: Round trail. The trek starts and ends at Dehradun
Rail head: Dehradun is the nearest rail head to the base camp
Air Port: Jolly grant airport Dehradun Base Camp: Sankri (6-7 hrs drive from Dehradun)
Best Season: Round the year except monsoon. More snow in the winter months until April.
Snow: December to April
Batch Size: 15 to 20 trekkers including Male and female.
Services from: Dehradun to Dehradun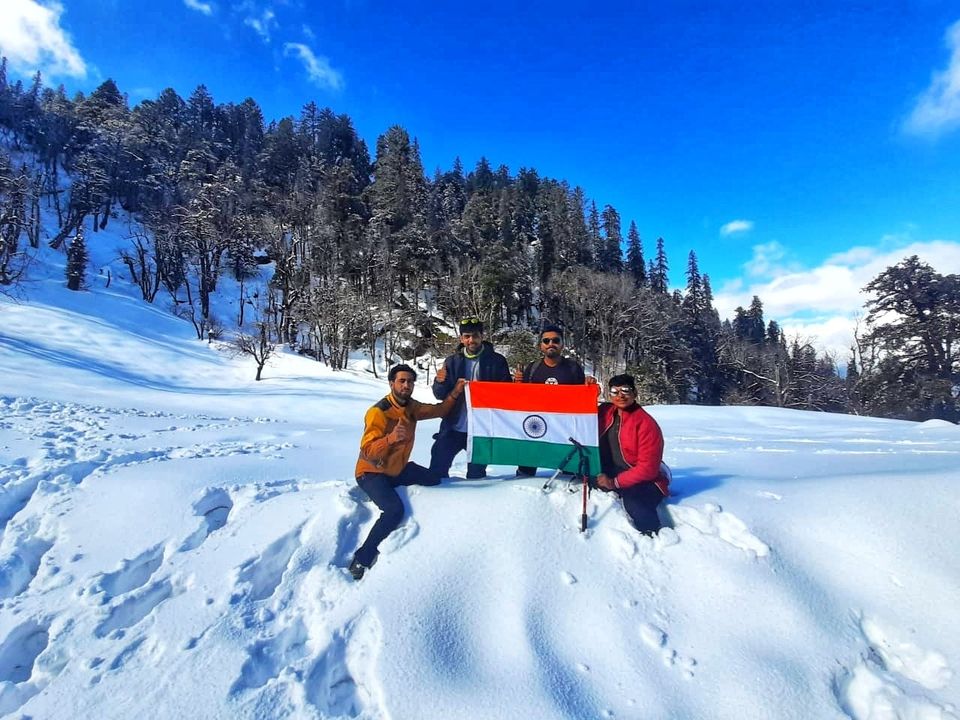 "Trek Highlights"
👉The snow-capped mountain peaks surrounding this placekeeps you thrilled with fun and excitement.
👉 You cross several bridges during the trek which are made of wooden logs. This makes the gradual hike more exciting.
👉 After reaching JudaKa Talab, you notice a small pond ofwater with surroundings of oak and pine trees.
👉 After arrival at the Kedarkantha base camp, enjoy the splendid view of snow-capped Bandarpoonch, Swargarohini and Kalanag peaks.
👉 The majestic view of Kinner Kailash, Yumnotri, Gangotri, and other Himalayan ranges is a divine pleasure. Kedarkantha gives a 360-degree view of Himalayan ranges.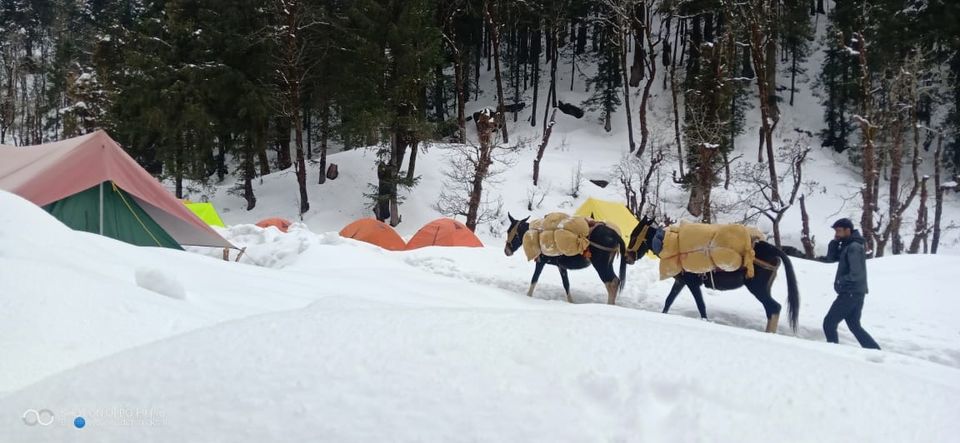 "FREQUENTLY ASKED QUESTIONS"
Q. What is the fitness level required for the Kedarkantha Trek and how hard is the trek?
A. This trek is easy to moderate and meant for everyone, right from fit/adventurous to seasoned hikers.
Q. Which is the best time for Kedarkantha Trek?
A. December to April
Q. When to Book this Trek?
A. Its is advisable to book this trek before 15 days.
Q. What is the maximum altitude point of Kedarkantha Trek?
A. Kedarkantha Peak – 3800m
Q. What will be the daytime and night temperature? A. During day time the temperature will be around 8° to 12° and during night it will fall down to -5°
Q. Are trekking shoes mandatory?
A. Trekking shoes are not mandatory but, it will make the trek comfortable. Take a shoe with a good grip and high ankle support. It would be better if the shoes are waterproof.
Q. Are there any provisions for taking bath?
A. There is bath facility at only our base camp Sankri.
Q. What is the size of trekking group?
A. 20 to 30 People
Q. Are accommodation for men and women separate? A. Yes, men and women will not be sharing tents, unless they want.
Q. What kind of food you provide during the trek?
A. We provide food for 4 times in a day i.e. Breakfast, lunch, evening snacks and dinner.
Q. Do you provide toilet tents?
A. Yes we do provide Toilet tents.
Q. Can we expect rains/snowfall during the trek? A. Yes, Sudden weather changes are expected, always carry a light rain coat or waterproof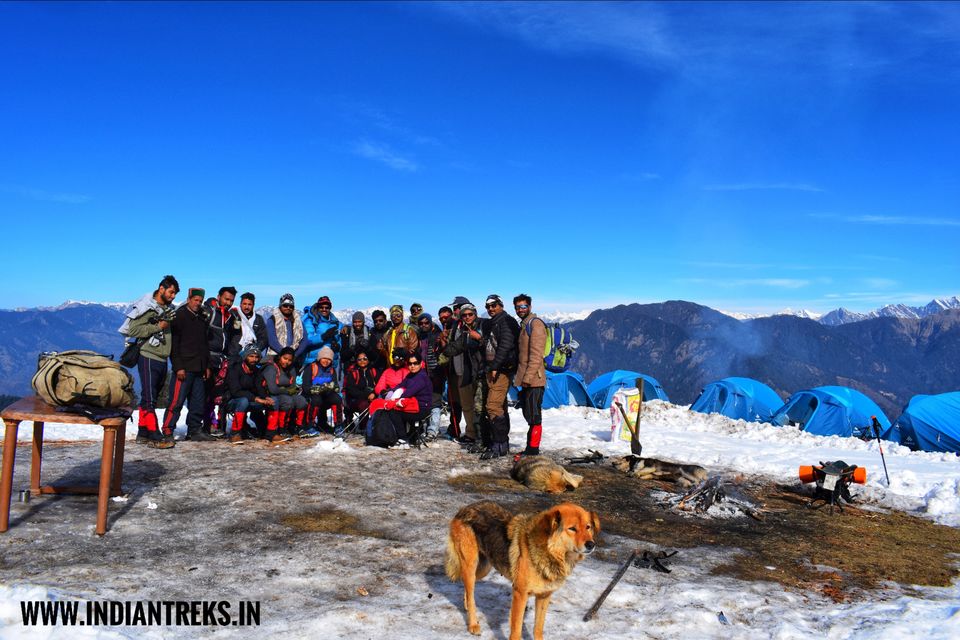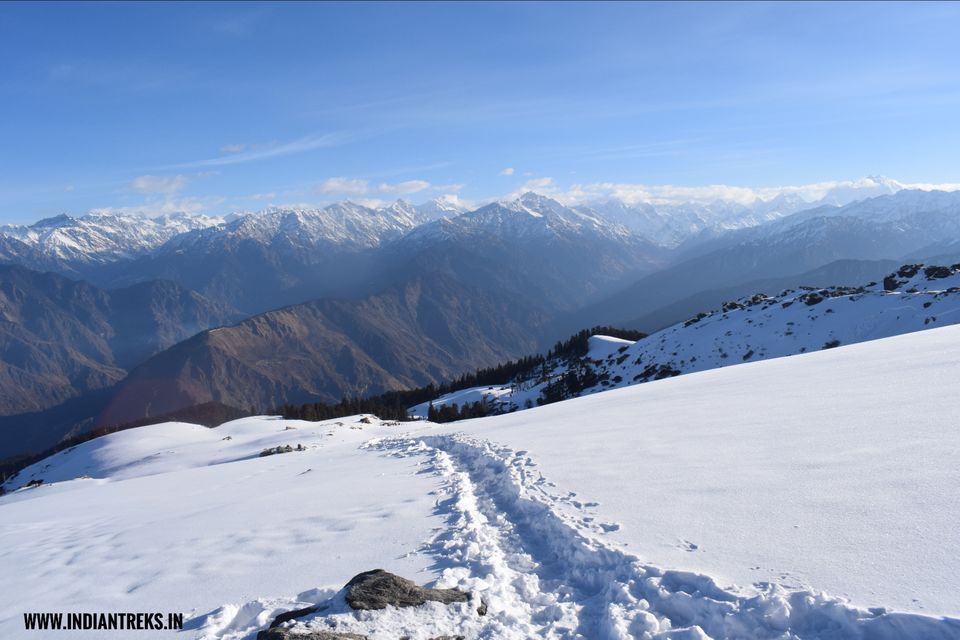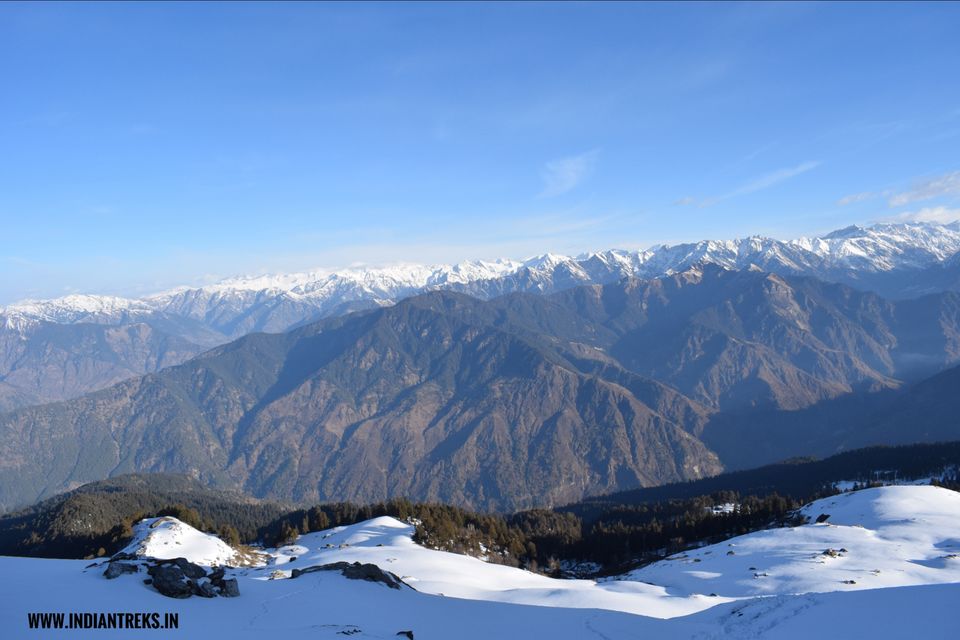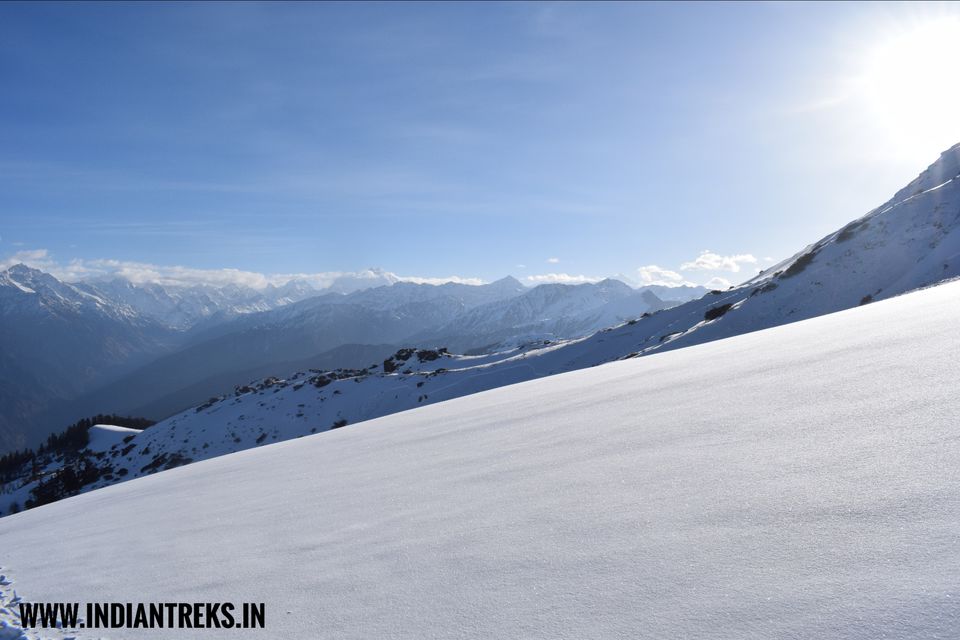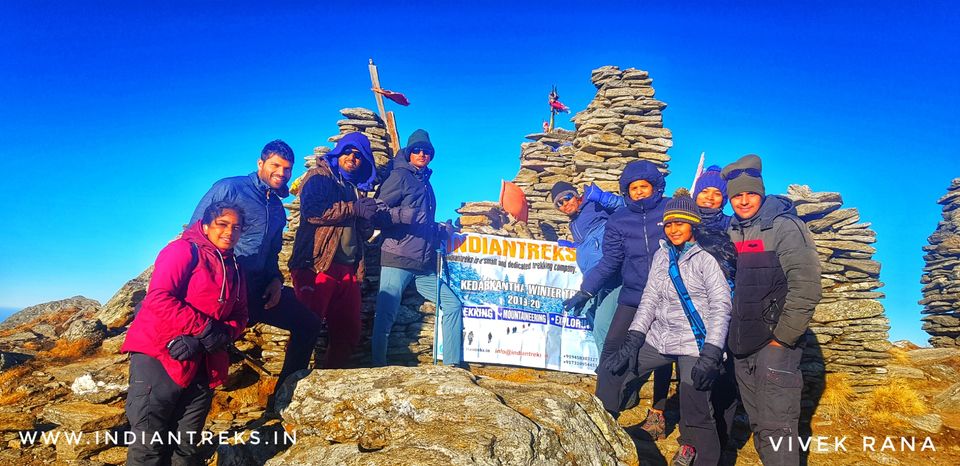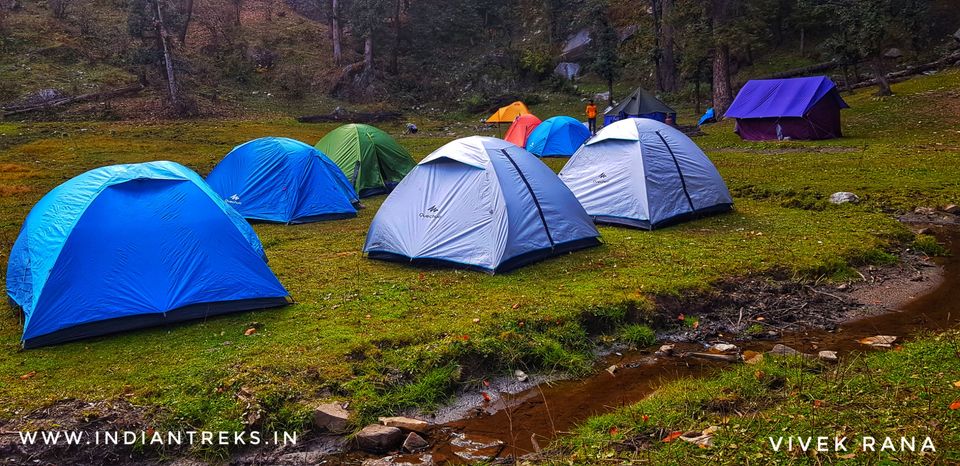 "WEATHER DETAILS"
This snow trek is organized between Dec & mid-March when the region has had good snowfall. Contrary to the popular belief winters is a good time to be in the mountains if one is equipped properly. Most locals inhabiting higher reaches of the mountains don't mind the problems associated with snowfall and seem to have a good time during these months. Also there are lots of local festivals in these months. In these months weather is generally clear most of the days. Day time is normally pleasantly warm with one getting to enjoy sitting out in the sun. Temperature would be around 12-17 °C. Evenings are quite cold and one would need to be inside a tent/room or sitting outside next to fire with proper winter clothes. The evening temperatures will be around – 3 to 5 °C. Nights can be very cold with temperatures in the range of – 8 to 0 °C. Please keep in mind that the above information is not exact and does not account for sudden changes. Whatever the temperatures and conditions rest assured we will be prepared to handle it with ease as we use equipment of very high specifications.