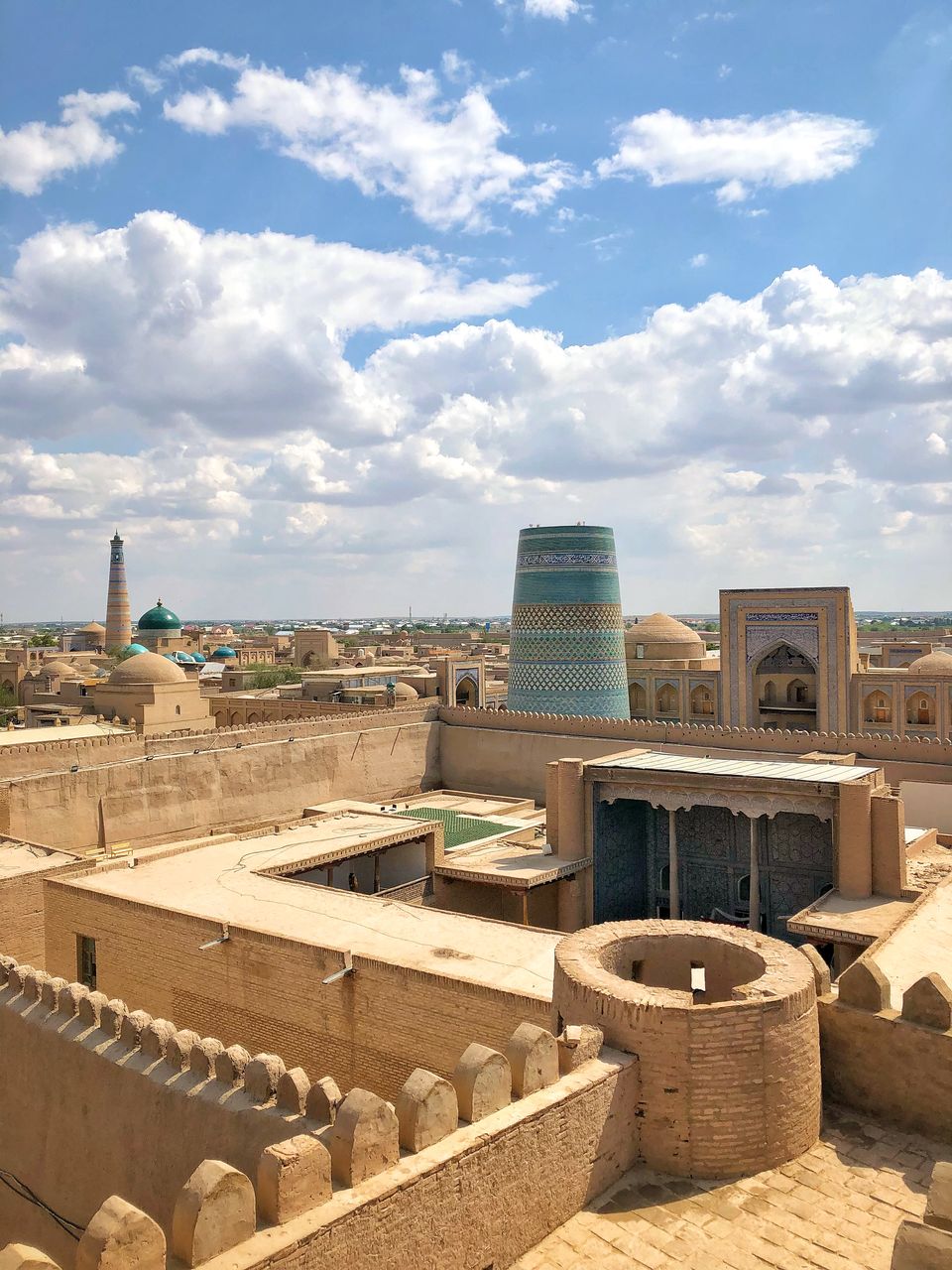 Salam! Planning on backpacking in Uzbekistan? If you are a history buff, marvel at ancient architecture, drool at delicious food and get excited exploring the roads less traveled, this Central Asian beauty is definitely the right choice for you.
Once a mystical hermit kingdom, Uzbekistan is slowly opening up to the world to showcase its beauty. Its vast landscape, diverse cultures and ancient mosques provide insight into a land that's been around for thousands of years as a playground for traders, intellectuals, explorers and tyrants alike.
Our 15 day country-wide expedition of nearly 1500kms from Margilan in the East to Moynaq in the West took us to so many lovely people, beautiful monuments, great food and even eerie ships. It was a culturally immersive experience of a land of which we did not know the language, nor customs yet felt completely at ease.
In this blog, we try to provide quite an accurate description of our experiences of backpacking in Uzbekistan, which should help you in planning your own trip. These include suggested itineraries, top things to do, traveling between and around the cities, approximate costs, food to try as well as other details such as visas, insurance, and expenses.
Here's a detailed Uzbekistan travel guide for any of you that's looking to visit this once-mysterious land.
UZBEKISTAN - A PRIMER
What and Where?
Uzbekistan has been around for centuries, bang in the middle of the Silk Route, one of humanity's oldest frontiers of communication and trade. Yes, the one way way before the computers, internet, Google, Facebook et al.
The history of the land goes as back as the 8th century BC and has been ruled over by Persians, Greeks, Arabs and Mongols amongst several others. Centuries ago, the ancient cities of Samarkand, Bukhara and Khiva were key trading centres and halt-spots for travellers from the East and West dealing in a variety of goods such as spices, livestock, slaves, pottery, jewels, fruits, fabrics, ceramics and silk, obviously.
History books say the trade started in as early as the 4th century BC, when the Chinese imported mighty horses from Fergana to Xi'an to boost their armies. From horses, the trade ventured out into other goods and the Silk Road expanded over the next few centuries.
In the West, it went through ancient Khorezm right upto the Caspian Sea, eventually out into Persia, Syria and the Mediterranean Sea which enabled trade with ancient Greece and Rome. In the East, trade flourished across Termez into norther Afghanistan and north India. Silk Road cities flourished immensely.
The most recent of foreign rule was of the Soviet Union, who had a stronghold in the region right unto the breakup of the USSR in 1991, which is when Uzbekistan was born, making it one of the youngest countries in the world. Today, it is one of 5 Central Asian nations, the others being Kazakhstan, Kyrgyzstan, Tajikistan and Turkmenistan.
The Soviet hangover had remained for a good 25 years, till the death of the 1st President of Uzbekistan, Islam Karimov in 2016. Largely unknown to the outer world, Karimov had a poor human rights record and freedom of the press was limited under his rule. He, however, helped stabilise the nation post years of Soviet misrule.
Shavkat Mirziyoyev, his successor, has bought with him a much more relaxed outlook. This has led to a loosening of a lot of rules, many of which encouraged tourism into the fabled land.
The camels of yore have been replaced by cars, and noisy bazaars today are souvenir shops. However, these cities still retain so many of the relics of ancient Islamic architecture with a multitude of influences, which have traveled far and wide over the centuries.
The major ethnic group in Uzbekistan are the Uzbeks themselves. However, you will find a lot of diversity across the country. The fertile Fergana valley is a melting potpourri of Tajiks, Kazakhs, Uzbeks, Karakalpaks, Russians and even 3rd generation Koreans (Stalin deported Koreans out of Russia into Central Asia in the 1930's).
While Uzbek is the official language, you will find the accent change all the way from the capital Tashkent to the far reach of Karakalpakstan, which is inhabited by ethnic Karakalpaks. Russian, however is widely understood and read in the Cyrillic alphabet. You will rarely find someone who knows English.
Islam is the major religion. Uzbeks are quite moderate and don't really follow a strict version - in fact the government frowns against it. Women dress freely in skirts and dresses and it is not mandatory for women to cover their heads even in religious places like mosques and madrassas. Needless to say, visitors are recommended to dress modestly.
When?
The best times to visit Uzbekistan are the periods from March-April and September-October. The period from November-February is the winter and it can get extremely cold in some places. The period between mid-April to August is when it starts to get extremely hot. However, these are also the periods when crowds are considerably less, and if you are okay with extreme temperatures, you should travel then.
Our trip was from mid-April when the winter was still shedding off to get warmer, with sprinkled showers throughout.
Why?
This is my favourite question to answer. Uzbekistan can mean something different to everyone, be it a history buff, a backpacker, a photogapher and even an anthropologist. Here are our top 3 reasons to travel to Uzbekistan -
History - The country is teeming with history. From Samarkand, whose history goes as far back as the 8th century BC, to conquests of Alexander, to the seat of Tamerlane to the heart of the Silk Road right up to Soviet brutalism, the country has a rich history. The architecture (while being highly restored in some places) is diverse and mesmerising. Food - The myriad plovs, soups, dumplings, teas and noodles made us fall in love with the country. The cuisine, while being slightly limited, is still quite unique and flavorful. People - Our favourite part of the trip was getting to interact with locals. From getting free taxi rides to being invited to homes for a meal, Uzbeks are generally very friendly and curious people. Our trip was filled with many such memorable encounters. What's great is they love Indians (not going to lie, we loved the attention) and they watch a lot of Bollywood movies. They refer to India as 'Hindustan' and we were asked for a lot of photos, making us feel like some sort of mini-celebs!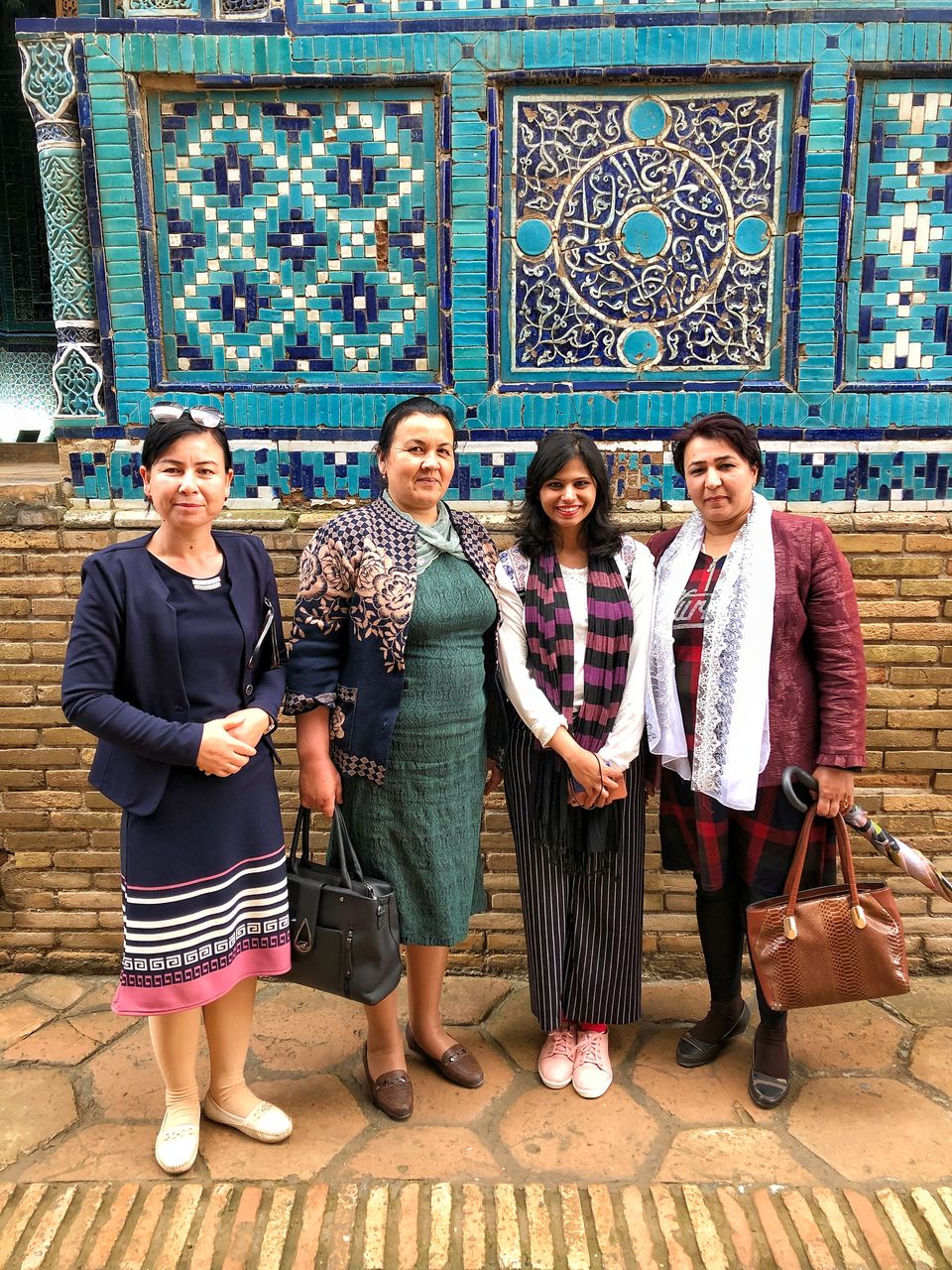 GETTING IN (FLIGHTS, VISAS, INSURANCE & REGISTRATION)
FLIGHTS
You can enter Uzbekistan by air, road or railway. We chose air and flew Uzbekistan Airways as we were traveling from Mumbai, India.
However, if you choose to enter Uzbekistan by train, you can do so from Kazakhstan and Tajikistan. If you choose to cross over by land, you can enter from Afghanistan, Kyrgyzstan and Kazakhstan. When doing land crossings, keep an eye out on opening and closing times of borders. The border nearing Andijan on the Uzbekistan side and Dostyk on the Kyrgyzstan side is famed for random closures.
The main international airport is in Tashkent - the Islam Karimov International Airport. The national carrier, Uzbekistan Airways connects Central Asia's largest cities to most major airports in the world - Delhi, Mumbai, Dubai, Frankfurt, Istanbul, Jeddah, London, Paris, New York, Seoul etc.
There are international airports in Samarkand, Urgench and Nukus too. However, these have limited connectivity. You can book your flight tickets directly on the Uzbekistan Airways website (which is now totally revamped from it's previously agonisingly slow version). We did not find enough details of flights on Google Flights/Skyscanner etc., and the prices there seemed higher. Also, they took us to not-so-popular booking websites, which we weren't sure was reliable. Hence, ideal to book directly with the airline. The website only accepts a Visa debit/credit card, so keep one handy.
VISAS
Apparently, till as recently as July 2018, getting into Uzbekistan wasn't quite easy. You would need a letter of invitation via the embassy in your local country.
HOWEVER, since then things have changed for the better. Check out the new visa rules here. You can simply refer to the colored map at the bottom to see what kind of visa you need to travel to Uzbekistan.
Citizens of 77 countries, including India (Woohoo!), China and USA can apply for the e-visa which costs as little as $20 (₹1400/- approx.). You should ideally receive it within 7-14 working days. P.S - You can apply only if your travel plan is within the next 90 days. Here's the link to apply for the e-visa - https://e-visa.gov.uz/main.
INSURANCE
We chose Policybazaar for our travel insurance, since it allows you to search by countries, and gives you a plethora of providers to choose from while buying your travel insurance. Our insurance covered stuff like loss of passport, loss of baggage, personal accident, possible hospitalisation etc., and cost us a total of ₹1400 for 2 people ($20).
REGISTRATION
At the time of checkout from every hotel/hostel you stay in - ensure to collect the registration slips. Registration slips are like a simple paper receipt (sometimes hand-written) of where you have stayed and on what dates for verification purposes when you exit the country, to ensure you haven't been upto anything suspicious. Most places will diligently provide you one to account for your stay.
This seems more like a carry-forward from the stricter regimes and things are more relaxed now - you will most likely not be asked to produce them. That said, you never know. Deepali was asked for her registration slips only once - at the Nukus airport, prior to our flight to Tashkent and our slips were all in good order.
ITINERARY
Your Uzbekistan itinerary will usually depend on how many days you are willing to spare for traveling around the country. Right from the fertile Fergana valley all through the Silk Route to the dry Karakalpakstan region - Uzbekistan is massive.
However, the train system is quite excellent making it easy to travel from city to city. Within cities itself, you will find yourself hailing a mashrutka (a mini-van that can take around 15 people or a shared taxi or public transport like buses.
If you are still planning how many days to spend in each city, this rough breakdown should help you -
Fergana Valley (Kokand, Fergana, Margilan & Andijan) - 2-3 daysTashkent - 2-3 daysSamarkand - 2-3 daysBukhara - 2-3 daysKhiva - 2-3 daysKarakalpakstan (Nukus & Moynaq) - 2-3 days
If you have more days to spare, you could also consider visiting -
Chimgan mountains and Charvak Reservoir (off Tashkent) - 1-3 daysShahrisabz (off Samarkand) - 1 dayNavoi (between Samarkand and Bukhara) - 1 day
We will shortly publish a detailed blog on planning your own Uzbekistan itinerary.
We had 15 days, and here's how we spent them -
TASHKENT
If you are flying into Uzbekistan, it is highly likely that your port of arrival will be Tashkent. We landed in Tashkent on a Wednesday night and left for Margilan in the Fergana Valley the very next day. However, we returned to Tashkent after completing the Silk Road cities for the final 2 days before departing for home.
Much of the city was razed down in an earthquake in 1966, and was rebuilt by the Soviets as a modern city with wide roads, numerous parks, spaced out buildings and bazaars.
Today, Tashkent is the modern capital of Uzbekistan, and honestly is much less touristy than the other Silk Road cities. However, there's still plenty of stuff you can do. From taking in the sights at possibly the most beautiful metro stations in the world to tasting some really good plov, Tashkent has something for everyone.
Read more about the 7 best things to do in Tashkent.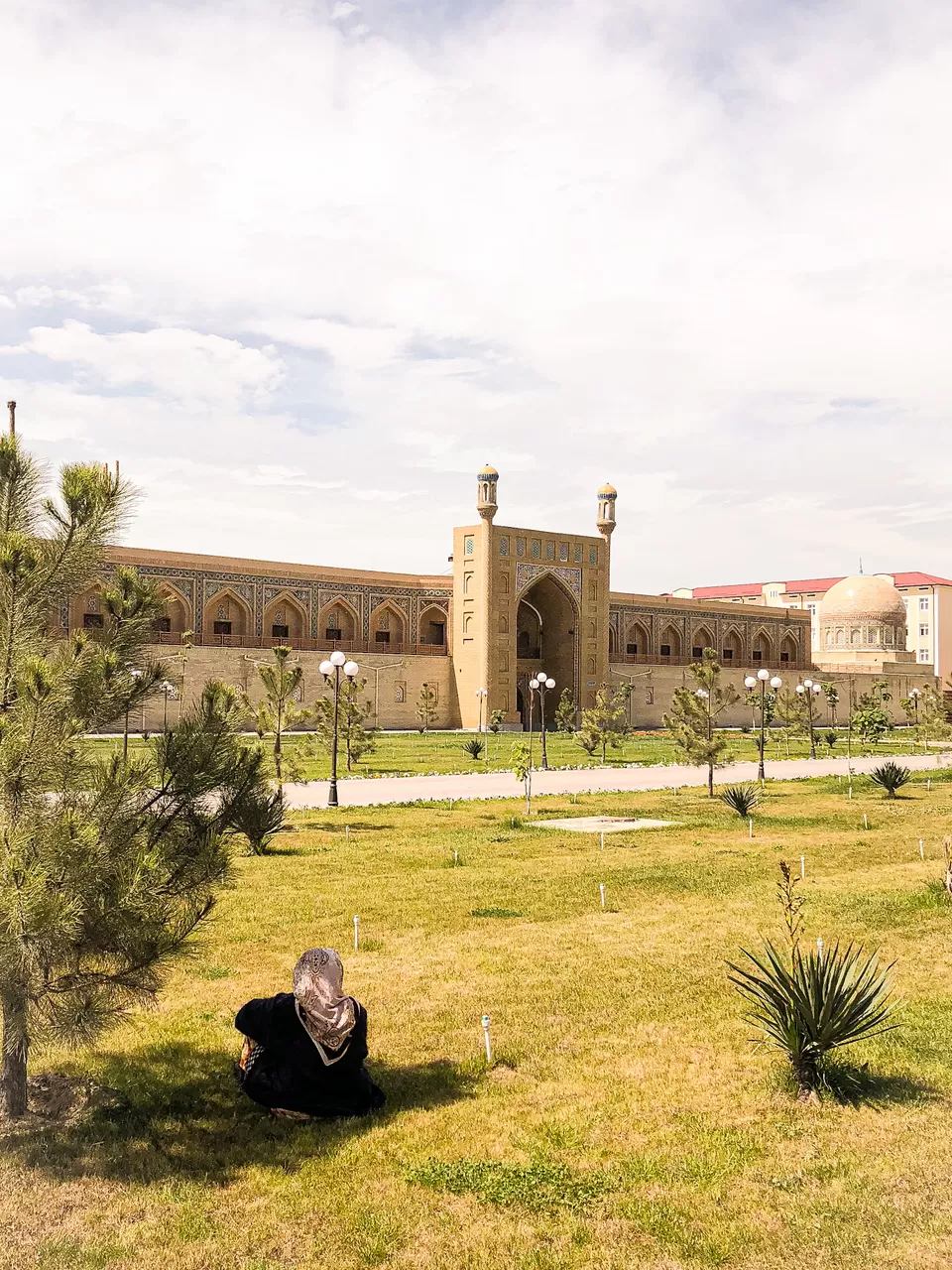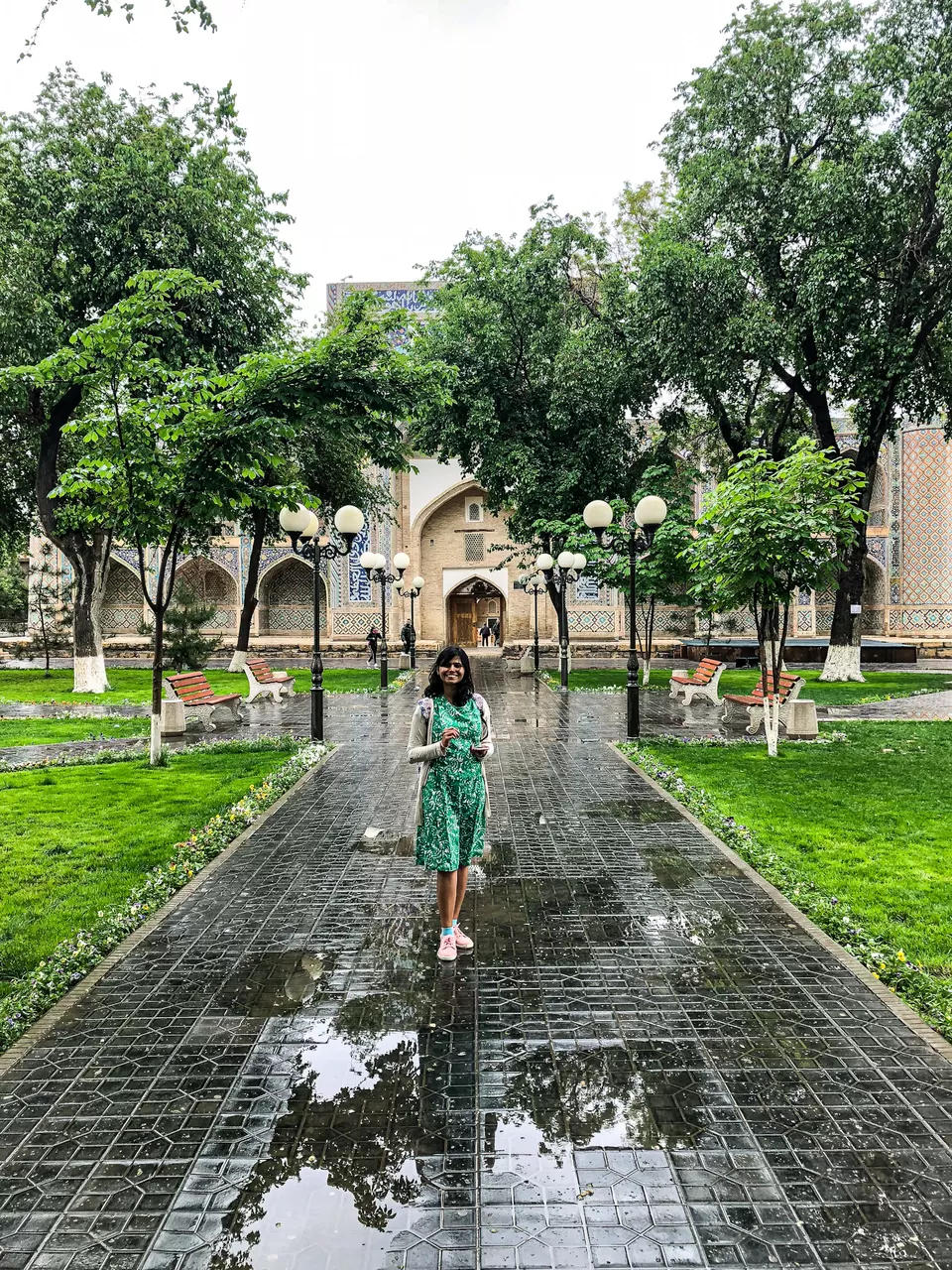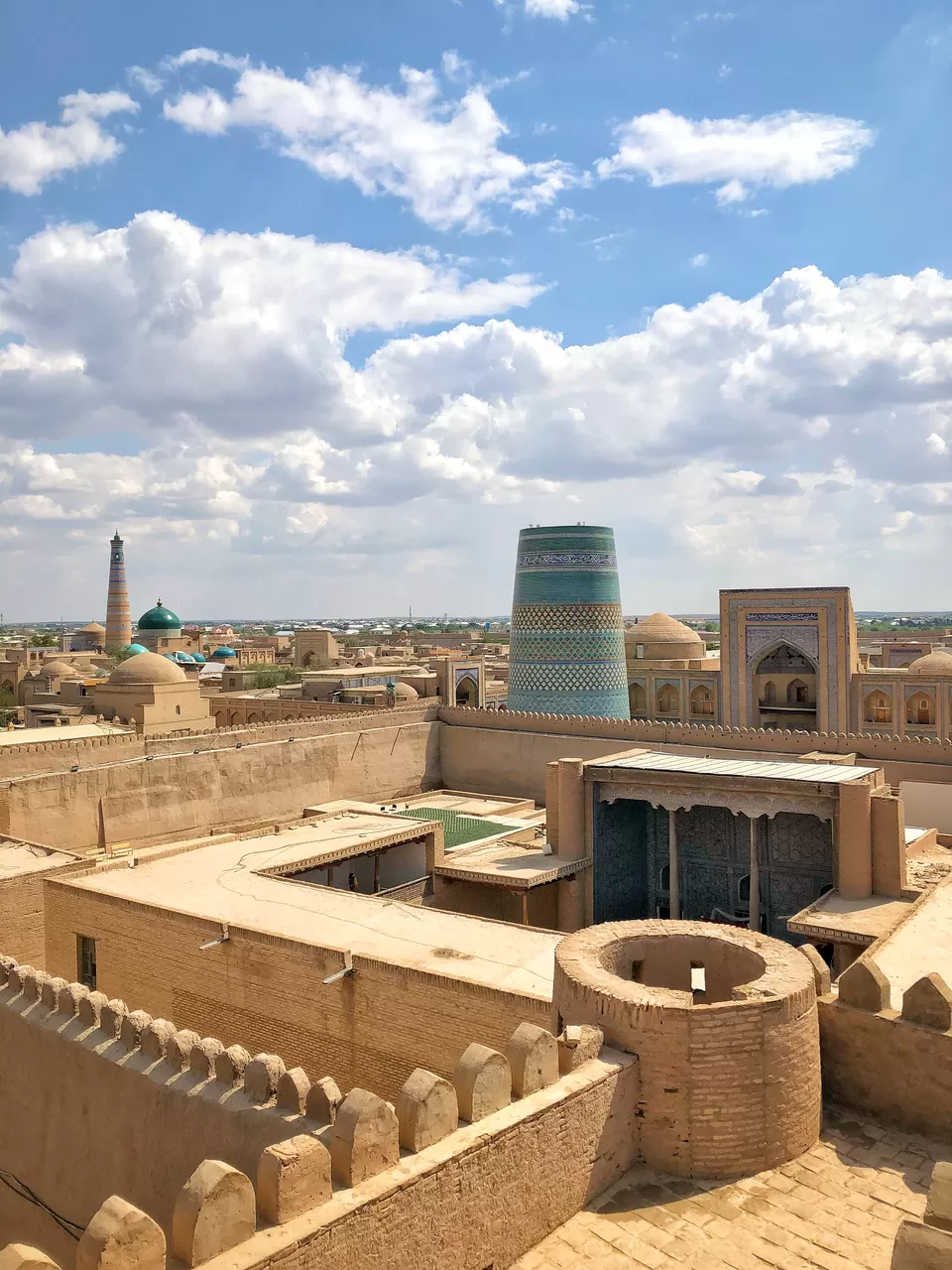 Places to visit in Tashkent
Chorsu Bazaar, Kulkedash Madrassa, Amir Taimur Square, Hotel Ozbekistan, Shastri Monument, Central Asian Plov Center, Tashkent Metro Stations
Getting Around Tashkent
The Tashkent metro is the easiest way to get around Tashkent for super cheap and it's a great fun activity if you would like staring at beautiful underground Soviet styled metro stations.
Alternatively, you can get around by hailing taxis off the road or by booking a Yandex, a taxi-hailing app that works in Samarkand and Tashkent.
Getting in and out of Tashkent
If you are arriving by flight, it is highly likely you will land in Tashkent. In any case, it is connected to the rest of the country very well with the train network and flights. We flew in from Mumbai to Tashkent, via Uzbekistan Airways. Later, we took a domestic flight from Nukus to spend the last couple of days in the capital, before flying back to Mumbai.
If you are heading to Samarkand, the train journey will be about 3 hours, a shared taxi would probably take about 4 hours.
If you are heading to the Fergana Valley, Margilan/Andijan would take about 4-5 hours and Andijan will take about 6 hours. We took the 8:05AM train from Tashkent to Margilan.
Where to stay in Tashkent
Budget - Topchan Hostel (we stayed here), Art Hostel
Mid-Range - Hotel Hon Saroy (we stayed here)
Luxury - Ichan Qal'a Premium Class Hotel
FERGANA VALLEY (FERGANA, MARGILAN, ANDIJAN, KOKAND)
If you are short on time, then Fergana Valley will probably not feature on your Uzbekistan to-do list. HOWEVER, we would highly recommend it due to it's non-touristy nature, the friendliest of locals and the thrill of exploring a place that very few backpackers/tourists will venture to.
The valley is one of the most fertile in the region, and hence also the most populous. 5 cities dot the Fergana Valley - Andijan, Fergana, Kokand, Margilan & Namangan.
Margilan houses the Yogdorlik Silk Factory, which weaves silk in the traditional manner, while in Kokand you can visit the Khudayar Khan Palace, the former seat of the Khanate of Kokand. In Andijan, the birthplace of the Mughal emperor Babur, spend time in the old town square of Eski Shahar and in Fergana, amble around wide (like, really wide) walkways. We will shortly publish a more detailed guide on the Fergana valley.
Come here with no agenda - these are no dream destinations, compared to the Silk Road Cities of Samarkand, Bukhara and Khiva. The cities are quite modern, rich even. This off-the-beaten-track region is perfect to experience Uzbek friendliness and hospitality - you will be surprised at the number of kind locals inviting you to their homes for a meal or for a few drinks as well as being offered free taxi rides.
Places to visit in the Fergana Valley
Yogdorlik Silk Factory (Margilan), Babur Statue and Museum (Andijan), Devonaboy Maszhidi (Andijan), Jami Complex (Andijan), Khudayar Khan Palace (Kokand)
Getting Around the Fergana Valley
We made Fergana our base in the Fergana Valley (as it is equidistant to Kokand, Andijan and Namangan) and traveled to Andijan and Kokand in a mashrutka and local bus respectively, which you can catch from the main bus stand in Fergana. There are different halts for different places - so make sure to ask locals/policemen who will be happy to help. Avoid going in a taxi/shared taxi if you are on a tight budget. We were almost lead to paying a lot of money to take a taxi to Kokand.
Within the towns of the Fergana Valley - you can hop on to any vehicle that is going in the direction you want to for a small fee. Within Andijan, a ride from the bus stop to Eski Shahar for the two of us was as little as 3000 Uzbek Soum (₹20/$0.31). This is the cheapest and best way to travel, curious locals will want to interact with you. We even got a free ride back to the station in the evening, by a driver who was simply too excited to have Indians in his taxivan.
Getting in and out of the Fergana Valley
Fergana Valley is quite well connected to the rest of the country. We arrived at Margilan via train, and left from Andijan to Samarkand, again via train. Between cities in the Fergana valley, as mentioned above - mashrutkas, local buses and shared taxis are ideal.
Where to stay in the Fergana Valley
Mid-range - Valentina's Guesthouse, Fergana (we stayed here), Sakura Inn, Fergana
SAMARKAND
Samarkand is a truly magnificent city and one of the oldest trading centres on the Ancient Silk Road. One of the oldest continuously inhabited cities in the region, with a rich history of nearly 3 millenia and having stood witness to countless sieges from the likes of Alexander the Great and Genghis Khan - Samarkand's many sights and majestic tombs will leave you gaping.
While 2 days would really suffice to see the most important sights in Samarkand, 3 days will allow you to take things slowly and spend longer time at some of the sites, some of which truly are stunning.
The interesting Gur-e-Amir monument is the final resting place of Amir Taimur, who also made Samarkand his capital. His grandson, Ulugh Bek took a liking to astronomy and the Ulugh Bek Observatory is a very interesting place to visit. Not too far from here is the tomb of St. Daniel.
Registan, the symbol of Samarkand is a place where you can bid goodbye to a good 2-3 hours, while the magnificence of the Bibi Khanym Mosque will leave you gawking. Get a bit tipsy at Khovrenko Wine Factory before watching the sunset at the Shah-i-Zinda necropolis.
Read more about 10 awesome things to do in Samarkand.
Places to visit in Samarkand
Gur-e-Amir, Ulugh Bek Observatory, Mausoleum of St. Daniel, Bibi Khanym Mosque, Bibi Khanym Mausoleum, Siyob Bazaar, Registan Square, Khovrenko Wine Factory, Shah-i-Zinda
Getting Around Samarkand
The Yandex app works in Samarkand too. However, thanks to our shitty sim - we couldn't make use of it. Nonetheless, always look out for yellow taxis that run by the meter instead of the normal cabs which will always charge you more.
Getting in and out of Samarkand
While Samarkand has an airport, you will most probably be arriving by train from Tashkent, Bukhara or even from the Fergana valley, like we did from Andijan which took about 11 hours, having left at 2-30PM in the afternoon. From Samarkand, Bukhara is just a 90 minute train ride away on a swanky Afrosiyob bullet train. If you traveling to Tashkent, the travel time would be ~4 hours. If you wish to visit Shahrisabz, you will need to hire a taxi/shared taxi.
Where to stay in Samarkand
Budget - B&B Emir (we stayed here)
Mid-range - Jahongir Guest House
BUKHARA
While Samarkand was majestic, it was Bukhara that truly stole our hearts. You will find men playing dominoes on a warm evening next to the Liyab-i-Hauz complex, women selling suzani silks and ikat jackets, unpaved roads on which Soviet cars ply. Bukhara still retains a lot of the old world charm in its narrow alleyways, empty madrasas and friendly people.
We spent a full 2 days in Bukhara, and managed to cover almost everything. However, a 3rd day would have allowed us to slow down and explore more of this ancient Silk Road City. The best part is everything can be covered by foot, as the old town is not very large.
A lot of the old town seems like time has come to a standstill. From the Chor Minor to the Ulugh Bek Madrasa, you will navigate through ancient alleyways. The Lyab-i-Haus will bring you tranquility, only to be woken up by calls of merchants at the nearby bazaar.
A short walk away is the Ark Fortress, which has a bloody past. This is right next to the Bolo Hauz complex, which is an uniquely constructed mosque. More interesting structures like the Samanid Mausoleum and the Chashma-Ayub Mausoleum (which is said to still house a well with water that has healing powers) lie right next to each other.
The symbol of Bukhara is definitely the Kalyan minaret, which looks great during the day, but stunning at night!
We will shortly publish a blog on top things to do at our favourite place in Uzbekistan, Bukhara.
Places to visit in Bukhara
Chor Minor, Ulugh Bek Madrasa, Abdul Aziz Khan Madrasah, Lyab-i- Hauz square, Po-i-Kalyan, Ark Fortress, Bolo Hauz Complex, Markaziy Bozor, Samanid Mausoleum, Nadir Diwan Begi Madrassah, Abdulloxon Madrassah, Mir Arab Madrassah, Chashma-i-Ayub Mausoleum, Jewish Synagogue
Getting around Bukhara
The best part about Bukhara is all sights are within a walking distance of each other, we did not need to use public transport during our time here. You may want to use a taxi only to get to the newer parts of the city, which are quite modern.
Getting in and out of Bukhara
if you are arriving at Bukhara by train - you will arrive at Bukhara-1 station, which is situated at Kagan, a town on the outskirts of Bukhara.
It had rained heavily the day previously, and the road was full of sludge and it took us about 40 minutes to reach our hotel. The ride cost us 85k Uzbek soum (₹630/$9) and in hindsight, we should have haggled harder or asked a local to help arrange a taxi for cheaper.
We arrived from Samarkand, by the super fast Afrosiyob - which covers a distance of ~280kms in 90 minutes. Onwards from Bukhara, we caught an early morning (4-22AM) train to Urgench, on our way to Khiva. We asked our hotel to arrange a taxi that early in the morning. Bukhara has an airport too, and is well connected by the railway network as well.
Where to stay in Bukhara
Mid-range - Hotel Al Bukhari (we stayed here)
KHIVA
The walled city of Khiva is the tiniest of the 3 Silk Road cities but still has so much to do in 2 days. We came across travellers, who decided to skip Khiva altogether as it is far away from most other places in Uzbekistan like Tashkent, Bukhara and Samarkand.
While Samarkand is distinctively blue, orange is the choice of hue in Khiva. Mosques, cute coffee shops, madrasahs, orange minarets, souvenir shops and mausoleums dot this ancient town. It's small size, however, means you will either be bumping into a tourist or a local trying to sell you a souvenir.
Inspite of its bloody past, Khiva today has been restored to capture much of its past glory. You will be welcomed into the walls of the Itchan Kala by the stumpy Kalta Minor, which was supposed to be the tallest minaret in the whole of Uzbekistan. However, construction was halted in 1855 when the ruler of Khiva died.
The Juma Mosque has some really interesting wood columns while the Mausoleum of Pakhlavan Makhmud makes for an interesting visit. He was a poet and a wrestler back in the day, and had bouts with wrestlers from as far as India. The views at sunset and sunrise are excellent, if you are okay with a claustrophobic climb up the Islam Hoja minaret to a higher altitude.
We will shortly publish a blog on top things to do in Khiva.
Places to visit in Khiva
Itchan Kala, Islam Hoja Minaret, Kalta Minor Minaret, Juma Mosque, Mohammed Amin Khan Madrassah, Pakhlavan Makhmud Mausoleum
Getting Around in Khiva
Like Bukhara - you wouldn't need public transport within Khiva either. However, if you wish to visit the ancient Khorezm fortresses which are about 100kms away from Khiva into the Karakalpak desert, you can negotiate rates with your hotel or you can also contact the tourist centre inside the Itchan Kala.
Getting in and out of Khiva
Of all the Silk Road cities, Khiva is not the easiest to get to. You will most probably arrive at Urgench railway station (took us a 6 hour train ride from Bukhara), from where you will need to hail a cab to Khiva - a 32km ride which takes approximately an hour. We struck a conversation with a local on the train, who then struck a deal for us with a driver. The trip cost us just 30,000 Uzbek soum (₹220/$3.14).
From Khiva, our next stop was Nukus. Apparently, there's a train from Nukus, but we couldn't find one listed on the schedule. We decided to negotiate with our hostel owner to get us a taxi, who we had to haggle hard with to get the price from $100 to $40. To our luck, 2 Spanish dudes staying at the hostel also were looking for transport to Nukus. After some further haggling with the driver, he agreed on a price of $50 for all of us (bringing our per head cost from $20 to $12.5). The journey takes about 4 hours.
Where to stay in Khiva
Note - Apparently from March 1, 2020 - the Khiva Railway Station is open to the public and there are regular trains from Tashkent, Samarkand and Bukhara. This is great news, making Khiva more accessible. Where to stay in Khiva
Budget - Khiva Alibek B&B (we stayed here), Islambek Khiva
KARAKALPAKSTAN - NUKUS & MOYNAQ
A 3 hour ride away from Khiva is the capital city of Karakalpakstan, Nukus. Developed by the Soviets, Nukus is a weird city with large pathways and buildings, albeit with so few people around. On the way, you can halt at the Chilpyk Dakhma, a tower of silence for Zoroastrians.
The main point of attraction here will be the world class Igor Savitsky Museum, where you will spend a great 3-4 hours learning so much about the Soviet and consequent Uzbek treatment of the autonomous region of Karakalpakstan as well as the vast collection of art ranging from paintings, to embroidery to pottery - most of which are from the general areas of Khorezm and Karakalpakstan.
If you have more time and energy while in Nukus, you should visit the Mizdakhan Necropolis, which is today a cemetery, but in it's heyday was an ancient town.
Nukus will be your gateway to visiting Moynaq and the Aral Sea. Moynaq is a bumpy 4 hour bus ride away and while most will categorise it as disaster tourism, it definitely is incredible to see rusting ships in the middle of what is now a desert. If you wish to visit the banks of what is now the Aral Sea, you will need to arrange it with a tour operator in Nukus. Mind you, it is a bumpy 3-4 hour ride on desert roads.
We will shortly publish a blog on how you can spend time in Karakalpakstan.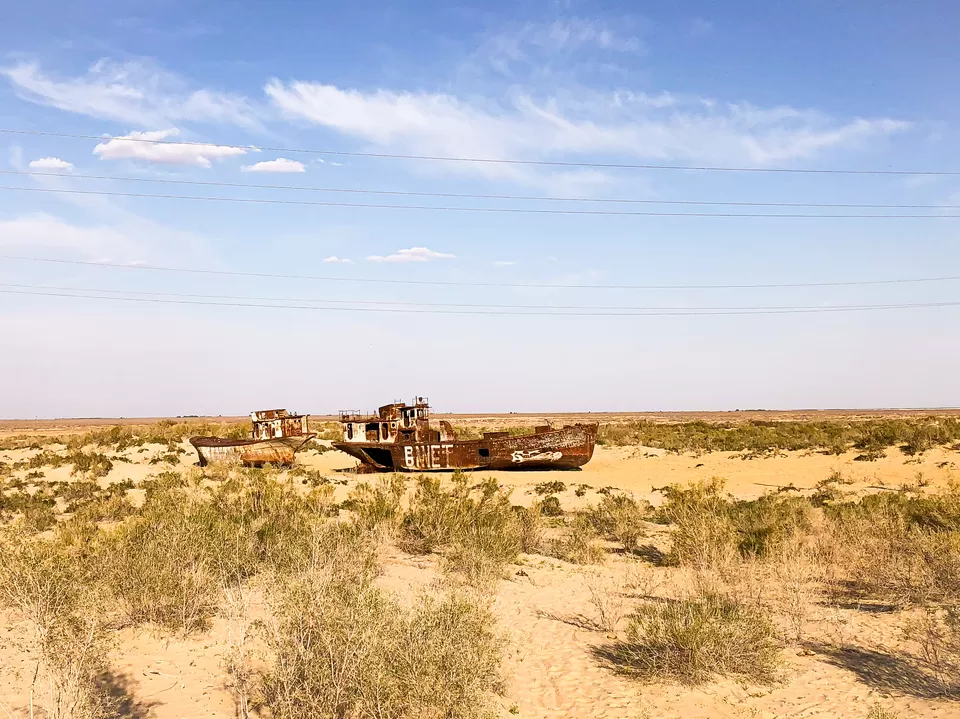 Places to visit in Karakalpakstan
Igor Savitsky Museum of Art (Nukus), Mizdakhan Necropolis (Nukus), Chilpyk Dakhma (Nukus), Moynaq Ship Cemetery, Aral Sea
Getting Around in Nukus
To be honest, within Nukus - we did very little exploring. The day we arrived - we headed for the world famous Savitsky museum, and strolled around the general area. However, taxis are widely available and you can negotiate a price with them. You will most probably need to contact your hotel desk to arrange for a round trip to the Mizdakhan Necropolis, which is a 30 minute ride out of Nukus.
Getting In and Out of Nukus and Moynaq
You can reach Nukus either by road, air or train. We took a shared taxi from Khiva, which took a little more than 3 hours. There are 2 daily Uzbekistan Airways flights to and from the capital Tashkent - one around noon and one in the night. Trains, while being convenient and comfortable are still quite slow and journeys could last more than a day if you are traveling from Tashkent.
Since we used Nukus as a base to explore Moynaq, we had to figure out our transport options. Most blogs mentioned a bus service that runs every day at 9AM. However, the location of the bus stop quoted on those turned out to be incorrect. The bus stop has since moved, here's the new location (Koyne Qala bus stop) - 42°27'00.8″N 59°33'55.2″E. Here, you will find a board that says 'Muinak'. Ensure to reach around 8-30AM for the bus which leaves at around 9AM. It is usually packed, since there aren't too many travel options to Moynaq.
From Moynaq, we could either wait for the 2-30PM bus in the afternoon or hail a shared taxi back to Nukus. Our hotel owner was kind enough to drop us to the taxi stand in Moynaq, where we were able to get a shared taxi to Nukus for 50k Uzbek soum (₹350/$5.2) per head, which is not bad at all for a 2.5 hour bumpy ride.
Where to stay in Nukus and Moynaq
Mid-Range - Dosliq in Nukus (we stayed here), Hotel Muynak in Moynaq (we stayed here)
Luxury - Tashkent Hotel in Nukus, Jipek Joli Inn in Nukus (highly recommended)
MONEY
Expenses
Uzbekistan, inspite of being the most touristy country in Central Asia is still very very affordable if you manage to avoid overpaying for souvenirs and taxis.
If you are traveling on an extreme budget, you can accomplish your Uzbekistan trip at as cheap as $20 per head per day, like we did. Our total expenditure for 2 people was $585 (₹45,000) for 15 days. We stayed at hostels, used public transport at most places and yet managed to have some really good meals and sneak in a couple of stays at lovely hotels.
If you include some souvenirs and snacks that we purchased on the go and a couple of taxi rides which were on the expensive side - the total would rise up to $632 (₹48,000), which is still quite an affordable number for 2 people on a 15-day vacation.
Turns out our flight tickets from Mumbai to Tashkent (₹29,000/$395 per head) and back & Nukus to Tashkent (₹3940/$105) formed the chunk of our budget.
For more information on expenses, check out our entire cost breakdown for a trip to Uzbekistan. This also includes a quick guide on how much money to carry etc.
How much to carry?
The currency in Uzbekistan is the Uzbek soum. You will need to get used to large currency notes of 500, 1000, 5000, 10000, 50000 and 100000, due to super inflation.
While the number of ATM's have increased over the course of 2019, we were prepared and had carried about $1500 for the course of 15 days between the both of us. We did not find too many ATM's around the country and the ones that work only accept VISA cards. Note that the most popular currencies to exchange are USD, GDP and EUR. USD seemed to be the most preferred amongst these three currencies, and were also accepted at hotels.
We also read on a few blogs that you could exchange Uzbek soum in the black. However, we found only a couple of dealers near Chorsu Bazaar in Tashkent who were picking out tourists and softly whispering the exchange rate in their ears. Best to avoid.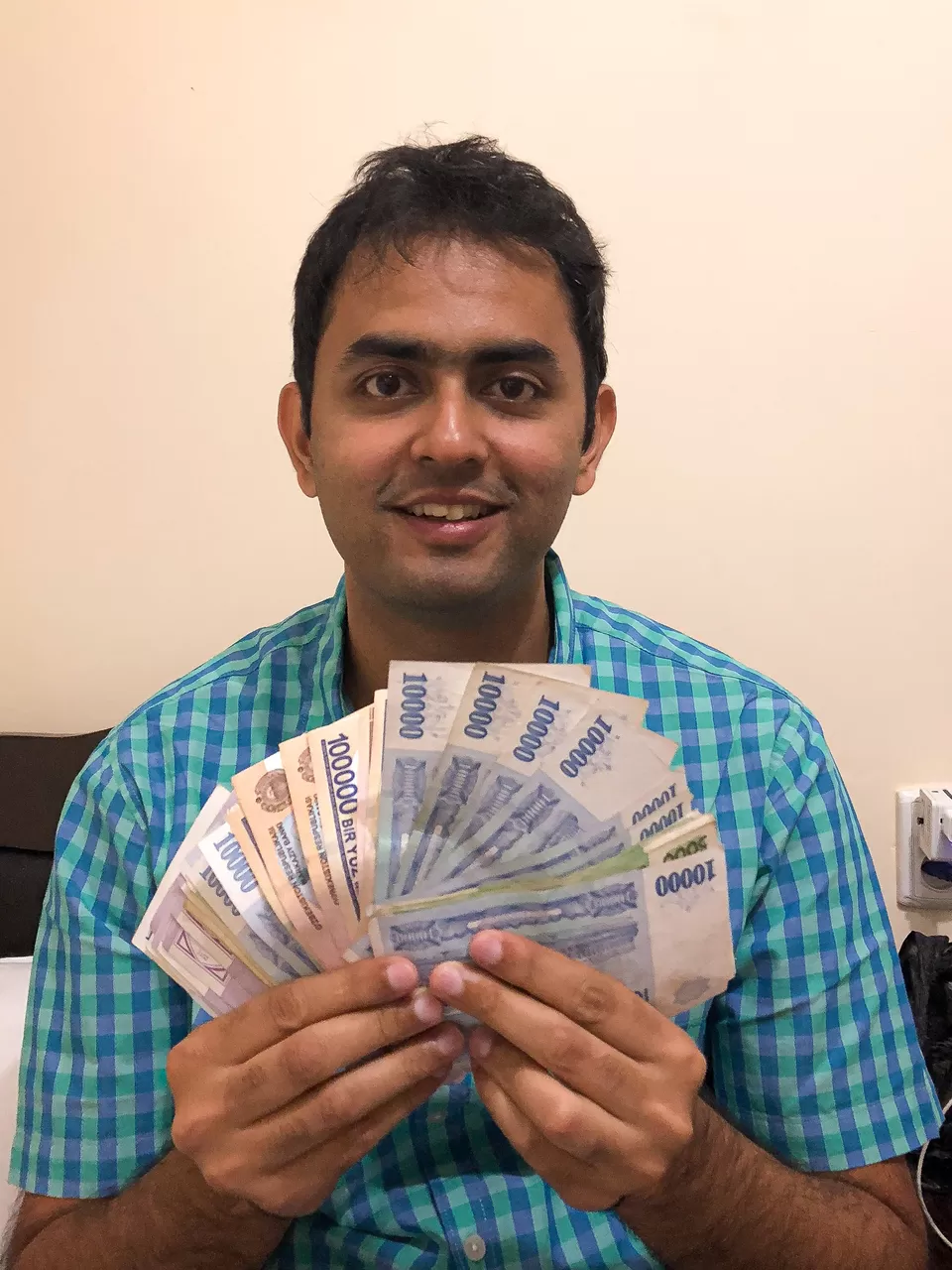 That said, if you carry cash - you should be able to easily exchange it banks. Most banks have a standard exchange rate which you can see on the board at the exchange counter. Always keep the exchange slip with you. Make sure to exchange at cities like Tashkent, Samarkand, Bukhara, Nukus etc. if you intend to make trips to lesser known places such as Charvak Mountains, Shahrisabz, Moynaq etc.
Theft and robberies are rare since Uzbekistan is a heavily policed state. However, it is best to err on the side of caution. We kept cash at multiple places in our bags and wallets.
All our hotels accepted payments in USD - it's ideal to pay in USD if that is the currency you used to book your hotel/hostel. Paying in Uzbek soum could end up being costlier, as hotels may impose their own exchange rate. If you are doing long distance taxi rides, the drivers accept USD as well.
Also, try to exchange only as much cash as you would need. On the last day, we were left with over $300 worth of Uzbek soum and were turned down by about 4 banks who refused to exchange it for USD. Apparently, only an Uzbek national with a valid passport or a foreigner residing/working in the country can do it. Luckily for us, our hotel exchanged it at a pretty competitive rate.
SAFETY
We were asked a lot of questions before and after our trip which were around safety and how safe it is to travel in Uzbekistan. Mind you, like every other country in the world - Uzbekistan does have its own set of problems. As recently as 2005, there was a massive unrest in Andijan which ended up in death of hundreds of civilians. Also, 'Stan' at the end of the name doesn't do many favours for its cause.
That said, overall, we felt quite safe during our entire time in the country. There are a few blogs that mentioned that they were searched for and asked to pay bribes by the police. On the contrary, in our few encounters with the police - they were happy to give us directions or assist us.
Keep a few copies of your passport, visa and original registration slips etc. handy in case you are asked to show your documents by the police at any time (rarely happens). They will usually be looking for a loophole and the fact that a tourist might just get nervous with a cop around in a foreign country. Maintain your calm, show that you have all the documents and move on. Never present your original document, just say you've left it at the hotel.
Uzbeks are generally very hospitable and you will get invited to homes. In general, we have found this to be quite safe. A few travellers we spoke to did get the full Uzbek house hospitality. We had a hearty meal at the home of a local in Bukhara too, and it was all very amicable.
Simple common sense such as not walking around with loads of cash, getting too drunk etc. will suffice. It is also ideal to stay away from political discussions, not that we got in any. Bringing in porn and pornographic material is banned too, so avoid at all costs!
While there aren't too many driving rules, it was surprising to see that Uzbek drivers drivers are not too rash on the road. Maybe it's because of all the old Uzbek/Soviet cars they're driving? In any case, we didn't have a bad experience on the road.
Till few years back, photography of Soviet officials was banned. Photography at certain sites and even the Tashkent metro was banned. Rules have obviously relaxed, and we weren't asked to keep our cameras away anywhere. In any case, if you are a bit edgy about your photos, this guide shall be helpful to hide your photos on your systems, at the time of crossing borders.
FOOD
Uzbekistan is primarily a meat-eating nation, lamb being the most popular meat of choice. The most popular and the national dish is the plov. The plov is similar to Indian 'pulao', which is an amalgamation of spices and other ingredients.
Plov is the national dish and is available almost everywhere and is usually served with raisins, meat - chicken/lamb, eggs - quail/chicken and in some cases, horse meat as well. Coming up shortly is a detailed article on where to eat the best plov in Uzbekistan.
Apart from that, expect a lot of kobobs, samsas, noodle based dishes like Laghman and Shivit Oshi, soups such as Kucha Oshi and Shurpa, dumplings called Manti and Tikhum Barak amongst others.
Most meals are preceded by tea (green tea or lemon tea), served in Uzbek teapots, which you are supposed to drink out of a bowl. This acts as a great way to start a meal and wash it down as well.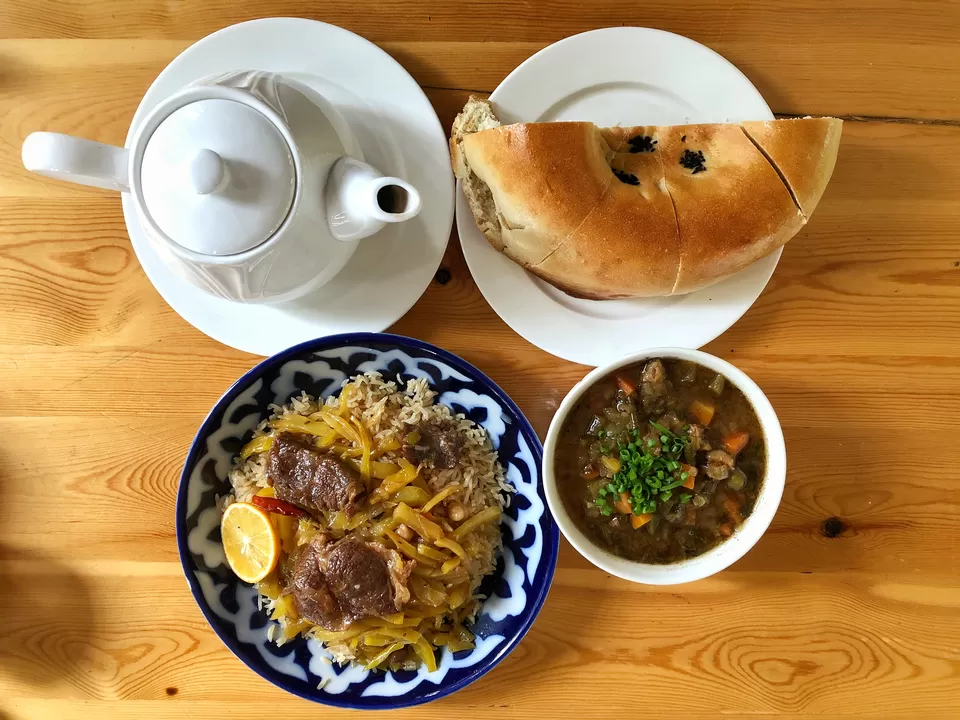 Uzbek breakfasts consist of an assortment of cold cut meats and cheeses, something we found very commonly across the country. These are usually served with bread - sometimes soft and flavourful and at some places, hard to chew. At some places, you can also expect curds, dry fruits and sweet porridge as part of the breakfast.
During our bazaar visits, we would be mesmerised by the wafts of fresh bread baking. Some breads are the size of small tyres, and its common to see women carrying these in their hands to prepare for the evenings dinner. Some biscuits and cookies we purchased in Tashkent were really good, and these are sold in the loose. So, you can pick as much as you want, weigh it and pay on the go. Be sure to buy some excellent dry fruits ranging from apricots to raisins to cashews and almonds. Since these last for a long time, you can take a pretty good quantity.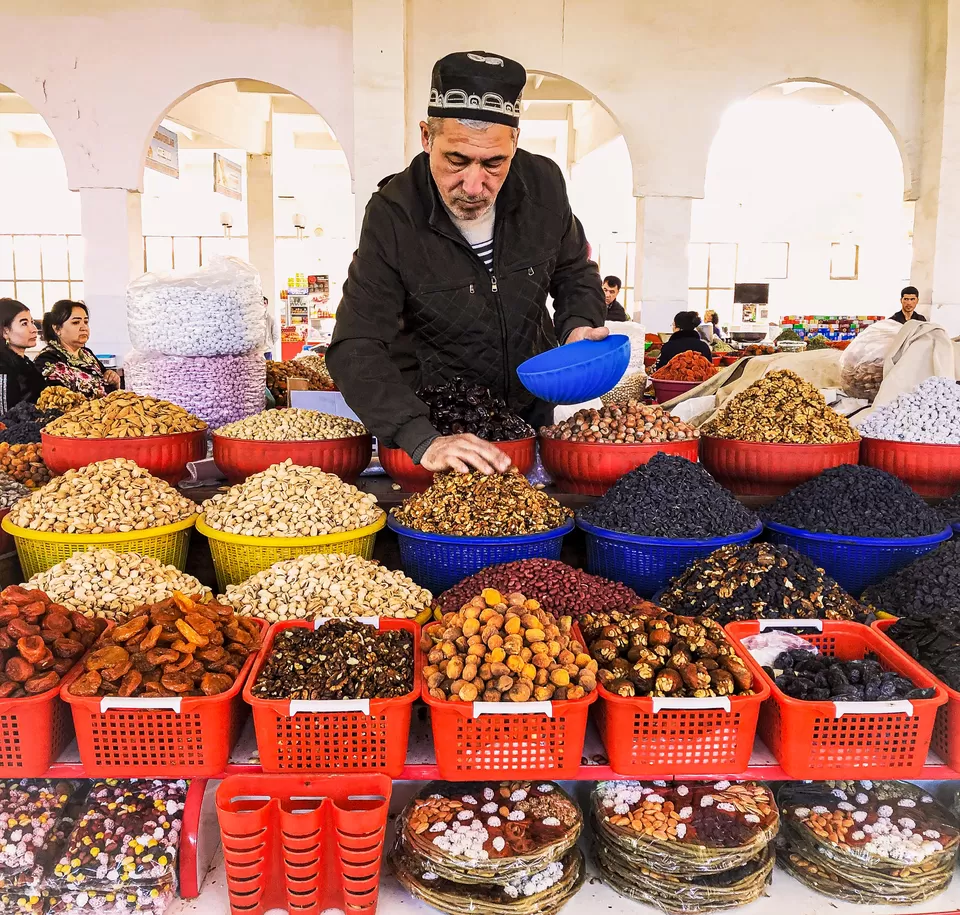 September onwards is the melon season, and Uzbekistan is home to some of the sweetest melons. We, however get to taste some really awesome tomatoes and cucumbers. We are not big fans of cucumbers, but these were really succulent and we didn't mind having these with almost every meal.
Keep an eye out for restaurants called ' Milliy taomlar ', which translate to 'national foods'. You'll usually find more local dishes here.
Tap water is not safe to drink in Uzbekistan. Always carry your own water bottle, and fill it when you head out from your hostel/hotel - all of which will have a portable water system. Be kinder to the environment and avoid buying plastic water bottles from the shops. If you have to buy, note that you will find both normal mineral water and sparkling water. Check the label before you make the purchase.
We will shortly put up a blog on all the dishes we tried and the places to eat them too.
TRANSPORT
From city to city, trains are the ideal way to travel in Uzbekistan. Not only are they comfortable and reasonably fast, they also provide a great chance to interact with locals who will go out of their way to make you feel comfortable and at home.
There are websites that sell train tickets, however charge a hefty commission too. Instead, you can book them yourselves on https://e-ticket.railway.uz/lang-en/index.html, which is the official train booking website. The site is mostly in Russian, even if you choose to use the English version of the website.
Some trains are older Soviet trains, while you might also get the chance to travel in the swanky new Afrosiyobs which are fast, comfortable and modern. We will shortly publish a detailed blog on planning, booking and traveling by trains in Uzbekistan.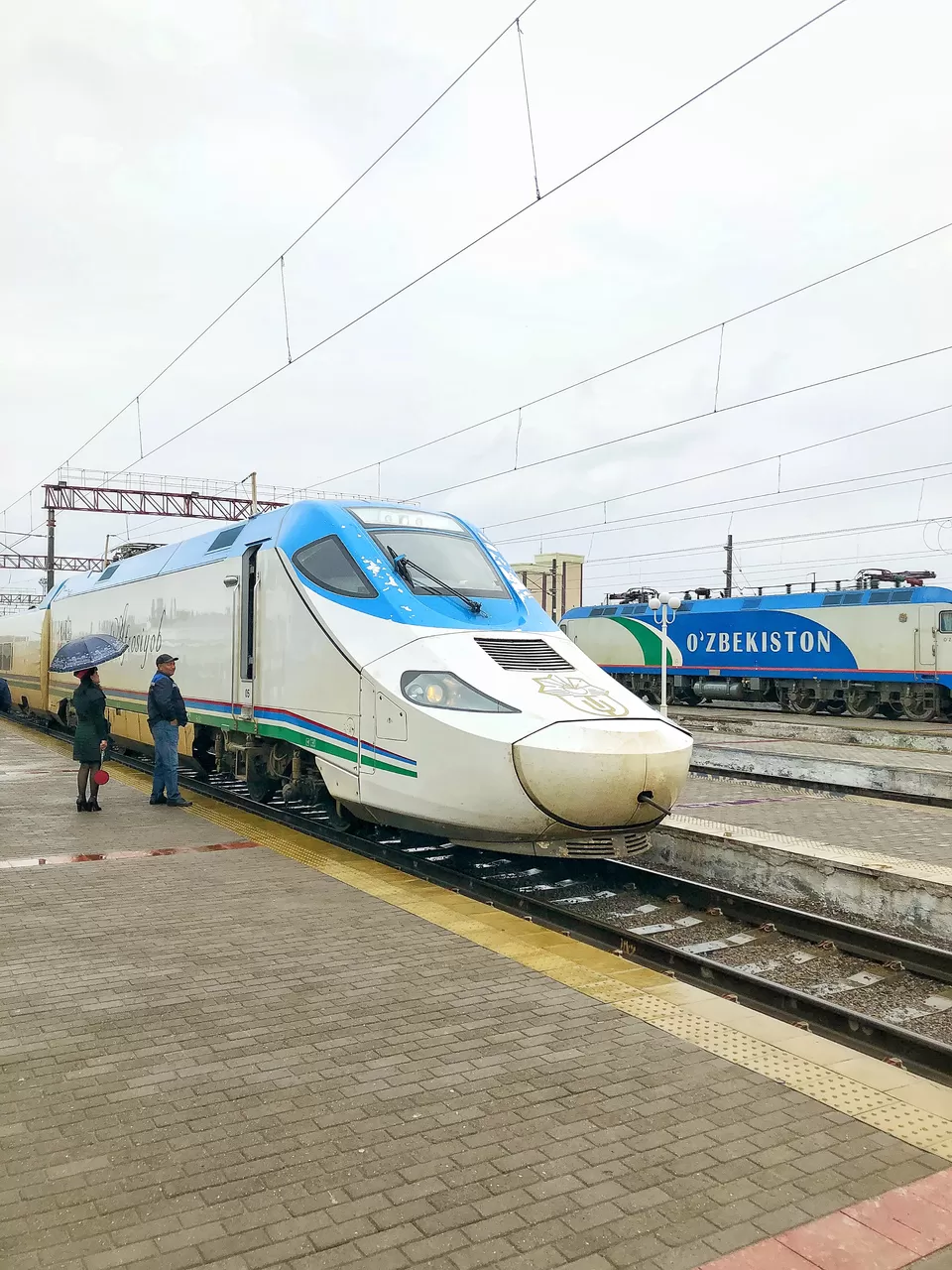 You can also choose to travel between cities by shared taxis or mashrutkas (minivans), which turn out to be a much cheaper mode of transport. However, the journeys will be quite slow.
Mashrutkas can hold up to 15 people and usually wait to be fully filled up (can take upto 20-30 minutes on some days), but can cost as less as 7000 Uzbek soum (₹55/$0.75) per head for a 2 hour journey. This is a really cheap mode of transport, which we used extensively in the Fergana valley.
Shared taxis are another common mode of transport, though slightly costlier. These can range from 2000 Uzbek soum (₹25/$0.75) per head to 120k Uzbek soum (₹875/$12.5) for long distance trips.
Normal taxis for intra-city travel are available in plenty in Samarkand and Tashkent, where you'll need it the most. Use the Yandex app or look out for yellow taxis to hail. You wouldn't really be needing a taxi in Bukhara and Khiva, where most of the places can be covered by foot.
We will shortly publish a detailed blog on transportation in Uzbekistan.
INTERNET & SIM CARDS
The internet situation in Uzbekistan is at best patchy. There are four major local network providers in Uzbekistan - Beeline, UzMobile, Ucell and UMS.
We made the mistake of buying SIM cards at Tashkent Airport itself. The network was UMS. We were told it will activate itself in 30 minutes (which it did) as well as have 8GB data at 3G surfing speeds. However, the SIM card did not work from the following day all through the end of the trip and we had to rely on offline maps and Google Translate (I had pre-downloaded Russian). Avoid buying at the airport.
Instead, head to the city to buy a Beeline or Uzmobile sim (just look out for shop with these boards), which are more reliable than the others.
We had very okayish WiFi all over Uzbekistan, just about enough to send messages over Whatsapp, slow-load your emails and use Google Maps a little.
In any case, make sure to use the following apps in Uzbekistan -
maps.me - Download the offline map of Uzbekistan. With location services on, you can use this map in offline mode and also mark pins on places you want to visit. We used this app the most during our time there. Google Translate - Download 'Russian' as a language on Google Translate, makes it so much easier to communicate by simply typing out what you want to say in English and showing the translation to the locals. Note that there is no Uzbek (at least, not yet) but Russian is widely spoken and understood. Yandex - We used this app to book taxis in Tashkent. You can use it to book a taxi in Samarkand too.
ONLINE RESOURCES
Let's be honest - we couldn't have planned in detail our entire trip to Uzbekistan without the help of some fellow bloggers and information websites. Listing some of the key resources below -
Against the Compass is a great resource to plan out your itinerary - he explains in good detail how many days to spend at each place and how you can spend your time traveling through the country.
Trulynomadly is a great resource and one-stop guide to plan your Uzbekistan trips. Her blog was one of our initial inspirations to even plan for Uzbekistan.
Advantour - This is a travel agency that organised group tours etc., but also a very solid and reliable source of information for train timings and places to visit in each place.
Sudhagee - A very nicely written series of blogs on Uzbekistan with some unique details of visits to a synagogue in Bukhara, the Mizdakham Necropolis and the Chilpyk Dakhma included.
OTHER UZBEKISTAN RESOURCES
Enjoyed this blog? Here are our other Uzbekistan-related blogs -
7 Best Things to do in Tashkent
The 10 best Tashkent Metro Stations
10 Awesome Things to do in Samarkand
Original Blog Link - https://thehungrywanderingkonks.com/the-complete-uzbekistan-travel-guide-2020/
Pin it!