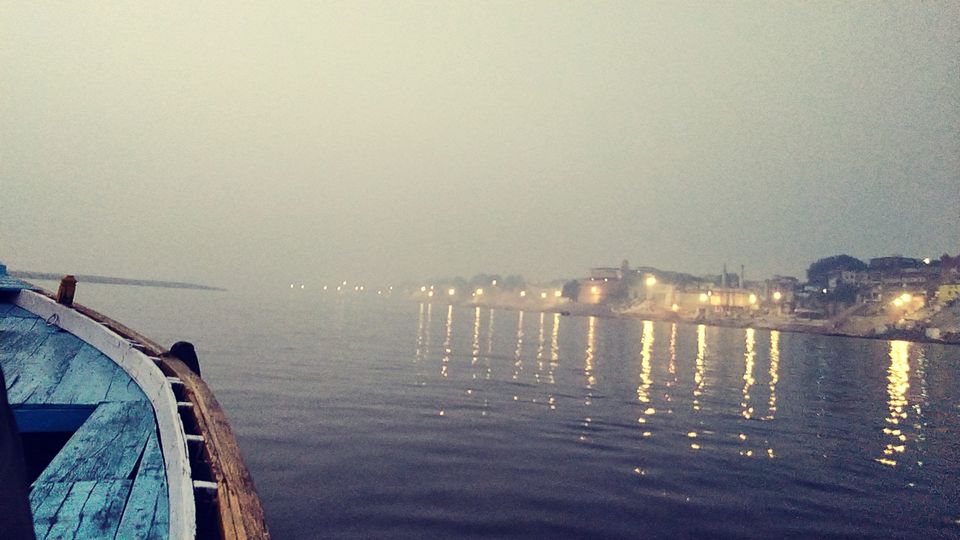 It is said that love starts when people start waking up for each other at nights. I second that, because I fell in love with the ghats because they were awake for me, listening to unheard feelings, sitting right next to me, gazing at the stars and the tranquility of Ganga (And yes, I would call it Ganga and not ganges river). In those 2 days spent in Varanasi, walking along with those ghats, greeting people, watching them meditate, laugh, hangout with loved ones, immersed in those thoughts, Varanasi took my heart away…
It was a weekend trip to Varanasi and I started my Journey from Anand Vihar Railway Station, Delhi on a Friday evening. Reached Varanasi also known as Benaras/Banaras on Saturday Morning. I checked myself into the Zostel and got greeted by people nicely. It was one of the kind experience, since I had neither been to an "Official Solo Trip" nor stayed in dormitory. No other place has put me in the awe, ever like Varanasi.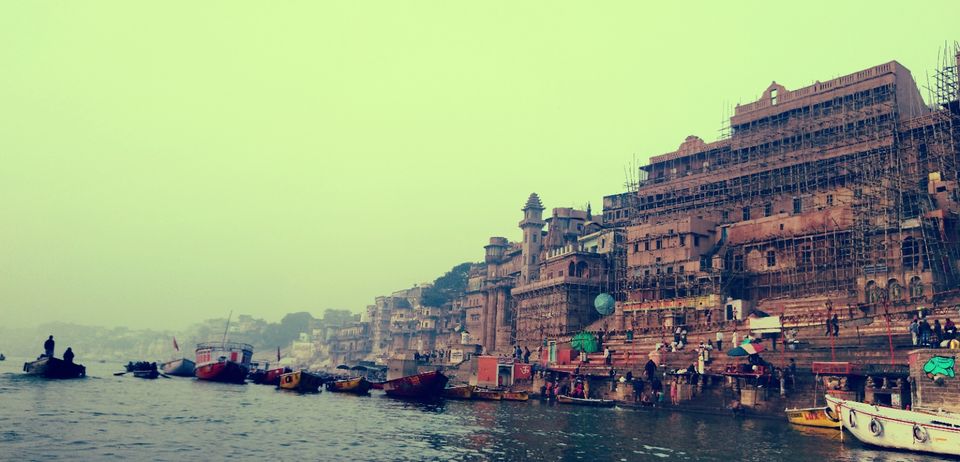 I started my travel spree with the southernmost ghat, i.e., Assi Ghat. It is believed that while fighting with Shubh-Nishumbha, Goddess Durga's sword struck the ground when she destroyed him, which eventually resulted in the inception of stream, now known as Assi River and the edge alongside the river is known as Assi Ghat. This is one of the most visited ghats of Varanasi and accommodates about 22,500 people at once during festivals like Shivratri.
First look of Assi ghat and the never ending shore of river at the other end enthralled me and I stood there awestruck. The picturesque moment made me want to stay there forever. But, then I came back to the life and started walking alongside the river. I saw the shooting pots of the movie Ranjhaana (which happens to be one of my fav. movies as well) and I walked on. Before visiting to Varanasi, I had thought the ghats would be parted from one another, but that wasn't the scenario. As you walk, you see the ghats right next to each other and still associated with legends or mythologies.
Varanasi has a total of 88 ghats and each ghat holds a different story. I walked from Assi ghat and covered 10 ghats, and the last one being Nishad ghat. I then got back to the city, since there was so much to see and learn and the time was too less. I then decided to visit Vishwanath Temple. The Temple stands on the western bank of the Ganga, and is one of the twelve Jyotirlingas, the holiest of Shiva Temples. You go through the narrow alleys with small shops each side of the alley, constantly asking you to submit your belongings, since you are not allowed to take anything other than prasad inside the temple. Step by step, when you come closer to the temple, it somehow gives you immense peace and make you see the place in awe. Such old buildings, yet standing tall, give you the ancient flavor of the city.
While coming back from Vishwanath temple, I visited Annapurna Devi Mandir. Every year, during the grand Annakoot festival, the temple shines with a real carnival spirit, and coins are meted out to the visitors. It is said that one who worships these coins enthusiastically can achieve peace and prosperity in life. And, since it was dawn now, I headed towards the Dashwamedh Ghat to watch the famous evening aarti.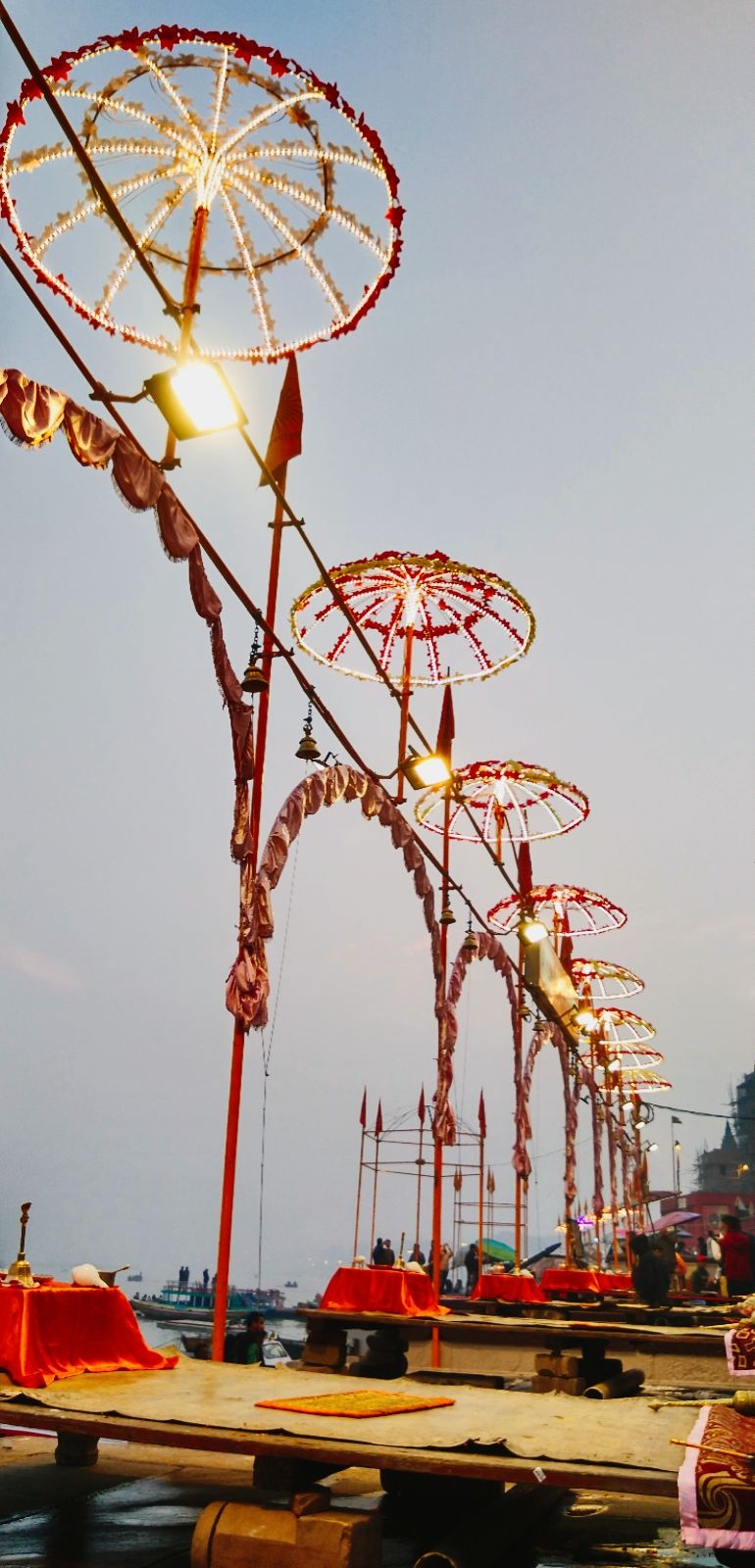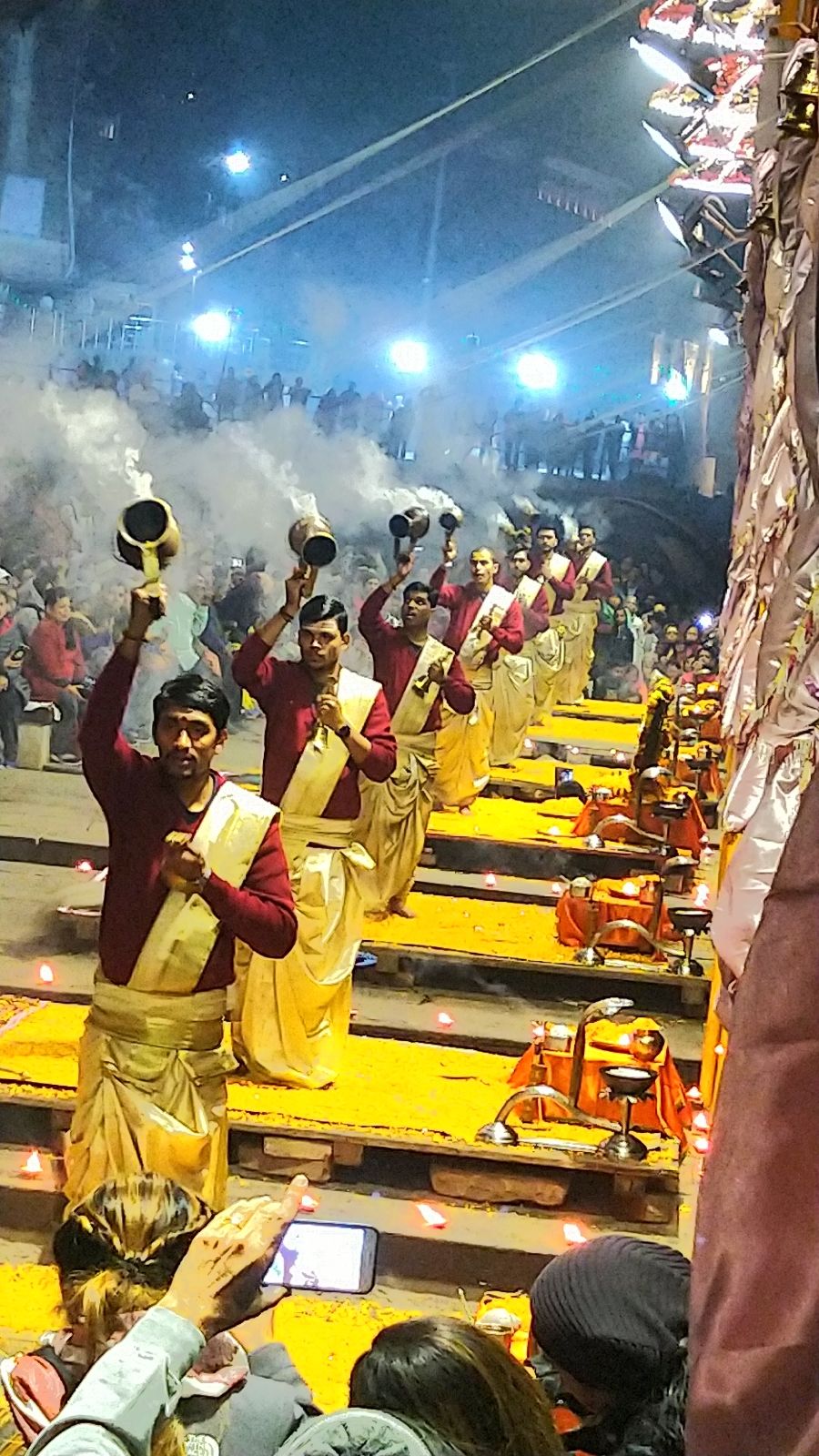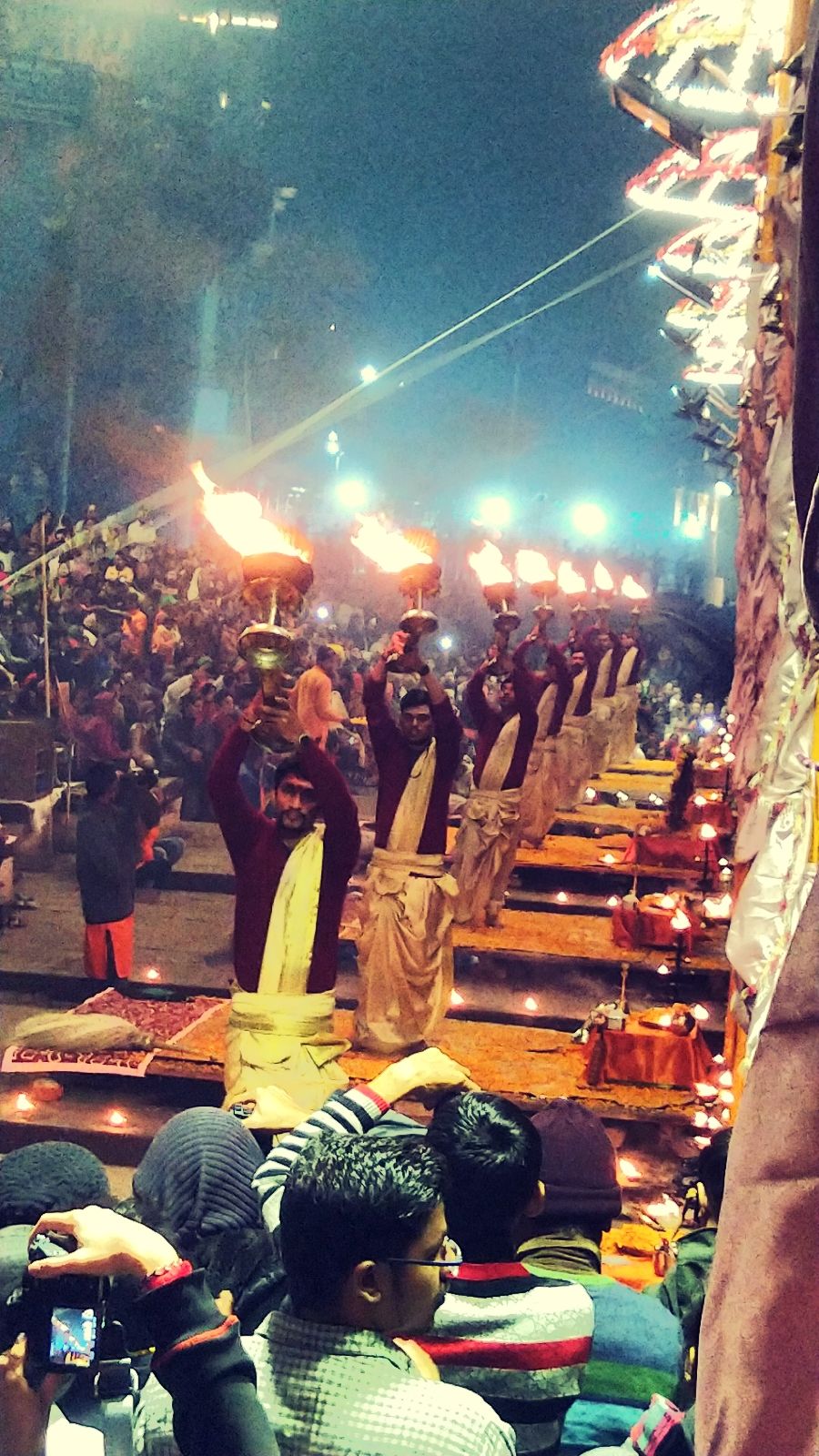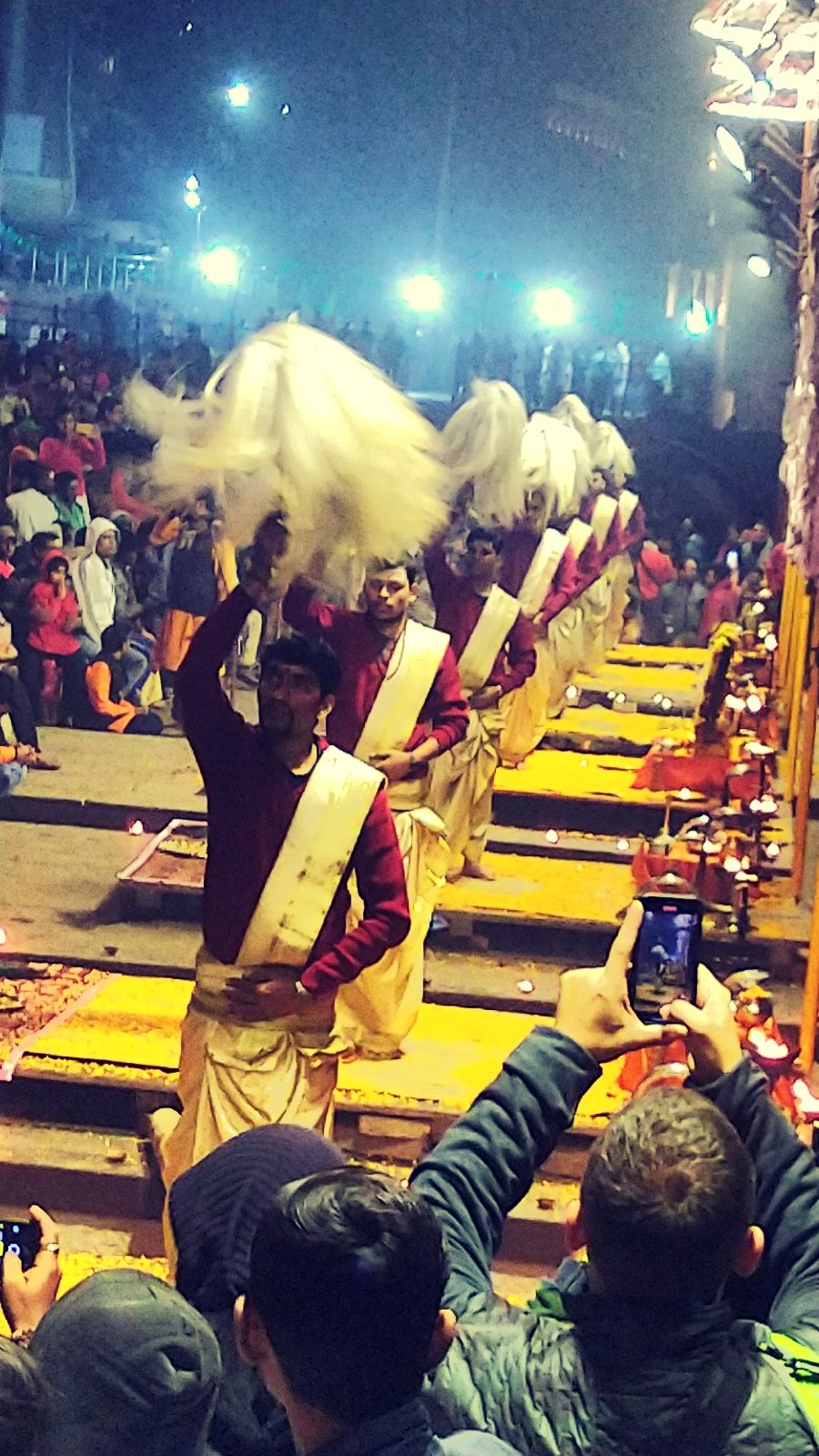 In spite of not being a very religious soul, the preparations of aarti, the brighten mandaps, the whole aura made my heart melt & just left my heart there in that very moment. I found a place to sit, from where I could witness every step, every ritual that the priests were going to perform. And I finally found a place… (Sitting next to Aghori baba's tapasya spot). Next 30 minutes went in a jiffy, with them performing different aartis for Ganga and devoting completely to the holy river. The chants, the aroma, the environment oozed out the spirituality of the place and that was so pure.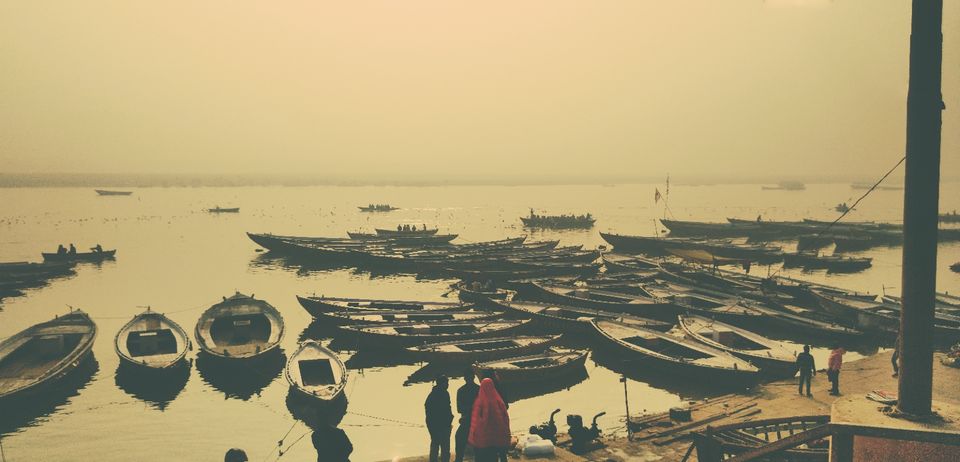 And with that I headed towards Zostel but not before indulging in some delicious chaat, Varanasi had to offer me. Once in Zostel, I dozed off since I had to witness sunrise and the day had to start as early as 4 am. We left from zostel at 5 am and walked till Dashwamedh Ghat to get onto our boat. It was a surreal experience to be on that boat and experience a different world altogether.
The morning so calm and tranquil,
Thoughts so scattered and mind so full,
The hour where nights beaks from the day,
And finally the sun appears, still light into the mist far away…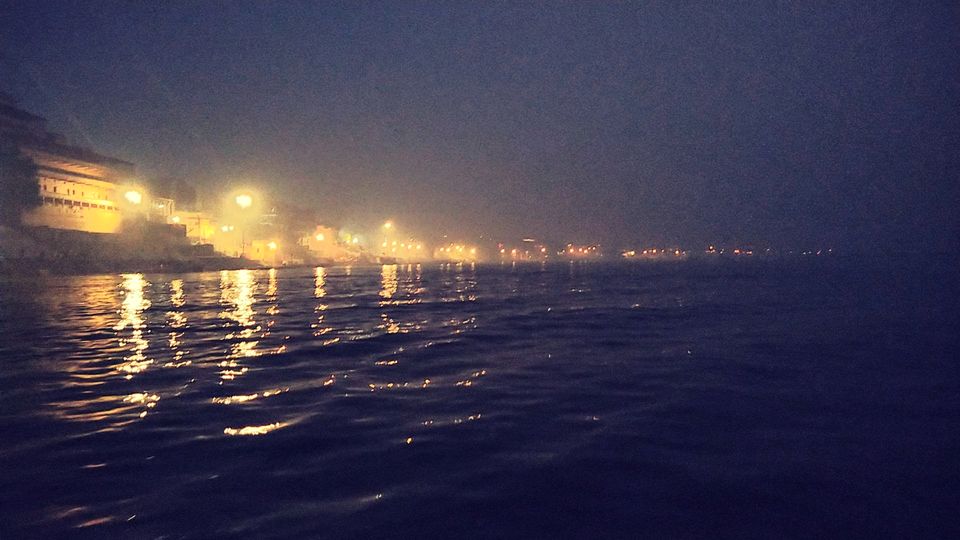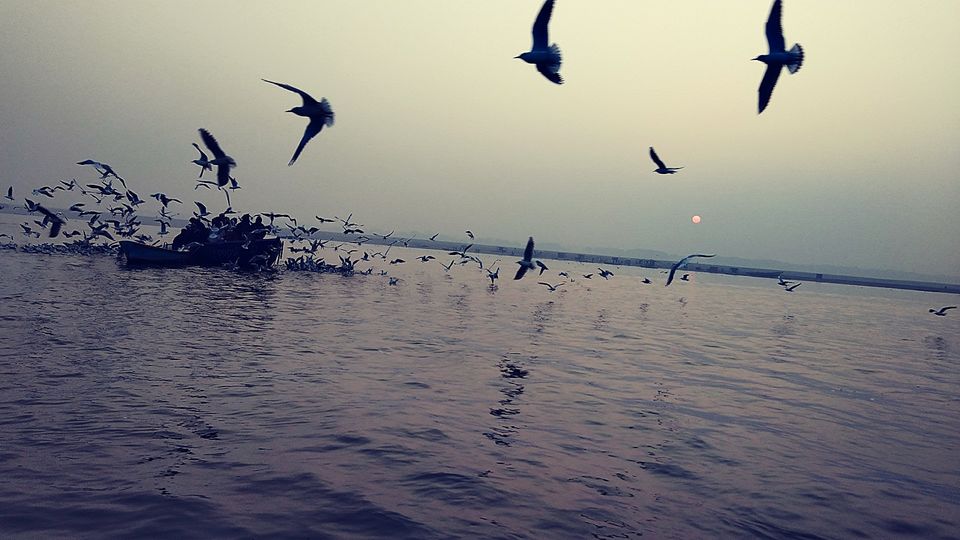 In the morning, you get to see hundreds of Siberian gulls fly from one boat to another, towards people who give them food. It looked like the perfect start of the day. Once down from boat, I directly headed to the Kachori Gali. Since, I was being told by a localite,"Agar Banaras aakr kachori nahi khayi to kya khaya" and therefore it was a mandate. I then walked down the alley and saw "Makhan Malaiyo", a form like dish with a sumptuous taste. After contemplating a bit, I thought of just trying it out and instantly loved the decision.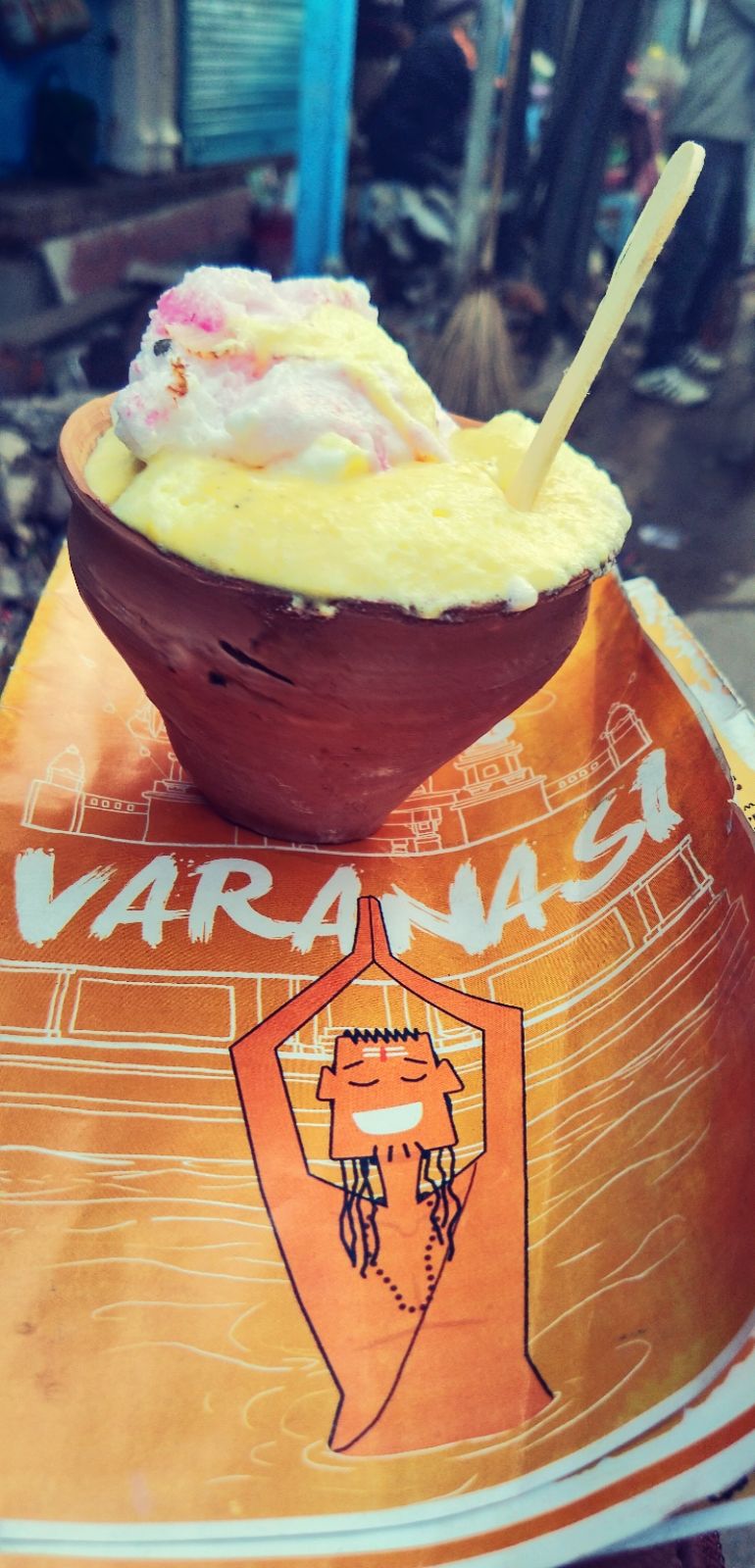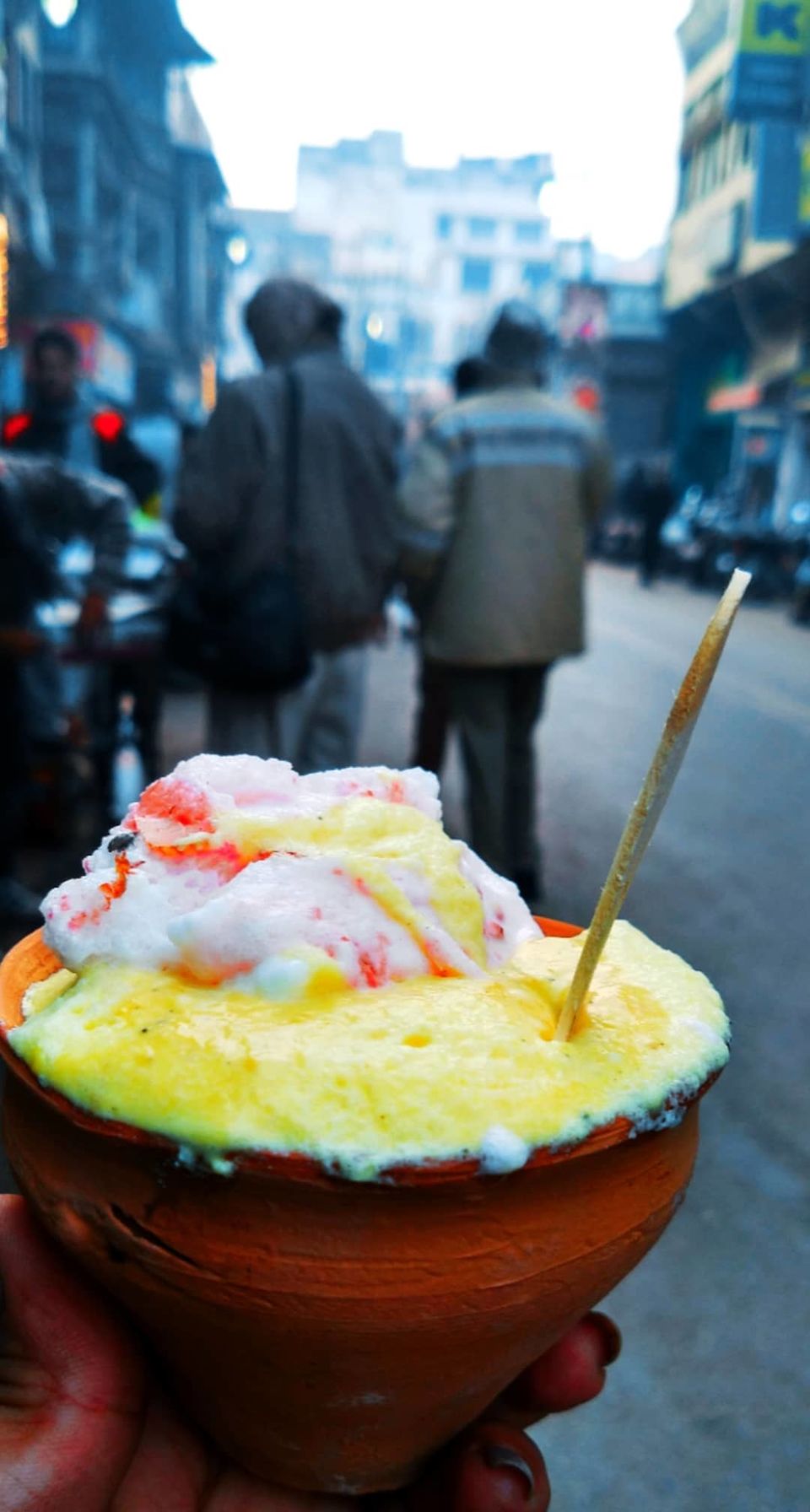 So now, that my tummy was full I headed mindlessly in the alleys just walking down and observing Varanasi. Thanks to Zostel, I had a map to see where I could go next. Coming out of kachori gali and looking for something new and closeby to see, I stumbled upon "Jantar Mantar". Well I had never heard of such a place in Varanasi, so got all the more curious to visit it. The place is located right next to Dashwamedh Ghat and turned out to be a museum, where you learn the history of Varanasi. It was a wonderful time spent, learning everything about Varanasi, there is to know.
And since I am not a morning person, I was super tired by then and decided to head back to zostel. After reaching zostel, I was given a proposition of visiting the silk factory and who was I to deny that. I hopped on to an auto-rickshaw with fellow girls staying in zostel and headed towards the market. And then we brought some silk sarees and suits and then visited Bharat Mata Temple. Instead of traditional statues of gods and goddesses, it has a huge map of undivided India carved in marble. This temple is dedicated to Bharat Mata and claims to be the only one of its kind in the world. And once, we had a look at that masterpiece, we decided to headback.
And after reaching back, I decided to head for the final thing that I wanted to taste and couldn't come back to Delhi. The final thing that I wanted to enjoy was the lassi from "The blue lassi shop". So, I went down the lane and was astonished to see the huge list of lassi flavors. I then ordered mine and that was chocolate pomegranate lassi. It was a small shop and offered flavorsome lassi you just can't resist it. And once it was done, I was all set to take some rest and then head to Delhi.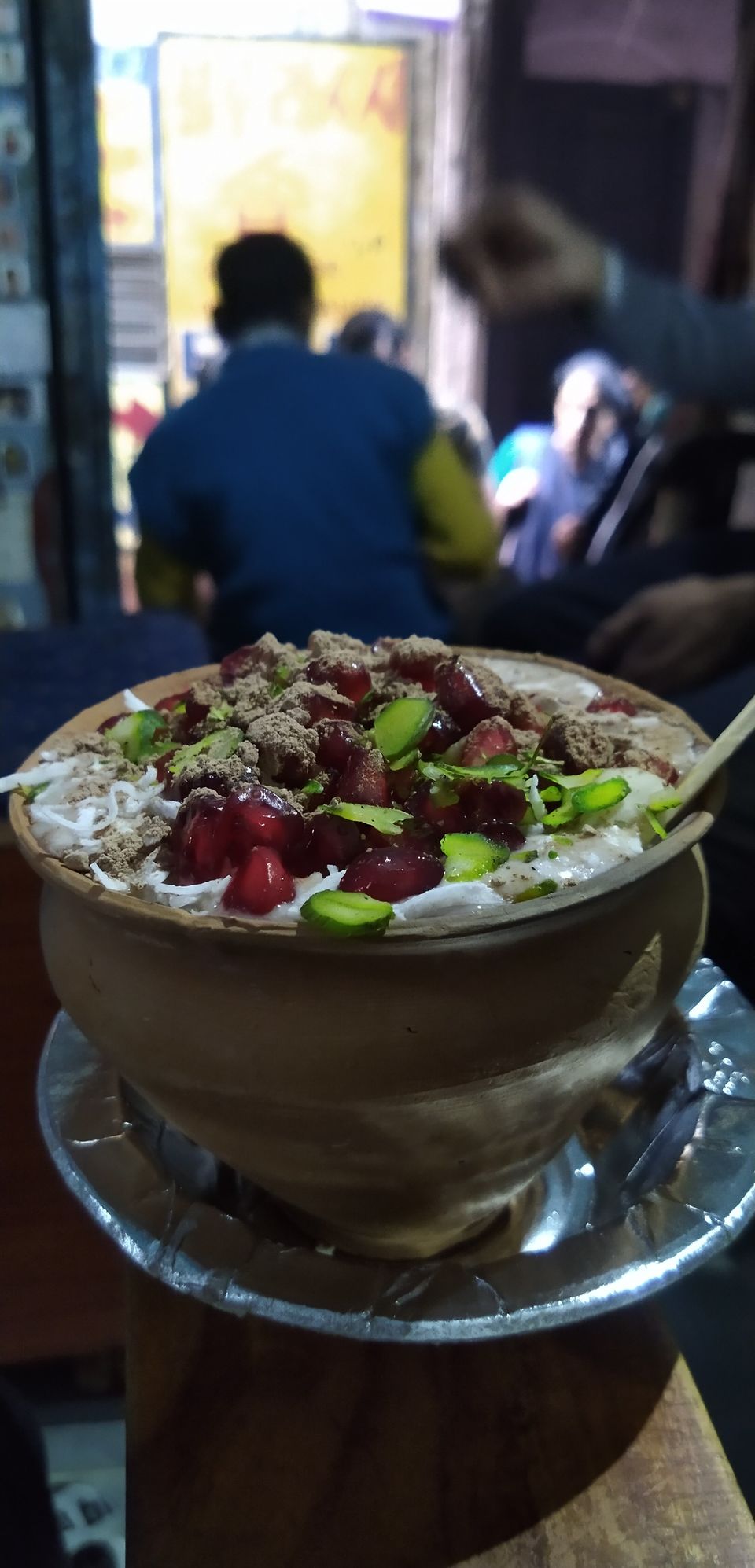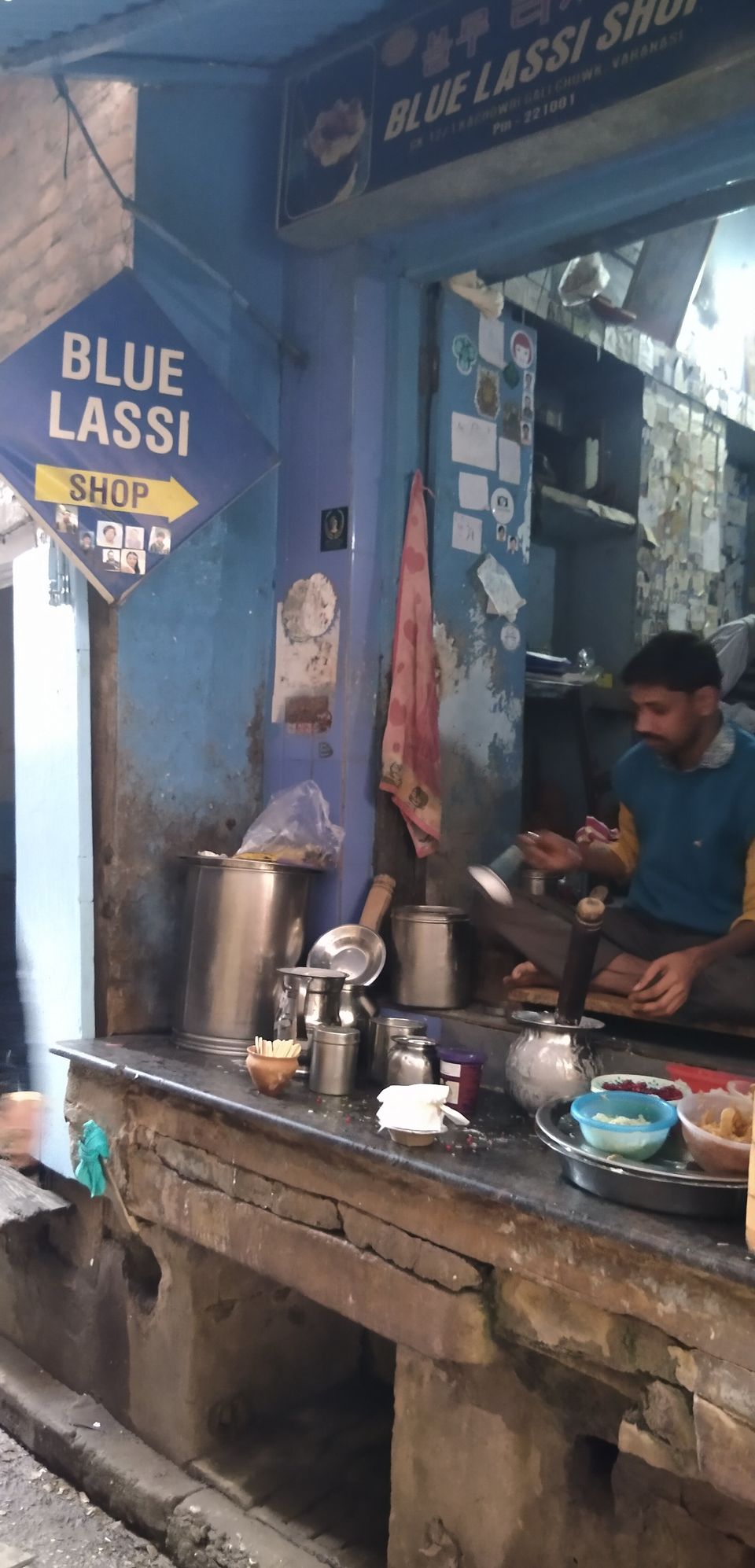 I had my train back to Delhi in evening and so I took some rest made some friends in the common room of Zostel and headed back with an amazing experience and treasured memories bidding goodbye and promising it at the same time to visit again…