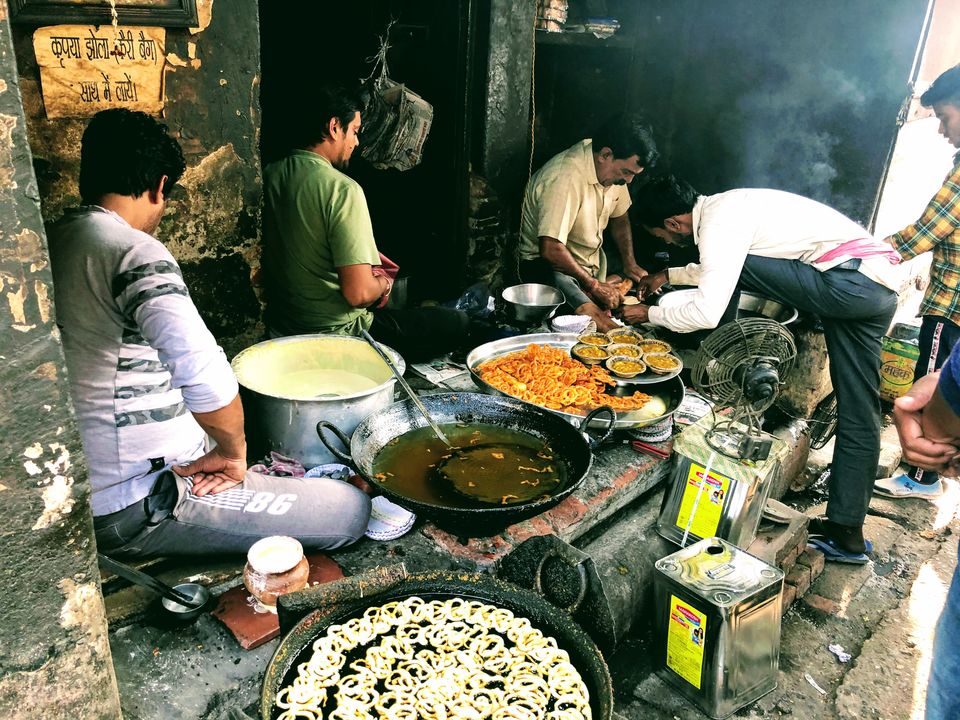 Varanasi, Benaras or Kashi - one of the oldest cities in the world - known for its religious importance, contribution to literature and culture, weaving and sarees, temples and ghats and what not. But lets be honest, when somebody says Varanasi - Whats the first thing that comes to mind ? Mouth watering food.
So not surprisingly, food was the central theme for our trip too. And here's what all you "have to eat" in Varanasi
1. Kachori Sabji
The most common breakfast in Varanasi - Kachori sabji or Poori Sabji. Where to eat that? actually anywhere. It is difficult to find a street without a temple, a kachori sabji shop and a lassi shop in Varanasi. And most of them taste good. But still some are tastier than others.
We ate kachori sabji at four places - the best I liked was the widely recommended The Ram Bhandar in Thateri Bazaar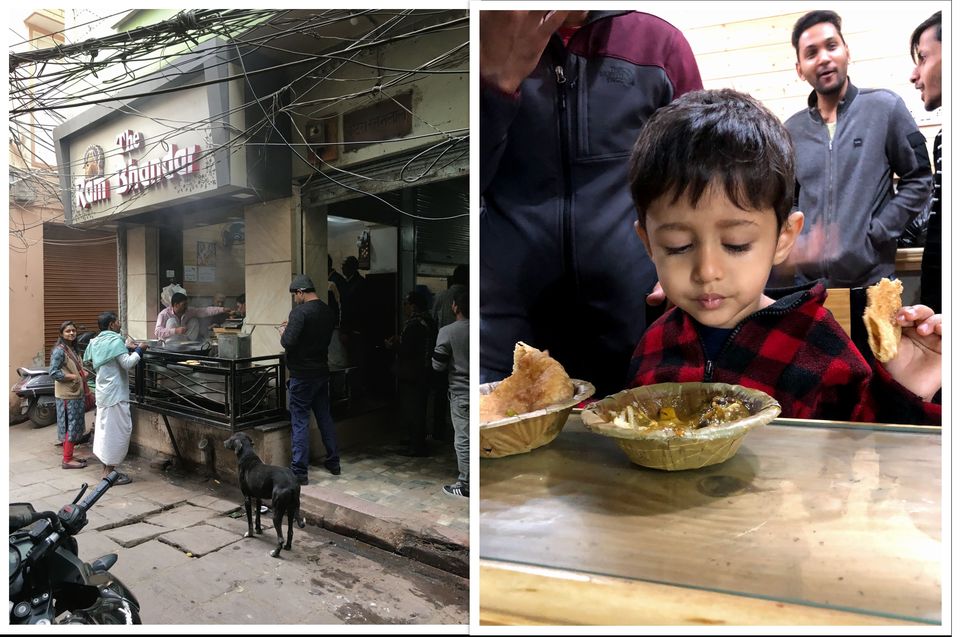 Another must try shop is "Chachi or Budiya ki Dukaan" - in the Assi Ghat area - Guru Ravidass Gate. A word of caution - it is always difficult to find a shop in Benaras. Of course, a shop without a name board and location told as under the peepal tree, will be difficult to locate. Often following the crowd works. And there was a lot of crowd at Chachi ki dukaan !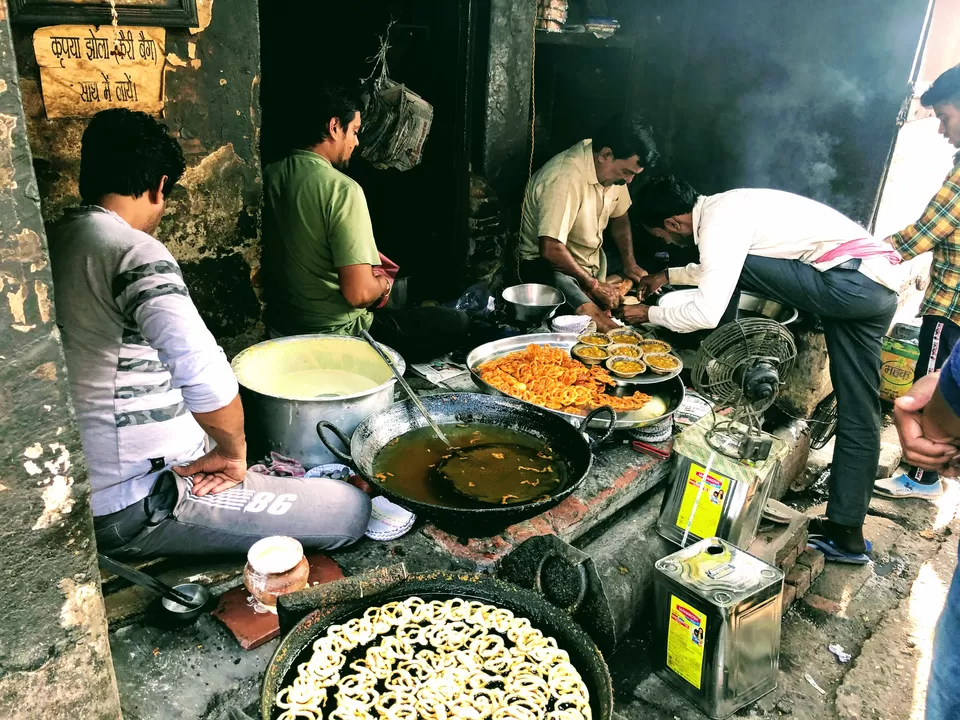 2. Lassi
What to follow up the heavy kachori sabji breakfast with? A heavier Lassi, along with rabri if you wish.
Every corner in Benaras has a lassi shop. There is Rajaram lassi close to Ram Bhandaar, and Pahalwan Lassi just around the corner from Chachi ki Dukaan. And the most famous lassi shop (among tourists) - Blue Lassi - which serves Lassi in innumerable flavors. I had Lassi at these shops and unknown shops too - liked them all.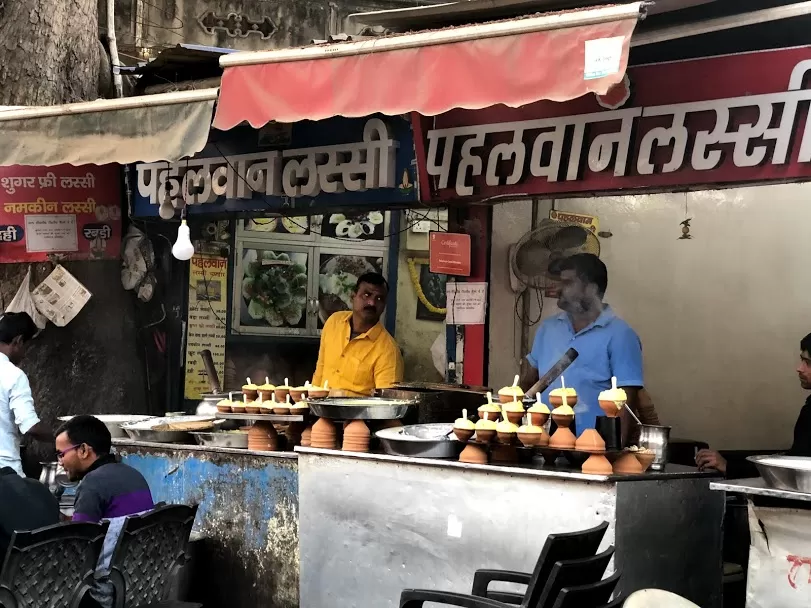 3. Tea
Tea in Benaras is a bit different, but good, specially in Kulhad. If you are around Assi ghat, have tea at Kashi Cafe. There is also a special frothed coffee served in Kulhad at a stall on Assi Ghat, try it out yourself to see whats the hype about :)
And do not miss the liquor tea - which is the name for special black tea they make with mint, lemon, ginger, some kind of jaljeera masala. We had it at Pappu tea stall in assi ghat area - and when we asked him what was the masala he added - he said its a secret ;-)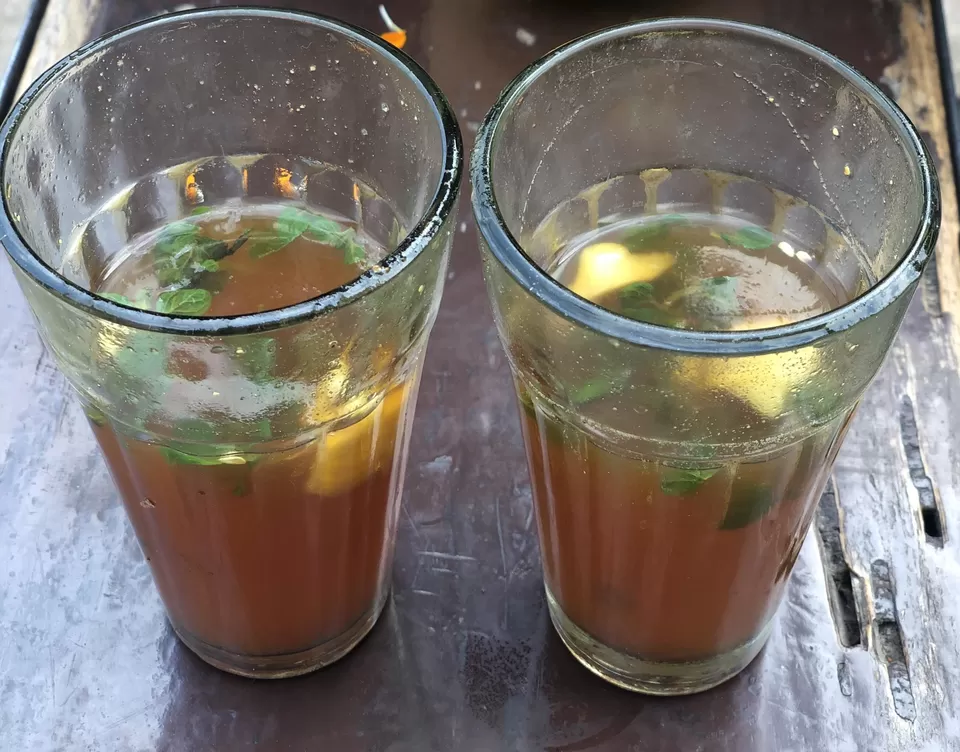 4. Chaat
You get good chaat at multiple places in Benaras, but just go for the best - Deena chaat bhandar. Recommendations to eat at Deena? have everything on the menu :-D. I loved all their Chaats, Dahi Bhalla and Alu Tikki . Should also try Samosa chat, Tamatar chat and Chura Matar. Keep in mind that chaat shops open only by afternoon (2 pm) till night.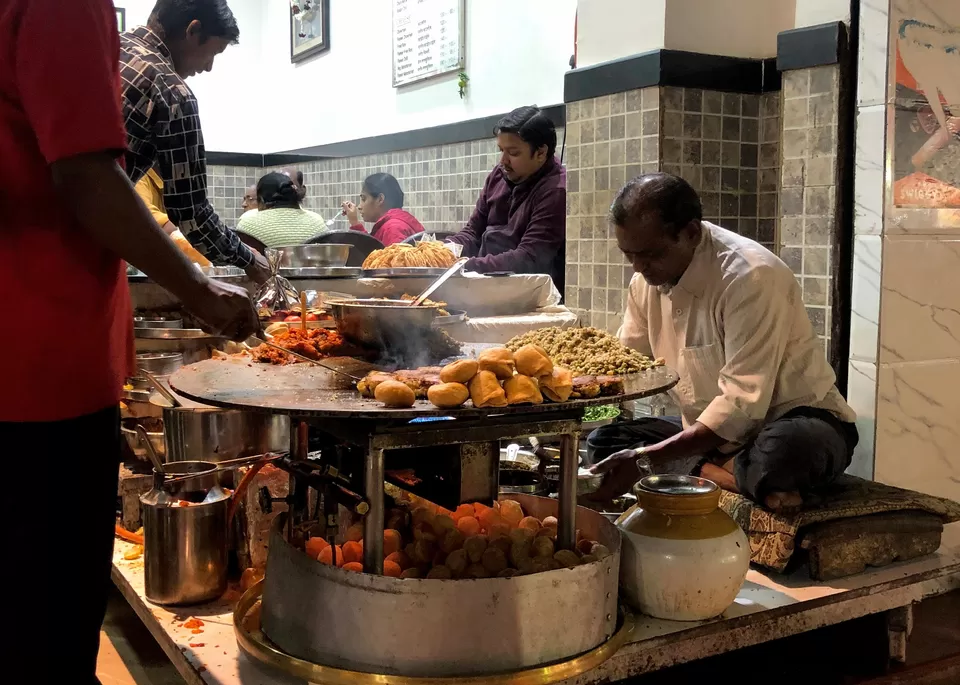 5. Thandai
Thandai and Bhaang ought to be important at a place where Lord Shiva is the main deity. You will find plenty of Thandai shops in Godowlia (area near the Kashi Vishwanath Temple). They add Bhaang if (and only if) asked for.
There are 3-4 thandai shops at a prominent location at Godowlia Chowk. But I wanted to have it at the more "recommended" ones - Vishwanath Thandai and Baba Thandai. Locating them was a real deal, and though their thandai was good; the best one for me was actually back at Godowlia Chowk - I think the shop was called Raju Thandai. (You may want to ask them to skip the malai and make thandai only with milk - tasted better for me that way)
Malaiyo - a sweet preparation from milk exclusive to Benaras (only in winters). It has a unique frothy foamy texture and taste. I have not eaten anything like malaiyo anywhere else. For the best Malaiyo, head on to Shreeji Sweets opposite Gopal Mandir in Thatheri Bazaar. Even if you do not believe me, believe the crowd :)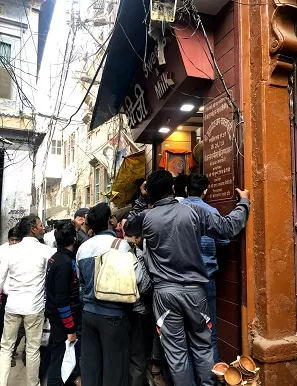 Tip - avoid Sundays if possible, crowd was not bad on other days
7. Paan
Khaike paan banaras waala.....Benaras paan is famous from decades if not from centuries. Every person in Benaras has paan in his mouth all the time.
One of the best shops I had Paan at was "Keshav Tambul Bhandaar" at Guru Ravidass Gate (Assi Ghat area). Of course there are many famous paan shops in Benaras, but once I found this shop, I did not feel the need to look for another one. I liked the paan here so much that I shifted from meetha paan to sada paan. The light green leaf in Benaras paan just melts in the mouth compared to dark green paan we typically have.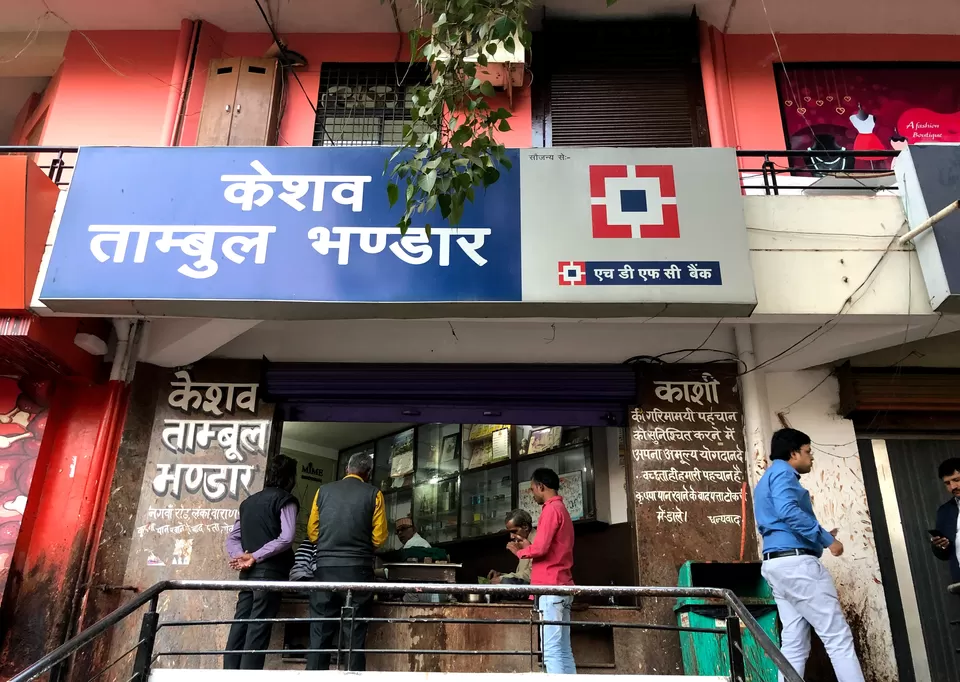 8. Kadai Milk and Rabri
Kadai vaala dhudh with saffron and dryfruits - a winter favorite - is the best thing to end the day with. Made even more special in Benaras with the Rabri. Head on to Godowlia chowk in night to savour this delicious milk - ask for extra rabri if you will :-)
9. Sweets
Sweets are not in my top charts for Varanasi. But you do get really good bengali sweets like rajbhog, rasgulla, and Benaras specialties like Laung Lata and Lal Peda. You can head to Ksheersagar - it has multiple branches across the city, with the oldest one being at Godowlia. Try Laung Lata for its unique flavour.
10. Cafes
Varanasi has been long popular with international tourists, who stay here for extended periods, some even end up staying back forever. So while Benaras is epitome of North Indian food, you find great cafes with the best continental food. Two of them which we visited and loved - Brown Bread Bakery (Bengali Tola market) and Pizzeria Vatika (Assi Ghat).
Though a German bakery, there is a live Indian Classical music performance at brown bread bakery every night. Make sure you visit the real one, as there are fake brown bread bakeries too.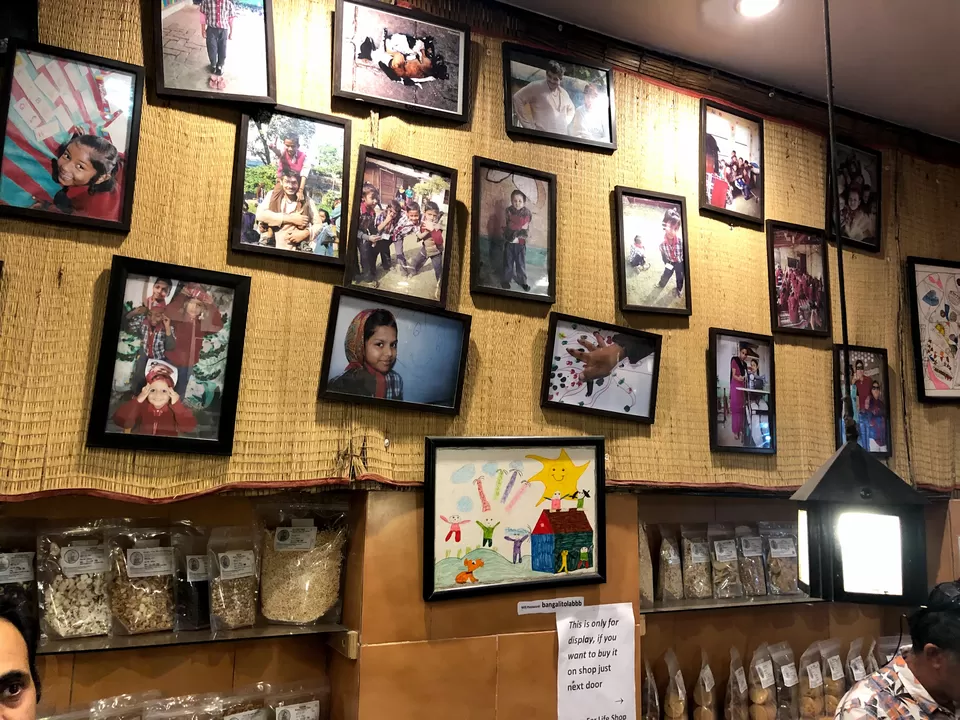 Visit Pizzeria Vatika for the wood fired thin crust Pizzas, views of Ganga and the best apple pie.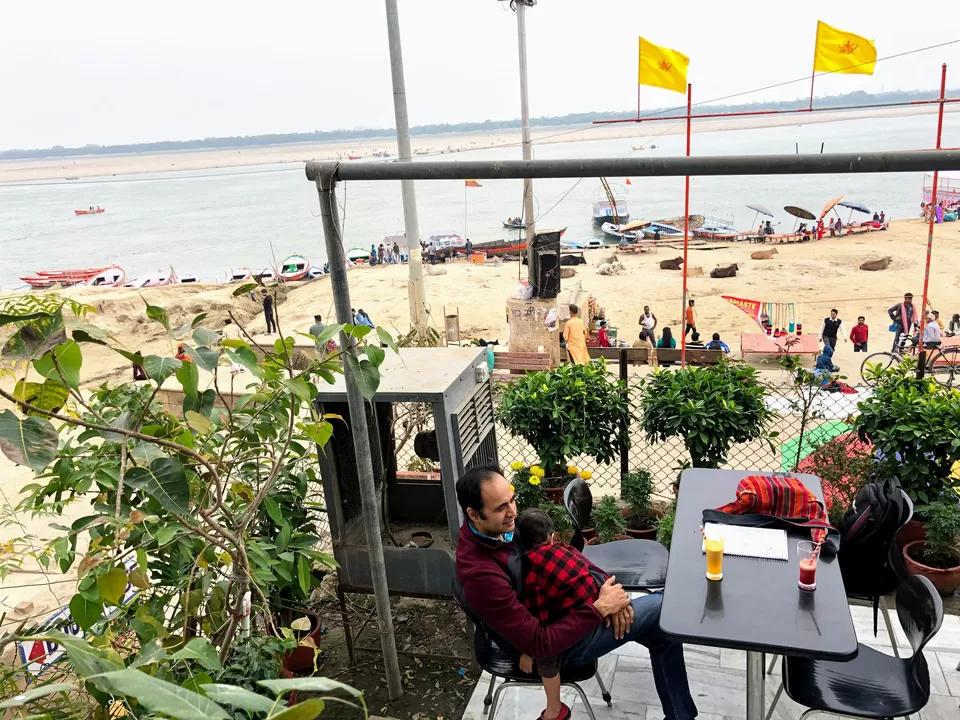 So next time in Varanasi, prepare your stomach well and follow the mantra - Eat, Eat, Repeat :-)