Ha Long tourism overview
Ha Long Bay is a world natural heritage recognized by UNESSCO. Ha Long is likened to "A huge and immensely vivid water picture", which is an invaluable gift that nature bestows on Quang Ninh in particular and our country's tourism industry in general.
The atmosphere of Ha Long is very fresh, the scenery is beautiful, the seafood is also delicious with specialties of "peanuts". Generally going to Ha Long, you will feel great.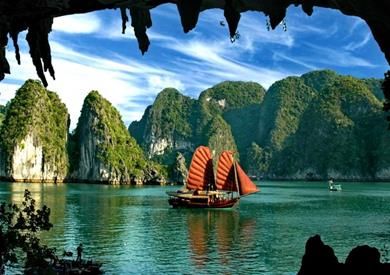 Should you travel to Ha Long when? The most beautiful time of Ha Long tourism
Ha Long travel season, the most beautiful month? Choosing the time to travel to Ha Long is also very important, affecting your trip. Foreign tourists often prefer to go in winter, starting from November until Tet. Because winter is their holiday. The rest is scattered all year round.
For domestic tourists, often travel to Ha Long much in the summer, from May to July. The psychology is to go on vacation is the main combination with visiting Ha Long Bay. This is also the time when students get a summer break, so they will go with their families.
Objectively speaking, the most beautiful time in Ha Long is in the autumn, from October 8-10. In addition, from April 4-5 Ha Long Bay is also very beautiful.
Ha Long travel experience is self-sufficient, for those in Saigon area who want to go to Ha Long, it should be noted to avoid in winter and after Tet. Because the weather in the north is full of fog at this time, if there is mist in the bay, the landscape will not be visited.
Autumn in Ha Long Bay is very beautiful, the time from September to November in Ha Long is always sunny and beautiful, the weather is still not very cold. There are fewer storms at this time.
If you travel to Ha Long in June-July, there are often typhoons pouring into the North. It rains, the landscape on the bay will be more gloomy, may be banned from allowing cruise ships to take tourists to the bay and sleep at night on the bay.
Prepare Ha Long travel luggage / Necessary items
Ha Long tourism needs to bring what? Prepare clothes, sunscreen, medicine, swimwear, shoes .... are the things you need to prepare for your trip:
In the summer Ha Long has famous beaches so for women it is recommended to bring sunscreen to protect their skin.
Do not forget to bring a pair of sunglasses, a wide-brimmed hat and a pair of cardboard for ease of travel
Swimwear for renting will cost you a lot and don't forget to bring your camera to record your best moments.
Road to Ha Long / Transport to Ha Long nearest
Going from Hanoi / Saigon -> Ha Long
How many km from Hanoi to Quang Ninh? 170km from Hanoi, the time to travel to Ha Long is about 3-4 hours by car. The way from Hanoi to Ha Long, you can go by the following means:
+ Cars: Cars to Ha Long usually gather at My Dinh bus station, Luong Yen, the first trip departs at 6 am and the last at 17:00 pm. Trips are between 5-15 minutes to Bai Chay bus station in Ha Long. Fares range from 100k / person (seats) and 200k / person (lying bed).
do you want see more review ?
Halong Bay is a famous tourist destination of Vietnam, located in the west coast of Tonkin Gulf in the Northeastern Vietnam area. With thousands of magnificent islands, miraculous fruits of creation, Ha Long Bay has been recognized by UNESCO many times as a natural heritage of the world. Ha Long tourism has the advantage of beautiful scenery, attractive to domestic and international tourists.