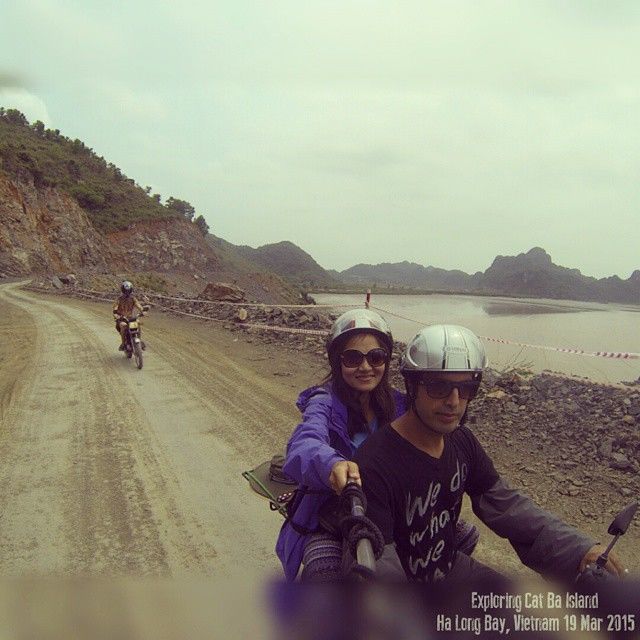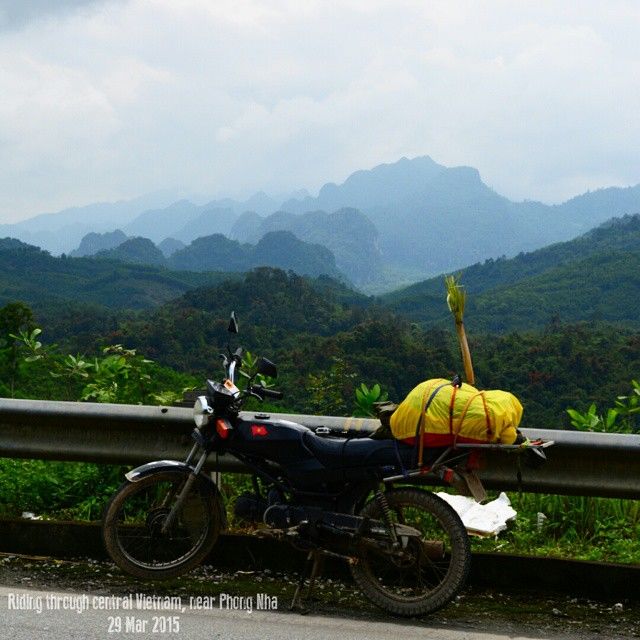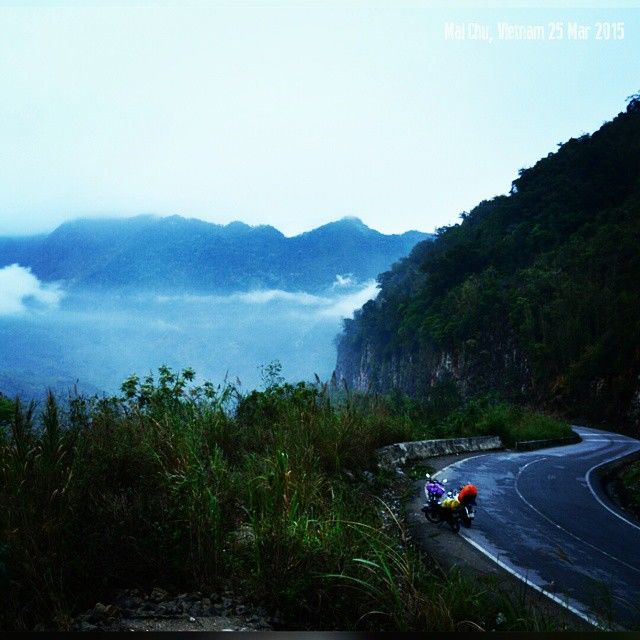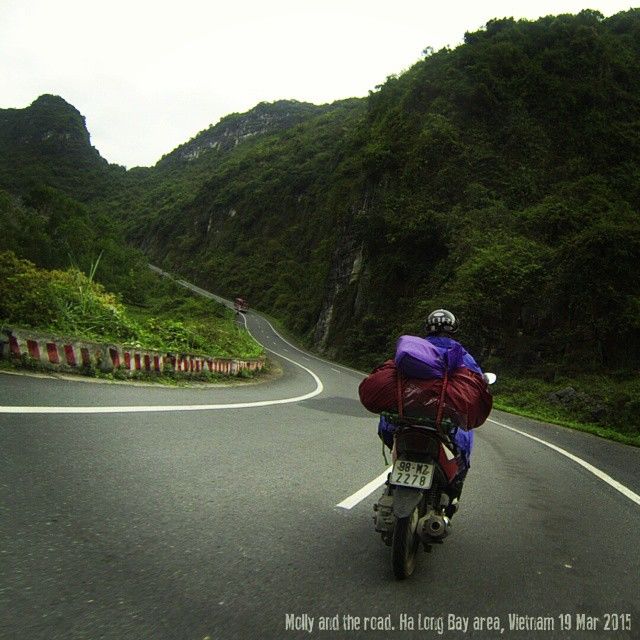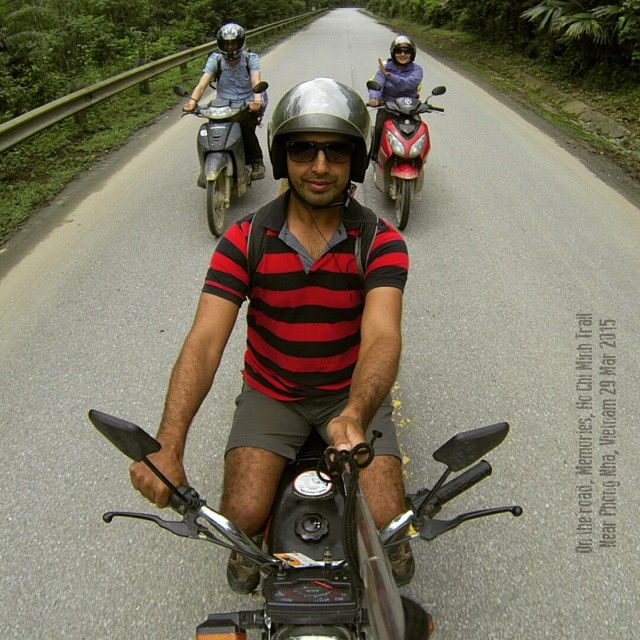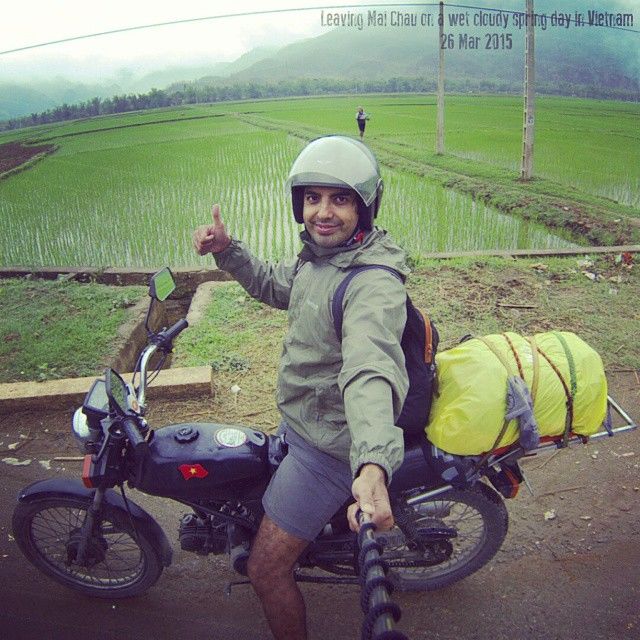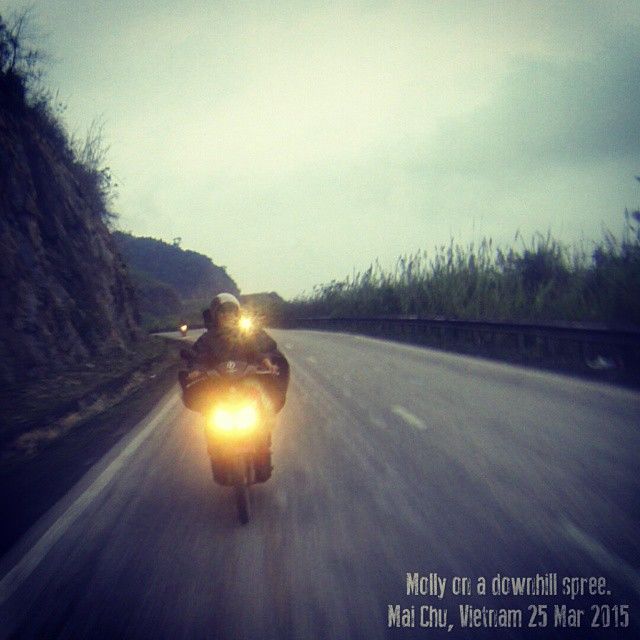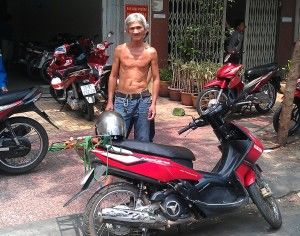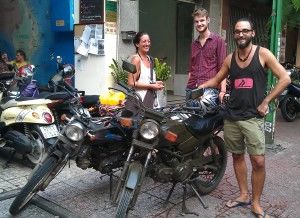 Route – Hanoi to Saigon
Days – 26
On the last day, riding 300 km from Dalat to Saigon, we completed our 2300 km+ road trip from Hanoi to Saigon. We arrived in Saigon and crashed in a restaurant to have our lunch/dinner & few beers. It was a wonderful experience to spend the last 26 days on road (more or less) on our bikes. It took us across the length of Vietnam, in the mountains, in the valleys, through cities and some rocky terrain. With no bike troubles we were lucky.
Buying Bikes:
We arrived in Hanoi, Vietnam on 11 March 2015 with the intention of riding the length of Vietnam. I made up my mind to ride when I met few backpackers while in Malaysia. When we arrived we bought 2 bikes – a manual Honda Win 110 cc for me and Yamaha Nouvo 125 cc automatic for Molly. Buying and selling of bikes is easy and you will find buyers and sellers both in Hanoi and Saigon. Ours one costed us $250 each. Our 3rd Amigo was Alex, a smart young man from Canada who a rode Honda Wave.
Places to buy/sell bike in Hanoi:
1. Ngõ Huyện, Hanoi, Vietnam (this is the road where Hanoi Backpackers Hostel is).
2. Hàm Tử Quan, Hanoi, Vietnam (right at the east side)
3. Chùa Hà, Hanoi, Vietnam (whole street to buy n sell bikes, many many bikes to try)
Places to buy/sell bike in Ho Chi Minh City
1. Bùi Viện, Ho Chi Minh City, Ho Chi Minh, Vietnam (many buyers n sellers)
The short Ha Long Bay and Vietnam Village Trip:
Before we took off from Hanoi we went on our bikes to Cat Ba Island (Ha Long Bay Area) and to a Vietnam village 250 km away to attend a wedding. This way we got more familiar with the Vietnam roads and traffic and had more confidence in our bikes. This was around 800 km in total.
On The Road:
We hit the road and on our first day we did 8 km. Yes you read it right only 8 km. It was a rainy day, we left at 3:30 pm and after 8 km I realised that I have not collected our passports from the hotel so I had to go back to get my passports. On average we did (like to do 100-150 km), around 3-4 hours of riding. It took 26 days because we stayed for more than few days in Phong Nha, Hue, Hoi An and Dalat. One can easily do this in 2 weeks. Here are some of the key advantages in Vietnam.
+ Mechanics everywhere – Apart from few remote routes there are mechanics and people who can fix the bike everywhere.
+ Good AC hotel rooms for $10 USD, yes less than £7 for 2 people, sometime including breakfast.
+ Petrol is just under 18000VND or 55p per litre. My Honda Win runs 100km on a 1.5 litre of petrol.
+ Food, water and beer is available everywhere, if nothing you can still get Phở everywhere (beef noodle soup), for vegetarians it can be slightly challenging.
+ Vietnam has so many beautiful towns to visit and to live in. Dalat was a beautiful hill-station. Hoi An is a place where time slows down. Phong Nha has some of the biggest caves on earth. Hue is nice old town. We still did not visit Mui Ne and Nha Trang and Mekong Delta. Hopefully in our next trip we will.
Selling Bikes in Saigon:
Selling bikes in Saigon isn't difficult. One can either sell the bikes to other backpackers by putting up handouts sheets on the notice boards at one of the many Backpackers hostels OR one of the local dealers. We were able to sell our bikes in 48 hours of arriving to Saigon. In total we lost mere $30 in total both both bikes.
Molly's bike was sold to one of the local dealers. While riding on Đỗ Quang Đẩu street I was pulled by one local dealer who went for a quick test ride and after negotiation offered £155. We The deal was struck.
I did not have any problem either in selling my motorbike. A French dude was bought the bike from me after few meetings and chit chat.
As I wrote this we were planning to shoot off to Cambodia to visit Angkor Wat which I have been wanting to see for a long time.
Cities Travelled (no of nights stayed):
1. Hanoi ( 1 )
2. Mai Châu ( 1 )
3. Ngọc Lặc ( 1 )
4. Vinh ( 1 )
5. Khách Sạn Hoàng Ngọc ( 1 )
6. Phong Nha-Kẻ Bàng ( 4 )
7. Khe Sanh ( 1 )
8. A Lưới ( 1 )
9. Huế ( 2 )
10. Hội An ( 5 )
11. Khâm Đức (1 )
12. Chợ Plei Cần ( 1 )
13. Pleiku ( 1 )
14. Ban Me Thuot ( 1 )
15. Da Lat ( 3 )
16. Sai Gon
This trip was originally published on Planet MnM.
Frequent Searches Leading To This Page:-
India To Vietnam Flight Cost, Hyd To Vietnam Tour Package, Vietnam Travel Package Deals, Northern Vietnam Tour Package, Cheapest Vietnam Tour Package From India, Vietnam Tour Package From Kerala, Vietnam Tour Package For 3 Days