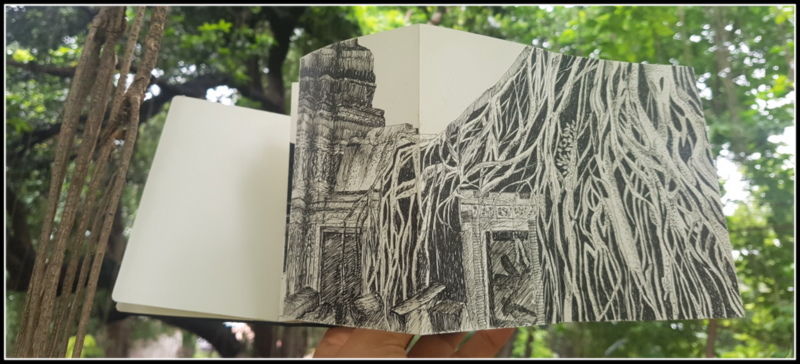 The little black book from Cambodia and Vietnam is my memoir of the great time spent exploring two spectacular countries. For a backpacker the two countries offer a promising adventure filled and gastronomically delightful trip.
The memoir begins with the Sunset at the Pre Rup and has been sketched right on the spot as the last rays dimmed on the forest laying overhead making me realize that yes, I have finally arrived.
Watch as the memoir takes you from the Angkor Wat temple, the largest of its kind in the world and a remarkable World heritage site to the land of Lara Croft (aka Ta Prohm temple) reclaimed by nature, into the butterfly farms, across the Bayon and right onto the war fields of Cu Chi tunnels of Vietnam. Move to Saigon- the city of lights and bikes, peddle your way through the Mekong delta and traverse through the picturesque by-lanes of Hoi An, enjoy the lanterns there and end the trip with a cruise to the Halong Bay!
Glimpse through the folds of the memoir into the unabashed beauty and the dazzle of simplicity that Cambodia and Vietnam offer.