My work takes me around the world, and at times (once my business meetings are over) I am lucky enough to unleash the explorer in me. There's truly nothing more I relish than getting my sports shoes on, all set to explore a completely new destination that I have no knowledge about. I recently experienced a wonderful week-long adventure in Abu Dhabi, the capital of the United Arab Emirates, when I wrapped up a project there earlier than expected. Deciding where to go next, I browsed through the long list of impressive experiences that the emirate has to offer. That is when I came across a picture of the majestic Yas Island, beckoning me to its white-sand shores. I knew that this was a call that had to be answered.
Losing myself in the magic of Yas Island
Ever wanted to visit a place that is a hub for all kinds of adrenaline-packed activities and luxurious relaxation? That's Abu Dhabi's Yas Island for you. Every bit of this beautiful island is dedicated to offering visitors once-in-a-lifetime experiences. It is home to high-end shopping malls, luxury hotels, family-friendly theme parks and a fine, white-sand beach. It's no wonder that Yas Island is one of the most coveted tourist attractions in Abu Dhabi. Here are some of the experiences that I thoroughly enjoyed on the island of my dreams!
1. Ferrari World Abu Dhabi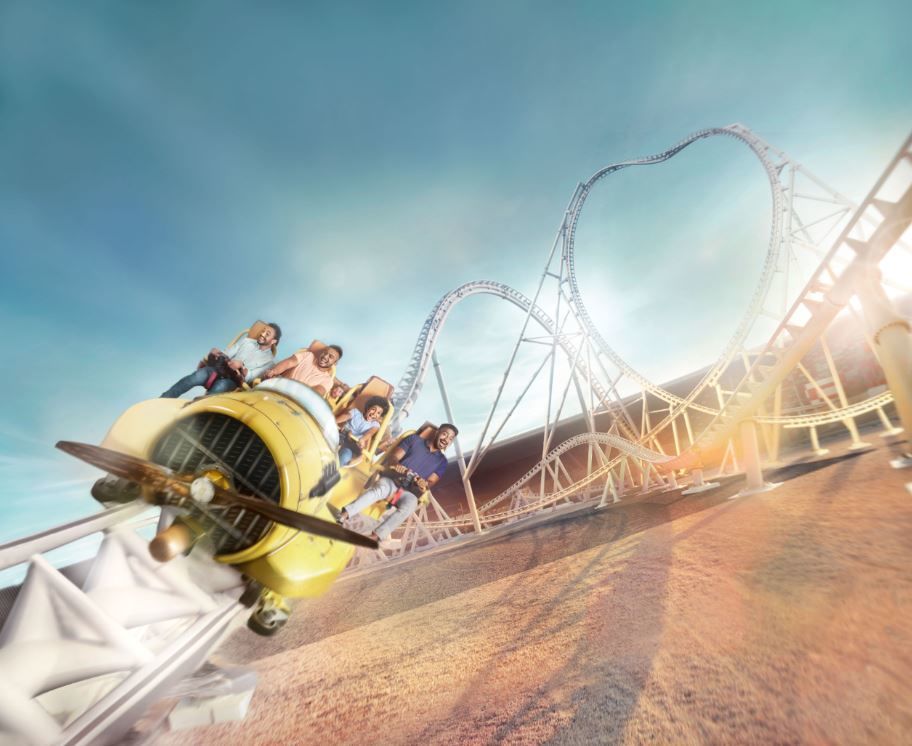 For me, a vacation isn't complete until I have experienced something so adventurous that I can feel the adrenaline pump through every inch of my body. And so, one look at the serpentine rides at Ferrari World Abu Dhabi was enough to get me excited. For those of you who don't know, Ferrari World Abu Dhabi is the world's first Ferrari-branded theme park. It offers the highest and fastest roller coasters in the world (among other incredible rides for people of all ages) that I guarantee will take your breath away!

I took up the daring challenge of riding the world's fastest roller-coaster, the Formula Rossa. This beast races up to a mind-boggling speed of 240km/hr in just 4.9 seconds! Other standout rides include the Flying Aces and Turbo Track. The former features the world's tallest roller coaster loop, and the latter will offer you an epic zero-gravity fall. There's also the Fiorano GT Challenge, where you can race your friends on twisting parallel tracks in a Ferrari F430 Spider. You should also try the Scuderia Challenge, featuring a state-of-the-art racing simulation that helps you train like a Ferrari driver. The Karting Academy, showcasing an electric indoor karting circuit and 80km/hr karts, will help you refine your racing skills, while the Junior Grand Prix allows children to drive scaled-down Ferrari F1 racing cars! If you're not in the mood for racing-inspired rides, enjoy shows and events featuring acrobats, optical illusions, and gravity-defying stunts.
Opening hours: 11.00am - 8.00pm daily
Learn more about the exciting rides and experiences at Ferrari World Abu Dhabi
2. Yas Waterworld Abu Dhabi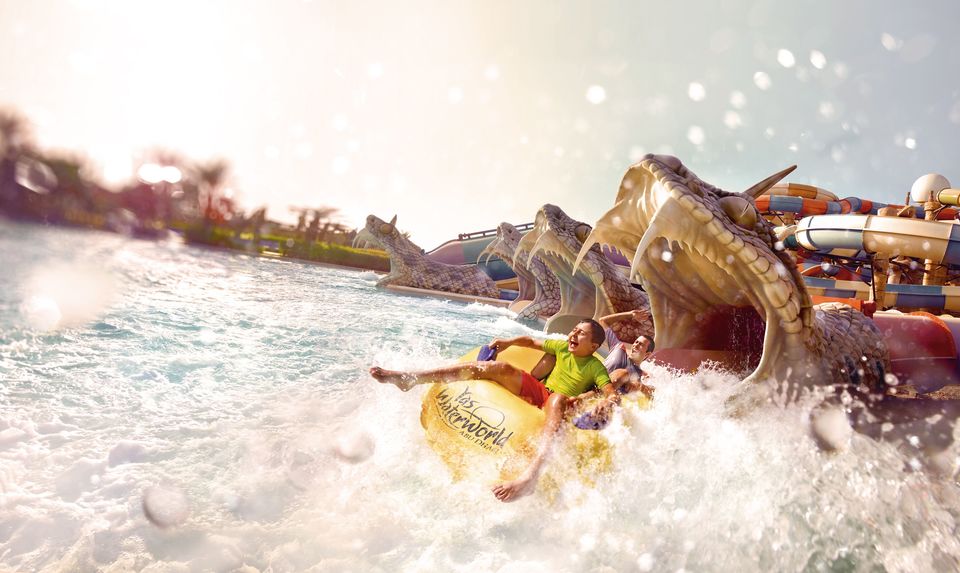 Yas Waterworld Abu Dhabi is called "water's greatest playground" for good reason! This place, with its infectious energy, is sure to bring out the inner child in you. Your time at Yas Waterworld Abu Dhabi will remind you of the glorious summer days of your childhood, when you'd have incessant water fights with your cousins and refuse to come out of the water on pool days. The park stands out for the creative ways in which its slithering slides, wave pools and water-based rides have been constructed. This is the ideal place for a day out with the family, and children, especially, will love this experience.

The park has over 40 rides, so you will want to spend one whole day at Yas Waterworld Abu Dhabi to experience it in all its glory. Enjoy Dawwama, the world's largest six-person tornado water coaster, Bubbles Barrel, the world's largest surfing sheet wave, and the kid-focused Marah Fortress, which boasts slides, dumping buckets, a water-shooting geyser, and water cannons! Other must-try rides include the Yadi Yas, that will take you on an action-packed ride along the Yadi Yas crazy river, Rush Rider, where you can try bodyboarding on an endless sheet wave, and crazy slide-drop rides such as the Liwa Loop, Jebel Drop and Hamlool's Humps. Don't forget to end the day with Water Wars, where you and your family can enjoy the ultimate water-balloon fight!
Opening hours: Please check Yas Waterworld Abu Dhabi's website for up-to-date opening hours.

See the fun you could have at Yas Waterworld Abu Dhabi.
3. Warner Bros. World Abu Dhabi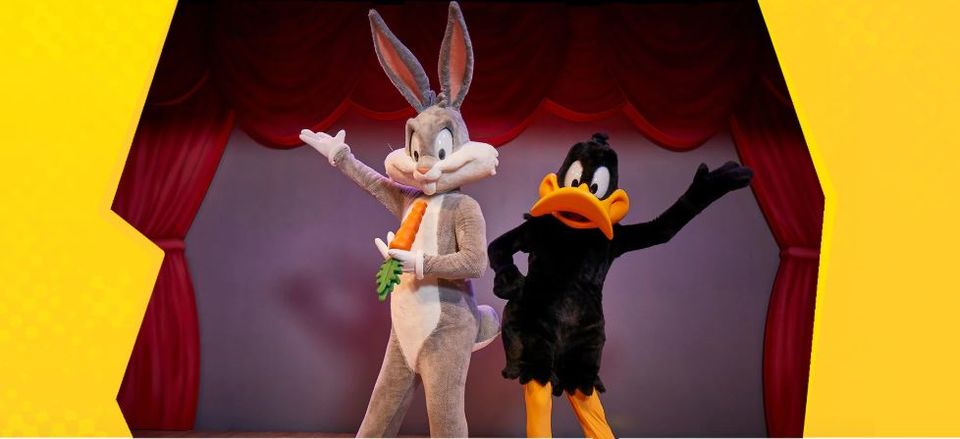 You may have visited gigantic theme parks in other parts of the world, but the indoor Warner Bros. World Abu Dhabi theme park offers experiences like no other. If you're a true Warner Bros. nerd, a visit here will be one to remember for a long time to come. The park has six lands – Warner Bros. Plaza, an ode to vintage Hollywood replete with amazing dining experiences; Bedrock, where you can step back in time with the modern stone-age family, The Flintstones; Dynamite Gulch, where you can unleash your inner crazy with the likes of Marvin the Martian, The Jetsons and the Road Runner; Cartoon Junction, where your childhood best friends such as Scooby Doo, Tom, and Jerry come alive; Gotham City, the home of Batman and a few supervillians, and; Metropolis, home to Superman and the Justice League!

Join your favourite animated characters and lose yourself in their fictional worlds. Solve mysteries with Scooby Doo and his friends, get transported across the cosmos on the Green Lantern: Galactic Odyssey 4D-flying-theatre experience, or join Batman, Superman and Wonder Woman on the good-vs-evil Justice League: Warworld Attacks 5D ride!
Opening hours: 10.00am - 8.00pm daily
Learn more about your favourite fictional lands at Warner Bros. World Abu Dhabi.
4. CLYMB™ Abu Dhabi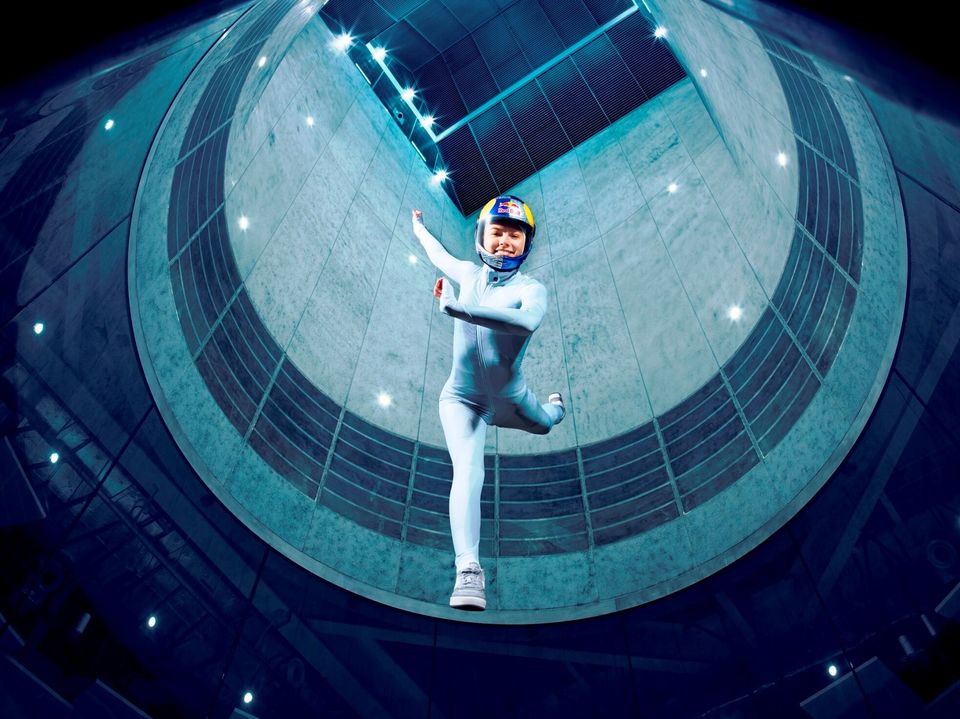 Throughout my trip, I was taken aback by the unique experiences that Abu Dhabi offers, but when I learned that the city had created the world's largest indoor sky-diving chamber, I was truly swept off my feet. As soon as I saw Clymb™ Abu Dhabi's iconic white structure, I knew I'd be impressed by its interior too.
CLYMB™ Abu Dhabi's indoor skydiving flight chamber shoots up to a whopping height of 104 feet, with a width of 32 feet. It's perfect for experiencing the sensation of a free fall, without having to jump out of a plane. If skydiving does not appeal to you at all (even indoors in a safe and controlled environment), you can have a go at the indoor climbing wall, which soars up to an unbelievable 141 feet. This is, as you would expect of Abu Dhabi, the world's tallest indoor climbing wall. There are five walls that you can choose from to match your level of climbing experience, namely the Boulder, Beginner, Intermediate, Advanced, and the Summyt.

Opening hours: Sunday to Thursday 11:00am – 10:00pm; Friday and Saturday 12:00pm – 11:00pm
Explore the ultimate adventure at Clymb™ Abu Dhabi.
5. Yas Mall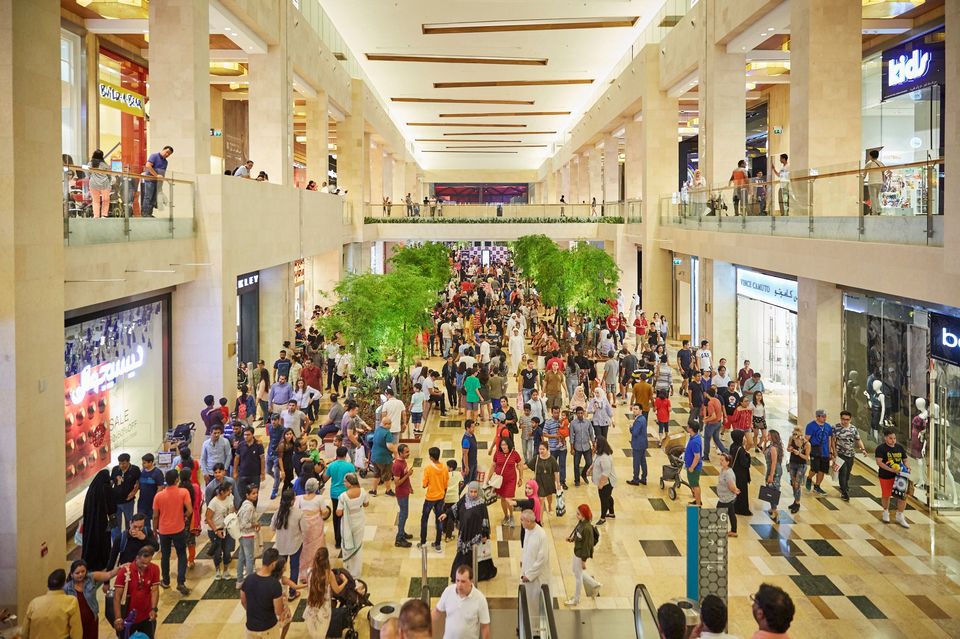 After three days enjoying some of the most thrilling experiences on Yas Island, I decided to kick back and relax with some good ol' retail therapy. Located in the heart of Yas Island, Yas Mall offers fantastic shopping, dining and entertainment experiences. Whether you want to shop for the latest fashion trends, home furnishings or electronics, the mall offers a wide range of options for men, women and children. Browse through a fine collection of stores, such as Aldo, Guess, Michael Kors, and Victoria's Secret, or go crazy shopping at Zara, H&M, Bershka and Sephora, to name a few.

If you're not interested in shopping, embark on a gastronomical adventure. Try Doner Kebab for scrumptious German Doner Kebabs, Shamiana for Indian tandoori cuisine, Taqado Mexican Kitchen for delicious burritos, tacos, quesadillas and more, or visit the trusted all-time favourites, KFC, McDonald's and Pizza Hut. Ladurée Paris has lip-smacking macaroons, Café Bateel is known for its Umbrian culinary heritage, and Chatime is perfect for an aromatic cuppa if you're missing home! I had the best meal of my life at Al Fanar Restaurant and Cafe - The Fountains, and I highly recommend it if you want to try authentic Emirati cuisine. The Koftak Samak (delicately spiced fish balls), Machboos Deyay (chicken cooked with yellow rice simmered in chicken stock with special Arabic spices and dry lemon), Beryani Laham (mutton with a mix of rice, onions and raisins), and the signature Kebab Emirati (mutton meat kebab marinated in the traditional style and served with a side of bread) will put you in the ultimate food coma – in a good way! For dessert, treat yourself to Khanfaroush (Emirati doughnuts) and Basbosa Al Fostoq (pistachio semolina cake). A visit to Yas Mall is the ultimate road to indulgence, in all ways.
Opening hours: Saturday to Wednesday 10.00am - 10.00pm; Thursday - Friday 10.00am - 12.00am
Take a look at Yas Mall's stores and restaurants here.

6. MAD on Yas Island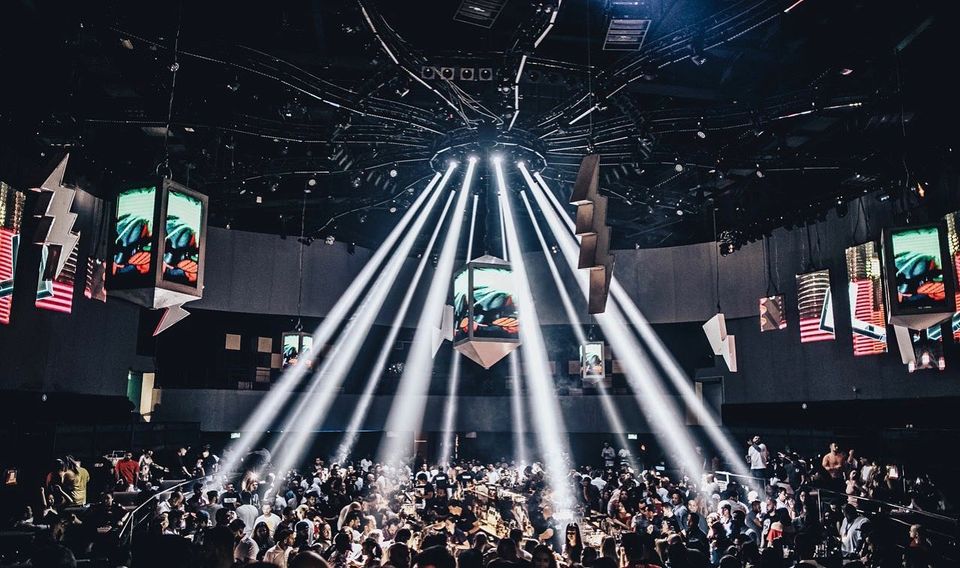 I put on my fanciest clothes and headed out to MAD on Yas Island, a nightclub renowned for its super-happening parties. From my first step inside, I was awed by the club's effervescent vibe. Showcasing 360-degree projection mapping, several animated LED screens, and over-the-top lighting, this club boasts the ultimate psychedelic atmosphere. So, it goes without saying, I partied all night and have zero regrets!

The club regularly hosts the world's best artists, DJs and musicians, so if you're heading to Yas Island, keep an eye out for the line-up lest you miss a set by a mega-star. The club's incredible themed parties and shows are also worth checking out. In short, if you're after a party, you'll find it at MAD on Yas Island.
Opening hours: Wednesday- Saturday 11.00pm - 4.00am; Sunday - Tuesday closed.
Check out what MAD on Yas Island has to offer!

7. Yas Marina Circuit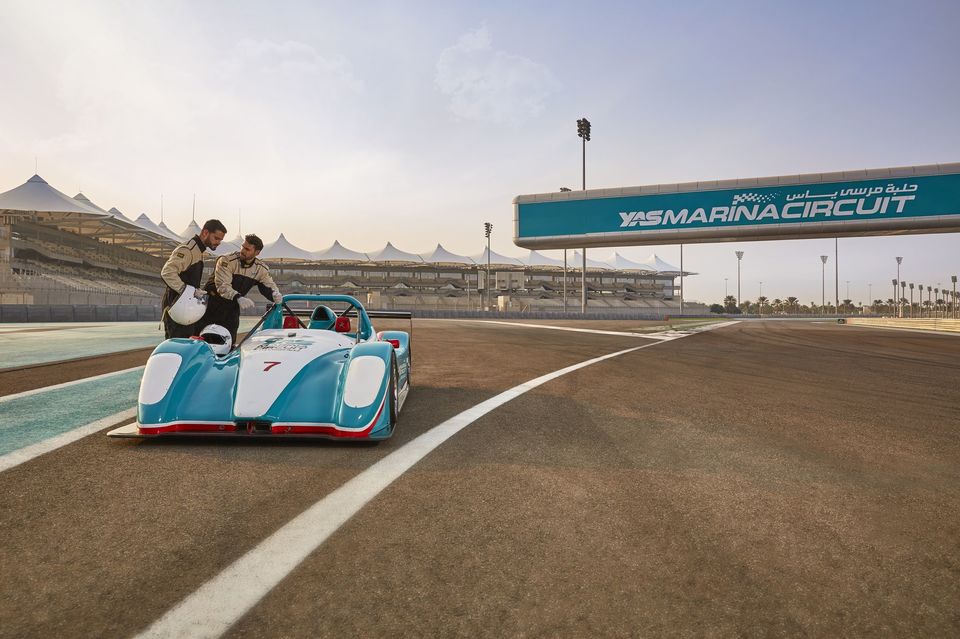 A visit to Yas Island is incomplete until you've explored the epic Yas Marina Circuit, which hosts the country's greatest annual event, the Formula 1™ Etihad Airways Abu Dhabi Grand Prix. At Yas Marina Circuit, tourists get an opportunity to channel their inner Formula 1 racers. I got behind the wheel of an Aston Martin GT4 (you can also opt for the Ferrari 458 GT4) to test my racing skills, and I have to say that in my swanky and super-sporty car, I felt just like the legendary Michael Schumacher himself.

If you'd like something even faster, try your hands at driving the Formula Yas 3000, a lightning-quick car that is the closest to an F1 car most people will ever drive. There's also the option to drag race the Mercedes AMG E-63, or take a spin in the legendary Caterham Seven, a modern reproduction of the old Lotus design. If you're a car geek, your dreams of driving the best race cars in the world will come true at Yas Marina Circuit!
Opening hours: 9.00am - 11.00pm daily
Learn all about the fantastic experiences on offer at Yas Marina Circuit.
8. Yas Beach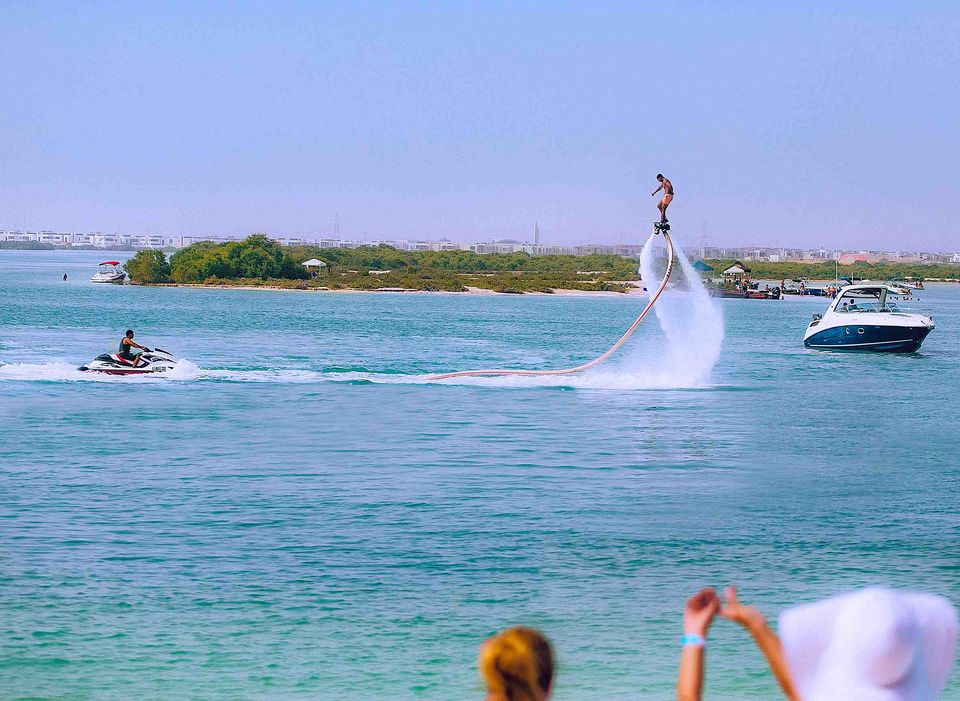 Ideal for those who love peace, solitude and nature, Yas Island's Yas Beach is truly a blessing. The ocean's serene blue waters and the beach's pristine white sands will inspire you to pause, grab a cocktail, relax on a sun lounger, and soak up the beauty of Abu Dhabi's coast.

Apart from chilling on the beach, you can also indulge in a number of activities and water sports such as jet skiing, double kayaking, banana boat riding, and even a game or two of volleyball! While all those experiences are great, the water activity that completely blew my mind was the Jetovator. A water-propelled bike-like machine, the Jetovator's water propulsion thrusts you high into the air, allowing you to perform impressive moves over the sea. If all that action works up an appetite, the beach is lined with food kiosks serving up delicious cuisines, from Italian to Arabic and more.
Opening hours: 10.00am - 7.00pm daily
Take a look at Yas Beach's offerings.
A travel experience I will cherish forever
As soon as I saw Yas Island, I knew my trip to Abu Dhabi was going to be next-level. But I had no idea just how amazed I would be by the wonders that I found around almost every corner. From sauntering along its gorgeous beach and tucking into delicious food, to screaming my lungs out on theme-park rides and partying the night away, my getaway to Yas Island is one that I'll always remember.
Have you visited Yas Island in Abu Dhabi? Share your experience by creating a blog on Tripoto.
In association with the Department of Culture and Tourism - Abu Dhabi.