Do you flock to extreme sports like a moth to a flame? Are you constantly trying to test your physical and mental endurance by putting yourself through remarkably challenging situations? Are you addicted to and consumed by that unmatched heady rush of adrenaline when you jump off a cliff or fling yourself out of an airplane? If you answered 'yes' to all of the above, you're an unquestionable thrill seeker driven by that dopamine rush, titillated by risk. From a host of exciting desert activities to water sports and even road-based sports, Abu Dhabi offers it all and is fast-emerging as one of the coolest and most popular destinations for thrill seekers. Here are some things to do in Abu Dhabi that'll test all your limits.
Things To Do In Abu Dhabi If You Have An Adventurous Soul
So without further ado, let's dive into the craziest thrills the wonderful emirate of Abu Dhabi has on offer for every daredevil out there!
Sandboarding
Bearing striking similarities to snowboarding, with the obvious difference being that this is done on sand instead of snow, this fun activity can either be performed with you strapped onto the board or, if you're willing to go that extra mile, even without! So ride this over sand dune crests and emerge a hero! The Liwa Oasis on the edges of Rub al-Khali has the world's largest sand dunes, towering hundreds of metres above the plains around and are a delight for sandboarders. This ranks high on the list of thrilling things to do in Abu Dhabi.
Cost: Approximately ₹3,500 per person
Duration: 3 hours
Wakeboarding
If you fancy the idea of being towed behind a boat at an approximate speed of 18 to 30km per hour you have to give wakeboarding a shot. Although it takes years of practice to perform acrobatic stunts and cool tricks in the air and in all probability you are going to fall into the water several times, if you're a water baby, you will have the time of your life with this one! All water enthusiasts should head to Al Forsan International Sports Resort. This amazing sports resort offers popular activities for all skill levels and guarantees you a good time.
Cost: Approximately ₹2,500 per person
Duration: 1 hour
Dune Bashing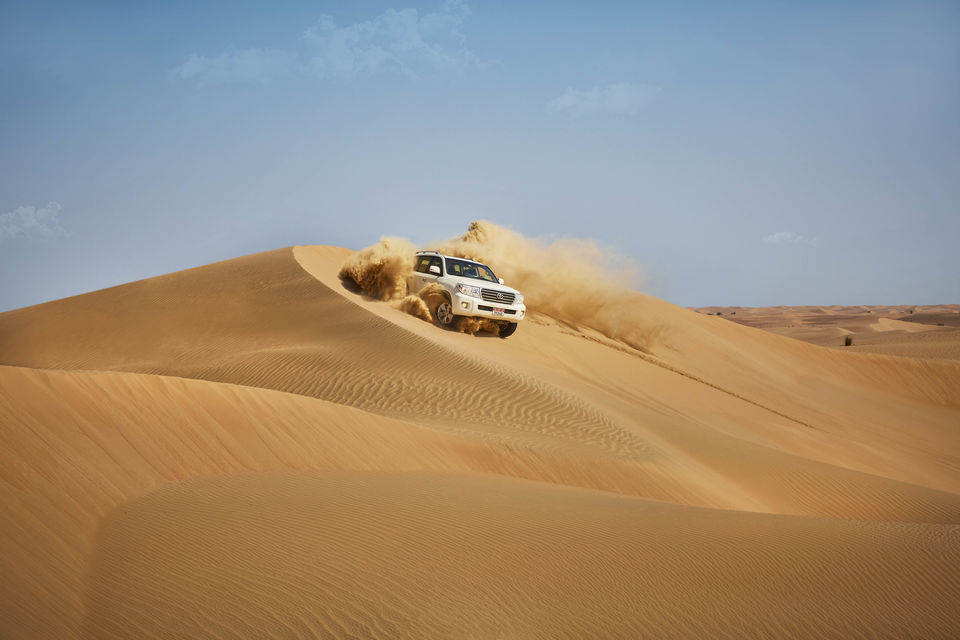 This is one of the more cliched things to do in Abu Dhabi but it's popular nonetheless. Zip across sand dunes at super high or low speeds in an SUV specially designed and equipped for this extreme sport and buckle up for the ride of your life. Your stomach will drop to your toes and your heart will do somersaults as your vehicle jets up and down sand dunes at high speeds, all of this among some glorious views of the oasis. Multiple tour operators offer this activity. Experience this in the desert expanses right outside the Liwa oasis in Al Dhafra.
Cost: Approximately ₹17,498 (1 to 4 people)
Duration: 45 minutes
Desert Quad Biking
If being a pillion rider is not your thing, and you like being in charge, why not give desert quad biking a shot? Get on a massive, four-wheeled ATV for the time and ride of your life. You can go as fast as you would like, so let your hair down and be as uninhibited as you want to be! Slip up and down sand dunes and get your blood pumping with incredible activity. There are various quad bike tours available in Abu Dhabi in places with a lot of sand dunes. You will get to pick from a variety of rides, such as 330cc (automatic), 400cc (automatic), 700cc (raptor with gear)! And what's cool is, these guided tours packages come with a package of evening and overnight desert safaris. This is one of the coolest things to do in Abu Dhabi that no one should miss.
Cost: ₹1,311 per person
Duration: 10 minutes
Whitewater Rafting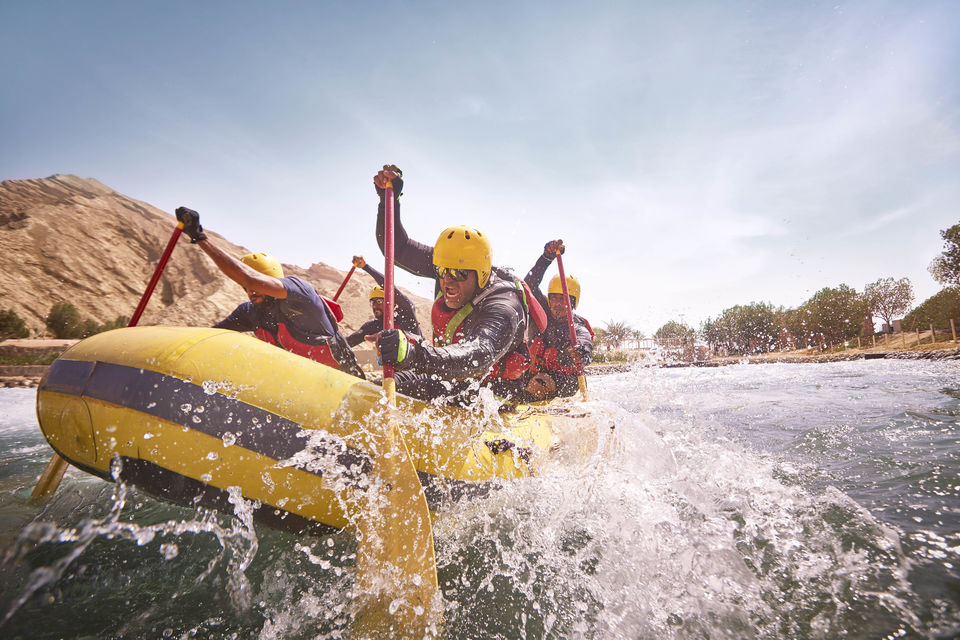 Although this is a river sport and Abu Dhabi has no rivers, that hasn't stopped this adventurous emirate from offering it as a water sport. Check out Wadi Adventure in Al Ain which has a man-made whitewater rafting experience bang in the middle of the desert. If it is your first time trying out this water sport, don't worry, there will be many instructors to guide you through it all. Abu Dhabi has really outdone itself with this one! If you want to experience the thrill of a lifetime be sure to go to Wadi Adventure, the Middle East's first man-made whitewater rafting, kayaking and surfing facility.
Wadi Adventure timings: 11am to 7pm
For more information, go here.
Kitesurfing
The kitesurfing community in Abu Dhabi is huge. These guys are usually found riding surfboards with a wind-catching parachute-like device attached to these boards. And it's a party for the surfers when a good breeze comes along and they get to zip and glide at a fast pace over waters. The most famous places for kitesurfing are Al Dabayyah and Yas Island.
Cost: The price of a new kite starts from ₹67,000 and that of a new board starts from ₹36,000
For lessons in kitesurfing, go here.
Banana boat ride
If you're a water enthusiast, add a banana boat ride to your list of things to do in Abu Dhabi. You have to check out the beautiful and super clean Corniche that boasts of a spectacular view and offers cool water sports. Be prepared to cling on to a massive inflatable banana boat as you're dragged along the water. Although it may look relatively easy, it's a lot more challenging than it appears to be. You'll be cruising along at high speeds, bouncing off waves, hanging on for dear life. Doesn't that sound like a fun activity to try with your friends and family? These rides sure make for an unforgettable time!
Cost: Approximately ₹2,640 per person
Duration: Approximately 10 minutes
Racing on an F1 track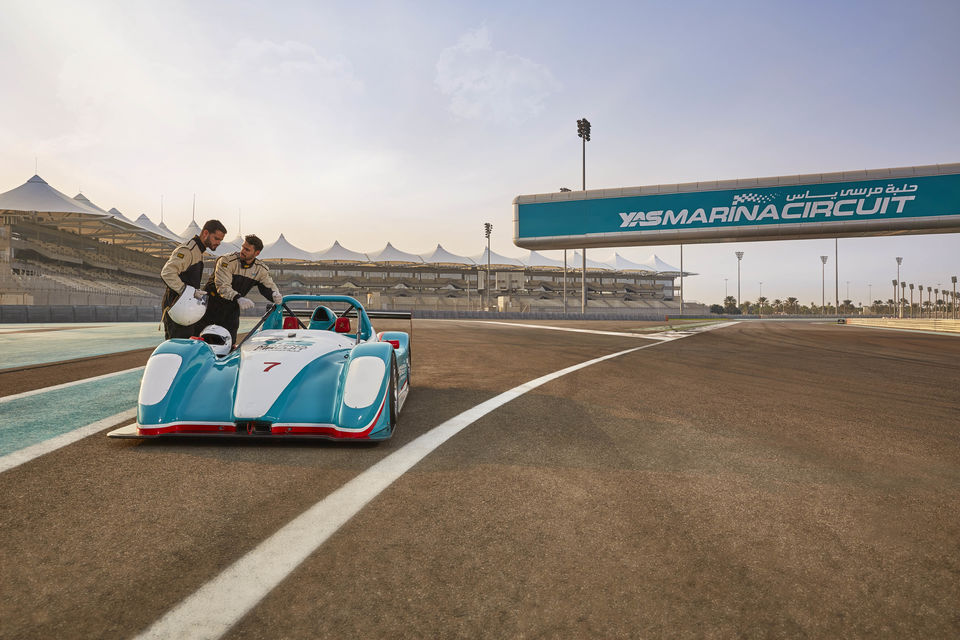 Abu Dhabi doesn't just offer water sports and desert activities, it also makes sure it's got road adventures covered! UAE's only Formula 1 racetrack is right here in Abu Dhabi and is known as the Yas Marina Circuit. When you zip on this phenomenal track with winding turns and corners, you're sure to feel like a champion. So what are you waiting for? Choose your ride, master the configurations, buckle in and hit the track with a vengeance for the biggest adrenaline rush of your life.
Cost: Price of ticket starts from ₹24,493
For more information, or to book tickets go here.
Surfing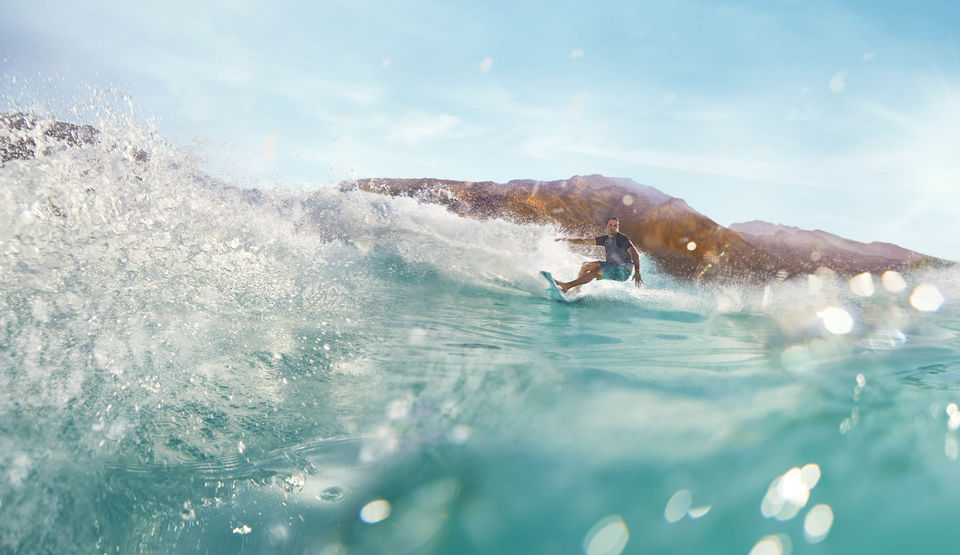 Since Abu Dhabi is surrounded by water, it is only natural for it to be the perfect place for surfing. Although not a predominant water sport, you will find quite a few enthusiasts of this pastime who dare to think of the ocean as their playground. So follow in the footsteps of these daredevils, jump on a board and ride along powerful waves at the public beach at Saadiyat Island, or Wadi Adventure, Al Ain, which is gifted with the backdrops of Jebel Hafeet.
Cost: Semi private surf hire in Wadi Adventure costs ₹17,490; Surf group lessons costs ₹2,623
For more information, go here.
Free diving
If you're willing to challenge yourself and try something a tad more dangerous, how does the idea of diving really deep and resurfacing sound to you? The catch is, all of this has to be done in one breath. This is known as freediving and is internationally recognised as one of the most dangerous sports in the world. Before you attempt this, make sure you're mentally prepared and take all precautions because there are chances one could suffer a blackout or even drown. FreedivingUAE teaches certified courses in Abu Dhabi which goes into the depth of not just theory but pool work.
Before attempting this, you must attend either the one day introductory course, two day foundation course, three day intermediate or four day advanced course.
Cost: The cost starts from ₹13,993
For more information, you can go here.

If you're craving an adrenaline fix after reading this article and are motivated enough to make Abu Dhabi your next adventure travel destination, grab your close friends and family and head to the land of exhilarating adventure. Book this itinerary to Abu Dhabi for a wholesome time with your loved ones.

So what are you waiting for? Visit Abu Dhabi for all the thrill seeking activities it offers and embark on the adventure of a lifetime. These awesome things to do in Abu Dhabi will give you an adrenaline high that won't abate easily.
Are you an adventure junkie? When was the last time you travelled to a destination that got your adrenaline pumping and heart racing? Share with Tripoto your experience.
In association with ezeego1.
Frequent searches leading to this page:-
top rhings to do in dubai, top things to do in dubai at night, top things to do in dubai with family, top things to do in dubai in 5 days