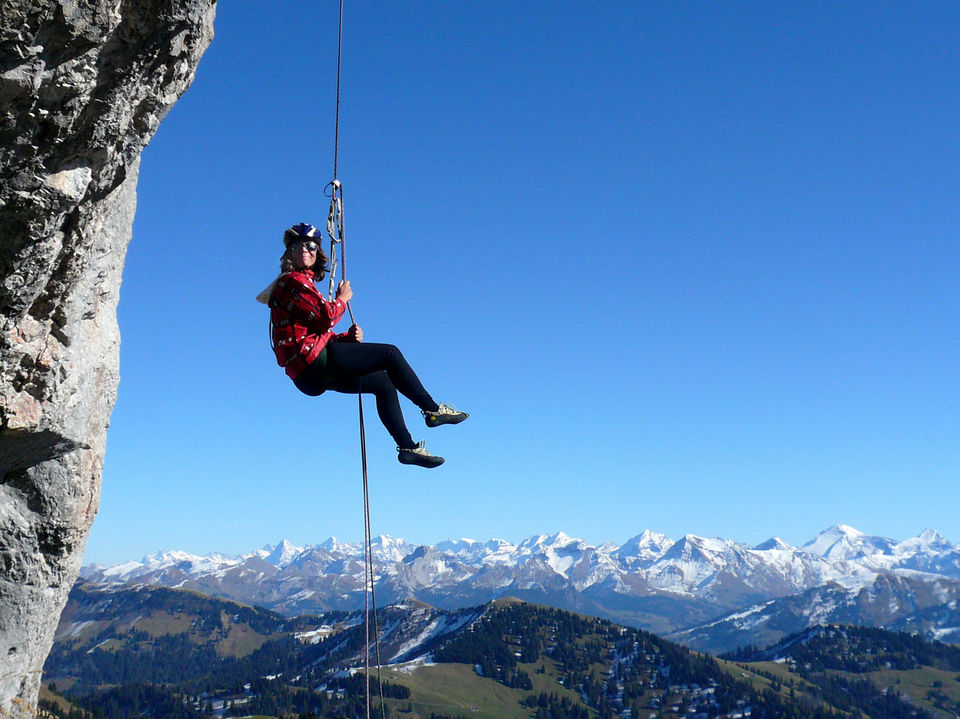 Surrounded by rainforests, fringed by golden beaches, mounted with volcanoes and dotted with ruins of ancient civilisations – Southeast Asia is a place so diverse that a visit to even the most conventional parts is a treat for all senses. Contrary to popular opinion, however, if you're travelling here, you don't have to just stick to temple visits, sightseeing and island hopping. If you're an adventure junkie, here is a list of the coolest adrenalin-pumping activities in the region to help you plan your 2018 vacations in the best way possible.
January: Kitesurf on Boracay Island in the Philippines
Start off the year with this action-packed activity. Kitesurfing is basically surfing, except you're attached to a kite and can perform aerial and water stunts at the same time! Boracay Island is amongst the most popular kite surfing destinations in the world and sees a massive onslaught of tourists every year. Although, kitesurfing is enjoyed in Philippines throughout the year, the best time to do it is between November and April, when the winds are most favourable.
What to know: If you're a beginner, it is important to take a few lessons before trying it out on your own. Most kite-surfing institutes here teach the sport for a fee.
Location: Bulabog Beach is a hotspot for wind and kitesurfing
Price: A one-day beginner course starts at about ₹8,000, while the cost for renting the full equipment for a three-hour ride starts at around ₹2,500.
February: Climb the via ferrata at Mount Kinabalu in Malaysia
This one is not for the faint-hearted. As if being the highest peak in Southeast Asia wasn't enough, Mount Kinabalu is also the highest via ferrata in the world at 3,800 metres. If you're wondering what a via ferrata is, it is basically a climbing route made of steel cables and wires ascending near vertical pathways. Most tours offer several packages starting at lower altitudes as well.
What to know: It is advised to start preparing for the climb at least two to three months in advance, with a focus on cardiovascular exercises.
Location: Sabah, Borneo Islands
Price: The most basic packages, which involve a two-day climb and a night's rest at a base camp, start at around ₹25,000 per person.
March: Cable-ski in Singapore
This is another wet and wild high-speed ride for water-sport lovers. Cable skiing is the same as water-skiing, but instead you're being pulled by cables attached to the banks of a lake, instead of a boat, in open waters. And while you're at it, you can also try other activities such as wake-boarding, wake-skating, knee-boarding and trick-skiing offered here.
What to know: The setup at the park deploys three types of systems for beginner, intermediate and advanced skiers.
Location: Wake Park
Price: The price starts at ₹1,570 and goes up to ₹3,500 depending on the level and duration you've chosen.
April: Surf in Bali, Indonesia
Bali is home to some of the best surfing spots in Southeast Asia, making it a popular destination with surfers from around the world. The best part? Whether you're a beginner or a hardcore surfing enthusiast, Bali has a little something to offer everyone. With its warm waters, golden beaches, and chilled out vibe, it is the ideal place for kickstarting the surf season.
What to know: Bali has a number of surfing spots. Make sure you research where to go beforehand depending on your expertise level. There are some spots that are meant specifically for intermediate to expert surfers due to the intensity of waves and jagged reefs at these spots.
Locations: Canggu, Medewi, Uluwatu, Keramas, Padang-Padang and Impossibles are some of the more popular surfing locations in Bali.
Price: You can hire a surfboard for as little as ₹250 an hour and ₹500 for the whole day. If you're a beginner, lessons start at around ₹4,500 for three days.
May: Parasail in the Andamans and Nicobar Islands, India
This is one water sport that even non-swimmers can enjoy. And it gives you a chance to take in the beauty of the landscape as you sail over the deep blue Indian Ocean. The activity is done on calm waters and not when the weather is rough. The minimum time for parasailing here is five to 10 minutes.
What to know: Make sure you wear clothes that are easy to move in as you'll be strapped to a harness for the majority of the time. Carefully understand the instructions given to avoid any chance of injury.
Location: Rajiv Gandhi Watersports Complex, Port Blair, and Havelock Islands
Price: The prices start at ₹1,500 for a 15-minute ride. You will have to negotiate with a few providers to get the best price for the service.
June: Trek Mount Ramelau in East Timor at sunrise
At a height of 2,986 metres, Mt Ramelau is not only Timor-Leste's highest peak, but also a site with deep religious and cultural significance. It is adorned with a statue of Virgin Mary on the peak, which is the site of the annual Christian pilgrimage. For non-religious visitors, however, it provides an opportunity for a gorgeous and challenging trek. While treks happen throughout the day, the sunrise trek is the most popular activity and it starts a good three hours before the sunrise.
What to know: Pack plenty of water and snacks as you won't be able to get them anywhere once you start the trek. Also keep an extra set of warm clothes and a rain jacket.
Location: Hatubuiliko village
Price: If you plan to undertake the trek all by yourself, it is free of cost. However, if you hire a guide, you will have to pay a nominal fee of around ₹300-400.
July: Sand board on the dunes of Mui Ne in Vietnam
Mui Ne is considered one of the best places in the world for sand boarding. Unlike the tropical terrain of most Southeast Asian destinations, Mui Ne offers stellar sand dunes that make for the perfect base for sand boarding. This sport is basically snow boarding, except instead of snowy peaks, you have steep sand dunes.
What to know: A lot of the shops renting out equipment will provide cheap plastic boards. Although they get the job done, try and find a store that provides the right equipment to ensure a safe and more enjoyable experience.
Locations: There are two locations where you can get your adrenaline pumping – the White Sand Dunes and the Red Sand Dunes.
Price: You can rent a board for as little as ₹450 for an hour.
August: Scuba dive in Brunei
Brunei is a fairly unexplored diving destination. And the very fact that tourism isn't a large industry here makes it all the more special. The pollution levels in the water are amongst the lowest in the world. Leisure diving started here only in 2009. In fact, the first of the only two diving centres in the country were started by Malaysian diver Steven Ng, who saw potential here. The waters here are also home to some shipwrecks from World War II, making it an interesting place for wreck-diving.
What to know: The diving conditions in Brunei are unpredictable and not meant for absolute beginners. Research well before you go and keep an eye on the weather before you start your dive.
Locations: Muara and Serasa Beach
Price: Fun dives (lasting about 45 minutes) start at ₹2,500. If you're an experienced diver and just want to rent equipment, that starts at about ₹1,400.
September: Go kayaking in Cambodia
Over the last few years, kayaking has developed considerably as an adventure activity in Cambodia. It offers visitors a chance to explore the country's flora and fauna through a more refined lens and by being closer to nature. Different tour providers offer tours lasting anywhere between a couple of hours to a few days.
What to know: If you're a beginner, opt for a double-occupancy canoe. Also make sure you use an eco-friendly insect repellant to avoid getting insect bites.
Locations: Ratanakiri province, Cardamom Mountains, Battambang and Kampot are the most popular destinations for kayaking.
Price: A six-hour day tour starts at ₹9,500
October: Try whitewater rafting at Nam Lang and Maykha Rivers in Myanmar
The northern part of Myanmar is a lesser explored region in the country. The whitewater rafting tours here along the Nam Lang and Maykha rivers take adventure seekers through unexplored wilderness, rarely-seen tribal areas and great trekking spots. The tours can take anywhere between four to 26 days. The tours have travellers rafting through the day and camping in tents along the banks of the rivers or at permanent mountain lodges during the night. October is the perfect time to go on a rafting holiday in the country as this is when the rainy season here ends and the dry season begins.
What to know: Trips to the north of Myanmar require a special permit that can be obtained on request from the tour provider.
Locations: Nam Lang and Maykha rivers
Price: A four night, five day rafting expedition along the Nam Lang river starts at around ₹20,000 per person. This includes stay, meals and guided tours of all the areas covered.
November: Skydive in Pattaya, Thailand
You can't really have a list about adventure sports without skydiving in it. While Southeast Asia is still growing as a skydiving destination, there are certain places that offer world-class facilities for you to enjoy this sport in a safe environment. Thailand is undeniably the most popular of all skydiving destinations in the region, with Pattaya winning the race within the country. The advantage Thailand has over destinations in the US and UK is that you get some of the most spectacular views of the ocean and the weather is warm throughout the year.
What to know: The minimum age for jumpers is 18 years. Most institutes offer tandem jumps only while a select few offer solo skydiving opportunities for experienced divers. Divers are advised to wear comfortable clothing that doesn't have any loose ends.
Locations: Chonburi
Price: A single jump (lasting about 45 seconds) starts at around ₹21,000 per person.
December: Take an offroad motorbike tour in Laos
Take the offbeat path to exploring Laos by going around on a dirt bike. Visit the local villages, waterfalls and the countryside, all on two-wheels. It is off-roading done right. A few extreme motorbike companies have come up in the country in the past few years and you can book a tour with them to explore the region this way. You can opt for guided or self-exploration tours as per your preference. You can explore the rural paths around the Golden Triangle nearing Myanmar and Thailand borders or take a trip around Mekong River or the Plain of Jars.
What to know: Make sure you carry all your essentials as well as light eatables in a mid-sized backpack. Since these tours take place across remote terrains, you might not always find eateries.
Location: Luang Prabang
Price: A full-day tour starts at around ₹15,000 per person.
Pumped and ready to go? Or have you already been to some of these places? Share your experiences with the community to help fellow travellers.
For a list of the best adventure destinations in India, click here.
Frequent searches leading to this page:-
Bali honeymoon package cost from India, Bali honeymoon packages with private pool, 4 days 3 nights Bali honeymoon package, best places to visit in Bali Indonesia for honeymoon