Have you ever wondered what it would be like to walk in the footsteps of one of the most influential and revered leaders of the world? If yes, then you should definitely plan a trip to Sabarmati Ashram, a place where Mahatma Gandhi lived and worked for 12 years and launched some of his most iconic campaigns for India's independence.
Sabarmati Ashram, also known as Gandhi Ashram or Satyagraha Ashram, is a historical site located on the banks of the Sabarmati river in Ahmedabad, Gujarat. It was established by Gandhi in 1917 as his residence and headquarters for his various activities such as spinning, weaving, farming, animal husbandry, education, health, etc. It was also the place where he trained and inspired thousands of followers to join his non-violent movement against the British colonial rule.
Sabarmati Ashram is not just a museum or a monument, but a living testimony of Gandhi's life and legacy. It preserves and displays various aspects of his personal and public life through his belongings, photographs, letters, documents, paintings, sculptures, etc. It also organizes various events and programs to commemorate his teachings and ideals.
If you are interested in learning more about this historical wonder and why you should visit it, then read on.
History Of Sabarmati Ashram
Sabarmati Ashram has a rich and fascinating history that dates back to the early 20th century. It was here that Gandhi shaped his vision and strategy for India's freedom struggle and made some of his most important decisions and actions.
Gandhi arrived in Ahmedabad in 1915 after spending two decades in South Africa, where he fought against racial discrimination and injustice. He was looking for a place to settle down and start his work for India's independence. He chose a barren piece of land on the outskirts of the city, near the Sabarmati river, as his ideal location. He named it Satyagraha Ashram, meaning "the abode of truth", after his principle of non-violent resistance.
Gandhi lived in the ashram with his wife Kasturba and other associates from 1917 to 1930. During this period, he initiated some of his most famous campaigns such as the Kheda Satyagraha (1918), the Non-Cooperation Movement (1920-22), the Dandi March (1930), etc. He also established various institutions and structures within the ashram premises to support his work and experiments. He called the ashram "a laboratory for testing non-violence".
In 1930, Gandhi decided to leave the ashram for good after launching the Salt March, a 241-mile march from Sabarmati to Dandi to protest against the British salt tax. He vowed not to return until India attained freedom. He entrusted the ashram to his followers who continued to run it until 1933 when it was disbanded due to financial difficulties.
In 1936, the ashram was revived by some of Gandhi's disciples who converted it into a museum and a memorial. They named it Sabarmati Ashram after the river that flows beside it. Since then, the ashram has been attracting millions of visitors from India and abroad who come to pay homage to Gandhi and learn about his life and legacy.
Places To Visit At Sabarmati Ashram
Sabarmati Ashram is spread over an area of 36 acres and consists of various buildings and attractions that showcase different aspects of Gandhi's life and legacy. Here are some of the places that you should not miss when you visit the ashram: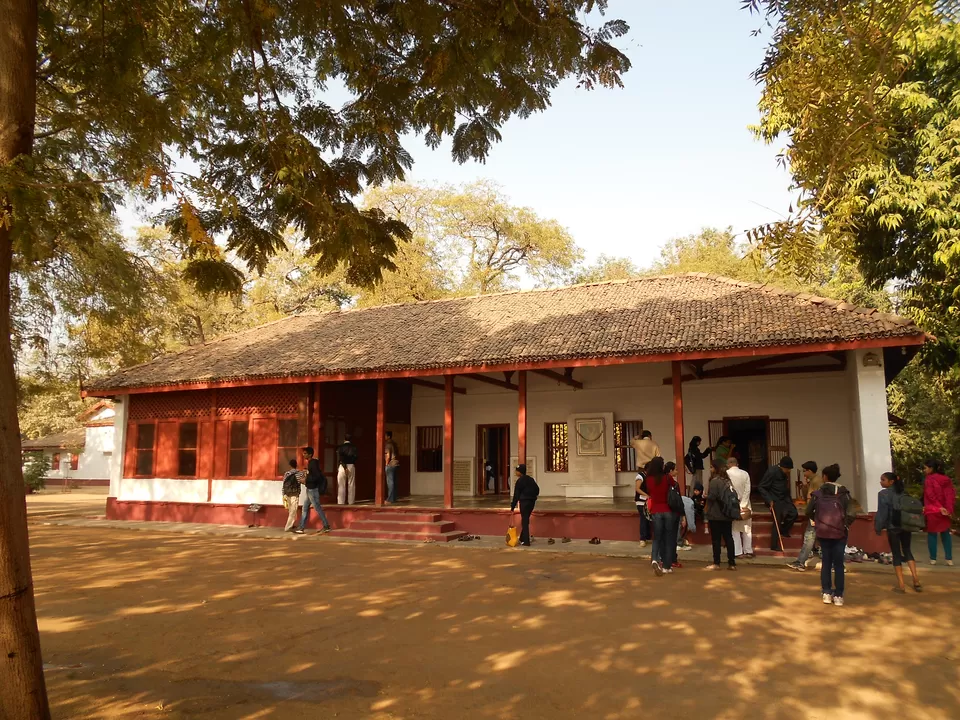 Hridaya Kunj
Hridaya Kunj is the cottage where Gandhi lived with his wife Kasturba for 12 years. It is also known as "the heart of the ashram" as it was here that Gandhi held many discussions and meetings with his colleagues and guests. The cottage contains some of his personal belongings such as his spinning wheel, his glasses, his books, etc. It also has a display board that shows Gandhi's daily routine at the ashram.
Gandhi Sangrahalaya
Gandhi Sangrahalaya is the museum that displays various exhibits related to Gandhi's life and work. It was inaugurated by Jawaharlal Nehru, the first Prime Minister of India, in 1963. The museum contains photographs, letters, documents, paintings, sculptures, etc. that depict Gandhi's journey from a lawyer to a leader. It also has a library that houses more than 35,000 books on Gandhi and related topics.
Upasana Mandir
Upasana Mandir is the prayer ground where Gandhi and his followers used to gather every morning and evening for prayers and meditation. It is also the place where Gandhi addressed many public meetings and gave many speeches. The prayer ground has a simple platform with a statue of Gandhi and a charkha (spinning wheel) on it. It also has a plaque that bears Gandhi's message: "There is no God higher than truth".
Magan Niwas
Magan Niwas is the cottage where Maganlal Gandhi, Gandhi's nephew and secretary, lived and worked. He was also known as "the soul of the ashram" as he was responsible for managing the affairs and finances of the ashram. He was also an innovator and an experimenter who devised various machines and techniques for improving the quality and productivity of the ashram's activities. The cottage contains some of his inventions and experiments such as solar cookers, paper making machines, etc.
Vinoba-Mira Kutir
Vinoba-Mira Kutir is the cottage where Vinoba Bhave, a prominent disciple of Gandhi, and Mira Behn, a British admirer of Gandhi, stayed during their visits to the ashram. Vinoba Bhave was the founder of the Bhoodan Movement, a voluntary land reform movement that aimed to distribute land to the landless peasants. Mira Behn was the daughter of a British admiral who renounced her privileged life and joined Gandhi's movement. She became one of his closest associates and confidantes. The cottage contains some of their writings and memorabilia.
Opening Hours And Admission Fee Of Sabarmati Ashram
Sabarmati Ashram is open for visitors from 8:30 am to 6:30 pm every day except Mondays. The admission fee for visiting the ashram is free for everyone. However, donations are welcome and appreciated.
The address and contact number of the ashram are as follows:
Sabarmati Ashram Gandhi Smarak Sangrahalaya Ahmedabad - 380 027 Gujarat India Phone: +91-79-2755 7277 Email: info@gandhiashramsabarmati.org Website: [www.gandhiashramsabarmati.org]
How To Reach Sabarmati Ashram
Sabarmati Ashram is easily accessible by different modes of transport such as car, bus, train, or flight. Here are some of the options that you can choose from:
By Car
Sabarmati Ashram is located about 5 km from the city center of Ahmedabad. You can hire a taxi or a cab from any part of the city to reach the ashram. The approximate fare is Rs. 100-150 depending on the distance and traffic.
By Bus
Sabarmati Ashram is well connected by public buses that run from various parts of the city. You can take any bus that goes to Sabarmati or Ashram Road and get down at Gandhi Ashram stop. The bus fare is Rs. 10-20 depending on the distance.
By Train
Sabarmati Ashram is about 7 km from Ahmedabad Railway Station, which is one of the main railway stations in Gujarat. You can take a train from any major city in India to Ahmedabad and then take a taxi or a bus to reach the ashram. The train fare varies depending on the class and route.
By Flight
Sabarmati Ashram is about 11 km from Sardar Vallabhbhai Patel International Airport, which is the nearest airport to Ahmedabad. You can take a flight from any domestic or international destination to Ahmedabad and then take a taxi or a bus to reach the ashram. The flight fare depends on the airline and destination.
Events And Programs At Sabarmati Ashram
Sabarmati Ashram organizes various events and programs throughout the year to commemorate Gandhi's legacy and teachings. These events and programs are open for everyone who wants to participate or learn more about Gandhi and his philosophy. Here are some of the events and programs that you can look forward to: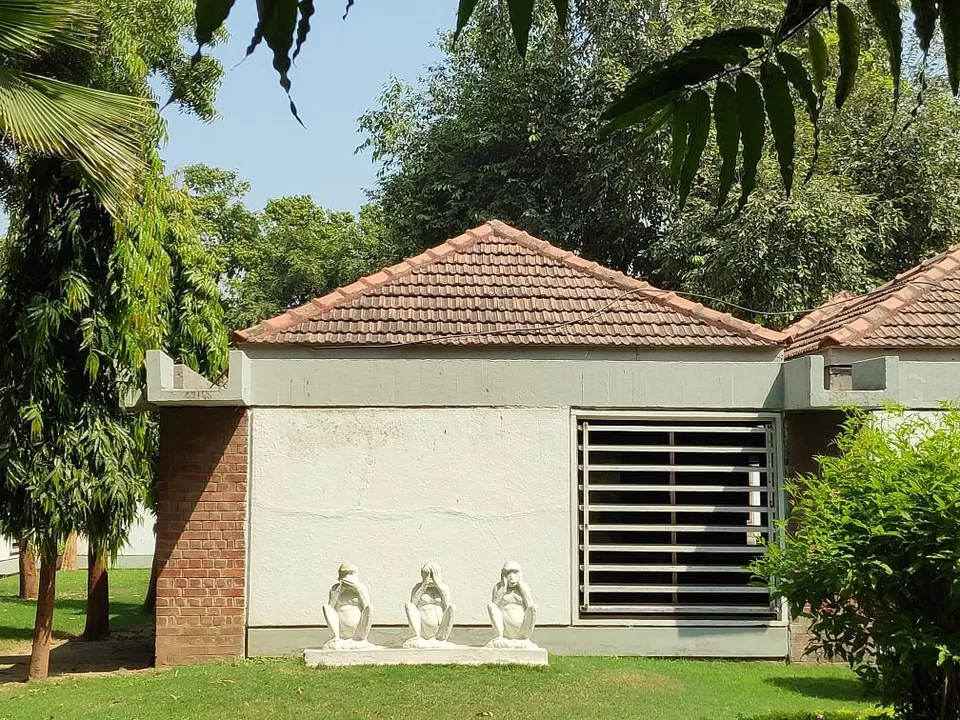 Gandhi Jayanti
Gandhi Jayanti is the birth anniversary of Gandhi celebrated on October 2 every year with prayers, music, speeches, etc. It is also observed as the International Day of Non-Violence by the United Nations as a tribute to Gandhi's principle of non-violence. The ashram hosts various activities such as spinning, weaving, cleaning, etc. to honor Gandhi's ideals.
Salt March Anniversary
Salt March Anniversary is the Salt March Anniversary is the anniversary of Gandhi's historic march from Sabarmati Ashram to Dandi in 1930 to protest against the British salt tax. It is celebrated on March 12 every year with a re-enactment of the march, cultural programs, etc. The ashram invites people to join the march and experience the spirit and courage of Gandhi and his followers.
Sabarmati Festival
Sabarmati Festival is a cultural festival that showcases the art, music, dance, literature, etc. of Gujarat and India. It is held in January every year with performances, competitions, stalls, etc. The ashram hosts various events and workshops as part of the festival to promote Gandhi's values and vision.
Also check out: 7 Touristic Things To Do In Ahmedabad
Tips For Visiting Sabarmati Ashram
If you are planning to visit Sabarmati Ashram, here are some useful tips and advice that will help you make the most of your visit:
1. Plan your visit in advance and allocate enough time to explore the ashram and its surroundings. You can spend at least 2-3 hours at the ashram to see all the places and exhibits.
2. Respect the rules and regulations of the ashram such as maintaining silence, cleanliness, etc. The ashram is a place of peace and harmony, so please do not disturb or litter the premises.
3. Carry a water bottle, a hat, a sunscreen, etc. to protect yourself from the heat and dehydration. The ashram is located in a hot and dry climate, so it is advisable to stay hydrated and avoid sunburns.
4. Hire a guide or an audio guide to learn more about the history and significance of the ashram and its places. The guides are well-informed and friendly and can answer your queries and doubts. The audio guides are available in different languages such as Hindi, English, Gujarati, etc.
5. Visit the souvenir shop or the bookstore to buy some gifts or books related to Gandhi and his philosophy. You can find a variety of items such as keychains, magnets, t-shirts, mugs, etc. that have Gandhi's quotes or images on them. You can also find some books that have Gandhi's writings or biographies on them.
You may also like to read: Bapu's Satyagrahi vision: Sabarmati Ashram, Ahmedabad
Sabarmati Ashram is a place that will inspire you and enlighten you about Gandhi's life and legacy. It is a place that will make you appreciate his values and vision for India and the world. It is a place that will make you want to follow his footsteps and become a better person.
Don't miss this opportunity to experience a journey into the life and legacy of Mahatma Gandhi. Plan your trip to Sabarmati Ashram today!