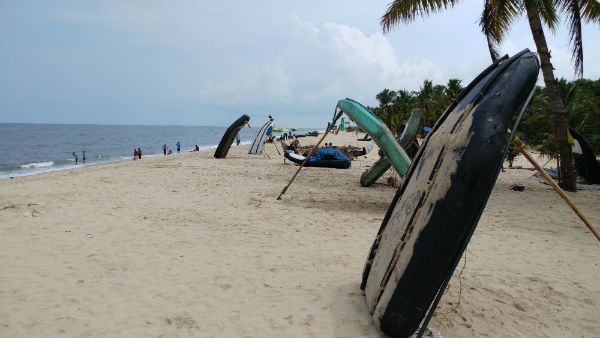 Blessed by a long coastal line, the state of Kerala attracts tourists to unwind on its pristine beaches. Marari beach in Alappuzha district is one of the lesser known and therefore, less crowded beaches of Kerala.
Location of Marari beach
The beach is located in Alappuzha (Alleppey) district, around 60 kms from Kochi. Being close to Mararikulam, a fishermen's village, it got the name Marari beach.
Things to do in Marari beach
Marari beach is not a hotbed of tourist activities. Therefore those who head to this beach can expect complete calm and peace.
What a view: As the name Alappuzha is synonymous with backwaters, the first thing that tourists want on reaching here will be to sail through the serene waters. Marari beach, with the vast ocean views, comes as a pleasant addition to the trip. This is the perfect place to sit back and relax while watching waves in action.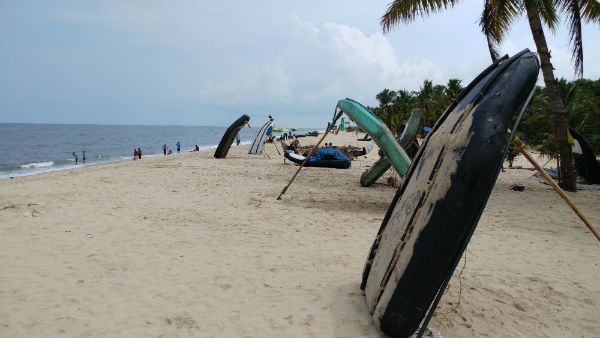 Pleasant solitude: Beaches are ill-famed as being overly crowded all the time. In the much hyped beaches, there will be hardly space for you to sit on the shores, forget about relaxing. To top this, there will be the perennial crowd of street hawkers, trying to sell their wares to every passing tourist. In Marari beach, there are no such hazards. You will feel completely relaxed as very few people will be seen on the shores. No hawkers, no water sports, only serene water and silky sand. What a perfect place to enjoy solitude!
Take a plunge: When you are in Marari beach, don't hesitate to take a small dip. The waters are clean and safe. Though it is not advisable to go deeper, a walk till water reaches your knees won't be dangerous. The waves are a bit stronger here for swimming.
Sunset on shores: What is the most amazing part of a beach view? Yes, watching a sunset or sunrise. Here, in Marari beach, you get to see magnificent sunset views. Stroll along the beaches or simply relax on the shores and watch the red dot slowly dipping into water over the horizon.
Monsoon fun: Kerala receives pretty good rainfalls during the months of June to September. Head to Marari beach on a weekend during these months and play in the rain. Capture the amazing sight of heavy downpour trying to smooth out the rising waves. Only if you don't care much about getting wet!
Under the shady coconut: Marari beach is lined by rows of coconut trees. It is quite soothing to sit under their shades with nothing to disturb your tranquil thoughts. Or better have a sip of the refreshing tender coconut.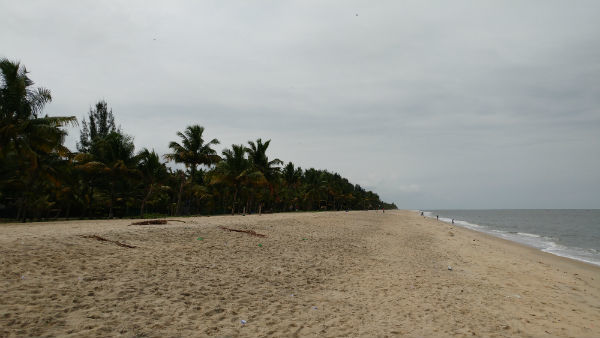 Exploring around Marari beach
A visit to Marari beach will be really fulfilling if you get a chance to explore other attractions on the same lines. To name a few…
Houseboats of Alappuzha
Alappuzha, better known as the Venice of the East, is well established for its endless backwaters. It is heavenly to sail through these waters with nature playing hide and seek with you. And what better way than a houseboat to blend with the atmosphere? When visiting Marari beach, a ride or rather an overnight stay in one of the houseboats has to be on your agenda. They provide homely and authentic Kerala delicacies. How about a tasty meal in the traditional way, spread out on plantain leaves? Don't complain about your fingers getting messy, though.
Ayurveda for aches and pains
Kerala is the home of all ayurvedic treatments. A tourist travelling to any place in Kerala will have an ayurvedic massage in mind. Traditional ayurvedic treatments are gaining popularity even in Western nations. In and around Marari beach and Alappuzha, there are several ayurvedic centres providing relaxing massages and therapies. Let those medicines and oils dig deep into your body and leave you rejuvenated.
A soulful trip to St. Andrew's Basilica
St. Andrew's Basilica located in Arthungal (Arthunkal), Alappuzha district is a major attraction for religious worshipers and tourists alike. The mighty church was built by Portuguese missionaries in 16th century. The age-old structure still remains intact providing a spiritual and visual treat for visitors. The unique architecture and peaceful surroundings make the church much revered among Christians. Make a trip to this magnificent church and connect with your inner self.
Mararikulam Shiva Temple
Being a land of religious harmony, every part of Kerala has temples, churches and mosques lying adjacent to each other without clashes. In Mararikulam, there is the magnificent Shiva temple, where Lord Shiva and Parvathi bless devotees who throng the temple. Even if you are not a staunch devotee, the temple is worth a visit to view the architectural grandeur.
Thumpoly Beach
Another beach close to Mararikulam, the Thumpoly beach is known to be the natural habitat of several rare species of birds. Beautiful sandy beach and landscape are surely magical enough to extract a word of praise from you. St. Thomas church of Thumpoly is also another attraction for devout Christians.
How to reach Marari Beach?
By air: Kochi is the nearest airport to reach Marari beach. Kochi airport is well connected to major cities in India and abroad.
By train: Alappuzha has a railway station with trains running to almost every part of Kerala. This railhead is at a distance of 16 kms from Marari beach.
By road: Being just about 1 km away from National Highway 47, road trip to Marari will not cause many hurdles.
Where to stay?
There are several options waiting to welcome tourists in Marari and nearby areas. If you desire to live the rustic life for a few days, opt for some of the homestays. Or if you are comfortable with all frills covered resorts, those are also present. Some resorts are located on beach side with brilliant ocean views.
Among the unconventional beach destinations of Kerala, Marari beach is one that deserves a mention. Explore the place once and mark it, you will desire for more.