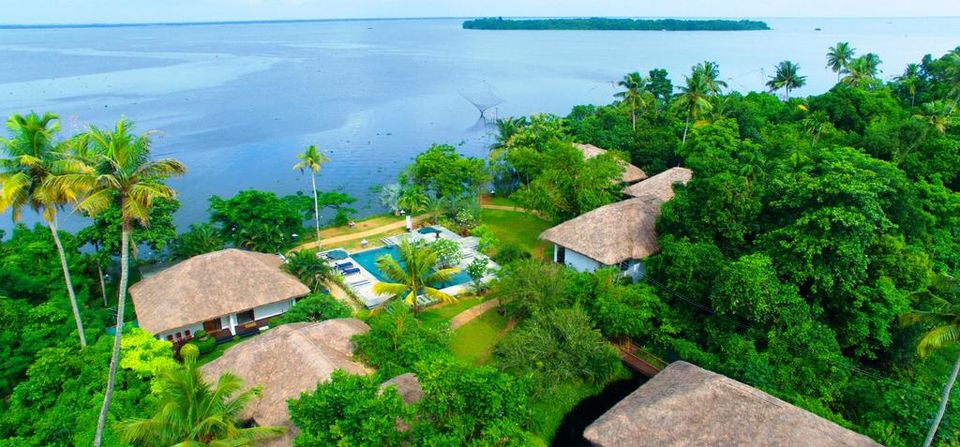 The Venice of the east, Alappuzha is a favourite destination among nature lovers who seek peace and tranquility. Best known for houseboat cruises along the picturesque Kerala backwaters, Alappuzha has some breathtaking resorts that offer a surreal stay amid splendid views. Some of these resorts also bring together rich Ayurveda and spa treatment traditions to help you rejuvenate during your holiday.
If you are planning a trip to Alappuzha, browse through this nifty guide of the most exotic resorts.
Famous for its Ayurveda treatment, Erandia Marari Ayurveda Beach Resort offers calm and serenity. This 13-room resort bring together a combination impeccable services and breathtaking beauty. If you are looking to get refreshed and rejuvenated during your stay in Alappuzha then it is a perfect choice for you. Away from the hustle and bustle of city life, Erandia Marari Ayurveda Beach Resort gives you ample opportunity to get closer to nature.
What's special: Ayurveda restaurant, infinity swimming pool, and dolphin sighting.
Cost: Starts from ₹10,980 per night
An Ayurvedic resort, El Oceano Beach Villas is constructed in Kerala Heritage style. The villa offers you a chance to experience living in a traditional Kerala farming home. There are two properties, one inland and one along the beach to serve both the region's rustic countryside heritage and virgin beaches.
What's special: Ayurvedic consultation
Cost: Starts from ₹8,200 onwards per night
Located on the beautiful Mararikulam Beach, Xandari Pearl is a pristine beach hideaway in Alappuzha. The resort has been rated one of the top five "Hammock Beaches" in the world by National Geographic. Spread across 18 acres, Xandari Pearl comprises 27 tastefully crafted villas. Xandari Pearl's 80 seat all-day dining restaurant offers delicious food. You can enjoy your meal while gazing on the calm pool. To feel closer to nature, walk between vegetable and fruit saplings while gardeners explain the journey of these fruits and vegetables to you.
What's special: Private garden yards
Cost: ₹21,250 onwards, per night
Nestled on a cozy bank of the pristine Vembanad Lake, the Lake Palace Resort in Alappuzha is a perfect holiday destination. Spread across 14 acres, the resort offers a lovely and lively combination of the sun, sea and sand. When you book your stay here, you get wonderful staff, lip-smacking food and Ayurvedic therapies to revitalize your body and soul!
What's special: Houseboat cruise, and an indoor recreational centre.
Cost: ₹8,300 onwards, per night
Set aside the astonishing backwaters of Vayalar, Vasundhara Sarovar is a luxury 5 Star Resort replete with all amenities. The resort offers extravagant view of the backwaters while calm breeze soothes the soul. The staff is known for taking good care of the guests while the whole property is built to offer luxury amid calm environment.
What's special: Boat houses and fishing decks
Cost: ₹7,825 onwards, per night
Simple yet elegantly designed Deshadan Backwater Resort offers a surreal stay amid calm backwaters of Alappuzha. Replete with various indoor facilities such as spa treatments, yoga sessions, and cultural performances, the resorts keeps guests entertained while ensuring privacy and comfort.
What's special: Ayurveda spa and fishing deck
Cost: ₹5,300 onwards, per night
Have you ever been to Alappuzha? Which is your favorite accommodation option there? Share your travel experiences with Tripoto wanderers here.
Watch some really amazing travel videos to get inspired by the beauty of this world at Tripoto's Youtube channel.