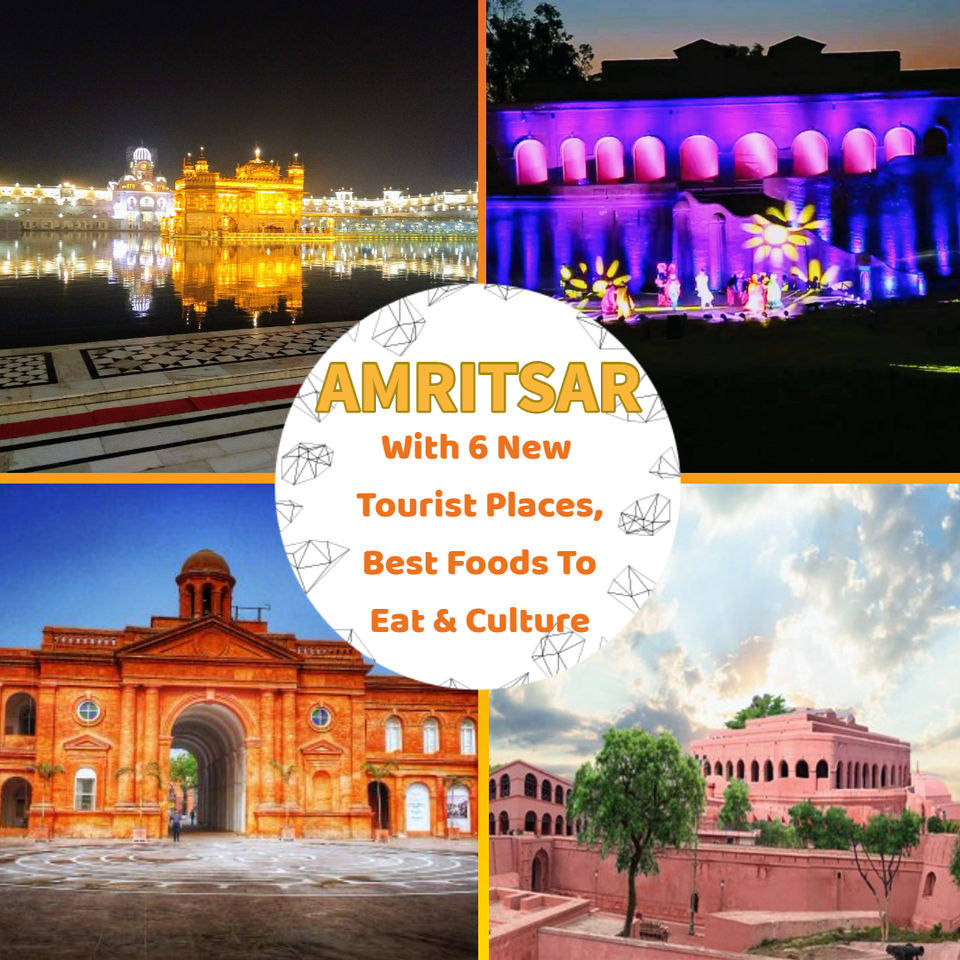 The Famous Indian city situated in state of Punjab is popularly known for world's most spectacular Gurudwara... The Golden Temple. Most of the people in general know this city for Golden Temple, however, on my trip, I was astonished to know and travel the Amritsar city in a way which only few tourists experience. I was endured by the rich cultural heritage of the great kings from 15th to 19th century, the Fort, the Museum, the Temple, the street food, the laser show, the Dhaba's delicacies, the marble floor streets and lastly the amazing shopping market. Be with me till the end of this article, as I take you on a journey of culture, food and new tourist places in Amritsar, Sadda Punjab, India.
On our Day 1 , I had planned to start my sightseeing with a Museum that is dedicated to the biggest & mightiest kings of Punjab, King Ranjit Singh.
1) Ranjit Singh Museum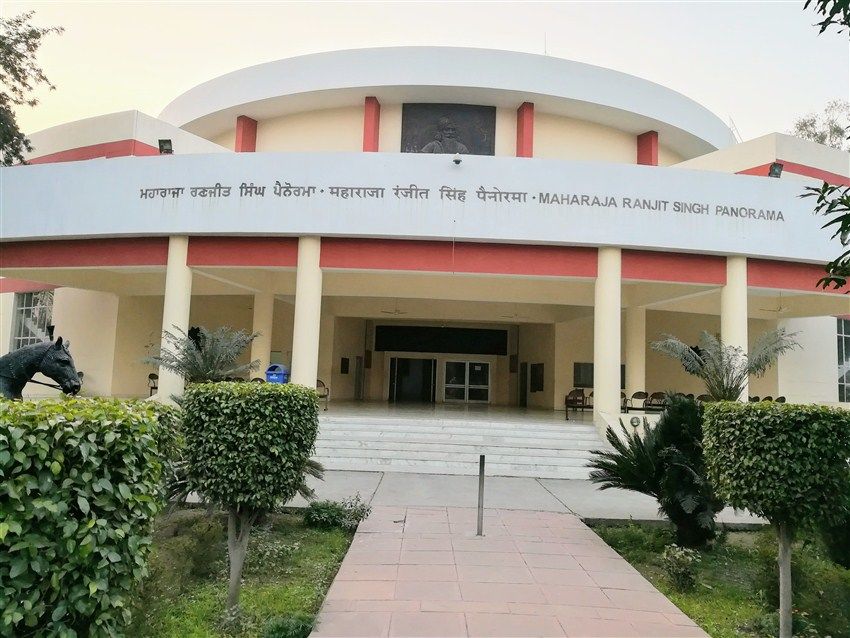 I arrived here at 4.45 pm, the entry fees was nominal 10 rupees per adult.
Only handful of tourists visiting Amritsar generally know about this museum and hence most of the tourists end up missing this treasure of Amritsar on their trip. Of all kinds of museums you would have ever visited, I bet that this one is far more unique of all.
Artists have sculptured the real crucial moments of wars of 18th century with 'life like' plaster of paris models which looks spectacular. They have recreated the scenes from the times of the King Ranjit Singh. I was stunned to see the fine art of the artists as we saw the scenes of the local markets in 18th century, the war scenes, the crucial battles they have won and a lot lot more picturesque models inside a glass chamber. I strongly recommend that you take 45 mins off your sight seeing schedule and take a good tour of this museum.
2) Gobindgarh Fort (A Wonder Of Punjab)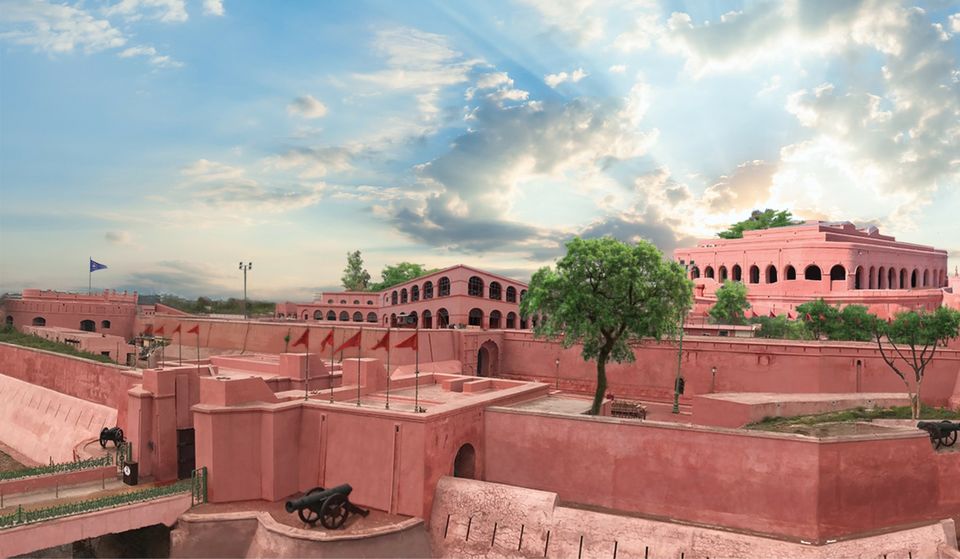 I along with my family, got inside the fort around 6.15 pm in evening, the next 3 sightseeing points including this were like one of the most blissful experiences i had ever experienced in my lifetime.
The Fort is situated amidst a large landscape spread across 100's of acres. The entry of the fort is grand with streets lined up with beautifully decorated shrubs and a electric vehicle option is available for people who want to go inside the fort in a quick fun way. I suggest you to take a walk to reach the fort while taking the glimpse at the royal huge entrance gates, the big drums placed at entrance and the artistic cravings on the large fort walls.
The Fort has been built in 1760, but even today, people are mesmerized with its traditional charm. I suggest that you dedicate at-least 2 hours of time to explore this lively energetic place. It has a Museum describing the history of Maharaj Ranjit Singh's life,a 7D laser show, light shows and Punjabi's Folk dance "Bhangda" performances. The dance performances are a treat to watch, as they give a glimpse to the rich culture of Punjab.
3) The Light And Sound Show At Gobindgard Fort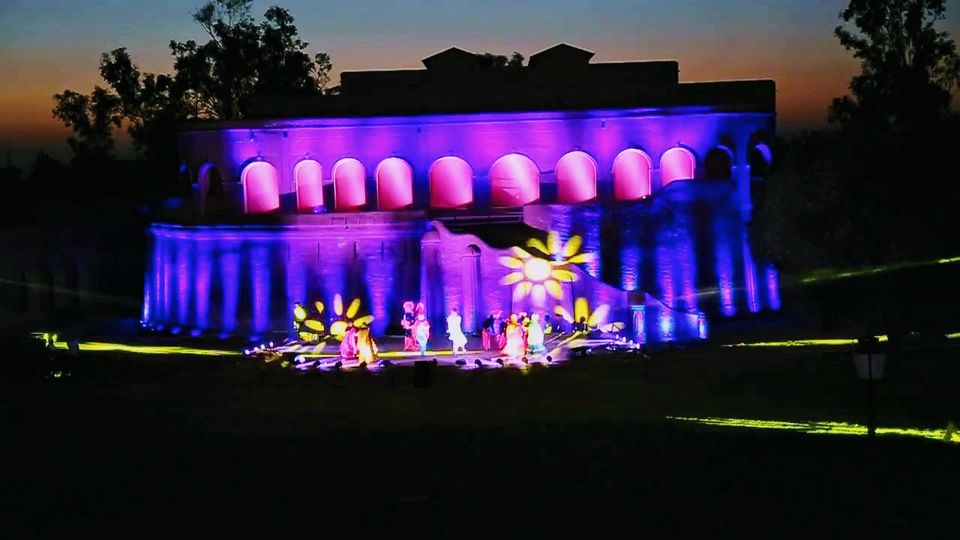 The light and sound show on fort are scheduled in the late evening, when the stars glitter the skies and cold pleasant winds soothes the atmosphere. The show, named as 'Whispering Walls' is about the rich culture of Punjab, its royal king Maharaj Ranjit Singh, his huge empire and how Britishers tried to take over the empire back in 18th century.
The show touched chords from the very beginning moment when the light fell on the fort walls and made it alive. The fort started to whisper its story to us(me, my family and audience). It took us right into the first moments when the fort was born, it then deep dived into the Ranjit Singh king's life, his struggle, power & his dedication to win and unite a whole India, the take-down by Britishers, the fight of 200 years of independence, it reached to a peak of emotions, that most of the tourists had teary eyes during its final few climax moments. I recommend this show as a must must watch to all the city visitors, as it will bring a pride in your heart for Punjab and India.
4) The 7D Laser Show At Gobindgarh Fort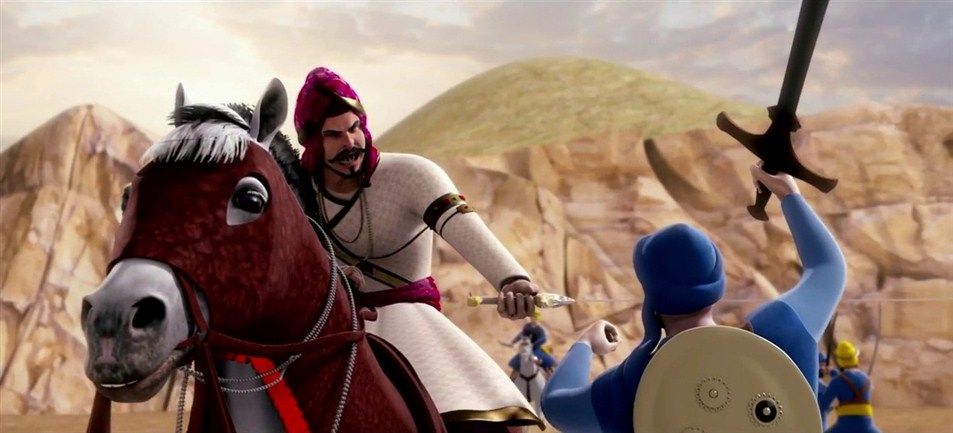 This show will take you on a epic ride into the times of 18-19th century with 7D technology, into the era of the great King 'Maharaja Ranjit Singh'. He was the only powerful king of Punjab, who believed in equality among multiple religions & caste.
The show takes you to a virtual augmentation of historical moments, and you feel as if you stepped into a time machine and landed into the 18th Century India. It highlights on how he went on to win from one battle to another to become the mightiest king of Punjab. Again, we strongly recommend you to must see this 7D laser show. Both the Light & Sound show and 7D Laser show were available at a very reasonable price of around 200 INR (Rates may vary at time of your visit).
5) Sadda Pind
I could not cover this awesome place, due to tight schedule of my tour, but I would really like to visit this on my next tour.
So what is this place and why I'm so excited about visiting here?Sadda Pind is a mini Punjab state in itself. Its English translation means "Our Village". It is a place where you can go to experience the rich Punjabi culture, right from giving a treat to your taste buds with yummiest local cuisines to actually performing traditional activities like flour grinding in a grain mill, cloth weaving, folk dance performance, camel rides and lots of many more cultural activities .
You can choose to go here for a day visit which costs around 650 INR, inclusive all activities and complimentary buffet lunch, where you can eat till you have no space left in stomach and make sure you experience a huge burp before. While stay packages here starts from 4000 INR onwards.
6) Golden Temple (The Most Beautiful Divine Place)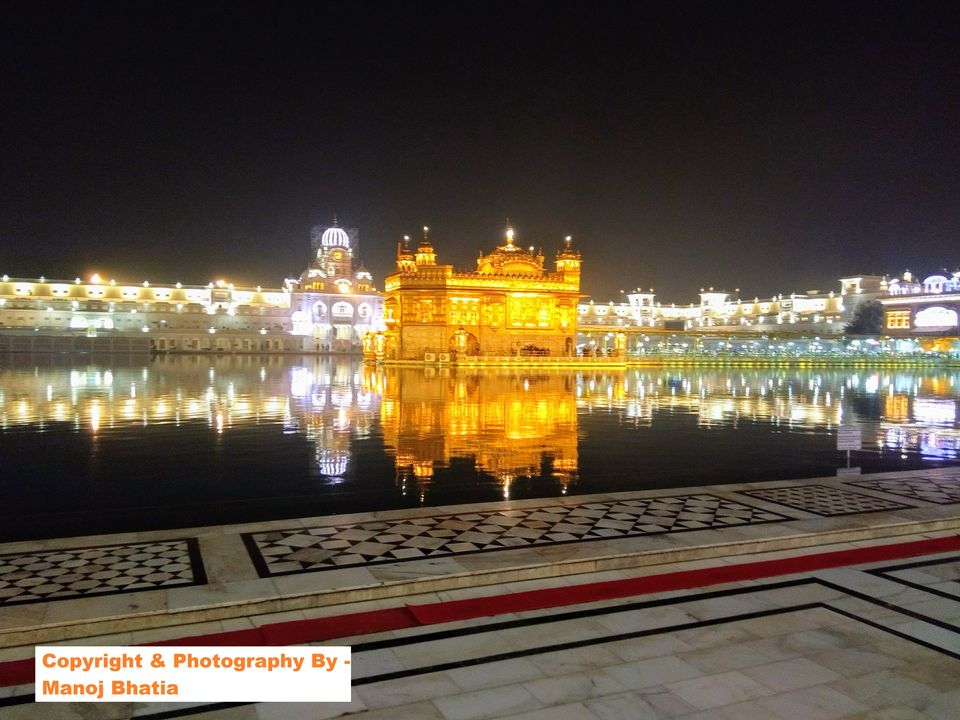 I along with my family, got into the most beautiful divine temple at around 8.30 pm, this temple is the only reason that almost all tourist including me visit Amritsar.
This divine place is the heart of Amritsar, where you feel your inner self in complete peace, which anyone hardly feels in the hostile, stressful & workaholic life.
It has this spiritual power which soothes your minds, fills you with tremendous positive energy and restores your faith in God. Its aura is so magical that you feel like never going back to anywhere in the world but to stay there forever. It connects your soul so deeply into the Sikh culture that for some moments, you wish to be born as a Sikh in your next birth. The temple is situated at the center of the lake, which makes it as one of the most breath-taking places to visit in your lifetime. Keep a room of 3 to 4 hours, as this will be the best moments of your trip, that you take back home with your inner self realization.
The Langar ( Serving free hot meals to the people of all religion and faith, who come to seek the blessings in the temple) is served in Golden temple 24*7, 365 days. The food served in langar is roti, daal, vegetable and kheer(sweet dish). The tradition of langar has its humble beginnings in the late 15th century, by one of the greatest Sikh People Guru, Guru Nanak Ji. Langars are served in all gurudwaras all around the world. We strongly emphasize that after the main temple visit, you eat Langar here.
7) The Shopping Market In Amritsar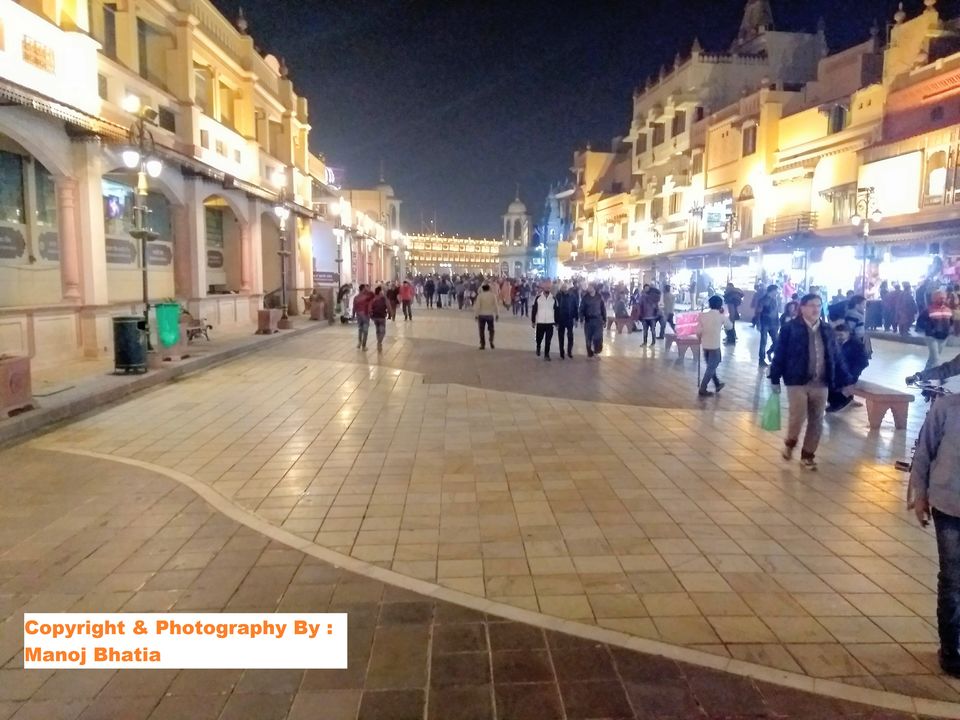 After Golden temple, we had managed to have very little time for shopping. Every second left for us in market was exciting for a shopper inside us.
The shopping market in Amritsar is a paradise for women shoppers. Golden temple is surrounded by shopping markets on all its 4 sides up-till half km to 1 km in each direction. The shopping market have many unique hand made designer dresses, Kurtis, lahengas, pajamas, patiala dresses with hand embroidered jackets.
Another place for shopping is Lawrence road, here you can get shawls, dress pieces for starting price of 200 INR. Keep an evening's 2-3 hours free for shopping itself as the market is really big, carry cash as very few shops accept card payment.
8) Places To Eat The Tempting Amritsari Dishes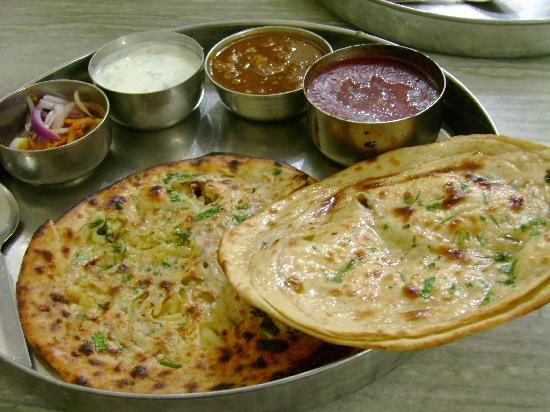 khulcha chola is the most popular local cuisine that you should must try, also try sweet lassi and do not miss trying one of the most famous cuisine of Punjab, "Sarso da saag with makke di roti". On our trip I asked local's and went to their recommended famous restaurants to try above dishes, and I was truly impressed with the taste of dishes at 'Brothers Dhaba' near golden temple and Bharawan ka dhaba in Ranjit Avenue. More over if you come across any other good places to eat, do give it a try and do share your experience with me in comments below.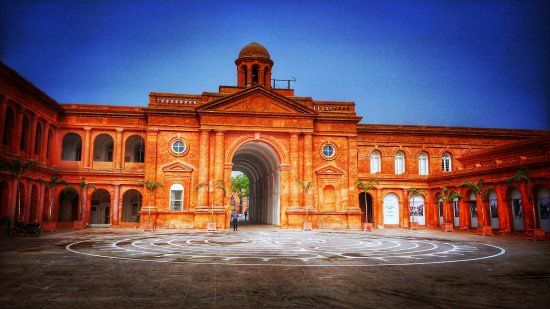 I covered this museum in morning, before leaving for my next destination.
So what is this museum about?
In 1947, 1 big nation 'India' was broke and was partitioned into 2 smaller nations – India and Pakistan. This museum is about the times before India's independence, the struggle of freedom fighters, the moments of freedom with pictures of 15th august 1947. This museum is newly inaugurated in year 2017 and is in close located to Jalinwala Baug. Since inauguration, thousands of students and tourists visit this museum daily. I recommend every tourist visiting Amritsar to experience this museum.
The Culture Of Amritsar(Punjab)
The culture of Punjab is one of the richest culture in the world. The Punjabi's are joyful lively people and traditionally they wear colorful dresses. Their food culture if full of tasty delicious dishes like Kulcha Chola, butter chicken, chola bhatura, our personal favourite "makke di roti and sarsoo da saag" and lot more dishes.
The folk dance style 'bhangra' of punjab is one of the most energetic dance forms in India. We can go on and on about the rich heritage and culture of Punjab, but I would leave few things untold for you to be enlightened by their culture on your own while your visit Punjab.
Weather In Amritsar:
The weather is good all year round, while the best time to visit is from October to March. The maximum temperatures in summer can hover in range of (high) 40 degrees and 25 degrees(low), and in winter lowest temperatures can hover to around 4 to 6 degrees.
Tips for international travelers coming to Amritsar for first time :
Try my suggested local cuisines, go to Sadda Pind to know the deep roots of Indian and Punjab's culture, visit golden temple, watch the 7D laser show suggested in our sightseeing place 3 in English language, as the show is also scheduled in native Punjabi language also, which you might not be able to fully understand.
Local's are helpful to tourist, feel free to ask them about good eating and sight seeing places in case you need any information. Most of the locals understand Hindi(Indian National language) with very few understanding English, so in case of any communication gaps, you can take help of Hindi to English dictionary or people around you would understand English. Currency value is 1 dollar=66 Indian Rupees and 1 Euro = 79 Indian Rupees (Exchange rates may vary at time of your booking)
How To Reach Amritsar:
It has one airport which handles domestic and international air traffic, it is 10 km from the city's center point. Another good option is to reach Amritsar by railways, as Amritsar railway station is situated right into the heart of the city.
Now that you know so much about Amritsar, so do plan your visit soon..!!
I hope that you guys like this post making you know about new places of Amritsar with glimpse of its Culture and Best Food Dishes.
Visit my website here for many awesome travel destination articles- Stunning-World-Travel-Destinations
Share this with your friends who are always excited for new interesting places to visit...Thanks...Happy Travelling :) ...!!!