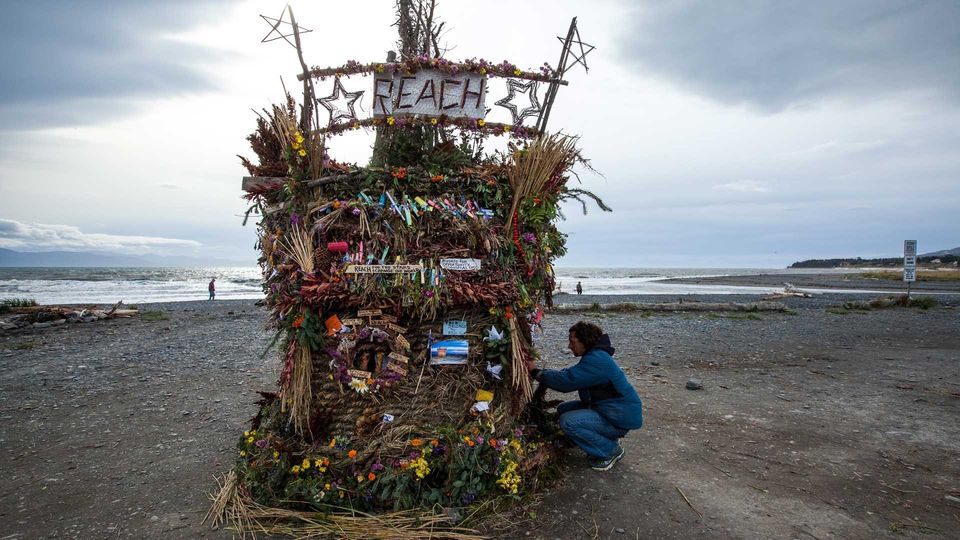 Day 16 - From Kasilof to Homer
It was not the lion as fierce as he painted. We have spent the night without knowing where we had gone, and with the feeling of being lost. But this morning the day has started splendidly, and we have seen that we had camped at Crooked Creek State Recreation Site, next to the Kasilof River. We took the opportunity to stretch our legs and go for a walk. And we have also found out that all these camping areas seem deserted and closed. This week the official fishing season has ended!
Every day it is harder for us to get up. The batteries are no longer charged. The next stop, continuing on Sterling Road, has been at Clam Gulch. From a camping area we can go down to the beach. The vision is fantastic. A small river reaches the sea. The low tide has allowed us a long walk, and all the time we have been accompanied by the perfect view of the Redoubt and Iliamna volcanoes as a background.
Today's route promises. Another picturesque spot: the Russian Orthodox Church and the cemetery next to it, next to the small town of Ninilchik. We approach the Old Village (the old part) of this town, a unique enclave, where the Russian community was established when Alaska belonged to Russia. They knew what they were doing. Surely they were very cold, but what views they had.
Precisely we continued a little more but decided to stop to eat at the restaurant with Michelin stars, with the volcanoes in the background. The day is so clear that the peaks are perfectly visible. Ah! We already missed days like these!
We want a photo of the 3 with Redoubt volcano in the background! The clear day allows us to see the top of the Iliamna volcano. We continue along the road until we reach the tourist city of Homer. Well, let's say it again, tourist should be in summer. But we found different restaurants, shops, and open services. We started by entering the information office.
There they explain to us what to do and see in the city. We try to burn a last cartridge of excursion. We hire a plane flight to reach the Katmai National Park since there are no roads. We want to see more bears. But most companies (and there are many) have already closed, and those that do not want to fly because the weather forecast is not clear.
To compensate, we will have a snack at the magnificent Bakery. We settled in the Driftwood Park campground, overlooking the sea. It is one of the most complete services, but also the most expensive. The average price during our route goes from $ 10 in the simplest camping areas, to the 35 in the most complete, passing by not paying anything in different free zones. But it's still early and we cannot stop.
We drive through all the streets of the town to see what it offers us. We pass by the beautiful Lake Beluga, where are the different companies that organize excursions. It is full of seaplanes. The town has another area of activity, full of restaurants and shops, the Homer Spit. It is a land language that juts out over Kachemak Bay. Pretty. A narrow road with water on both sides (more or less high, depending on the tide), and where we can see some marine animals. They tell us that it is a good place to see eagles, but we did not find any.
Since we are there, we reserve a table for tomorrow, what they tell us is the best restaurant in town. We decided that tonight we will only eat something light but in the village. It's time to dine out of the caravan. We take a walk and we are attracted by the cafe, where we see people waiting. It must be good! We have no reservation, but they offer us a good table right away.
We want some sandwich and salad, but when we see the letter it has nothing to do with this. The dishes that we see in the rest of the tables are huge. Everything seems magnificent. Fresh fish, good meat, great dessert menu. They forced us to eat like gluttons! A few salads of first, and ribs and fresh fish of the area. And we finished it off with a cake that we did not understand what it was made of,
We arrived with the bellies too full in the campsite. What a feast. Now we do not know whether to cancel the restaurant tomorrow night. We were behaving well in our caravan and now we will eat all the stocks of the town of Homer!
Day 17 - Homer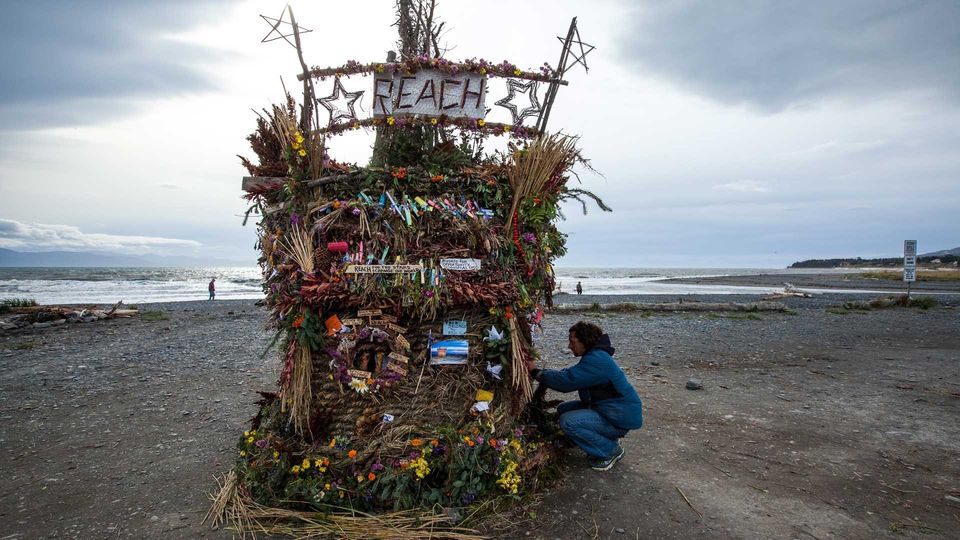 We woke up at Homer's Driftwood Park campsite. We began to intuit the end of our route, and today we have had that feeling more than any other day. Homer will be our last town to visit on the route through Alaska. Then we will make our way back to Anchorage, from where our flight departs. But to celebrate, we went to have a brunch, this meal that Americans have "invented" for the weekends. It is a mixture of breakfast and lunch.
What they do not know is that we already did this when we woke up on Sundays after the Saturday night party. But hey, we repeated at our favorite bakery of Homer. I have eaten a fantastic Moroccan soup with chicken and vegetables and a Sticky Ban. You can imagine what it was like!
After the brunch and since it was a great day we have walked everywhere. We have visited the Farmer's Market that they do every Saturday morning in Homer. They set up stalls where they sell local products and craftsmen. It is tiny but quite authentic.
We are approaching the Split of Homer, a tongue of land that enters the sea, and today we have been able to see eagles! As the tide was low, we have been able to get close enough to one of them, who has been photographed for a long time. Although we have not dared to go further offshore for fear of getting stuck in the mud! And I have once again missed missing a more powerful telephoto lens.
We also take a walk around the port of Homer. It is full of moorings and boats. Many bars and restaurants are also concentrated here.
In Homer Spit there are bars decorated with one dollar bills. After the wildlife session, we climbed up a mountain of about 300 meters, which is next to Homer on the East Hill Road. From here there are great views of the whole town, the mountains on the other side of the bay and even the Dixon, Portlock and Grewingk glaciers.
And to finish off, we have taken a walk around the shops of the town. We've hung out until dinner time and we've finally decided to dine at the restaurant we had booked. Yesterday we ended up with full bellies, but today it also promises.
We almost arrived late at the restaurant. We sit at a table overlooking the sea, and the girl who attends us is super-friendly. We decided on a small starter, salads, and fish. It was the salmon, a kind of cod and the Rockfish. We have riddled the girl with questions. They have many kinds of everything, fish, sauces, accompaniments. She asks us what sauce we want for the salad, and we want her to explain each one. She has brought us a sample of all with the name pointed.
For us, it is very early (we have just had dinner at 9:30 p.m.), but we are the last to leave the restaurant. Although we understand that it is better for everything. We will miss the town of Homer.
Day 18 - Homer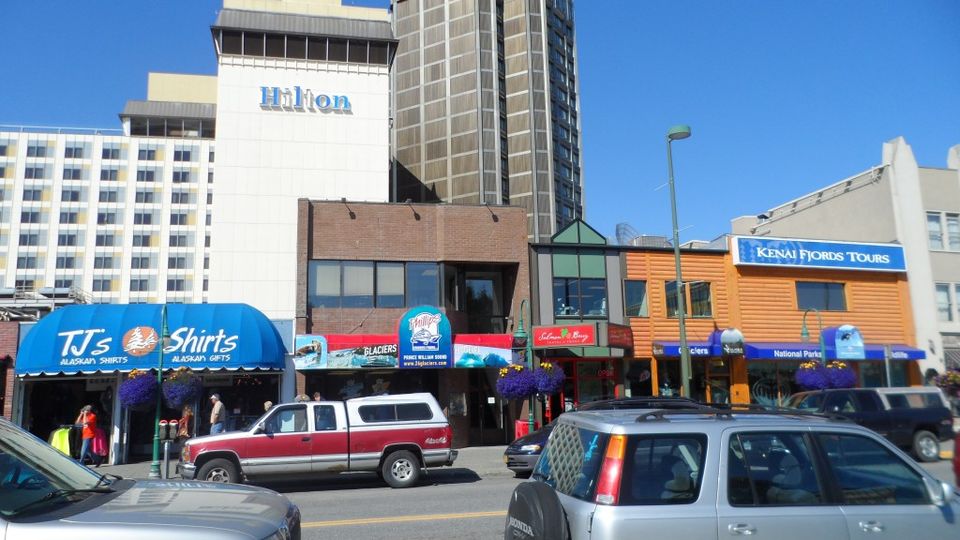 We recognize it today we have broken one of the unofficial rules to try not to repeat restaurants, cafeterias, and services, to see the maximum possible number. But we have returned to breakfast at the Bakery in Homer. We liked it so much that we could not choose another one. We have passed in front of a pair that looked good, but they treat us so well. We have even bought provisions for the snack we will make during the route.
This route has consisted of undoing much of the road already made before to get closer to Wasilla, the place where we will return tomorrow our beloved motorhome. By the way, maybe we have not said it, but everywhere we see caravans like ours. It seems enormous to us, but you have to travel in authentic transatlantic with wheels. For much of today's journey, we have remembered times and places where we had stopped to make the road for the first time. We realized that we were talking as if we had been in Alaska for 3 months, and today is the 18th!
We put gasoline back into the bug (when we finish the route we will count expenses). For the first time we filled the propane tank (we must return the caravan with all the tanks full). It is the gas that has served us to cook, operate the refrigerator and heating. The truth is that we thought we would spend more, but it has not been bad. We have eaten, like most days, in a very nice area. We have calculated quite well the stocks that we had.
In the area of Russian Lake, we have seen a huge bear on the road and fleeing into the forest. We have not had time to open the mouth that has already shot, but this has excited us. We have entered the secondary roads of the area, hoping to see some more animals. We see monkeys! But apart from getting lost, we have not seen anything (well, only beautiful landscapes, that as they are the daily bread and we think it is the most normal thing in the world, as we have become so spoiled).
The waters of the Anchor River came down with red tones. We see another of Alaska's many lakes, the Arc Lake. Later we stop again to also make the last snack in the caravan. How we like these moments. The day ends and we stop at the only campsite we have found open. We have preferred not to make camping area to have internet and look at things that we need to book to continue the route.
But we have gone to a pretty place, without any service or wifi. We will not be able to dismiss our caravan with the place it deserved. But we suppose that it will not take it into account, after sleeping, like us, in places that have seemed spectacular to us. We started to collect things, which we have distributed throughout all the cabinets and we ordered a good part of the luggage. Last night with our beloved motorhome. We will miss her very much.
Day 19 - Goodbye to our caravan
Today has been a sad day. We must say goodbye to our traveling companion during this entire route through Alaska. The day comes to return the motorhome. How difficult it was to collect all the things that we had scattered through drawers and put them back in the suitcase. And that we try to travel with the minimum possible! In addition, we have left it super-clean!
We drive to the city of Wasilla, where is the caravan rental company (well, in fact, it is the owner's house), and we are already on time. As we love everything, we have hours left. In addition, we need to look for a Dump Station (the place where to empty the water tanks of the caravans), since the camping where we have slept did not have, and that has annoyed us the plans. Finally, we found one at the entrance to the city of Anchorage.
The Milepost guide is great to find everything we need during the route. We are unable to make a trip. We continue stopping in forests and lakes to take a photo. It is very difficult to say goodbye to so much nature.It is understood why it is called Mirror Lake.
Finally, we meet the girl in charge of the caravan business. She returns us with her car to Anchorage, the most important city of Alaska, and where we will spend one last night. The trip lasts almost an hour, but we fill it out explaining our anecdotes of the trip.
We arrived at our Bed and Breakfast, and after leaving the suitcases we visited, as we did the first day of the route, downtown Anchorage. The city seems another! We see it bigger and more full of life, but we know that it is due to the route we have taken for the rest of the State. Now to see 5 people together and we think it is a crowd (we have been so alone). We even entered a shopping center, and visited shops of all kinds. Among them the Apple Store, where we love to play with the latest iPhone model.
We eat in a Chinese restaurant and have a snack in the cafe. We approach the sea and visit a gift shop. If we got to know that this store existed, we would have traveled with less luggage and a good part we would have bought it here!
We go back to our B&B, and we put on a washing machine. But we do not calculate that we want to go to dinner and we only have the sweatpants clean (the rest is still washing). It may seem silly, but we dare not enter the restaurant where we had planned to dine and say goodbye to Alaska. It is a little "elegant". So we entered F Street, more "bar" type, where they watch a football game on TV, and the atmosphere is great.
Filled full, we found a couple of places in the bar just in front of the cook. It's quite a spectacle to see him prepare a lot of different dishes. We chose good American cheeseburgers to end the day, a glass of wine and beer from Alaska. And how easy it is to establish a conversation with these people!
Let's sleep with our typical knot in the stomach before catching a flight. Tomorrow at noon we fly, but not home yet. We will visit the other American state that is also separated from the other states: Hawaii.
Day 20 - Goodbye Alaska, Aloha Hawaii
And today comes the day to finally say goodbye to Alaska. Our plane leaves at 2pm. So we decided that it is not worth leaving the B&B. We got up a little later than normal (we went to sleep very late) and we make a good breakfast. The owner of the house, already said goodbye yesterday (today had to leave early), but has left us a good banquet prepared. We take it very calmly. Too much maybe! A little more and the taxi driver to take us to the airport catches us preparing the bags.
It has been 20 days of a great experience, visiting the so-called Last Frontier, and we perfectly understand this definition.
We have plenty of time to avoid suffering (something strange in us), and this time we have no problem when passing security checks. We carry the minimum possible luggage, and in the same queue, there are people with a lot of bags and packages. Some with boxes and boxes of frozen fish that they take home after fishing days. Here they seem to have everything under control.
When we arrive at our boarding gate we lower the average age of the flight by about 40 years! Of course, Hawaii is one of the preferred destinations for American retirees to spend a few days relaxing. The flight lasts about 6 hours, and we landed without any problem in Honolulu, on the island of Oahu. We are already in another dream destination.
We have already reached Waikiki Beach in Honolulu! But this will be another story. It has been many sleepless hours to explain our trip through Alaska, but we are very happy with the result. In fact, our initial idea was to complete the route with maps, routes and more information, but we did not have more time. In short, we continue with the good life, and soon we will add more detailed information about our route through Hawaii.