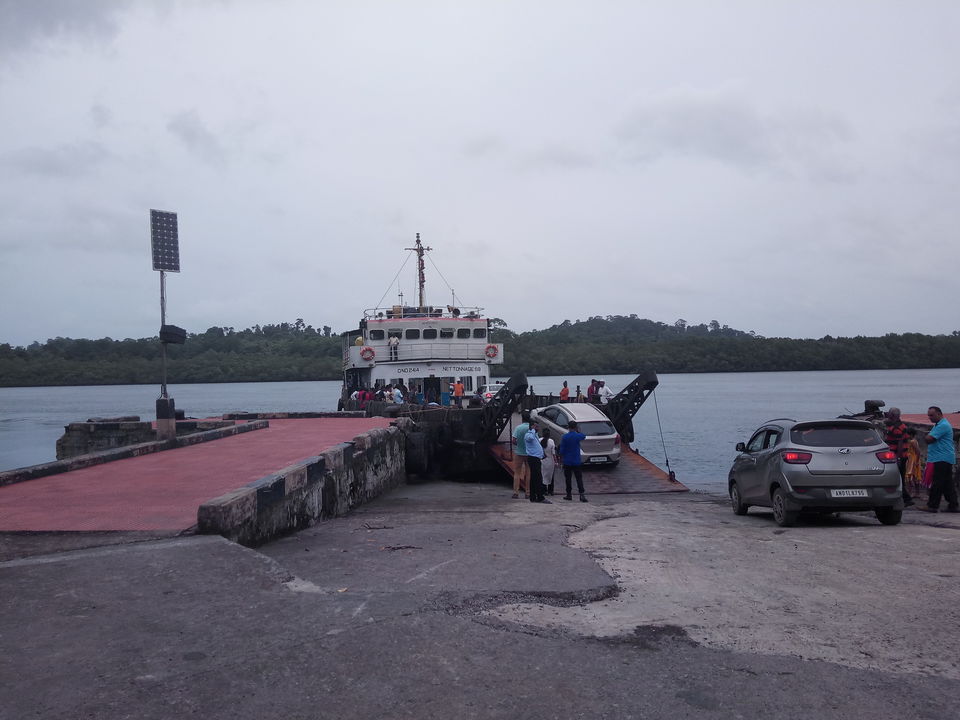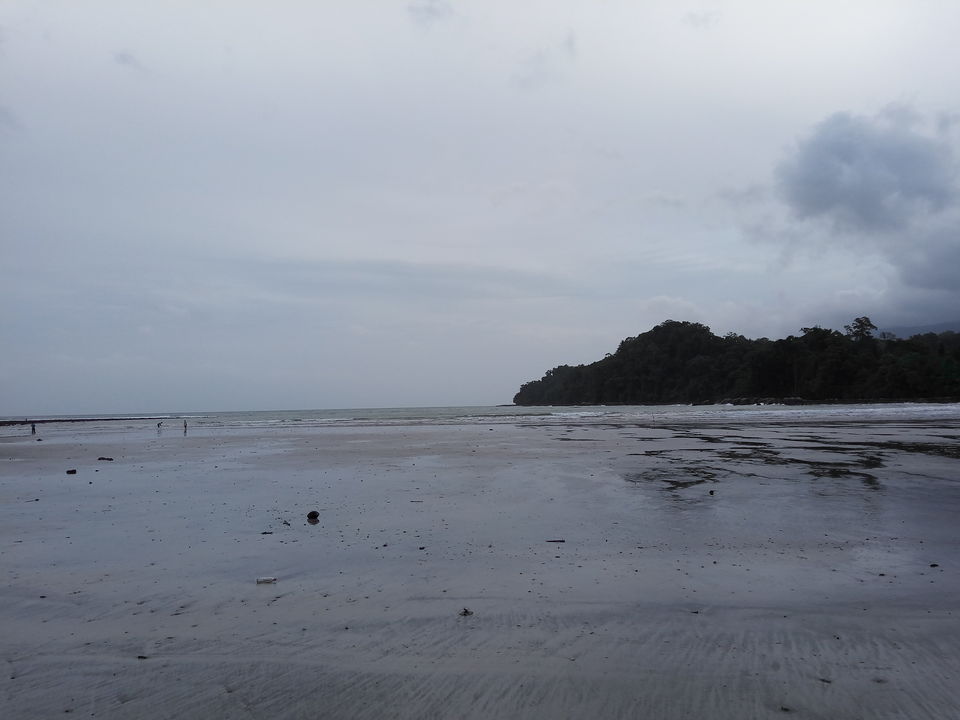 Not many explore Andaman beyond its popular destinations – Port Blair and around, Havelock Island, Neil Island and Baratang. Since, I was backpacking and had lots of time till my return flight ticket back home, I decided to backpack beyond these. My goal was to reach Diglipur in North Andaman will where the Andaman Trunk Road reaches.

On one fine day, packed up my stuff from Havelock Island and took Government ferry to Port Blair, which is cheaper and not confined than private ferries.
See here - Top Andaman tour packages with price

In Andamans, 3G network is very slow and 4G was non-existence till I left in March 2020, you can not find information so easily via google, so my local contacts helped me to find the bus to Diglipur.
Was planning to take a bus from Port Blair State Terminal, same day and booked a ticket. Still time in hand, I went to washroom when I came back and enquired about bus again, a ST guy manning counter said, the bus just left. I was shocked because I hadn't taken any long washroom break. It was completely disappointment. That was a only direct bus to Diglipur and bus to Diglipur ply on every alternate day, so the next bus is after a day.
Always while solo backpacking, I get help from all sides. You should be courteous to locals. One local who was standing next to me told the counter guy in Bengali which I understand a little. There was one more bus going to the same direction, but not till Diglipur which will be in the same convoy at first check point. With 'Atithi Devo Bhav' principle in his mind, counter guy immediately called conductor of Diglipur and help me. He also helped me to board in another bus which was going in the same direction till Mayabunder and informed conductor not to take money for this short distance as I had already paid till Diglipur. This is a regular experience, a backpacker go through when he/she moves out of city. A hospitality of locals.
Andaman Trunk Road crosses islands and passes through Middle Andaman and there are couple of places, to cross a island, ferry services are used.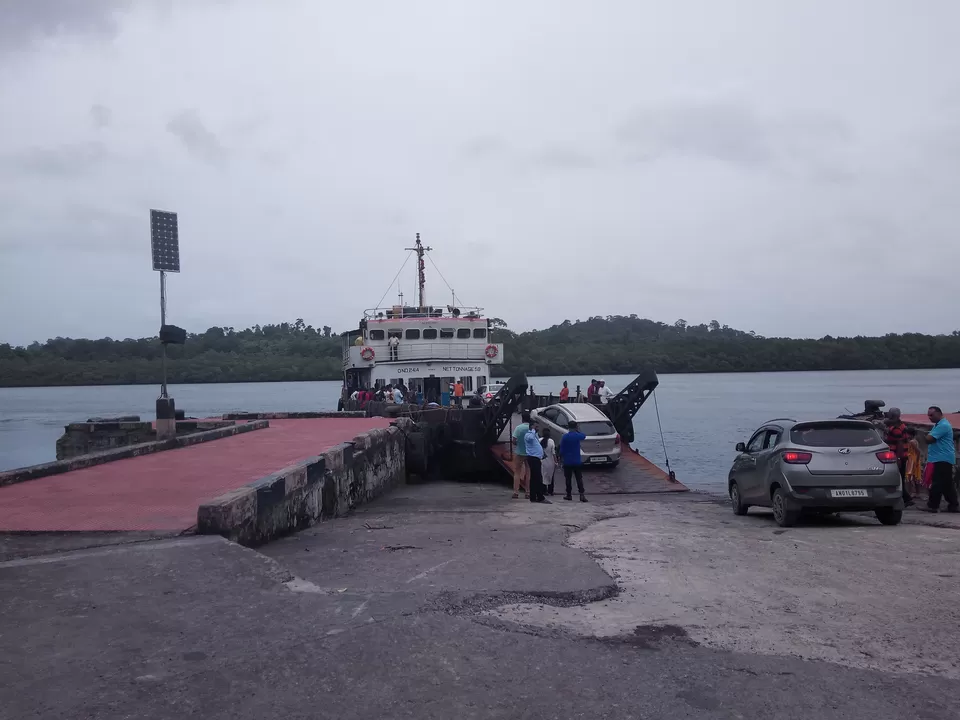 I have spoken about a convoy earlier. This is nothing but a group of vehicles travel together for safety of passengers. On this route, if you miss one convoy while travelling on your own, you have to wait for another. Whole day, not more than 3/4 convoys are allowed to travel.
This custom is followed mainly because in earlier days, in Middle Andaman when Jarwa tribe, one of the 5 Andaman tribes was hostile towards outsiders. In current scenario, this tribe is socialised and sometimes speak in Hindi and wear clothes like us, but remember very well, they are human beings and not wild animals. They may or may not be seen while travelling in their habitation stretch. Also Government has put a ban on clicking their pics and posting it on social media.
If you would like to take this 10 hours journey, you shouldn't have a back problem. Right now the the condition of Andaman Trunk road is bad and in couple of years, this 200+ road will be a multiple lane highway.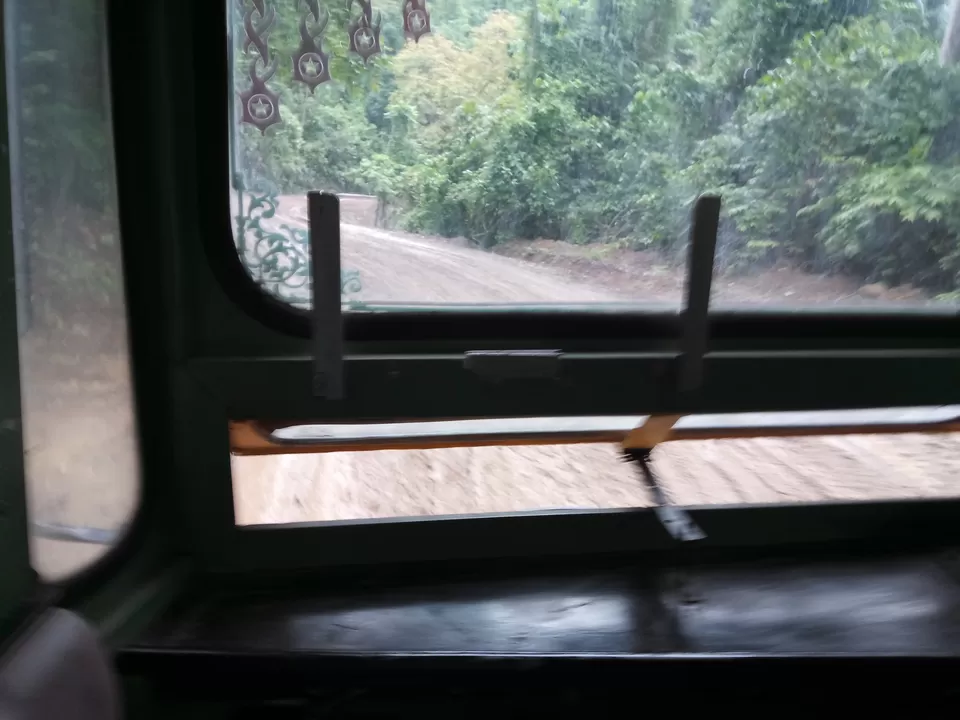 After a whole day's journey, I reached Diglipur.
Diglipur turned out to be better than Port Blair, capital of A & N.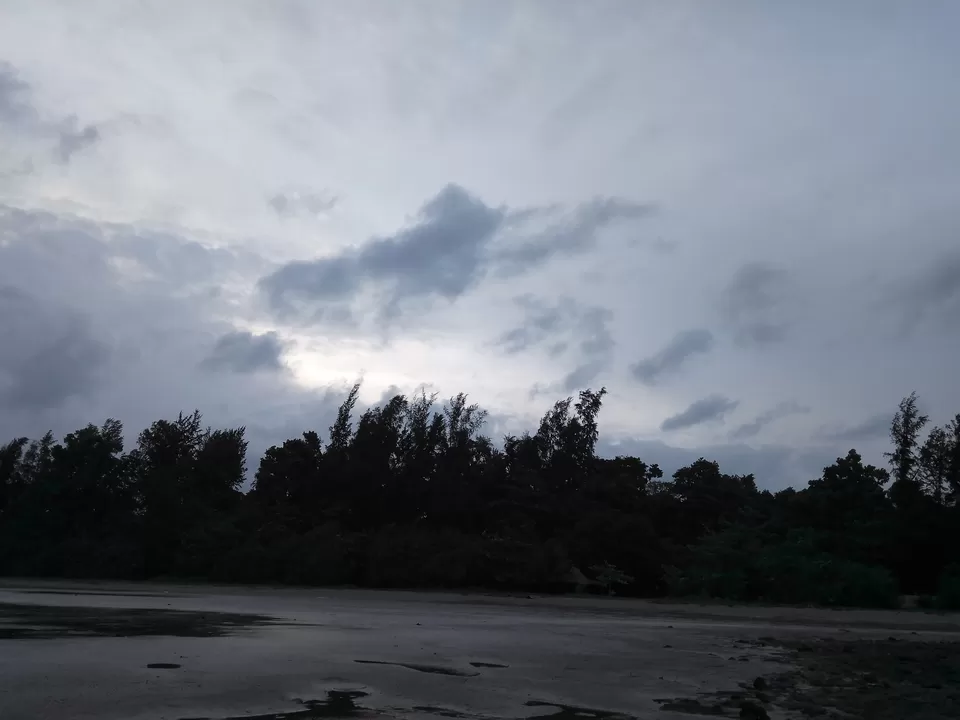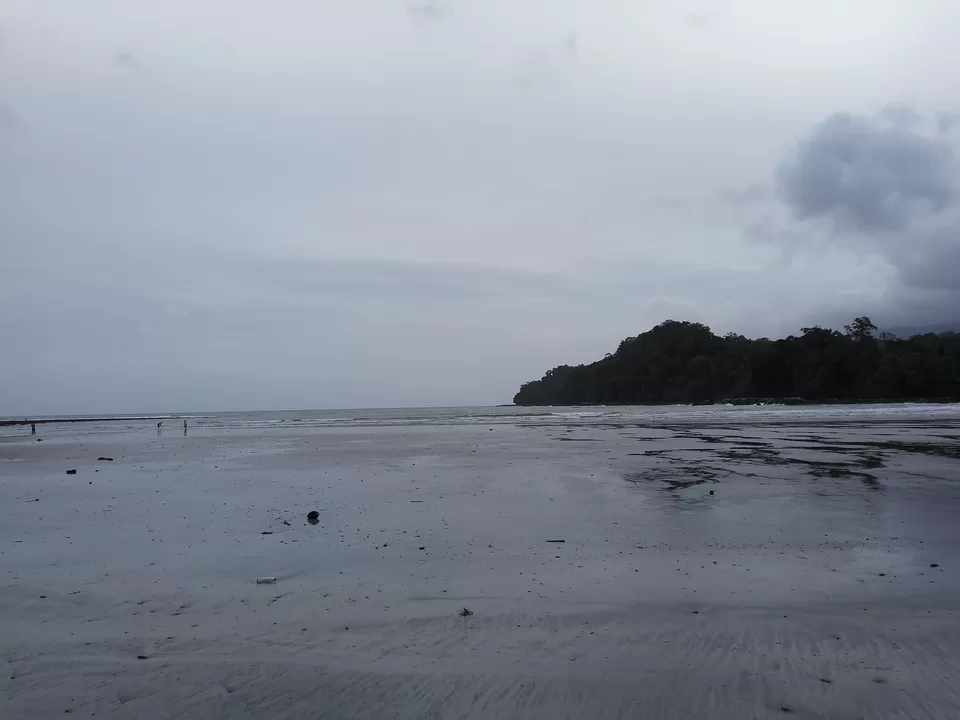 Surrounded by a mountain range on one side and sea on other. Diglipur is a story of how early Nomads reaching new place and using the resources to earn their livelihood. Diglipur story takes a step beyond a Nomadic life. Story of human's prosperity fighting the odds and prospering.
When I managed for some network, booked a place in Diglipur.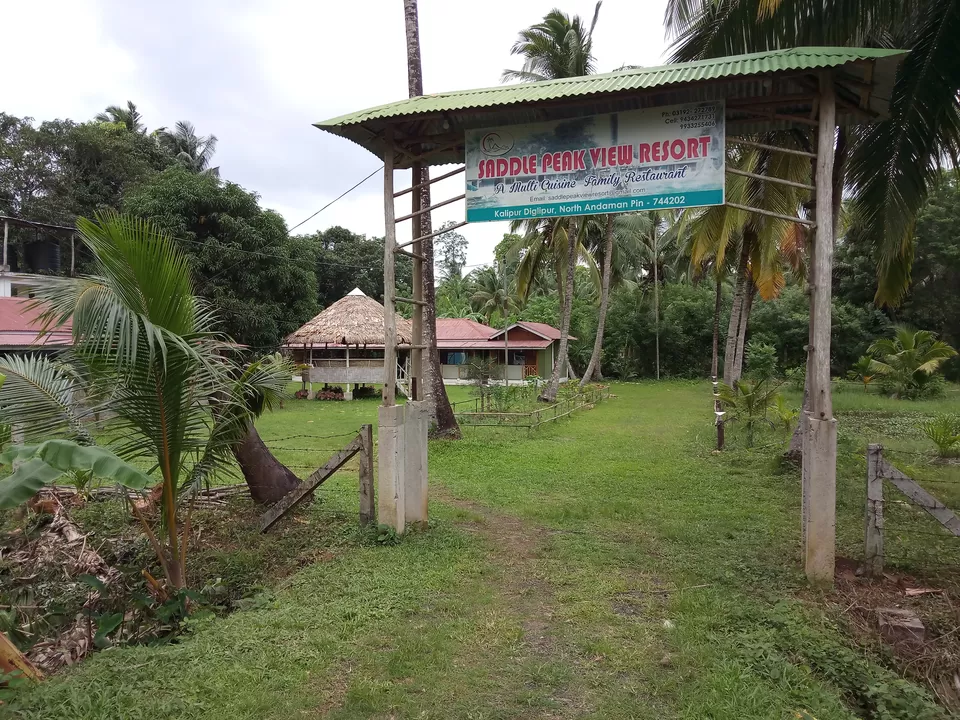 My aim of a visit to Diglipur was to scale one of the highest peak – Saddle Peak of A & N. I had booked hotel on the way when I got network. 'Saddle Peak View Resort. This hotel was at its base though was slightly far away from City centre. Also I wanted to stay away from the hustle of city. This proved to be a best gambit. This small cottage hotel nestled at the base of a jungle was like a surprise to me. Cost and location was perfect. Though I didn't stay here for more than 2 nights, but the stay was an absolute delight.
The wooden cottages were built tastefully and they fitted in a a small plot.
One thing about entire Andman's beaches is a blanket warning about Crocodiles spotting. Sometimes its true or sometimes, its here-say . Though locals have lots of stories of spotting and people getting killed by Crocodiles, but it's a fault of the government that they released some crocodiles from zoo to ocean when it was difficult to maintain after their growth due to space constraint.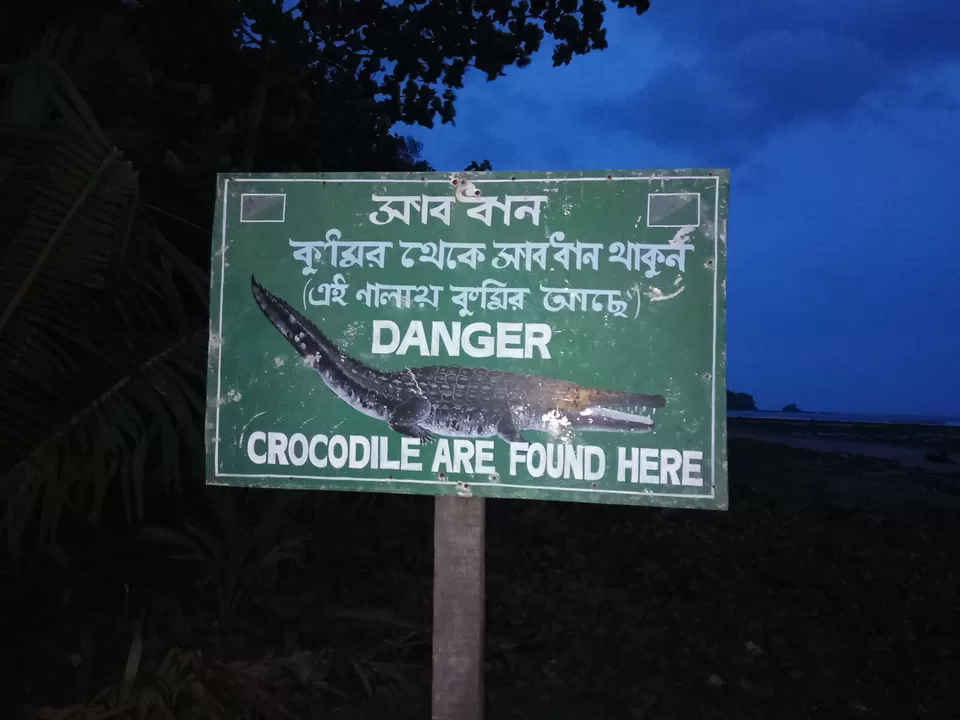 Government is planning to bring Diglipur on tourism map as well like Port Blair and other islands. The work on expansion of 200 + kms of Andman Grand Trunk is in full swing and looks like in 2/3 years, it will be completed. Also an air strip is getting ready for domestic aircrafts to get tourists flow to this North side as well.
Next day morning, I had decided to go for Saddle Peak trek alone. All the reviews said, it requires anywhere between 7 hours to 10 hours. Taking into account early sunrise and sun set, I had to start by 5/5.30 in the morning.
Saddle Peak, an intriguing trek:
A very well marked trek route, so chances of getting lost were very miniscule, but host had cautioned me of calling him once I reach top as he was worried of me being alone. He packed some parathas to have it on the way. After making the register entries at entry point, I started my long walk, yes it was a long walk as even after crossing 6 kms at the base, there was no sign of route climbing upwards. I was happy that I decided to go for this trek because entire 6 kms of flat trek was full of small springs crossings to meet ocean on the left.
Yes, the entire base trek has sea as a company on left and jungle with tree trunks as huge as an Amazon forest trees. Finally, ascent started with nice indigenous steps made of small bamboos to stop skidding on slope. For a Sahyadri mountaineer who is used of slippery routes, this was a boon. Those steps were kind of route markings baring very few places. With consistent speed managed to reach the top which a breathtaking sight.
Top was covered with clouds and glimpses of surrounding vast expanse of Andaman Sea till horizon with the feel of an ocean is kneeling at the mountain's feet but with a gracious glory and saying you have a height but I have an expanse, so we are equals and mountain returning the gratitude with the same respect by sending fresh water to add in its expanse...
This was truly an intriguing trek with a salt water at just few meters away and mountain springs full of heavenly refreshing sweet water.
At the entrance, the sign of various animals or birds residing in the forest, but couldn't find any. On the whole trek, I was the only human besides few forest guards at the base. It was entering in a trance mode in a company with most of the elements of nature present except fire.
Without a trace of pollution, I could breath pure air.
Some facts about reaching Diglipur.
How to reach Diglipur:
By air: From anywhere in India, you can fly down to Port Blair which has Andman's only airport. Couple of years down the line, Diglipur airport will also be functional.
By Road: Buses ply thrice a week from Port Blair to Diglipur. It's a 9/10 hours treacherous journey because of ongoing work on Andaman's only highway which is more than 200 + kms.
You can rent a car, but its too costly as you have to rent a car for multiple days.
By sea: There are ships available once in a week from Port Blair.
Where to stay: There are couple of guest houses at Saddle Peak base.
Food: Mainly rice and fish. Majority of Diglipur locals are from Eastern side of India.
Precautions on trek: If you are not a regular trekker, you should hire guide services. Wear footwear which doesn't sleep on a wet surface. Full clothes as a protection from mosquitoes. Carry snacks and water.
Frequent searches leading to this page:-
diglipur north andaman, diglipur airport