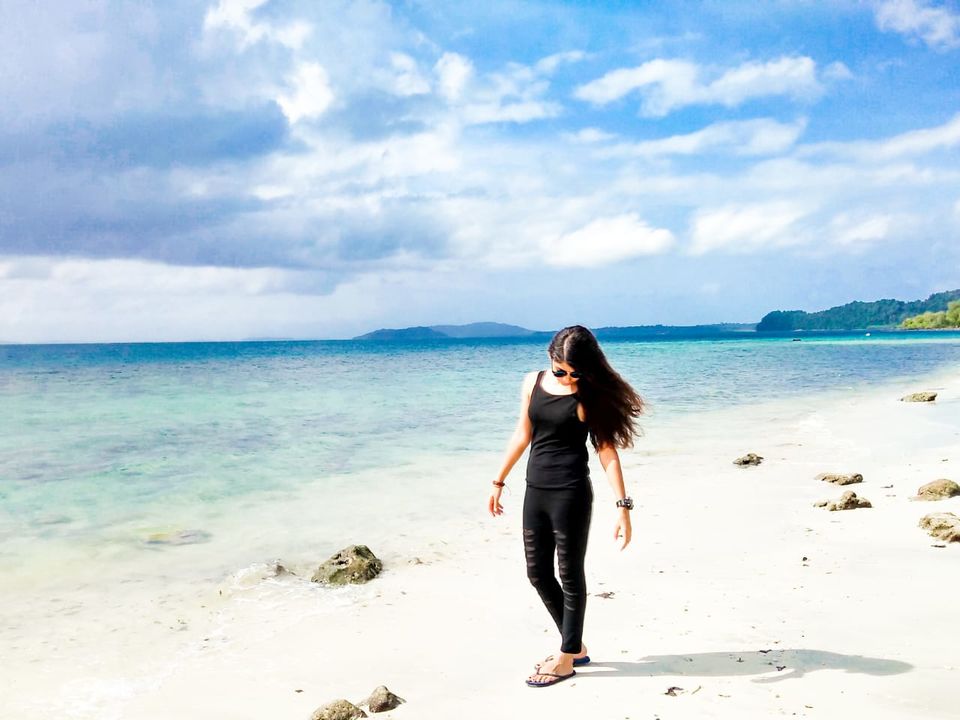 Travel for me is not just covering all the places of a particular destination, rather it is exploring and experiencing the best places of my interest.
My idea of travel is exactly same as Naina of YJHD,
"कितना भी ट्राई करलो, लाइफ में कुछ ना कुछ तो छूटेगा ही, इसलिए जहां है वहीं का मज़ा लेते है।"
I always travel like a student. By that, I mean less preference for comfort, a little high on impulse but not reckless, keeping an open mind for learning and always up for adventures!
Major reason for this trip being very cheap for me were:
1. I booked my flight tickets one month prior . It costed me total of ₹ 11 k from Ahd-Kolkata-Port Blair (round trip).
2. I went in the month of August which is not peak season. Hotels and flights both were pretty cheap comparatively.
3. I used coupons from Oyo and MMT on my hotel bookings and saved a lot. Also, the hotels I booked were decent and average. I just had to spend nights there.
4. Internet connectivity is poor in Andaman and hotel operators know this. You will find huge difference in offline and online prices of Hotel. Book everything possible online!
5. I'm not a foodie. I eat simple vegetarian meal. So, I usually save money by not spending it on fancy food.
Pro Tip: Guys, never ever underestimate the power of coupons! :p
I did not plan a lot but I knew places I did not want to visit.
Also, please note that even if you have 15 days you can not explore all the places so research enough and decide where exactly you want to visit. I had decided to explore less touristy places in Andaman.
But, at any cost, don't miss Havelock! It has my heart, will take yours as well. So, here is the itinerary.
Day 1: Port Blair
We reached Port Blair in the afternoon. I'm not a fan of historical places, monuments, caves, museums etc. But, if you like these you can explore Cellular jail, Samudrika Museum, water sports, nearby beaches etc in Port Blair. We simply checked in the hotel and roamed around the local market, talked to local people and ate. Ensure to book a window seat to not miss this bird eye view of Andaman while flying.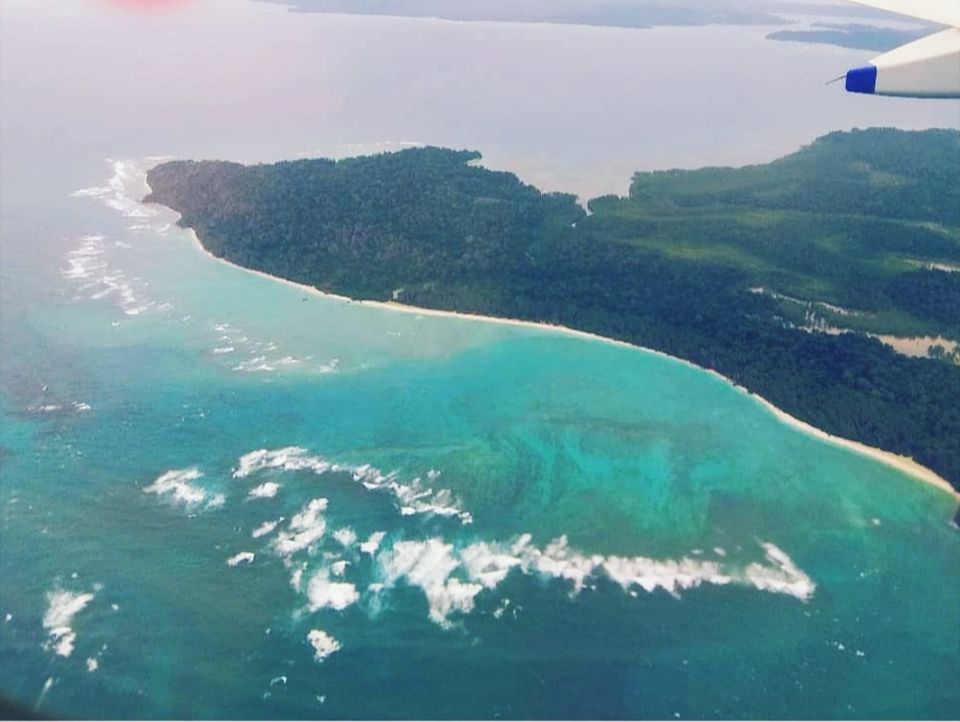 Day 2: Diglipur
There is a beautiful set of twin islands in North Andaman, called Ross & Smith Islands. The islands are connected by a sand bar (check out drone shots on Google). To reach here, you need to take a taxi from Port Blair to Diglipur (300 Km from Port Blair) , which takes around 8-9 hours. Other options are local bus or Government ferries. Its difficult to get government ferries as they prefer local people over tourists. You can get those through agents as well. Being far is one of the reasons not a lot of tourists go there and should be one of the reasons for you to not miss this one.
We took local bus which costed us around 300 per person. Road conditions were very bad and our bus driver seemed inspired from Fast and Furious, but we loved the ride.
We had booked out stay in Pristine Beach Resort, a lovely place which is 15 kms away from Diglipur (extreme of north Andaman). It is 2 minutes away from the Kalipur beach. You can check availability in Turtle Beach Resort as well which is maintained by Andaman tourism , but it's always in high demand. It was pretty late by the time we reached here, but we went to the beach immediately after checking in. (Because why not!)
On the way to Diglipur, you may spot people of Negrito tribe. Stopping the bus is not allowed in their areas of habitat but you can watch them. We greeted them as well, they ignored us generously. :(
Day 3: Ross and Smith Islands
The next day we took a local bus (Costed us 15 rupee each) to the place where one boards the boats to reach Ross and Smith Islands.
The Boat takes maximum 4 people and cost ₹ 4000 total. Since we were just two people, it costed ₹ 2000 per person. The boat person lets you stay there for 2 hours which is enough.
Not a lot of people travel to this Island as it takes 3 days to cover it from Port Blair and since it was off season, not a single person was there on the island.
Can you believe it? An entire set of twin islands to ourselves! what a luxury. It is amazingly vast and beautiful.
Have a look! (bear with me blocking the view :p )
Day 4: Port Blair
There are other places to explore near Diglipur like Ram Nagar, Kalipur Beach, Alfred Caves, Mud volcano. But, because we were short of time, we left for Port Blair. We had booked our ferry to Havelock Island from Port Blair, though you can take a ferry from Diglipur to Havelock as well (subject to availability).
Day 5: Havelock Island!
The next day we took our pre-booked ferry from Phoenix Jetty(Port Blair) to Havelock Island. It costed us ₹ 1800 per person and took around 45 minutes. There are government ferries as well which are comparatively cheaper but difficult to get. There are only two private ferries from Port Blair, Makruzz and Green Ocean. Green Ocean has an open deck above so you can have a look at the magnanimous sea and get amazing pictures clicked.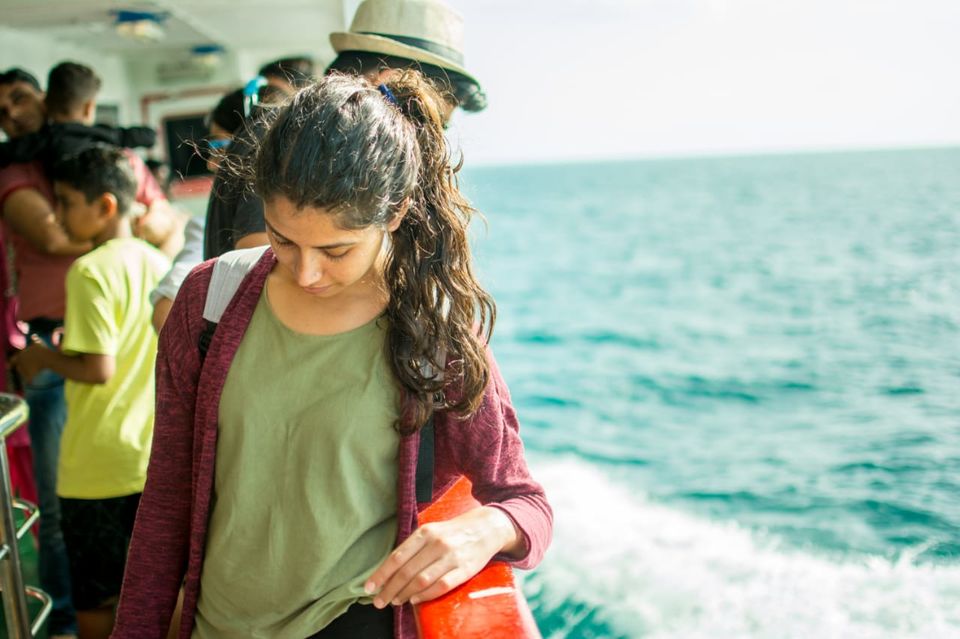 Havelock Island has lot of places to explore. The famous Radhanagar Beach (Asia's most beautiful beach) is at one extreme end and kalapatthar beach is at another. We had booked our Oyo (costed us 999/day) which was 200 m away from Radhanagar Beach. For easier access to other parts of Havelock, one should stay in the middle (costlier hotels, of course). We had rented an Activa (costs ₹ 500 for a day) for that which worked fine.
One of the major reasons I went to Andaman was to do Scuba Diving. I had hydrophobia and the Arjun of ZNMD in me was all set to get rid of that! We booked our session with the counter run by Govt. and dived with Gypsy Divers at Havelock (costed us ₹2500 per person including videos and pictures).
What an experience!
The guy in the picture below is my super cool Scuba Instructor. I don't know how to swim and he made me feel very comfortable about it. That's how I got over my hydrophobia.
After Scuba, we went to Radhanagar beach in the evening.
I have always been a mountain person but the magic of this place made me fall in love with ocean as well.
It is beautiful as heaven, very picturesque and extremely clean. Check out!
By evening, it experiences playful waves. There are enough guards all around the shore so that nothing bad happens. No entry is allowed to the beach after it becomes dark.
This was the best part of Andaman, after Scuba of course.
Day 6: Elephanta Beach, Havelock Island
The next day we wanted to visit Elephant beach first and then Kala Patthar beach. One can take a boat till Elephant Beach or can take a 2.5 km trek. We decided to go adventurous and took the trek. We were told just keep left and keep moving till you find sea. It rained the day before so route was quite muddy and we were in slippers.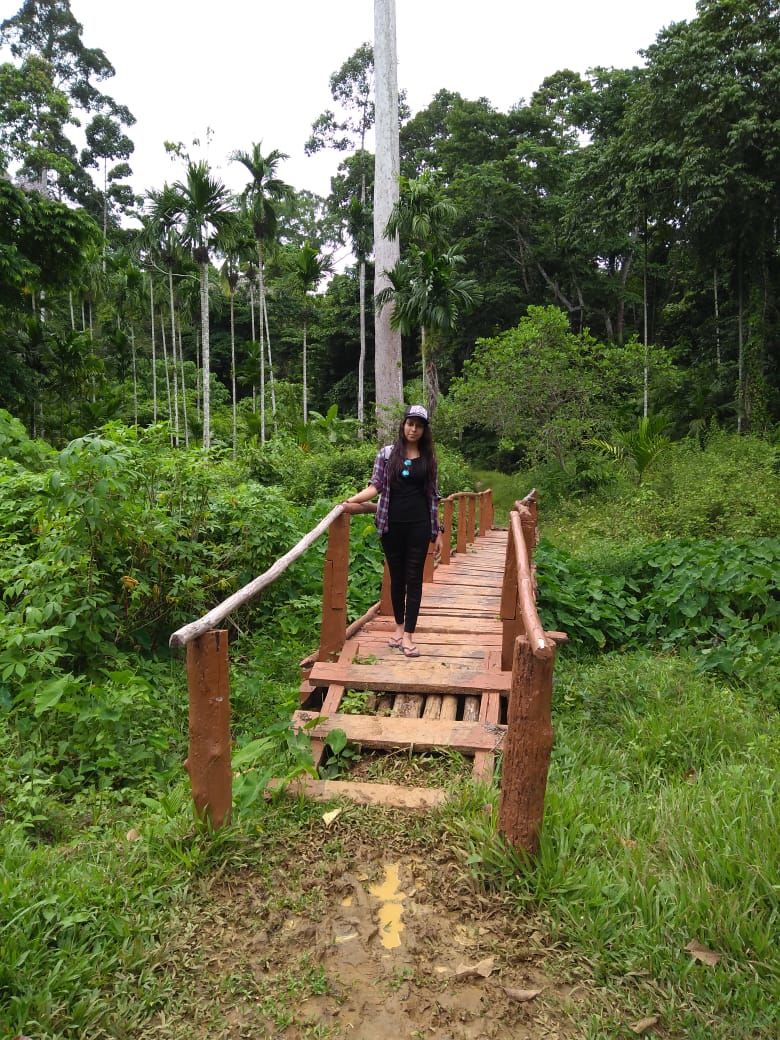 We kept walking till we found the beach. In front of us was a vast, blue sea making us spellbound.
What happened on our way back was more adventurous than the trek itself. We were pretty late and found no one on the way back. We lost our way. It was getting dark and there were signs of imminent rain as well. There was no network in our phones and the only phone with battery did not have a compass (Phone was Moto G 5 plus :P).
We decided to go by our instinct and to our surprise, we somehow made it out.
My friend after that day kept saying "Apun Ashwatthama hai" all the time! haha!
We decided to not go to Kala patthar beach as we were out of time.
Day 7: Havelock Island
We stayed in Havelock for two days. However you can spend one day at Havelock and another at Neil Island. Neil Island is famous for its rich fauna. Also, Scuba Diving here is an amazing option as the place is famous for its Coral reefs (try Glass boat ride) .
The next day we had our ferry back to Port Blair in the afternoon.
We had option to go Kala Patthar beach in the morning but we couldn't resist ourselves from going to Radhanagar Beach again.
Day 8: Port Blair
We had booked Green Ocean Ferry for our way back to Port Blair. Personally, I found Green Ocean a lot better than Makruzz. We reached Port Blair, checked in to our hotel and slept for straight 11 hours.
The next day, we had our flights in the afternoon. So we decided to explore Port Blair. There are options of water sports at Phoenix Bay Jetty in Port Blair. One can visit Chidiya Taapu, Ross Island (different from Ross & Smith Island which I have mentioned above), Viper Island etc. I had seen the most beautiful beach one could see in Andaman so I was not lured by the desire of exploring more beaches. Instead of not being a fan of historical places, I decided to visit Cellular Jail and to my surprise I loved it. The timings for it are 9-12:30 am and 1:30-4:45 pm.
We reached Port Blair in the afternoon. I'm not a fan of historical places, monuments, caves, museums etc. But, if you like these you can explore Cellular jail, Samudrika Museum, water sports, nearby beaches etc in Port Blair. We simply checked in the hotel and roamed around the local market, talked to local people and ate. Ensure to book a window seat to not miss this bird eye view of Andaman while flying.
We had our bags packed already and we left for our place after having lunch.
This trip is very close to my heart because I got over my Hydrophobia, saw the most beautiful beach till date and it did not burn a hole in my pocket.
The break-up of ₹ 28K is as follows:
Flights - ₹ 11 k(round-trip)
Ferry -₹ 3.6 k (Port Blair-Havelock-Port Blair)
Boat-₹ 2 k (Ross & Smith Island)
Scuba Diving -₹ 2.5 k
Hotels - ₹ 6 k (Total was 12 K and we were two people)
Miscellaneous: ~ ₹ 2.7 K (Food, local travel etc)
Don't forget to pack vibrant colored clothes to get amazing pictures.
The best part about Andaman is its extremely clean beaches. Travel like a responsible citizen, make sure you don't spoil its beauty and not make others devoid of this beautiful experience.
If you liked this blog, please show some love and visit my Instagram profile @woman_who_wanderz (and follow if you like).
Read more travel stories here.
For any questions, please ask in comments.
Let's Wander!
Frequent Searches Leading To This Page:-
andaman trip cost, andaman trip plan, how much does andaman trip cost, how to plan andaman trip without package, andaman and nicobar trip cost