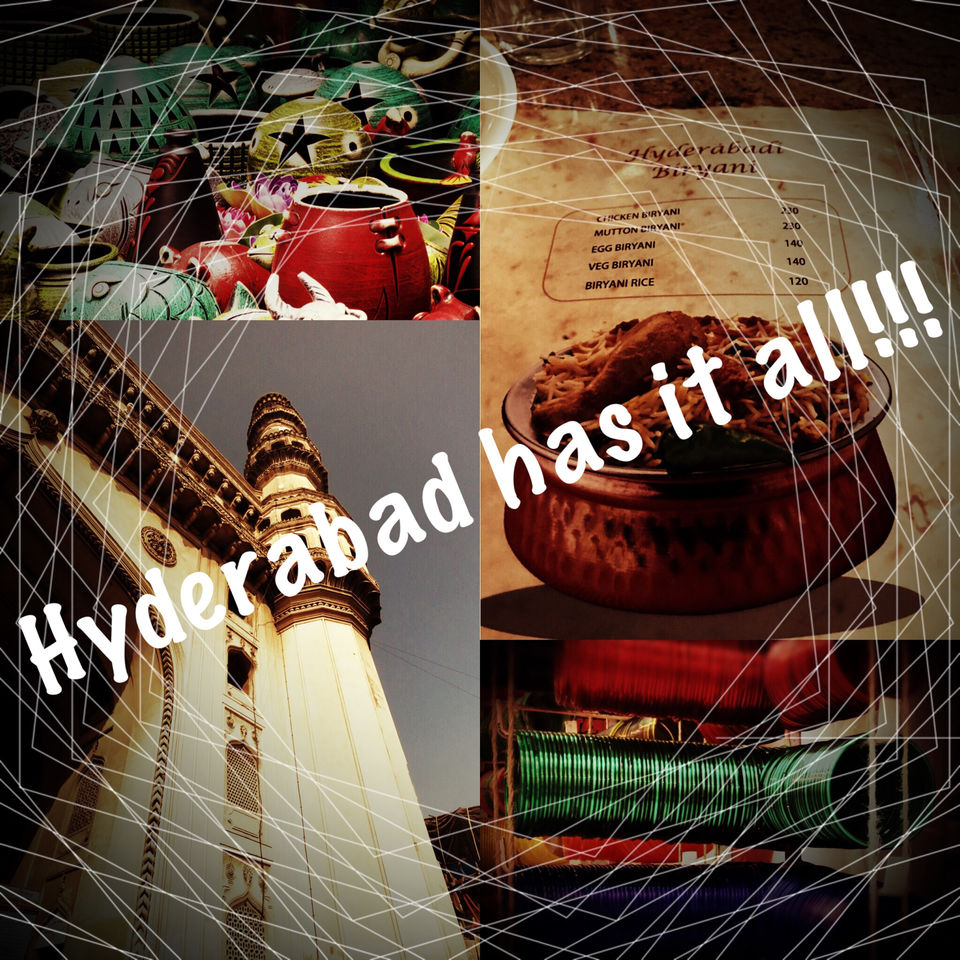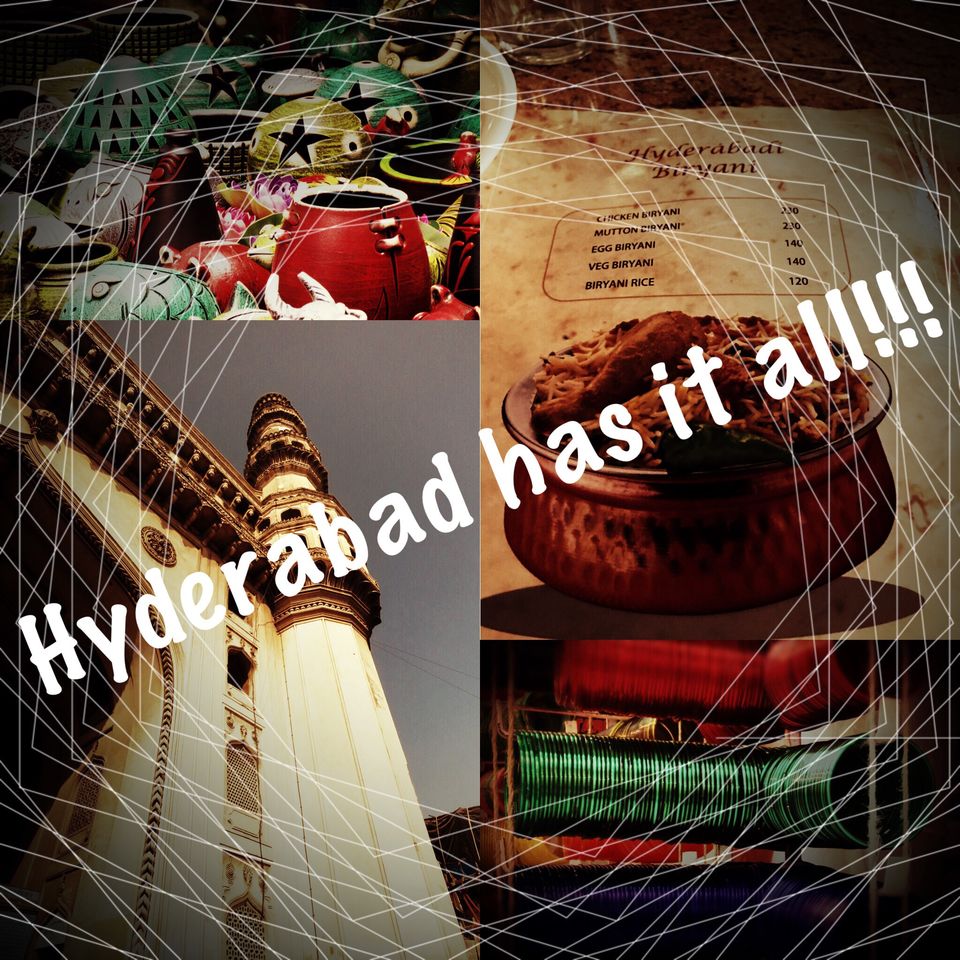 For most, it is a city like any other in India. But having spent a considerable amount of time in the city, with some amazing friends, have made this city very special for me. The city is enveloped with rich history, an amalgamation of religions and sees the 'new' meet the 'old' everyday. After relocating away from Hyderabad, I have met a lot of people from the city, which encouraged me to visit the city once again. Once decided, I had my bags packed and was on my way to one of my most favourite cities again!
A yum Dum Biryani @ Paradise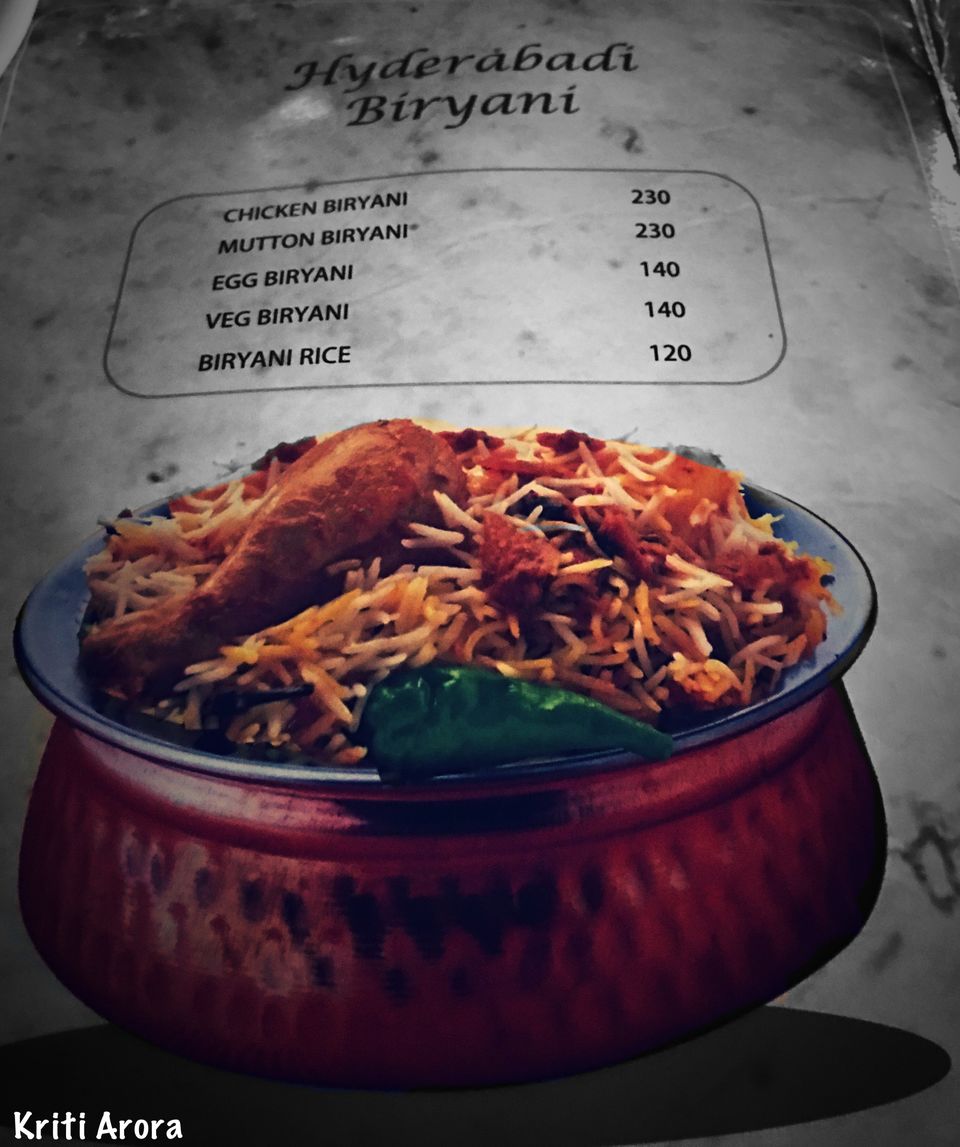 If there is one dish that represents Hyderabad, it is this. And on my quest to find the yummiest biryani in Hyderabad, I discovered Paradise. It is one of the oldest biryani restaurant in Hyderabad and is a popular tourist destination among locals and tourists alike. Biryani, with mirchi ka salan and raita, would make me travel all the way to Khairatabad from my accommodation in High Tech City on my weekly offs. But it is not just the biryani that one would lust over. Qubani ka meetha (apricot stew topped with a dollop of fresh cream) and double ka meetha (bread slices fried in clarified butter with dry fruits) can get your salivary glands equally excited. One can try the iconic Irani samosa or Osmania biskoot, with Irani chai, after you stuff yourself with the biryani. There are Paradise outlets now across the country, but having an iconic dish of the place in that place itself is an experience that cannot be matched anywhere else.
Shilparamam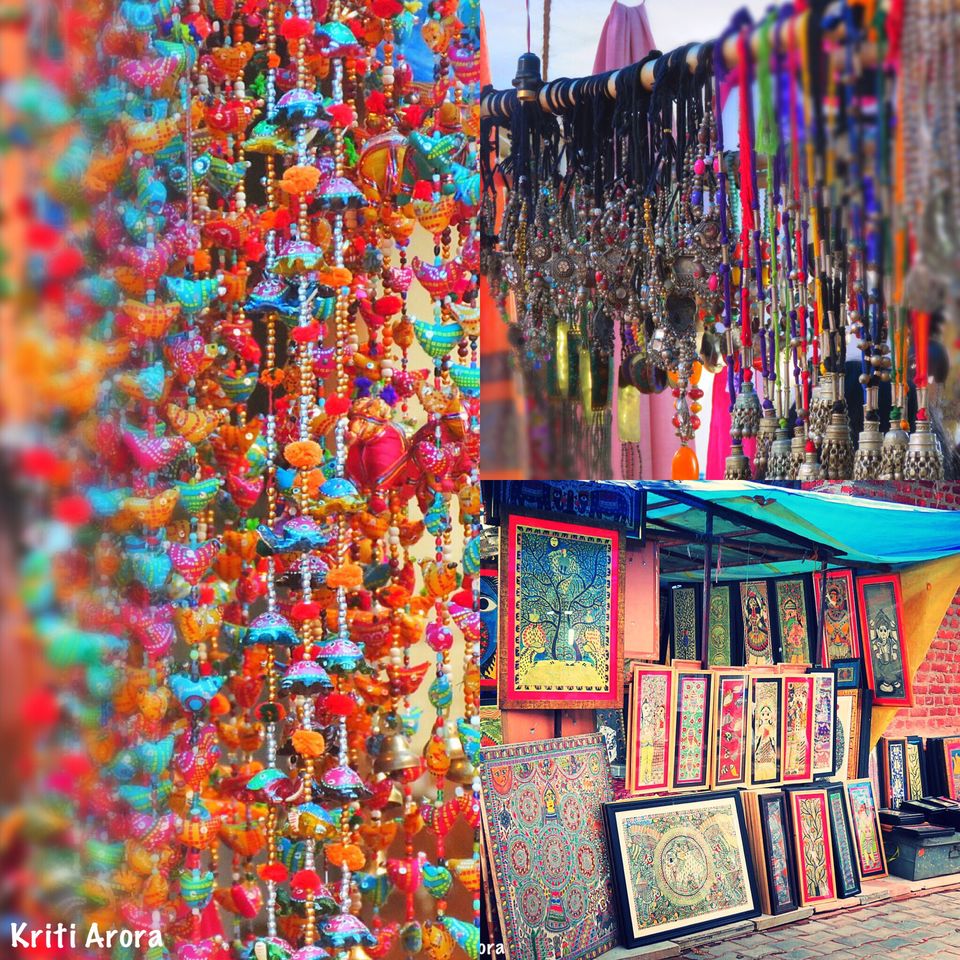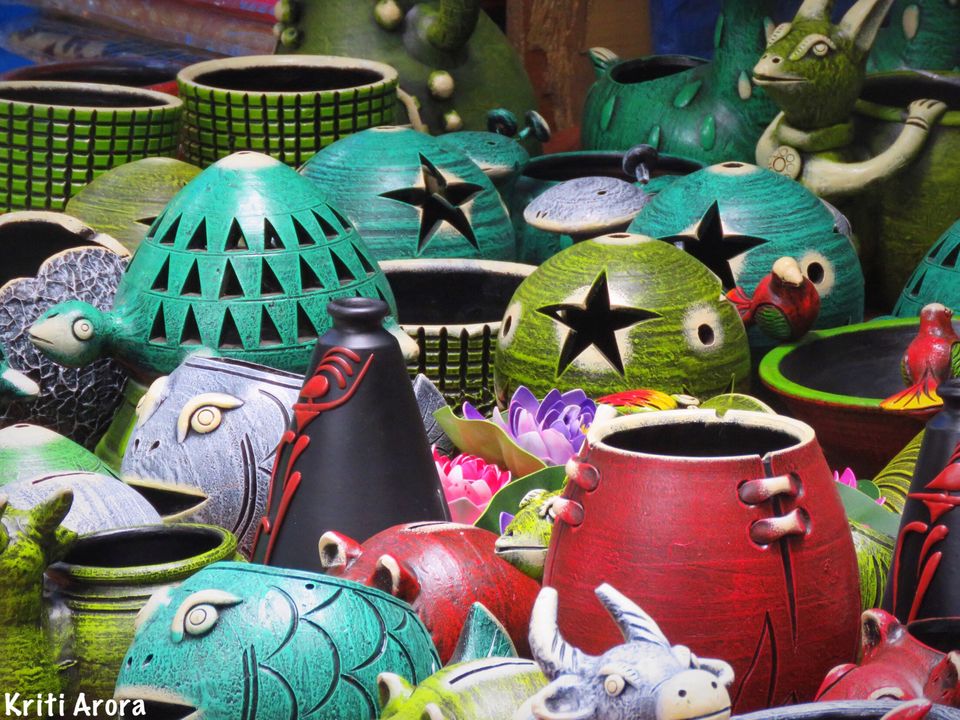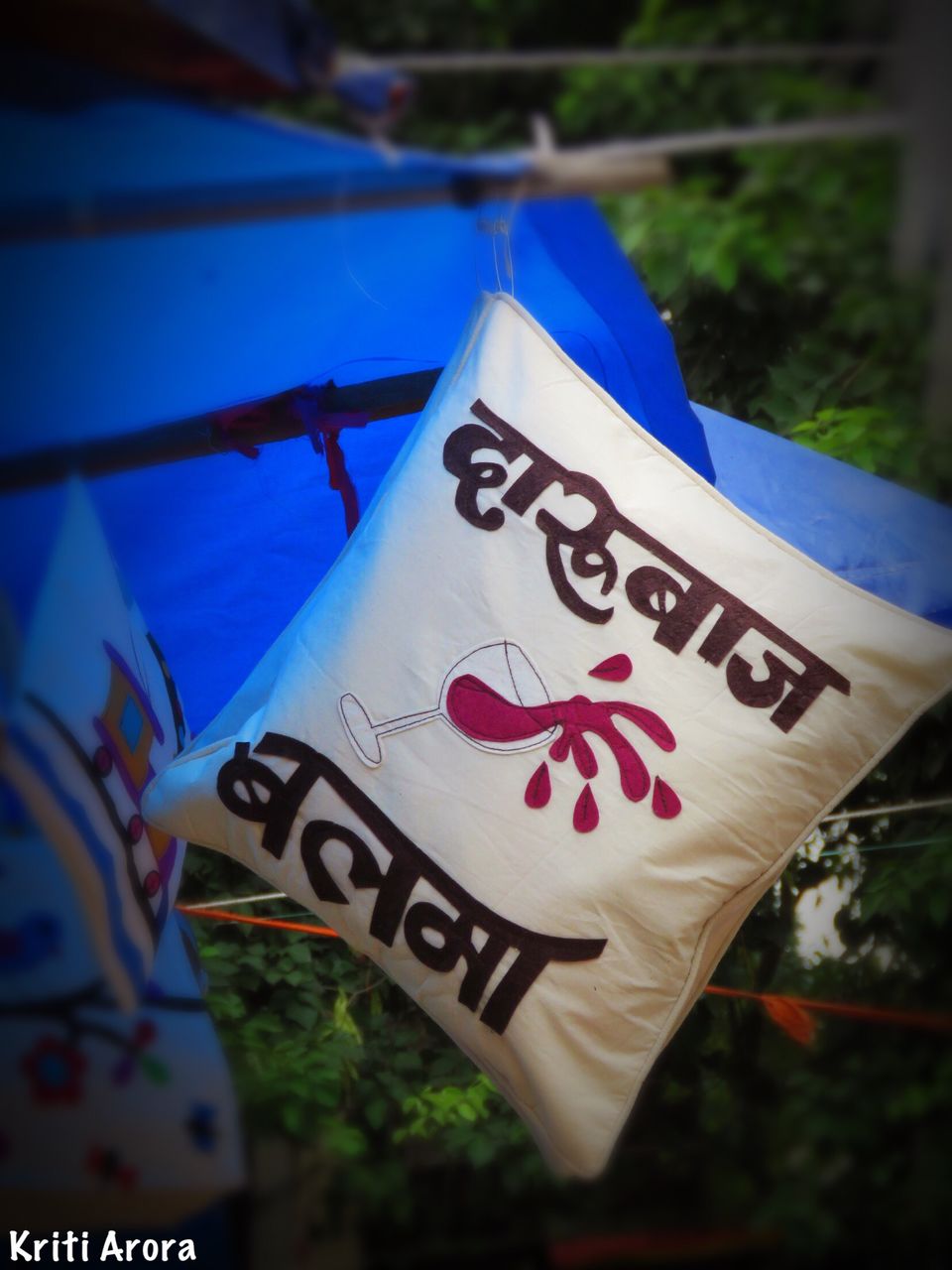 Since my love for handicrafts is unparalleled, this a must visit place for me overtime I am in Hyderabad. Artefacts made from paper mache, bandhani, bidri, brass and Hyderabad pearls can keep you engrossed for hours at end. You can munch on pav-bhaji, chole-bhature, chaat, kulfi and several other street food items while casually strolling around. On most evenings, a live singing or dance performances are held in the open air amphitheatre, located in the centre of the bazar. You can even get your own portrait sketched, get a mehendi tattoo, or ride in a bullock cart; the list of activities is endless. For the nocturnal shoppers, there is even a Night Bazar, which closes by 1:00 AM. And for a enthusiastic street photographer, the place offers plenty of clicking opportunities.
No matter with what mood I visit the place, I always end up leaving the place in a very jovial mood.
Charminar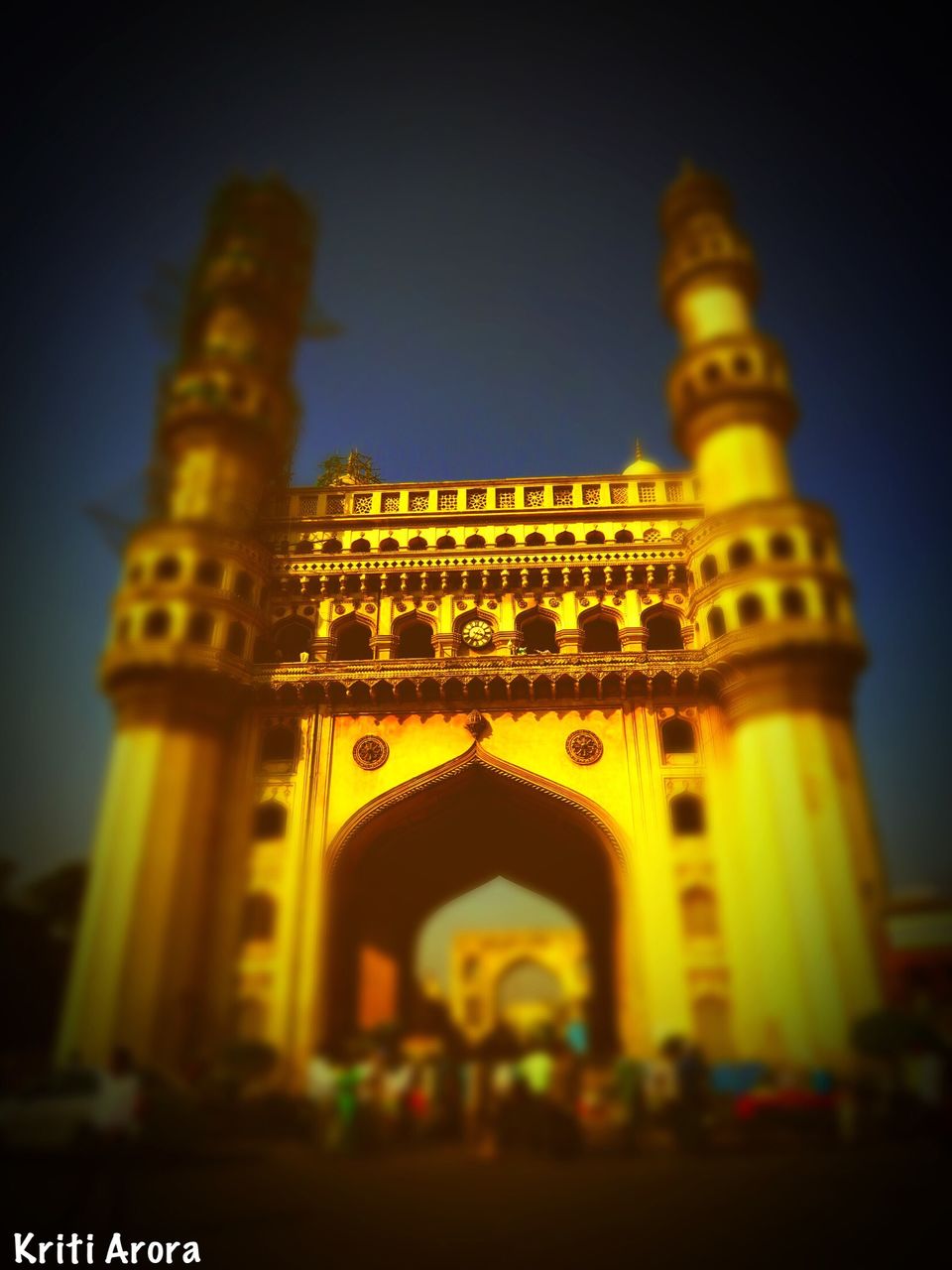 Constructed by Mohammed Quli Qutab Shah in the sixteenth century, Charminar is a massive and impressive structure. Over the years, the Charminar has become the identity of Hyderabad city. For a click-happy person like me, not visiting Charminar while in Hyderabad is not an option. Once inside, each of the four corners of the building offer you splendid views and numerous photographic opportunities of the market that surrounds the structure.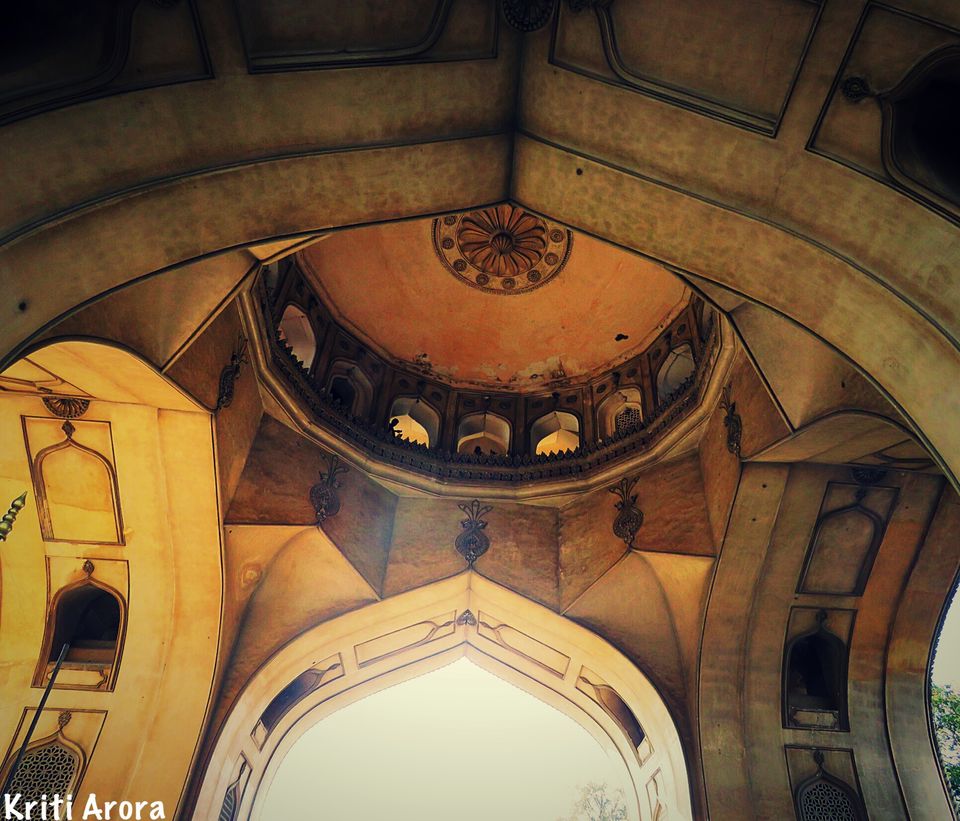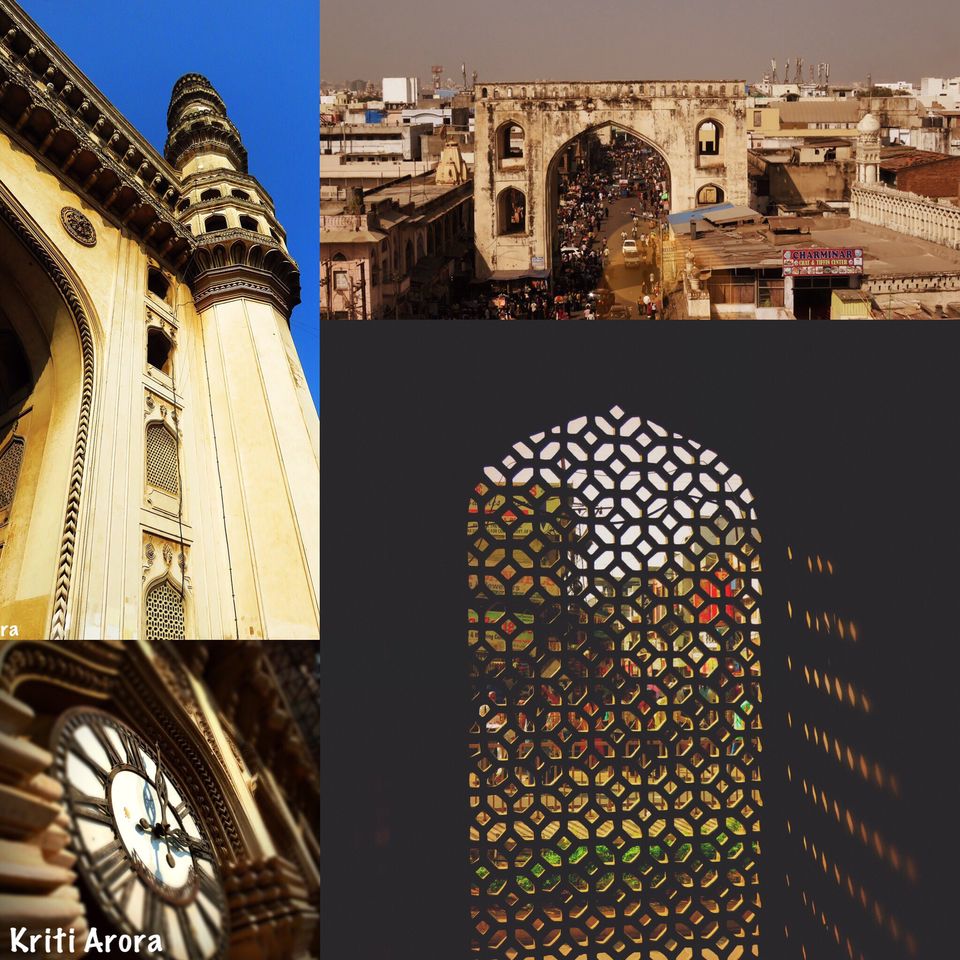 The information boards inside the Charminar tell you everything you need to know about the structure. So, I won't bore you with all the factual information; for that you will have to visit the Charminar and read up yourself. (I wish I could have visited Charminar during my school days. It would have helped me during my History exams. ☺☺☺) But one interesting thing I would like to mention, something that fascinated me immensely, is the fact that there is a temple of a Hindu Goddess right outside the Charminar, which one must visit too.
Laad Bazaar and Pathar Gatti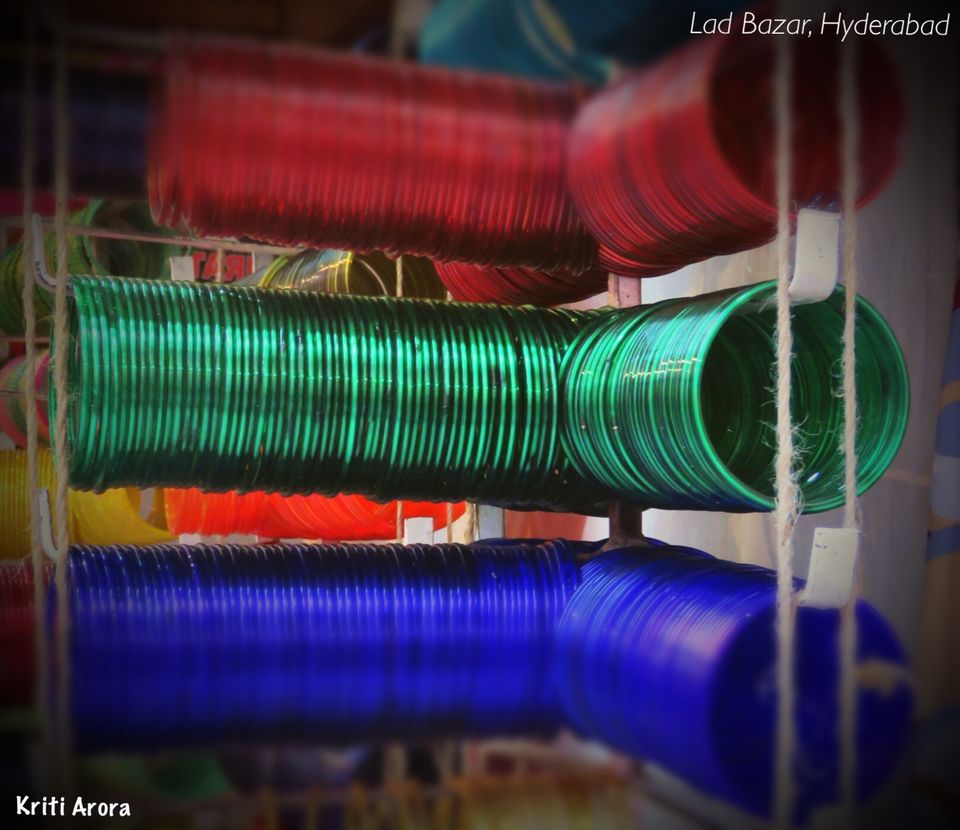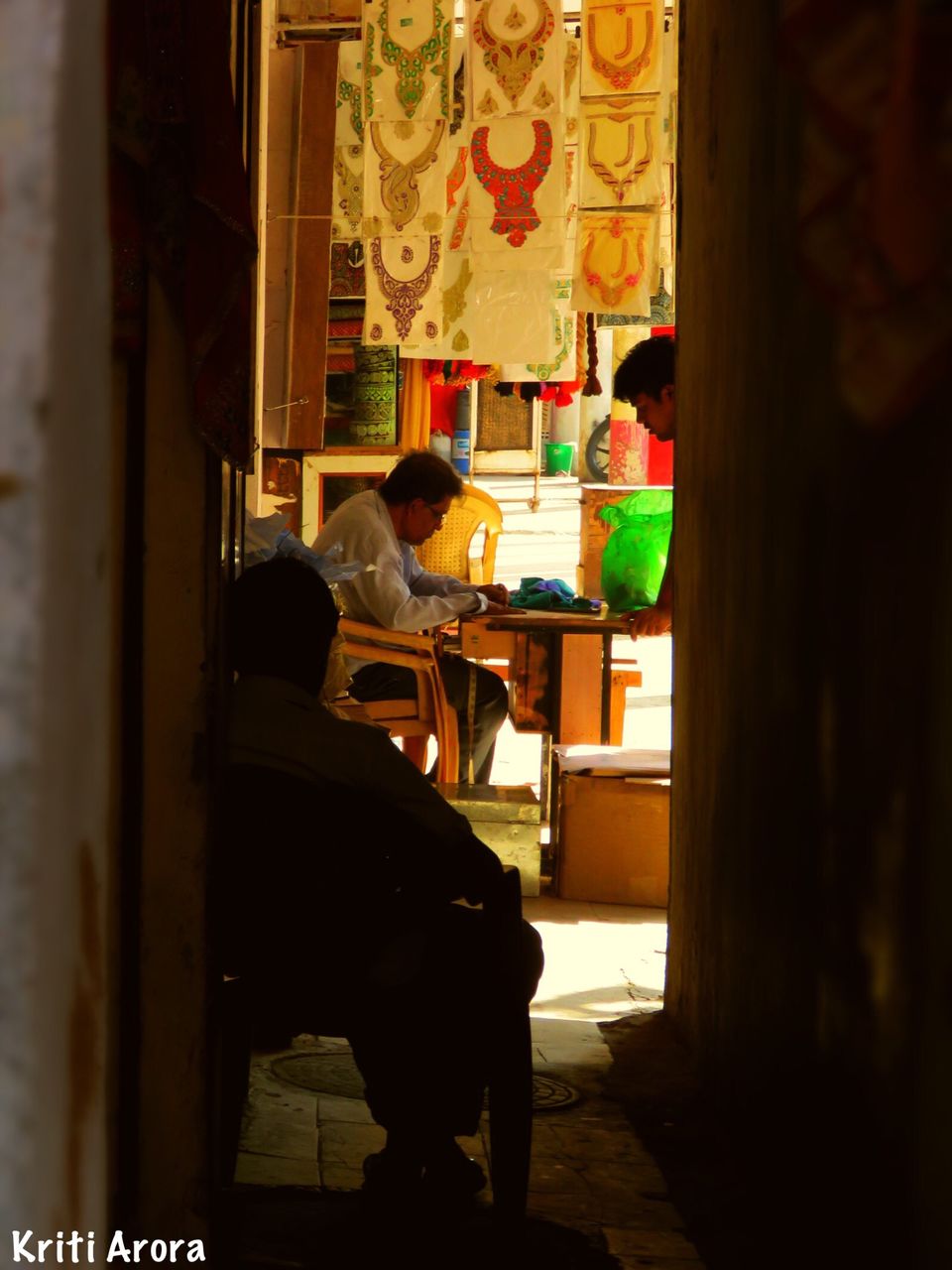 This market, that surrounds the Charminar building, is probably the busiest place in the city. But it is in this hustle and bustle that you get to see what Hyderabad really is all about. Hawkers and street vendors continually fight for space with the numerous shoppers, two-wheelers, auto-rickshaws, and stray cattle. Combined, these two markets house over 14,000 shops! Shops, selling everything from bangles and cloth to pearls and items of religious use, are requested by both, locals and tourists.

The colourful shops, all decorated to impress the onlookers, made for some very interesting frames for me. One can even enjoy some Mughal delicacies, like the famous Nizam ki Ashrafi, while starting up and down the streets of this busy marketplace. For me, the highlight of the trip was when I found a Kalamkari saree, one of my favourite types, and buy it at a very nominal price after some bargaining.
Hyderabadi people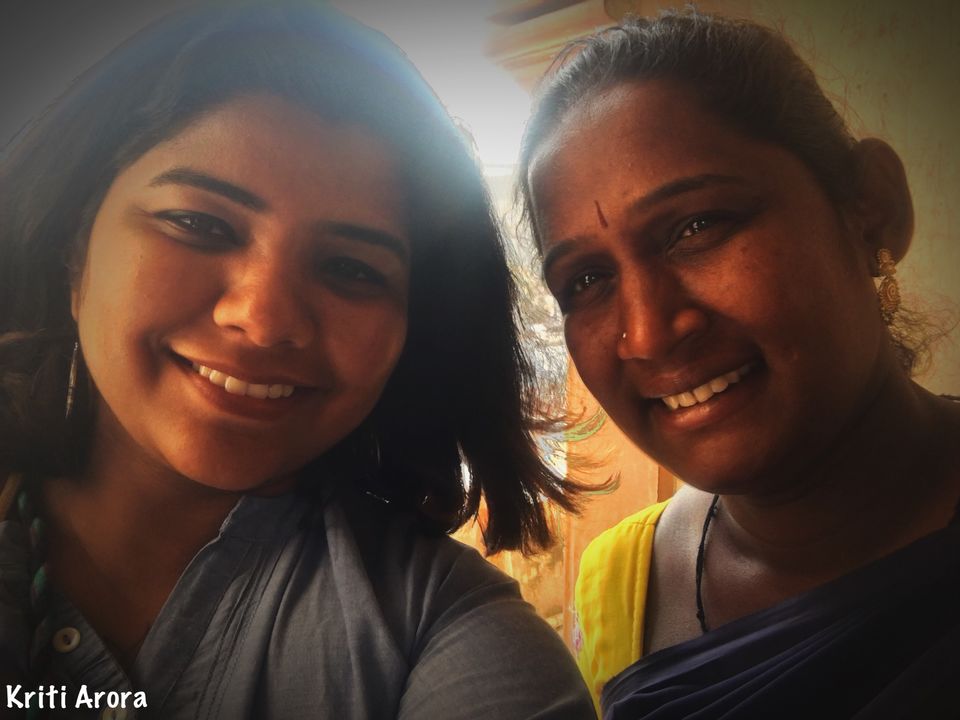 As I have chosen to become a 'traveller', and not a 'tourist', I always find interesting people around me to talk to. It is the best way to learn about the place; directly from the mouth of a locality, rather than from some book or a website. While at the Charminar, I met Sangeeta, a security personnel posted at the monument. When I was noticed roaming alone on the upper floor, Sangeeta walked up to me and started chatting casually. She was actually 'undercover'; a lot of people have attempted suicide by jumping from the building, and the security is always on the alert to avoid such instances. On learning this, I could not control my laughter. Later on, Sangeeta took me around and showed be the best spots to get the best shots of the old building. When I offered some money as a token of my appriciation, she politely declined, stating that she gets paid for her job and that is what she was doing. But she did make me promise to visit Hyderabad and her again. I obliged without any hesitation.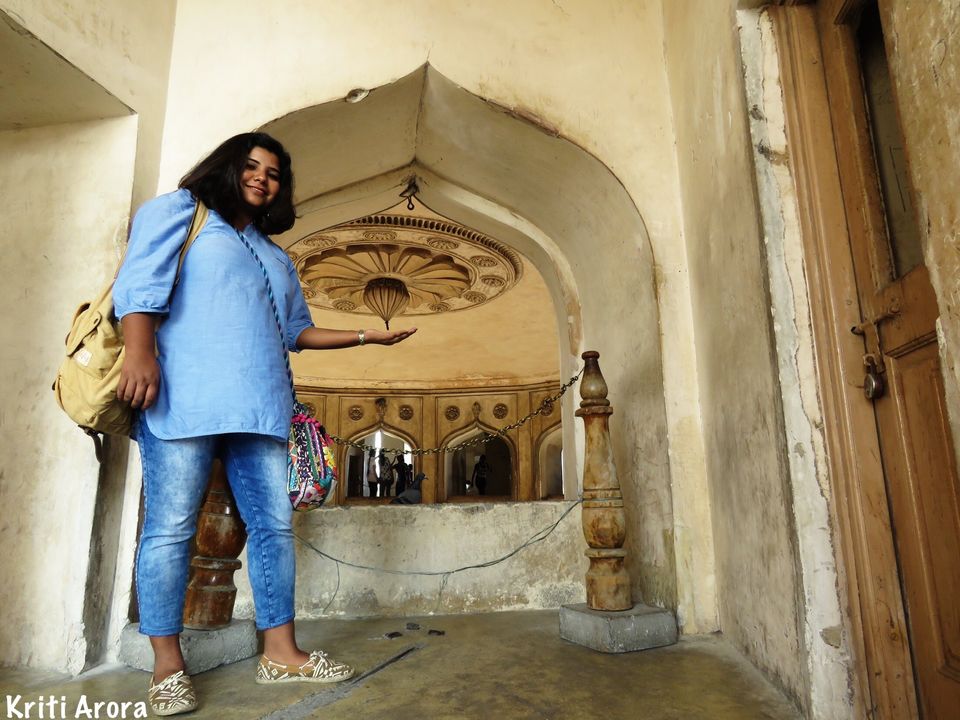 To sum it all, 'the subdued, ancient, old city and the beaming metropolis - Hyderabad has it all!'