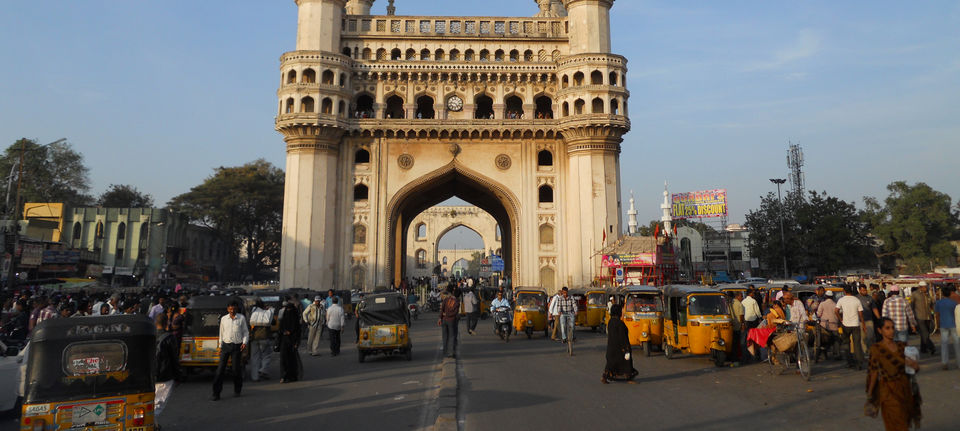 Hyderabad, the capital of the Indian state of Telangana, sprawls over 650 sq. km. of the northern Deccan Plateau which makes it one of the largest metropolitan areas in the country. The city has been ruled by the Kakatiyas, Khaljis, Qutb Shahis, Mughals, Nizams, was the capital of Andhra Pradesh, and is now one of the leading IT hubs of India; a true testament to the spirit of India. You can walk around the narrow streets of the old city one hour, and be waltzing through high-end malls and cybercities the next.
Getting in and around:
Hyderabad is well-connected, domestically and internationally, with the Rajiv Gandhi International Airport. Hyderabad Deccan/Nampally, Begumpet, and Secunderabad are three of the main railway stations that connect the city to different parts of India. The Inner and Outer Ring Roads provide good connectivity to various parts of the city.
There is an extensive state-owned bus network, as well as a suburban railway system. Further, the Hyderabad Metro is also under construction. However, to get around in the city, auto-rickshaws and Uber/Ola Cabs are your best bet.
Start your day off from the heart of the city!
This man-made lake was built by the Nizam of Hyderabad, and it is literally heart in shape! A large part of its periphery is used by residents of the city for their morning jogs. In the centre of the lake, there is a large statue of Gautam Buddha (the world's tallest monolith of Buddha) which you can see from all sides of the lake. It's a peaceful way to begin your day in Hyderabad. You can eat some vadas, uttapams, poori bhaji, upma, along with tea or coffee, for breakfast at the Minerva Coffee Shop located at Eat Street, on the western shore of the lake. A breakfast with a view to commence your trip!
Visit the largest one-man collection of art and antiques in the world!
Originally a private collection of the 7th Nawab of Hyderabad, Nawab Mir Yusuf Ali Khan Salar Jung III, who made it his passion to create this collection; it is now a museum open for visitors to see some of what the Nawab collected for over 35 years. It is a 20-minute rickshaw ride from Hussain Sagar. Some of the iconic items in the collection that you can see are Aurangzeb's sword, Jade crafted daggers of Emperor Jehangir, Noorjahan and Shah Jahan, a wardrobe of Tipu Sultan, and pieces of furniture from the times of King Louis XIV and Napoleon. Another interesting section is the clock room, which holds sundials, modern clocks, grandfather clocks, musical clocks, bird-cage clocks, and everything in between. However, possibly the most stunning sculpture in the entire museum is G. B. Benzoni's Veiled Rebecca; a marble structure of Rebecca whose face is visible behind a thin veil, all made out of marble. The museum is shut on Fridays, and open from 10:00 am to 5:00 pm on all other days. The admission fee is Rs. 20 for Indian nationals above the age of 18, and Rs. 500 for foreign visitors. You can also avail an audio guide for Rs. 60 in English, Hindi and Telugu.
The icon of Hyderabad, in the flesh!
Just a 15-minute auto-rickshaw ride away from the Salar Jung Museum stands the Charminar. This earthy, limestone structure of four minarets that are supported by four grand arches, stands at 180 feet tall. For an entry fee of Rs. 15 (Indians)/Rs. 200 (foreigners), you can make your way up the steep, stone, spiral staircase of one of the minarets to get a gorgeous view of the city of Hyderabad from the top. It is important to note that there is no handrail to hold while climbing up the steps, so it might be difficult for some people. The Charminar is open to the public from 9:30 am to 5:30 pm everyday but Friday.
A street market that has been in function from the 16th century!
The Laad Bazaar lies directly to the west of the Charminar. Primarily a bangle market, you will see bangles and other semi-precious jewellery of all shapes, sizes and colours sparkling around you. Lacquer bangles studded with semi-precious stones are the kind of bangles Laad Bazaar is known for. Hyderabad is known as the "City of Pearls" for a reason, and the Laad Bazaar is a prime display of the same. Strings of white and off-white pearls in the form of necklaces, earrings, and bracelets hang in shops all around you. You can also find clothes such as saris and the traditional Hyderabadi Khara dupatta which is a 6-yard dupatta to be draped around a churidar-kurta, all in elegant and attractive colours. Make sure to check off your shopping list before 1:30 PM to get to your lunch location!
The best South Indian food you're going to taste in a long time.
From Laad Bazaar, a rickshaw to Chutneys in Banjara Hills should take you about 45 minutes in traffic. As you take a seat at your table in this institution of a restaurant, you will see a utensil with four bowls of different coloured chutneys; which give the eatery its name. There is a peanut chutney, a spicy chutney, as well as the all-time favourite being the white chutney which is a sweet, coconut one. These are served complimentary and can be refilled throughout your meal. The utappam, rava dosa, and steamed dosa are some of the favourites, but you genuinely cannot go wrong with any type of dosa you order here. However, one of the most heavenly things to taste here is the Babai Hotel Idli; two soft idlis with a sinful dollop of butter on the top served with a spoon of the "gun powder" masala on the side. A meal here will cost you about Rs. 1000 for two people.
The stunning capital of the Qutb Shahi dynasty.
Golconda Fort is about 40 minutes away from Banjara Hills by auto rickshaw or Uber/Ola Cabs. Built high above the current city of Hyderabad, the Golconda Fort was a fortified capital city of its own, in the 16th century. This massive fort complex is abundant with bastions, cannons, drawbridges, royal halls and residences, temples, mosques, stables, tanks, secret tunnels, and gates. As soon as you enter, it's as if you are transported to the medieval times, as so much of the fort is still existent for you to see. At the main entrance, you will have to pay an entry fee of Rs. 100 for Indians, and Rs. 600 for foreign tourists. It is advisable to use the help of guides due to the sheer size of the fort, as well as the existence of various interesting tales and secret locations. You can get a tour guide from the main entrance area of the fort, as they usually stand there, and negotiate a price (not more than Rs. 700, even though they will ask for Rs. 1500). Make sure the tour is until about 5:30 pm, after which you can head to the Sound and Light Show (tickets for which are Rs. 80-140). The English shows are everyday at 6:30 pm, and the Hindi shows are on Tuesday, Thursday, Saturday & Sunday at 7:45 pm. However, there are a lot of mosquitoes so if you are not a big history buff; you can give it a miss. The fort, itself, is open from 9:00 am to 5:00 pm every day.
Have you even visited Hyderabad if you haven't taste the biryani?
20 minutes from Golconda Fort is Shah Ghouse Café and Restaurant, where you will be feasting to celebrate a successful trip! Featured on most Hyderabadi's lists of "places you get the best biryani in Hyderabad"; the traditional mutton biryani of Shah Ghouse is a must-have. The haleem, tangdi kebab, tandoori chicken, are also excellent dishes to order alongside. And, you can finish your meal with some cooling phirni.
Undoubtedly one of the fastest-growing metropolises in India, Hyderabad has still not lost any of its heritage; and that is the charm of this city. With some of the best cultural and historical sights in the country, along with mouth-watering food that Hyderabadis know how to do so well; Hyderabad is one place you cannot miss out on!
Frequent searches leading to this page:-
hyderabad tour packages for 5 days, weekend getaways from hyderabad, hyderabad tour places, hyderabad tourism place, hyderabad tourism places, telangana tourism daily packages