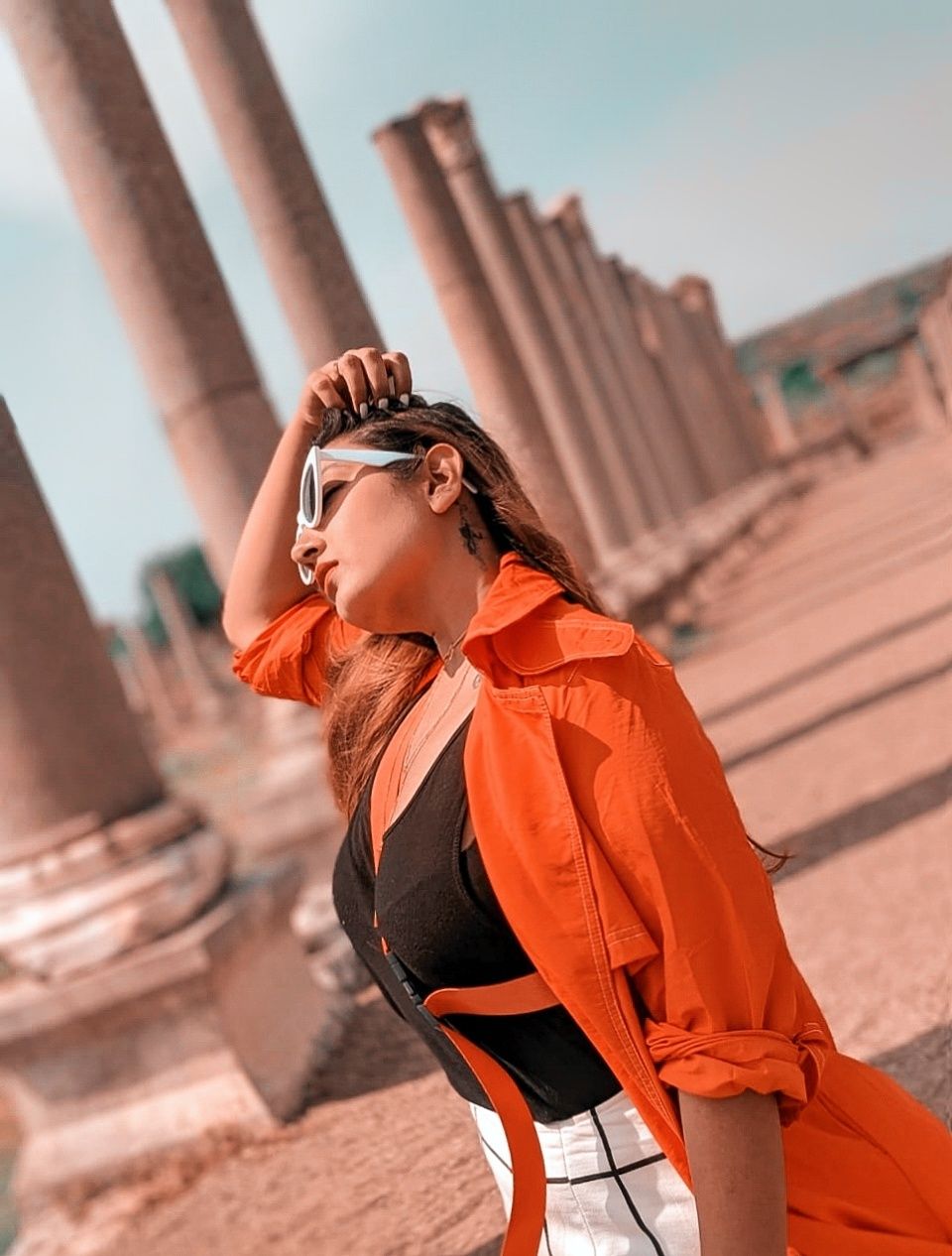 Antalya offers a fascinating line-up of tourist attractions that will surely keep you busy and complacent!
From the rustic Roman and Greek ruins to idyllic white sand beaches to roaring waterfalls to fascinating hiking routes to cobbled streets in the old city with a heart full of great food and music, this place has it all! So, no matter what arouses your interest, you are bound to leave satisfied!
Thalassophiles, history buffs who dream of bygone times, adrenaline junkies, or a person who loves the smell of nature... No matter what intrigues you, Antalya has to be on your bucket-list!
Here are our top favorite places to visit in Antalya for a true vibe of the city-
1) PERGE
Ancient city of Perge is located within the Aksu town, which lies 18 km east of Antalya city center on the coastal plain, was once one of the most important cities of ancient Pamphylia.
According to the Greek mythology, the legendary origins of Perge date back to the 13th century BC after the Trojan War. In 2009 the archaeological site of Perge was recorded in the UNESCO World Heritage Tentative Lists.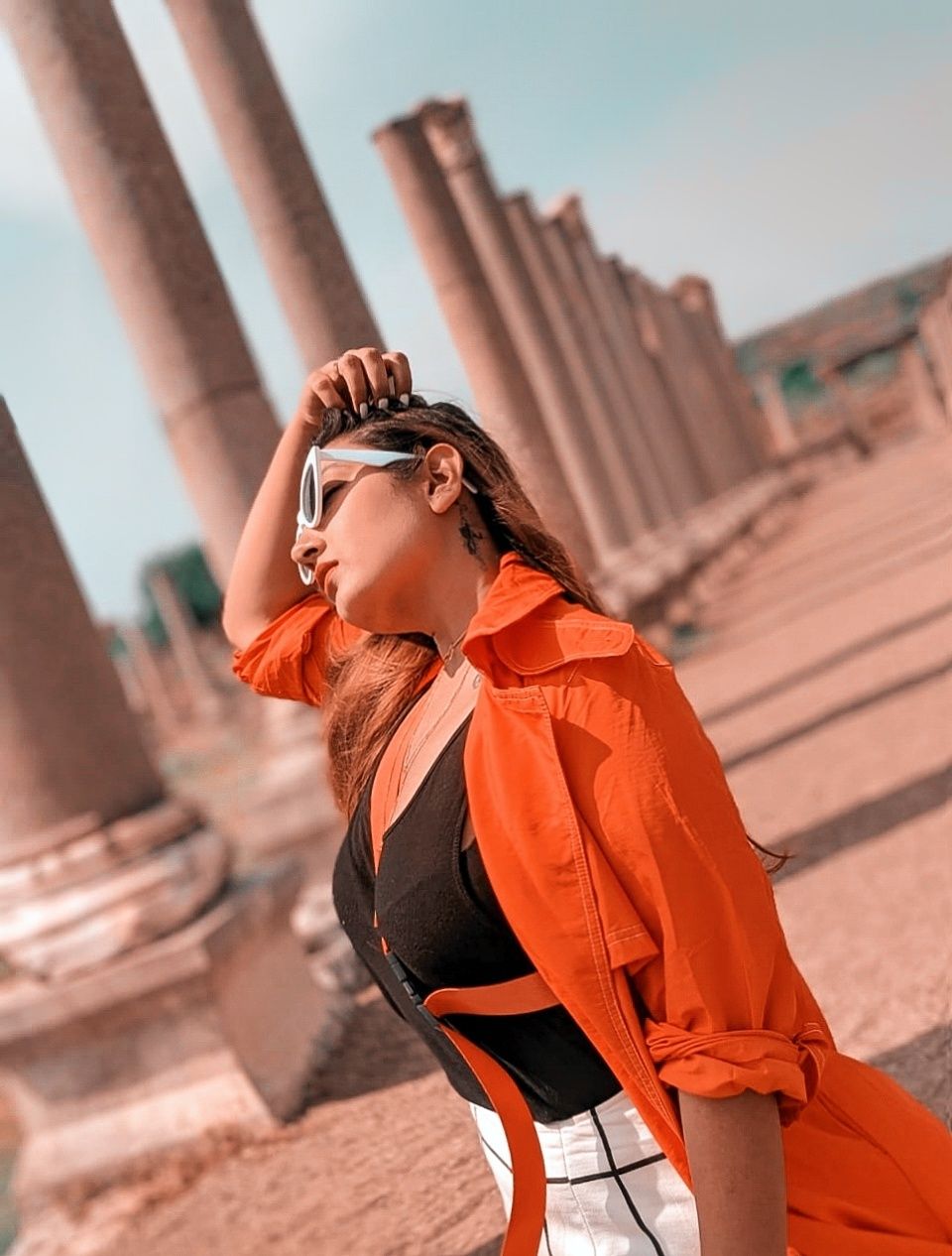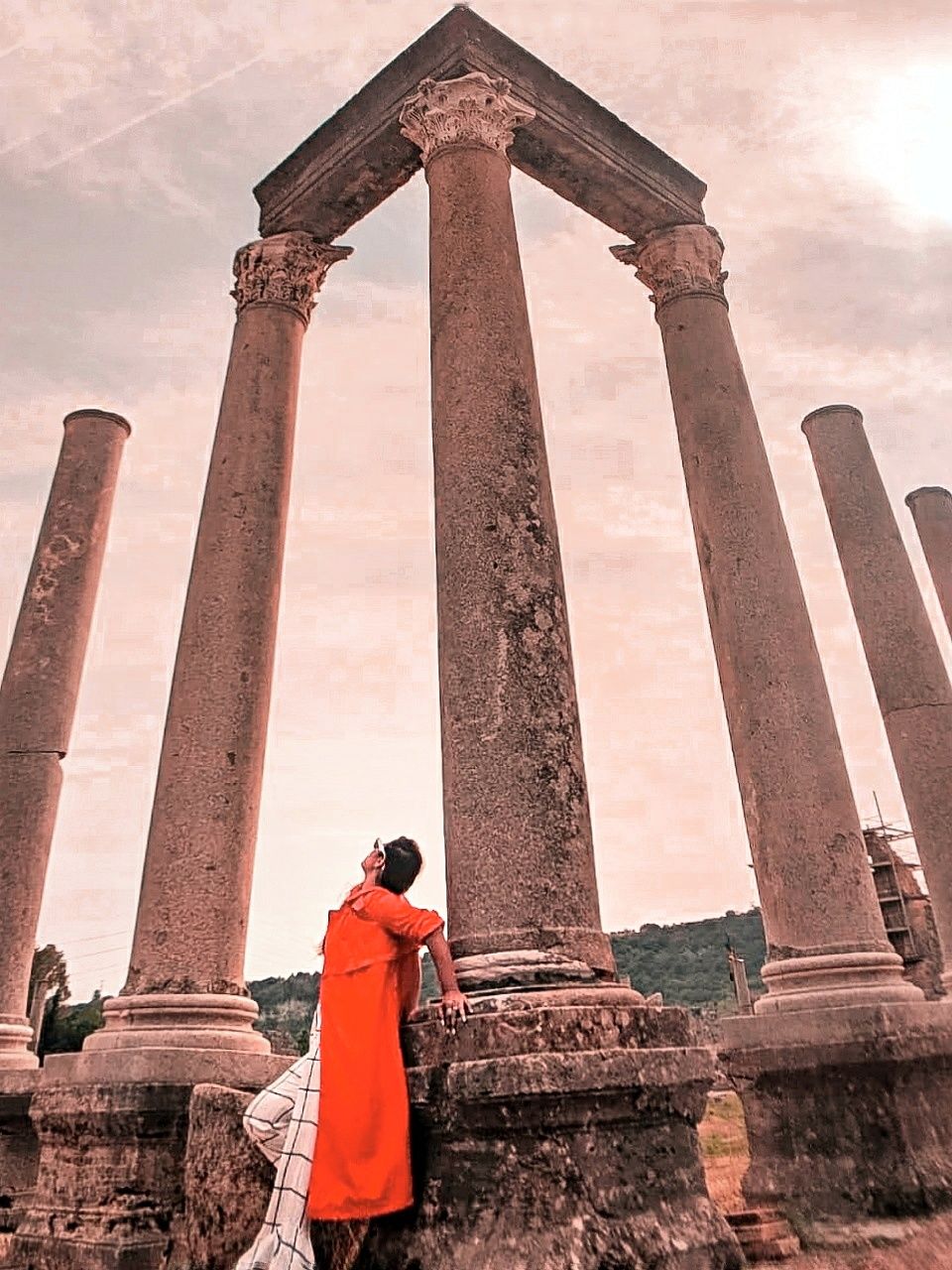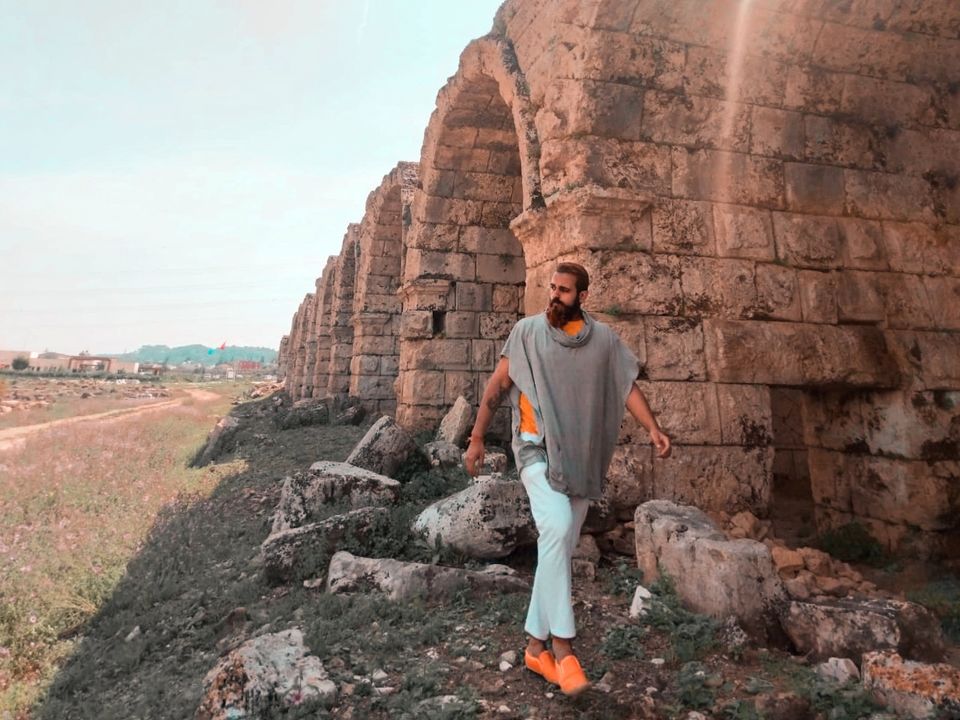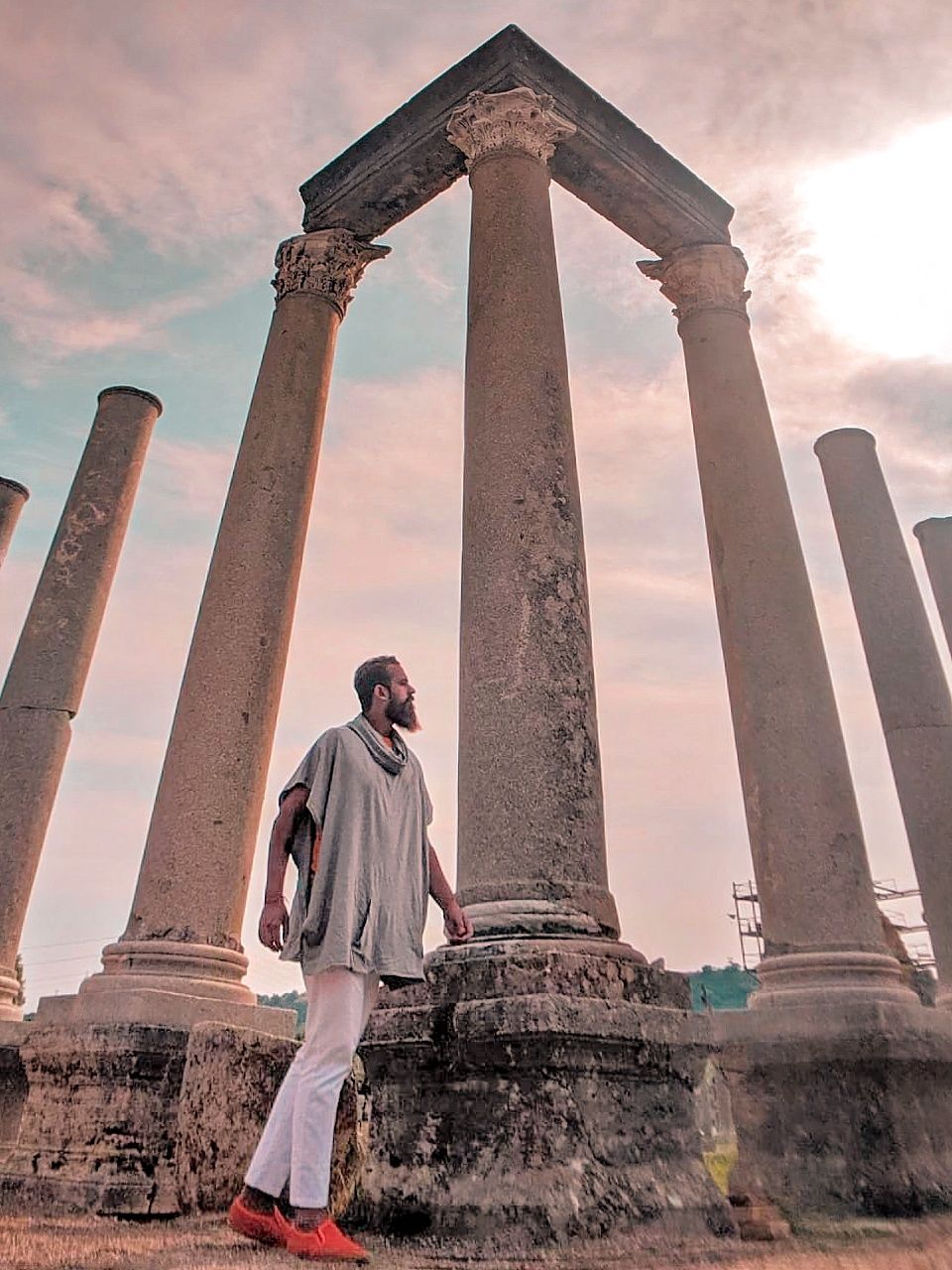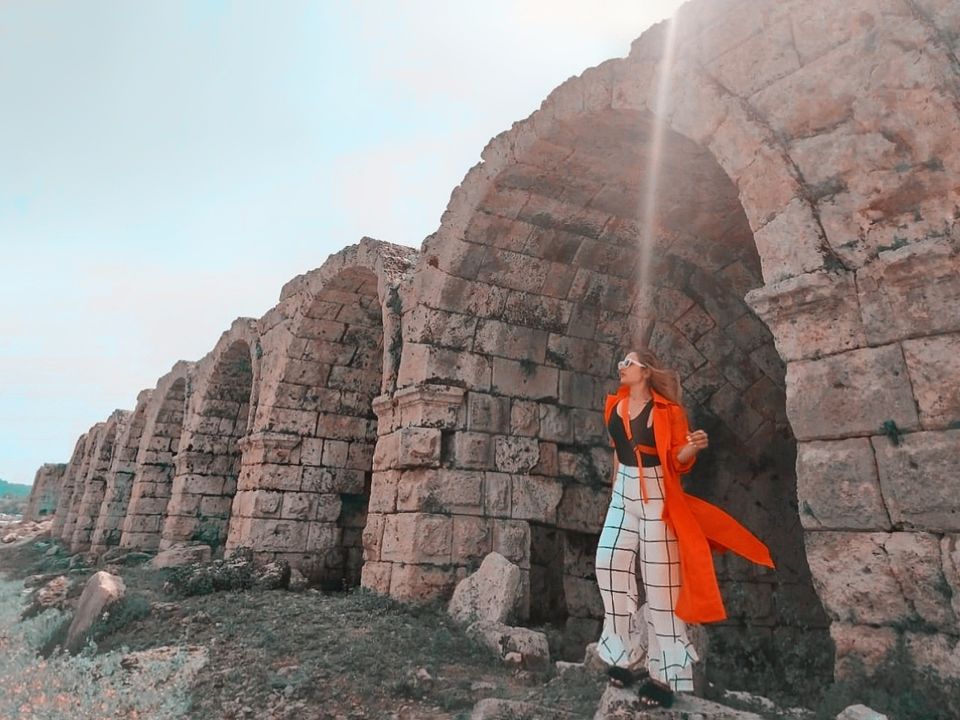 Historical remnants at Perge are a visual treat and provide us with glimpses of life and culture in the ancient days in these regions. The colonnaded streets, massive theater, Roman baths are some of it's highlights!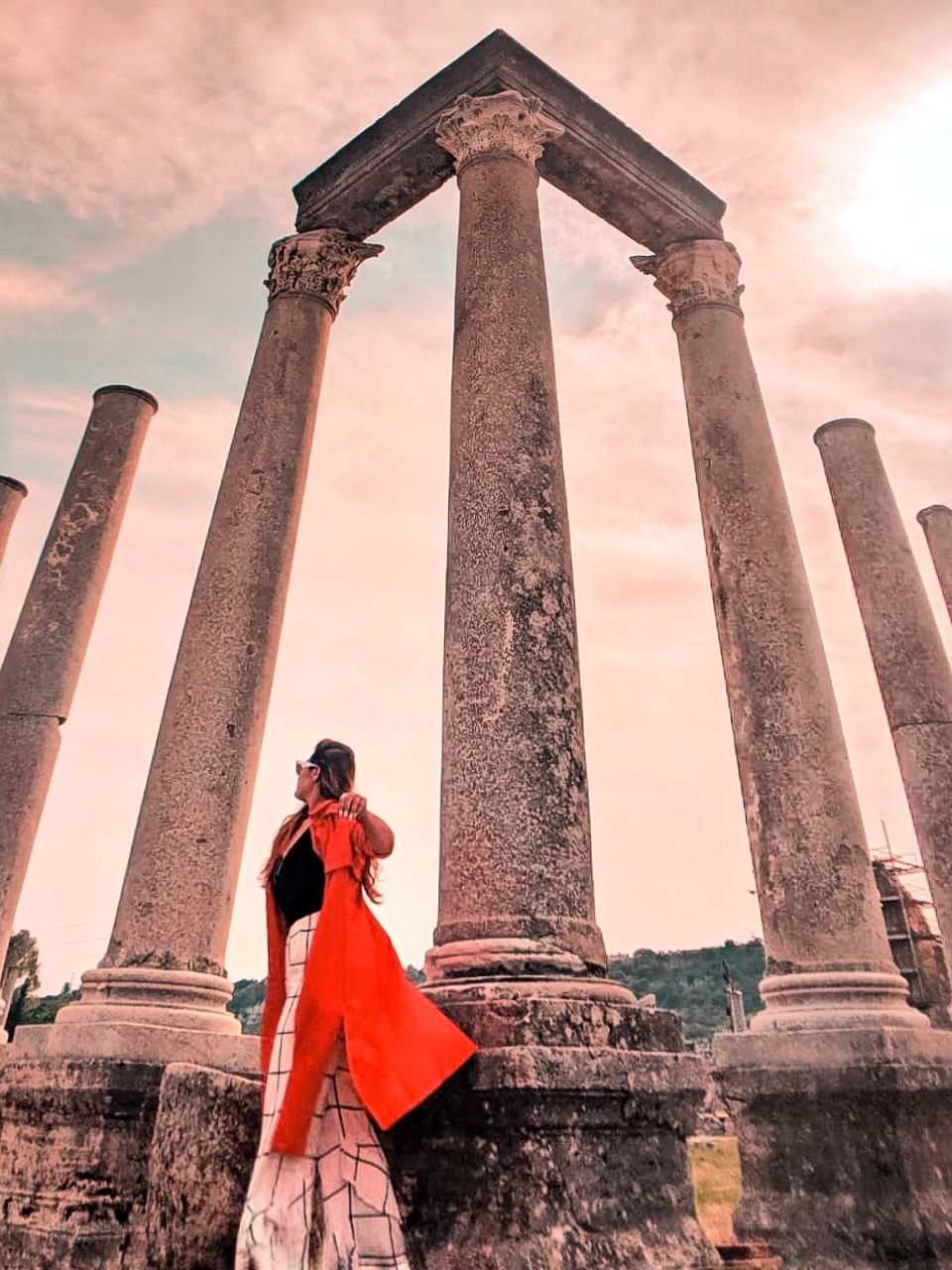 It should take you approximately two hours to see it all. Don't forget to treat yourself with a Turkish coffee from the gift shop/cafe at the exit. Relax for some time to absorb everything you encountered, for it keeps you thinking about the bygone days and it takes time for things to seep in! It's truly majestic!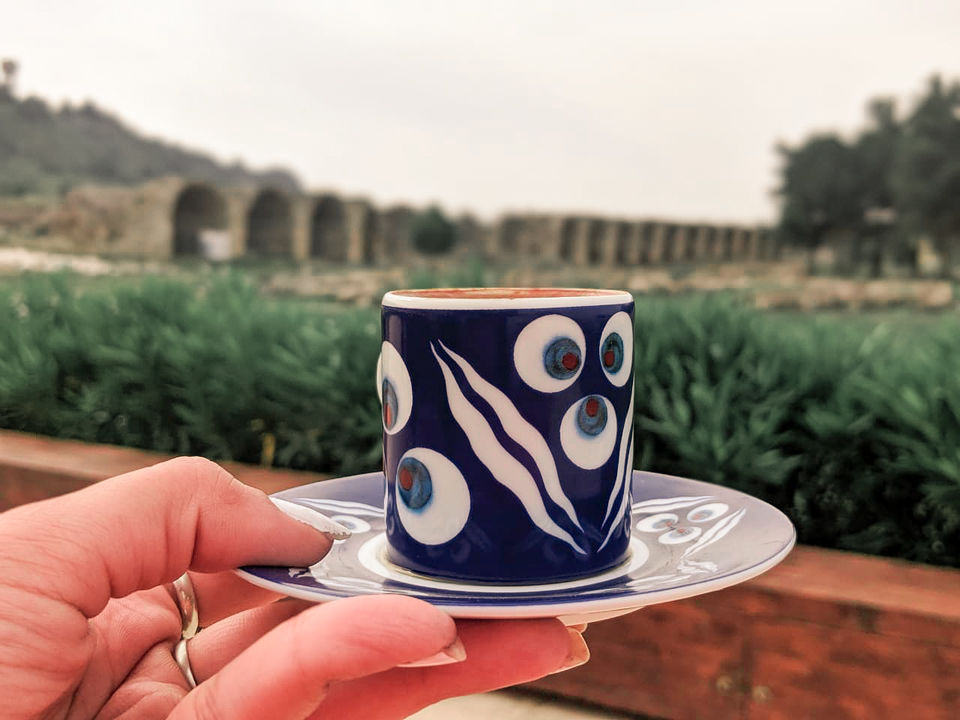 How to Reach Perge-
1) Travel to Aksu metro station on the Antalya metro expo line. You could also board the Havalimani (airport) metro line and alight at 'Yonca Kavasak' station. Change to Aksu expo line from there to get to Aksu.
2) Cross the main road to your left after exiting the metro station. Walk approximately 100 meters and then turn left. This road leads to Perge which is about 1.2 kms from there.
You could happily walk to the site, like we did, or hire a taxi from the metro station.
Ticket-
35 TL
2) ASPENDOS
The ancient city of Aspendos, approximately 50 km east of Antalya, is one of the big-hitter historic sites for tourists visiting Turkey.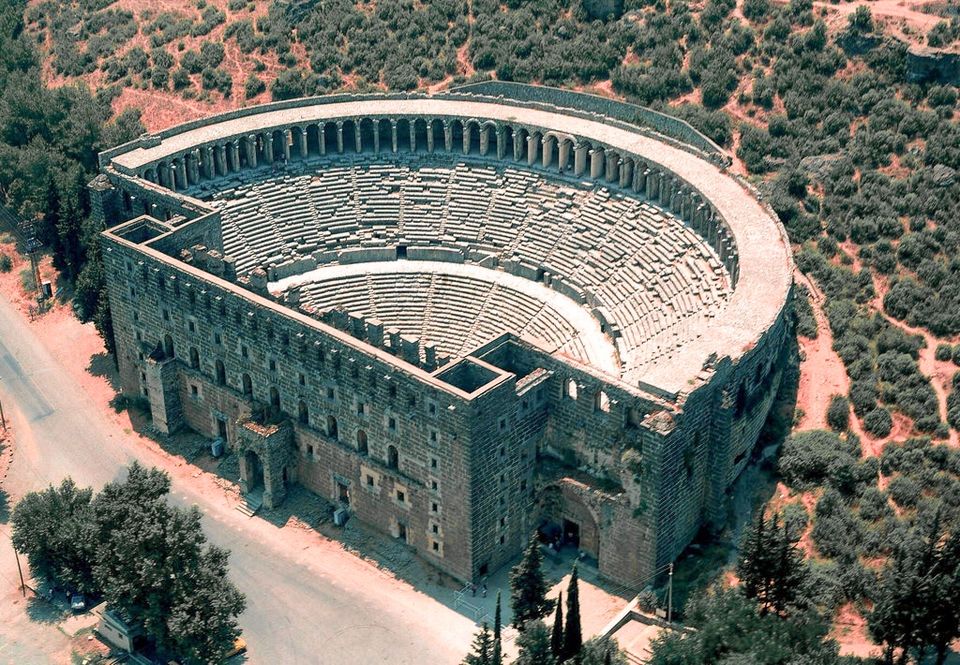 The Aspendos' theater is one of the largest ever built by the Romans in Asia Minor. The mammoth seating plan could accommodate 15,000 to 20,000 people. It has been restored and is now used for music and drama festivals, including Turkey's famous annual Aspendos Opera and Ballet Festival.
The acoustics are so well designed that a person speaking in a moderate voice from the stage can be heard at the top of the theater seating.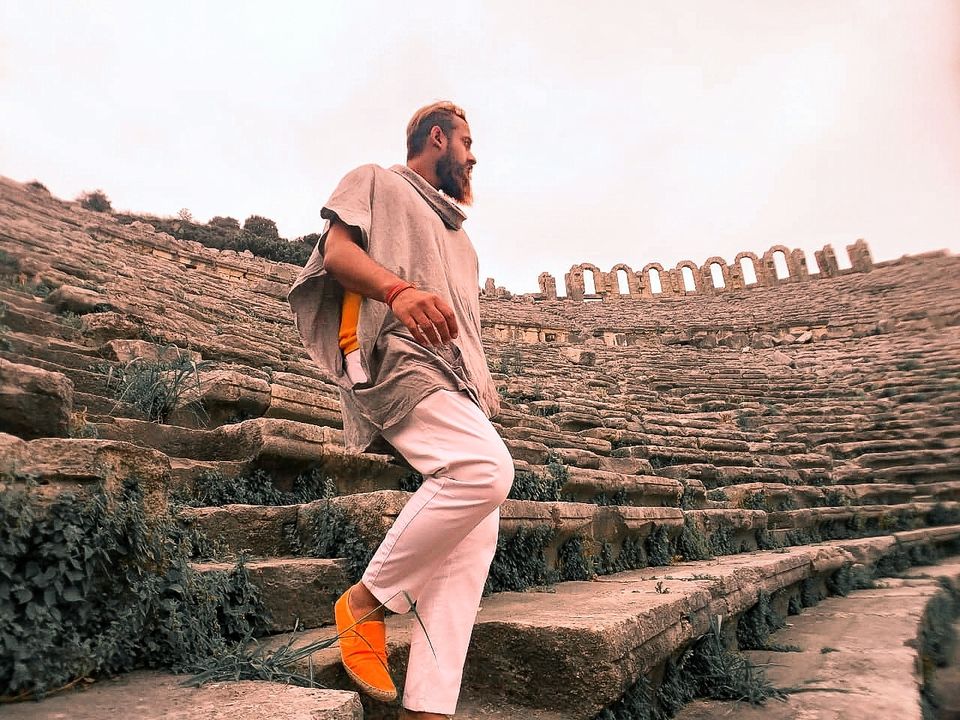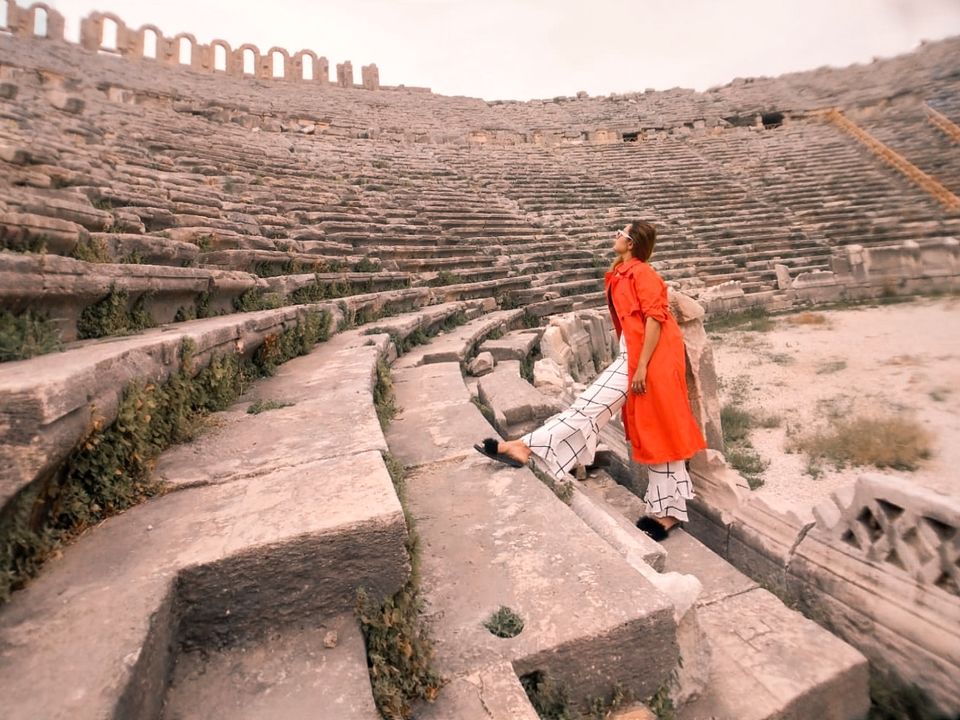 How to Reach Aspendos from Antalya and Perge-
1) Travel to Aksu metro station as stated above.
2) If coming from Antalya, exit from the right side, take a left turn towards Serik and walk down 500 meters to the bus stop for Serik mini buses.
3) If coming from Perge, come to the point where you alighted from the metro. Cross the road under the metro bridge and turn left towards Serik and walk down 500 meters to the bus stop for Serik buses.
4) Catch a bus to Serik and tell the driver that you have to go to Aspendos. The ticket to Serik from Aksu is 6.50 TL per person. Serik is a 40 min ride on the bus from Aksu.
5) Get down from the bus at Serik terminal from where an hourly minibus service to Aspendos is available. The ticket from Serik to Aspendos is 2 TL per person and the journey through the wonderful countryside is for 25-30 minutes.
NOTE-
The bus from Serik leaves at every completed hour (5,6,7...), and from Aspendos at half past every hour (5:30,6;30,7:30...)
There is only one bus per hour. So, if you miss a bus, either from Serik or Aspendos, you will have to wait for exactly an hour before the arrival of the next bus.
Ticket-
35 TL
3) Duden Waterfall
Antalya is known for it's resplendent waterfalls.
The water at Duden Waterfalls goes into the Mediterranean, creating two cascades along the way known as the Upper and Lower Duden Waterfalls. The upper falls are on the northern side of Antalya, the lower is on the south where the Duden River cascades into the sea. You will find it fairly easy to organize a boat trip to do so.
The spectacular view of the falls, the caves behind it, and the peaceful sea make a divine sight.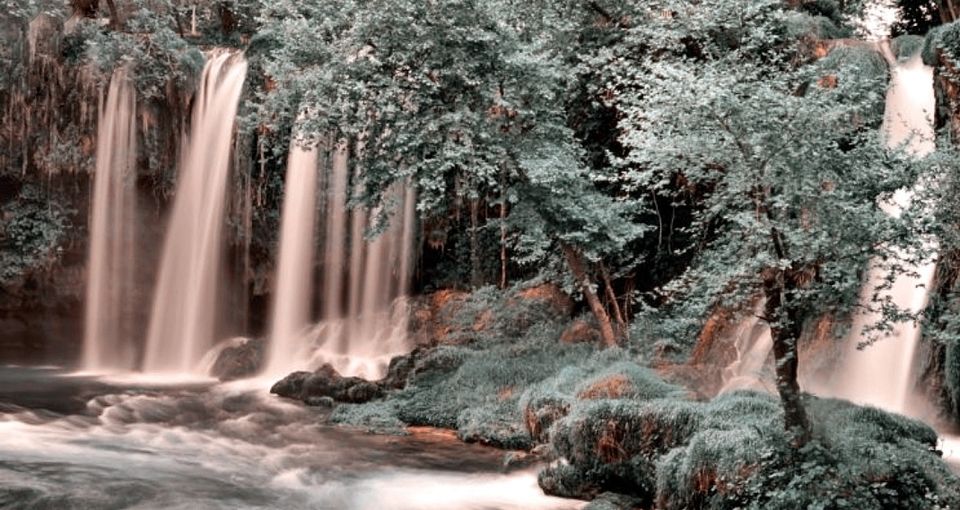 How to Reach Duden Waterfall-
Best way to get to Duden Waterfalls to take a boat down by Antalya Harbour.
Have lunch beneath the waterfalls where you can only listen to the sounds of water, and birds, away from the hustle & bustle of city life and traffic noise!
Ticket-
4 TL
4) Side
Situated halfway between Antalya and Alanya, Side has a great appeal for lovers of ancient history. It retains many relics from the days when the city flourished as a centre of trade.
The most impressive monuments include the theater from the Roman period, the ruins of three temples: of Apollo, Athena and Men.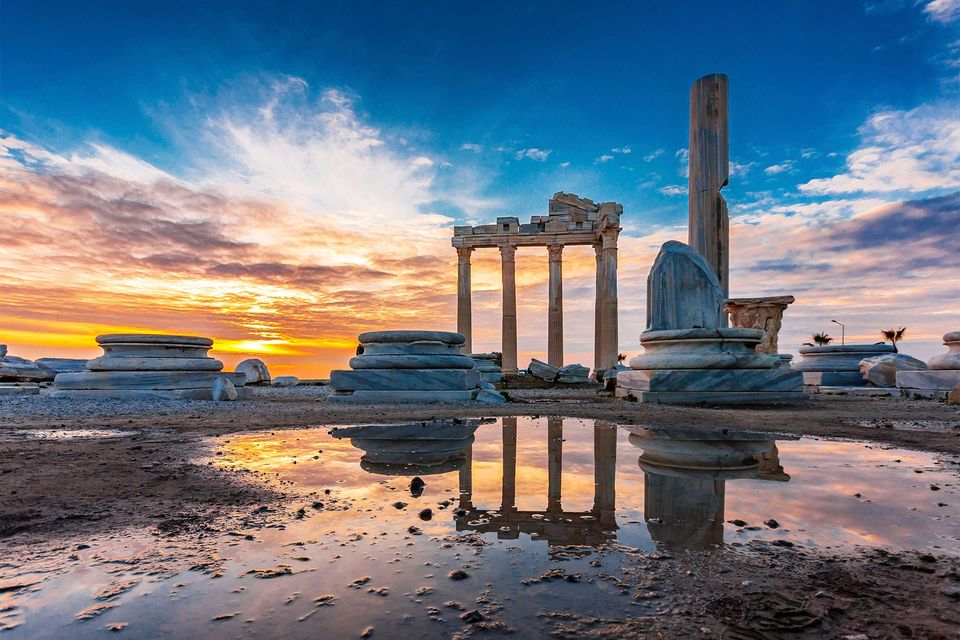 How to Reach Side-
The distance between Antalya and Side is approximately 66 km. You can travel to Side from Antalya by bus that includes two changes-
1) First, you need to take the bus no. 600 which goes to Antalya bus station through the city center (Meydan). The bus travel time is about 30 mins, and operates from 5:30 am to 1:00 am, departing every 30 mins. The ticket price is EURO 2.
2) From the Antalya bus station, take a shuttle to Manavgat. All the shuttles run four times a day and that too in the evening. Sadly, there are no night shuttles! The duration is 1 hour 40 minutes, and it costs about EURO 6.
3) Manavgat is 5 km from Side. This distance can be covered by a shared taxi that takes about 15 minutes and costs EURO 0.5. Shared taxis don't follow a strict timetable, they depart as soon as all the seats are filled.
Ticket-
30 TL
5) Step into Purradise- Cat Shelter in Antalya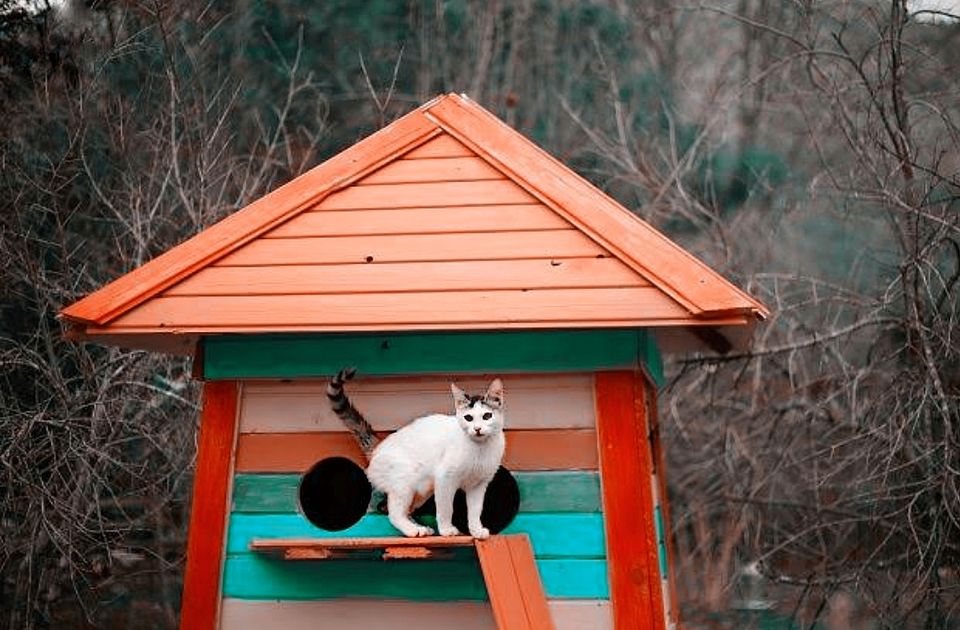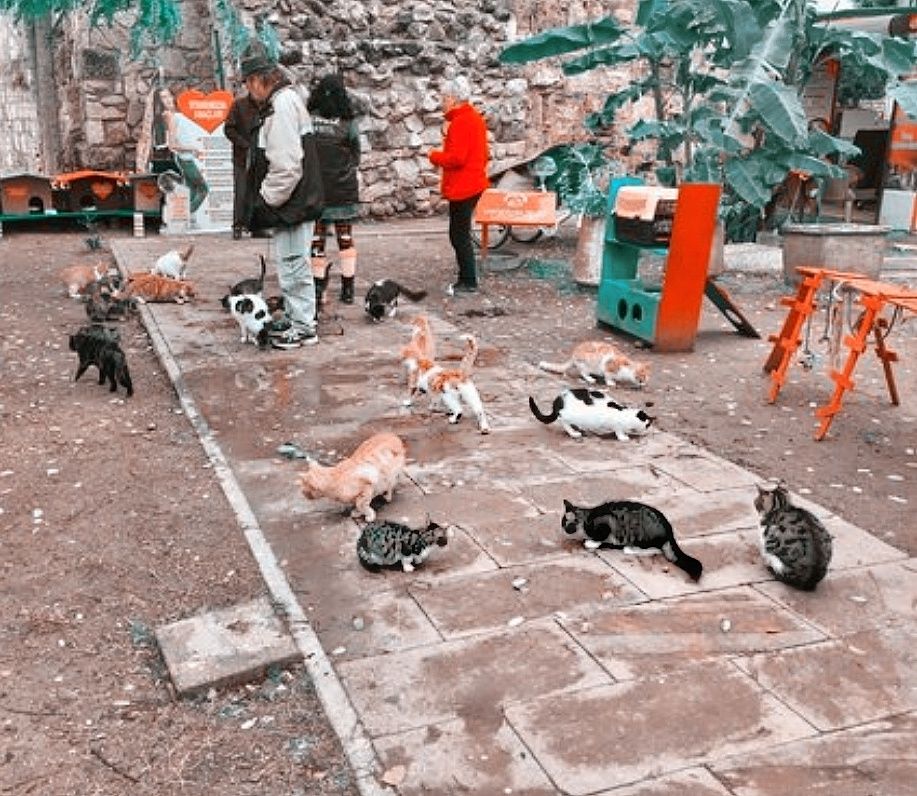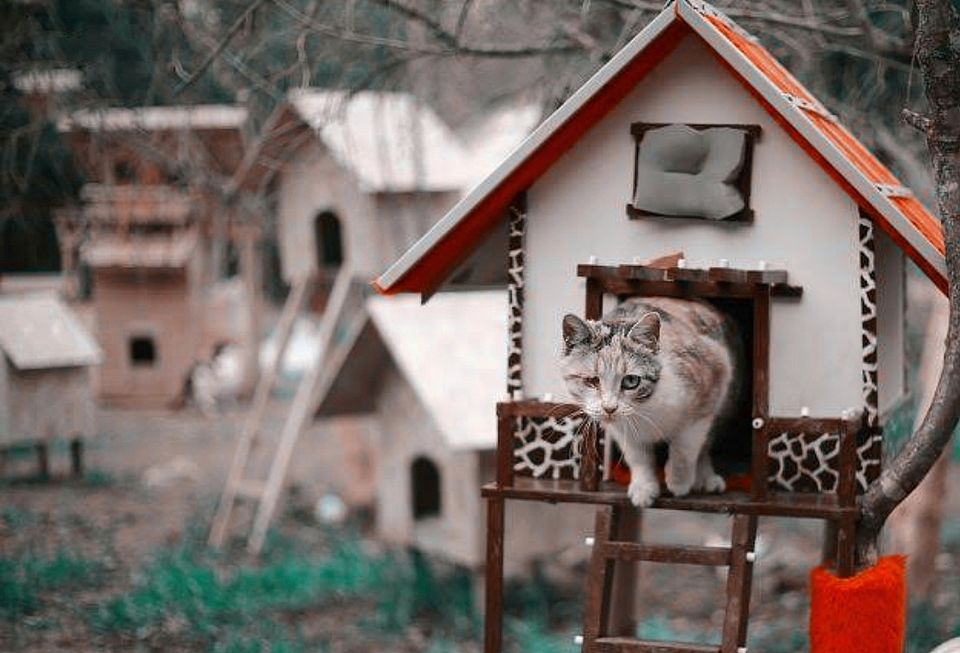 Do pay these munchkins a visit and watch them play with toys and balls, and chill out on cozy hammocks and colorful benches around the village.
This village has already become a major hit among the tourists and locals who flock there everyday to hang out with these babies.
The cat village has around 15 small villa-style houses and playgrounds designed exclusively for these babies. There's also a special space that has been allocated for veterinary care and treatment. Entry to the shelter and adoption are absolutely free!Honestly, if it was in our hands, we would have gotten them all back home! *Sigh*...Look at this one... We can't!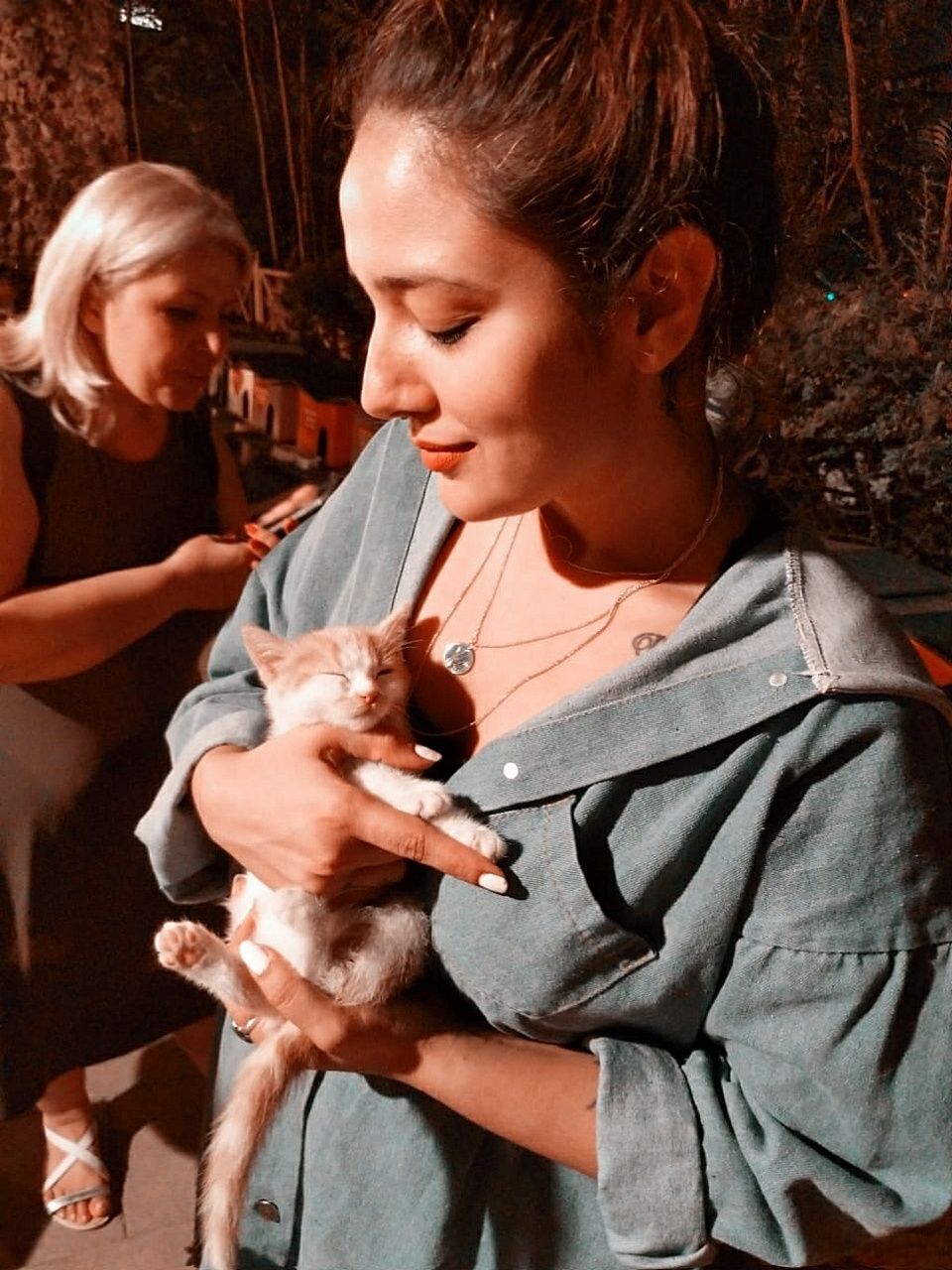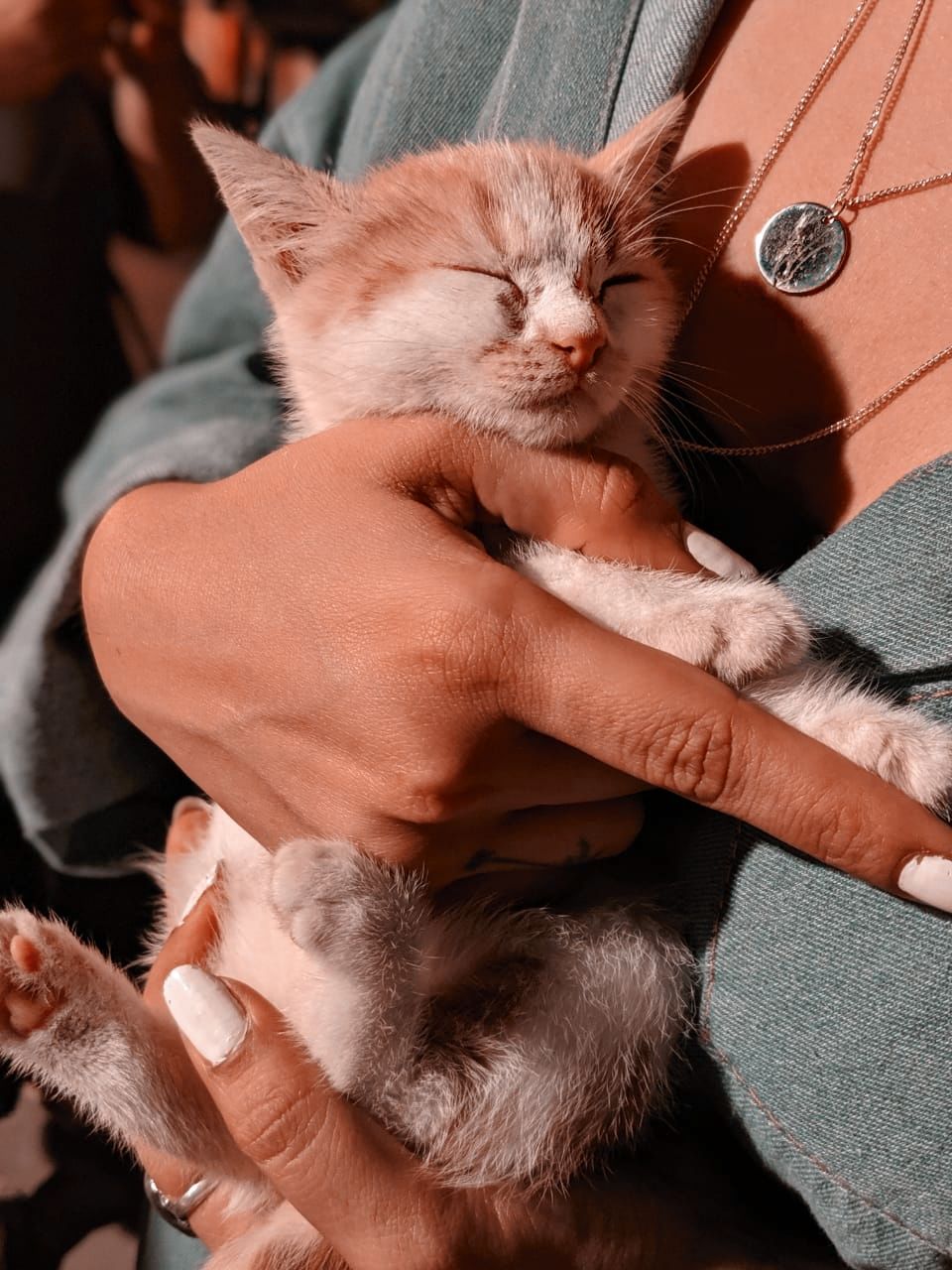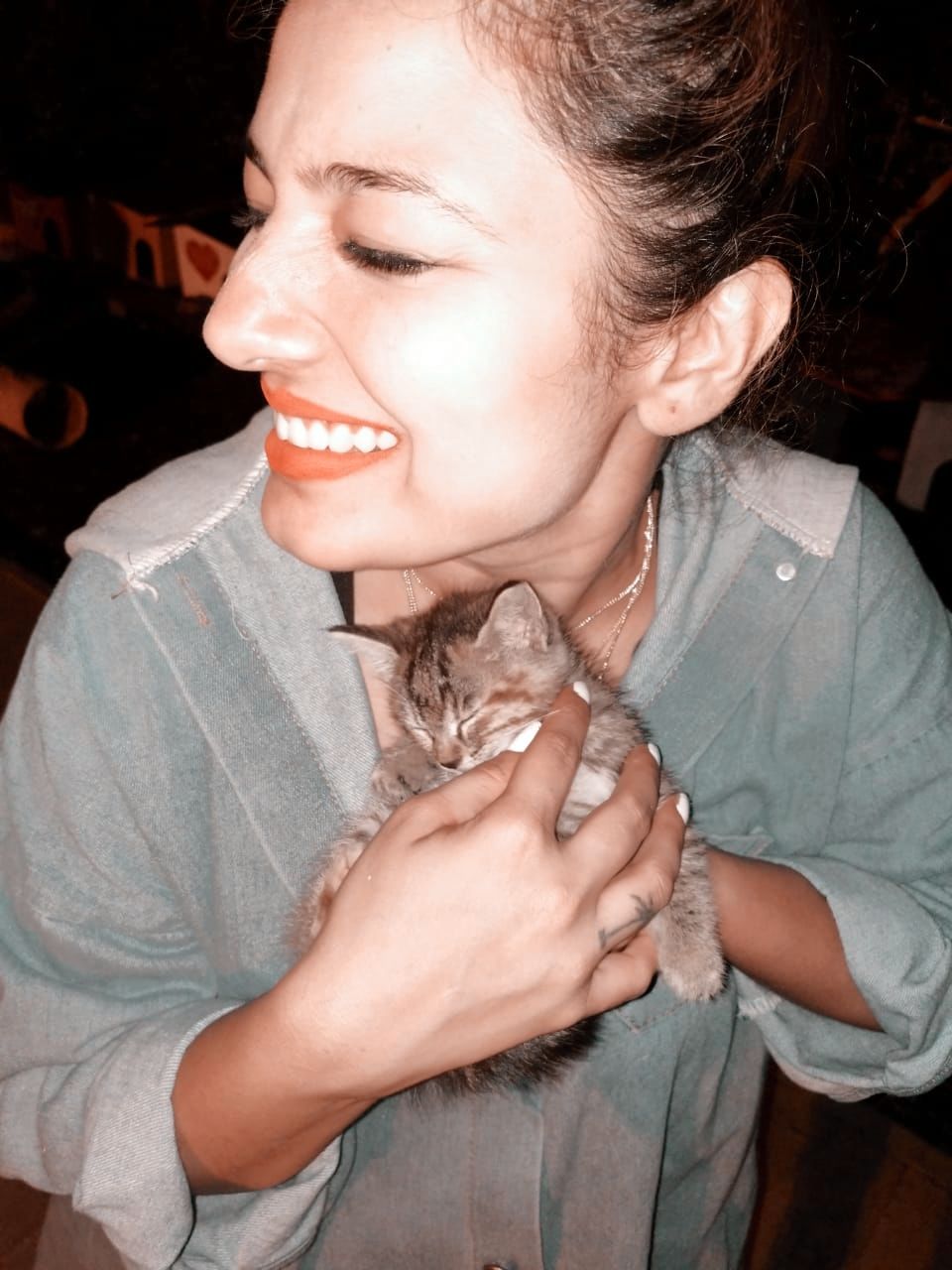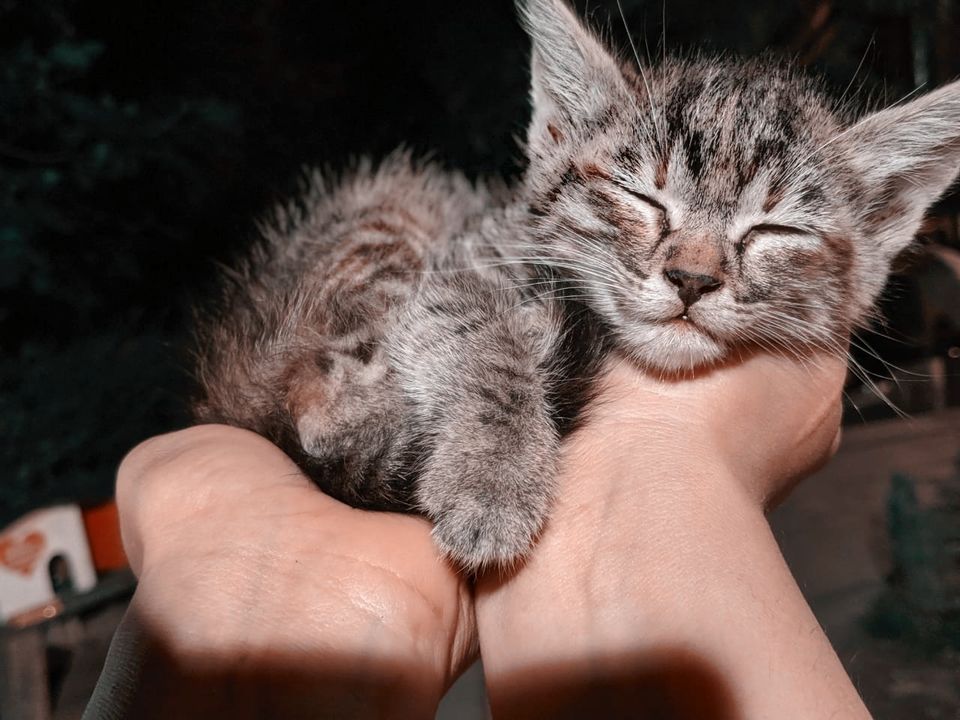 Since all the cat food and vet fees are paid for by donations, we would request all our readers to help them raise large amount of money by donating generously!
Not just money! Bringing in a few cans of food or providing them towel/blankets during winters to curl up on, will be a great help too! Every single step goes a long way!
6) Wander About the Old Fashioned Town With a Heart that Holds Timeless Love- KALEICI
We were very sure that we wanted to book ourselves a hotel in the old town!
You as why? From it's walkability to it's old charm; from it's outdoor recreation to cozy restaurants; from it's rich history to idyllic waterfalls, Kaleici has it all!
Walking through a maze of cobbled streets, restored Ottoman buildings, and old bazaars felt like we were teleported to another world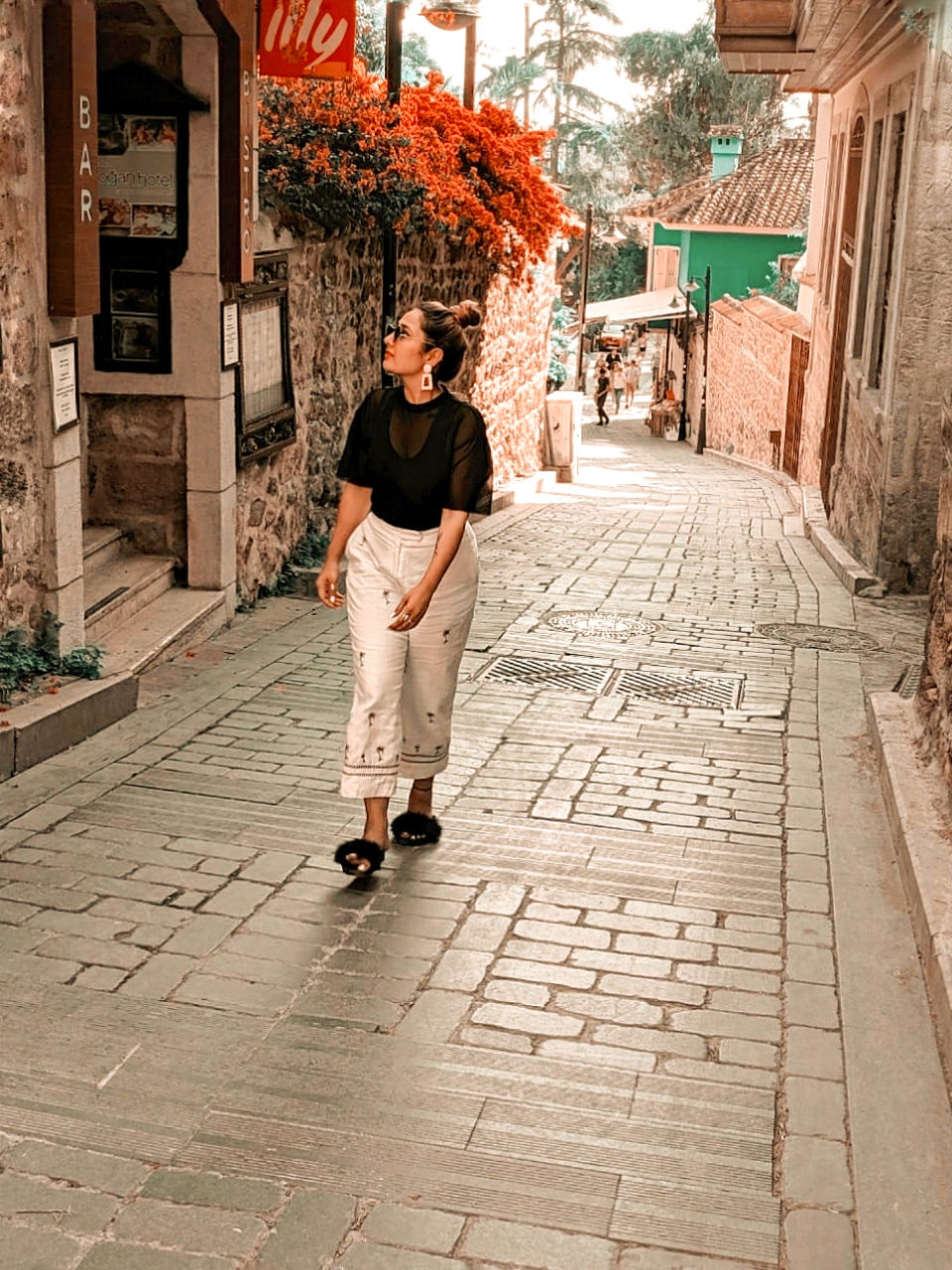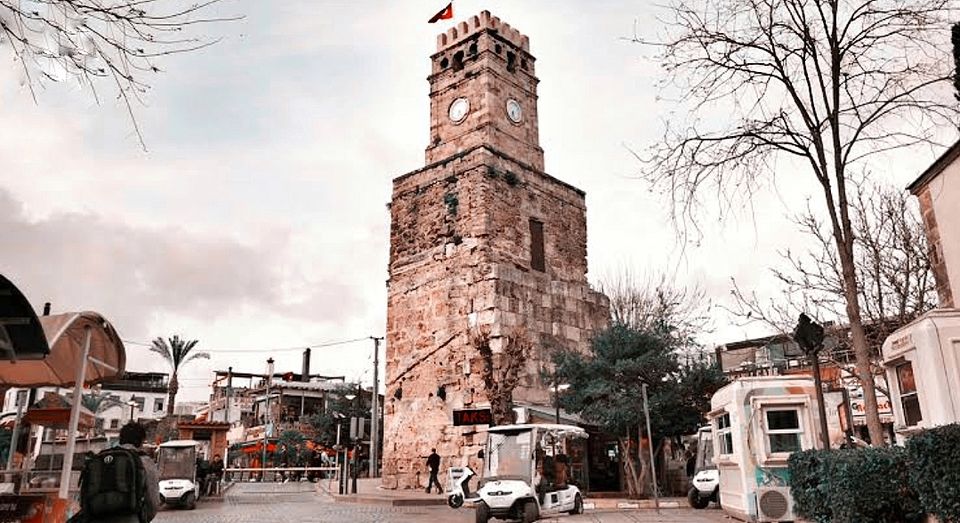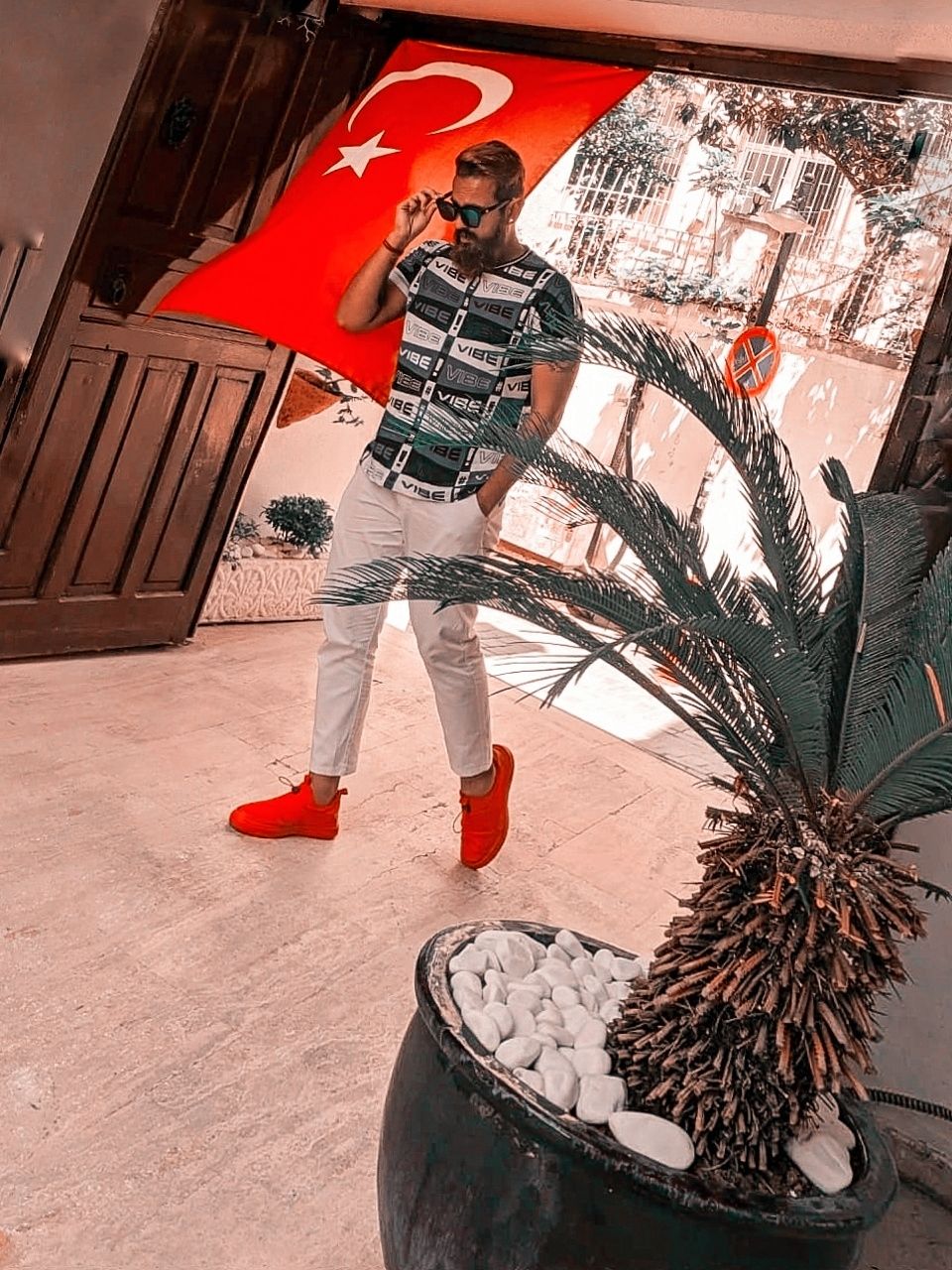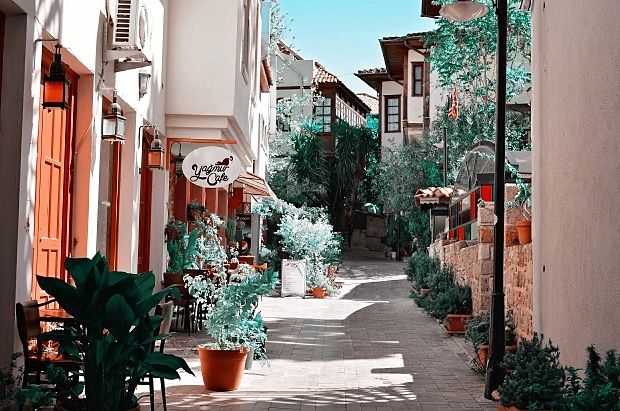 One can easily spend weeks here and still never get bored of navigating the quaint narrow streets and browsing in array of shops. Whilst at old town, don't miss walking along the main road to see the 'Hadrians Gate' for amazing photo opportunities.
Being completely different from it's modern counterpart, Kaleici has now become one of the important tourism centers of Antalya, offering best of both worlds, and this is exactly why you should plan on visiting Kaleici during your stay in Antalya!
7) Cirali Beach
Antalya, the southern province of Turkey, has Turkey's record number of blue flag beaches with it's 202 crystal clear beaches in total that qualified for the blue flag. Fascinating, right?
No amount of words can describe the feeling of witnessing the emerald waters kissing the flawless sugar white sand! Not exaggerating! Waters so clear that you can see the lofty mountains mirrored on the surface!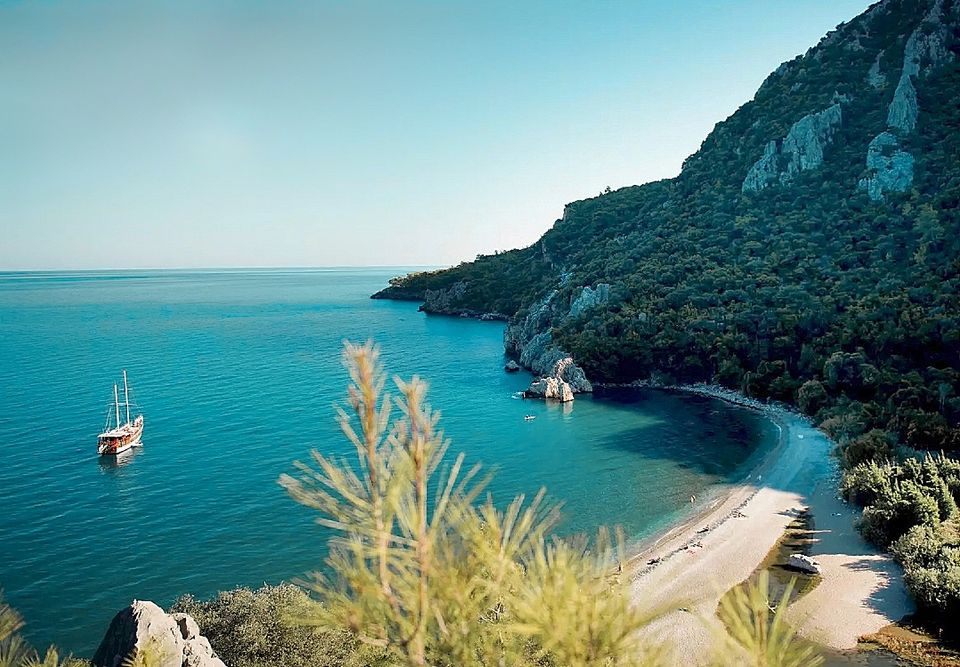 Surrounded by glorious mountains and blessed with crystal clear waters, the beach of Cirali is so massive that it never feels crowded even in peak season. The beach is under protection as it's a nesting ground for sea turtles. As such, you will not find any para gliders or any boats anywhere in sight. Heaven!
That's about it! We hope this article will help you guys narrow down the choices! Leave in your queries in the comment box, if you need any help in planning an itinerary! We will surely get back to you at the earliest!
Happy Travels :)