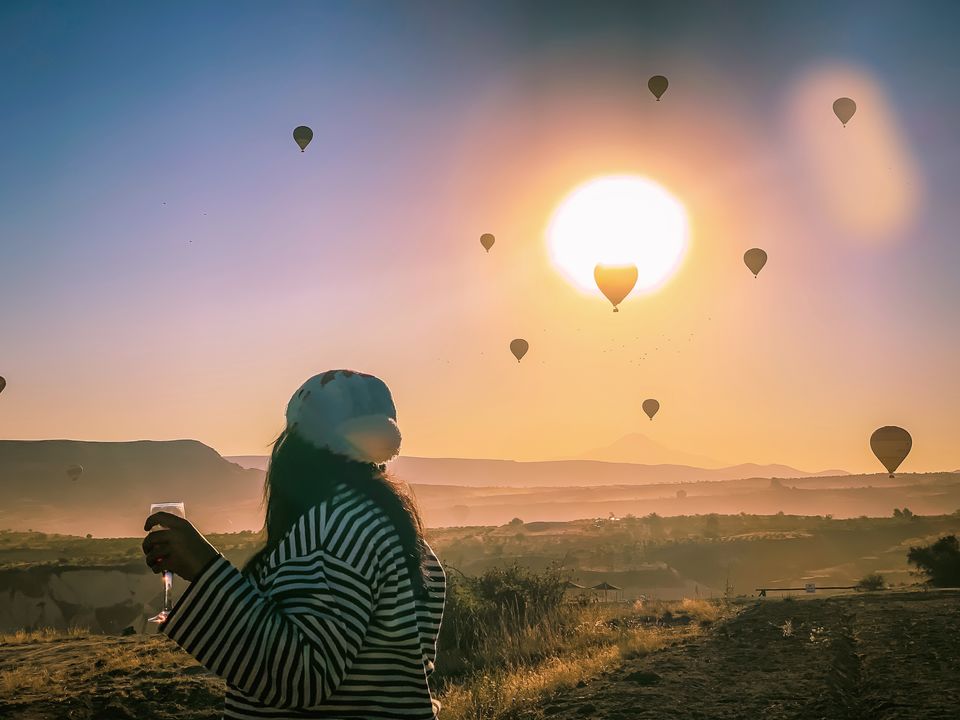 This post is originally written here , do check out for more travel inspiration.
As passionate travelers, we always try to find unique places to visit on a holiday and Turkey was our first choice when we were planning for a trip . Our 10 days in Terrific turkey was commendable for its unique landscape of Cappadocia to the city where two continents meet to the ancient ruins of Ephesus to its beautiful coastal shore.
In recent years, Turkey has emerged as one of the top travel destinations in the world and why not, this is the land of world history with the fascinating mix of modern and ancient culture & which connects two continents (Asia and Europe).
We went to turkey in October and with the skies being vibrant and temperatures hovering at a pleasant degree, Turkey in October has proven to be a spectacular time to witness the country at its best. We were fascinated by the diversity of sights and scenery on our journey.
If this dream destination is on your bucket list, here's how you can explore the best of Turkey in 10 days.
Turkey Visa for Indians:
Most types of visa for Turkey fall under three main categories, i.e. the e-Visa, Sticker Visa and Work Visa to Turkey. If you are going to Turkey for travel purpose, It is easier to get Turkish e- visa if you have valid US, UK or Schengen Visa.
We filled the online e-visa form from here since both of us have US valid Visa. E-visa fee is around INR 5000 per person. It is quick and easy process to obtain the e-visa. Once you are done with the payment, E-visa will be emailed to you within an hours' time.
In case, if you do not have Valid US/UK or Schengen visa, you will need download the form from one of the approved visa center's websites. Fill up the form online, take a print, sign it and then submit the form at the centre.VFS centers can help in obtaining the Turkish visa.
How to reach Turkey:
When travelling to turkey from India, Istanbul's Atatürk Airport also called as New Istanbul Airport will be your landing plug when you fly from Indian cities like Mumbai, Delhi or Bangalore.
Istanbul has two airports, Ataturk Airport which is a hub of major international flights and the other one is Sahiba Gokcen Airport. We flew to Istanbul from Bangalore through Oman air with a layover at Muscat. Many major airlines flying to Turkey from India are Air India, Indigo, Oman Air, Turkish Airlines etc
Route Summary:
Day 1 - Landed in Istanbul in the evening and checked into hotel
Day 2&3 : Istanbul
Day 4&5: Cappadocia
Day 6: Izmir to Ephesus
Day 7: Izmir to Pammukale
Day 8 & 9: Fethiye & Oludeniz
Day 10: Antalya & Return to India .
Transportation between the cities in Turkey
Flights:
Day 3 : Early morning from Istanbul to Cappadocia (Nevsheir) -Turkish Airlines
Day 5: Morning flight from Cappadocia (Kayseri) to Izmir - Pegasus Airline
Day 10: Antalya to Istanbul (Late night flight) - Atlas Global Airline
Road Trips :
Izmir to Ephesus (Group Tour)
Izmir to Pammukale (Group Tour)
Izmir to Oludeniz (Taxi)
Fethiye to Antalya ( City bus)
Hotels we stayed in :
Istanbul – The Byzantium Suites Hotel & Spa
Cappadocia: Milat Cave Hotel , Goreme
Izmir: Kilim Hotel
Oludeniz (Fethiye): Hotel Oludeniz
Antalya: Delight Deluxe Boutique Hotel
Essential Tips to know before you travel to Turkey:
Buy Istanbul Tourist Pass: One of the most important thing to do before you travel to Istanbul is to buy online Istanbul Tourist pass which give access to 30+ attractions in Istanbul, free guided tours, hop on hop off bus access , to book Bosphorus cruise and skip the line tickets at the prime attractions.
You can easily order the Istanbul Tourist Pass online: just choose the amount of days (3, 5 or 7) that you want to use the pass. it's best to order your pass a few weeks before the start of your trip, certainly during high season. We bought Istanbul tourist pass for two days which costs around Euro 95 per person.
Buy Istanbulkart: Istanbul Kart (Istanbul Card) is an essential card all-round public transportation in Istanbul. It is worth getting one if you plan to use public transportation multiple times during your stay in Istanbul.
This Single card (like oyster card or Metro card) is used to pay for all types of intercity transportation within Istanbul such as buses, ferries, tramways etc. It is a Prepaid card which you can then refill as n when you use it. We bought Istanbulkart at the airport by paying 10 Turkish Lira which was non- refundable, and the 20 Lira reload amount.
Use Bitaksi App: Bitaksi is an Instant booking app like Uber widely used in Istanbul and Antalya. If you are someone who would want to explore neighbor hoods of Istanbul by taxi, this is the best app to book the instant cabs. Just download the app and you can book the cab from choosing your pickup destination to drop destination and it will show the fare to you before confirming the trip.
Carry some local (Lira) currency : We decided to load our Multi currency card with Euros and carried few Lira's to pay for some local shopping. Do not exchange the currency at the airport, as you will get better rates in the city. Best place to exchange the currency is Grand Bazar or Sultanhamet area.
Carry Comfortable Footwear: There's lot of walking in Istanbul and much of hiking in Cappadocia (if you choose to visit the fairy chimneys) , so it is best bet to avoid heels and carry good gripped shoes.
Fly in the 1st Hot air balloon ride: Always choose to fly in the first hot air balloon ride before the sunrise time as this is the time when hundreds of balloons fly together, and the sky turns into a magical view. It is always preferable to book Hot air balloon ride in advance with your hotel .
Detailed Itinerary