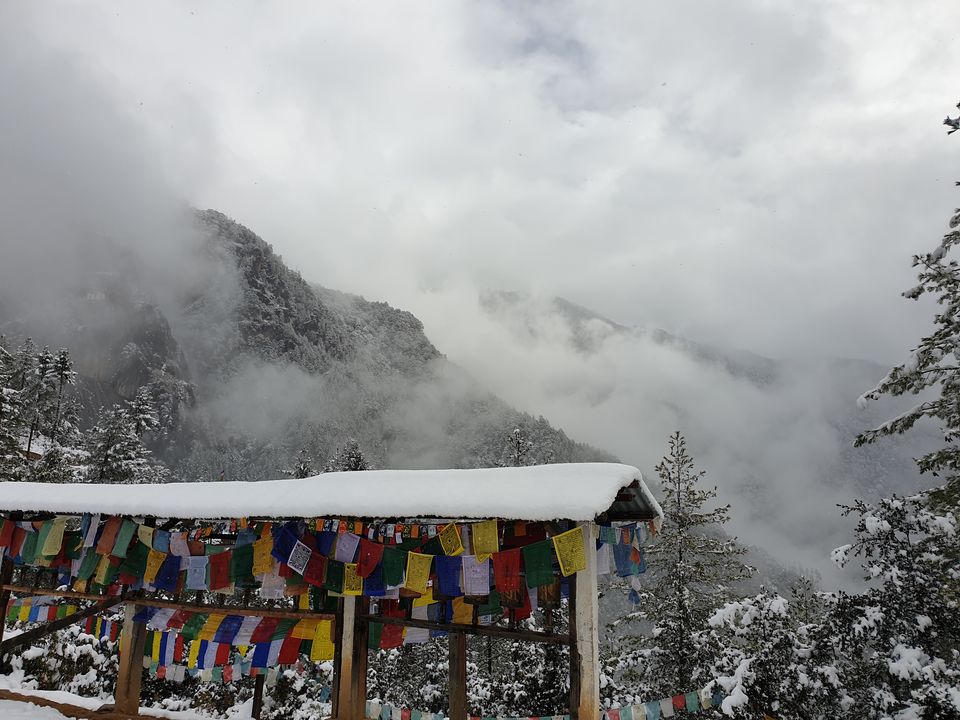 Taking an international trip definitely sounds like a big deal, doesn't it? Trust me, it only sounds like that until you've been on one. Once you cover it, you crave for more. You start wondering, what all have I been missing in this truly beautiful nature which is happening everyday in some corner of the world and very few people get to witness it. Trip to Bhutan was one such adventure where a random plan came to life when the government was planning to introduce a sustainable environment fee on traveling in Bhutan. Funny, how saving a couple of thousands can sometimes make you spend a lot more. However, every penny spent on the trip was worth it and it would be an understatement to say that this was by far one of the most exciting group trips I have ever been on.
Being an active motorcycle rider, I have always preferred solo trips as it gives you the freedom and the flexibility to push your limits or relax when needed. The idea of touring with a group was something very new. Checked a lot of online reviews and zeroed in on Deyor camps to lead my trip in the beautiful valleys of Bhutan. The booking procedure was straight forward and Deyor people made sure there was assistance available at every step so that the whole process was seamless.
And the trip begins..
The trip started from Bagdogra airport where a lot of anxious riders were looking forward to getting their hands on the bike which will be taking them through the beautiful landscapes of Bhutan. After some talks with the trip captain and the managing team, it was decided that the safest option to get all the rides from Bagdogra to Bhutan would be via a cab. Due to civil unrest in some portions of West Bengal, our ride was already cut short by a couple of hundred kilometers. The route from Bagdogra to Jaigaon is ideally done by NH 17, however it is always good to enquire with locals as to which route would be the best. During our trip, we had to factor in civil unrest and the traffic conditions arising from the transport trucks which were plying on NH 17. Owing to this, we took a different route and reached Jaigaon. Jaigaon is the city on Indian side of Indo-Bhutan border. As you cross border, you will notice a stark difference between the two cities on opposite sides of border. Bhutan although a $2.5 Billion economy compared to its $2.5 Trillion neighbor, seems much more organized and cleaner. Day one of our trip came to an end with entry in Bhutan and a face to face with the bikes, which were waiting at the hotel, ready for the adventure.
Stay in Phuentsholing was arranged in Alem Hotel & Resort. Being a budget friendly trip, my expectation for hotels wasn't high. Deyor took us by surprise on this bit by providing one of the best available accommodations in the area. The cleanliness, comfort and overall experience of place was amazing, to say the least. The staff was extremely friendly and food there had a nice Indian touch to it. Next day, our list of to do things included completing all the required documentation and getting the passports stamped. Deyor had planned and corroborated with locals to get visa stamping done as quickly as possible. The only dependency here was on our group which had to be ready on time to reach the Immigration office and get everything done. Once the visa stamping was completed, we came back to our hotel to relax and enjoy a spectacular sunset. By this time, we had our bike keys, and everyone was excited to start the ride for which they all had signed up.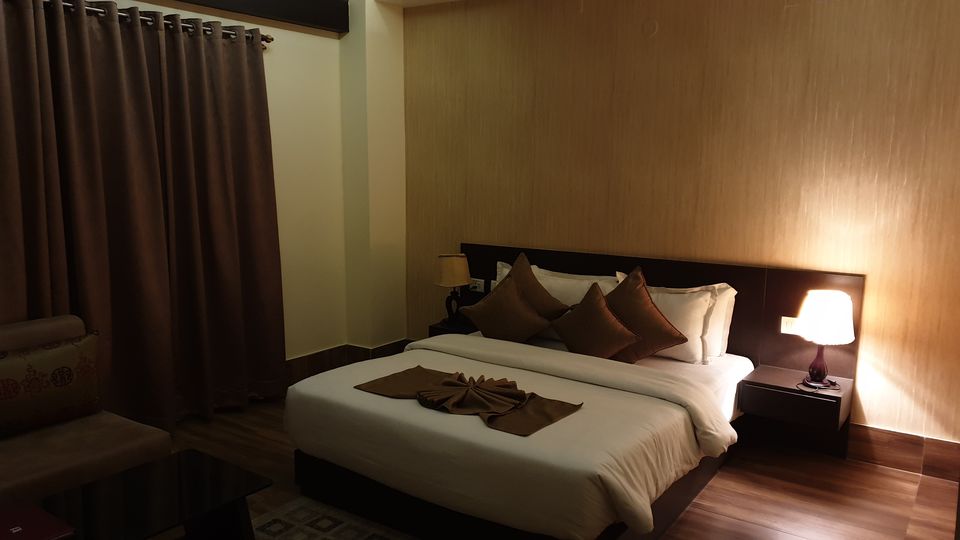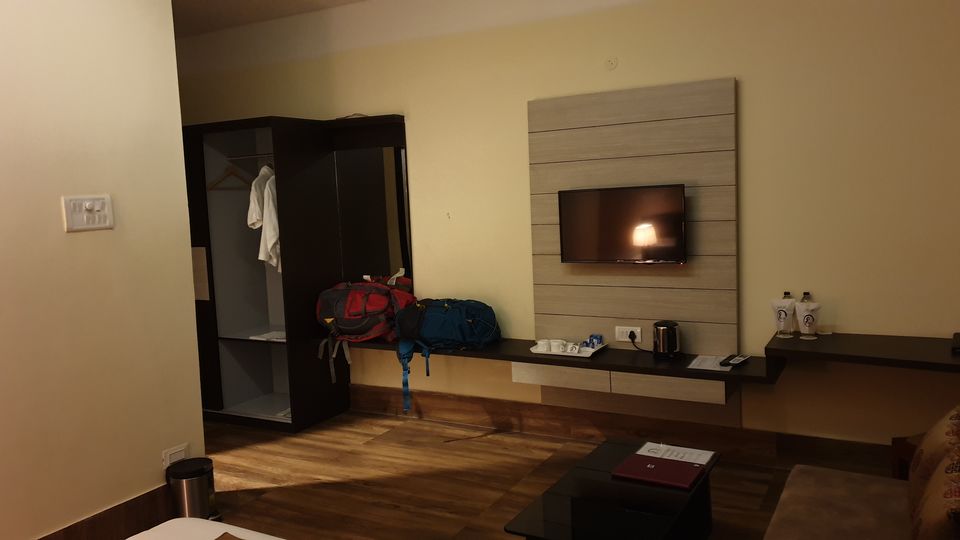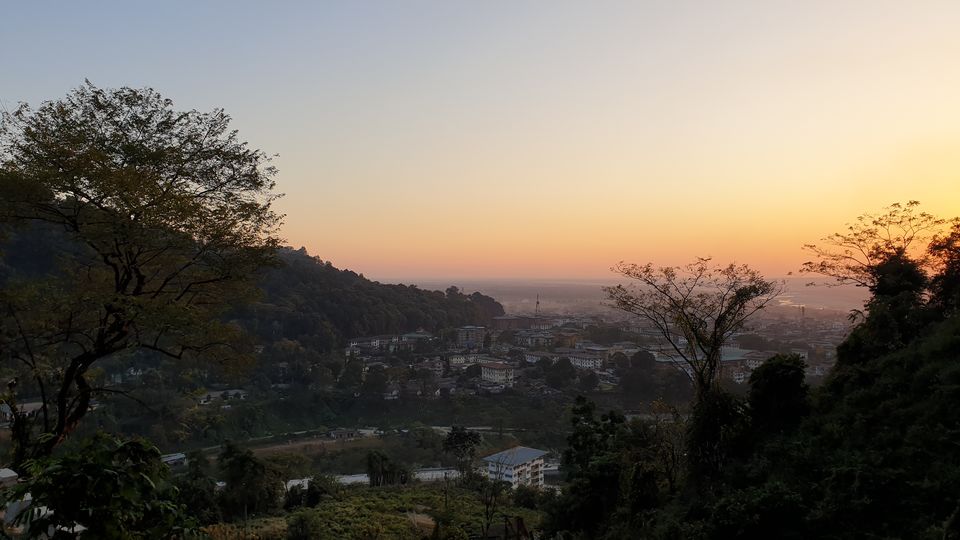 Next morning, after having a fulfilling breakfast and checking out of our amazing accommodation, we finally started our ride towards the capital city of Bhutan, Thimpu. There are a lot of amazing things about the country which just makes you fall for it more and more. Traffic in Bhutan is so sparse that honking is considered rude and generally not allowed. Lanes which are nothing more than a white marking in our country are followed quite strictly and there are cops everywhere to check if you are adhering to the speed limit. Crossing hill after hill, the ride took us through a variety of landscapes.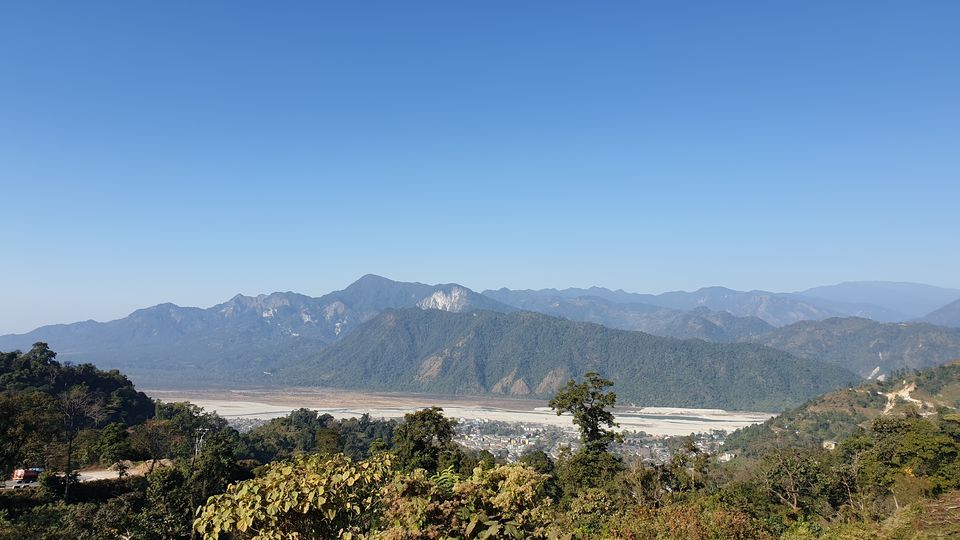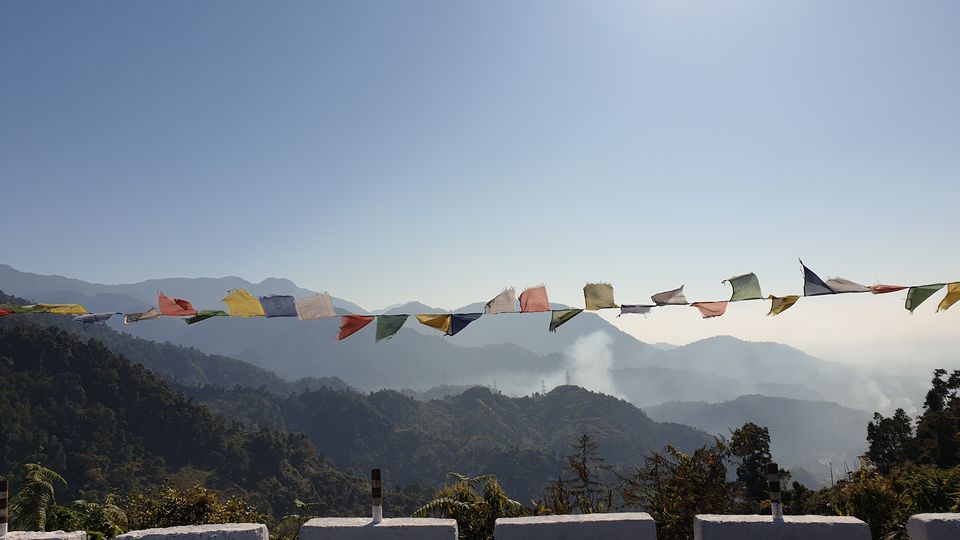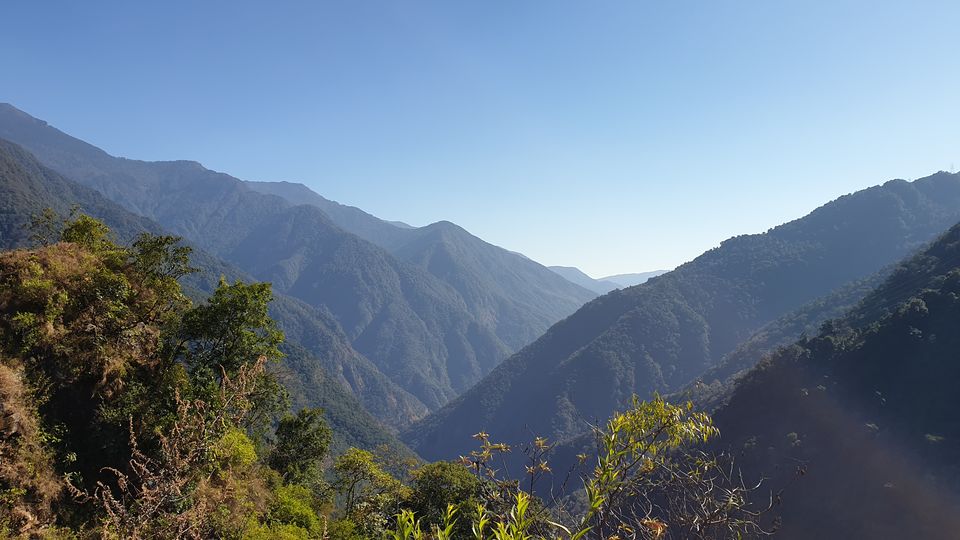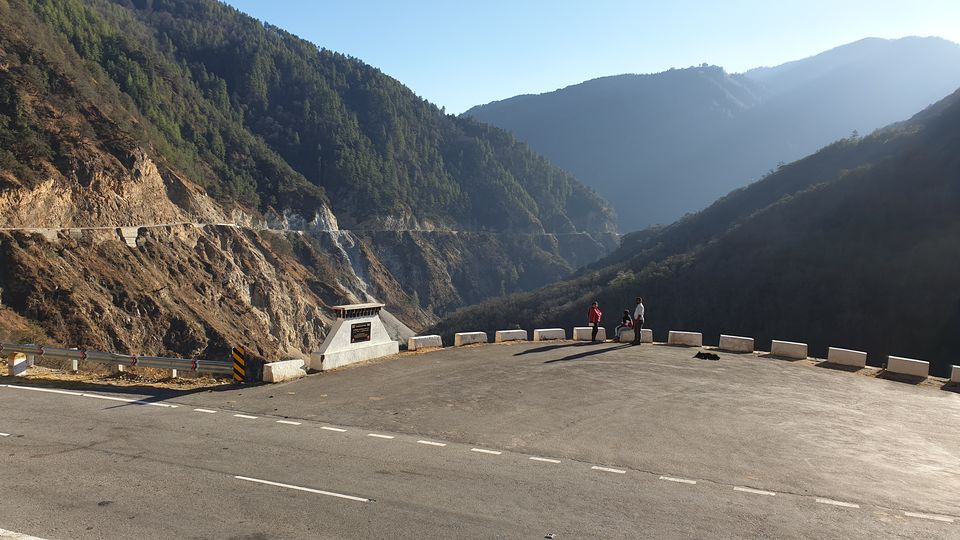 The drive to Thimpu!
Roads in Bhutan are very well maintained and for most portion you will not encounter a single bad section. It took us around 7 hours to reach Thimpu with breaks every couple of hours. The ride was smooth and fascinating, the hills combined with the butter smooth roads made for an amazing experience of riding in the Himalayas.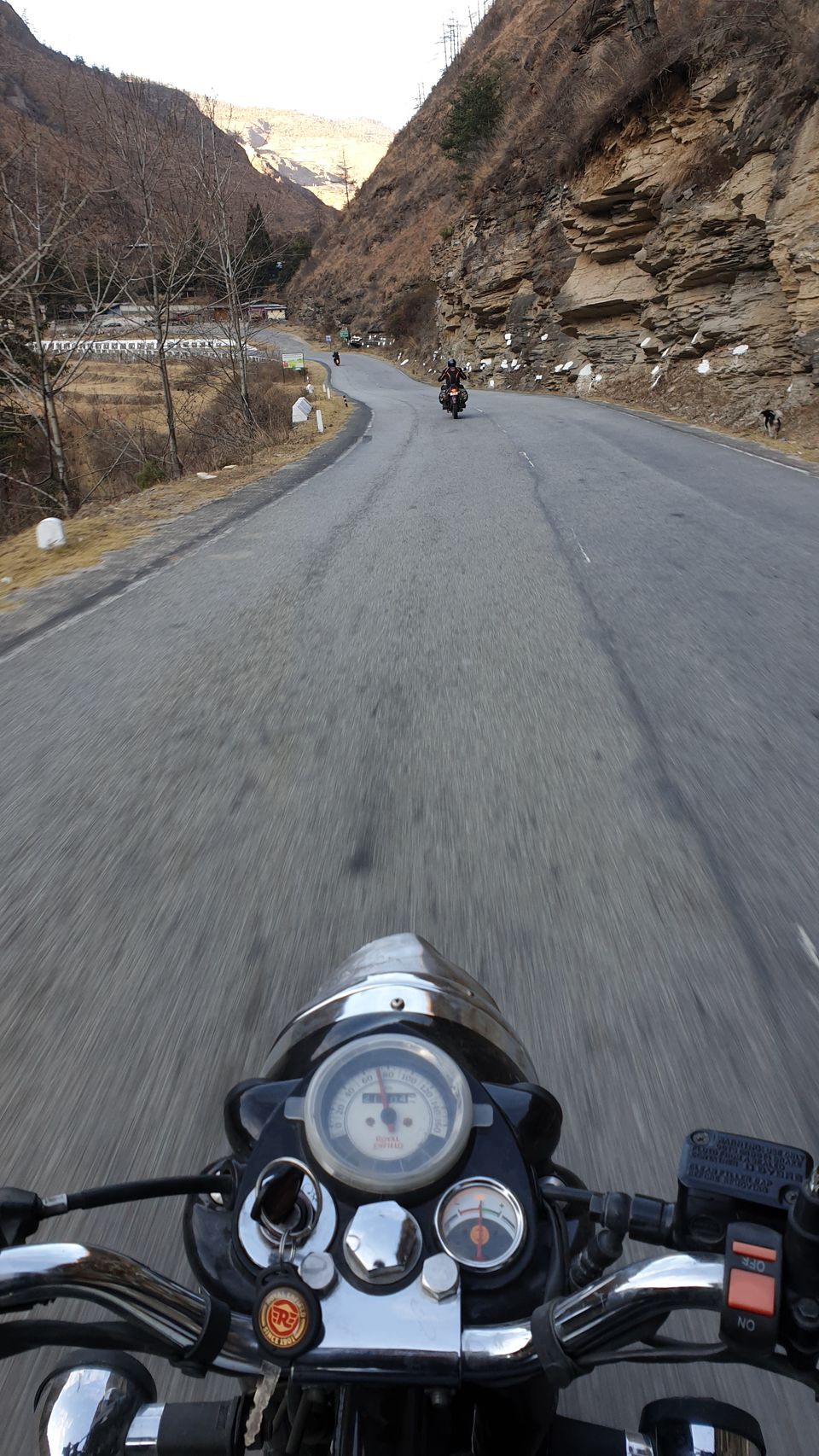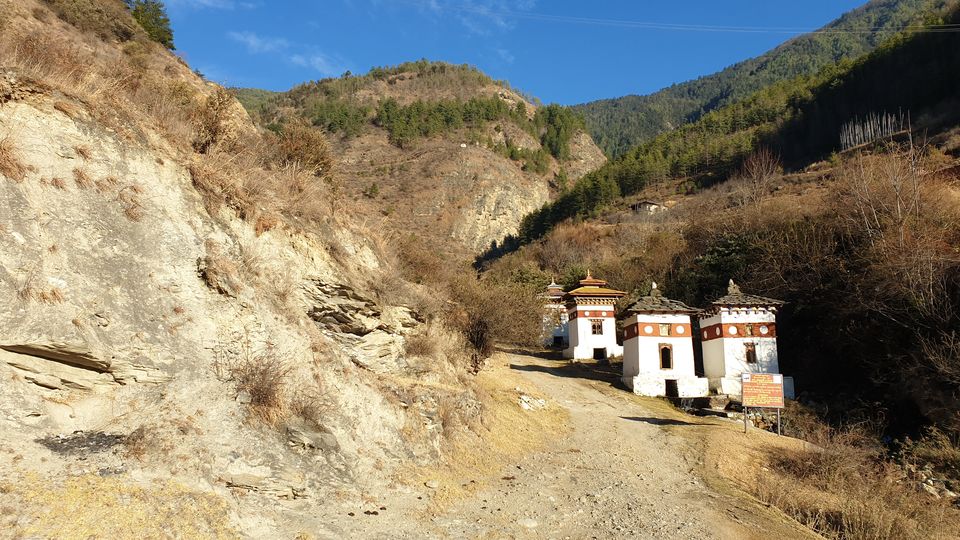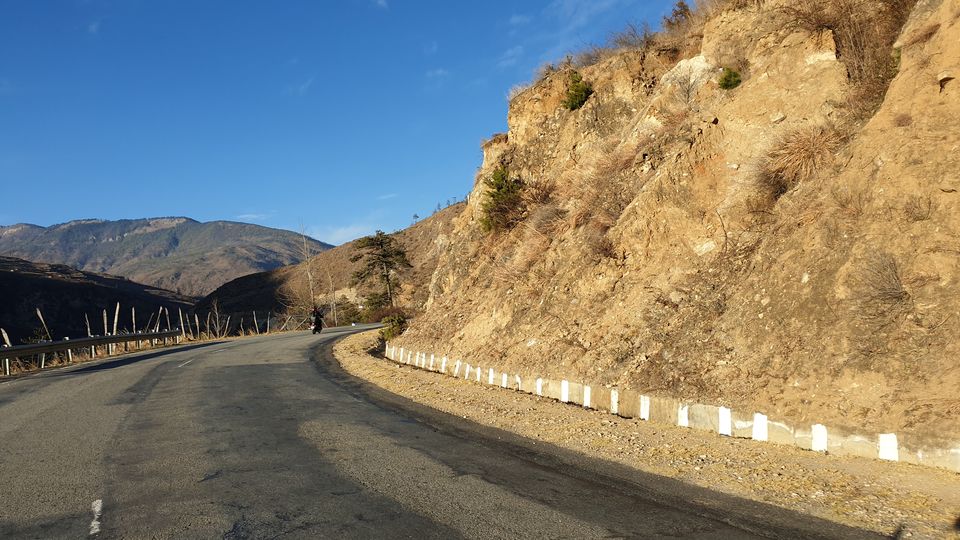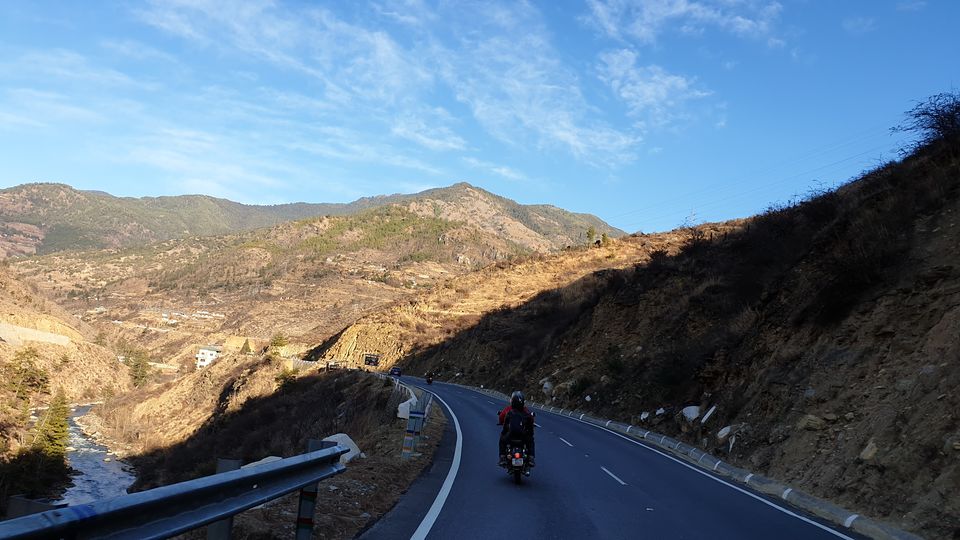 We reached Thimpu around 5 pm after which we checked in the hotel and retired for the day. Having our expectations set high from the accommodation provided in Phuentsholing, we were amazed that it carried forward to Thimpu too. Our stay was arranged in Hotel Migmar which is centrally located and accessible from any part of the city. Rest of day was to relax and explore the city. A lot of us decided to stay in the hotel and enjoy the warmth of the rooms owing to the freezing temperatures in Thimpu. At night, the temperature dipped to -4 degrees and it certainly could be felt the next morning when the temperature was still 0.
Local sightseeing at Thimpu
This day was reserved for sight seeing in Thimpu and exploring its beautiful surroundings. Our day started with Buddha Dordemma, a 51m tall statue of Buddha overlooking the Thimphu city. You get panoramic views of Thimpu city from a height and a glimpse of Dochula pass hidden in the mountains which will be covered the next day. There's a museum too which gives a peek into the rich Bhutanese culture and history. From here, you can see the clouds passing over Thimpu valley and making for an amazing landscape.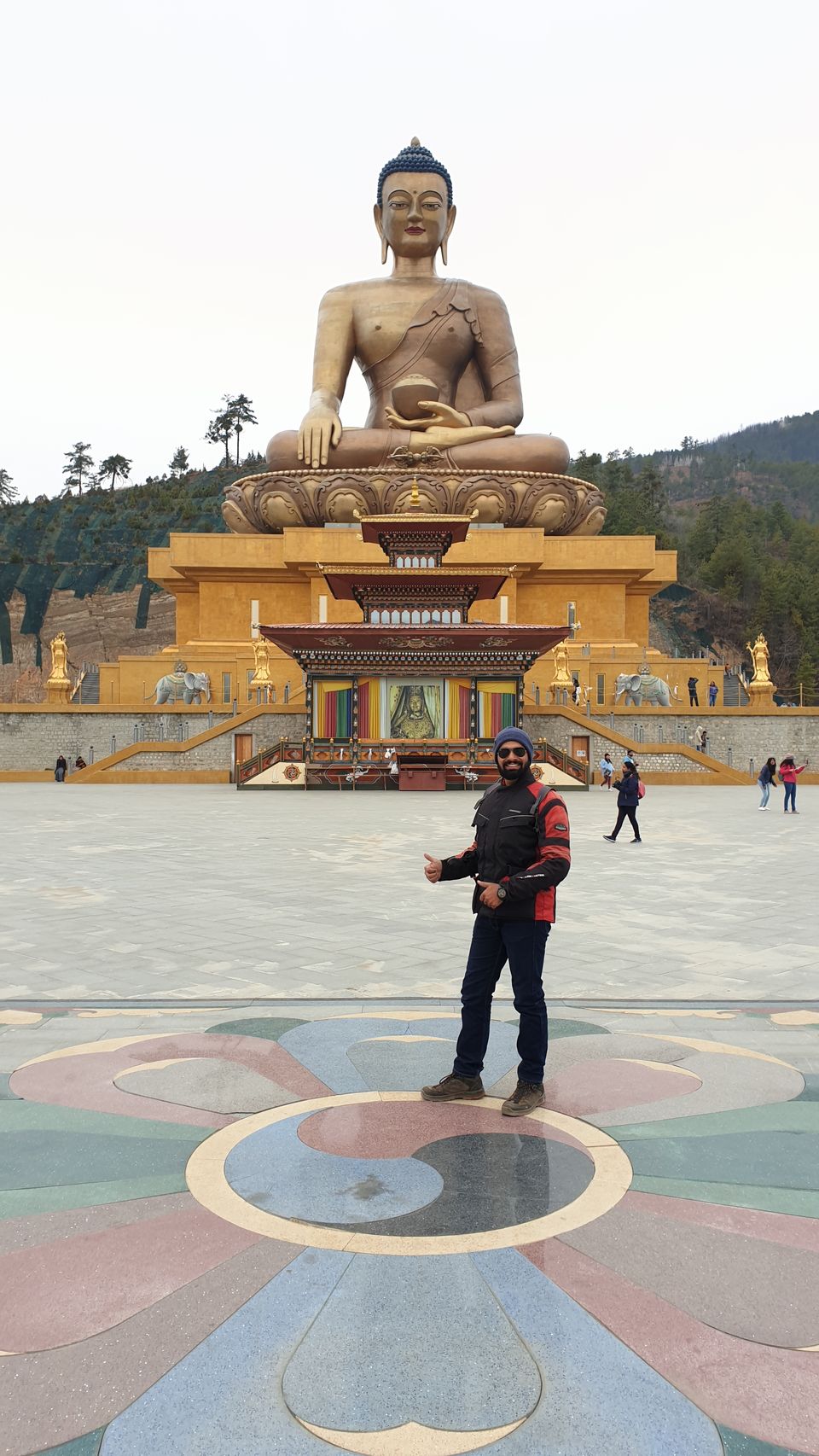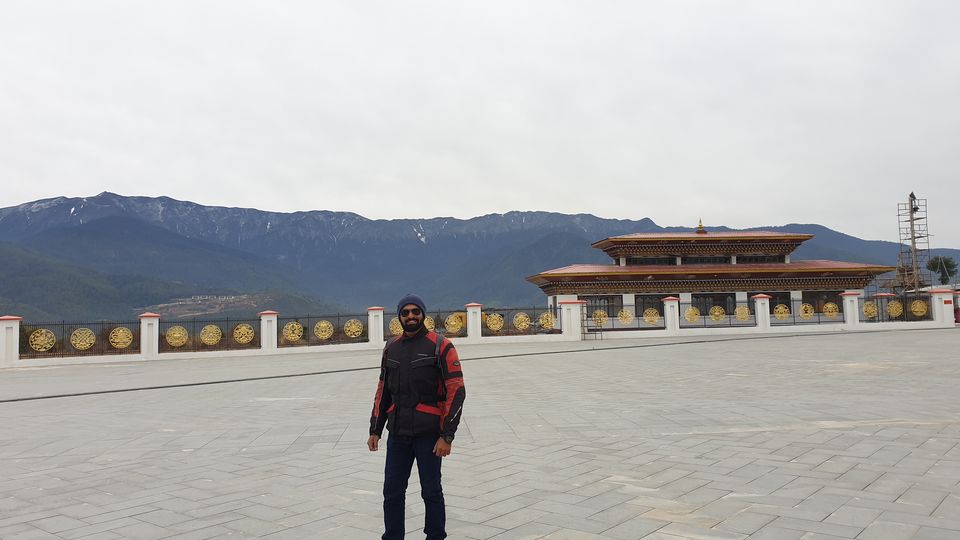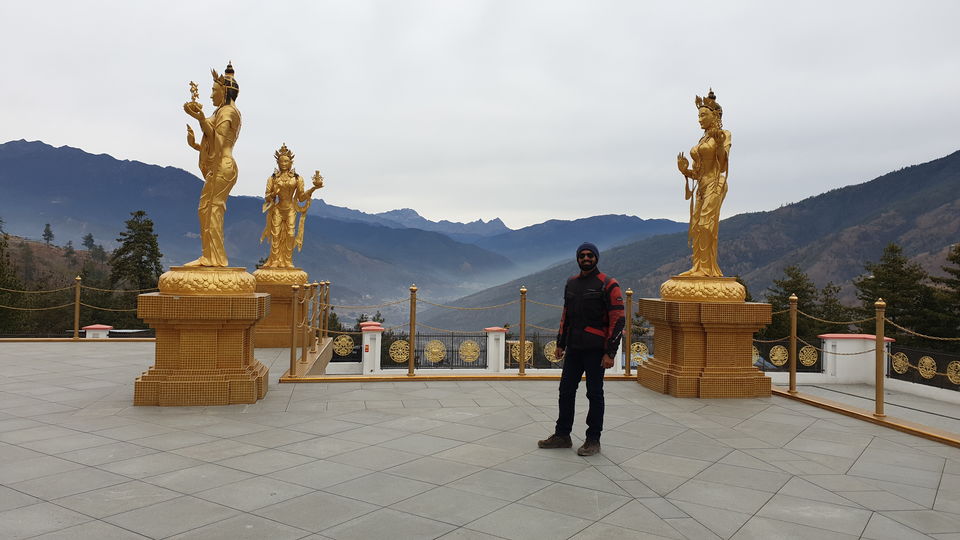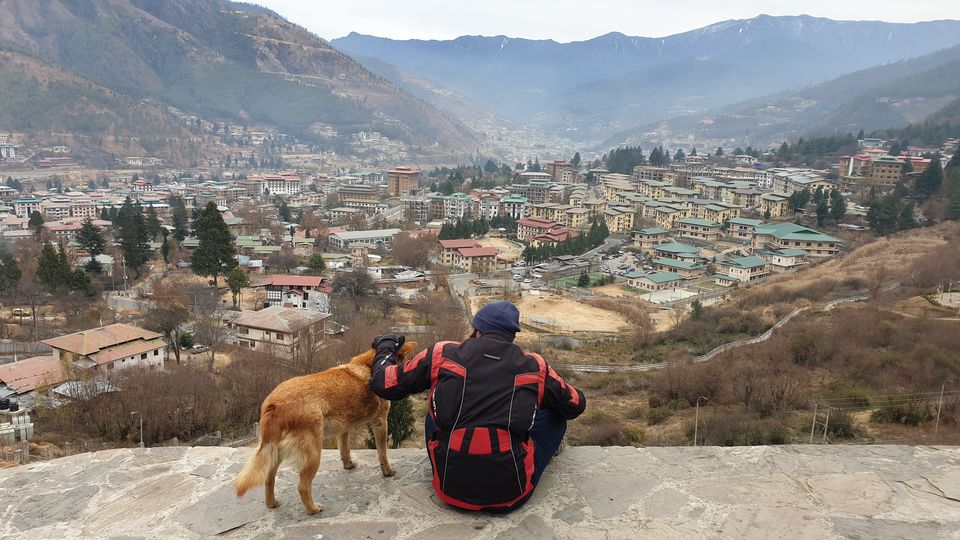 After spending a couple of hours here, we headed over to 'Simply Bhutan' which gave an insight into the lives and culture of Bhutanese people. One of the most amazing things about Bhutan is, you can just start walking towards the next beautiful place you see and all through the way, you will only experience serenity and serendipity. After this, we had a sumptuous lunch and headed over to other corner of the city to experience the panoramic views of the valley. We rode to Sangaygag view point where we parked our bikes on road side and enjoyed the bird's eye view of Thimpu valley.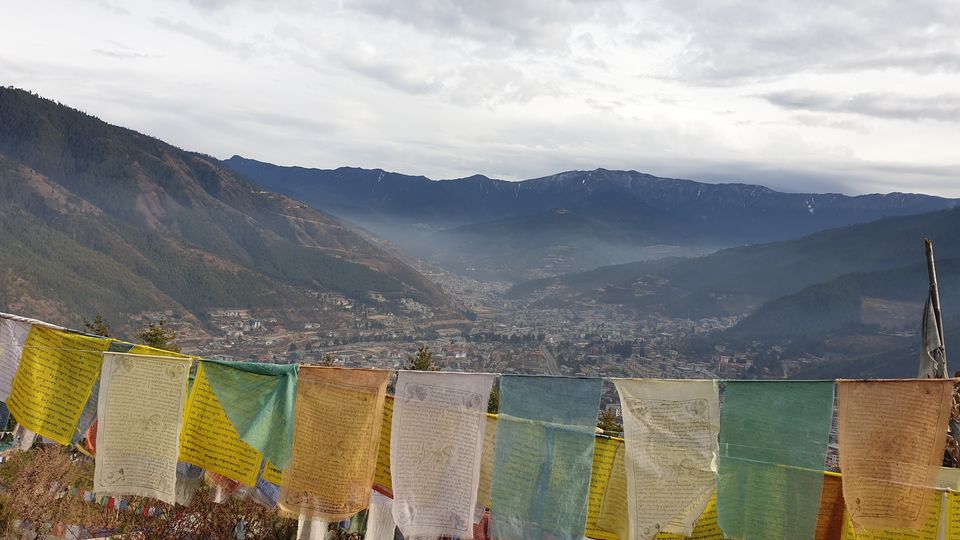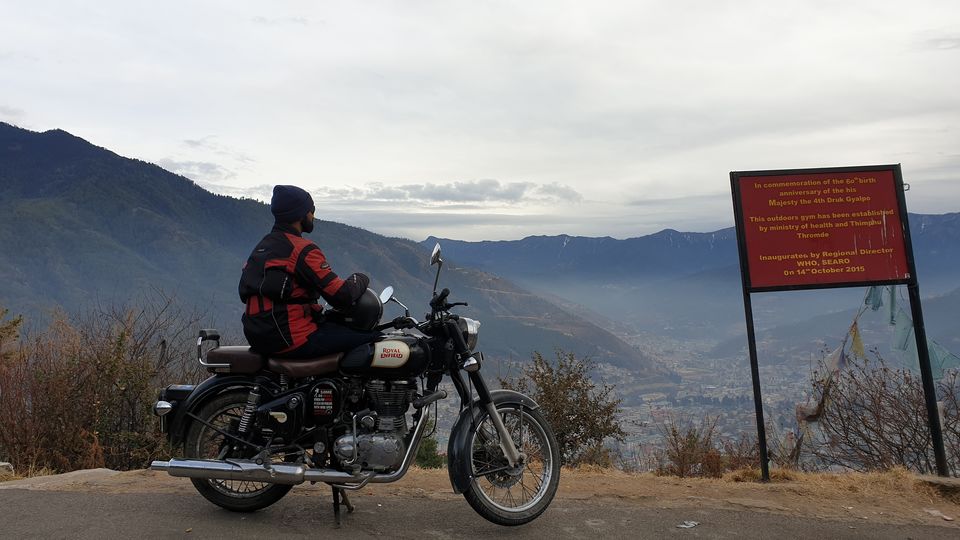 As the sun started setting, it became cold and we started rushing towards our hotel to avoid getting caught in the minus temperatures. The day ended with dinner at the hotel and a ride to look forward to on the next day.
Breath-taking Dochula Pass
The day started with an early morning ride with the winter winds through the mesmerizing valleys taking us to Punakha via Dochula Pass. The cold had started getting to most of the riders and at this point everyone wanted a stop every 40-50 km just to regain sensation in their otherwise frozen fingers. Although the cold made it look like a struggle, the views made up for it in measures which can't be described in words. The ride to Dochula pass is a gradual climb with green valleys on either side of the road. On reaching Dochula, you are greeted with an open area with views of snow-clad peaks and light clouds hovering over them. All of it makes for a magical experience which can only be seen in person. No matter how many pictures you click or videos you record, the beauty of that sight can't be described in words. Dochula Pass has the 108 memorial stupas for their martyred soldiers. It is highly revered by the locals.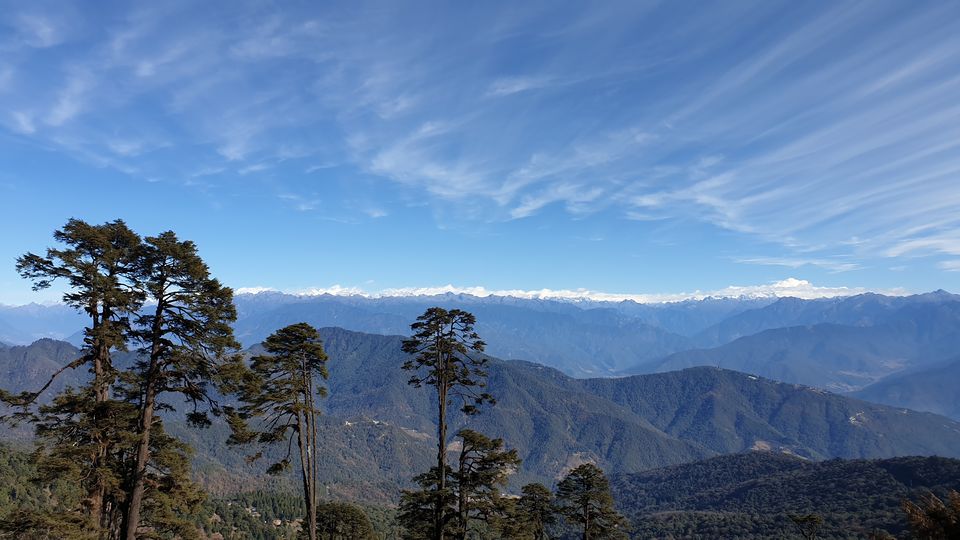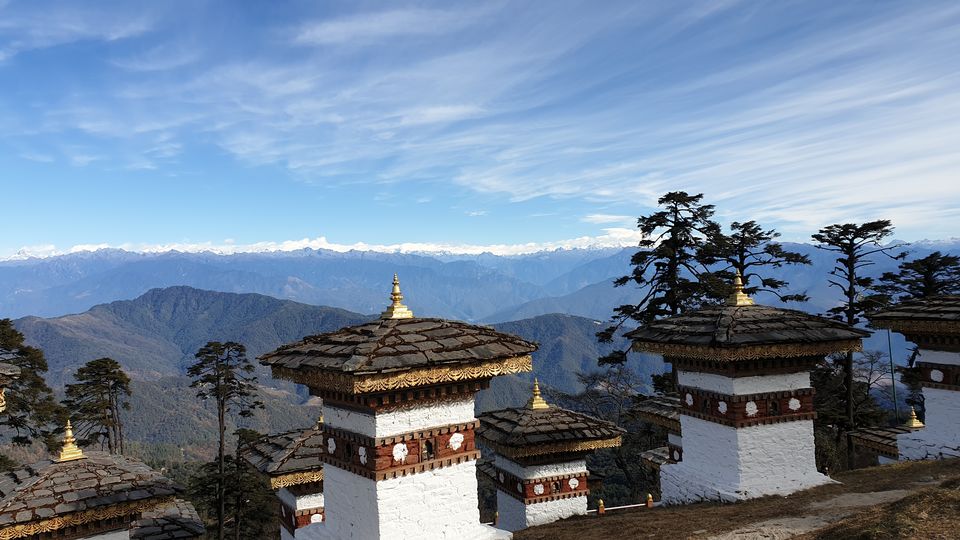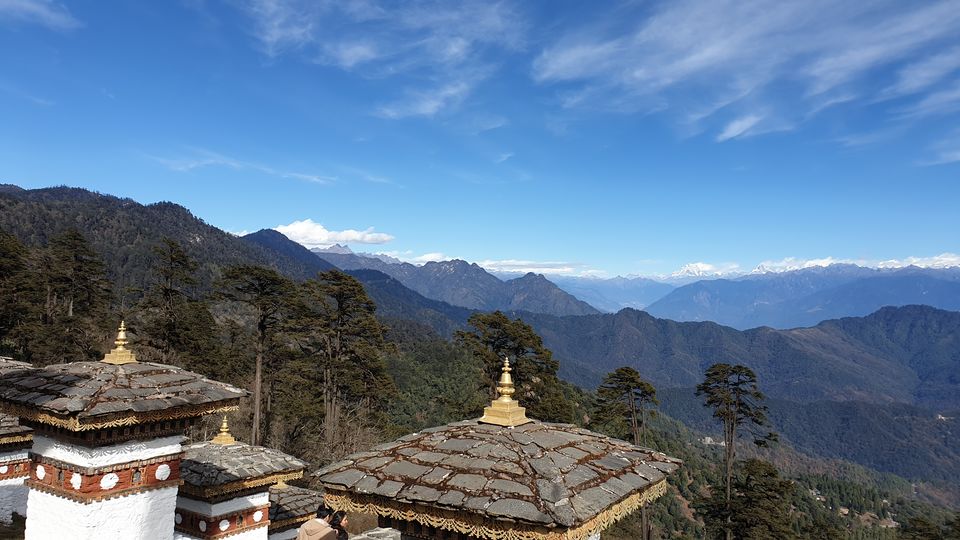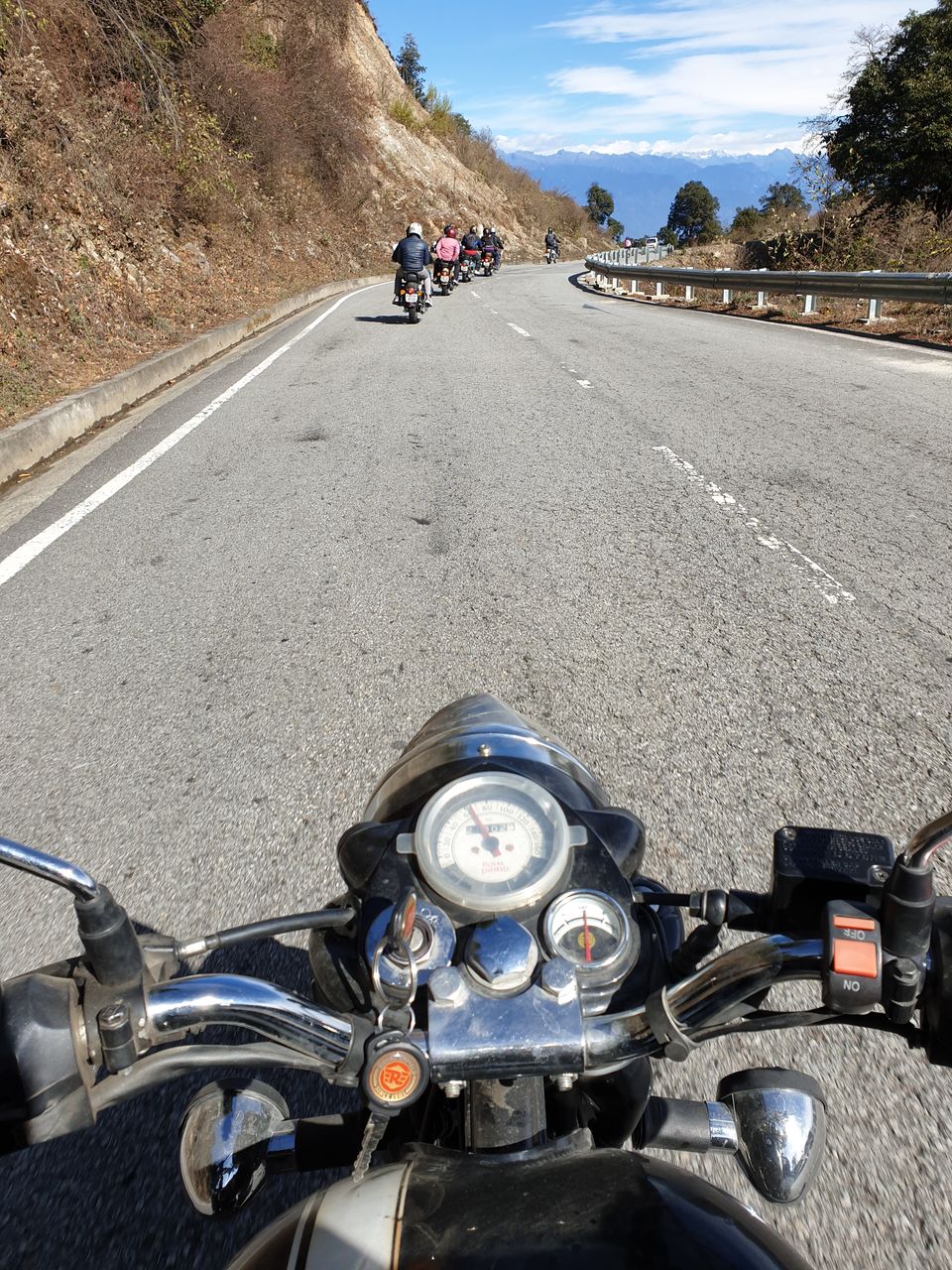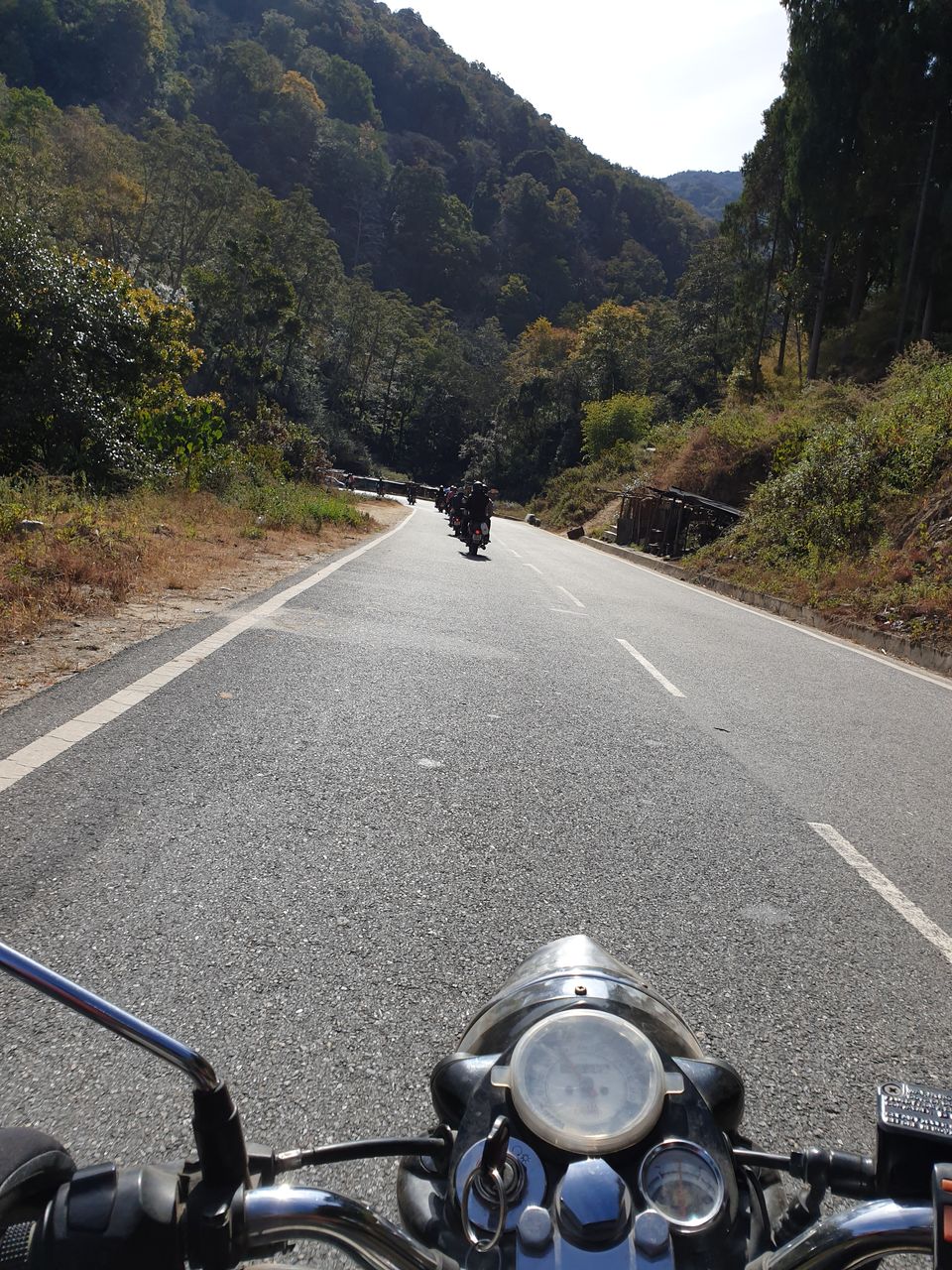 Exploring the old capital city of Bhutan - Punakha
After absorbing the beauty of Dochula, we start descending towards Punakha. The ride from here is completely downhill with views of snow-covered Himalayan peaks in backdrop. Another hour and we finally reach Punakha. Punakha and Thimpu, being at the similar altitude have almost similar temperature. It is quite cold but relatively better from the peak temperatures at higher altitudes. We had only one day for exploring Punakha so instead of checking in, we started exploring the city and nearby attractions. Not many people know, but Punakaha is also known for river rafting. Although it's advisable to only explore it during peak season otherwise you might end up boating in a raft which isn't exactly the experience anyone is looking for. After river rafting, we drove to the famous suspension bridge of Punakha. It's an exhilarating experience to cross the suspension bridge over river Mo Chhu. Also, it makes for an amazing landscape to capture some pictures with Punakaha town and the river in background.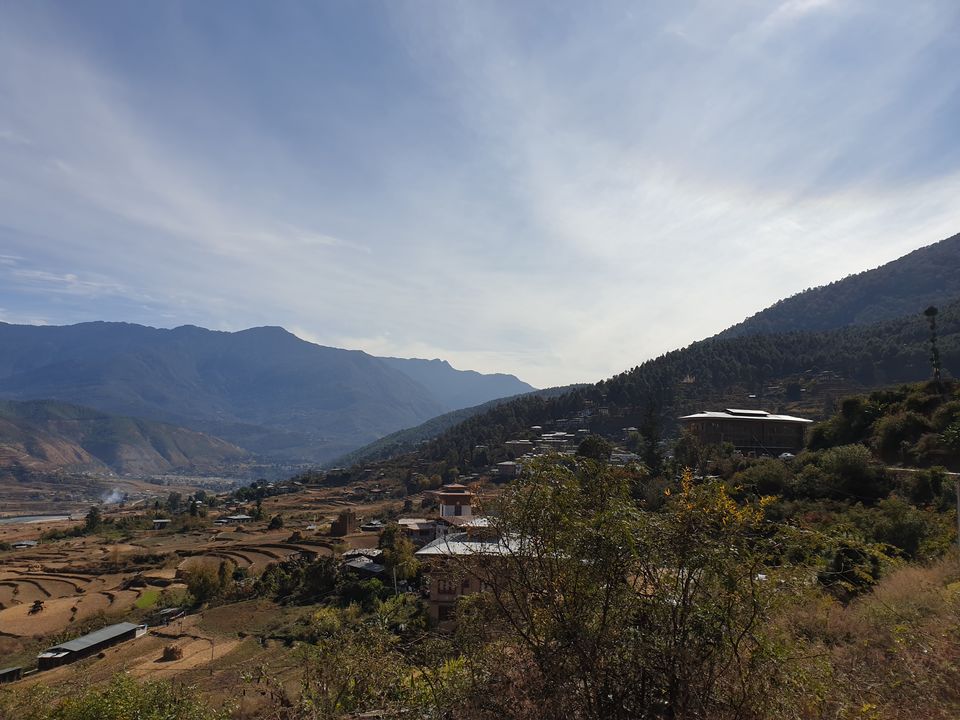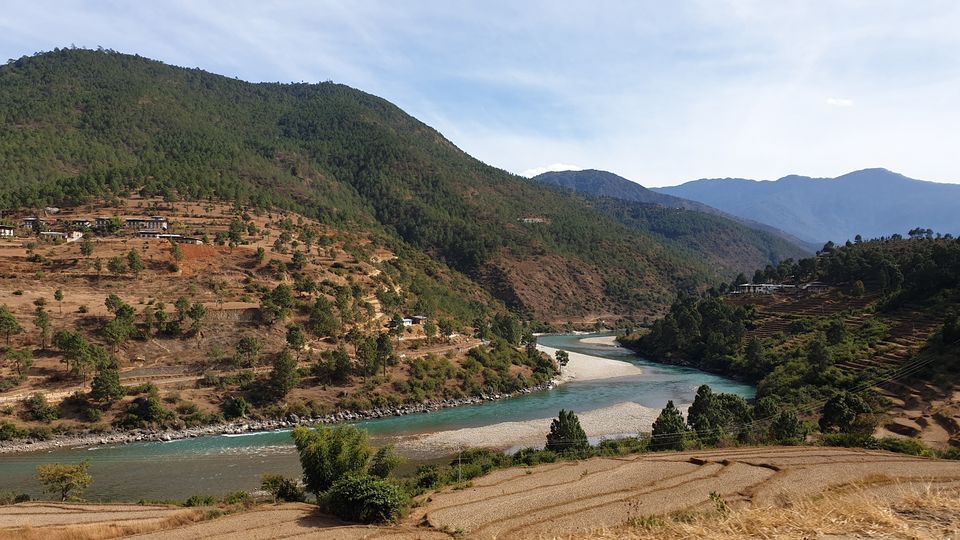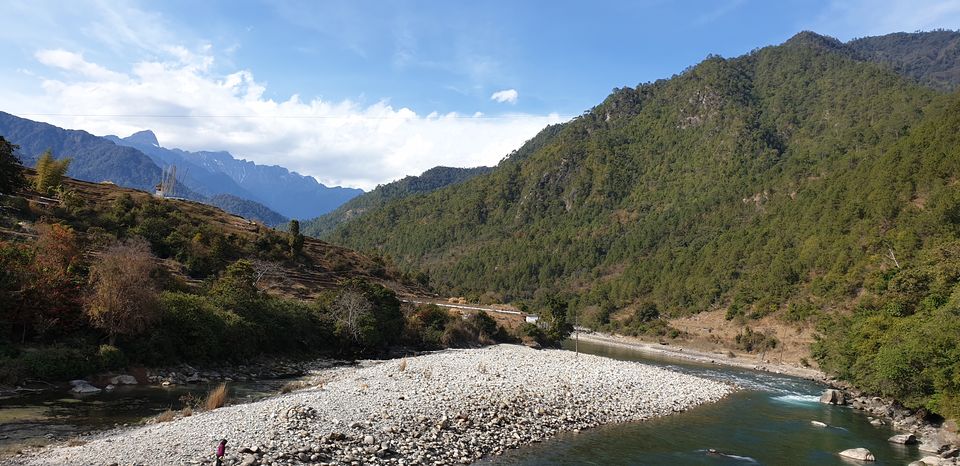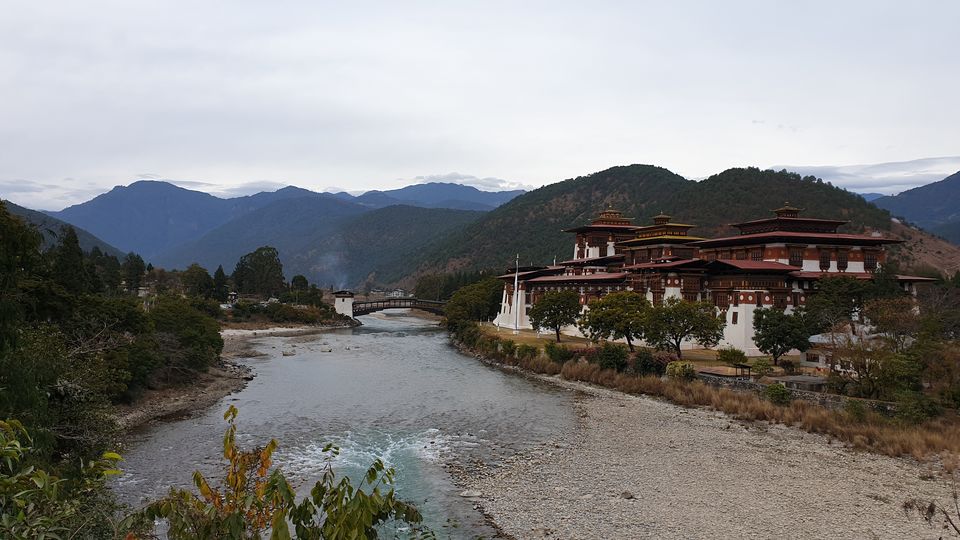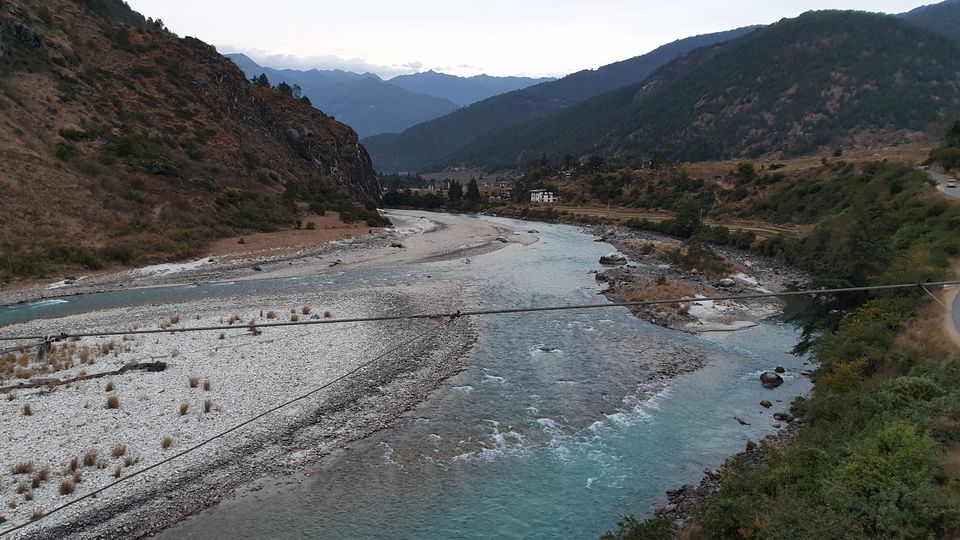 After experiencing Punakha city, we reached our hotel around 7 where we retired for the day and after a satiating meal, crashed in our beds.
A beautiful landscape with a not so friendly riding condition..
Our trip captain, Praveen had been telling us from the beginning of our journey about how he has been waiting to see the riders of our group in action for this day. Today was the day where we were going to try to reach Chelela Pass and experience something which the earlier batches couldn't due to unfavorable riding conditions. The plan was to ride till Paro and scale Chelela Pass if the conditions allowed. Everyone in our group was excited to experience the much acclaimed "one of the toughest" riding conditions and test their patience and skills. After riding through the comfortable valleys of Thimpu, we reached outskirts of Paro city by around 1 pm.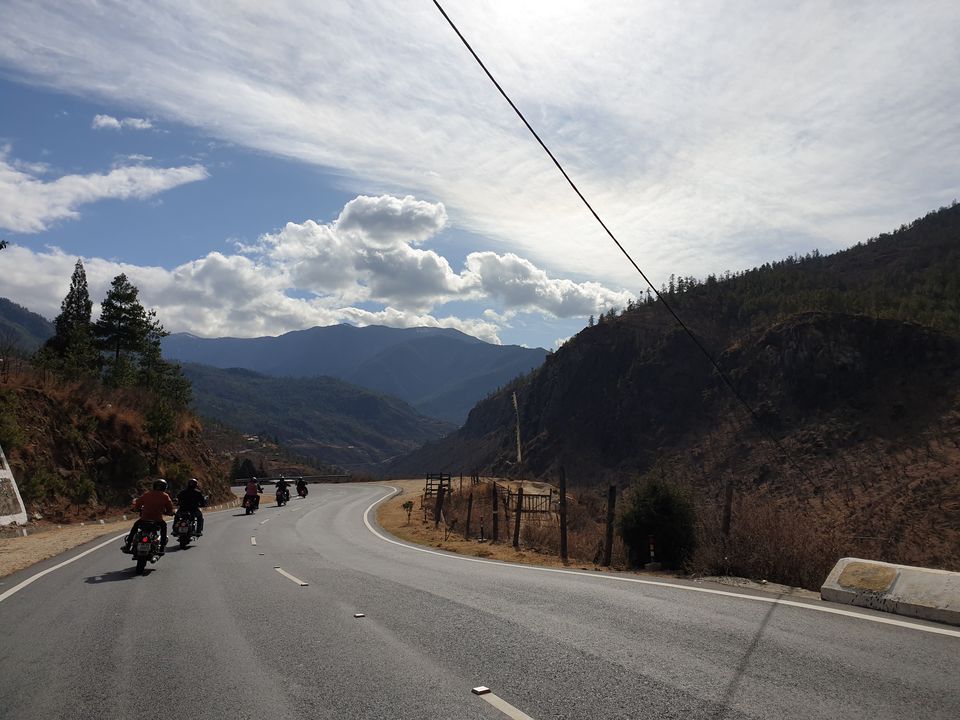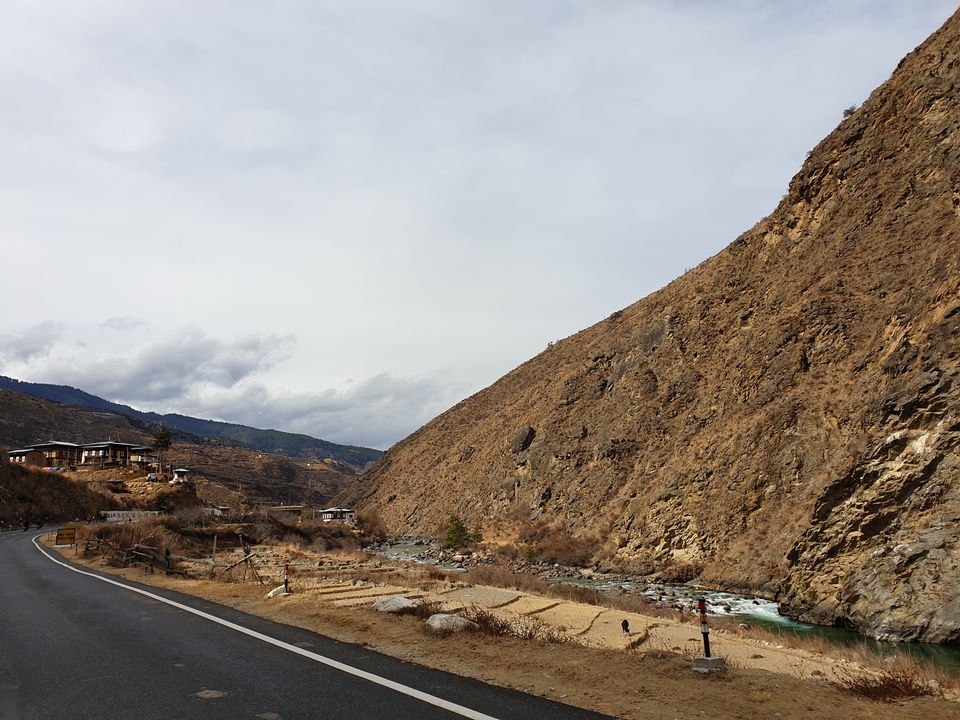 From here, our next stop was going to be top of Chelela Pass or the highest point which we could safely get to on the way to Chelela. A subtle diversion from the highway put us on the route to Chelela just before entering Paro city. From here on, the climb was steep with narrow roads and dense forest. The milestone at this point read 35 km. Our trip captain, aware of the changing climate and the cold made sure that every rider was comfortable in riding till the top. After doing about 15 of the 35 km, the landscape and weather started changing abruptly. There was snow on roadside, patches of black ice at times and clouds passing beneath us every couple of minutes. After doing a pulse check on the team if they were ready to proceed further, Praveen started leading the way through snow covered road. Since there were a couple of cars ahead of us, there was still some part of the asphalt visible on which we were trying to drive. Traction, although low was still there but not very confidence inspiring. Every kilometer felt like a test of faith where we were trying to focus on the road and thinking about reaching the pass.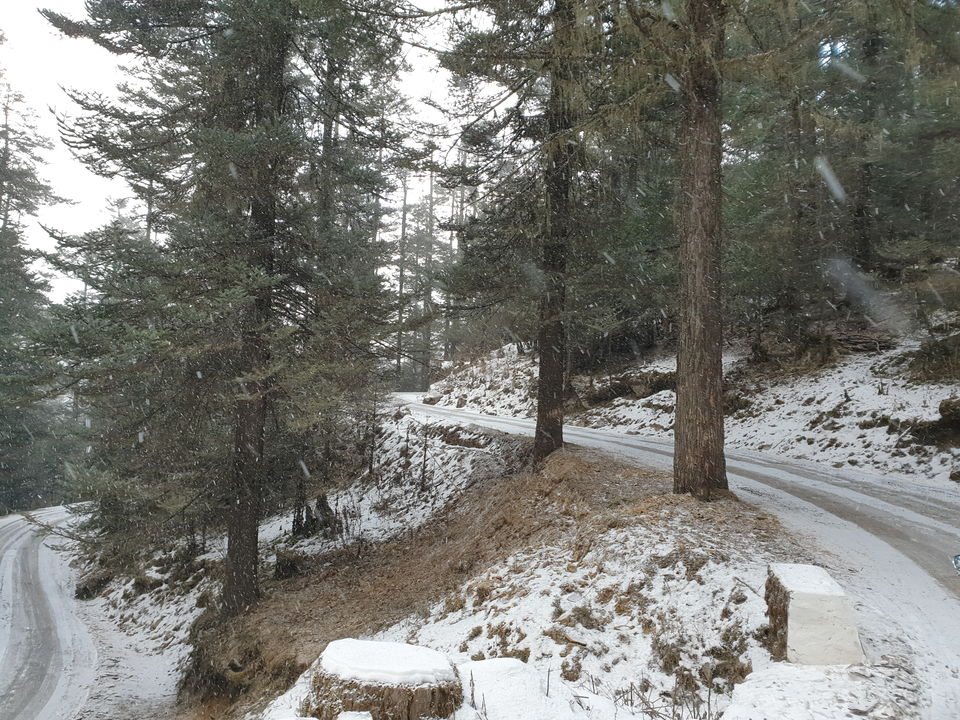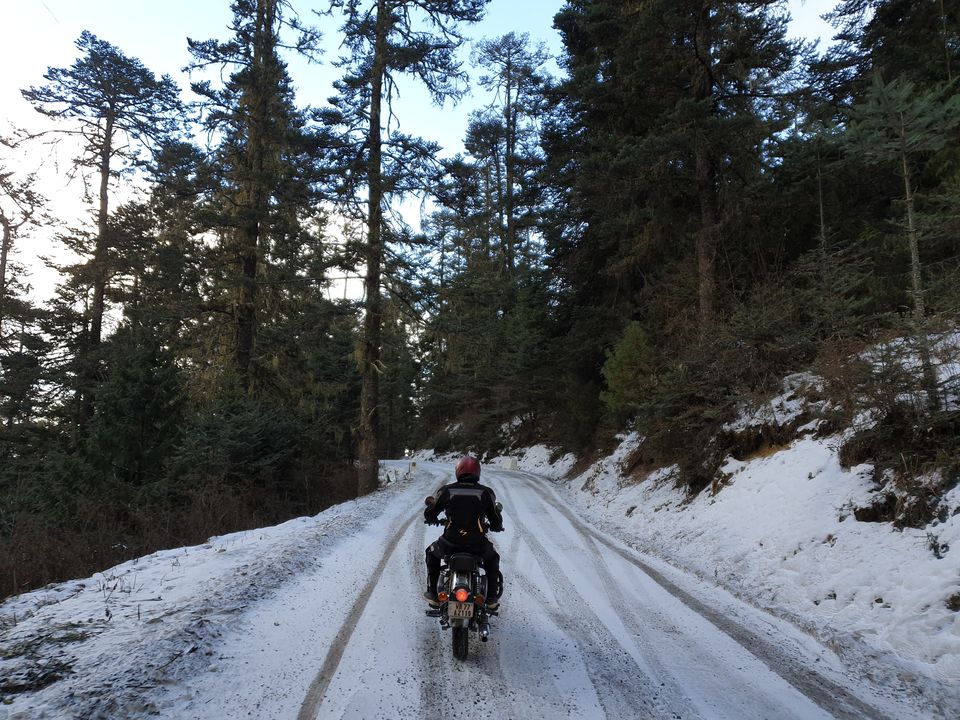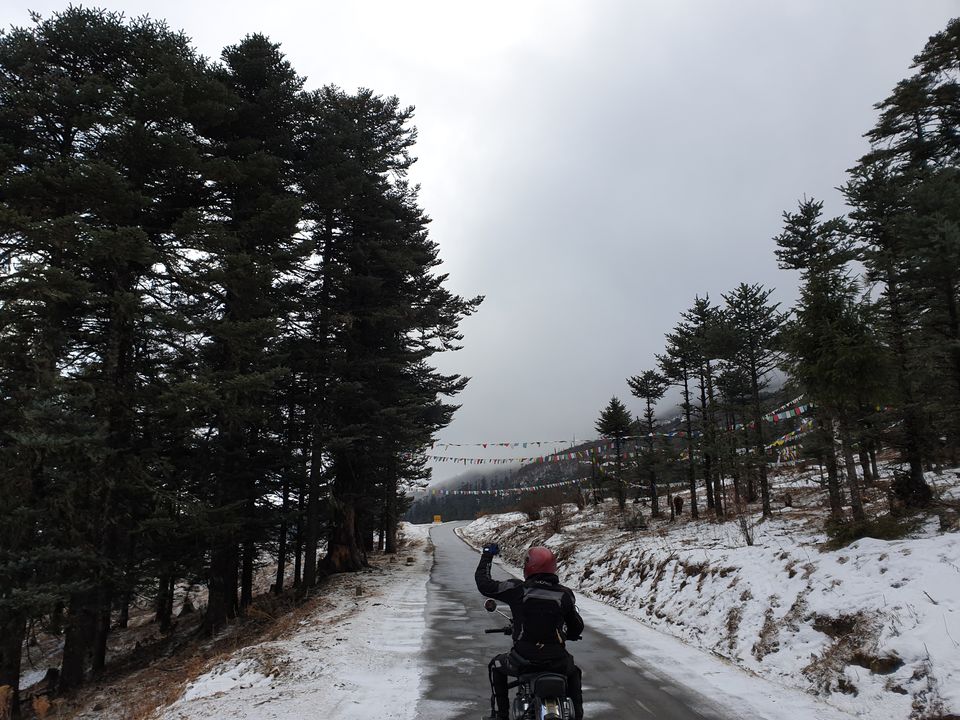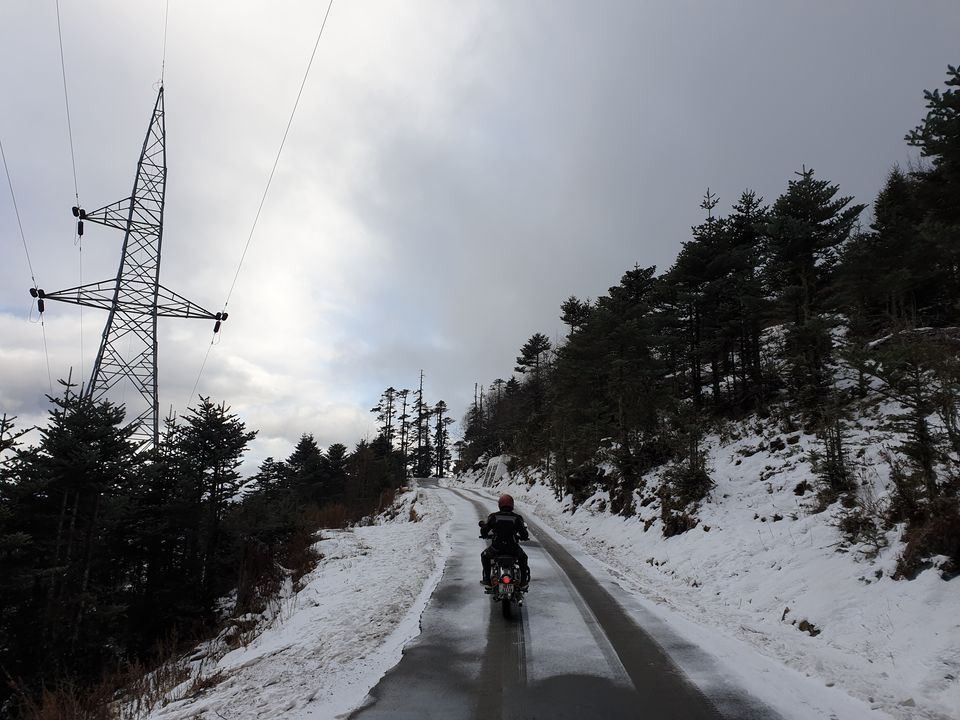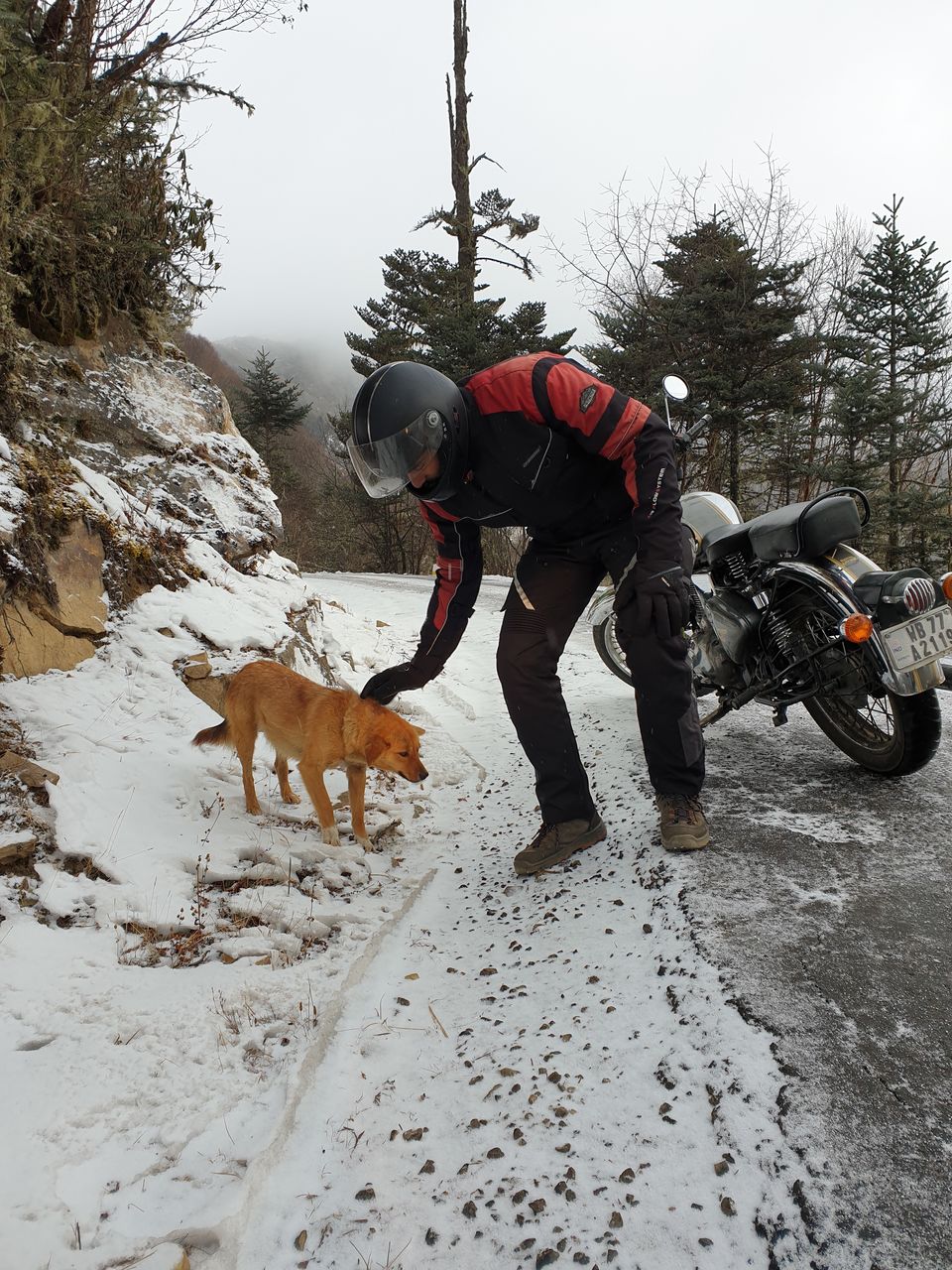 After covering about 30 km, we realized that the landscape has suddenly transformed completely into a snowscape with inches of snow everywhere around us. Excited, we kept on going towards the pass. At around 4:30 we finally reached the pass. Everyone in the group was ecstatic on making it to the point where not many batches were able to reach in the middle of extreme cold and such weather conditions.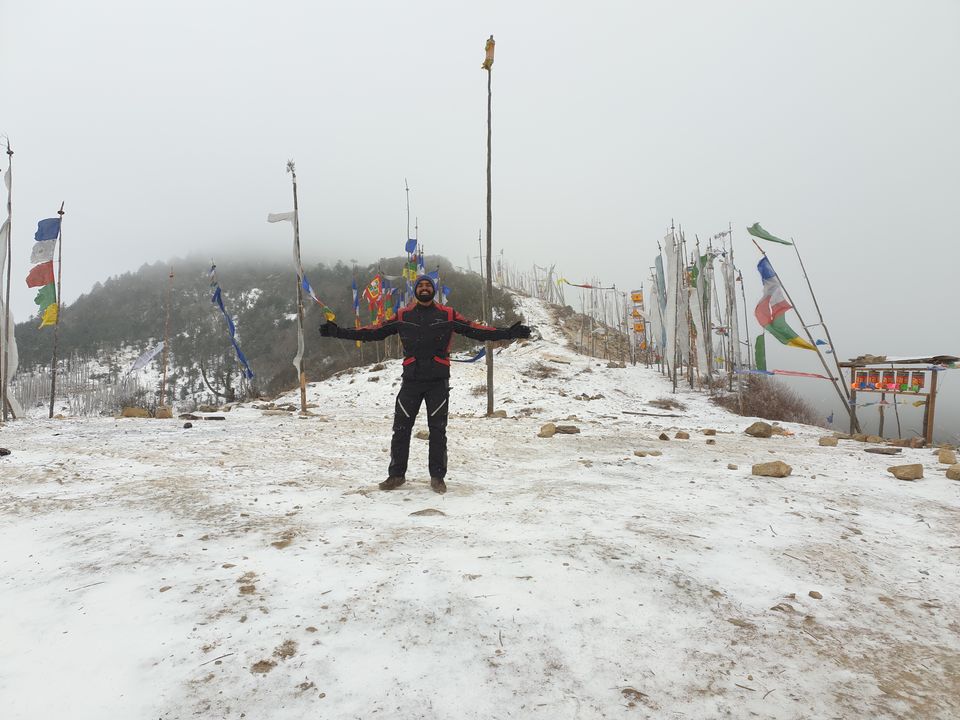 We had around 30 min before our captain asked for a turn around because of the worsening weather conditions. All the pillions were asked to get in the backup van as bikes were skidding while getting down from that hill. Till about 5 km, everyone tried to manage their bikes the best way they could but after that, excessive snow, setting sun and snowfall made it almost impossible to ride. The road now was fully covered with snow and the slightest application of brakes led to tyres skidding and an immediate fall. Even with the tough conditions, Praveen tried his best to manage the riders. He encouraged and guided everyone on how to tap-brake and let the bike go in gear to avoid skidding on snow. Despite all his effort, a couple of bikes got damaged due to falls and had to be towed down the pass.
Our group got split with first 4 riders being led by mechanic, 3-4 bikers around an hour behind them in the middle of nowhere trying to maneuver their way through the snow-covered road and another 3 riders coming with backup van and towing truck. It took us close to 3 hours to wade through the snow-covered sections and reach the bottom of the hill. If it wasn't for our captain's sheer will and presence of mind, we wouldn't have made it safe and sound to Paro city that day. This excursion gave everyone the thrill, rush and experience they came looking for. It was a perfect balance of adrenaline filled ride with a safety net of an experienced captain watching everyone's back. I don't think any other leader would have trusted our group with the conditions that day and probably would have turned back halfway through the pass. Big thumbs up to Praveen for leading us through all of it and making sure everyone reached back safely. A lot of instances which happened all through the ride gave everyone a reality check and it was an experience to remember for a lifetime. In the end, all of it became a part of laughs and giggles which we shared over a much-deserved bonfire with some delicious Bhutanese food. After such an adventure, it was a delight to see the rooms which were booked for us in Paro.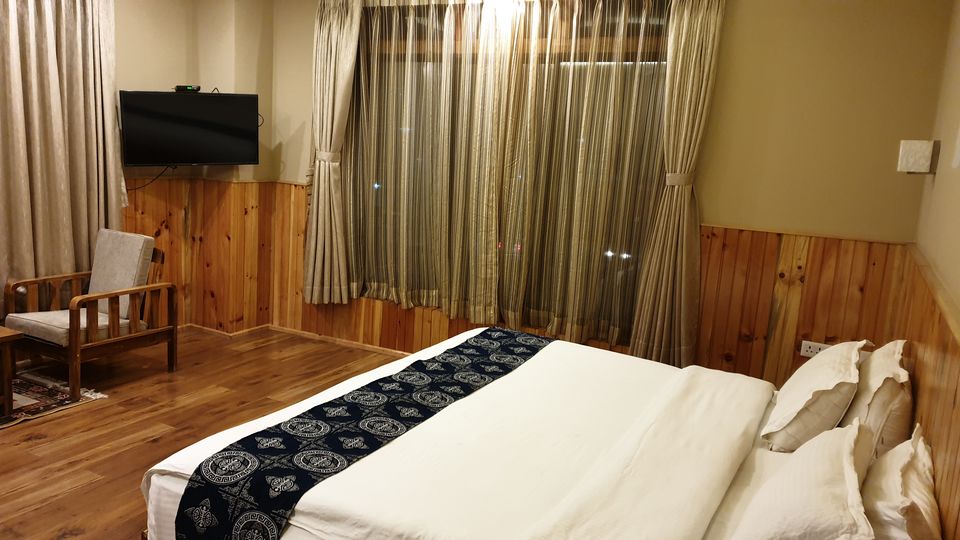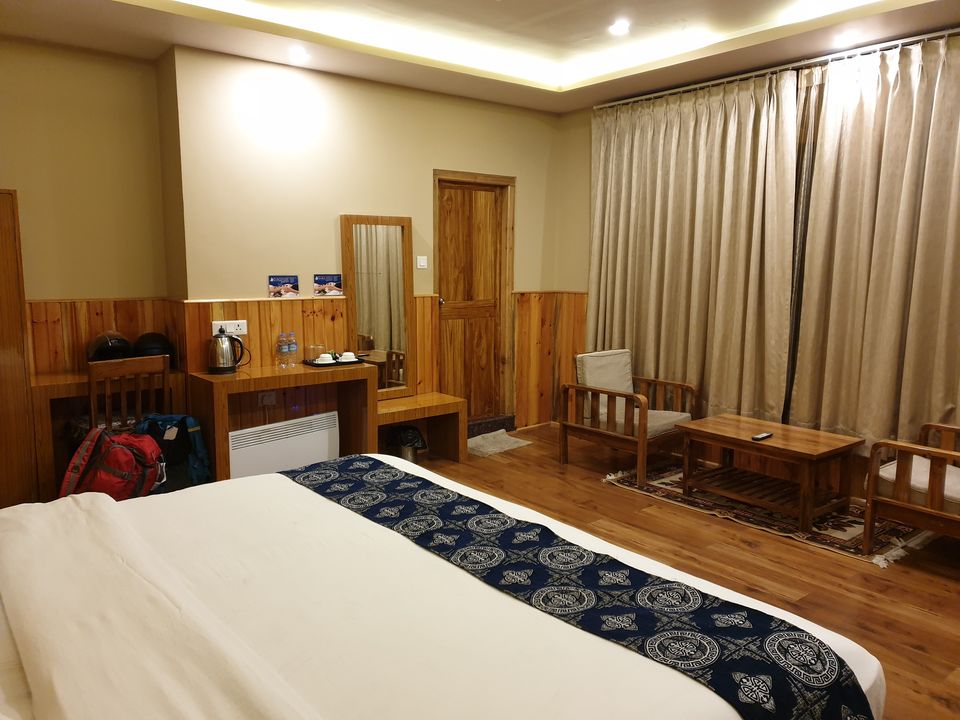 Our 2 day stay in Paro was arranged in Hotel Pema Yangsel which I would highly recommend if anyone is planning to stay in Paro.
A day for clicking some postcard pictures with the iconic Taktsang
Next day, the plan was to get up early, have a sumptuous breakfast and hike Tiger's nest monastery. The hiking trail is about 20 km from Paro city and due to the weather shift, it was snowing in Paro. The snow-covered hills made for a landscape which is often just seen in wallpapers. The road was easy to ride on and it took around 40 min to reach the base of Tiger's nest monastery.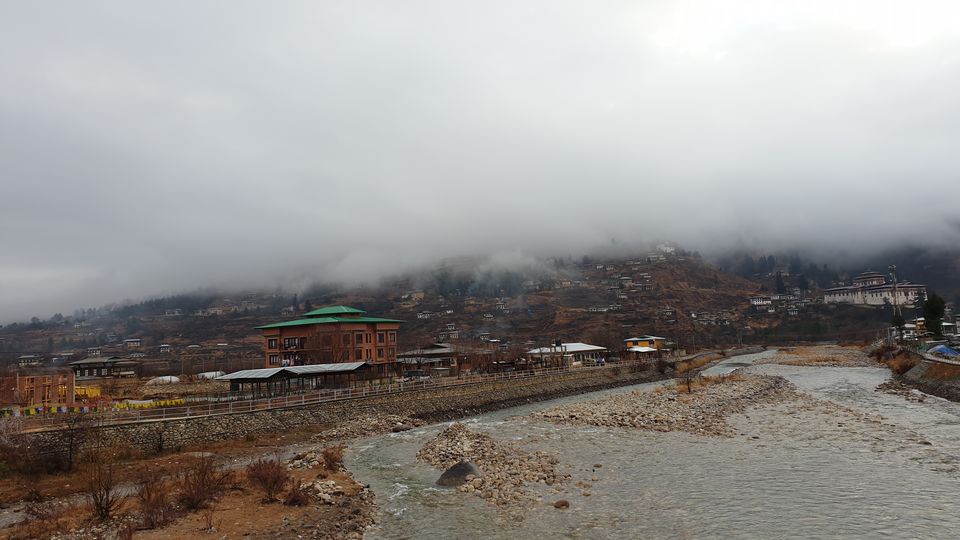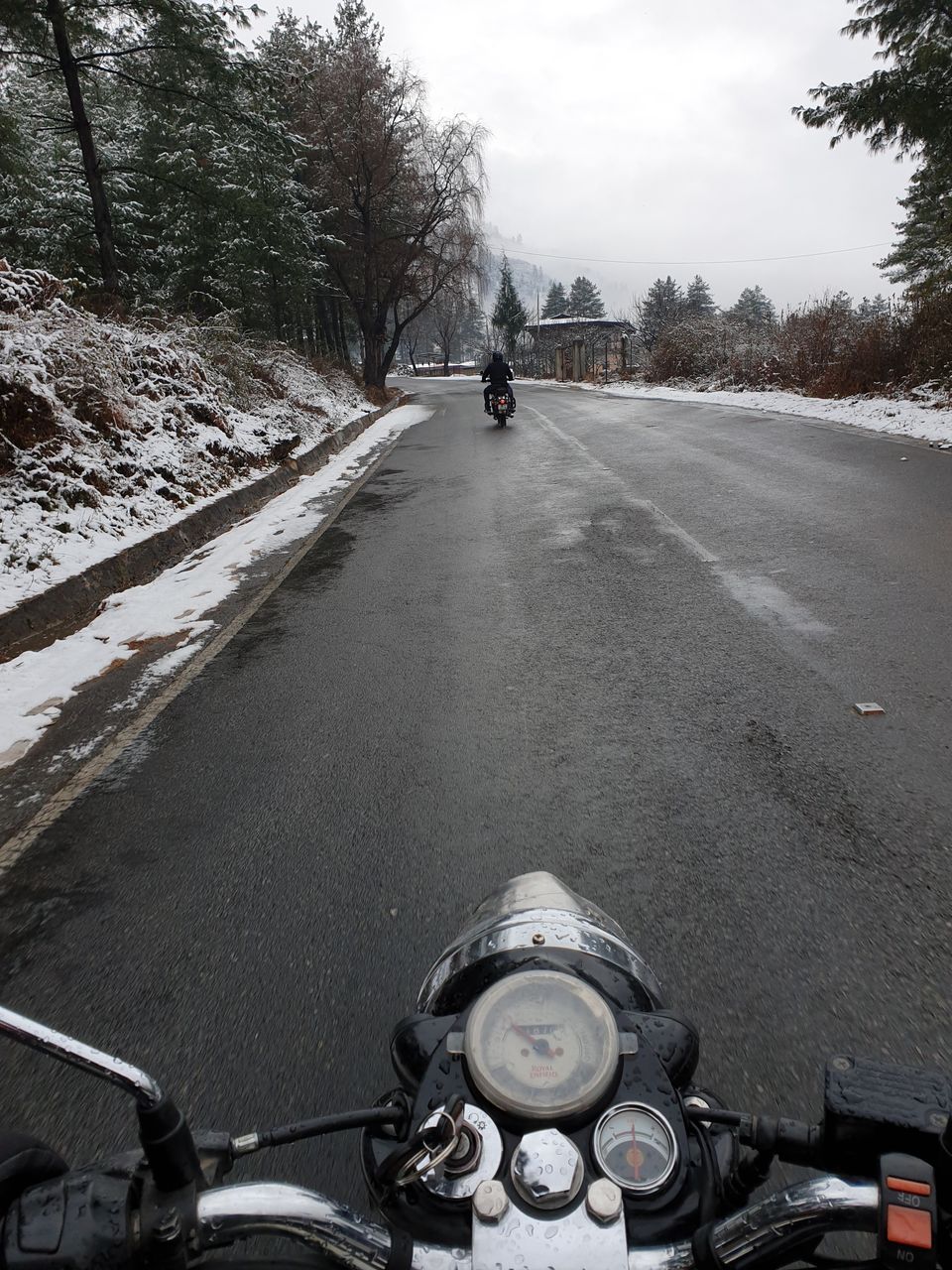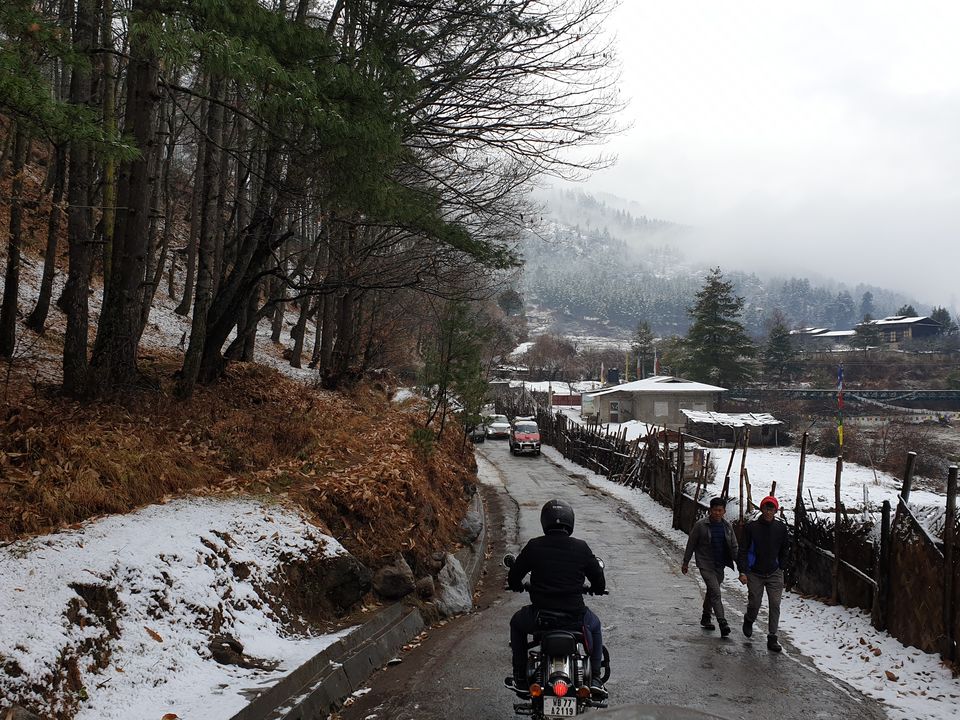 On reaching there, we got tickets for the entire group and started our hike for the monastery. When we started the hike, it was snowing heavily, and the trail was completely covered in snow. Clouds all around blocked the views of monastery as well as Paro town which could generally be seen from that altitude.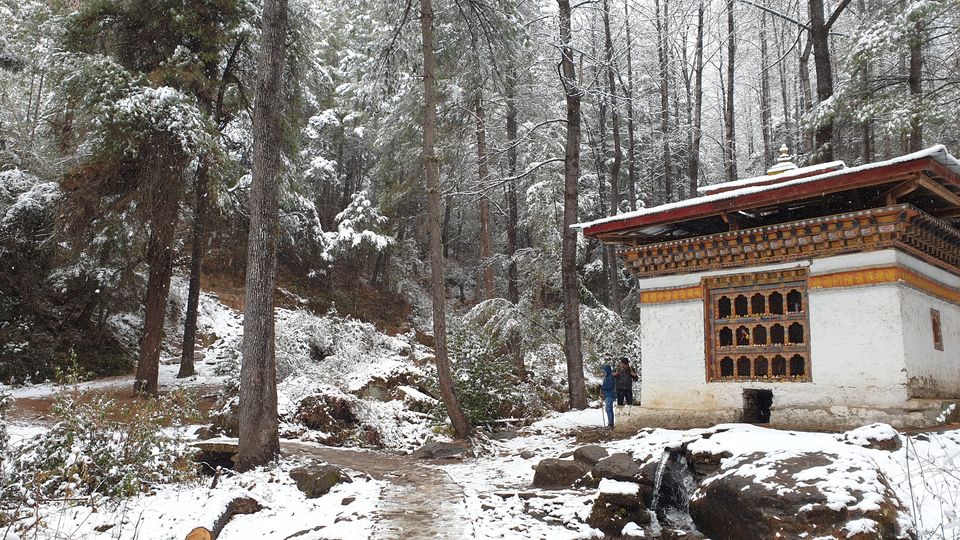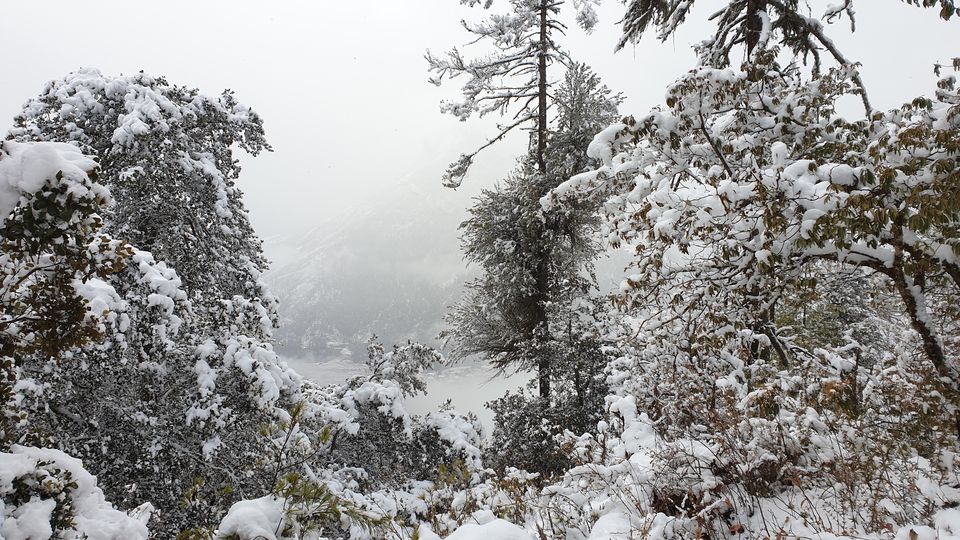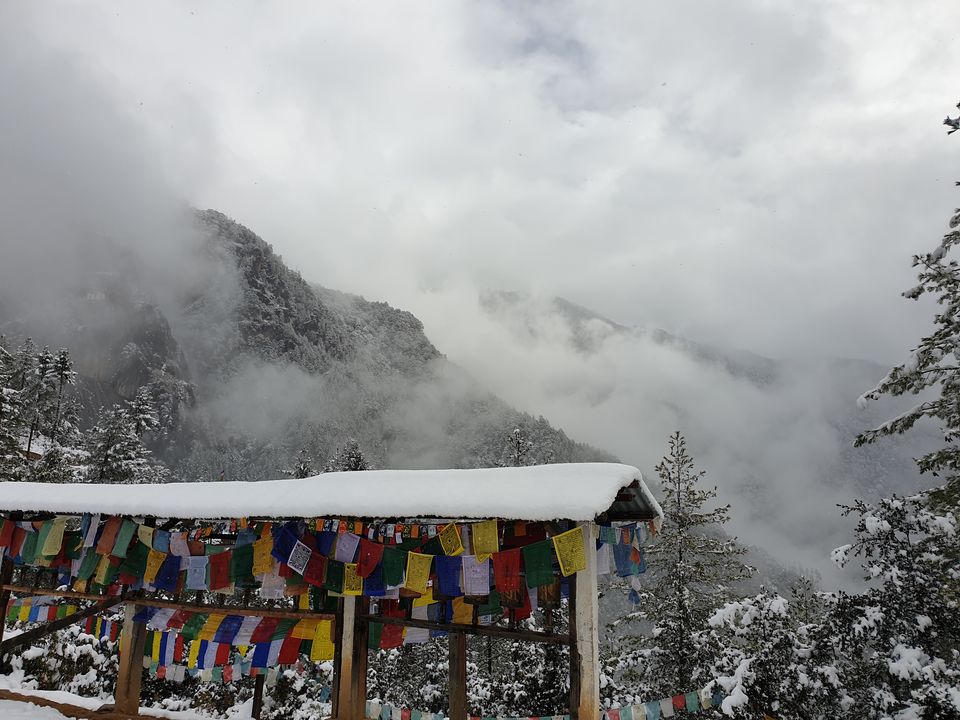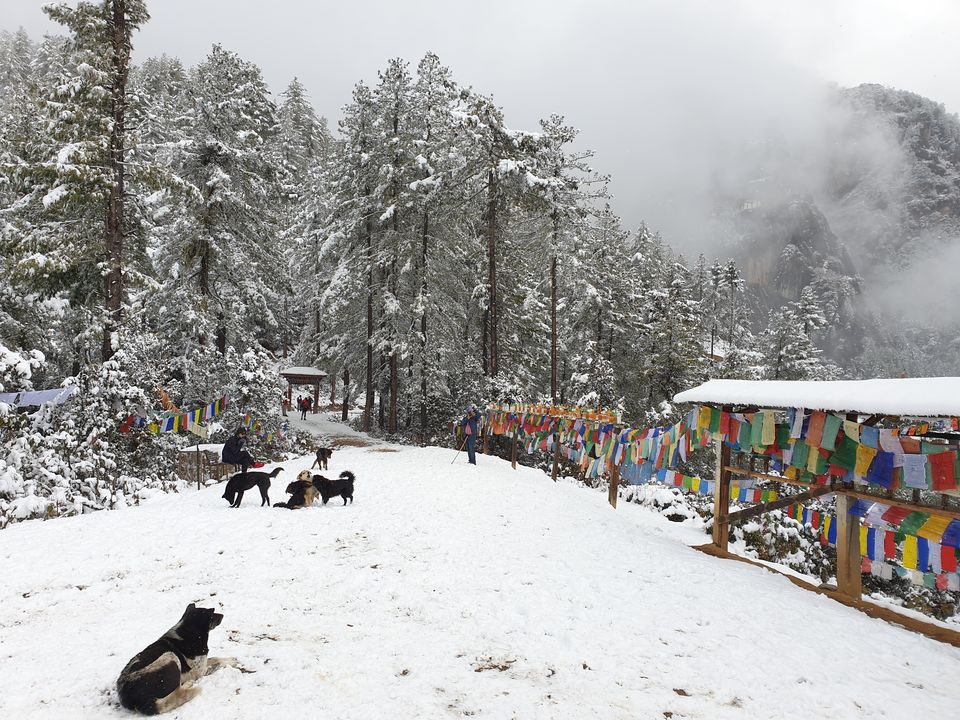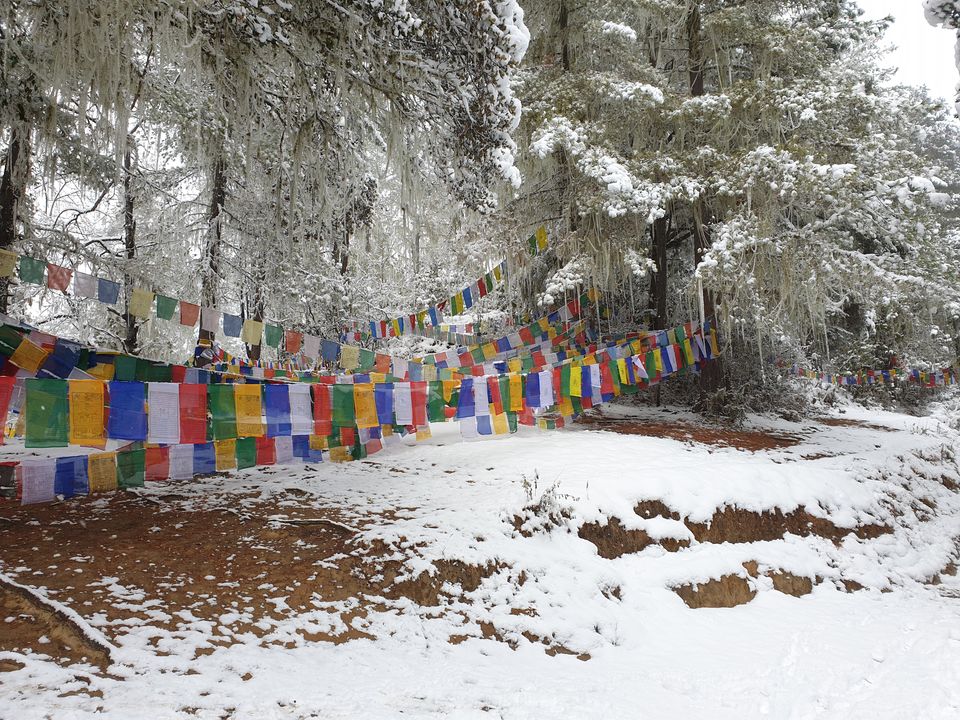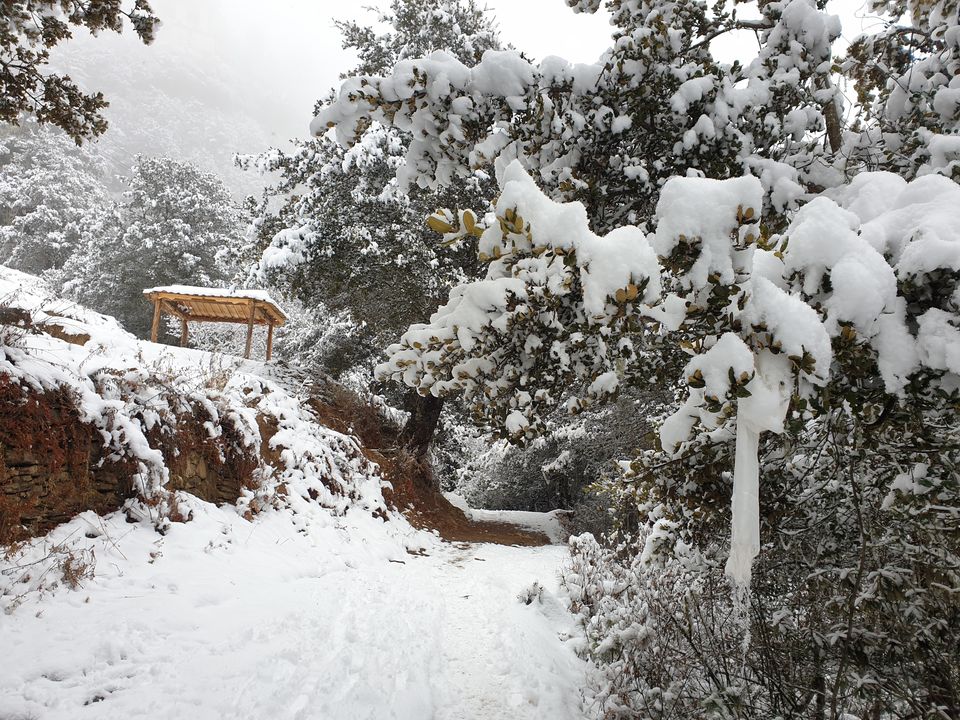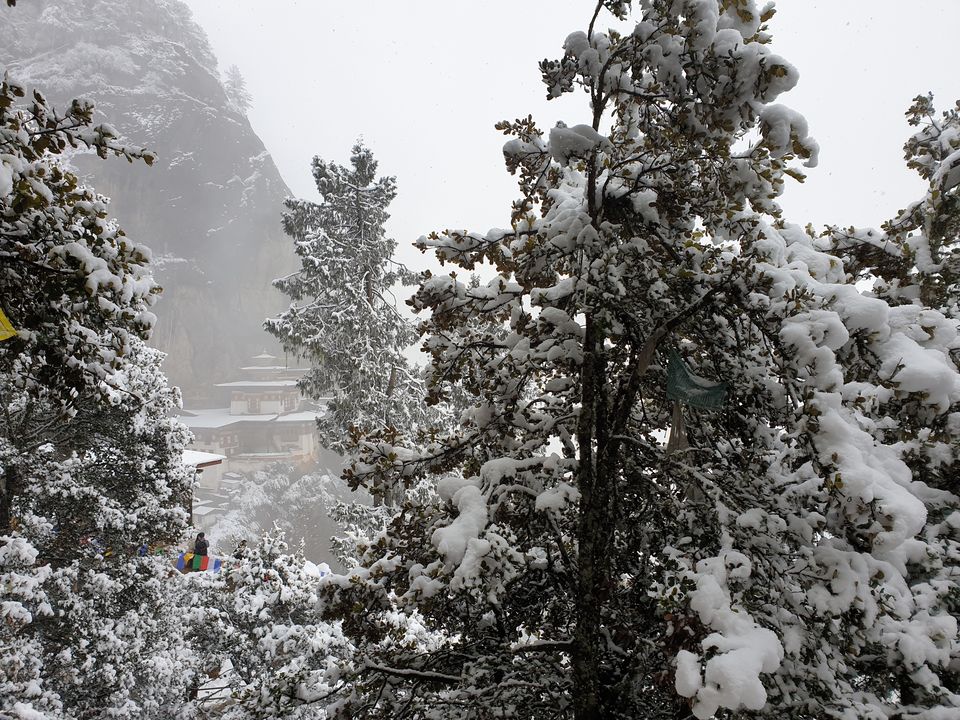 After hiking for about 2 hours and crossing multiple breathtaking landscapes, we finally reached the staircase leading to the monastery. Our guide showed us the monastery and told us to hurry back to base as the snow had started melting and the trail was becoming slippery by the minute.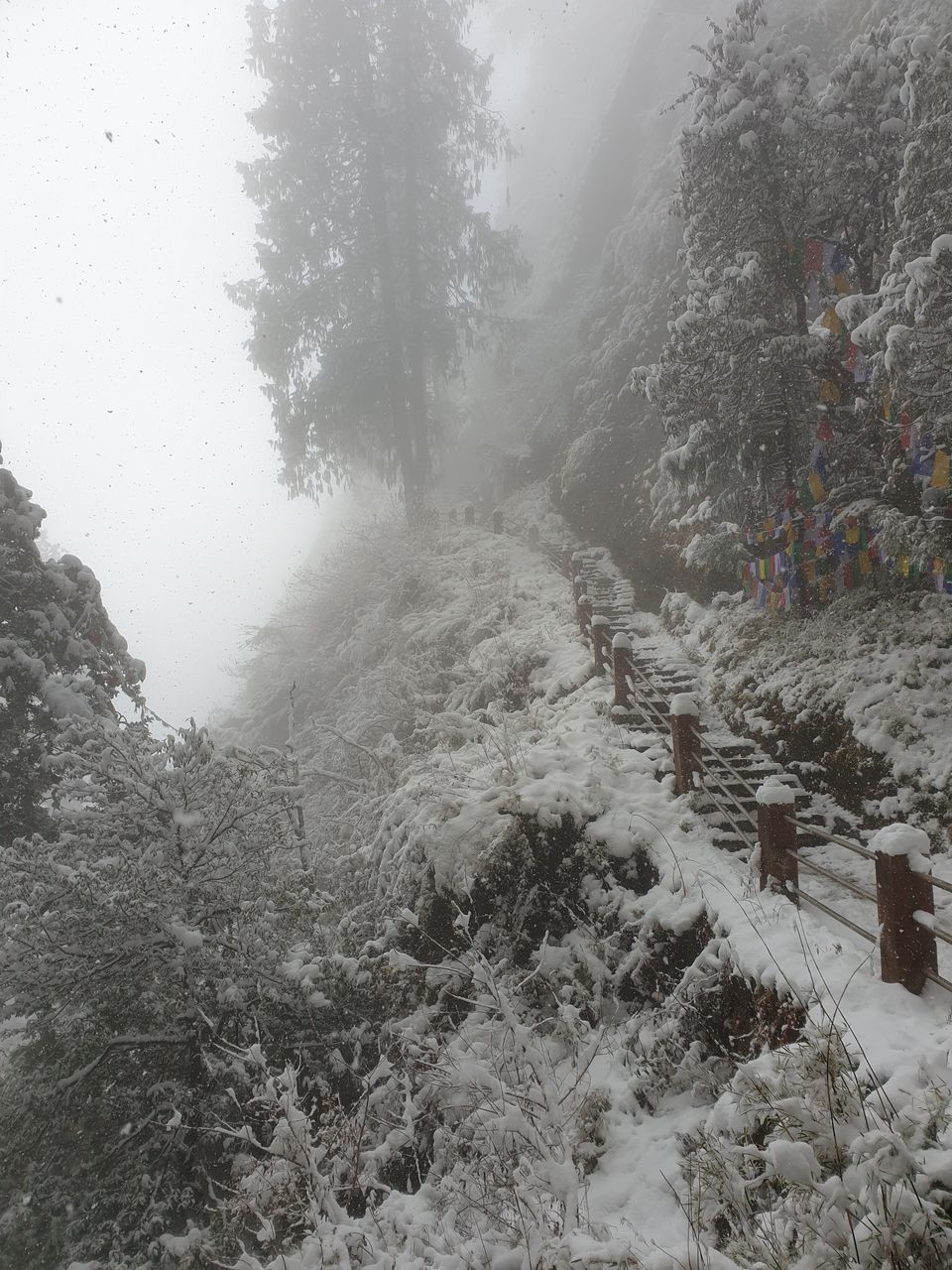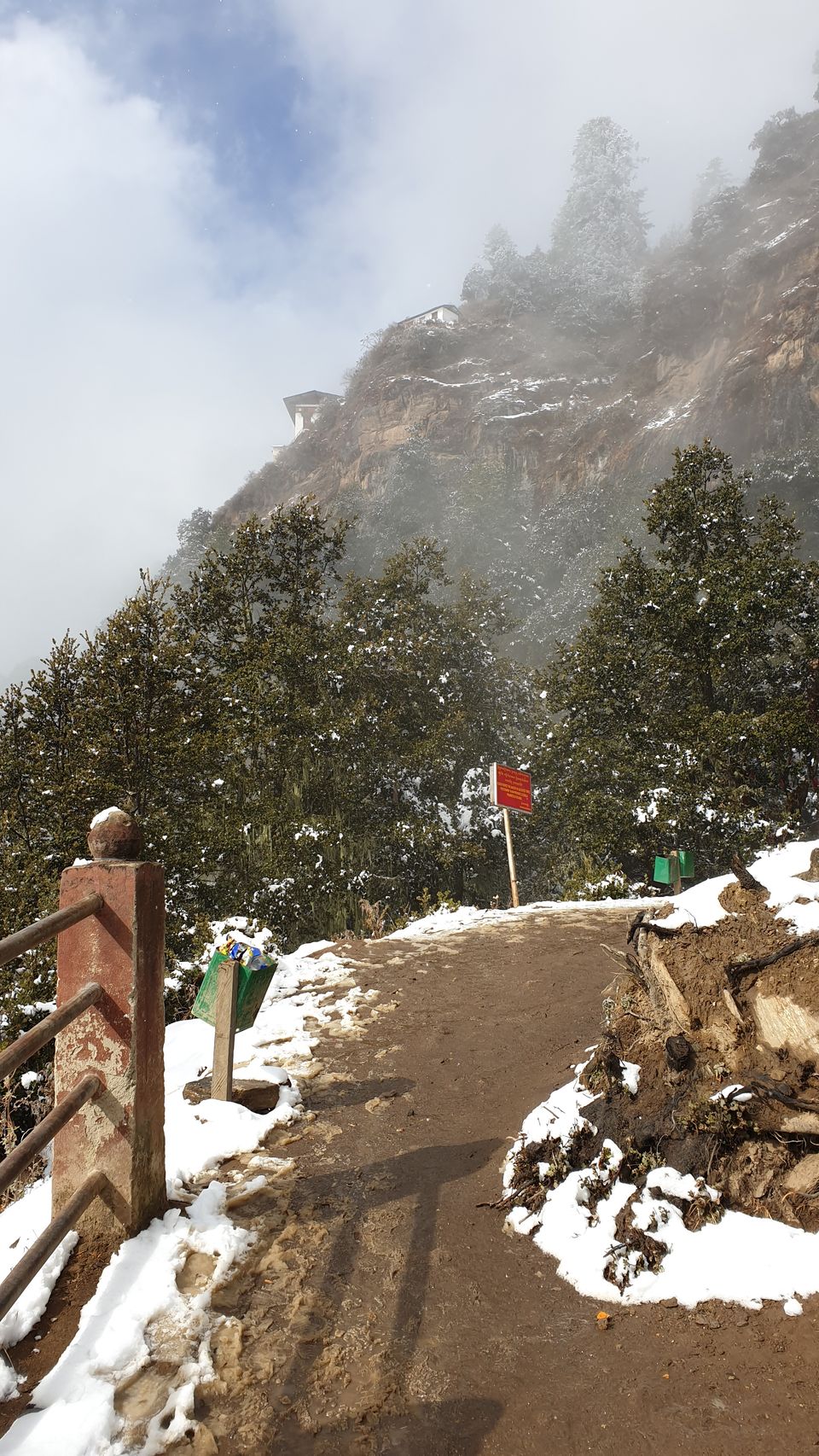 While coming back, the terrain had changed completely. Places where we had shin deep snow was now covered in slush which was difficult to get through. It took us about 1.5 hour to hike back to the base. But because of the improved weather, the clouds had cleared, giving way to picture perfect Paro town.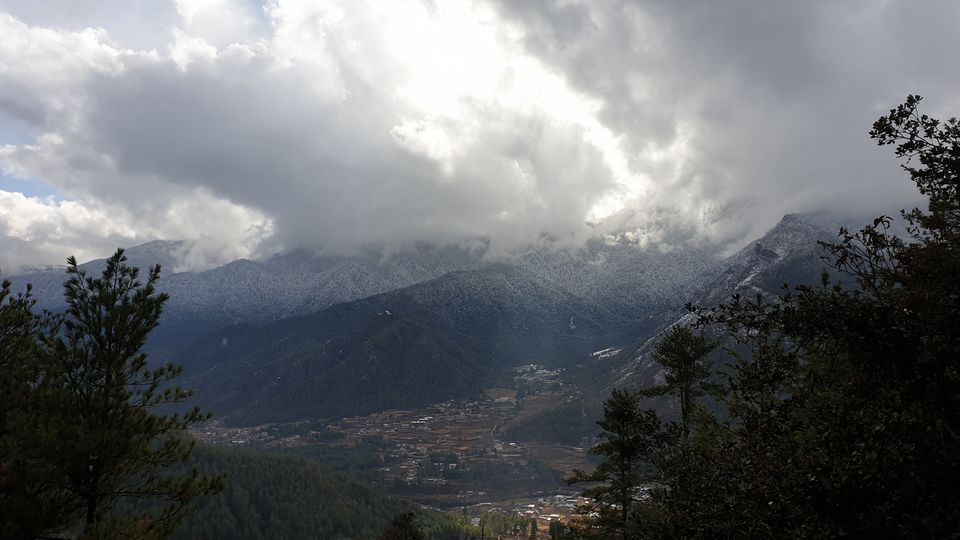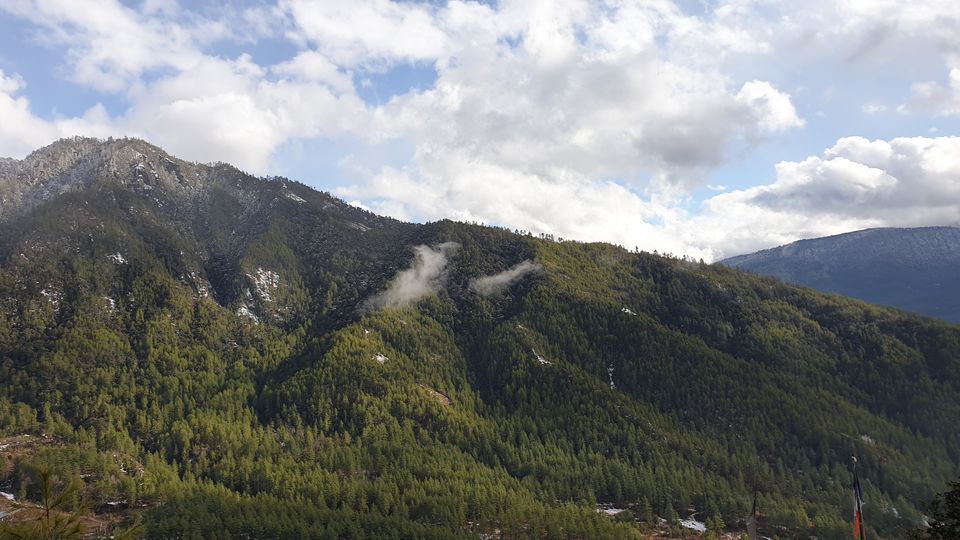 After completing the hike, we went back to our hotel and relaxed for some time. Rest of the day was left to group to explore Paro city and enjoy the landscapes.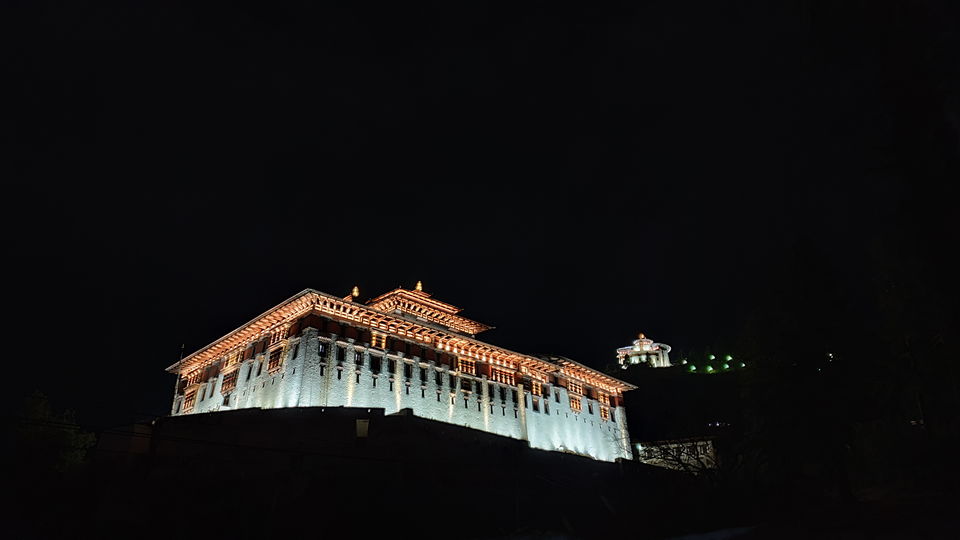 Last day of the trip, we were going to ride almost 300 km from Paro to Siliguri. This included hill roads for a good 150 km followed by plains of West Bengal for another 150 km. With this ride, we bid adieu to Bhutan and its amazing people and landscapes.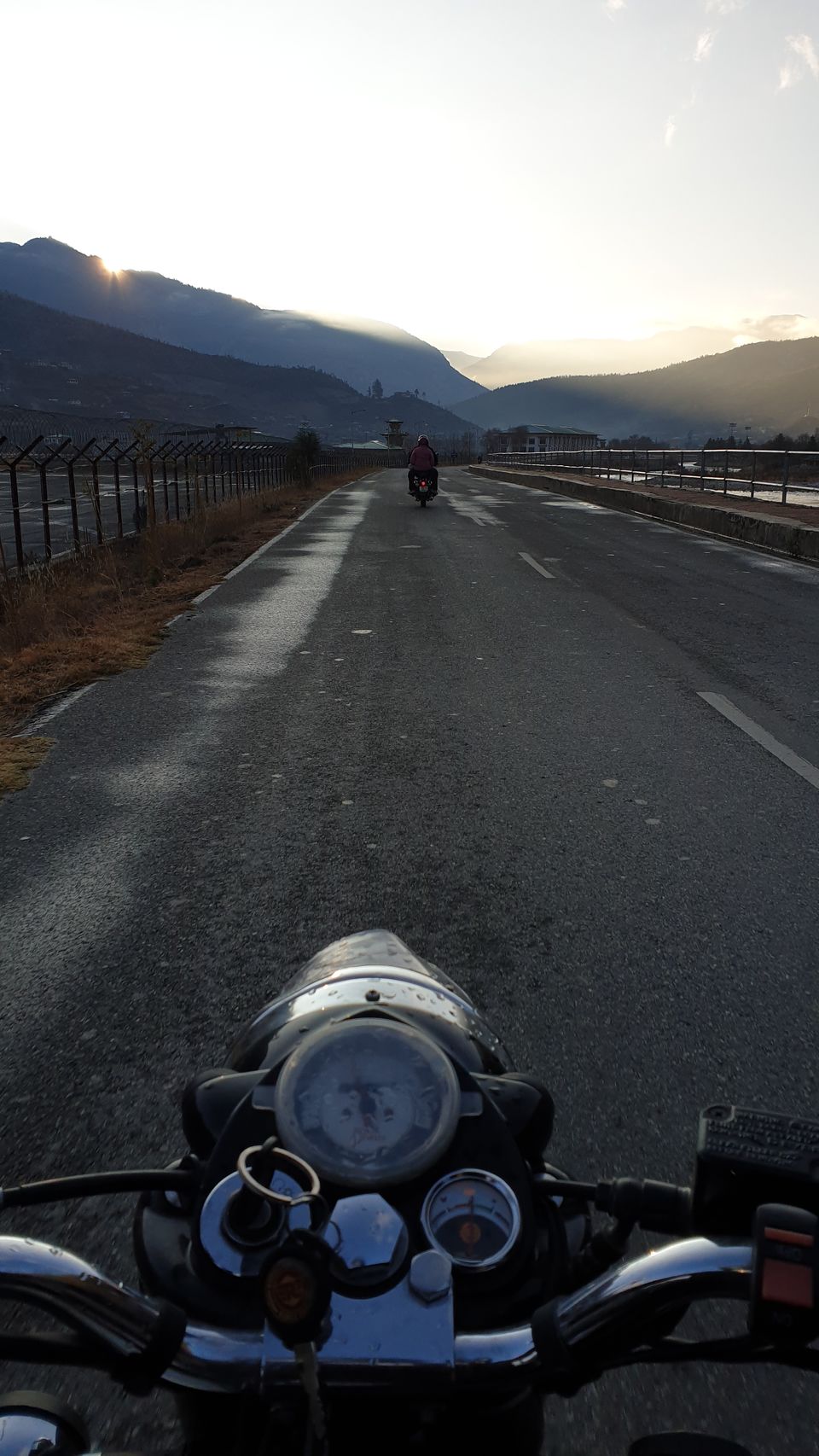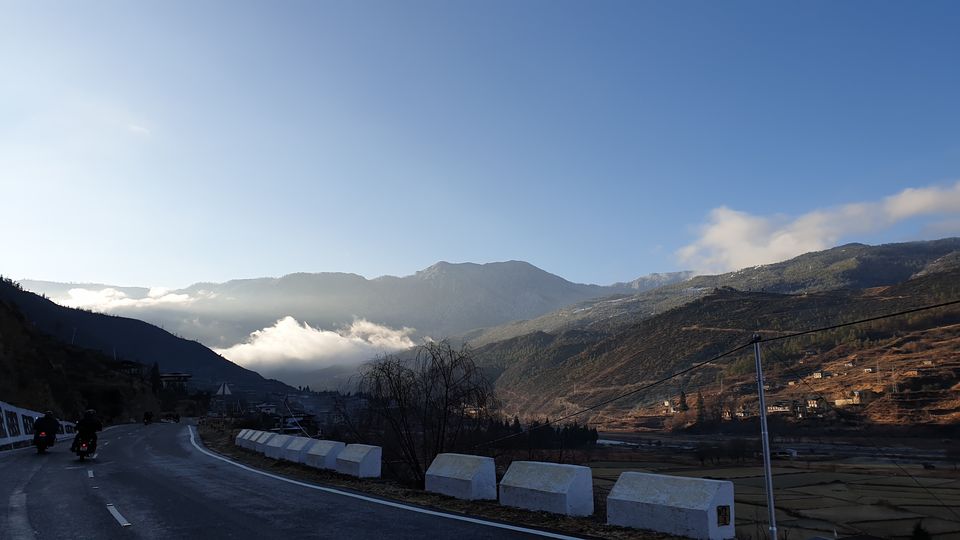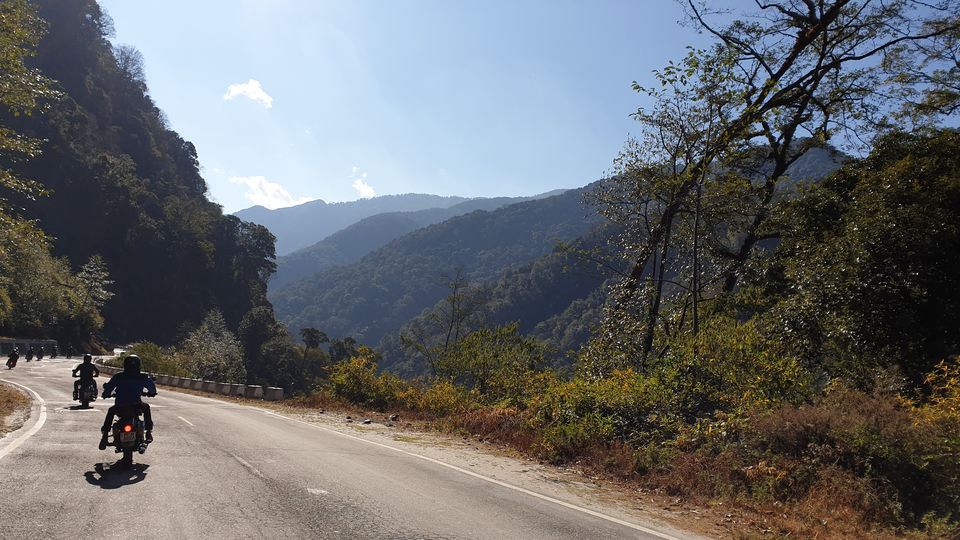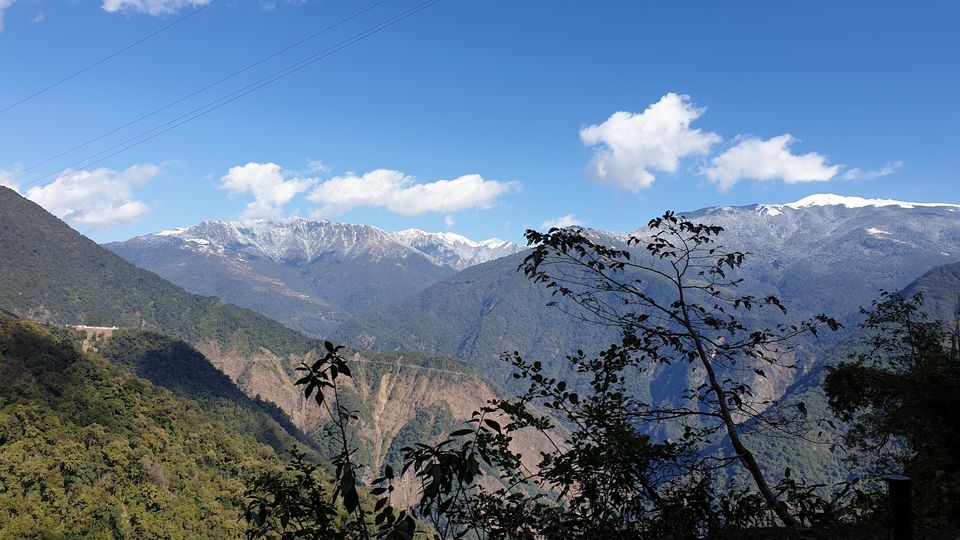 Things to be careful of:
You are visiting another country. Respect their rules, culture and most importantly, respect the people.
Traffic violations are taken very seriously in Bhutan. Make sure you have read all the rules and regulations if you are planning to enjoy the roads there.
Follow proper dress code in monasteries and other public places.
Although the Bhutanese dishes are amazing, if you are trying them for the first time, don't over-eat else it might mess with your digestive system.
How to reach:
I took an organized package from Deyor Camps which took care of almost all my requirements. In case you are planning to do it on your own, make sure you apply for visa before reaching there so that you don't end up wasting a day trying to get the visa.