Taking a solo trip , had been on my mind for long so In the month of July last year, I went to Hongkong & Macau.
It was my first solo trip & for sure it was transformative & liberating.
I strongly believe that there are no co-incidences in life & little did I know that this would be a lesson in life for me & in times to come, I would be referring to this trip to deal with the upcoming situation in my life.
Though for many women, travelling alone to another country is not a big thing . But having been raised in an overtly protective environment, I for sure was skeptical .
And If you have read my earlier blog on Bintan open air sea plane , you would know that I deal with fear by just jumping into the situation & not thinking too much about it .So July mid ,even though it was off season & there was a typhoon warning on the dates of my travel , I just decided to go ahead.
16thJuly –Day 1- Lets step into the foreign land: So on the morning of my travel, my Uber took me to Changi airport. This was home ground & from Changi to Hongkong airport, it was travel as usual. After landing & collecting my luggage at the Hong Kong airport , I realised that now I have no other option but to move out of the comfort zone(one of the main reasons , I took a solo trip) & step into the unknown land . So ,first I decided to collect myself , catch my breath & fill up my fuel .
Hong Kong and Singapore are generally compared , for they are similar yet different . I kept doing that as well. So,My first impression of Hong Kong was that unlike Singapore, Hong Kong has great dessert options & since I felt little stressful(remember 1st solo trip), the first thing that I grabbed at the airport was a comforting pastry from the A-one Bakery , which was then followed by a meal .Once I had my stomach full , I picked up the Octopus card (used across various modes of travel ) & then grabbed the SIM Card.
Hong Kong is primarily divided into 2 parts, Kowloon, which is the older part of the island & the Hong Kong Central, which is the CBD area , where most of the sky scrapers are .The Airport Express is the Express train which is a convenient way to travel to the main island and it has 2 stations , Kowloon & Central . I got off at the Kowloon station, from where I got a free shuttle to my hotel , The Royal Plaza. It is a 5-star hotel just opposite the flower market(unfortunately , I Had no time to visit this famous market ) , interconnected to the Moko Mall & the Moko MTR station .
After checking in & freshening up , I ventured out Into the mall .As I mentioned earlier
My healthy dessert ..for sure it brought a smile to my face
,Hongkong has a plethora of dessert shops & I wanted to try them all but at the same time an inner voice kept asking me to make a healthier choice , so I ended up having frozen yogurt for dinner (A healthier choice you see ..) .
Just roaming about the mall, I felt that Hongkong is ahead of Singapore in terms of fashion , but Hong Kong is more expensive as well .
Post that I walked myself to the ladies Night market, which was about 3-4 kms from the mall. The market had various stalls selling cheap Chinese goods & bags. I got myself a camera stand , to help with my blog. Post loitering around in the market for some time ,Since , I started my day way too early , I decided to head back to the hotel & On entering my room , I just crashed .
17th July - Day 2-Taking Refuge from the Typhoon under the Big Buddha,Lantau Island: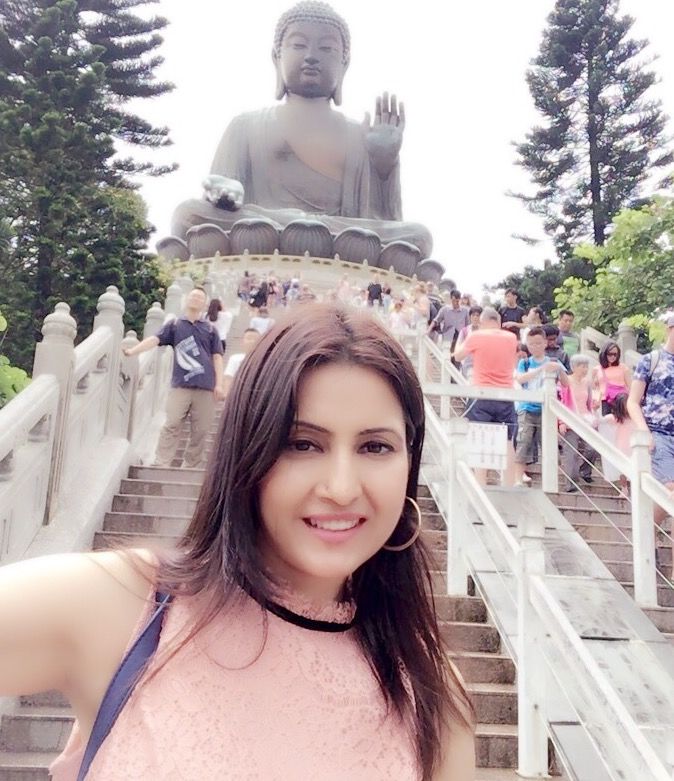 This was the day, when I had planned to visit The Big Buddha & the hotel travel desk guided me on the MTR route to reach there.So armed with a map of the Hongkong island , an MTR map & google map on my phone , I set off for the Lantau Island. People on the street were friendly and willing to guide .Hong Kong has a huge British influence (as it once was a British Colony) & it was a welcome change to hear British English unlike Singlish that is spoken in Singapore.
There was a typhoon prediction for the day so there were only few visitors that day. I had the option of taking the glass bottom cable car or the regular cable car & I choose the former to reach the Ngong Peng Village .By then, it had started to drizzle but the upward ride was serene. On reaching the village, I decided to first visit the Big Buddha & reserve the shopping for later.There were stairs leading to the big Buddha & as soon as I reached the top, sudden strong wind blew &I witnessed a huge movement of clouds(Watch the onslaught of the Typhoon here) & within moments it started pouring heavily .Standing at the top that time, I took shelter under the Big Buddha statue. Little did I know that this would be significant of my life to come, where within a single day my bright & sunny life would turn turbulent. And that time my Buddhist practice would be the only thing holding me & giving me solace & strength to deal with the typhoon of my life.
I knew the rain would not stop, so when I felt its became a little less intense , I decided to head back . As I started walking back , my Loafers were completely drenched in the rain water & that posed another challenge ,for soon my legs started to ache .I thought of grabbing my lunch before taking the cable car back , for amongst the typhoon , I didn't know ,where to look for the next place to eat . I was surprised to find an Indian restaurant at the Ngong Peng village. The Hot Biryani & the masala Chai , though prepacked but was still comforting on that rainy day.
The typhoon was far from getting over & I was scared to get into the cable car to get back. It was quite a bumpy ride, with my co-passenger (an old lady) screaming every now & then & scaring me even more .Once, I reached the base, I took a sigh of relief. I decided to head to Tsim Sha Tsui for the laser light & sound show(8pm every night @Harbor Front ) & also to buy new shoes ,for my legs for sure were hurting unbearably by now .I took the MTR to the Tsim Sha Tsui & walked the remaining distance to the mall since Uber or a Taxi was atrociously expensive at that point in time. While walking, I realized that unlike Singapore , walkways in Hong Kong are not sheltered & though I was protecting myself with an umbrella , my shoes got even more soaked , making it absolutely imperative for me to buy new ones. I noticed that the locals were more prepared wearing gum boots. Eventually, I bought myself not so expensive new shoes with cute accessories to go along them .The light & sound show was unfortunately cancelled (blame it on the typhoon). I was disappointed but shopping makes up for most of the disappointments in life .So , I shopped & had desserts for dinner , took the MTR back to the hotel & shopped some more enroute in the subways & had some more desserts(I had such a taxing day ,that I wanted to ease myself up by allowing myself those desserts & not forcing the healthier options onto myself.)
After a day of braving the Typhoon, the moment I hit the bed I didn't even realize when I drifted off to sleep .
18thJuly -Day3 – Macau : I had pre-booked the Macau tour through Vaitor. So, next morning I grabbed an early breakfast and was picked up by Vaitor staff from my hotel .We picked up rest of the people on our way as we headed towards the Ferry terminal and were handed out our tickets there.
It was an hour ride to Macau & the sea was quite rough ( blame it on d typhoon ).Since I have a vertigo problem, I thought it wise to sleep through the journey .On reaching Macau; we got our Visas and met our guide Mario. We all got into a bus and thus started our Macau sojourn .
Our city exploration started by our visit to goddess of Mercy .Post which we went to The Macau tower, which gives a bird's eye view of the
Macau city .Also ,there are options of sky walking & Bungee jumping. Statistics has it that every 4 minutes a woman goes bungee jumping there .Next we went to The Venetian , checking out the casino & the hotel. Watch performance at the Venetian here.
This was followed by a visit to the A-Ma temple , UNESCO world heritage site and tasted the famous egg tarts in the local market there(It was not to my palate though)
By then it was already lunch time & we were taken to a local 3-starhotel for a buffet. The lunch was average. Next we went to the site of the cathedral of St. Paul & bought some souvenirs as we walked through the market there. Our last stop was the Jackie Chan's Casino, where there are bricks made of gold on the floor.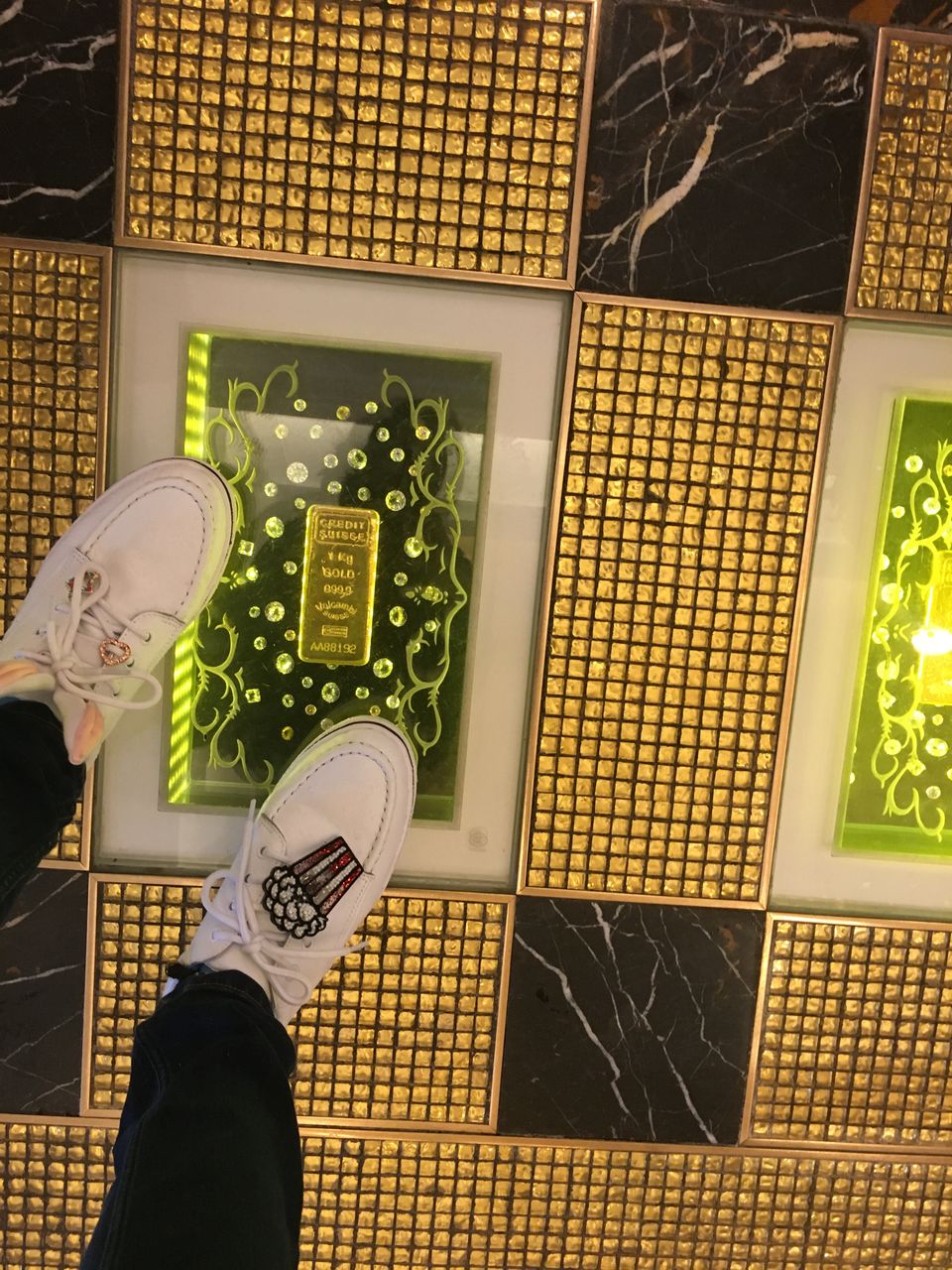 And finally it was time to head back to the ferry .Over all, I felt the trip was too tight & as it appears from my writing,it was more of touch & go . Macau definitely deserves a night stay.
On reaching Hong Kong , I decided to head to the Harbor front for the The Laser Light & Sound show , which was cancelled the day before (Blame it on the Typhoon ).The show was laser projections synchronized with music on the Hong Kong sky scrapers but I had seen enough laser shows already , so for me it was something , I could have missed.
I headed back to the hotel via MTR , shopping enroute off course
19th July Day 4-This was my last day in Hongkong and I had a 3 pm checkout .
The sun was finally out after last 2 days of nonstop rains.
I had plans of visiting the Victoria peak , but didn't want to risk getting stuck somewhere and miss my flight .
So, I decided to be around hotel only & shop some more .I walked around and went to the Langham mall. The mall was average and can be avoided. As per my experience, stick to the malls around The Tsim sha Tsui region for shopping.
For lunch, I went to the M&S Food court & had a very strange experience there, which I have to share with you all . While I was having my Biryani (prepackaged) , an old Chinese lady passing by ,started pointing towards my food & saying things in her language .I was completely taken aback by her behavior. Later , the locals sitting next to me explained that the lady got attracted by the aroma & wanted to order the same food & that the older generation there is a little rough in their conduct (ok , by now you know I am trying hard to be politically correct & not sound rude .. typing & deleting & then retyping ..but you got my point ).
I then walked back to my hotel & quickly checked out, took the shuttle to the Kowloon Airport express station where I checked in my bags , took the express train to the airport & finally took the flight back to Singapore .
On landing in Singapore, I had a sense of pride that I did my first solo trip. Although , I couldn't do most of the things that I had planned (blame it on the typhoon ) but the fact that I navigated my way through a foreign country all by myself , was a huge sense of achievement & liberation .
My Recommendations for Hongkong
* Check the weather before booking your holiday (even though I did check the weather , I had no other option )
* Hongkong definitely needs a minimum of 4-5 days
* Its best to stay in the Tsim sha Tsui area as its well connected & most of the action is there
* Lan Kwai Fong is the area where Hongkong Parties(I was pressed against time )
* Ride the Iconic Star Ferry (Had to miss it , again blame it on the Typhoon )
* Take the Tram to Victoria Peak (Was on my agenda , again blame it on the Typhoon)
* Can spend a day at Disney Land & Ocean Park, each . I skipped both , for I have reserved Disney land for other countries
* Go to The Peninsula Hotel for their famous High Tea (I really wanted to go there but again blame it on the typhoon .Reach in time , for around tea time ,mostly there is a long waiting there)
* Take up a Tai chi class in Hong Kong
* Stay overnight in Macau
Until more such liberating trips
Ciao
Disclaimer: the views expressed are solely mine and I do not have any affiliation to any person or organization.
If you like my blog , do not forget to subscribe to it . You can also like my page on facebook