Of course! My dream ride. Many years of want and waiting to start this ride on my own. Before I share my experience about this ride I want to share few things things that is on top of my head. If you are planning for a K2K(Kanyakumari to Khardung La) ride , Leh road trip or any trip for instance, don't do it because people are doing it. Everyone has their own way and idea of travelling and its better to stick with it. If you think its comfortable to start your trip from Leh by flying there, do it. Never think that everyone rides from Delhi and I must also do the same. Don't try to overkill your trip by the idea of "Budget travelling". Budget travelling does not mean staying in shitty hotels, not having proper food, not taking your body, mind and health into consideration. Take time to save your money and then travel in peace, there is no rush.
I remember reading a newspaper article about a person who did K2K ride. It must be around 2009/10, way before these viral Youtube videos and blogs. That is the time I decided, I have to visit this this place Khardung La and I have to have this ride as an achievement in my life. I started this ride on June 2022 and I am publishing this to share my memories, let me know how you felt reading this.
Coimbatore - Rameswaram
I had a bowl of Cornflakes and started my ride from Coimbatore around 5am, had first full tank fuel for my bike. My planned first stop for the day was supposed to be Madurai (211kms from Coimbatore) for brunch. I had planned to have the famous Madurai Bun parotta, Mutton Sukka and Jigarthanda. I met a youngster on the highway with a TN59 number plate, I knew he had to be a local from Madurai so asked him for the best place to have parotta. He suggested it had to be inside the city and mentioned the same place I was planning to go. I entered the city around 11am. But like it happens in a trip, things dint go as planned, the workers of the Parotta shop were still sleeping and it was not open yet. I was able to get parotta in all the other shops but in not the famous one, since they start serving people only after 1 pm. So if you are planning to visit Madurai make sure you reach by 1pm to all have those dishes. I was not okay to stay there for another 2 hours on the road and I left for the final stop Rameswaram which is around 180kms away.
Till I reached Madurai I dint feel anything because the sun was just coming up and I was having a pleasant morning breeze. But the fact is, once I left Coimbatore I had to accept the fact that every other district is hotter. In The recent years, we Coimbatorians have started experiencing hot weather due to the climatic change and we are complaining about that. But outside Coimbatore dayum its HOT. The Sun started to hit in and I reached Rameswaram around 1:30pm.
So my riding style for this ride was Simple - Start early so that I can reach my destination early and I can have some daylight that I can use to visit a place or two within the city. The other thing was not to ride after Sunset.
Booked a stay in Rama Palace and it is very close to the beach and the Rameswaram temple. The Single room that I booked was occupied at the moment and so I was given a bigger room which was very neat and tidy. later I was transferred to e single room and I was not happy with the bathroom facility. They had the facility to dry clothes and stuff which is useful after you go to the beach and temple.
After having a good Lunch, I visited the beach and took a dip there. By that time around 3pm, Rameswaram temple was open and I had the opportunity to bath in the 22 wells of that temple and collected the holy water to be delivered home. I also had the opportunity to meet Director Lokesh inside the temple.
Went back to my hotel, washed my clothes and had a good first sleep of the ride.
Rameswaram - Dhanushkodi - Kanyakumari
I had to witness the Sunrise in Dhanushkodi which is said to be just 2okms away from Sri Lanka. Dhanushkodi is the south eastern tip of India, it is around 25 kms away from Rameswaram. On your way to Dhanushkodi you will get a Straight single stretch road for around 2okms which will be very good to ride and you will have Sea on either side of the road. The sun rises around 6am and you can have a calm time to yourself before people start to come in.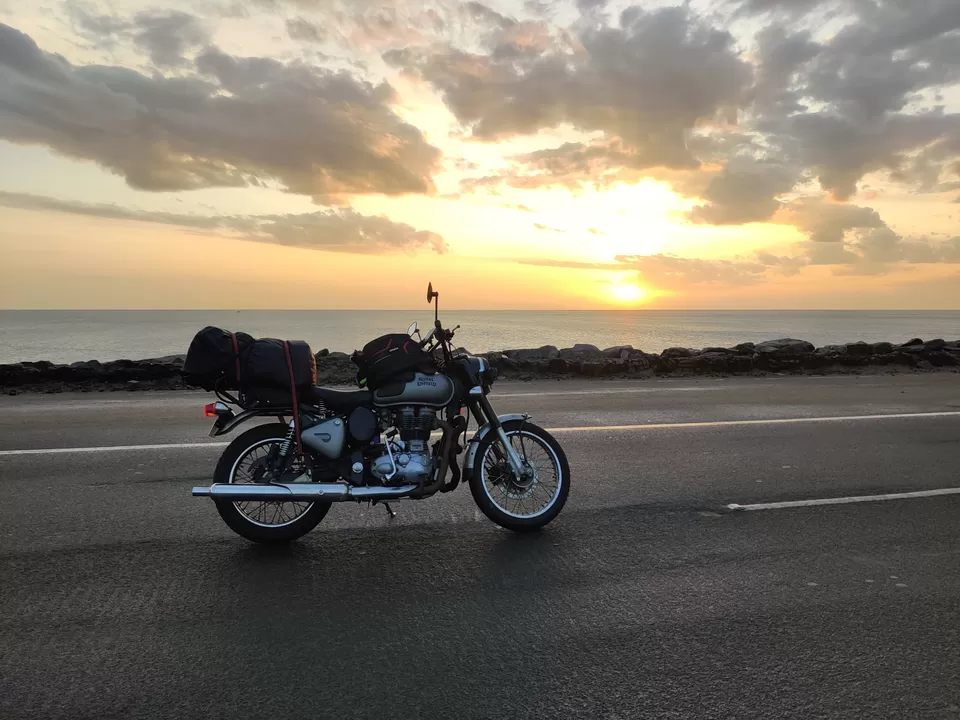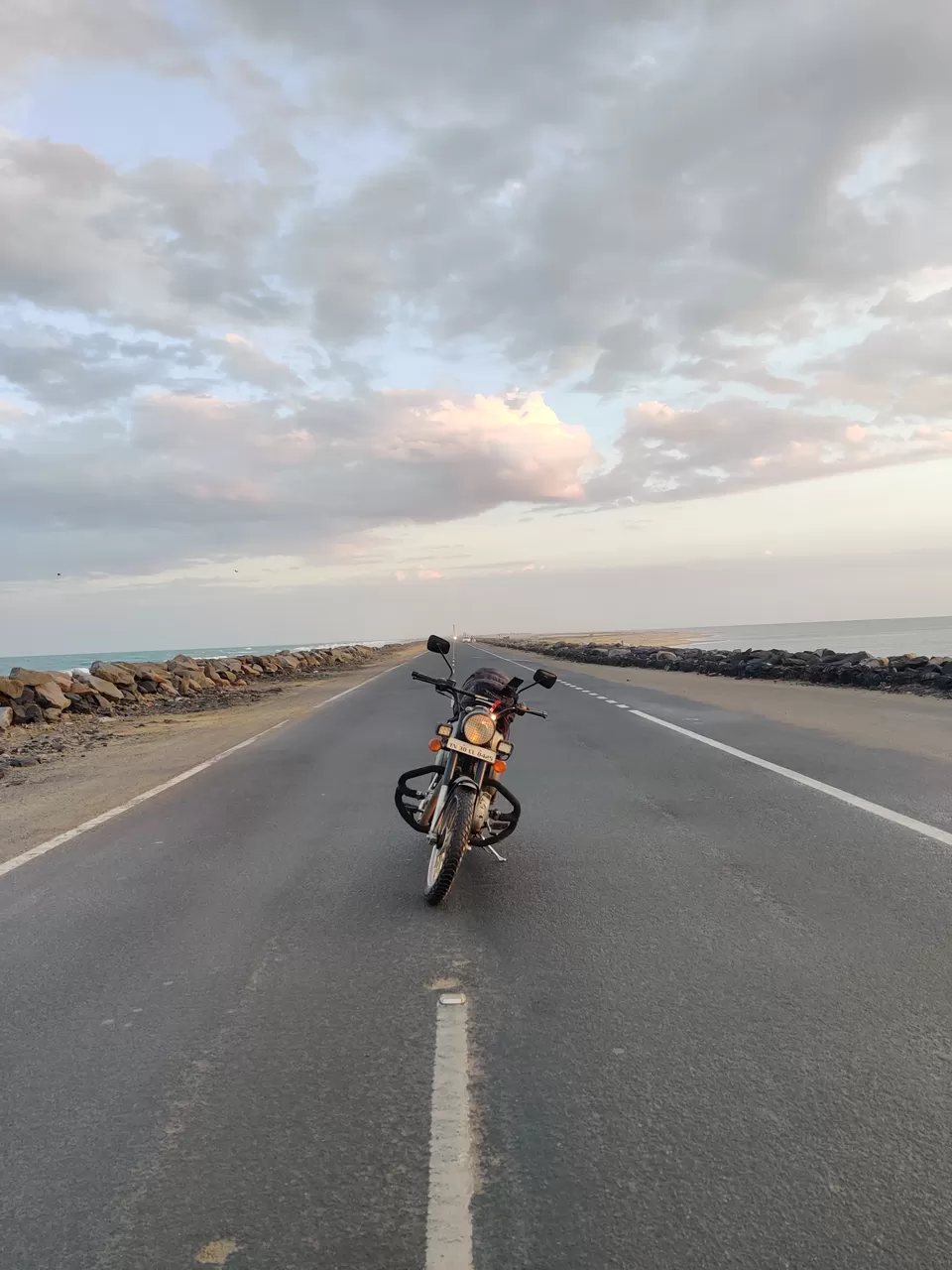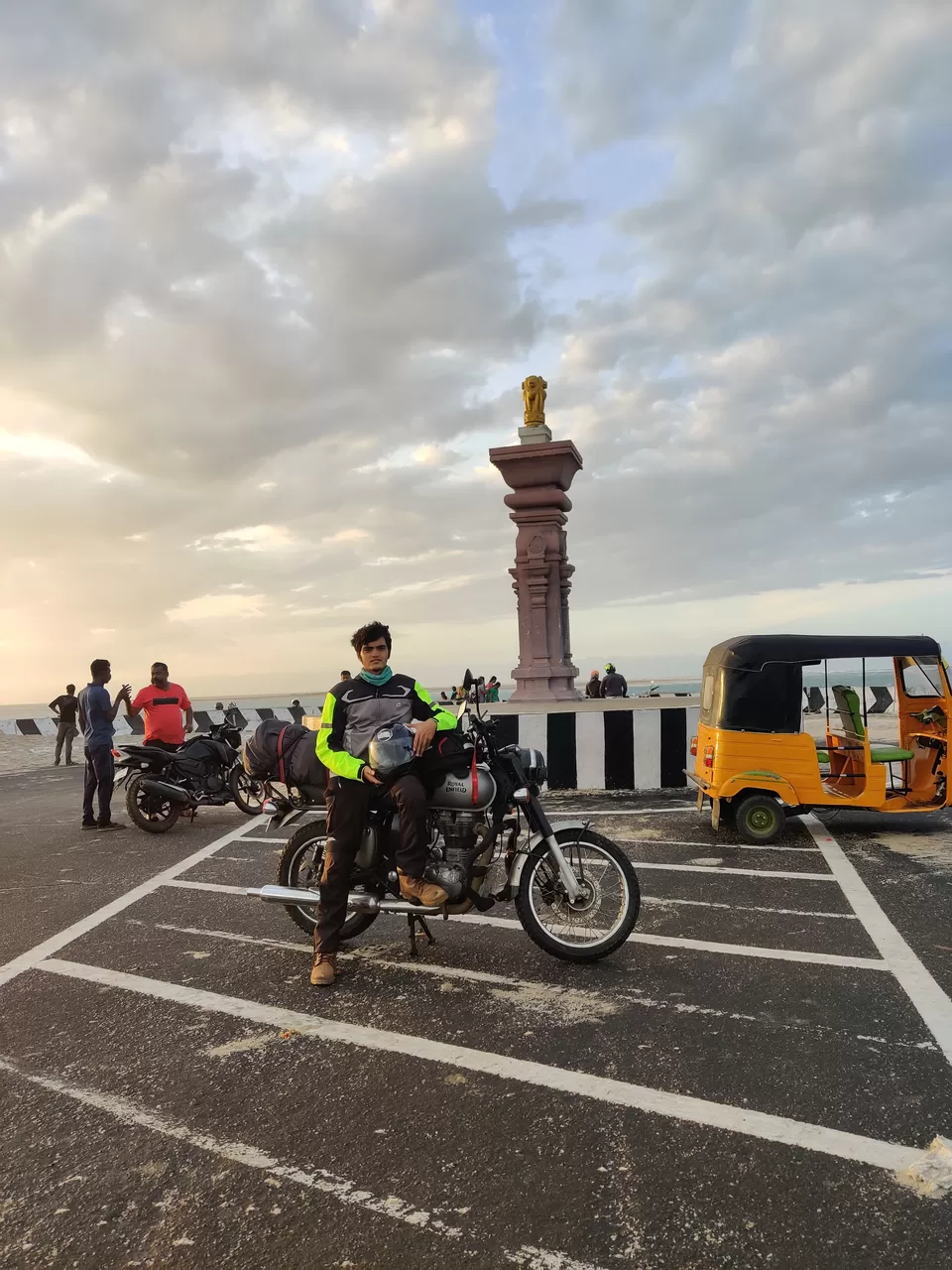 After spending over an hour here, people started to come in and I left the place to reach Kanyakumari. On the way to Kanyakumari there is once place you can stop by for a quick snack. If you are able to reach the town Thirunelveli around 4pm you must try their famous sweet Halwa. The highways in Tamil Nadu were pretty good and well maintained. Like I said it was hot for me and I had to keep me hydrated, nothing better than a Tender coconut on the highway and plenty of water.
I reached Kanyakumari around 2pm and dint have much of a choice for Hotel stays. I stayed in Raghavi Tourist Home, it had good bed but the civil engineer dint plan much place for the bathroom and it was too small. Imagine you dint have enough place to sit (literally no space).
Kanyakumari has best spot for both Sunrise and Sunset. You can have amazing sea food items in this place. After lunch I had time to walk around the city for a bit and reached the sunset view point. Enjoyed the sunset with 2 local auto drivers sharing information about nearby places to visit.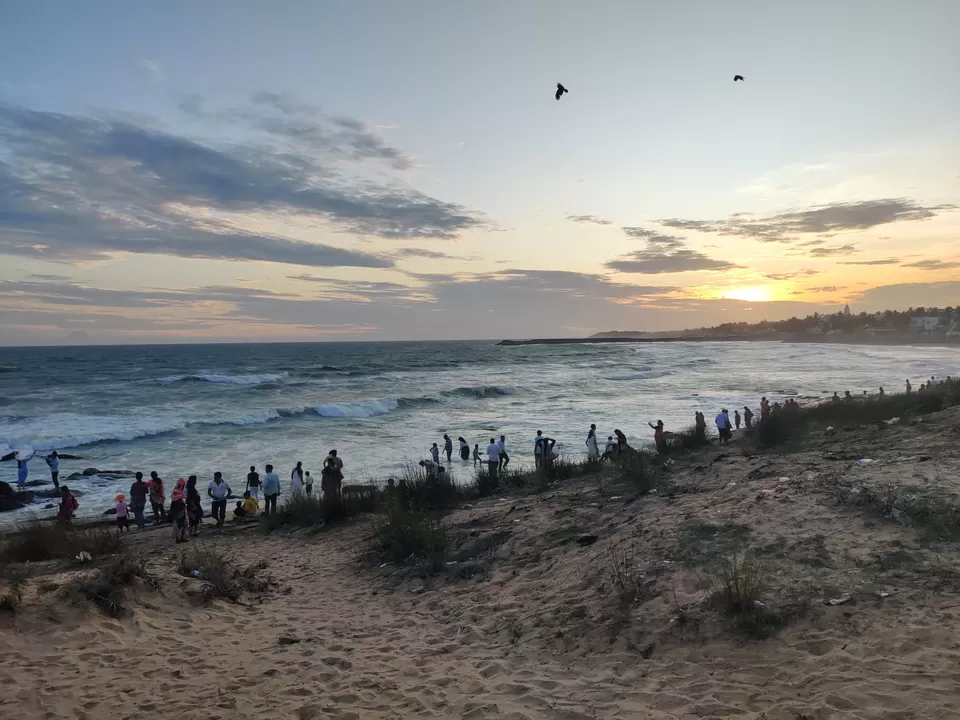 Kanyakumari - Coimbatore
The Sunrise point in Kanyakumari is very famous. I was able to see many people from Northern part of India here. People come here to visit the temples and it was crowded. You can also visit the Thiruvalluvar Statue and Vivekananda Rock memorial by taking a ferry.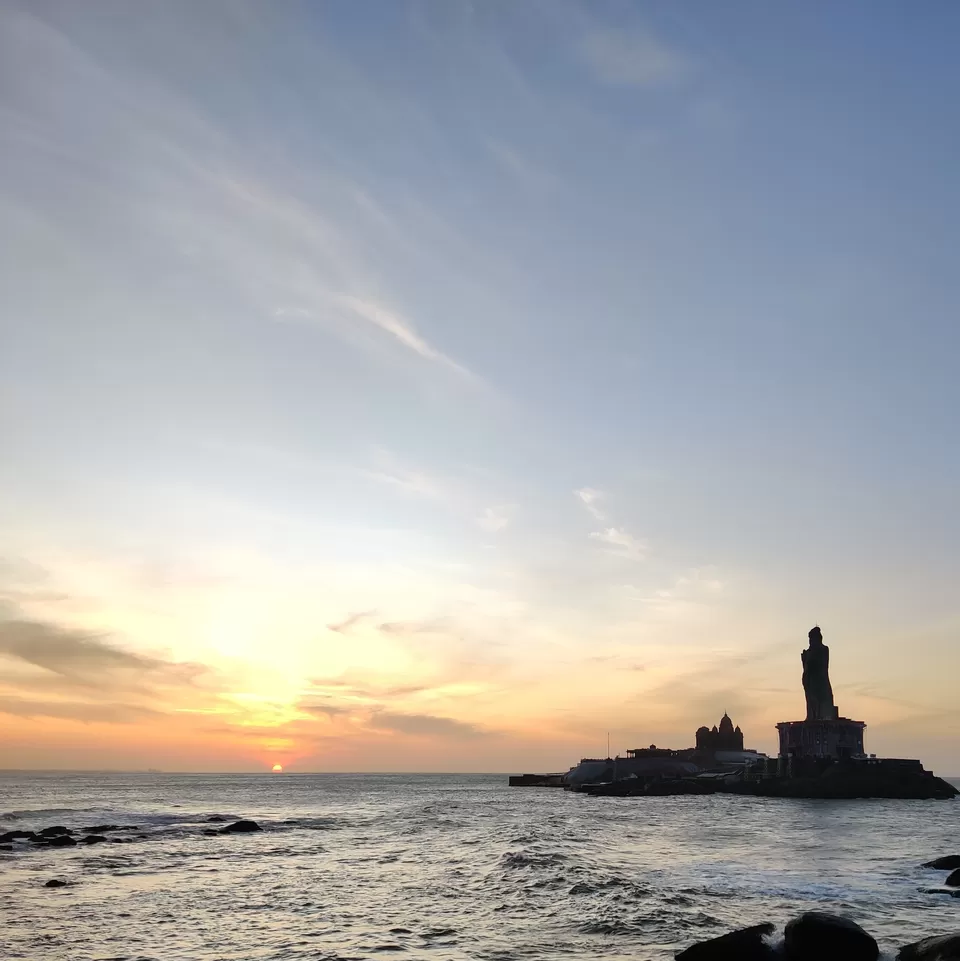 On the way back near Kanyakumari there were lot of windmills on either side of the highway. There was too much cross winds and it was bit difficult to ride on a bike on those highways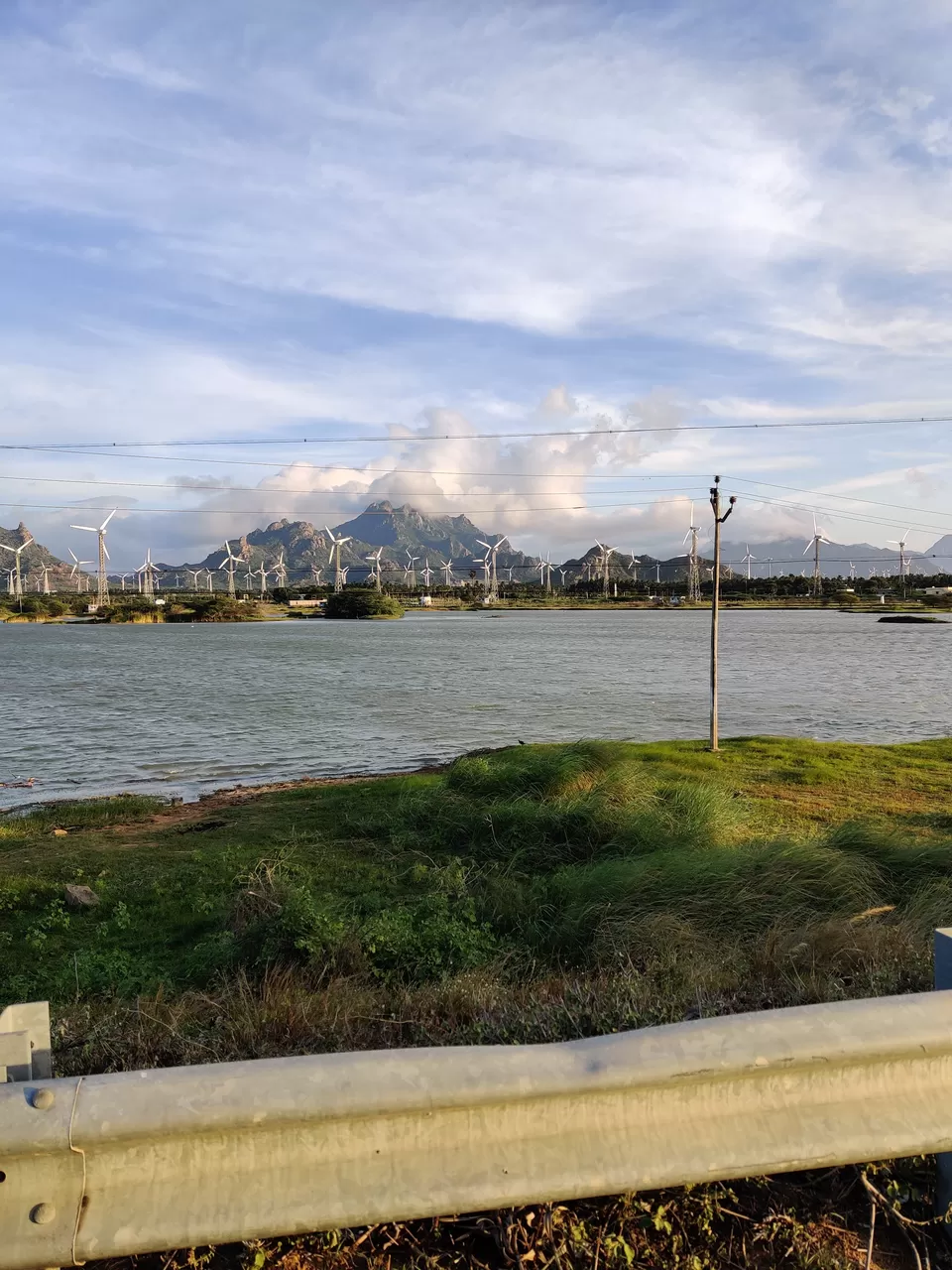 I reached back home(Coimbatore) later that day. Tonight's hotel and food expenses were Nil. Made use of the washing machine available at home and washed all the clothes that were used. Had spare time to do a little maintenance check on my bike.
Coimbatore - Hubli
I have done Coimbatore to Hubli (680kms) previously in 2 different routes. This time I chose to go via Mysore. There is nothing much on these straight highways other than to cruise at good speeds, but unfortunately I was not able to do that in my Classic350 :( both the times I have travelled this route I have met riders along the way we would ride few kilometers together, this time it was with a car person from Gujarat whom I met in a Petrol Station. As soon as I entered Hubli city one of my Shoes got ripped off and it was the first damage of the ride. I still remember the cobber asking me to bring the other Shoe so that he can fix that as well so that it wont cause any problem later. Since it was fine at that time I dint want him to cut and repair the good one(You'll know later why I'm saying this here ).
Hubli - Mumbai
Started from Hubli early morning and took my first break at 7am in a bakery. I carried mini packets of Cornflakes, cutlery which were useful to have my food on the go. Since I started riding early, these Cornflakes were of great help. I would just buy 2 cups of milk and pour it in the pack, voila! breakfast done. Continuing to travel in NH48, big highways with just vast landscapes and increasing heat. I stopped at Lonavala by 1pm and it was jam packed. I would recommend you to visit this place during monsoon or winter season, otherwise it has to be early morning. If there is no water or mist then this place is just a bare mountain with people eating snacks along the road side. I have been to Mumbai previously and had nothing of particular interest to explore. Just had the Mumbai vada pav and took a nap.
Mumbai - Ahmedabad
I know I have complaining about heat from the beginning, but when I entered Gujarat I literally started burning. On one side I was happy about the low fuel prices, but my body started taking hit. The roads were like Tandoor oven and only thing I had in my mind was to exit this place at any cost. The same big highways continued throughout. There were not many shops along the highways on North, like I found in the south. I was not able to find any tender coconut shops on highways either. I started feeling the change in food, climate, people everything post Mumbai. Mumbai was exactly like the Mid point drastic culture change. The change of having Roti daily started here. For quite some distance after entering Gujarat the entire highway smelled like burnt tire, maybe from the industries or something. It was bit suffocating at the beginning, not sure if that is normal or it was just on that day. People started noticing my TN38 number plate, they were surprised and eager to know about my travel. Everywhere I stopped people would come talk to me, wish me and it was a good feeling. I entered Ahmedabad by 2pm and dashed it in my hotel as soon as possible. Stayed in the cold shower for half an hour and stepped out of the room only after sunset. Even after sunset the city was warm. I had the famous Khakhra and bought a few extra for my travel snack(no preservation needed and stayed fresh till I reached home after the trip).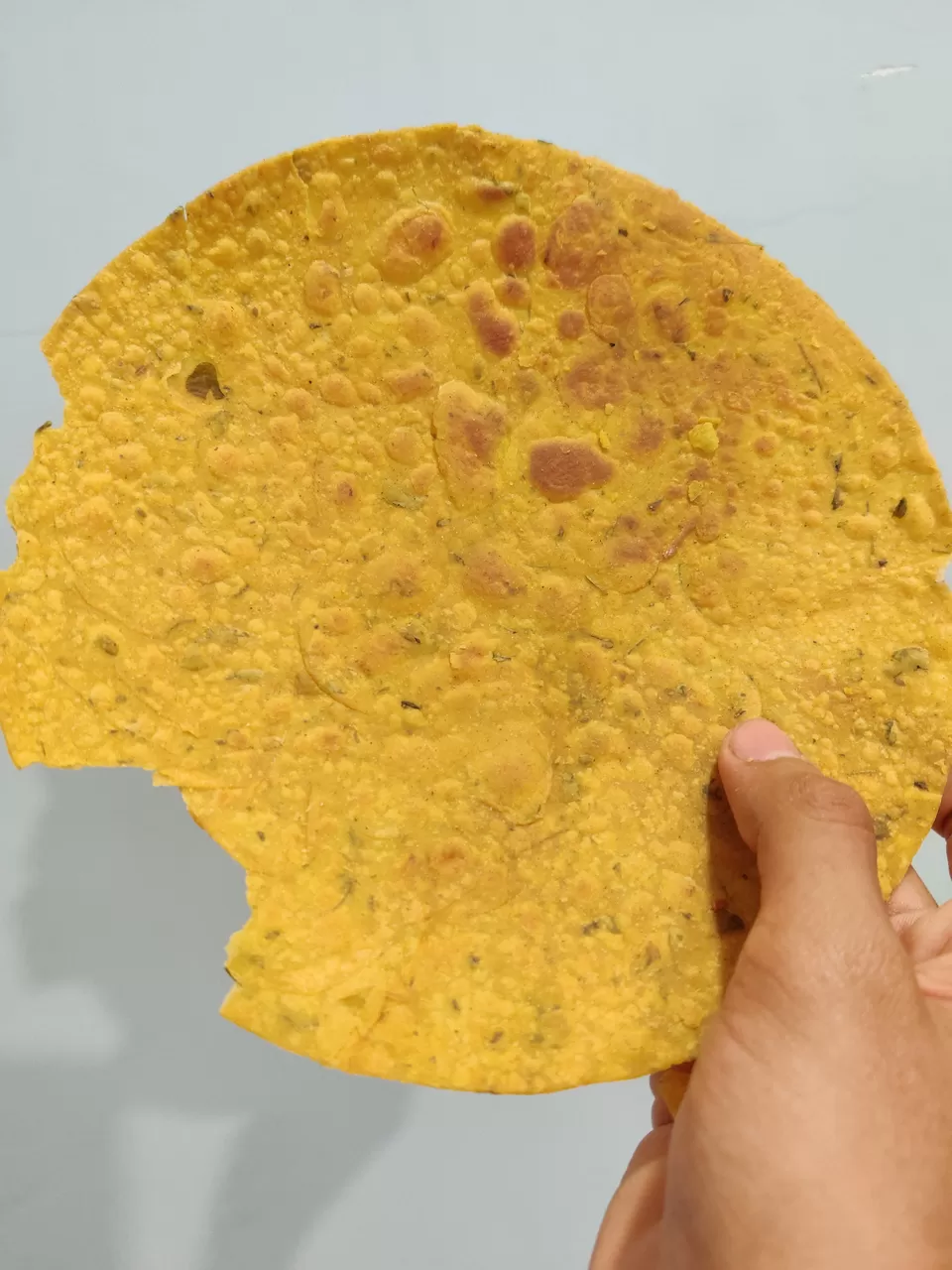 Ahmedabad - Jodhpur
Early morning there was a long line for 5-10 kms truck traffic on the highway. Luckily it was less than that on my side of the road. when I was leaving Gujarat and entering Rajasthan the air was little heavy to breath. I am not sure if it was just a one day thing or that is how the place is. I was able smell heavy industrial smokes throughout the highway. I could definitely say the air was polluted a lot that day. Same heat story continued here as well. Imagine a place where you saw ceiling fan in bathroom. Seeing a ceiling fan in bathroom was not a casual one. Luckily I got a good stay(Jannat Residency) in Jodhpur. Wonderful stay and host, I think all the travelers would be satisfied. Had an amazing Rajasthani thali for lunch and went to a local fruit market for shopping. To avoid my body getting too much heat, I had to fill my stomach with watery food as much as possible.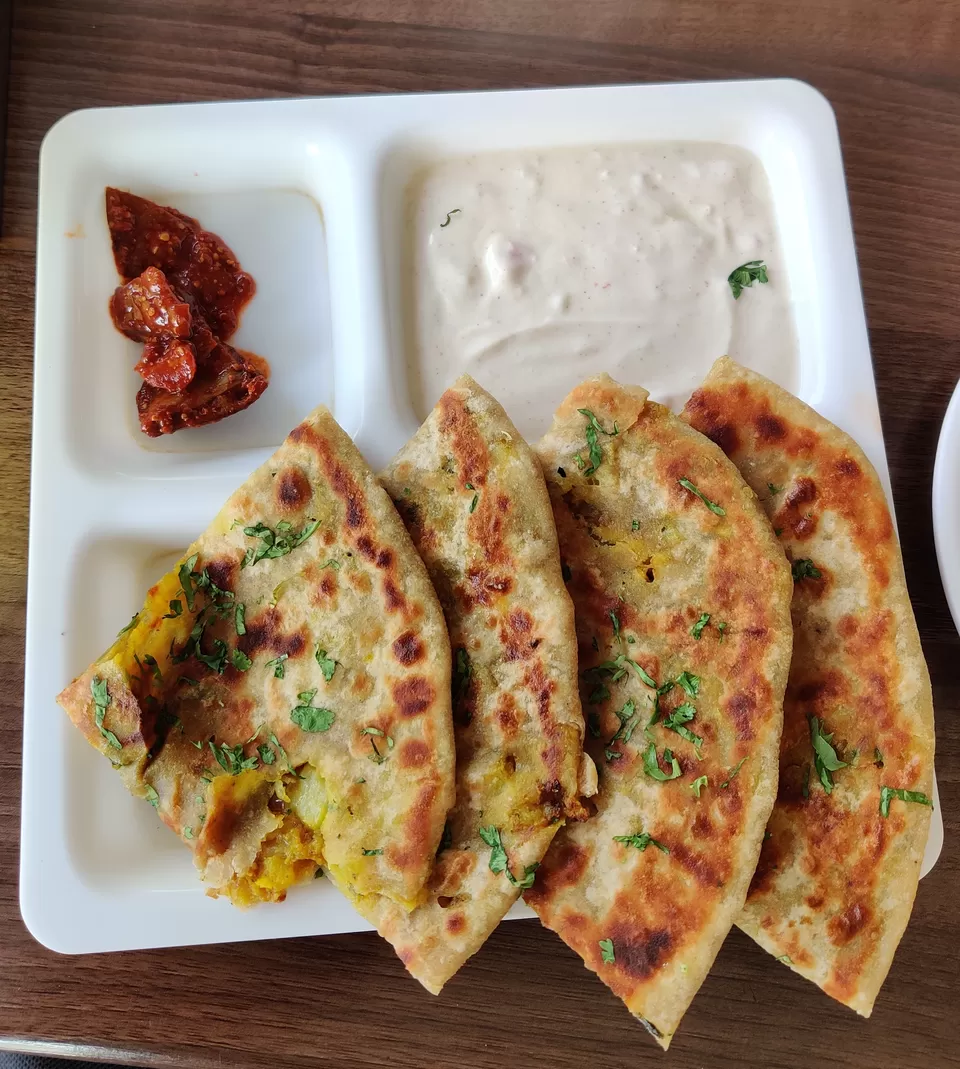 Jodhpur - Amritsar
I had already clocked around 4000kms by now I wanted to do a small maintenance check on my motorcycle. I decided to do it in Amritsar and decided to reach there before 5:30pm. I had to do service on the same day since I had to visit few places within Amritsar the next day. Initial highways near Jodhpur were little bit like desert phases and it was a different landscape compared to the ones which i crossed. I totally remember the point where I entered Punjab. If you have seen any foreigner representing Indian culture it would be either a traditional Hindu music or a Punjabi beat. I felt exactly the same. The minute I entered Punjab, tractors with loud bass songs were the first thing crossing me and people giving water and juice to everyone passing through the highway.
Most of the vehicles across Punjab had Canada flag stickered than Indian flag. Not just cars, even tractors and bikes had Canadian flags. I reached Royal Enfield service centre by 5pm and they took my bike on priority and did a quick maintenance check. The day went as planned and took a stay (Osahan Paradise) near the Golden temple. I was able to see Jalian wala bhag garden from my room.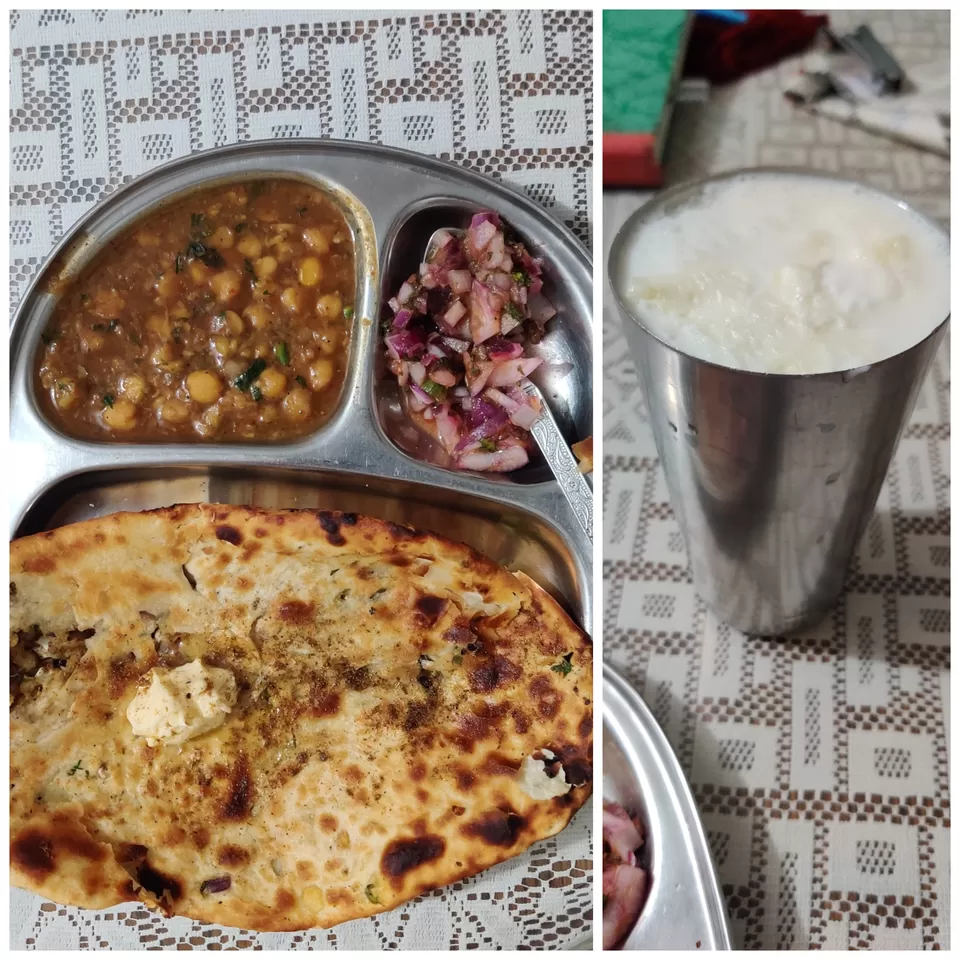 Visited Golden temple, Jalian wala Bhag, Attari-Wagah border. Visiting Golden temple early in the morning would be the best choice because of the crowd. You can also visit it late at night just to see with the temple with the lights on.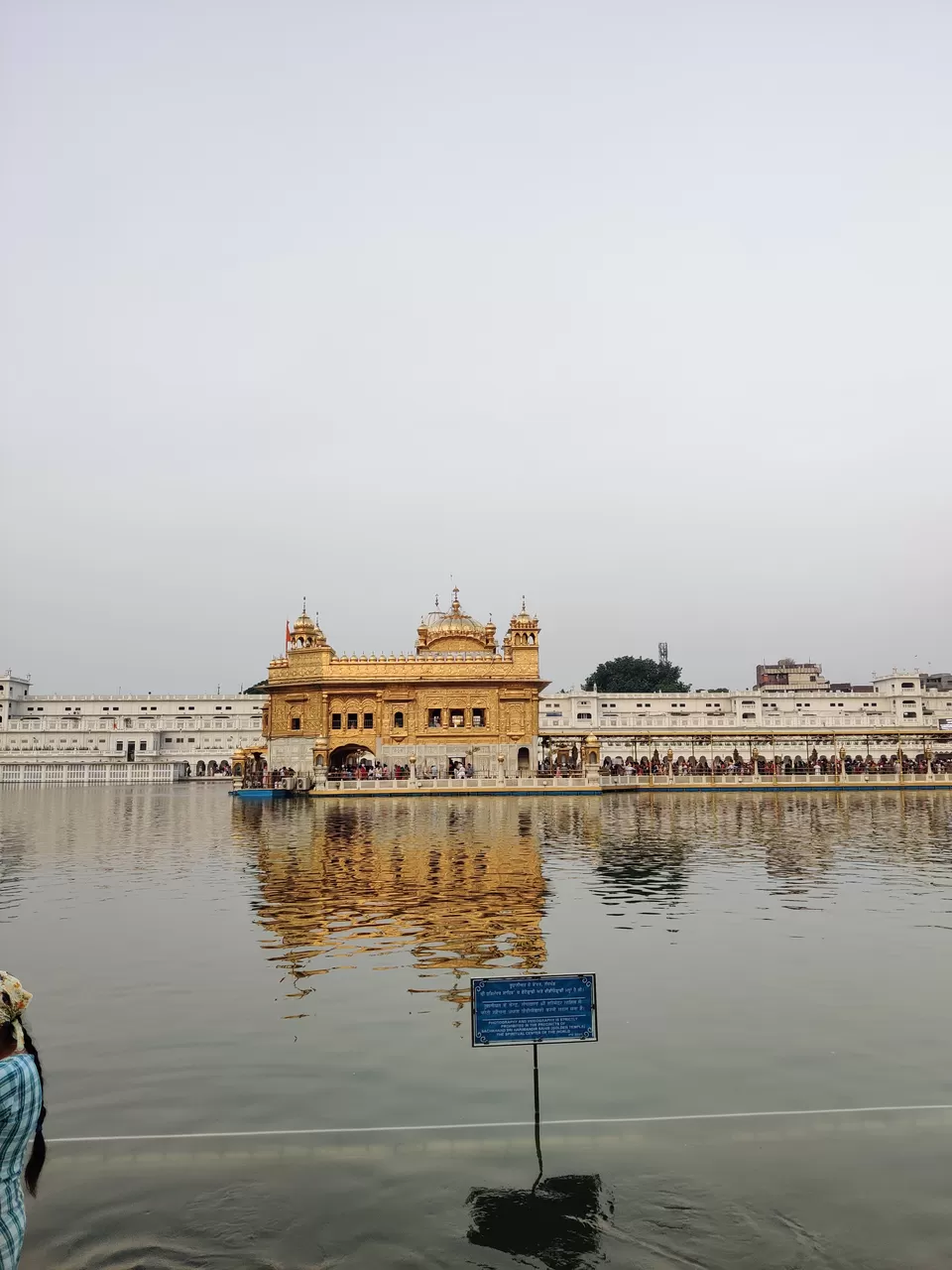 To visit Attari-Wagah border you can either go by your own vehicle or you can find plenty of autos near Golden temple. You can either go by sharing basis or with a separate vehicle depending on the situation. The Flag off ceremony would start by 6pm and you would get the seating on first come first serve basis. The whole crowd cheering and screaming "Vande Mataram" would give you patriotic goose bumps.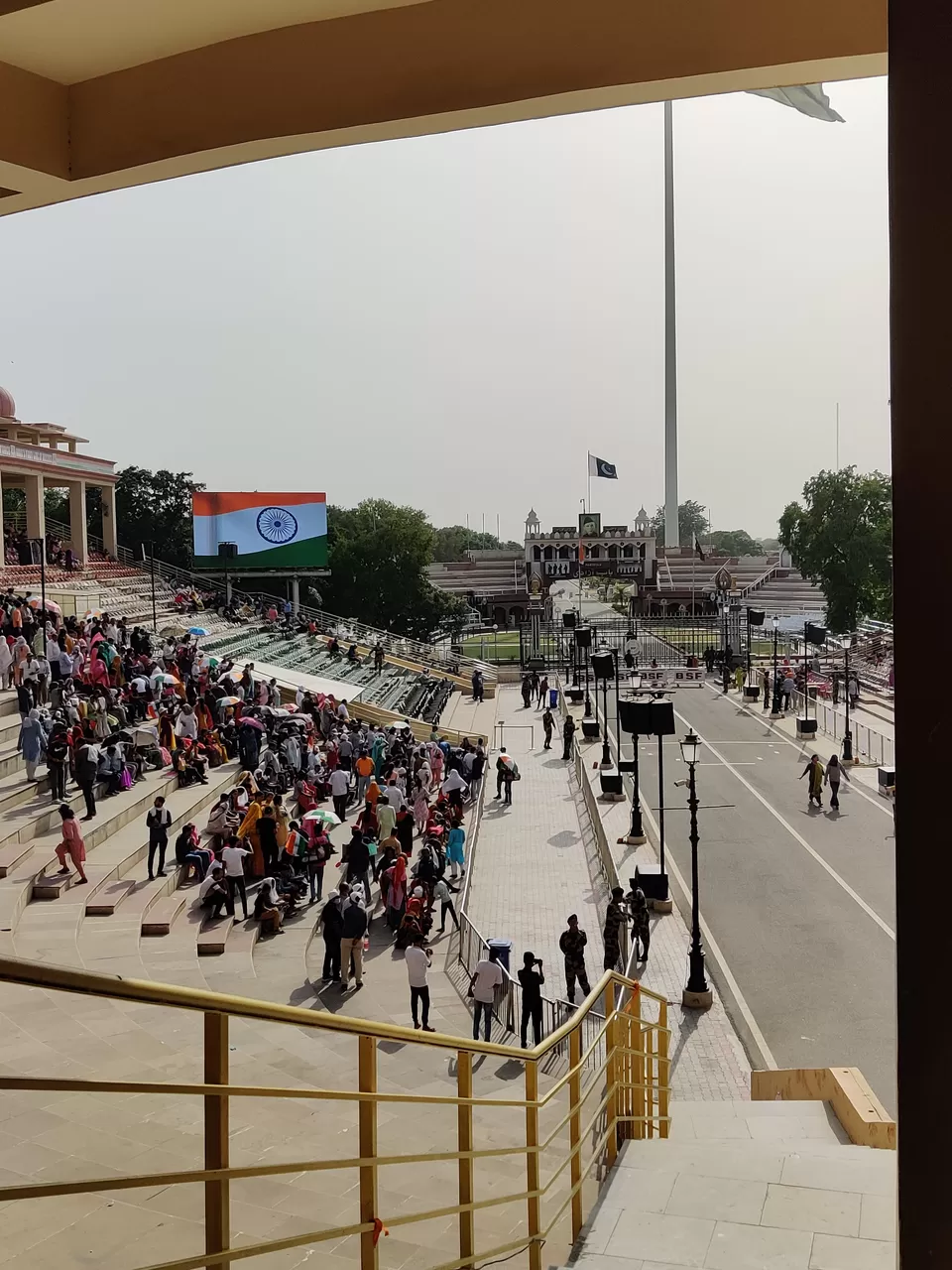 Amritsar - Sonamarg Valley
Journey towards the hill started early from Amritsar. I was very eager to say bye-bye to the heat problem I was facing. J&K welcomed me with green hills and twisty roads.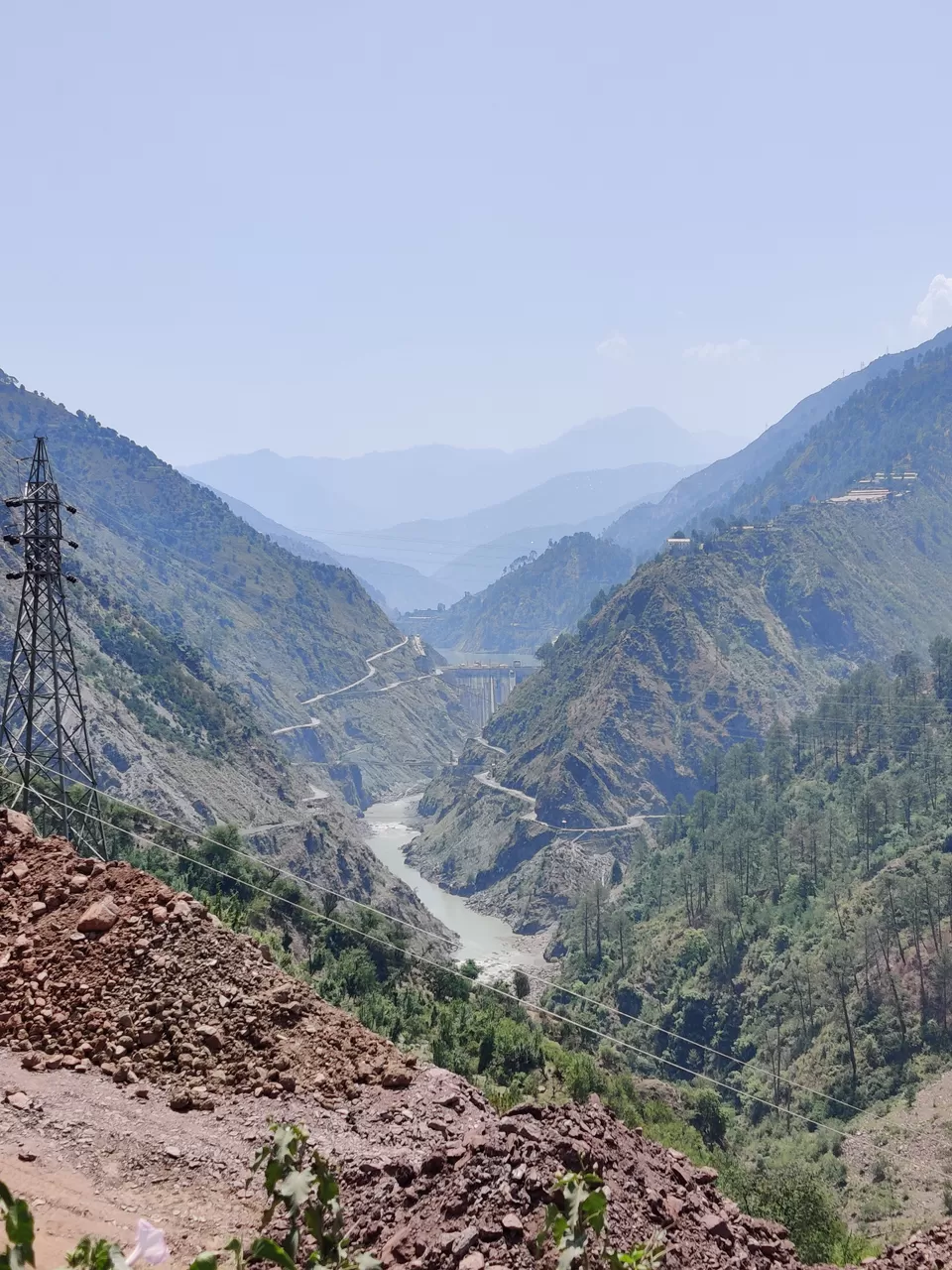 I started to come across many military camps along the way until I exited Ladakh. It was good to see the camps but it makes us think about the serious situation in these regions and people's life. New Highway was constructed on the way to Srinagar. If you love twisty hill roads then you would love the NH44 near Udhampur. It was a 2 lane highway on the hills with nice curves and I absolutely loved riding them. Is topped in a Dhabha on the highway and had breakfast. The owner was kind enough to introduce me to a Phone shop owner for a post paid sim card. But I was not feeling good about that person so I decided to get it in Srinagar. You will be able to experience the weather transition when you cross Chenani-Nashri Tunnel. I felt really nice when I crossed this Tunnel and I got to experience it (warm before entering the tunnel and windy cold weather when I exited). I was not aware of the situation in Srinagar that day. I had plans stop in Srinagar and explore few places there, but as soon as I entered there were Military people throughout the city. They dint even allow me to stop my bike on the road and all the internet services were blocked. Had a chat with the locals and got to know the situation and I decided to extend my day's ride till Sonamarg valley.
The sunset is these regions were late compared to Southern part of India. I was able get daylight till 7-7:30pm. The view started getting better and better with lush green mountains, river with whitish green in colour and mountains with snow caps in distance.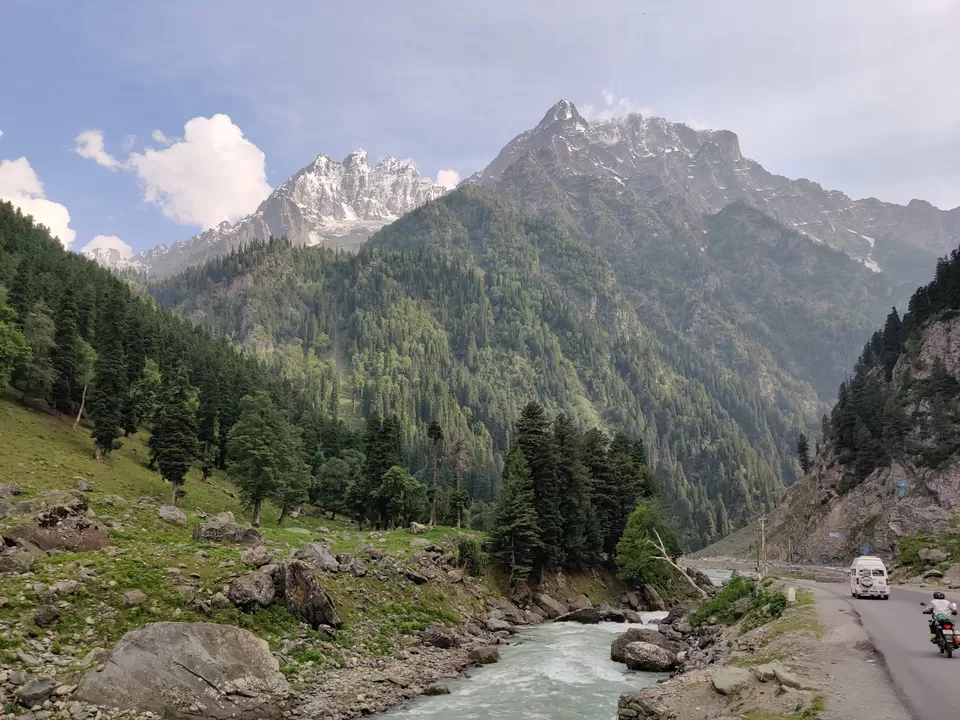 The stay in these places were getting expensive compared to other parts of India, but yea its acceptable. I got a place to stay and bought a Jio postpaid sim here. I got to meet 2 riders from Nepal who wanted to visit Khardung La and also a rider from Thanae who was doing it on his Scooty.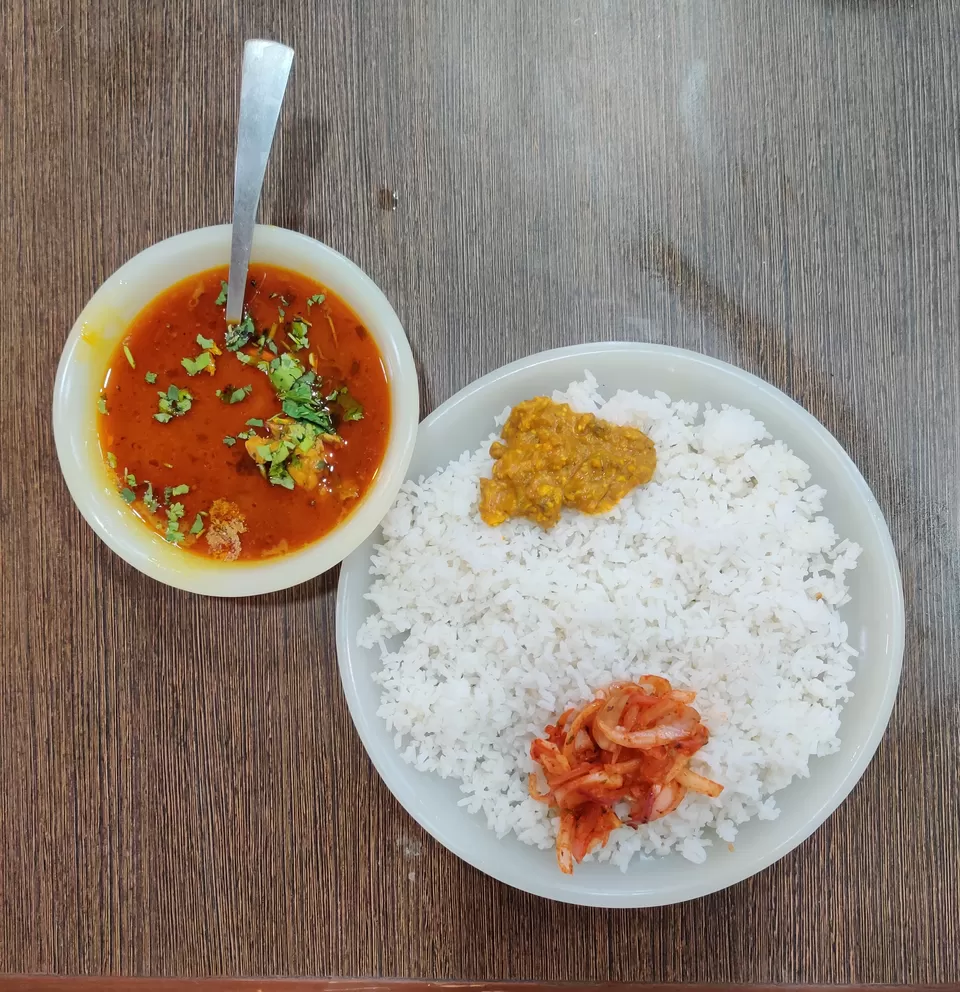 After experiencing hot climate for past 9 days, night stay in Sonamarg valley was too cold for me. It was drizzling throughout the night and it was just 1 or 2 degrees outside. The sweater I was carrying was not enough during the night.
Sonamarg valley to Leh
The sunrise was magical in this place with clouds in between the mountains and it was great view with warm tea and their local snack.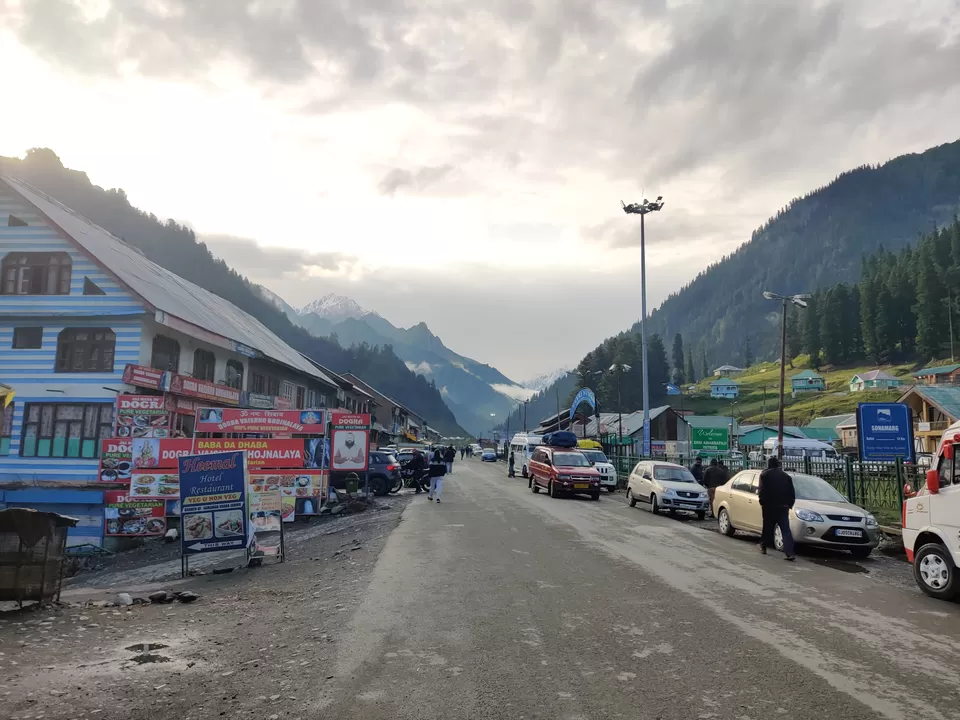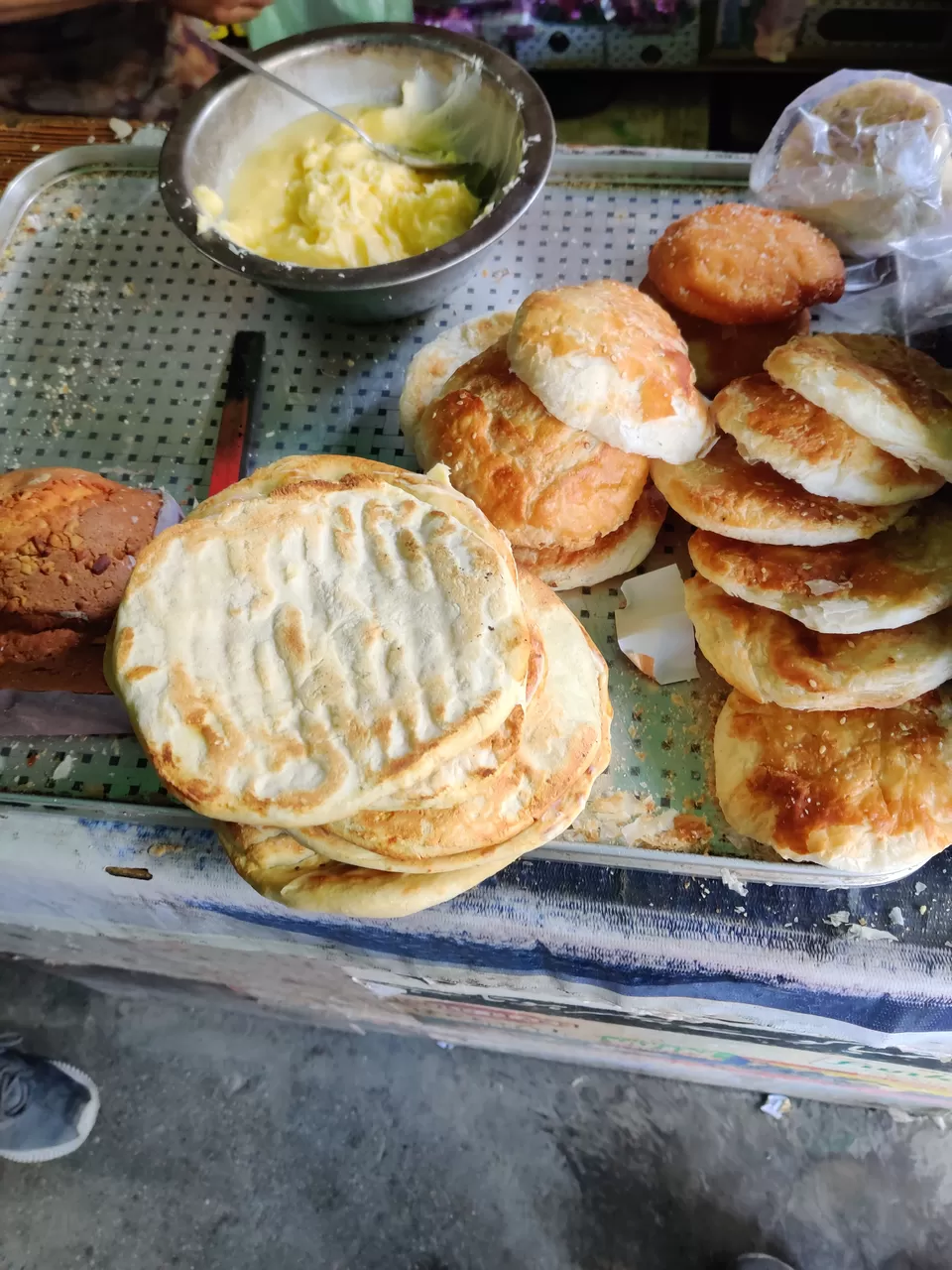 I bought a sweater and a winter gloves in a local shop over there since I was not carrying any waterproof riding gloves and I thought local sweaters would be of some use. One thing I did throughout the trip was to engage with the locals and get to know a bit about the place, roads and weather ahead. Few informations were not accurate but it definitely helped me prepare for the possible outcome. I was very exited to see snow for the first time in my life.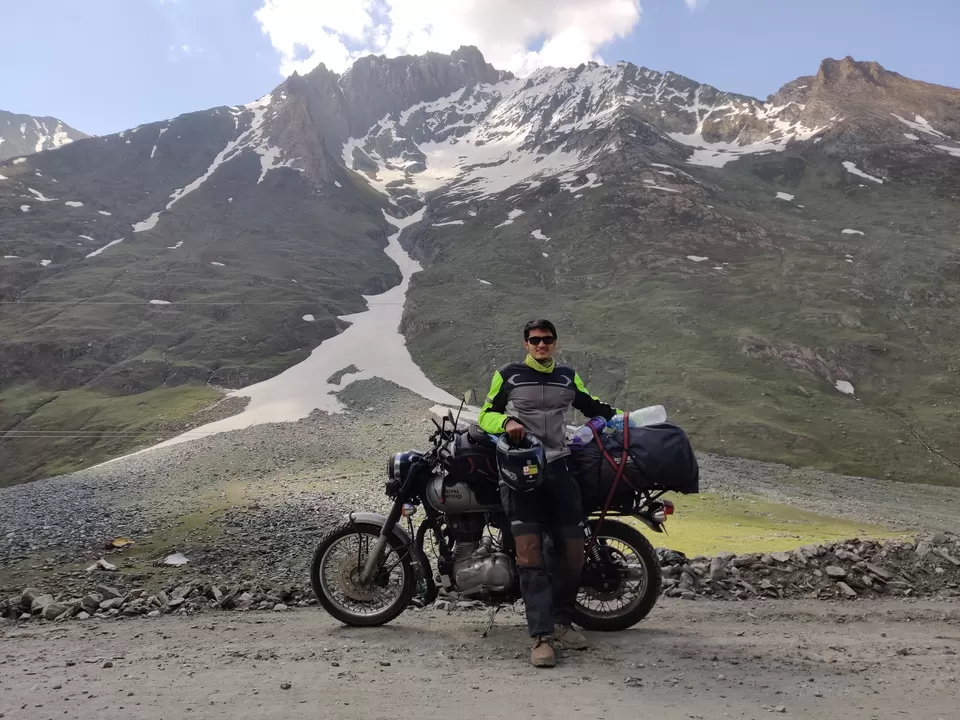 After hearing several passes name in Youtube videos over the years I reached one in real time. The first one I crossed was Zojila Pass. I got my first off-road patch before Zojila Pass. This off road patch was similar to the ones that we get within our cities when some road work is going on, but the only difference was the distance. The Scooty rider tagged along with me from Sonamarg till Karu since he was worried about his fuel capacity. It is good to see people travelling with Cycle and other lower cc vehicles but even my 350cc carburetor engine was struggling a lot during inclines and I was not feeling that great about that.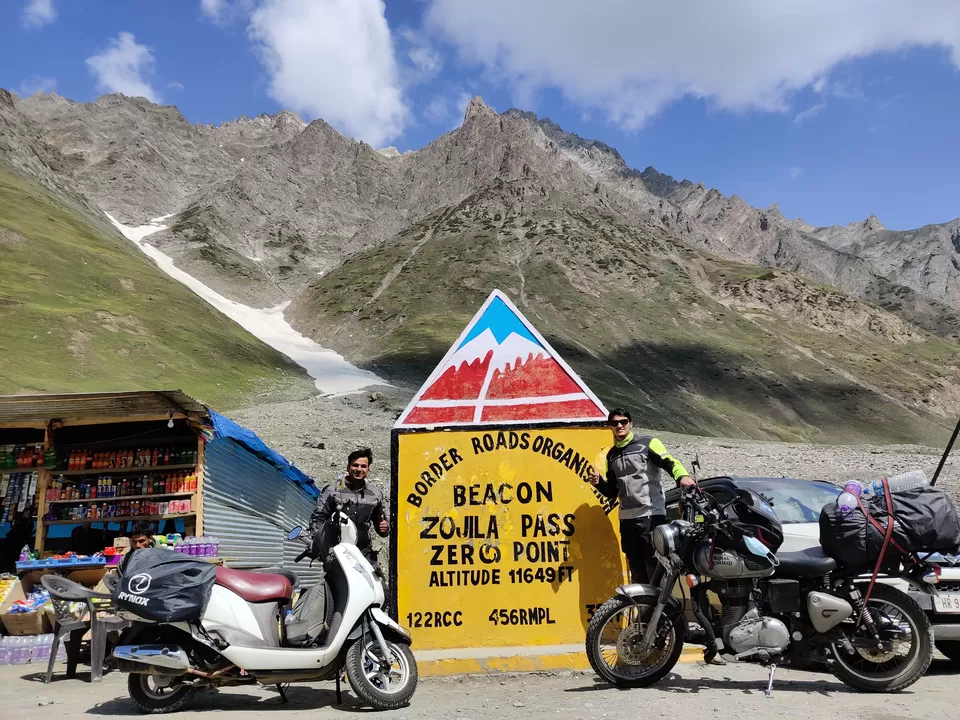 Visited Kargil War memorial on the way. The entry was free and had to pay only for parking. We will be able to visit 2-3 war mar memorials(that I'm aware of) around Leh filled with history and it is good to visit these places and buy some souvenirs. I believe that part of the money from these souvenirs would be used for the welfare of the militants.
In Ladakh all the entire landscape was just brown or grey in colour or the mountain tops would be covered with snow. Only few green trees in the entire landscape. This is one another geographical view. After Kargil the roads were newly laid and it was very a smooth ride. We'll have to climb up and down atleast 3 mountains to reach Leh. These inclines were little irritant for me since my bike was struggling a bit. I reached Leh passing Magnetic hill.
Once I reached Leh I started searching for a place to crash. I tried 2-3 places but they were not ready to give unless I had made booking previously. I was roaming near Leh market and luckily 2 people came up to me since I had Tamil Nadu registration Number plates. They were south Indians as well and arranged an accommodation for me in their place. I got a stay in YHAI base camp and these two people have started their business recently. It was a very good accommodation and they helped me with all my enquiries. I planned to stay in Leh for 2 days and get acclimatized.
Leh
The one shoe which I had not repaired got torn off like the cobbler said in Hubli. There were many cobblers near Leh market and I was able to get it fixed. Since my accommodation was in a camping site I had plenty of place to wash my clothes and dry them. Otherwise I had to do it in a small bathroom and dry them in my room. I visited the Leh market in morning and it was not much crowded. It is also good to visit the market in the evening with all the lights turned on and some extra local food places to try out.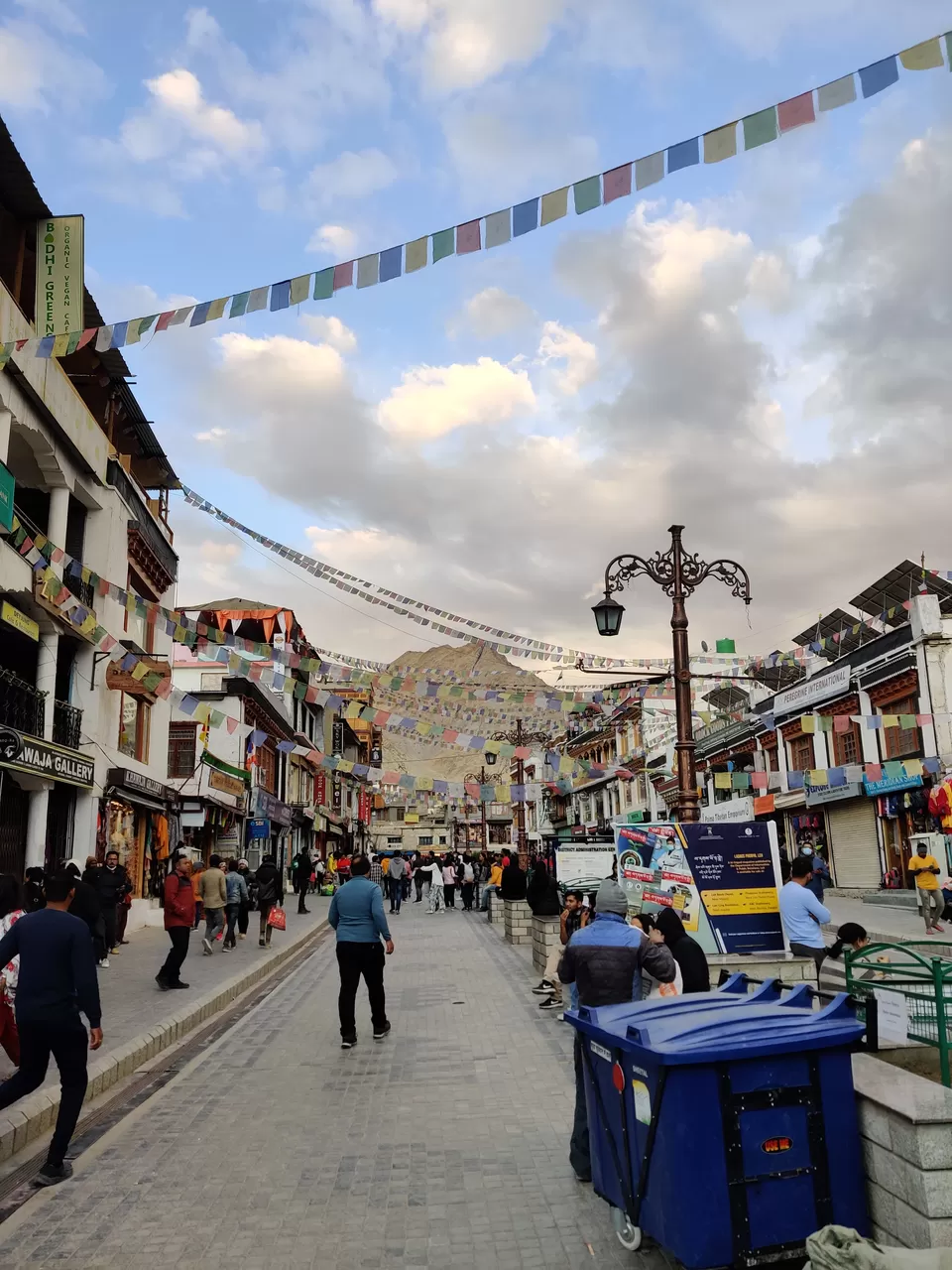 I took the inner line permits for the next 10 days through an agent. For brunch I went to Tibetan kitchen to try out their momos and Thukpa.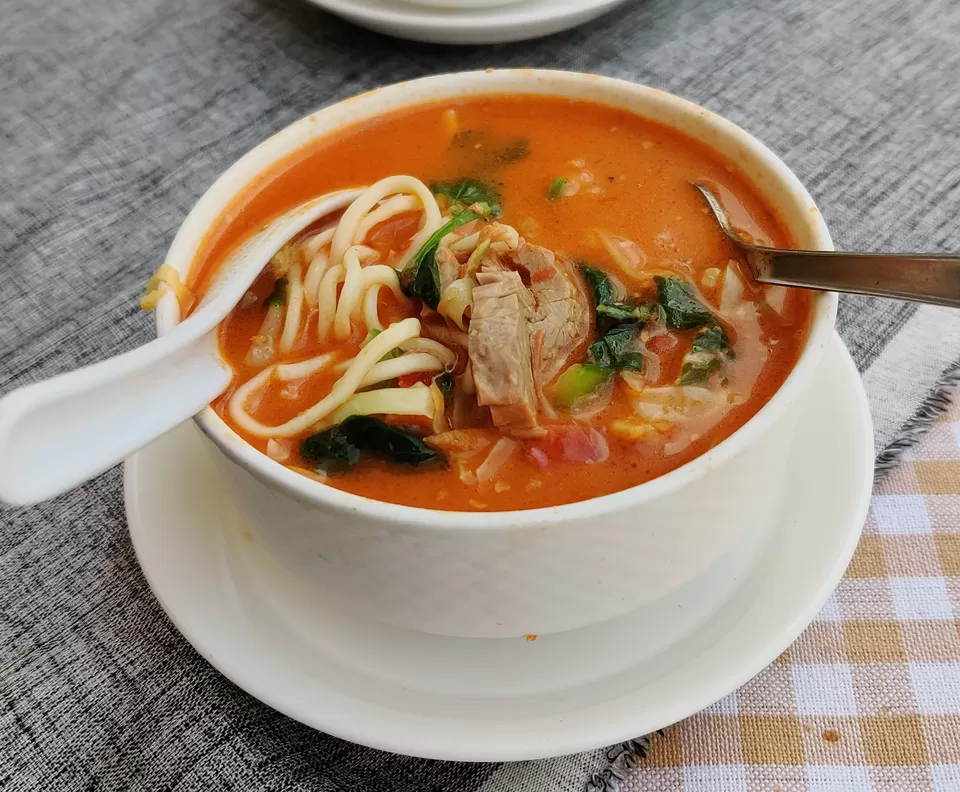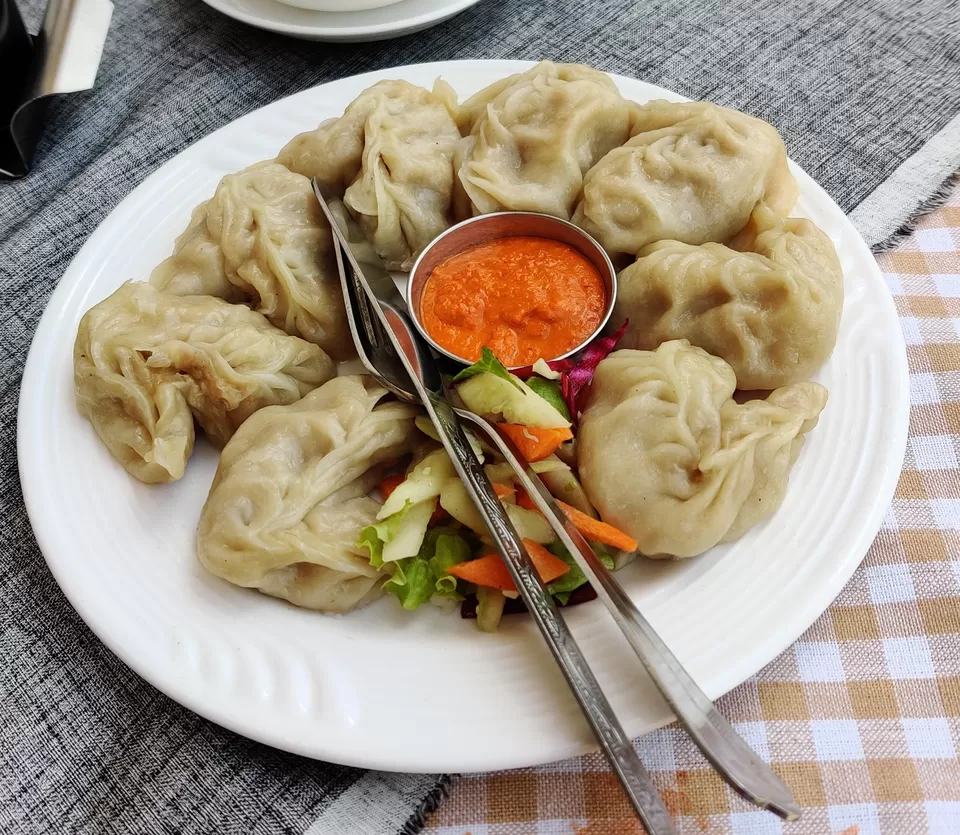 Later I visited Shanti Stupa and it was windy on top. I was able to see Leh colony from up there and it was a good view.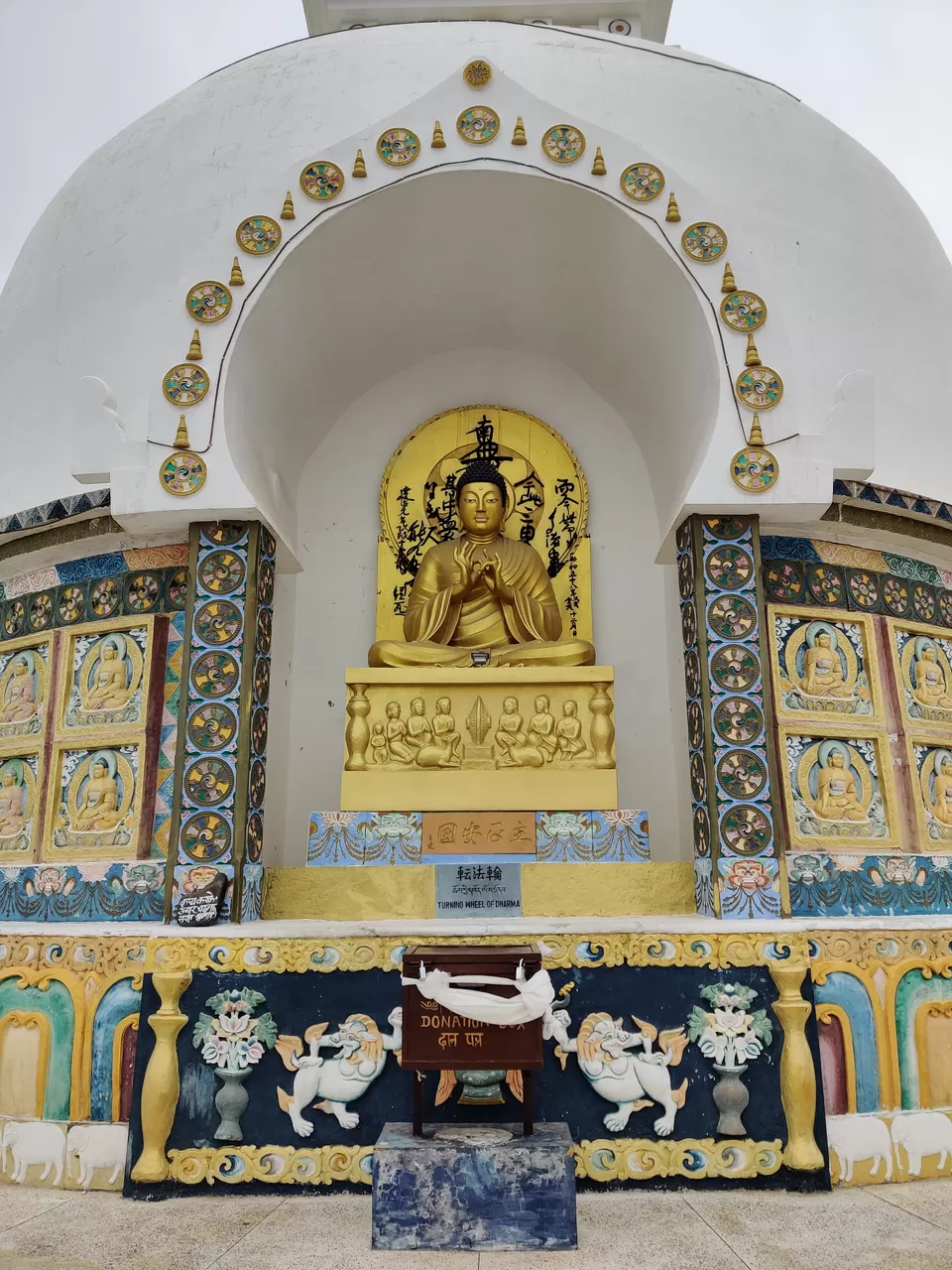 Later that day I was just roaming around the market to buy the Tibetan flag for my bike and I met with another guy who shared the route map for all the Leh roadtrip. Most of the people who talked to me advised me not to go Umling La pass alone and they suggested to carry a Jerry can except the white plastic ones which were troublesome. Fortunately my Tail rack in bike was designed to carry a Jerry can. I found a bakery that had 15 litre used oil cans and I bought that to carry fuel.
Everything was set for the next day's ride and my hype meter was beyond measure. I was very exited about the fact that Im going to see Khardung La top in person the next day. It started drizzling that night, on one side I was happy that I would be able to experience snowfall and on the other side I was worried about the roads getting blocked.
Leh - Khardung La - Diskit
Started my ride towards the Khardung La top after fueling up in Leh. Every turn I took was absolutely gorgeous. Only thing I missed at this time was having a GoPro to record few videos. Every turn it was a beautiful scenery, and I got fed up stopping many times to click a photo. I dint carry any Diamox tablet, but I had basic tablets throughout my trip. Only tip to avoid altitude sickness is to have good food, stay hydrated and getting acclimatized properly. Take your time and dont rush to reach different places. There would be a series of checkpoints at different places where you would have give your details for safety purpose. At the beginning of Khardung La Rd, there would be a check point by local union to check your innerline permit and your vehicle documents. Only Vehicles registered on your name/blood relatives would be allowed past this checkpoint. The only other option is to rent vehicles from Leh. When I was riding towards Khardung La I dint see much of bike riders, the place was filled with Tourist cabs. These roads are bit narrow and we have to ride carefully. Just before reaching the Khardung La top there was a long queue of cars waiting to pass by.
Finally I reached Khardung La Top and it started snowing at that time. It was a dream come true moment for me. I was just exited to see that welcome sign and experiencing snowfall for the first time in my life was the best part.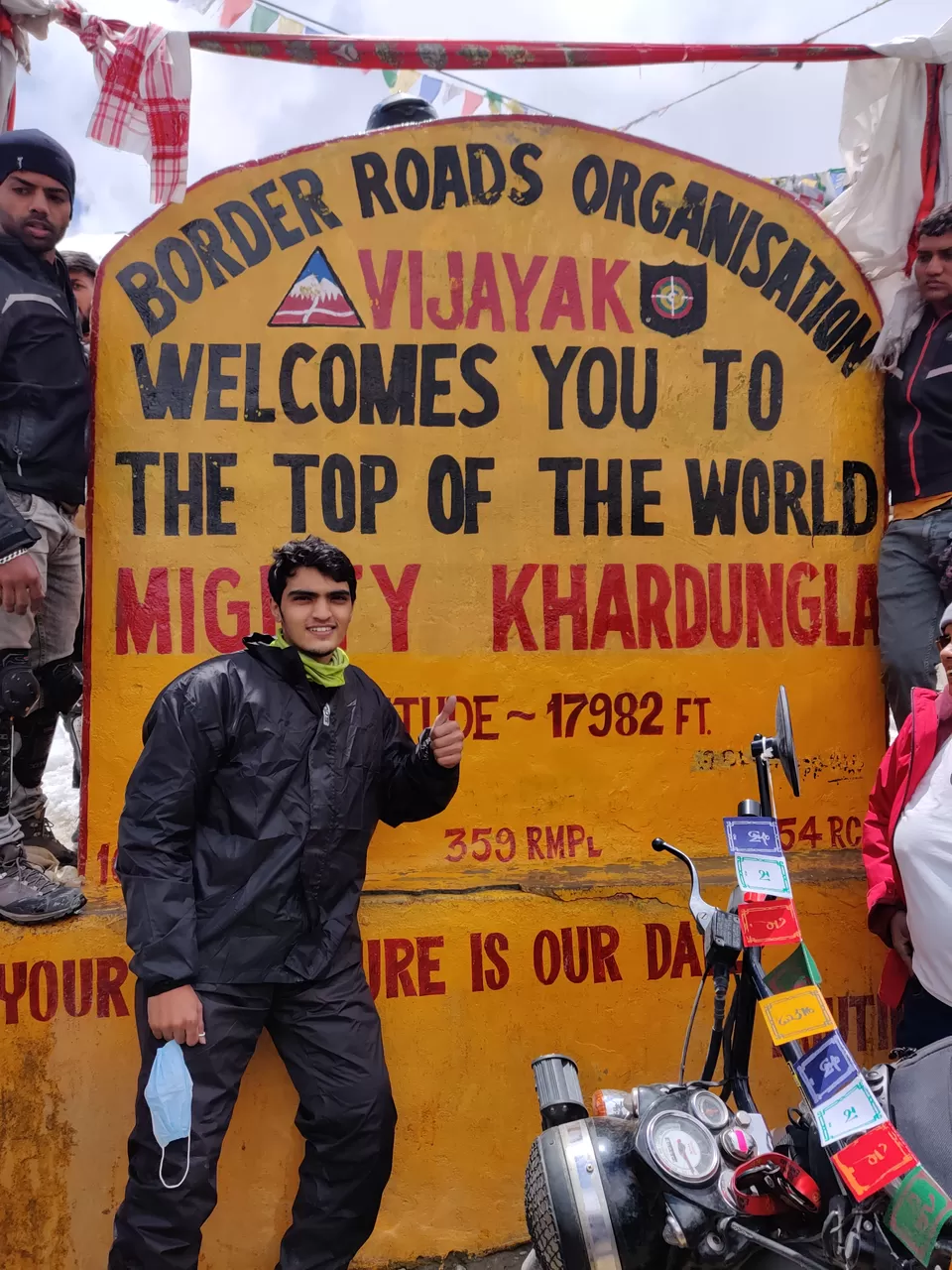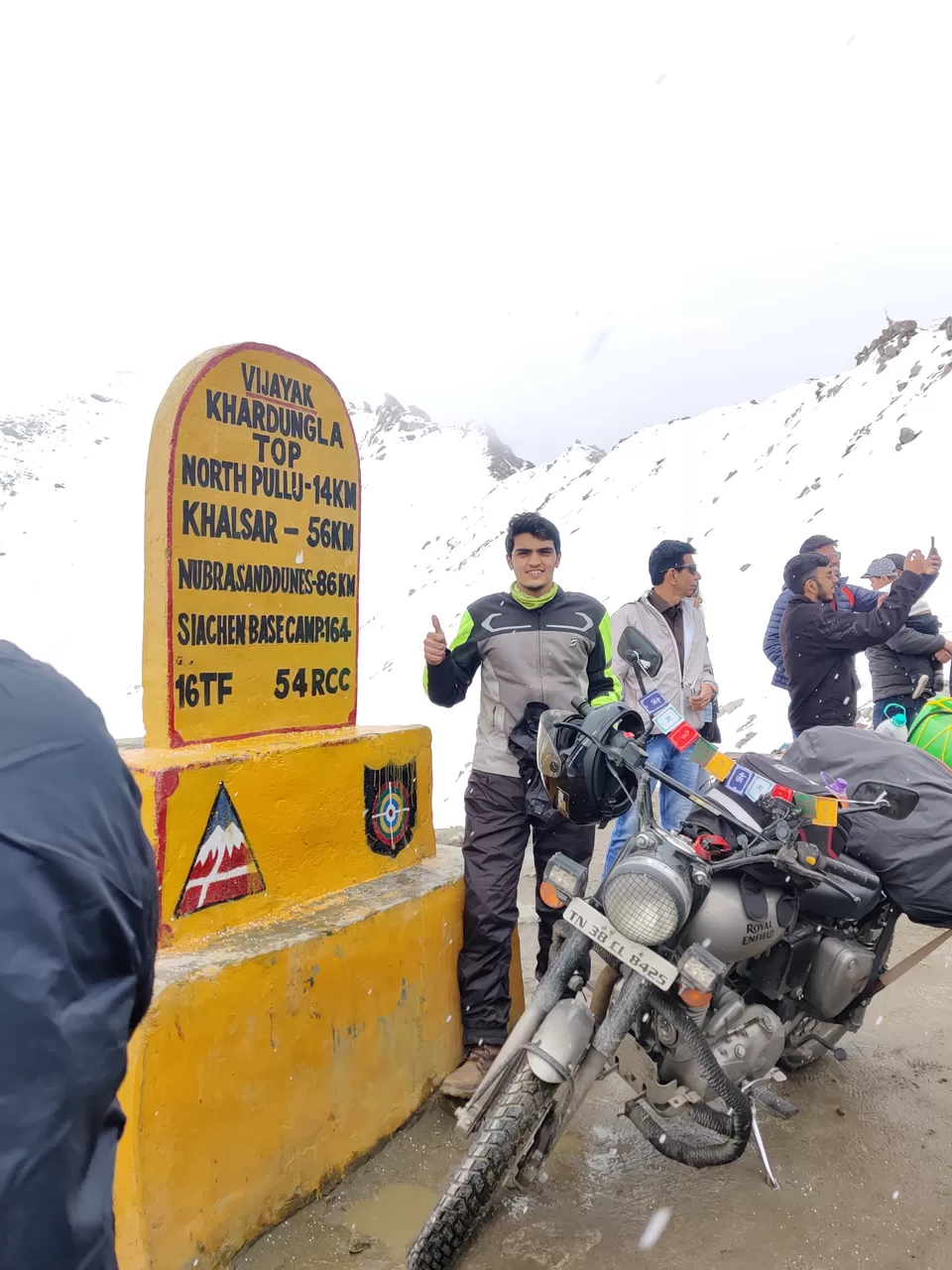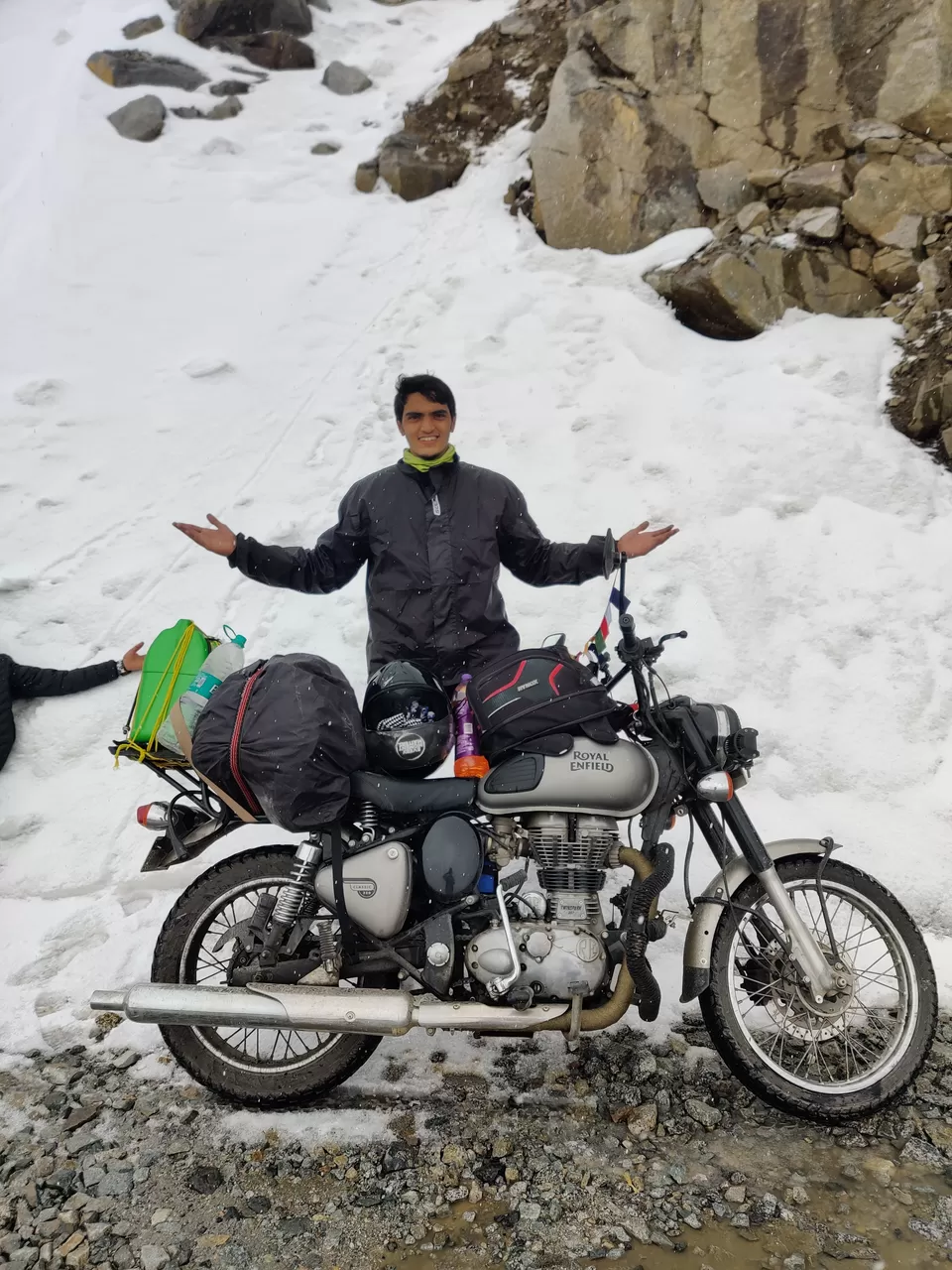 After staying there for a while till my heart's contempt, I left that place and while descending initial few kilometers it was snowing and few kilometers it was drizzling. Few patches, the roads were bad or they were under construction and they were slippery due to the small rocks. When I tried to brake, I crashed my bike on to a small rock and had a small hit to my pinkie finger, nothing major happened and this was the first incident in my trip.
Down the lane the sky started clearing up and got good tarmac roads till Diskit village. There were only limited homestays available and everything were pre-booked .I would recommend you to do the same. After enquiring many homestays finally I got a tent stay for the night.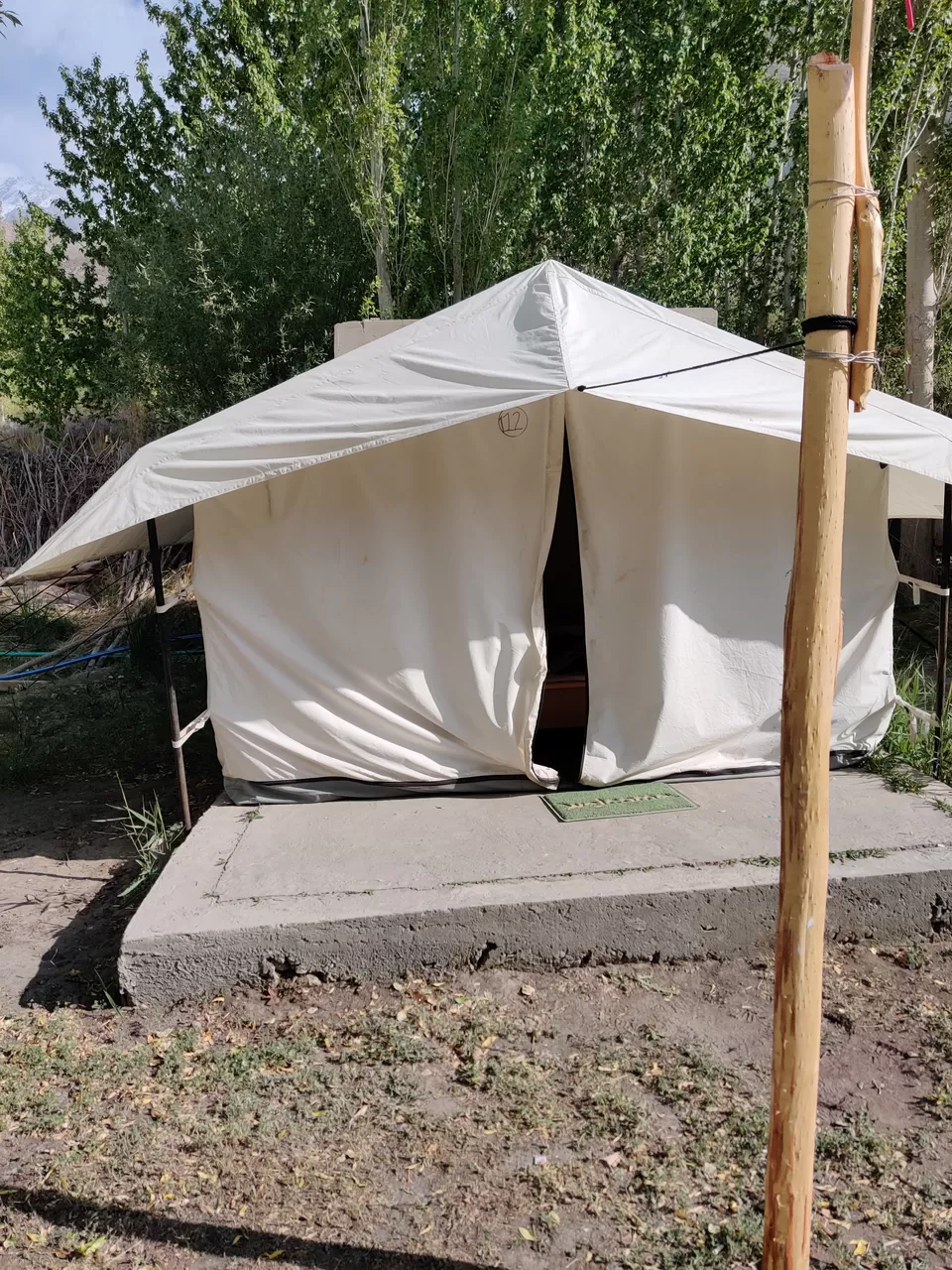 Visited the Maitreya Buddha Statue which is 106ft tall and since it was a cloudy day, all these places looked amazing from a top view. Near Diskit there'll be sand dunes and we'll be able to ride ATVs and double humped camels along with other adventure activities.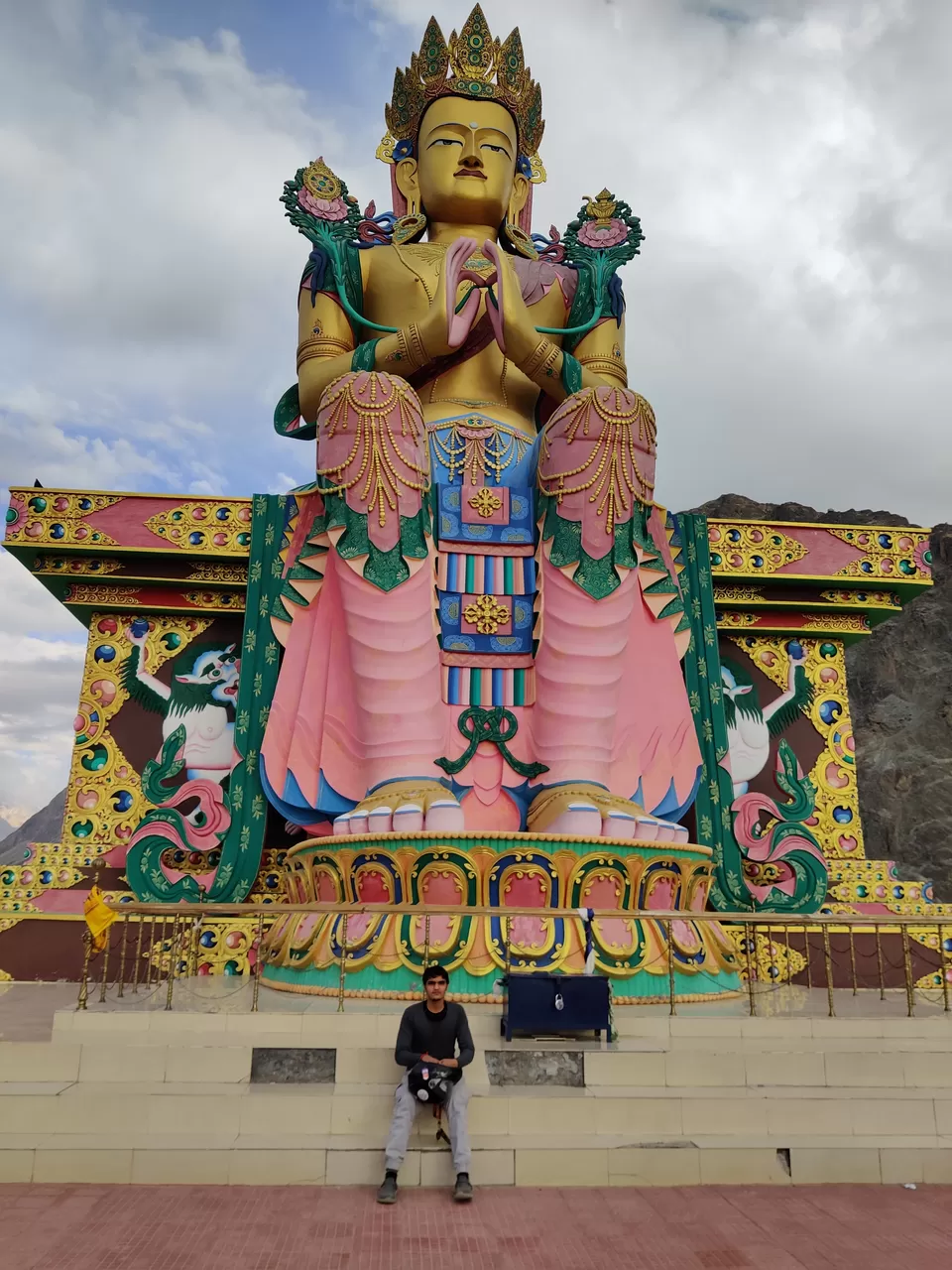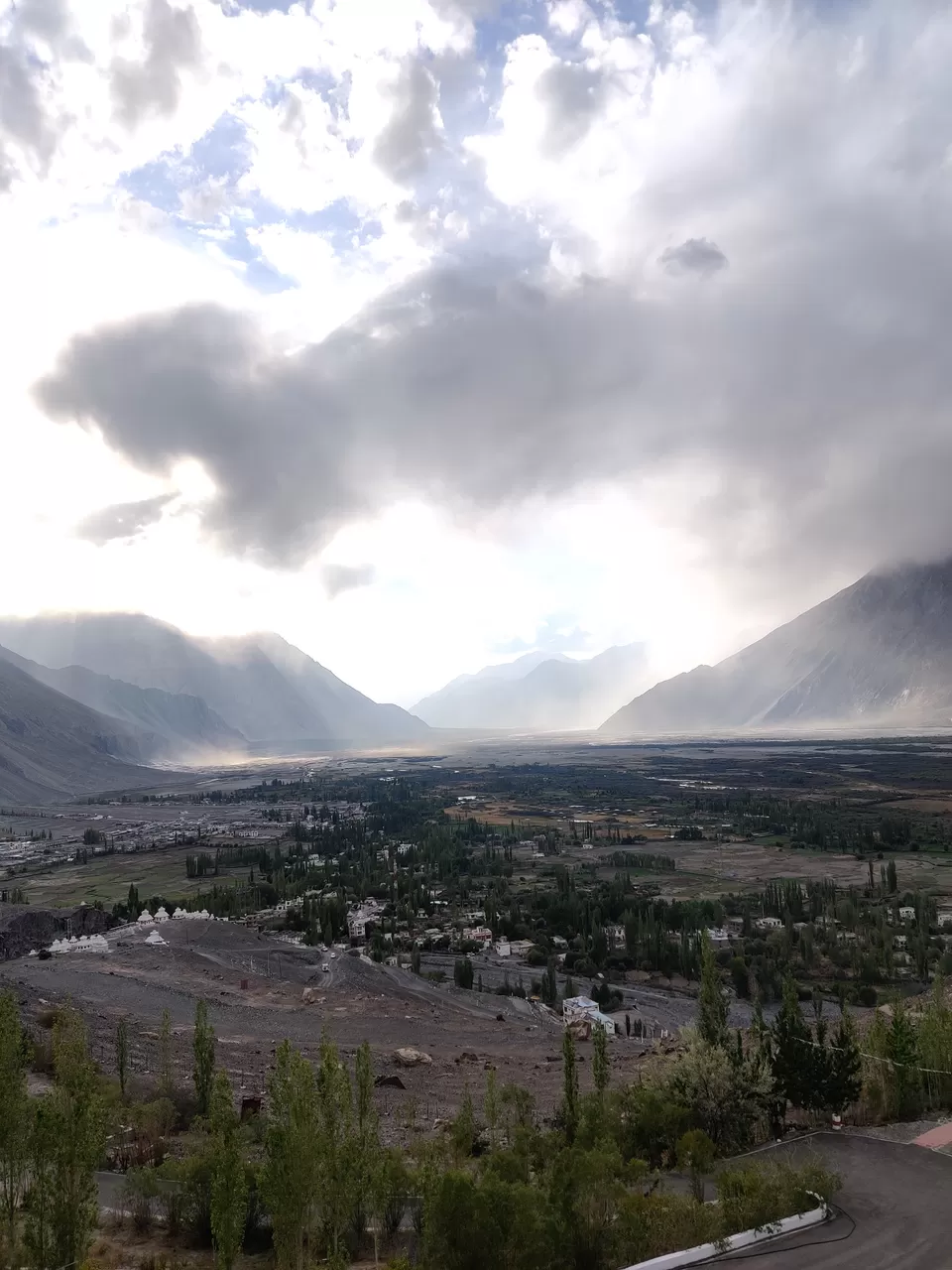 Diskit - Pangong lake
The first thing in the morning was to wait in a long queue to fill petrol since this was the last place with a petrol station. We must calculate the distance that we are planning to ride and plan accordingly. Since I had plans to visit Umling la pass, my guess was I needed around 550kms to reach next petrol station. People also get petrol from the locals in Hanle but it would be little costlier and getting petrol with higher price from them is a good deal if you are planning to buy good grade jerry cans and preparing mount setup specially for this. After a long wait I got fueled and left to Pangong Lake. I started getting proper off road patches in this route. Most of the route was fully laid except for few patches were we'll get rocky terrain.
There will not be many places to eat along the route. So it is better to start your ride after having food near your stay or wherever possible. If I remember correctly, after Diskit there will be one place before Pangong where there were many hotels. Even if its not the usual time to eat, It is better you get something for the road or fill your stomach with something possible. I made the mistake of postponing my breakfast and I thought I would get hotels along the way. Usually I would not start my ride with a breakfast and I would stop after covering few kilometers so that it would be a small rest time in between.
The first sight of Pangong lake was the different shades of blue. I reached here by 2pm and had time to sit near the lake and enjoy the view till midnight. Of course it is crystal clear water when you go nearby and the water was too cold. You'll be able to see the lake and the small mountains surrounding you in the plain horizontal sight.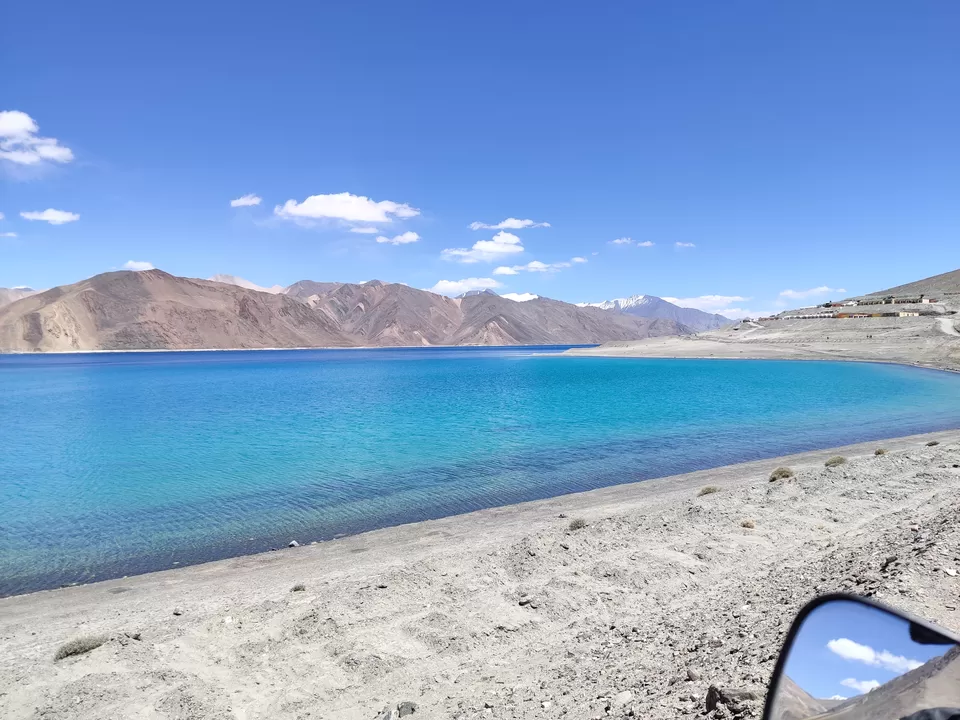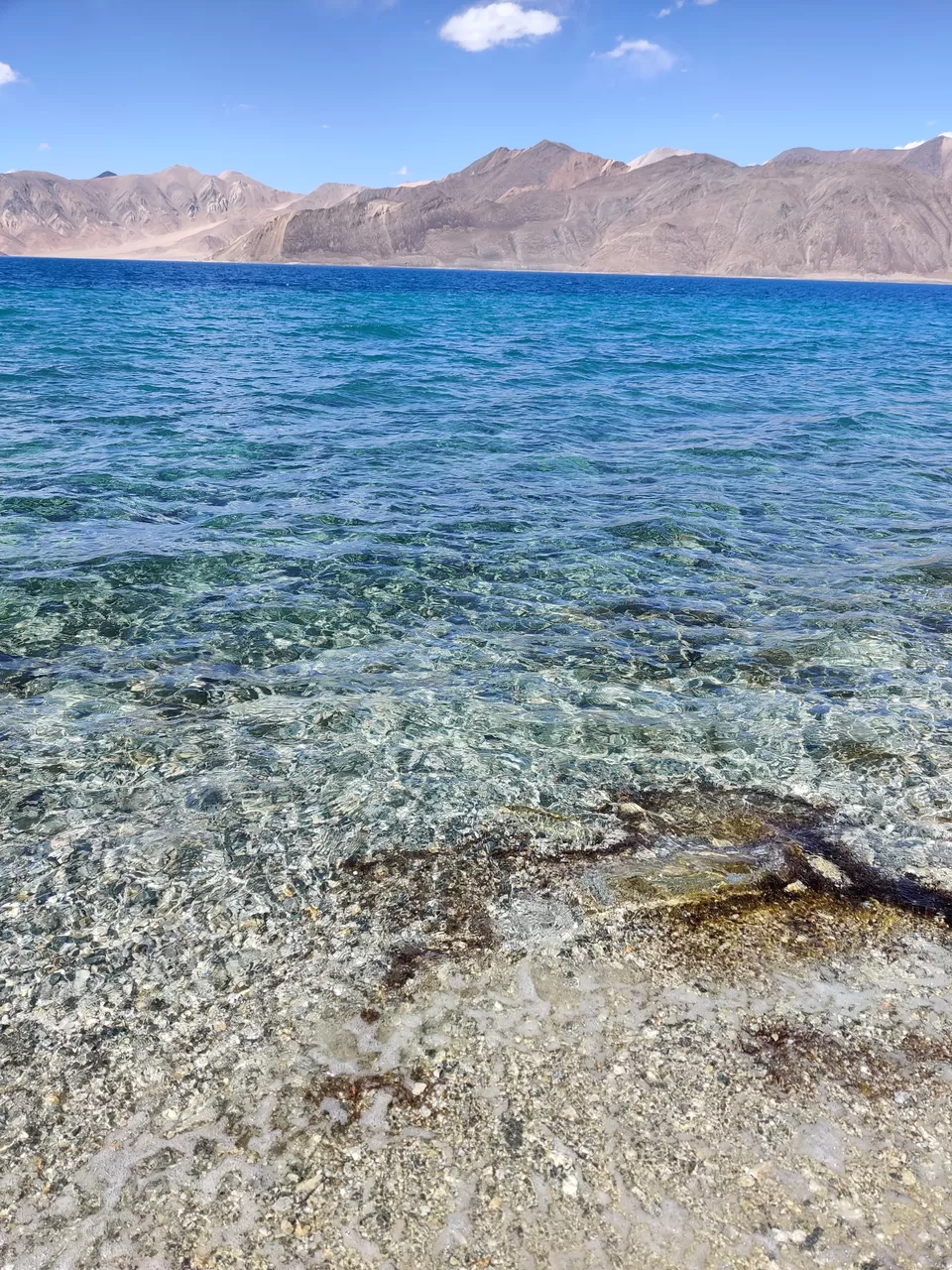 There are many homestays and camping sites around this area but usually everything is booked prior by travel agencies. So again I would recommend you to do booking prior if the person count is higher. The problem in these regions are that the cost of a room is higher and they are not willing to give it to single person. The advantage of travelling alone is somehow I'll get a place to stay since only 1 bed is needed for us. You can also try to share rooms with other solo travelers or friends you make along the way. I got a homestay in Spangmik and it was very close to the lake as well. I came to know that they just laid Jio towers recently and I was lucky enough to enjoy Jio 2G network at times. As of this time only BSNL and Jio works here.
The sun set and the nightscape of this region is beautiful. I was able to witness full moon in Pangong at this time and if you are planning on a no Moon day then it will be amazing to do star gazing. The sun set was literally 4-5 minutes here. The sun went behind a mountain and the moon rose up like a orange light and the moon size was bigger. It felt like it was closer to us than usual.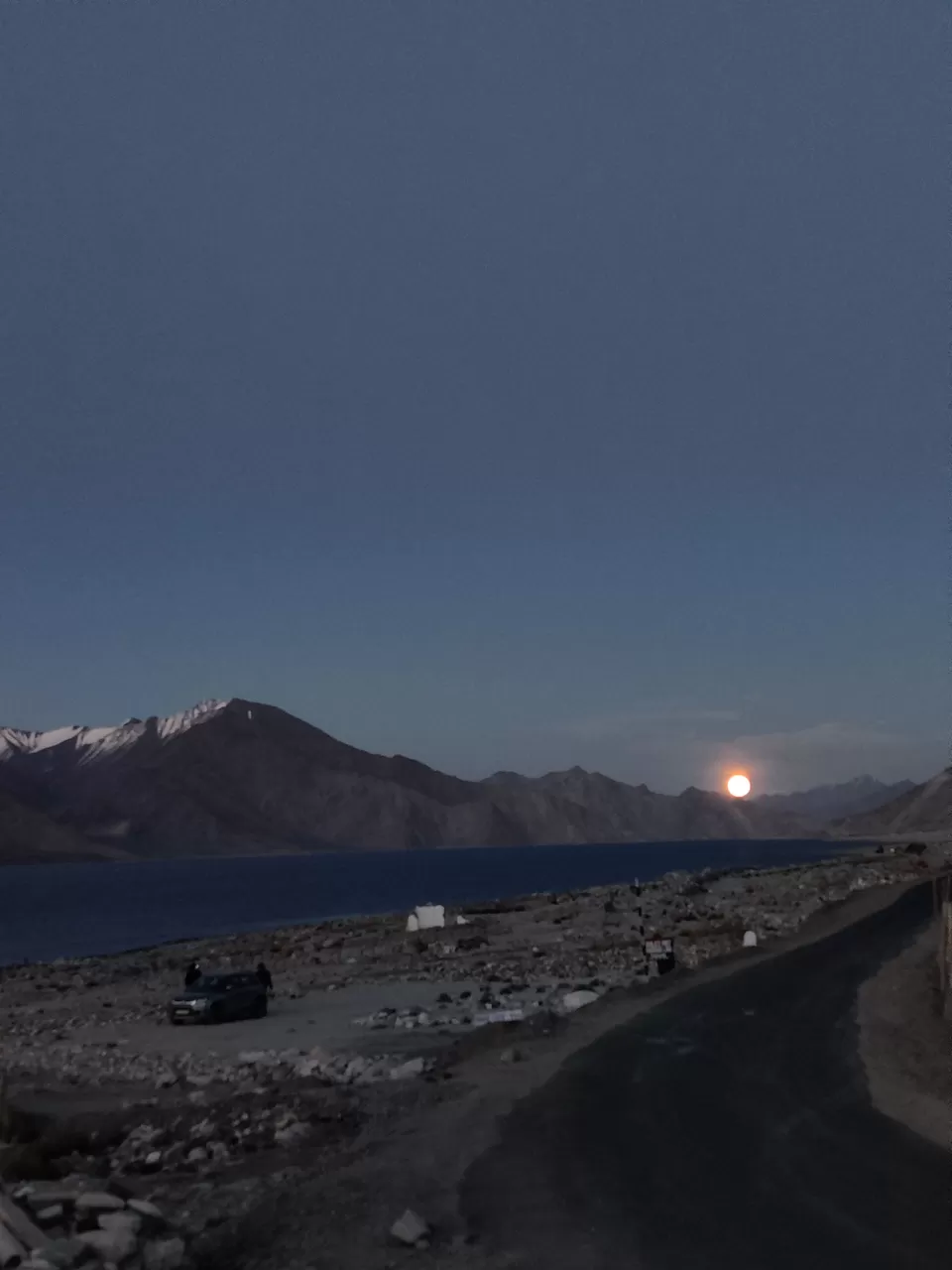 Pangong lake - Hanle
Sunrise was also pretty good in this place. It was exactly like our first childhood drawing, sun peeking between the mountains. First thing I did was to have my breakfast today because I dint want to ride hungry throughout the day. It was a good decision since there are not much places to eat along this route either. The initial few kilometers along the Pangong Lake the view is amazing and every photo that is click would be like a picture frame.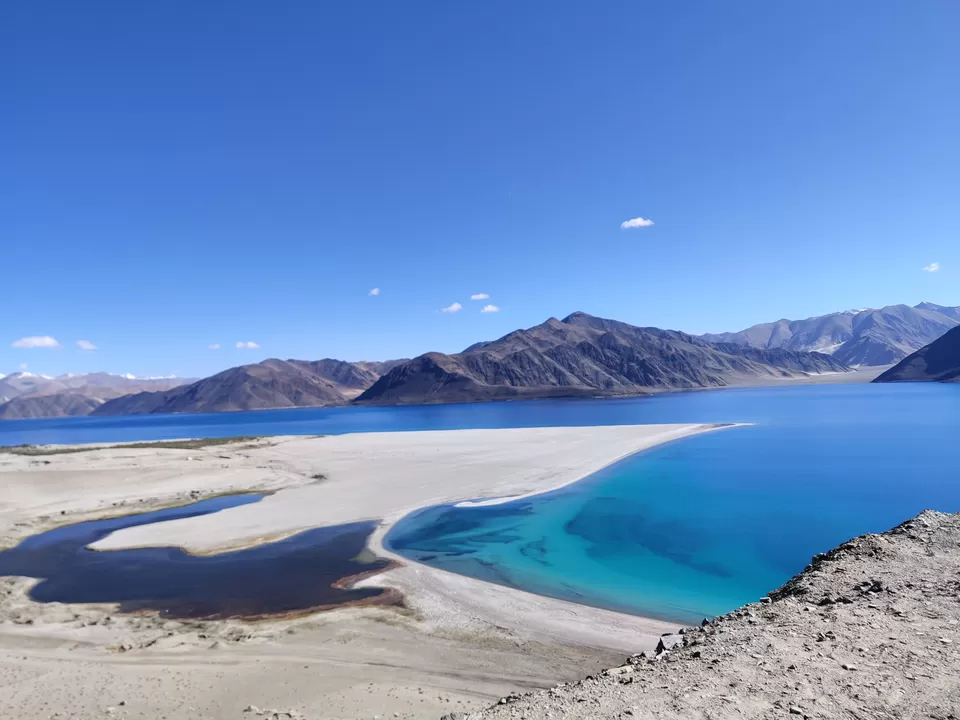 From Chusul it is proper off roading for at least 55-60 kms. We'll be able to get a good mixture of rocky, sandy, dirty, bad roads, no roads kind off terrains. There is not much of people traffic here along this path, but we'll be able to see military vehicles passing buy at times.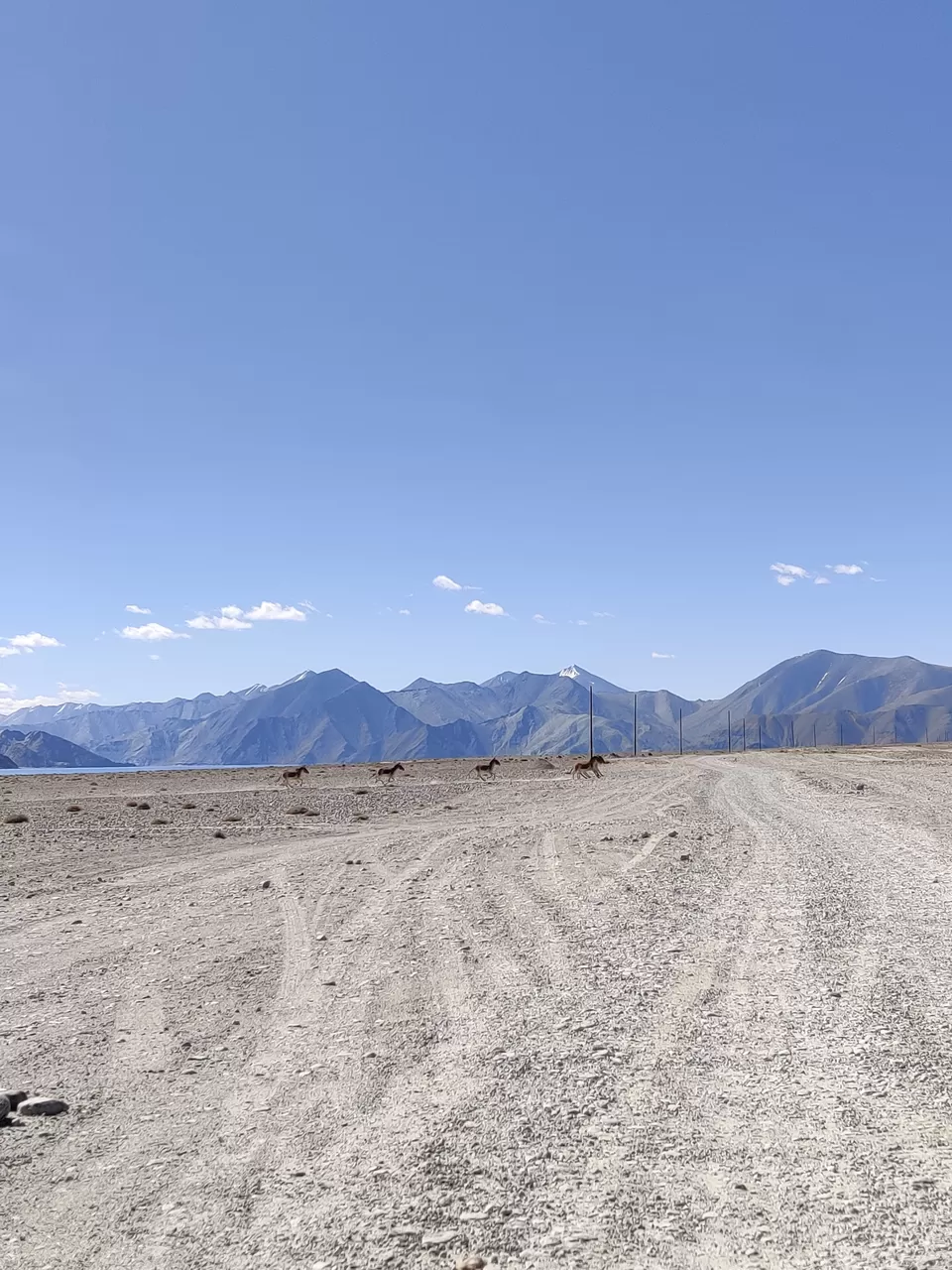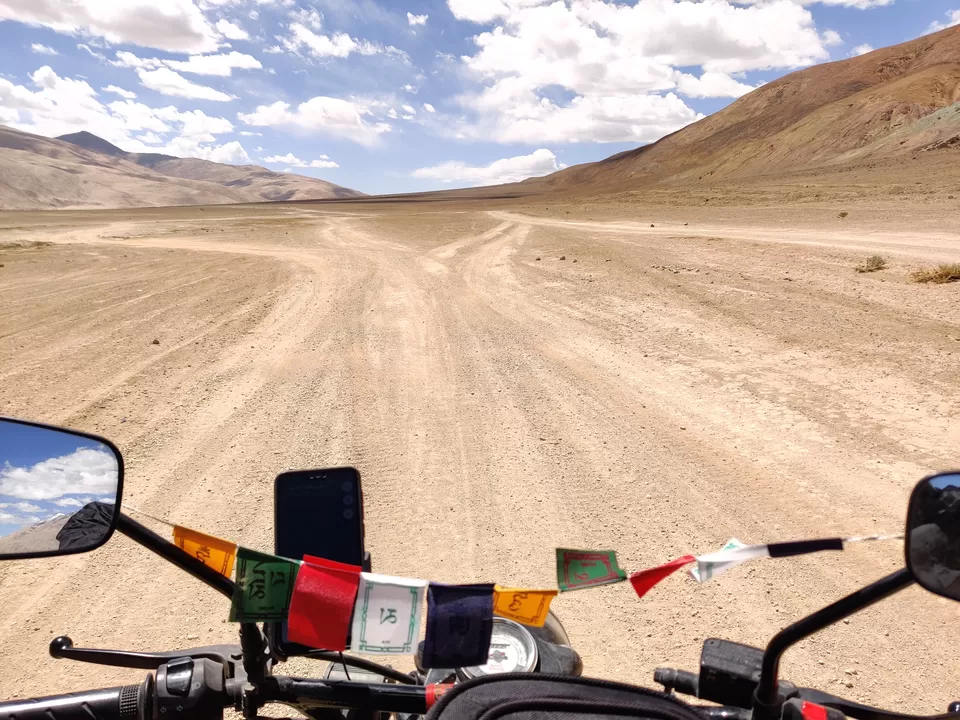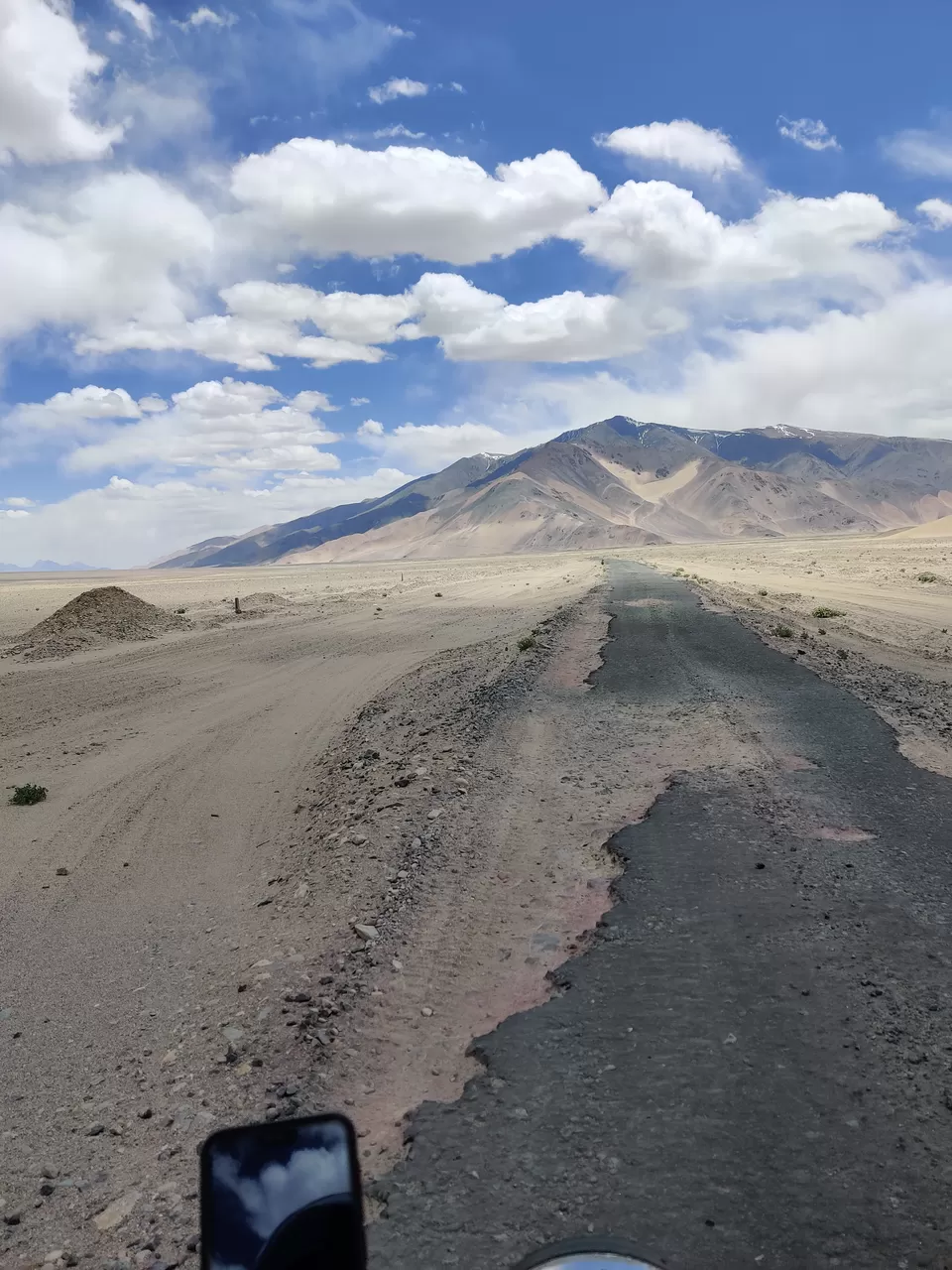 We just have a rough idea of the direction we are heading to and follow the trials. We'll be able to find some poles along the way as well as a guide. In this path between Chusul and Dungti there is Rezang La war memorial. In the middle of nowhere there would be this wonderful construction we could not miss.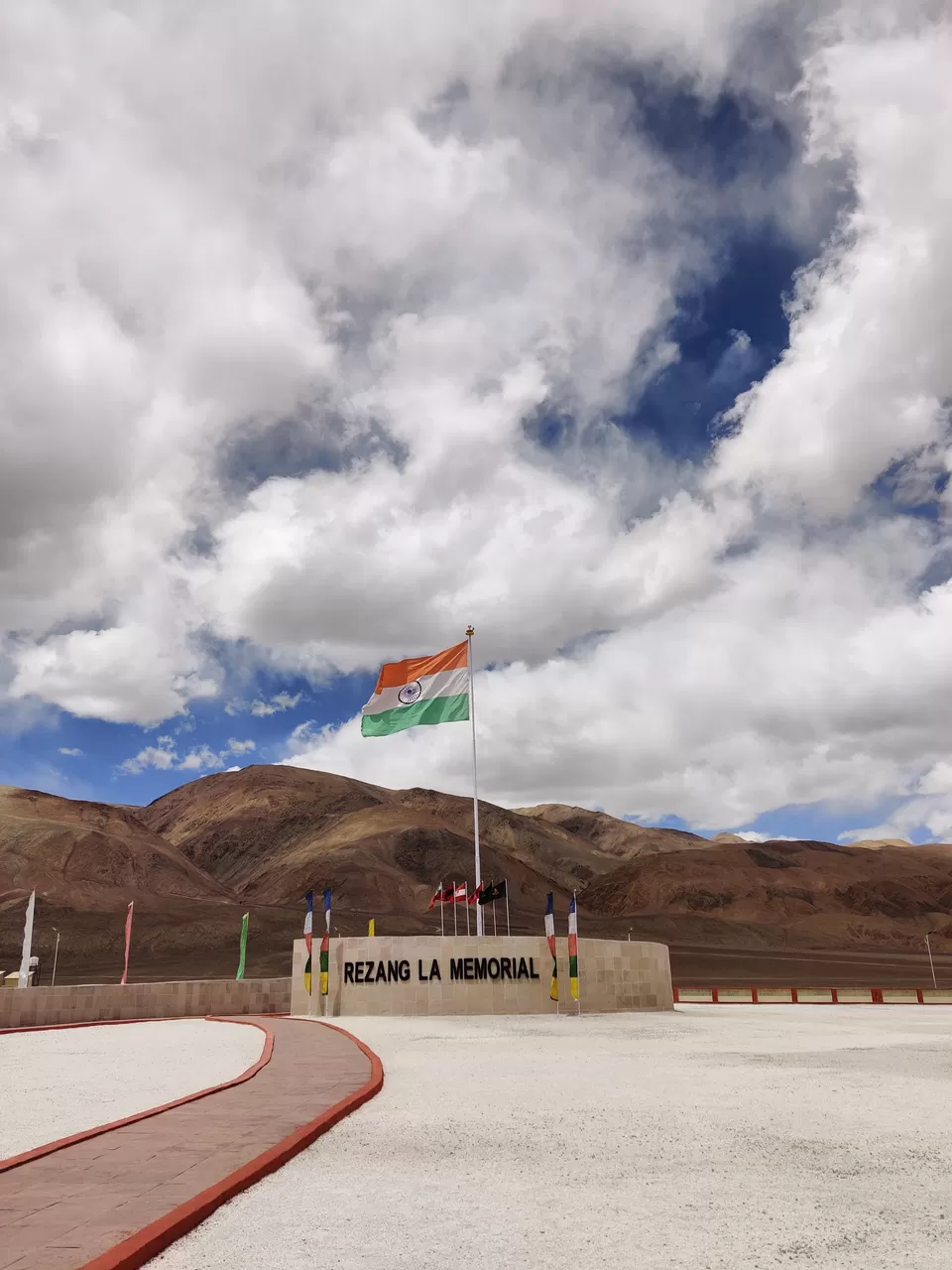 25kms before Hanle there is newly laid Tarmac road available. The landscape is superb road surrounded by mountain view. After every few kilometers there will be small dips along the way which is not predictable other than that we can have a fun fast ride in this stretch. Fewer vehicles that pass by and since the visibility is high we can go with confidence.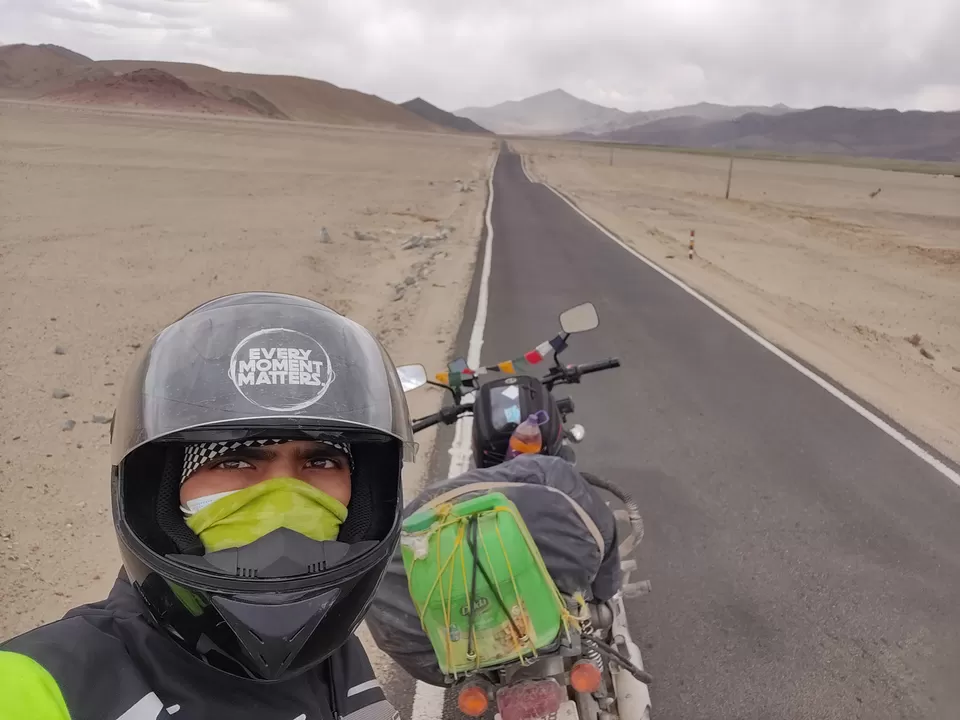 I reached Hanle around 3pm and my hunt for stay started. I visited most of the homestays in Hanle and no one had accommodation. Luckily I had one bed available in Padma Homestay, just a bed and small place to keep my bags. Padma Homestay is an wonderful place to stop in Hanle and pre-booking is necessary. In these regions the food is not fancy but you will be able to get roti, rice, maggi and bread omelet definitely. The owner is friendly and you can get Petrol here from the locals.
Made few friends in the homestay and we went together to visit the Indian Astronomical Observatory. They allow tourists to enter the observatory and they show us around. They would also give a presentation on the details of that place and what they do over there.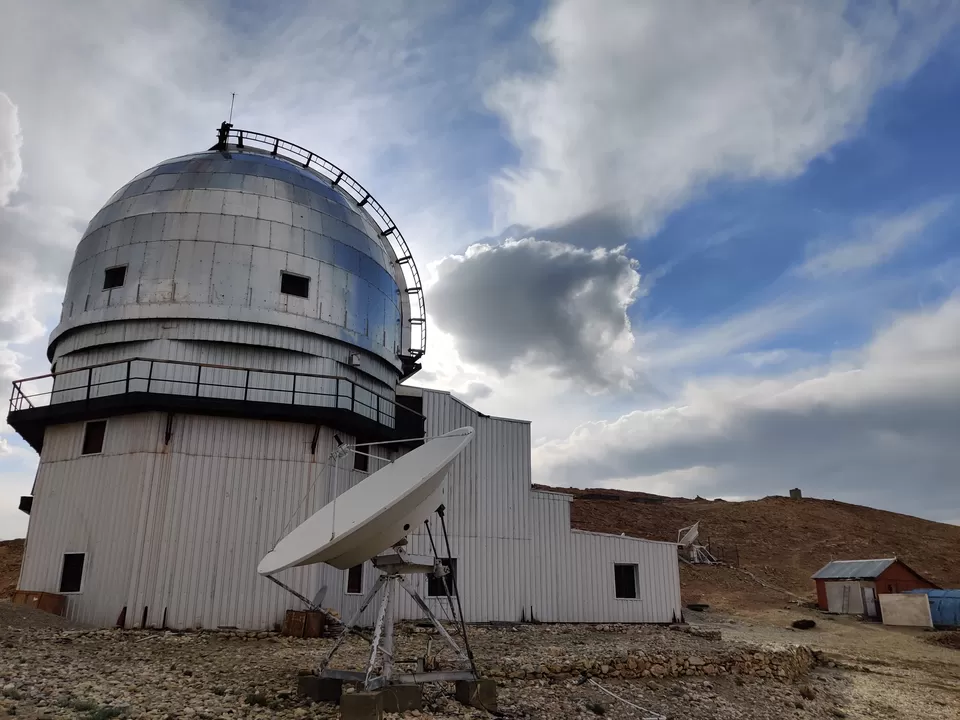 The next day we decided to ride Umling La pass together. There were some discussions going on to fire a guide to travel along with us, but it was not working out. We decided to start the ride early in the morning so that we could leave Hanle the same day after completing Umling La pass. The night went by there was not much stars in the sky .
Hanle - Umling La
Around 3am we where able to hear rain sounds through the window, but when I woke up it was snowing and children there were playing with it. It was good to see the snowfall covering the bikes and mountains like we get to see in photos and videos, but people over there started backing for Umling pass.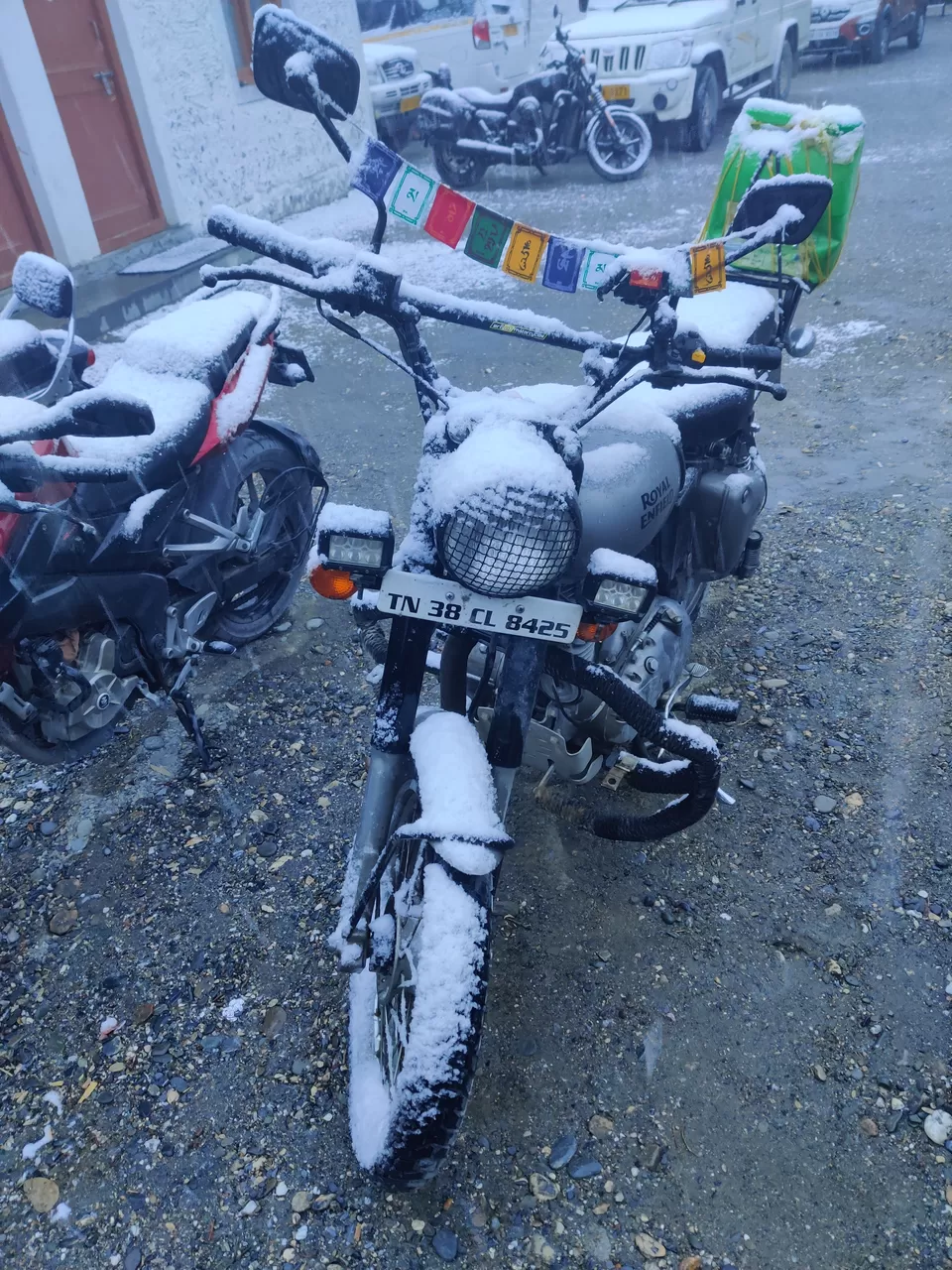 We started waiting for the sun to come up and melt the snow. People from nearby homestays dropped the idea of Umling La and they were packing to return back. We were determined to visit Umling la pass either today or the day after whenever it is possible. Had our breakfast and the sun started coming up but it was not giving us any confidence.
We decided to head for Umling La pass once the snow from nearby mountains melted down. There were two paths to reach Umling La, either through Nerbole or Photi La. We decided to take the Nerbole route since it was lesser time and everyone suggested to take this route. After 3- 4 hours of waiting we got to see 1 or 2 military trucks passing buy and we enquired about the route and they said the route was doable.
We started towards Umling La by 11:30am and after 10kms from Hanle it was pure off-roading for another 50kms between the mountains. We dint even come across one single vehicle other than ours. I had thoughts to drive crazily in these patches and have a blast because even if anything happens there are people riding with me to help me out. Initially it was tough for me, I had no confidence in this terrain and I was just going along with the group. I started hearing a small noise from my bike and I knew something was loose but I was not able to figure out what it was. I got this sound only on the off roading.
Once the Incline started towards Nerbole top my bike dint cross more than 20-30 in the speedometer, other people were able to do in their Himalayan and Ducati and we started to split up. I was holding back the group since hey had to wait for me after every incline and I asked them to wait for me only if there is a big deviation in the path. We'll be able to get Tarmac roads from Nerbole till Umling La . Nerbole top is in 17K some feet and I decided to take photo on the way back. We have to descend from Nerbole top and ride few kilometers and then start climbing again towards Umling La which is around 19K feet.
So we gathered back at the base of Umling La and I asked them to go ahead because I know my bike will ascend very slowly. It felt like it took me forever to reach the Umling La Top. The people I came along waited for me in Umling la top, but they had to leave since it started snowing there and they were not able to stay long enough. Now this again became my solo ride. It was windy and started snowing when I reached the Umling la top and there were only 2 more bikes there who were about to leave. Ofcourse I had to click some pictures no matter what and I was shivering while the other biker clicked my photos.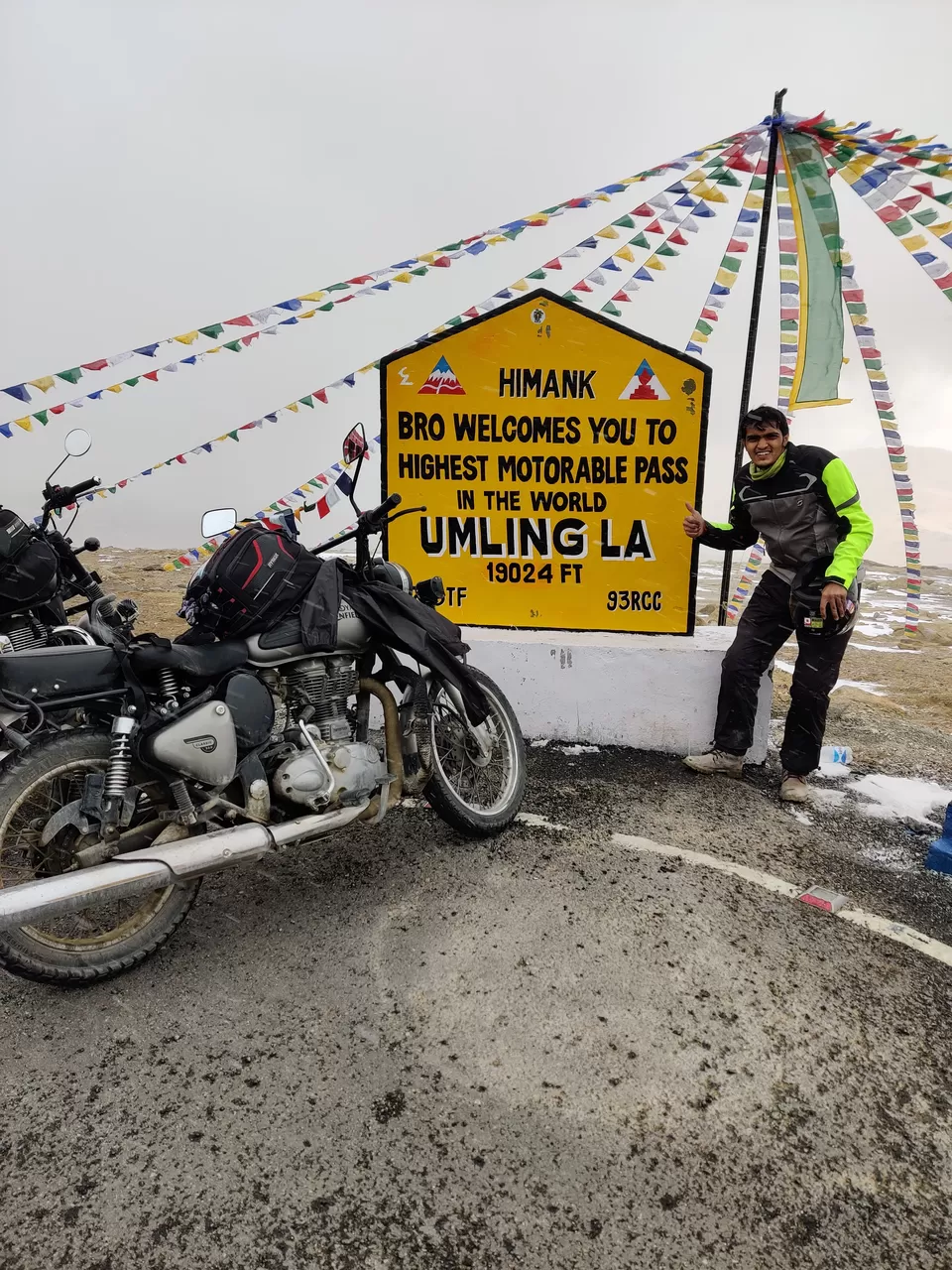 My hands were freezing and the snow fall started to increase and I decided to wait it out. There was a small eatery in the Umling La top and to get some warmth I ordered a tea and Maggi. I dint want to have Maggi in this whole trip, but here I had to because I had no option. I waited for 30-35 minutes while the snowfall started slowing down and it was not windy. I decided to reach Hanle through the same path I came. There was no sign of rain at the base of Umling La, but when I started to climb back nerbole top it started raining and that turned to snowfall after a while and it became something like a snow storm while I reached the top. I stopped on Nerbole top to take a video but the wind was too strong and my bike leaned over. The 50kms off road patch was the next concern in mind, if it rained there then it would become slushy. I decided to return back Hanle as soon as possible.
On the way back I was no able to see the road and the visibility was less. Helmet visor got covered up with snow and If i kept the visor open the snow and wind on my face was to chilly. I had to wipe the snow off the helmet visor every 4-5 seconds and it was a daring ride for next 8-10kms. After a while I came across a Military jeep and I stopped them for getting some direction and to know about the weather ahead. They were kind enough to stop and let me know that it had not started to rain in those regions. To my luck after 2 kms there was no rain and black clouds were about to cover the area. Next thing I had to focus was the amount of daylight left to cross this off road patch. If the sun goes down then it would be very difficult to ride with the bike headlight and fog lamps. Nothing would be visible for next 50 kms since it is in between mountains. It was already 5:30pm and I took the correct turn for the Off road patch. I don't if it was the fear, but I had absolute fun in the off road patch on the way back. I was driving crazy fast and having a lot of fun since I had nothing to loose. Either my bike breaks down and I have to start walking back or ride slowly and might even get lost when the sun goes down. But I had absolute fun riding this route. I had my peace when I got near Hanle around 6:20. I reached my hotel by 7pm and there was still some daylight left. the people who accompanied me were worried and they were happy to see me. It felt like I did something adventurous today and it was a great feeling.
I don't know if this counts as a daring thing, but it felt like one.
The homestay was filled with new tourists and a group of people from my hometown were there (These are some business men and women who do Ladakh ride as a ritual every year - they wanted to try Umling La for the first time) and we had a nice time sharing stories and having fun.
I checked my bike to find out where the sound was coming from and I dint get any at that time. By this time I knew I have broken something in the bike but I dint know what it was. Plenty of stars were visible that night and it was very good to look at those stars, but it would have been better if moon was not there.
Hanle - Karu
After saying good-bye to all my fellow travelers, I started from Hanle. It was a bit cloudy there, but I thought it would be ok after few sometime. I had idea of stopping somewhere in between Leh and Manali after refueling at Karu, so I had plenty of time in hand as usual. The clouds started covering up and it started raining for few kilometers and it was chilly. After few kilometers my number plate was dancing on a single nut and one of the army soldier pointed me that. After few kilometers I again started hearing the noise from the bike and this item it was pretty obvious something is broken (I knew something is going to break when I rode back from Umling La). I stopped my vehicle and I saw my rear mudguard broken and hanging for its life. I had few zip ties and secured the mudguard as much as possible and started searching for a workshop. the next big town that had a workshop was Karu and it was 50kms away.
I had a fearful experience on the way. There was a small under construction road patch where the water was clogged. The water was very dirty and I was not able to judge if there was any big pothole in between, so I decided go along the edge and there was a small gap where my bike got stuck. It would have been better if I had an photo but I'm adding this here just for my memory's sake.
From Hanle to Karu it is mostly new tarmac roads and few places were under construction and those were only the only rough patches. I started riding slowly in the rough section and reached the workshop in Karu without loosing the mudguard. Since Royal Enfield was full metal I was able to weld and make the parts stick together. But the guy dint do a good job and I had problems with this mudguard after this as well. I Found a found stay just opposite to the workshop and had a good hot bath after few days.
Karu - Manali
From Karu to Manali I came across few passes which would be familiar to people who ever read this article till here patiently. I'm sure you would have come across those names in other youtube videos and blogs. All the high passes were snowing by the time I crossed. This route had fair amount of good and bad roads. Once I crossed in to Himachal, it started drizzling and the area was completely covered with dark clouds. Only after entering into Himachal I was able to see some greenery and it was good to see some green colour.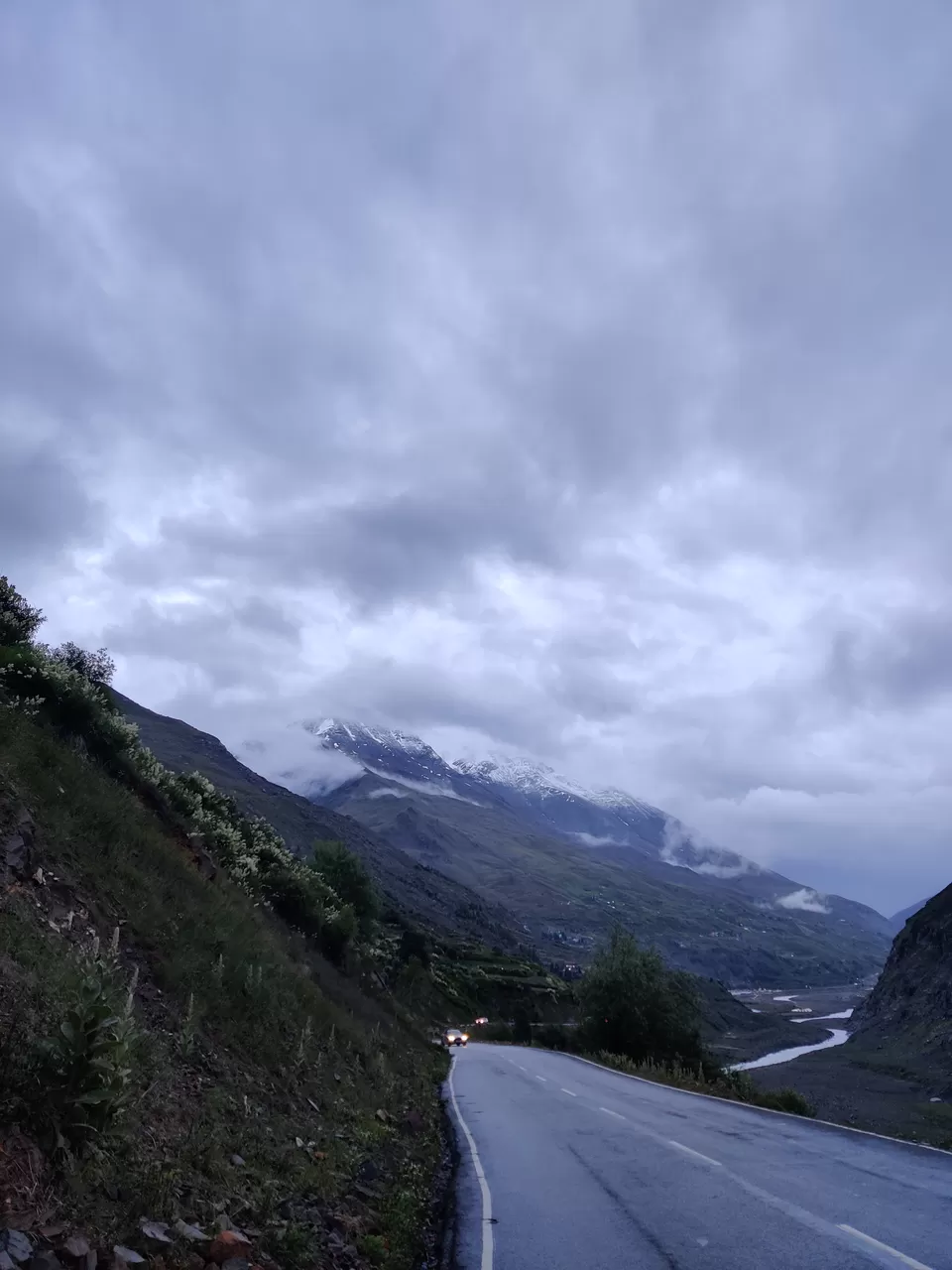 Luckily I had some time off from rain when I was near Atal Tunnel and I was able to click some photos in the dark. On the other end of Atal tunnel it was raining and it was pitch black. No street lights, no visible light from nearby town and it should have been like that for 5-10 kms. When I came near Manali I was able to see half of Delhi and Punjab in there. Most of the hotels were bookend and only few high end ones were available. I booked a hostel for 2 nights, hoping for the weather to be nice next day so that I could visit few places.
It was still raining the next day in Manali. I just stayed in the hostel drying my things. It became more of a chill day for me, got food from nearby restaurants, had chat and watched movies with other travelers in the hostel. As soon as the weather as little bit clear I was able to fix some of the problems in my bike with the help of a local mechanic. Had a walk through the Manali market and tried their local food (Siddu). It was a thicker version of Momos but I dint like it much.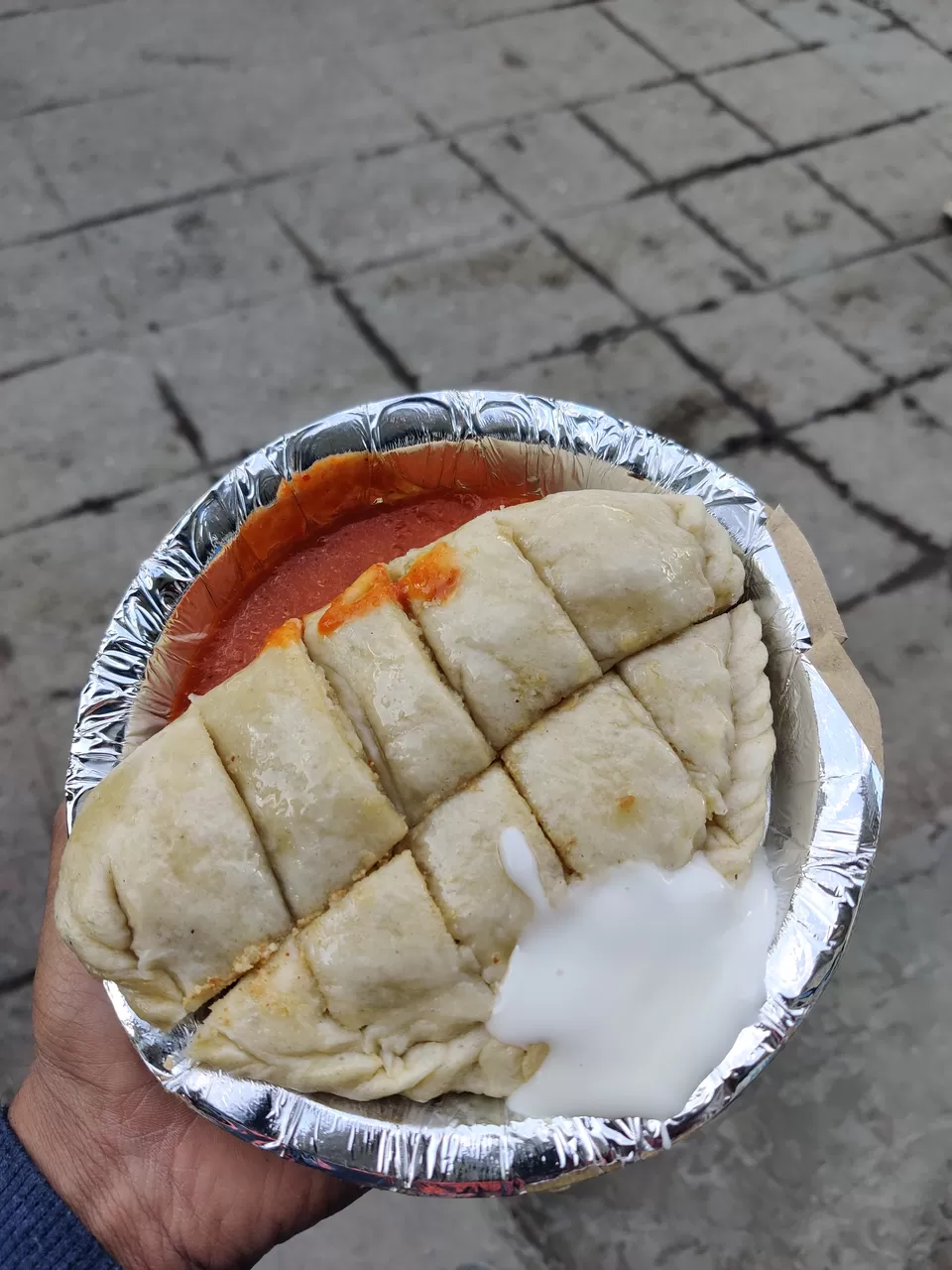 Checked the weather forecast and the rain was supposed to continue for another week and so I decided to leave Manali the next day and explore this place next time. It is also good to leave out few places for you to visit next time, but also there is a good possibility that we'll not be able to visit again. Lets see what happens.
I decided to enquire about stay and other adventure activities available in Rishikesh. I thought of making reservations that day so that it would be available when I reach there. Unfortunately the place I decided to book which had good google review dint pick up the phone and so I decided to take chance once I reach there.
Manali - Rishikesh
When the rain stopped I left Manali early in the morning hoping to reach Rishikesh or a nearby place. NH3 Highway was good. The sun started shinning and there was no signs of dark clouds. In this part of India I started to see most of the houses near small hills. It is not a normal view for me and it was nice to see this pink and green buildings throughout the way.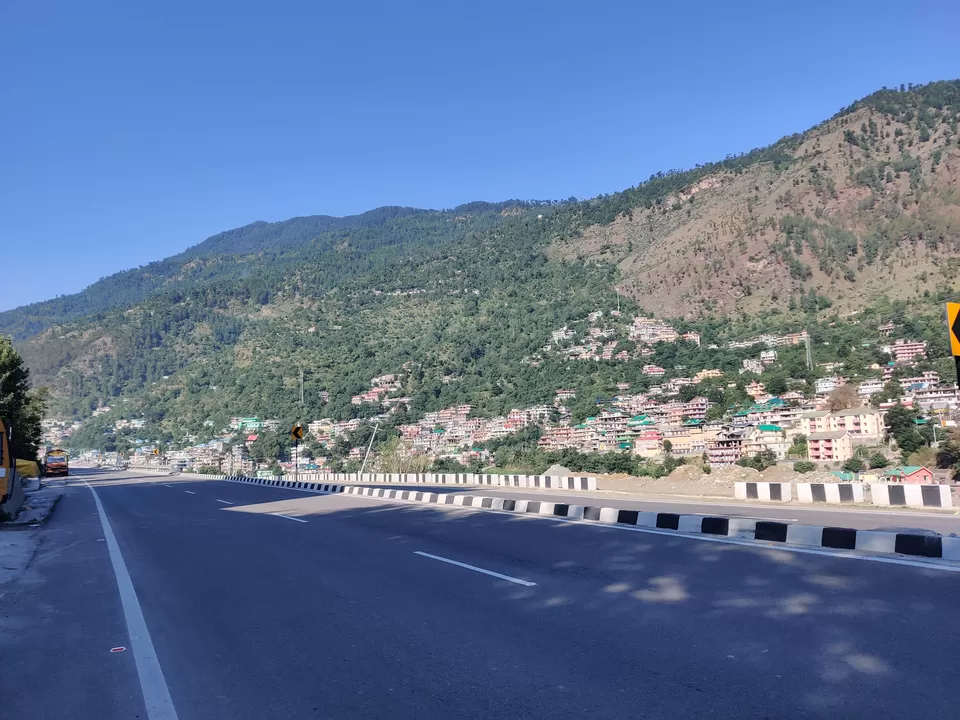 Most of the part was descending from a higher altitude and suddenly and my rear break dint function. Luckily I was able to find that before something serious could happen. I somehow managed to do another 40kms to the nearest Royal Enfield showroom. Royal enfield and few other old brands had showroom/service center in most of the places, which could ease our minds if we have a breakdown. My break fluid pipe was cut and most probably this would have happened on the way to Manali. Even the technician was surprised to see this pipe cut since I had my engine guard covering this area. The service center dint have any new pipe for replacement but somehow they adjusted with the existing one and fixed the issue.
After this the roads where just in and around few small towns, nothing much to complain nor praise. Old functional roads, few landslides along the way and I reached Rishikesh by 7pm. I was not able to locate the camping ground where I wanted stay. I found some other hotel in the city and crashed there for the night.
Rishikesh
The next morning I was able to get in touch with Glacier Adventure company. They offer a pretty good deal on Stay and River rafting. So I decided to stay in their facility and booked for river rafting. River rafting and bungee jumping are the two main adventure activities to try in Rishikesh. Glacier Adventure offers a place to stay including food and river rafting as a package, which was a good deal for me. I reached their camping place and got myself a tent room and had a good breakfast.
There were few guys from Surat in that place who were about to go for river rafting and leave Rishikesh after that. They should have been mostly my age and I was able to interact with them. I went to river rafting with them in Ganga river and it was absolutely a great experience.
The bungee jumping place was closed that day and I was not able to go there. later I visited the Ram & Lakshman Jhula . I spent the evening chatting with the manager of the camp site and other locals. I got to know that the rooms would be mostly booked and costlier near Kedarnath and Badrinath and so I decided to book a hotel for the next day in Sonprayag.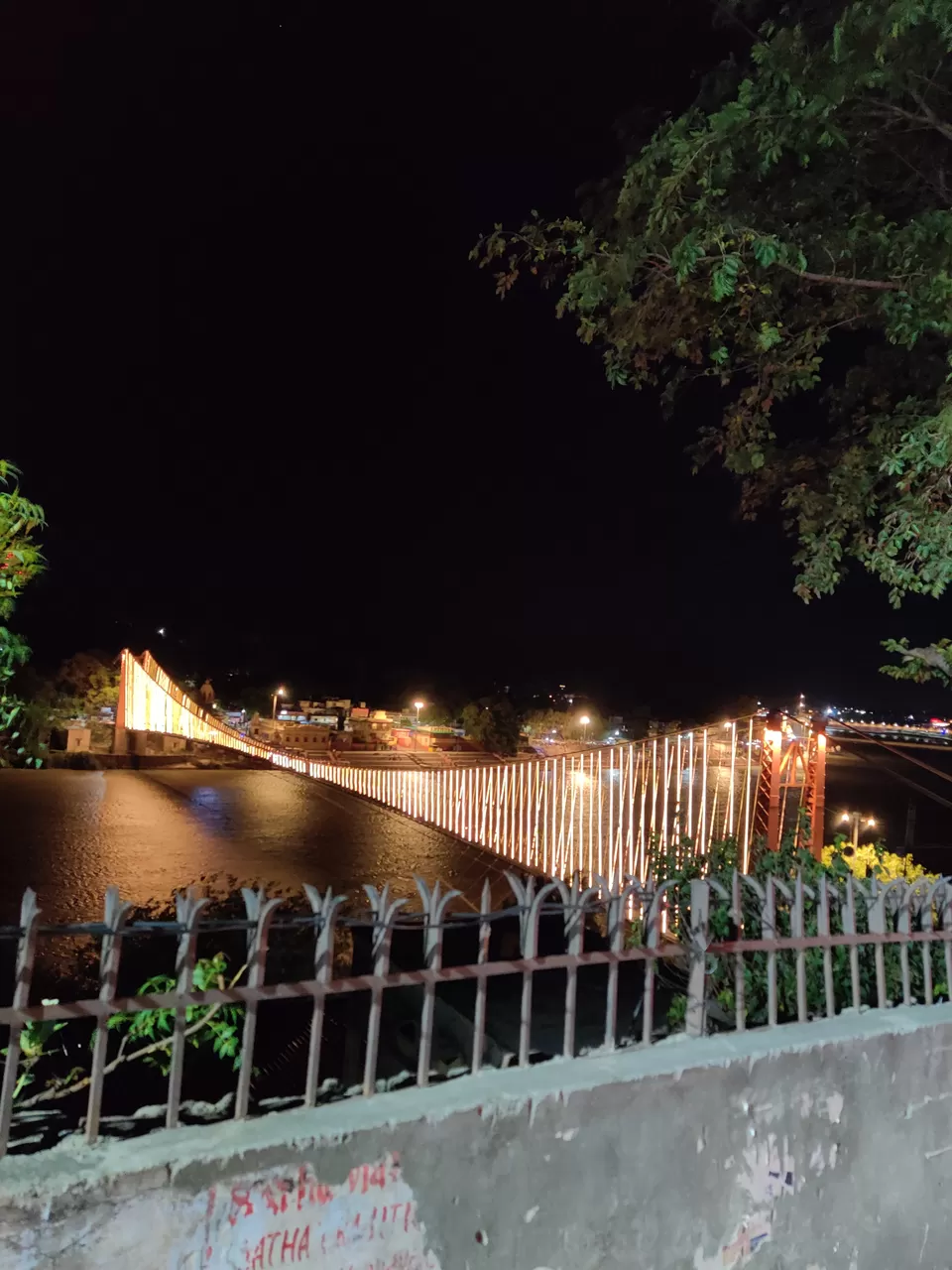 Rishikesh - Kedarnath
I planned to do Bungee jumping and then leave to Kedarnath. I went to the "Jumping heights" before their opening time to book a ticket and unfortunately it was completely booked and I was not able to do it. He asked me to wait till evening and he could try to get a slot for me. That was not happening and I continued my ride towards Kedarnath. On the way we would come across a place called Rudraprayag where we could see the confluence of two rivers which forms the Ganga river.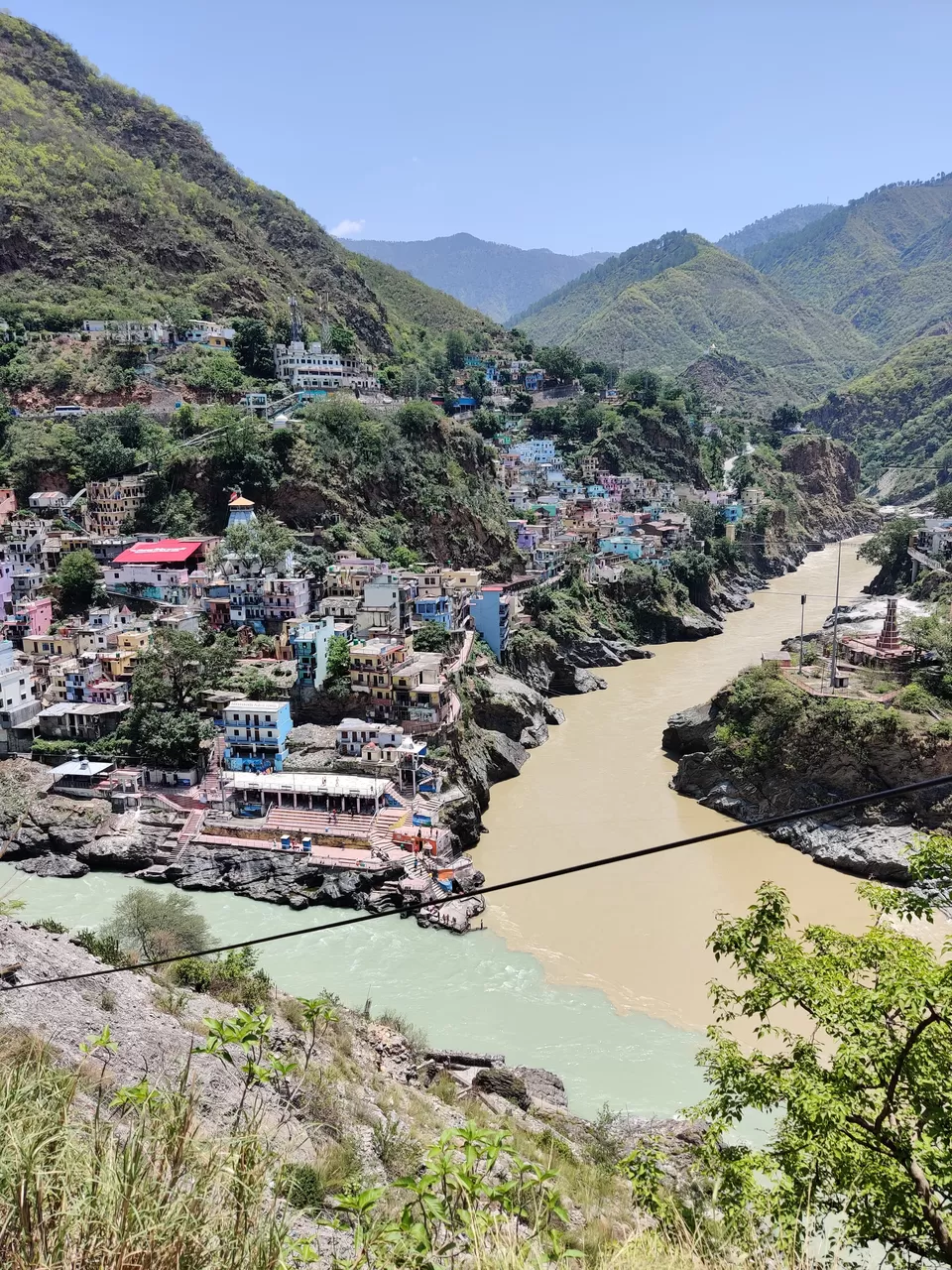 One more thing I noticed in these places where people stopping along the road and taking a bath if they find a waterfalls. Even in south there are people who would stop at a waterfall and take a bath but its not hat common. Here, where I see water pouring down a hill there would be a car/lorry near it taking a bath. I found that little bit funny.
From Kund till Sonprayag the roads were mostly bad roads and the remaining parts were ok. Based on the youtube videos and other information available online, I decided to book helicopter tickets in the Phata ticket counter, but it was not available. For some reason they had closed the ticket booking. I stayed there for a while in the counter trying to get a ticket somehow, but they refused and many people started gathering and staying near the counter hoping to get a ticket.
If you plan to visit Kedarnath, reaching the temple in a helicopter is the most efficient thing to do. Plan to book your tickets 2 -3 months prior on the government website. Planning to go on a horse back is going to be costlier than a helicopter ticket. If you want to go by walk then you can do that as well. Since I dint get any ticket I decided to find a horse the next day. I went to Sonprayag where I had booked my hotel through OYO and I was not able to locate the building. After 1 hour of talking with the customer care and trying to reach the hotel manager I finally found the hotel and the property owner was very helpful. I stayed in Hotel Shivaay and the property is very neat and I would recommend this place if you are planning to stay near Sonprayag. Since the cook was not available at that time, the property owner made some arrangements for me in a nearby hotel. The property owner shared the details on how to visit the temple and it was very helpful.
I planned to visit Kedarnath temple and return back to hotel on the same day. I was not ready to hike and reach the temple since I wont have time to rest during the travel or stay back for another day. I left the hotel by 5:30 am and Sonprayag parking place was about 4kms from my hotel. From Sonprayag you can reach Gaurikund by either walking or through local shared cabs. After standing in the queue for about 30 minutes I was able to get an taxi and I reached Gaurikund. We'll be able to reach the hike start point after 1-2 kms through this place. At the start point we'll be ale to find the ticket counter for pony rides. Although the set government price for the tickets are only 2500 no one will accept this rate there.
During my travel the 2 way helicopter ticket price was around 5000 and the government set ticket price to ride on a horse back was 2500. The people at ticket counter asked to bring the id card of the guide who is willing to take me on his horse so that he could issue an ticket. No guide was ready to take people up with the ticket price and they were charging people 6000 for a one way ride. Once ticket is bought you have to pay extra money to the guide to take you up. With the minimal bargaining skills I had, I was able to convince a guide to take me up.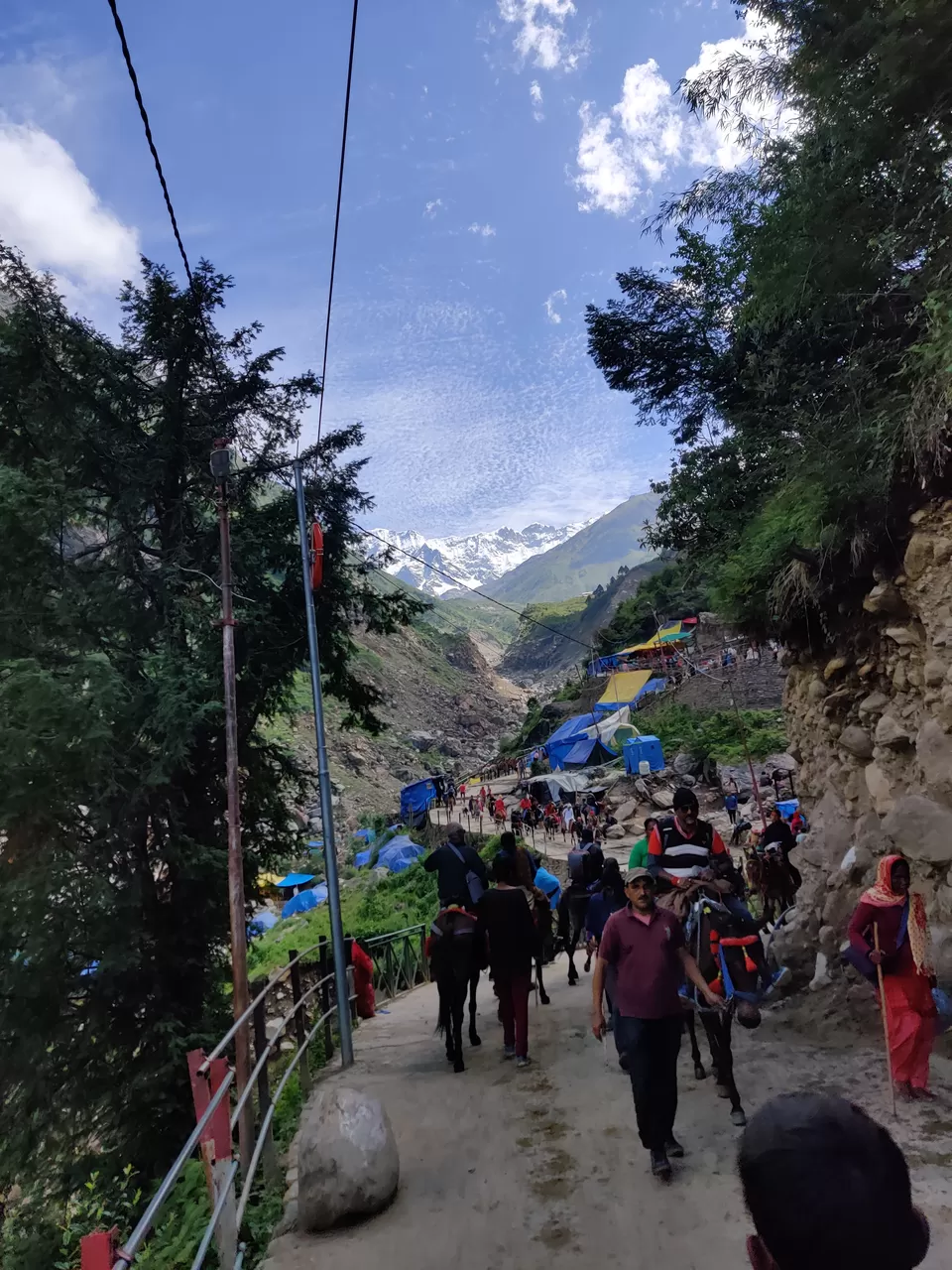 These local horses were small in size compared to the ones I've seen in my life. Few of the horses were struggling to carry the people and most of the horses that were getting down slipped. The horses had to endure lot of beatings and curses from their guides. The scenery was absolutely amazing and since it was early in the morning the weather was pleasant too, except for the paths that were filled with horse dung. I completely agree to the fact that horses are capable of carrying people and it is not cruel to sit back on a horse. I specifically asked the guide not to beat the horse and to a extent he dint beat the horse and I would suggest you to request the same if you are planning to ride on a horse back. After seeing those horses slip I decided to walk back down.
After 4 hours of ride on a horse back, I reached the temple around 12pm and the line to darshan was considerably small. In less than an hour I was able to complete the darshan. Near this temple there is Adi Shankaracharya Samadhi you can visit, that I missed.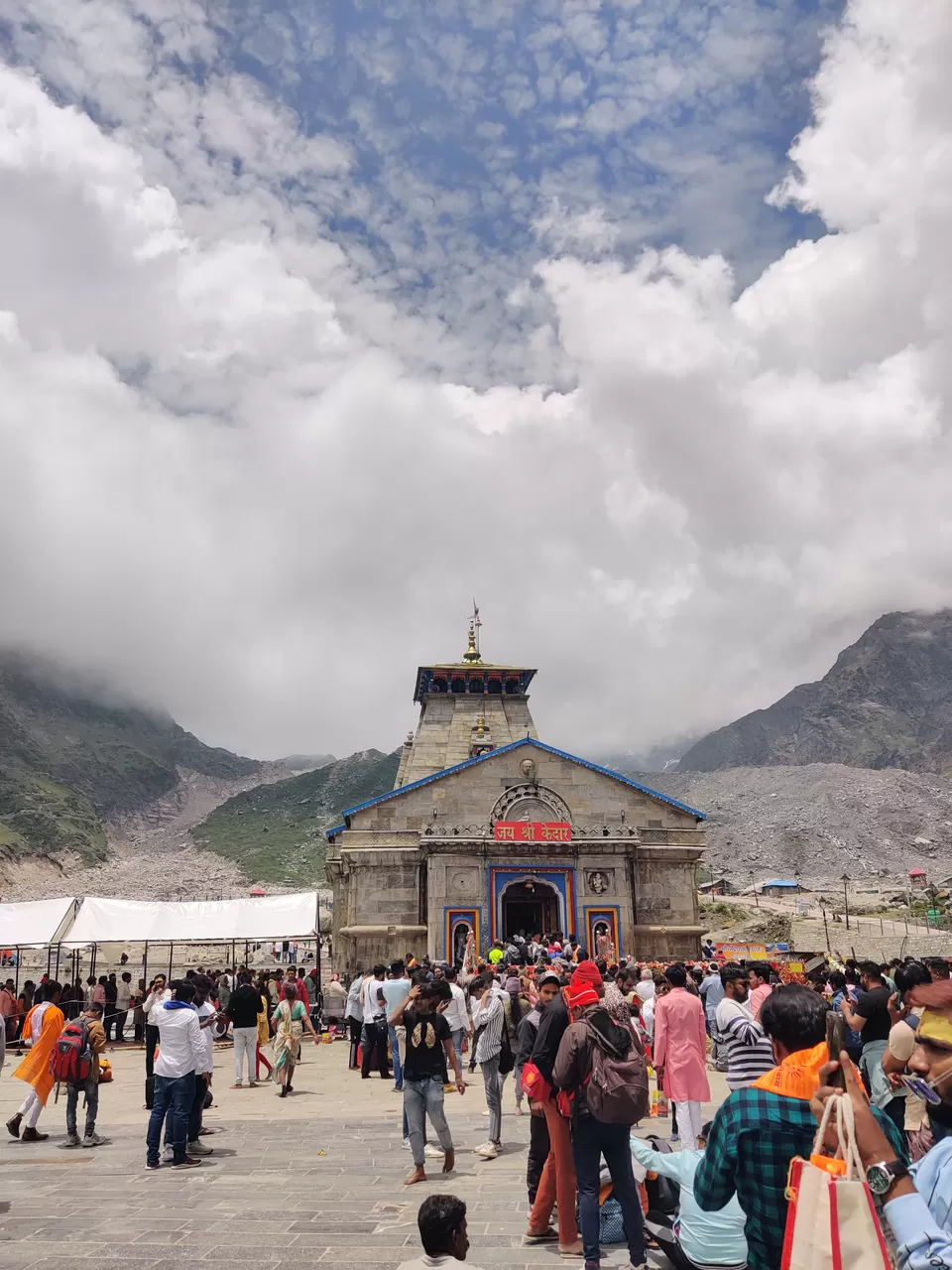 Many people were taking a bath in the nearby falls which is considered to be holy. I started walking down towards Gaurikund which is supposed to be 16kms. We'll be able to find many eateries along the way and try to carry a descent amount of cash with you since the products are costly here. After 8-10 kms, it became cloudy and it started to drizzle at some parts. Landslide is the most important concern when it starts raining in Uttarakhand. Fortunately the drizzle dint last long. The last 3kms was not coming to an end at all. I felt like I was walking more than an hour and still I dint cross 1km. Finally I reached Gaurikund by 4pm and waited in the taxi queue for 45 minutes and reached Sonprayag parking place.
I reached the hotel and took a nice hot bath. Had a long chat with the property owner for the rest of the evening till dinner and I slept in early. I felt my legs were little warm due to walk and I was not that tired since I dint hike uphill towards the temple.
Kedarnath - Badrinath
I planned to get up early and start my ride, but I overslept because I was tired. Started my ride 8am finally and wanted to cross these bad roads till Kund before the road gets busy with buses. On the way again my rear mud guard broke and I had to stop in a welding shop to fix it. From Kund to Chamoli the hill roads were exciting to ride. There was not much traffic in this path and this route had so many twists and turn that I loved riding on a bike. It is like we have to climb a hill and descend down. In between, the roads were damaged and bad other than that turns were very cool. Before riding down hill, I dont know if it was mist or clouds, but that section was also to nice to ride through. You must definitely try this route if you are going on a bike. The roads are a bit narrow and have to be careful.
I reached Badrinath by 3pm.The place was crowded. I decided to finish the darshan and leave Badrinath, so I rented a room for 2 hours to keep my luggage and finished the darshan . I decided to stay in a hotel on the way back and I was riding till 7pm and I dint come across any decent hotel.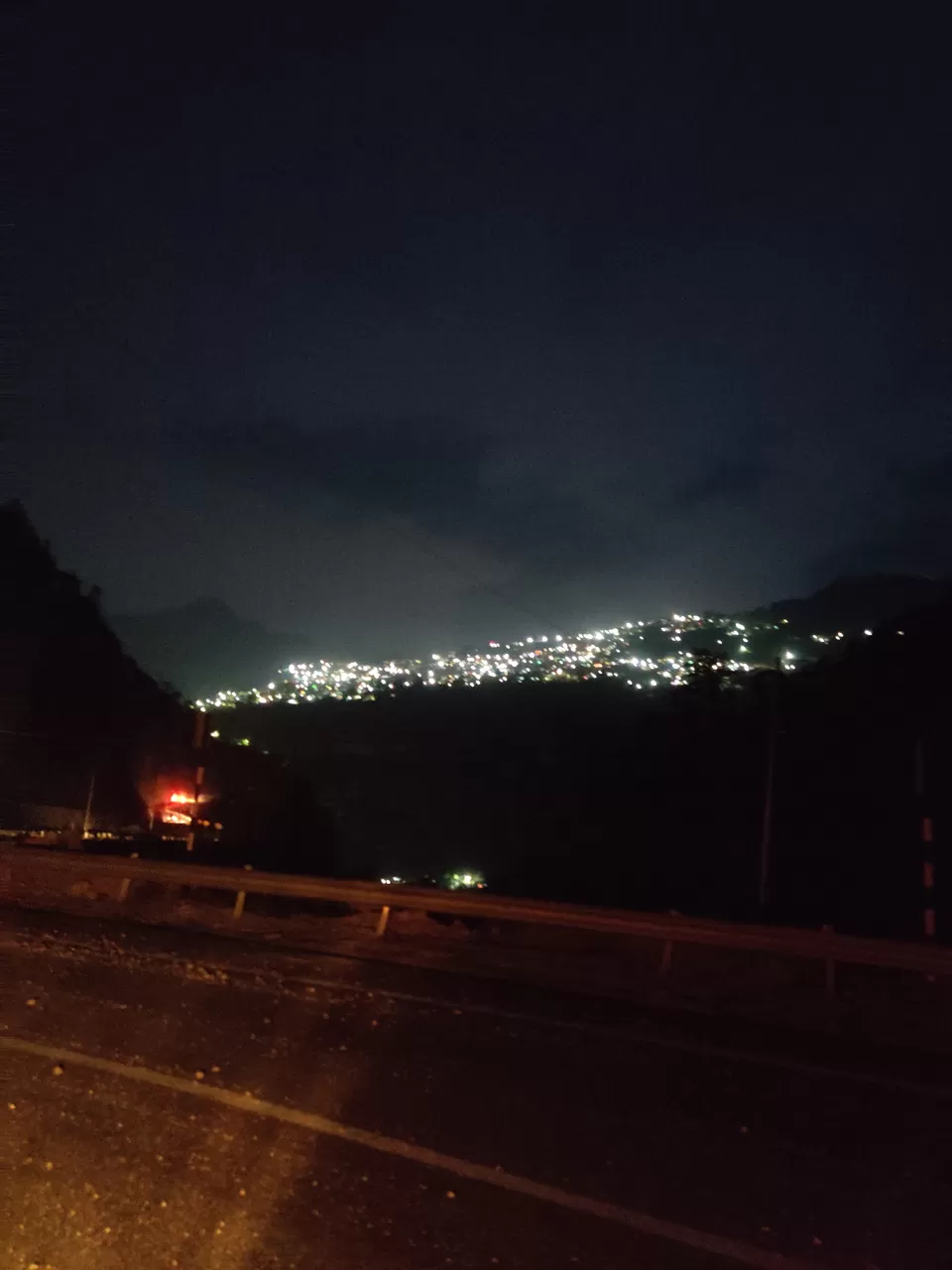 Most of this hill regions dint have any street lights and they where completely dark. Only when there is a town nearby we would get to see some light. In one way it is better to judge the opposite vehicle with their headlight, but the roads where not that good and have to be careful.I stopped for a bit and found a place through OYO and stayed in Karnaprayag.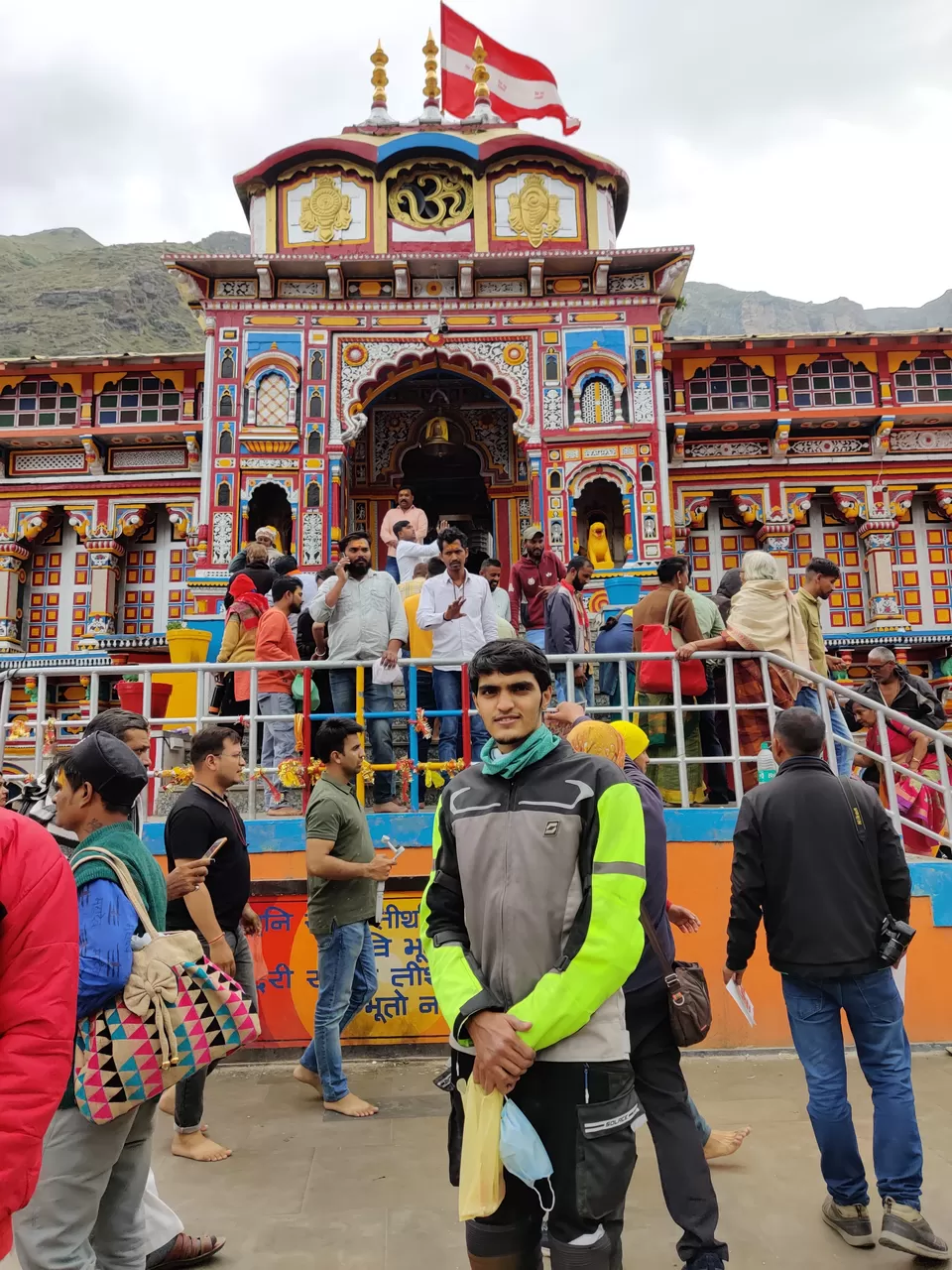 Karnprayag - Banbasa
From Karnaprayag I decided to touch Nepal and head down south. The roads where too narrow for a highway. I know this is a hilly region with lots of bends but the roads should be little bit wider. It was just enough for 2 bikes. In the turns there was no space for even 2 bikes to cross at the same time. I can say this was the most irritating road I've been in the entire trip. In these roads the opposite traffic was completely of lorries and cars. Every turn I had to be extra careful. After 30kms through this route I had a fall in one of the bends. Luckily the opposite vehicle was not a lorry and it was a car. I wanted to give him some space for the turn and I went too far towards the edge and slipped. I had all my gears and this resulted in a small tear in my riding jacket and a bent brake lever. After this incident I stopped in a hotel to have some breakfast. I thought of having bread and omlette but went with aloo paratha. I must say if I was sure that there wont be any opposite traffic in this route, it would be super fun. Still I enjoyed the bends in this route. Till Haldwani it was completely filled with twists and turns. I think Haldwani is where the hill region ends and the plains start. It was almost 3- 4hours of continuous hill roads with lots of turns. The aloo paratha that I had mixed with these hill roads made me somewhat feel bad like motion sickness. I decided not to eat anything for lunch and decided go with just fruit juices. I think the problem was that I crossed this route fast and may be I would have felt better if it was done slower.
The moment I reached Haldwani saw the first juice shop and had variety of juices. The shop name was "Juicewala" and it was a bit costly for a fresh juice. The owner was there in the shop and he was happy to see a traveler and shared his travel stories and nearly an hour went there talking to him. The owner was very good and he treated me treated well. I continued my journey towards Nepal border and I started feeling humid maybe because I was in a colder climate for the past few days. I reached a small town called Banbasa and decided to Stay in Nepal that night. I went towards the border and a Nepali biker saw me helped me till the customs office. On the Indian side of the border there was heavy checking. They completely checked all the vehicles including the luggages, but on the Nepal side just had to show the permit when we are crossing after the customs office.
After reaching the Customs office I decided to get the import permit for my bike and head back to India for the night so that I can cross Nepal the next day. I wanted a click a good photo near the border and since it was nearly 5 when I reached border and I was all sweaty and dint feel good for a photo. There was a small currency exchange at the border and got few Nepali currency and also the import permit fee has to be paid only with Nepali currency.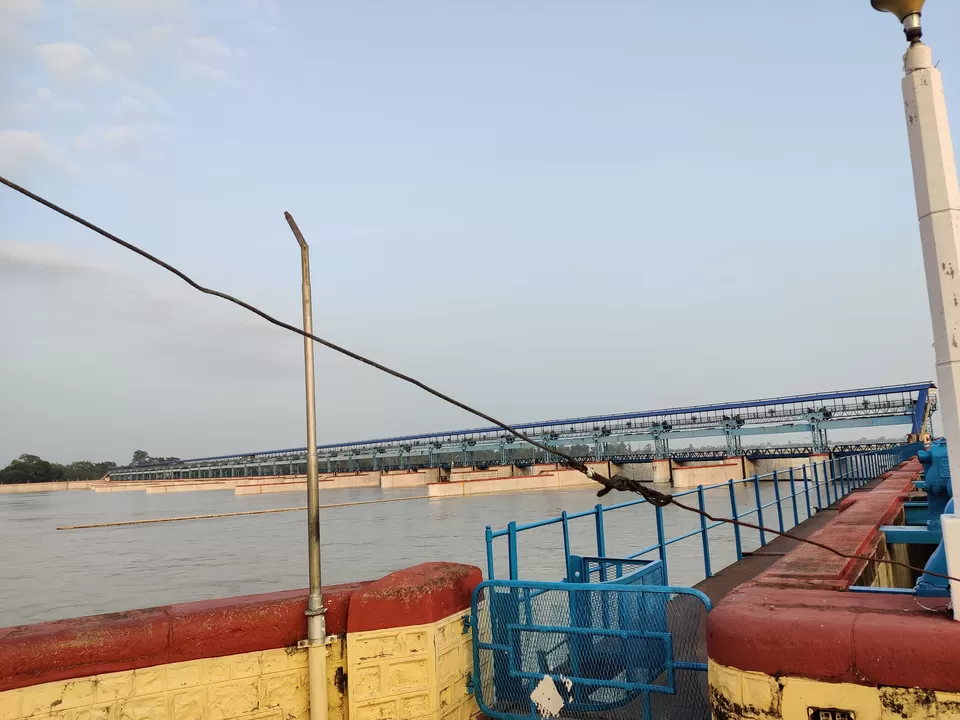 I came back to Banbasa in India and found a marriage hall near the border to stay for the night. There was a small dhaba near the marriage hall where people come to have food with their drinks and it was not that bad. I dint have the mood to take my bike and go far to find a hotel and this place was good enough.
Banbasa - Lucknow
The next day the rain started pouring heavily and my idea of taking a good photo got poured along with that. I waited for the rain to slow down and I left from Banbasa towards the border. As soon as I reached near the border it again started raining heavily. Again there was checking in the border and I felt the BSF people where rude.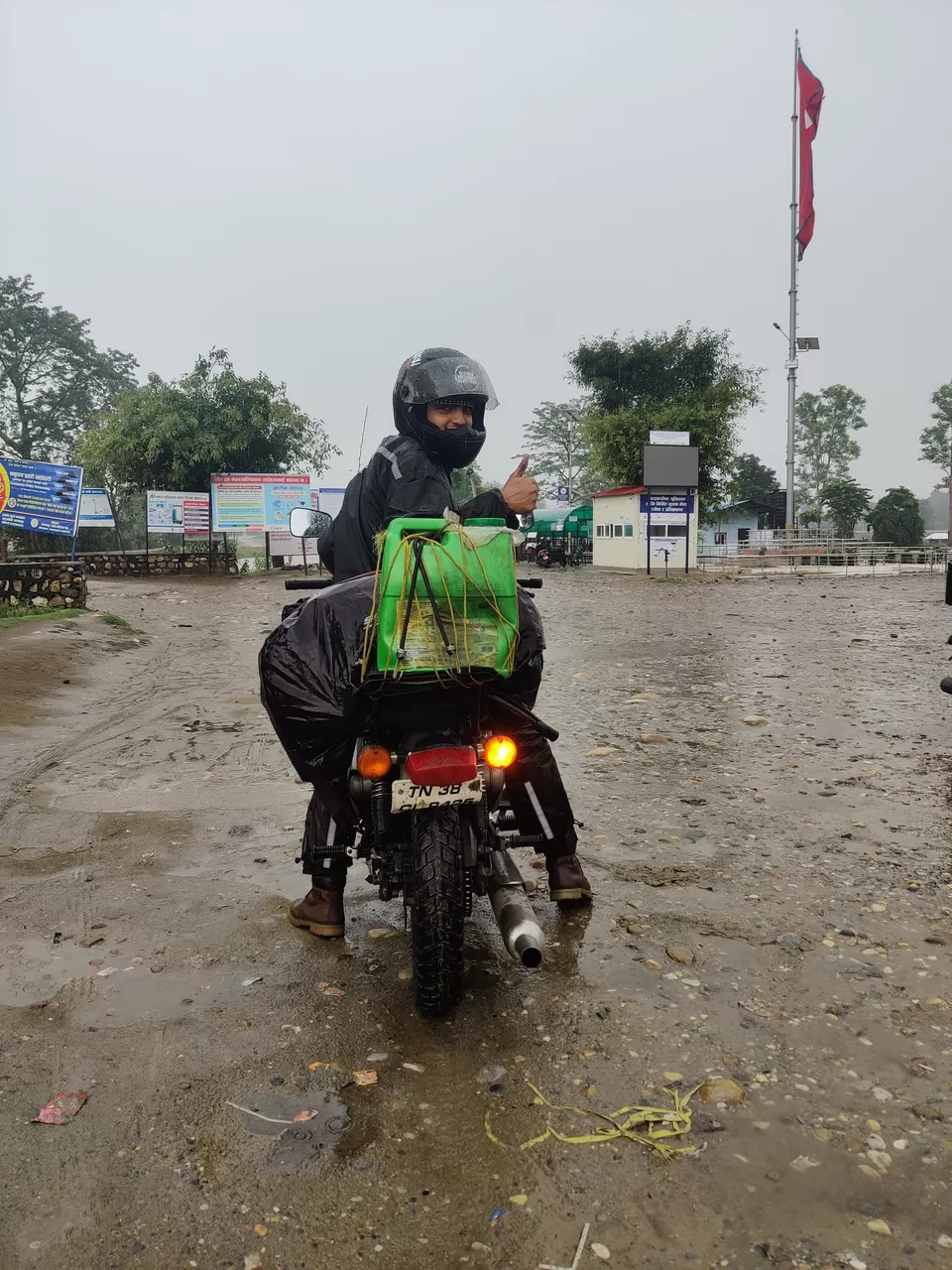 The border was connected directly with HD01 - highway and it was mostly village type area throughout. After 20-25 kms inside Nepal the rain stopped and it was dry. The Nepal highway that I rode was decent enough and it was not damaged completely. I headed towards Lucknow through Dhangadhi. Even when entering India there was checking on both Nepal & Indian border. Even here the Indian BSF were little bit arrogant.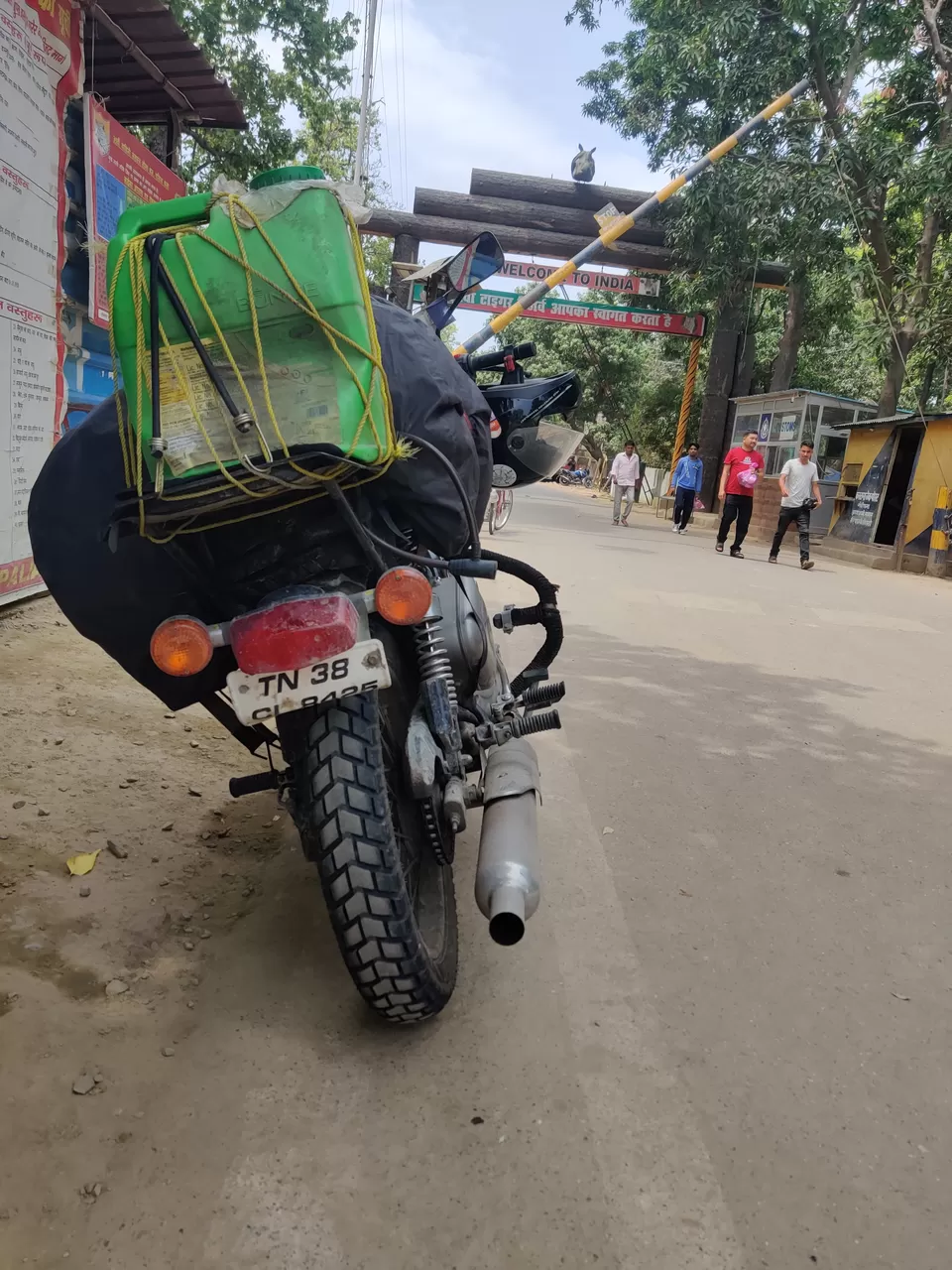 From here another 3-4 hours and I reached Lucknow around 3pm. Till I reached Lucknow the whole highway was completely filled with mango smell, exactly like mango curry if you've had before. I planned to return home directly from Lucknow and courier my bike. I booked a place for the next 2 days near Lucknow airport. The moment I reached my hotel, my bike's back carrier completely broke off. I ordered food from the same hotel I stayed and had some extra time to remove the carrier completely from the bike.
The Lucknow airport was nearby and since I had some time I went directly to the airport and pre-booked my ticket to fly back home.
Lucknow
This day I had just planned to have some good food and pack my bike to transport it. I decided to go with "Parcelwala" to courier my bike. It costed me 8500 rupees to courier it my doorstep. It took 11 days for the bike to reach my home, only the duration was long but I was happy that there was no damage done.
First job in the morning was to pack my bike and make necessary arrangements to transport it. Once that was done I went to a place called Royal Cafe and had some chat items to eat. these chat item where not exactly like how I get in southern India and the taste was good and better.
I wanted to try Lucknow biriyani and I had too much hope for it. But I did not like it at all. There was no masala or flavor in it and I was disappointed. It was just like saffron rice with chicken pieces in it. The snacks and sweet items were good I liked it.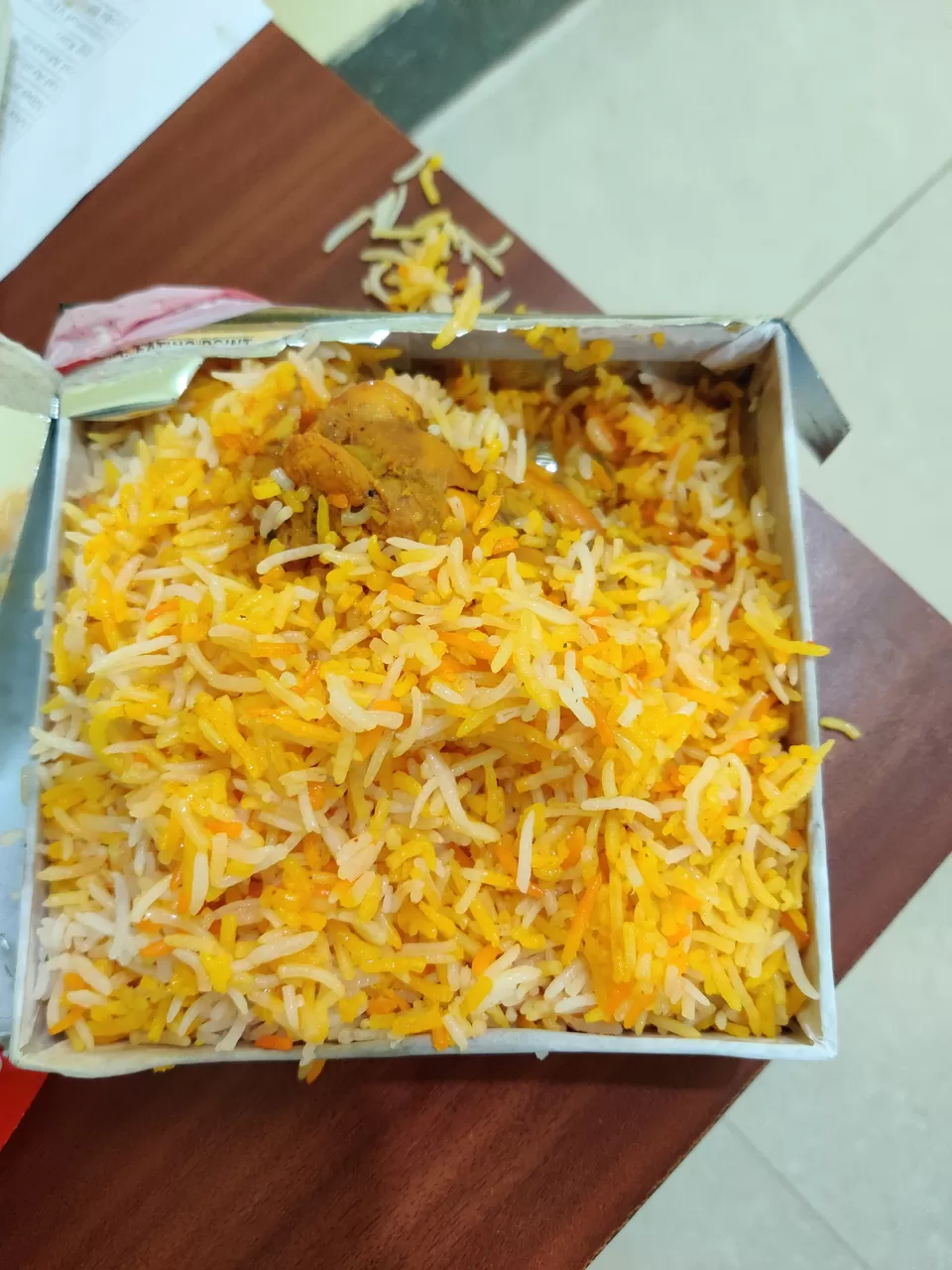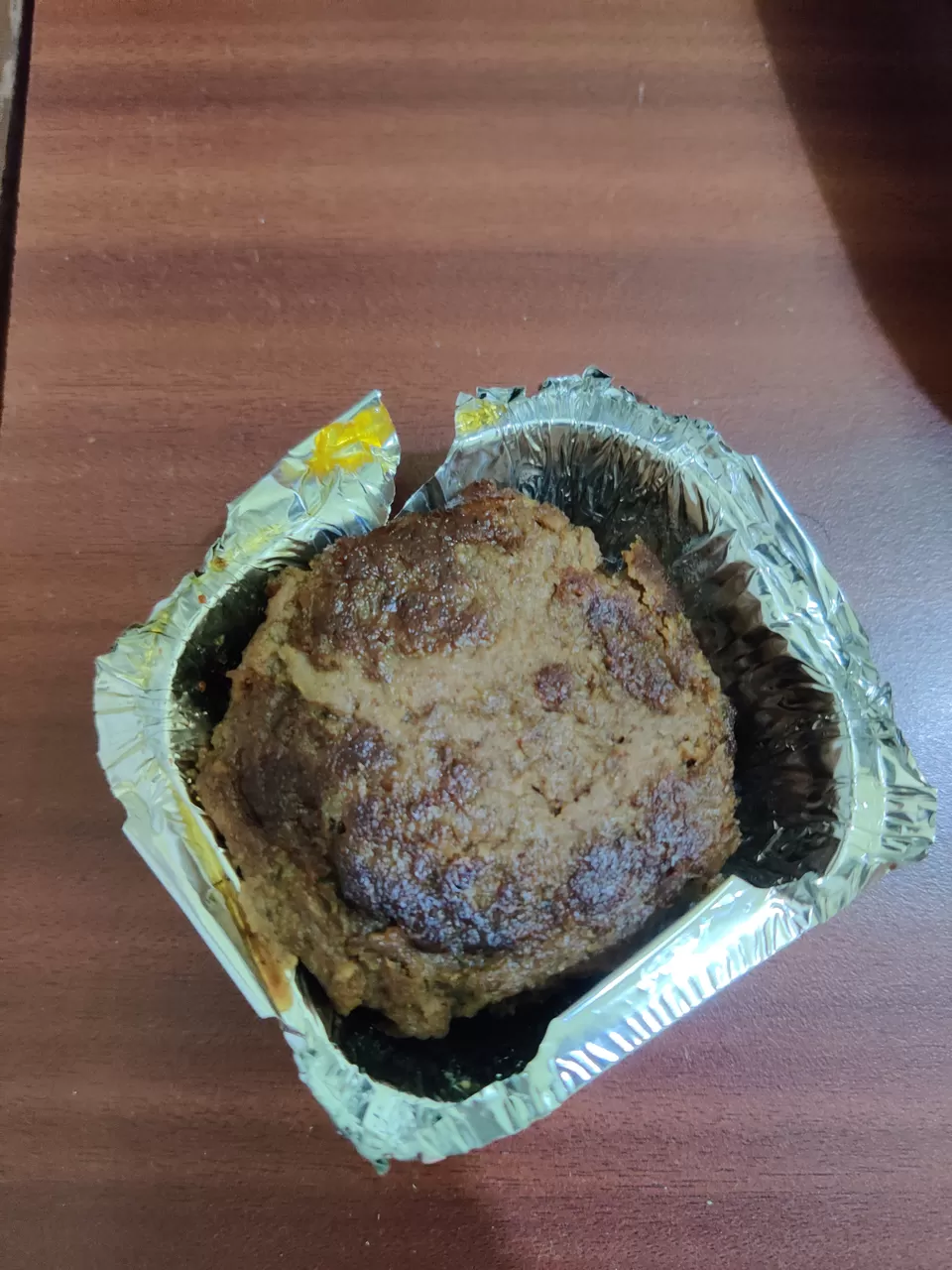 But as a place I dint like Uttar Pradesh. I only visited Lucknow but I think the whole state would be the same. People where not that respectful, spitting everywhere and personally I dint like it.
The initial plan was to ride back till home, but the only next good stop I had on the way back was Hyderabad. I decide to visit Hyderabad later sometime. After riding in hilly region for this much days I felt very boring of straight big highways. I dint want myself to stretch for the sake of doing a ride and get fed up of riding. I thought this was a good point to stop and I had already clocked around 9500kms till Lucknow. Experienced all kinds of weather extreme hot, cold, snow, rain... Its an amazing feeling to look back.
I had my flight from Lucknow at 9am and made use of my lounge access to have food in Lucknow and Bangalore airport where I had my lay over.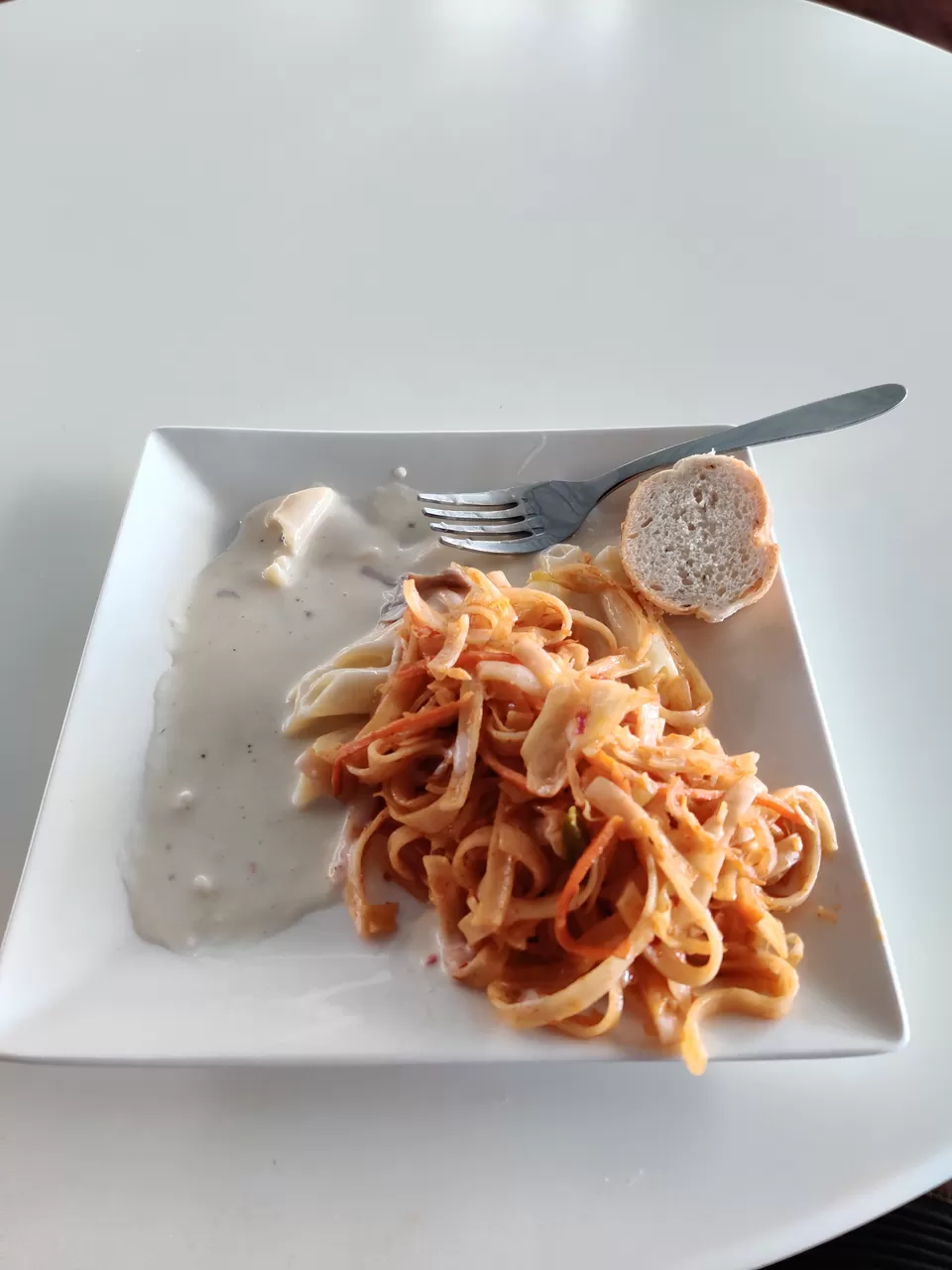 Finally had my dinner at home sweet home and felt really great to complete this journey.
Listening to music, chatting with friends, may be even watching movies during a travel might be good. But also travelling alone just by yourself to at least few places would give you a new perspective. Take your time and travel to the places you like to go and how you wish to go.