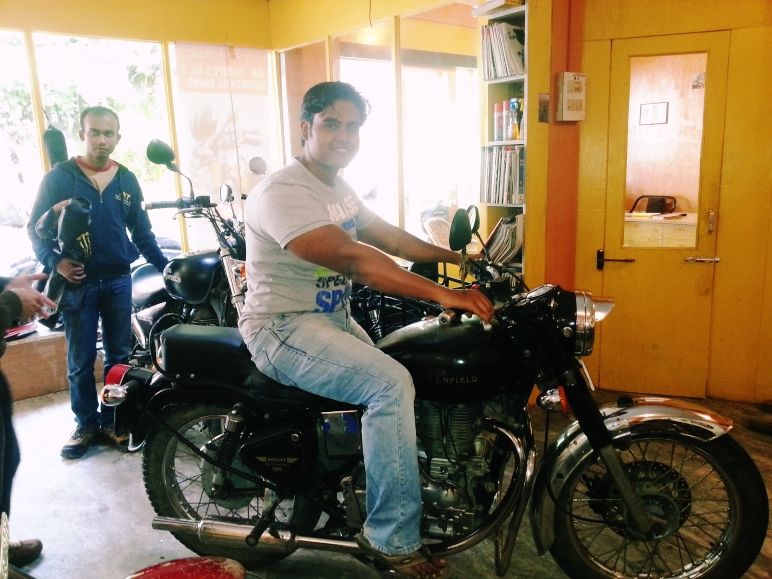 I believe you read and enjoyed the first two parts before you start reading this. If not please read the same here – (http://goo.gl/GmhKlU)
DAY 5: 8th September (Monday), 2014
We had started the day with lots of shopping; Roshan had made an exhaustive checklist. Thanks to him for doing that or else completing the journey would have been impossible. We bought
Rubber boots
Plastics for covering luggage
Lots of ropes for tying the luggage
Four 10 ltr cans for carrying extra fuel
Warm clothes (I bought a thick Jacket which helped me survive the journey, others bought muffler and monkey caps, we definitely looked like monkeys after wearing that)
Some medicines (Diamox, Paracetamol etc)
Kapur (One old uncle told me take this and just smell in case you have headache, this might save your life and it actually did :-))
Finally after everything we started at around 1, although initially we had planned to start by 10 but I was sure 10 was impossible, even 1 seemed like blessing to me.
We had filled all tanks till the brim with petrol and we were also carrying 40 liters of extra fuel in 4 ten liters can, two was in my bike while the other two were with Indus.As soon as I started I was sure this was going to be a very difficult bike ride as I was carrying huge luggage and a pillion apart from a super heavy bike. Just to give you an understanding of the entire weight I was carrying: Me (90 kgs), Tabu (75 kgs),
Two big bags on each side (at least 30 kgs in total), 20 litres fuel (20 kgs) and a thunderbird with its tank full with 20 litres fuel (200 kgs). So by simple math you can understand that I was carrying a total weight of over 400 kgs that needed to be balanced across all U shaped mountainous turns.
For the first couple of turns I had both of my legs on ground while turning while the bike was literally at a standstill. But my misery got over quickly only for the worst to follow. It started raining heavily and we had to take a shelter for wearing our raincoats.
Rain made our lives miserable in two more ways. The weight became heavier and roads became slippery so if I dint balance properly in a difficult U turn we could very easily land in the valley that was thousands of feet deep and no one would have ever known that we existed. In that heavy rain we somehow managed to keep driving for another 30 mins or so, to no ones surprise the distance covered by us was negligible.
I started leading the pack with Rupak at my back followed by Roshan and Indus. After some time, Roshan overtook me and signaled to stop.
Roshan: I am not able to see Indus; I don't know where he got lost.
Me: When you last saw him?
Roshan: Around 10 mins back. I stopped the bike so did Rupak; thankfully we still had mobile towers. Roshan turned the bike and started going back. I called him
Me: Indus where are you?
Indus: I am not able to start my bike; I think the spark plug is gone
Me: Shit wait there we are coming.
Story from Indus's end:
I didn't realize there's ignition switch in machismo. I stopped and met this Punjabi group from Chandigarh who were drunk and were merrying around. They offered their help to take my pics with the scenic mountains of Rohtang. Somewhere while posing n placing the bike for the absolute perfect snap, the switch was mistakenly turned off. Then I kicked n kicked n kicked.
Till drunken Punjabis thought they might as well try n they kicked the hell out of bike (more so of themselves) one after the other. Followed by Roshan, who thought of joining the kicking fest as well since he has started doing some push ups recently and the final honors was done by our power kick expert paji.
So everyone kicked their a$$ out but none used their head till Roshan realized that the ignition switch could be off. In the meantime, Tabu also returned back rolling downhill on the thunderbird left by paji trying his hand (more aptly pushing his luck to the brink) on the 400kg beast.
We kicked, one more time n viola cheers, Machismo is roaring. That loud thudding noise never felt sweeter. Idiots as we are, we laughed scolded and blamed each other like the seven dwarfs of the snow white before getting back on our journey.
Back to my narration: Anyways we started back on course and riding with a decent to slow speed reached the top of Rohtang pass, the first pass among many which was about to come. It was about 6 when we reached there. We had to travel atleast 50 kms from there to reach Koksar that was the next place where we could find some place to sleep. At top we met some motorists who were returning from the other side.
Me: So you people are coming from the other side is it?
First biker: Ya it was raining like hell we had a gala time By his voice we thought the roads might be good so they enjoyed thoroughly.
Out of curiosity I asked
Me: So how are the roads ahead?
Second biker : For the first 5 kms it is good, after that next 10 kms you will have ankle deep mud and post that you will have knee deep muddy roads post which you will get mud till your hips…. MAZAA AA JAYEGA (You will have fun)
Indus: Holy Cow
Me to others.
Me: Thank god he dint tell that after hips, you will get roads with mud till your neck, LOL I am sure he is kidding.
Roshan: I don't think so; check their pants and shoes they are immersed in mud from hip till toe.
Rupak: I think we should stay here till rain stops.
Indus: No way we cannot spend the night here we have to go down.
After some more debate we started going down from Rohtang to Koksar. Initially the roads were good and I was hoping that those guys on top were telling lies to scare us. But after around 5 kms the roads started deterioting, soon it was half roads and rest half potholes.
I somehow still managed to drive between potholes. Finally we got a huge water body in between which looked like a river crossing the road. I was like how can anyone drive in this, I stopped, one guy came from behind and understood my dilemma and told me that always try to follow the trail created by tires of truck and prefer water over gravels, you will have a better grip in water than gravels.
That was the most valuable advice I would have got. I started following the trail of trucks going into mini water bodies formed in the trail. Life seemed easy with this strategy for the next 3 to 4 kms. But the worse was still to come.
After sometime there was no trail to follow and no water or even gravels. It was knee-deep mud and the thunderbird even with its enormous tread blocks was not able to grip the surface.
Me: Tabu I guess its better if you get down and walk, the wheels are not able to grip the surface we might fall down
Rajiv : No yar I am too tired lets try to manage
Me: There is too much mud and the bike's rear is getting stuck due to excess weight, I guess it will be dangerous to carry on this way
Tabu: Lets try for sometime
I carried for some more meters, finally the bike was stuck at a place and it wont move at all, I kept giving accelerator but no use finally out of sheer desperation I gave full throttle. The bike skidded sideways and came crashing down with a THUDD.
I was flunked sideways, tabu was trapped inside the bike, and whole weight had fallen on his left leg. He started shouting "Lift this bike, let me out from here" I reached near him and pulled the bike up with all my might. He was able to come out somehow. I let out a sigh of relief, he was mostly unharmed but now he like an obedient kid followed my words and started walking.
This seemed like a blessing in disguise. We reached first to Koksar followed by Indus and later Roshan and Rupak. It was already 9. We checked in a room and went out to eat something; we were hungry like dogs not feed for generations.
We went to sleep with a resolve to start early next day .
DAY 6: 9th September (Monday), 2014
Needless to say we got up late next day and it was almost 11 before we started: To be continued…