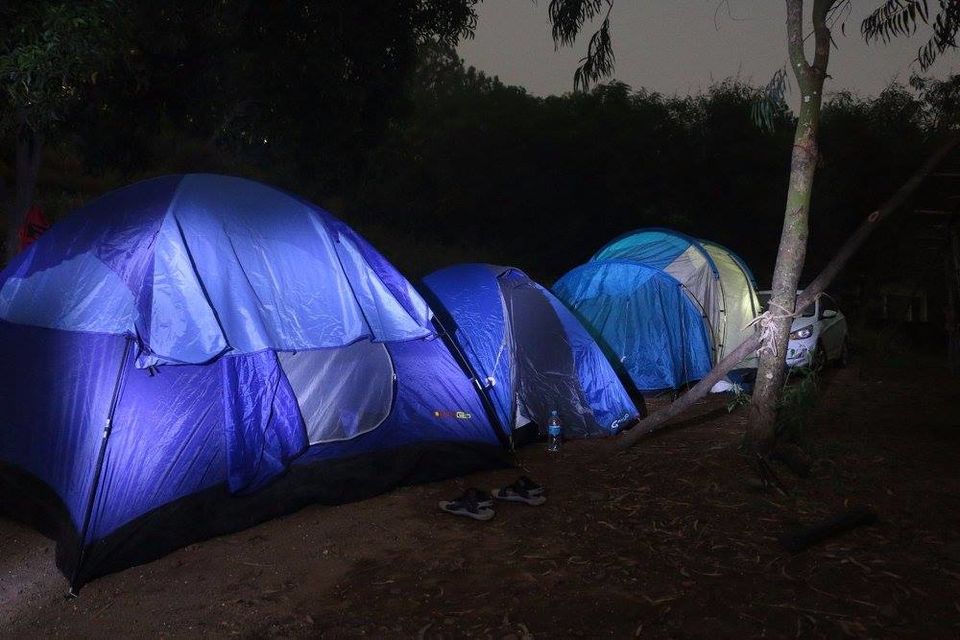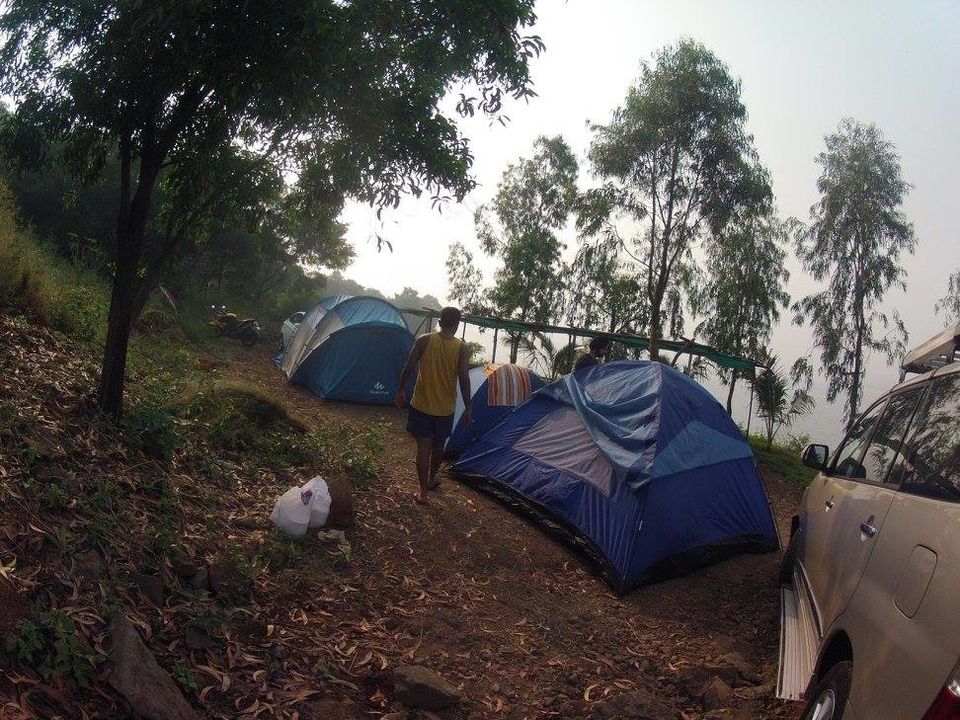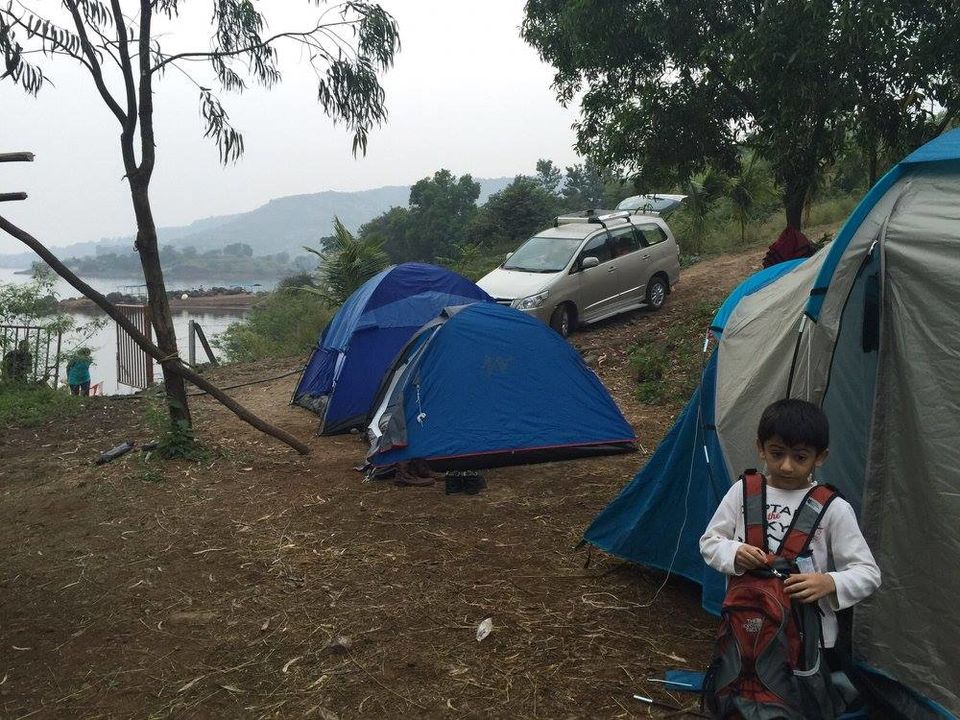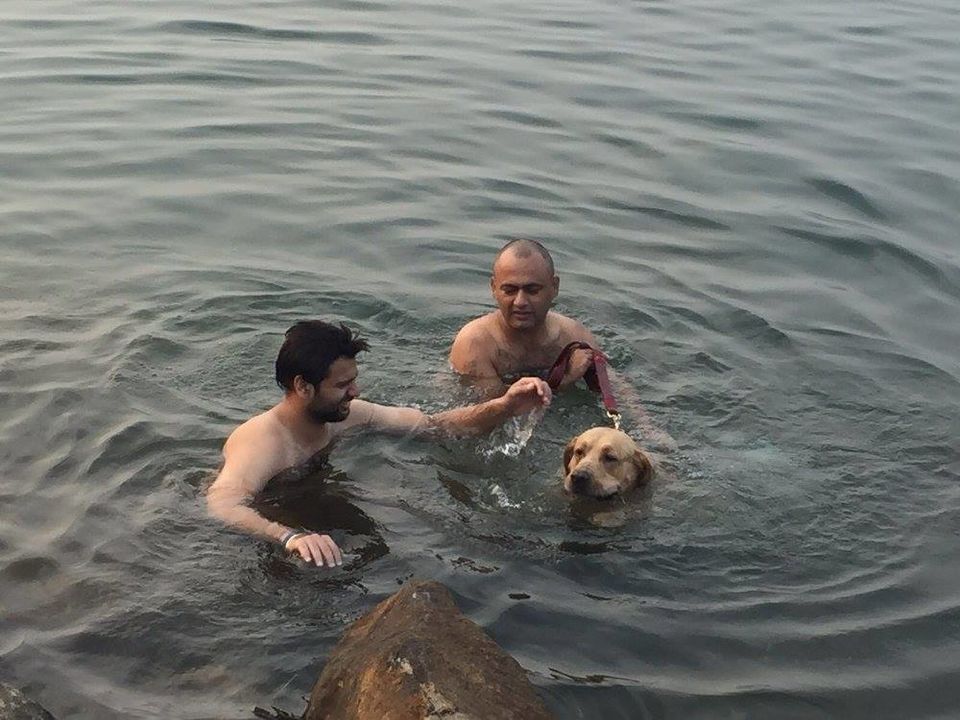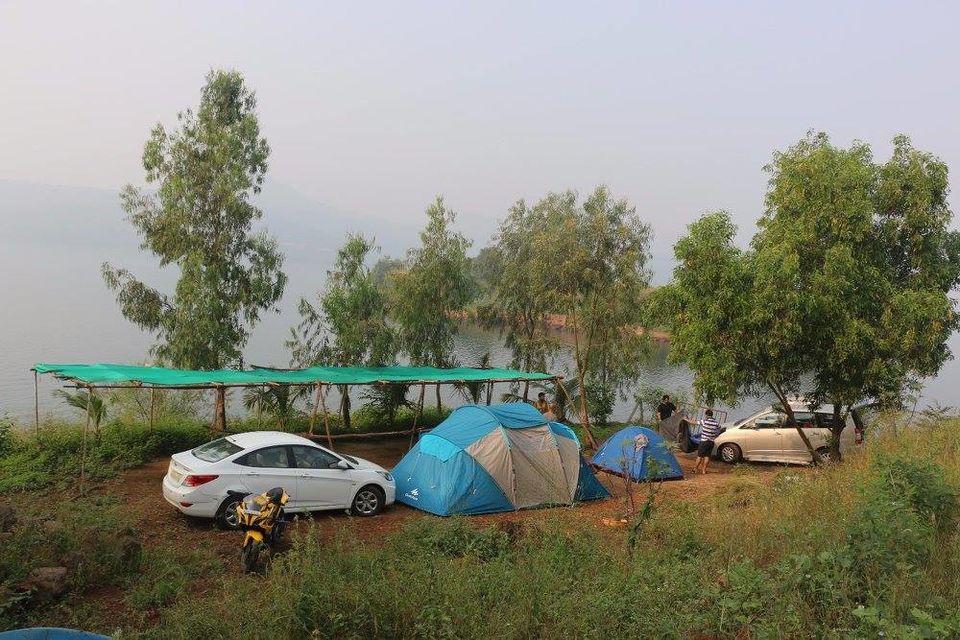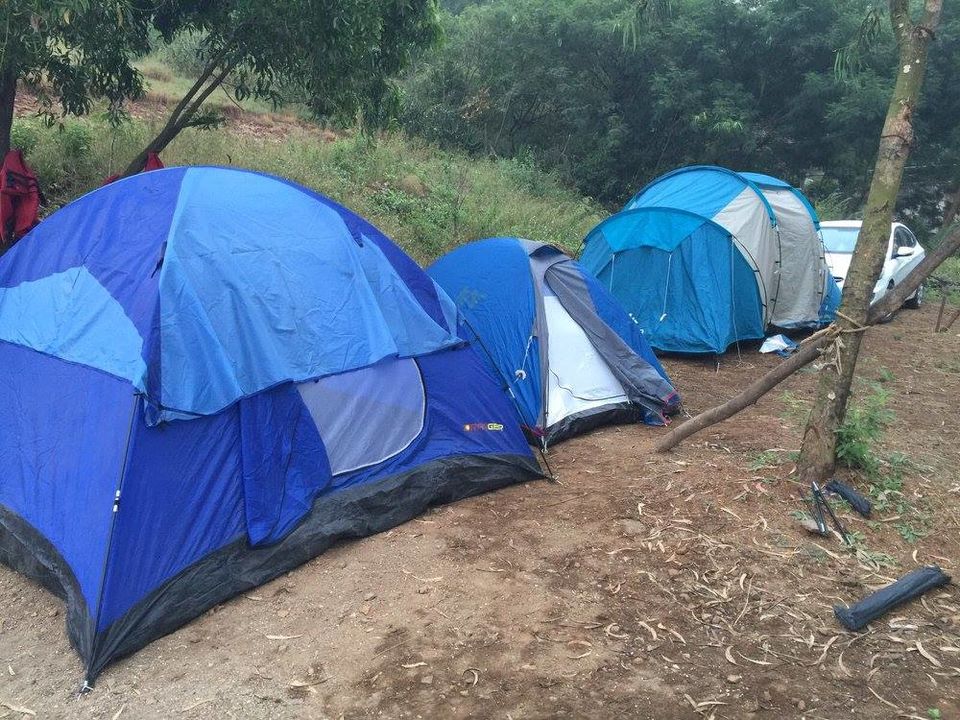 This weekend was meant to relax and simply unwind from the crazy working month and a road trip to Lavasa. The morning started by reading a book with the goal to simply be able to finish the plot and calm one's nerves and not be on the edge of simply over thinking about what's going to happen next.
While doing that, another itch arose which was totally poles apart from the unwinding mode but not as much if one comes to think of it. The itch was to actually head out some new place. Pitch a tent. Head for an early morning swim and unwind. The water has a different effect in itself to help one relax and simply think of nothing.
The quest started with asking one buddy who had Pawna lake in mind to camp. We spoke at noon and head out by 4.30 pm on one bike. This was a new experience as well to carry luggage, tent, etc. But as all the fun people say that the unplanned and end moment plans turn out to be the best.
We set out with our minimal luggage plus tent. On second thoughts, we figured it wouldn't be an issue to skip out on the sleeping bags. Off we were to explore and enrich ourselves with new memories and experiences. Aiming to reach as quickly as possible to reach before sunset, but we dint want to risk our lives over speeding to simply attain that target. We did manage to reach Lonavala before sunset. Not halting anywhere from Chembur to Lonavala. With a quick 5 min fuel break we set out again towards Pawna lake.
Post sunset, crossing what the locals call the 'Khind' that is at the turn towards Lohagad fort. It's a naturally pleasing location with the road passing between two large mountain boulders. The roads weren't that great till Pawna lake but that's not what we had asked for in the first place. We reached one location where they had put up a board saying tents for rent. After heading in there we realized that there was a whole bunch of party animals. Maybe a group of around 50 who had come there to camp out. Blasting loud music, drinking and smoking till there's no tomorrow. Not what we had in mind at all. Plus the local restaurant folks were asking for a hefty fee of 500 bucks to simply pitch our own tent!
Getting back onto the saddle we set out to find another location. Riding in pitch darkness with only a subtle hint of moon light along with the motorcycle headlights guiding us through the patchy road, we reached Lohagad boat club. Before even getting off the saddle we hear a voice asking, 'Are you guys here to pitch a tent? Can you help us with ours as well?' And that was simply the beginning to a totally different experience of a weekend.
These folks knew the owner of a private property around. So we all headed out there to pitch the tents near the lake. The Quechua Arpenaz Family 4.2 tent was a maze in itself, but all of us finally managed to get it up satisfactorily. The locals helped us out with some firewood and kerosene. Somehow landed up gulping some of the blue flammable liquid in search of water in the darkness after pitching the tents. The taste remained till next morning. Could even taste the fuel while burping.
Further into the night, all of us were sitting by the lake having some dinner. Managed to even get a camp fire burning after some mild showers in the midst of October. Finally settling down near the lake to have some dinner and getting to know new people. That is always a learning experience in itself as one doesn't know what to expect from people. Keeping an open mind and hearing people out the way they wish to express themselves is always interesting. At the same time if there's a nice DSLR camera available, the amateur photographer rises within to try out different night photos which did come out pretty well.
Never realizing that the chit chat dint ever end and it was around 2AM. We all head to sleep as everyone wanted to wake up early and jump into the lake for a quick dip. These sporty folks had got their Labrador along who was more than happy to jump into the lake with us. It's just something about being able to lose all inhibitions and relaxing in the water that it simply seems flawless. The way the water runs in and out of your ears and mind when you swim while relaxing the body. Simply faultless.
Sadly we had to head back to our lives, pack up the tents, grab some breakfast and head back to the bustling city life of Bombay. Thus we started to quickly pack up the tents and pack up everything.
We bid these lovely and adventurous family folks goodbye and started our journey back home. We only realized that the road back to Lonavala from Pawna lake was really scenic and we couldn't stop our heads from looking around.
These loving people did not let us pool in for the dinner which dint feel right at all. But we departed promising to travel someday together and we all would treat each other for a lovely meal.
The whole trip set us back by about Rs. 750 per head inclusive of fuel & food. The tent being our own, we dint have to spend more on renting that out. Plus we went on one bike. If there we would've taken a bike each then the cost would've still been around Rs. 1000 per head. Overall it was another impeccable weekend getaway that can be listed as a budget travelers dream come true.
Click here to view more pictures.