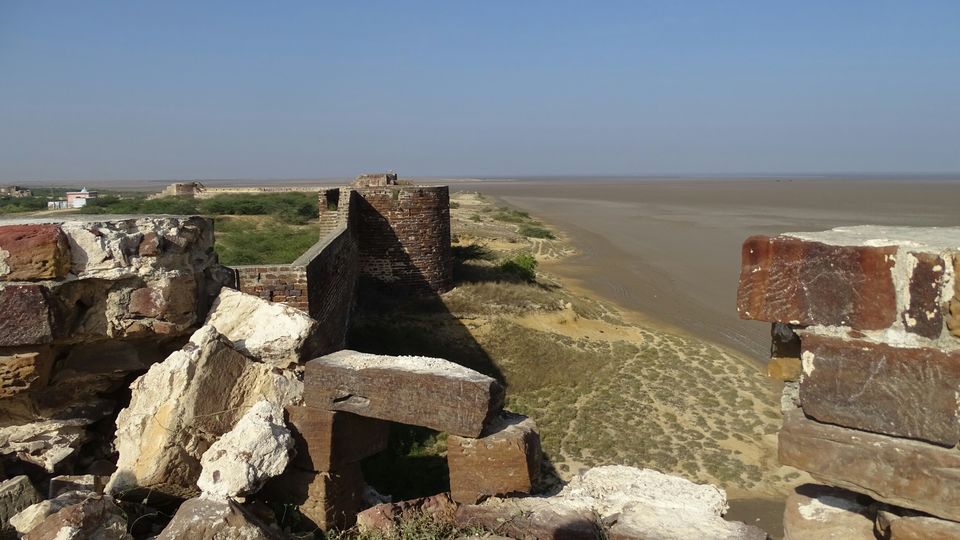 Surrounded by approximately 7 km of fortified wall, Lakhpat is the small village in Kutch, Gujrat. This is second line of  command under BSF. This important port blossomed in 13th century, flourished and reached its peak in 17th and 18th century because of trade.
But soon this beautiful and rich place started to decline after 1819 because of the earthquake and turned into ruins in a few years. 
It is located along the tidal estuary formed by Sindhu river. After the 1819 earthquake the river changed its course further north forming natural dam now called "Allahbund". 
Enter the fortified village from the eastern gate coupled with two strong bastions. You approach the wall on the western side of the fort by small roads. 
View from the west wall is truly beautiful giving you the complete panaroma of 180 degree from South - West - North.  Blue shade of the Arabian Sea at horizon on south, flat land with muddy fields and small mangroves on west and north.  This canvas gives the complete picture till horizon. 
On the west is famous Sir Creek which divides India and Pakistan. This Creek is also known as "Harami Nala" as BSF has to walk in deep  waterlogged mudflats for patrolling. 
Remarkable building within the village is the tomb of "Pir Ghaus Muhammad". This octagonal shaped tomb has four side doors arched and richly carved with walls decorated with patterns flowers and leaves. Inside the tomb is grave covered in white marbles and passages from Kuran are inscribed on the walls. 
During winter, this place is paradise for nature lovers, especially ornithologists, as large colonies of more than 30 species of migratory birds like flamingos, Siberian cranes, pelicans gather.
After spending plenty of time listening to the sound of cool breeze, sitting on parapet of the fort you witness a beautiful sunset and depart the place with satisfaction and sweet memories to cherish.