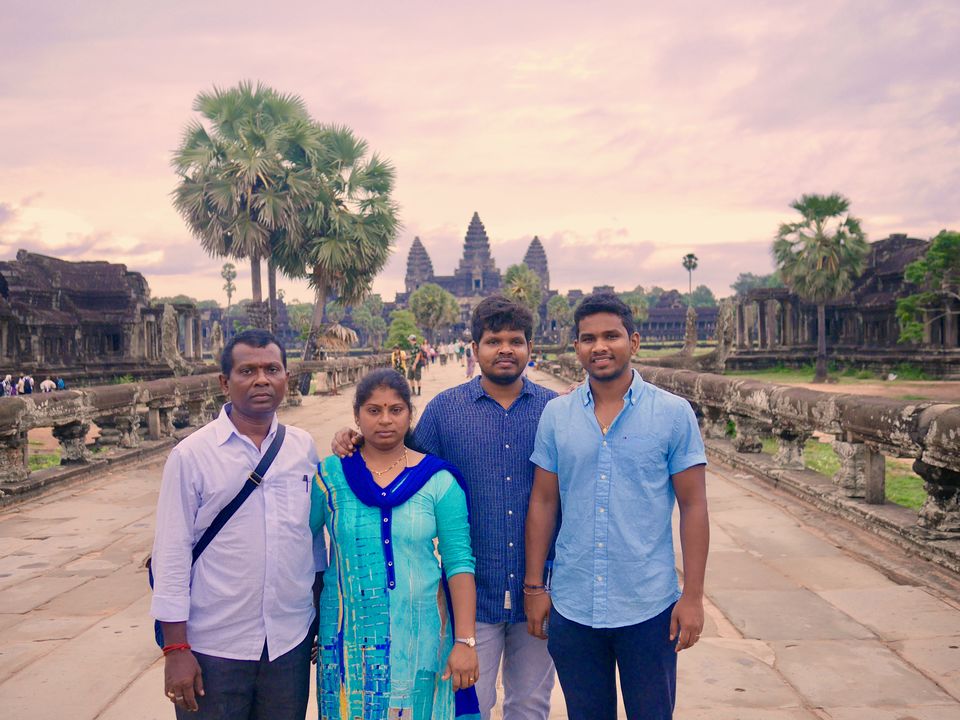 When I left my job to backpack around the world for a year, I told my parents that I'll be finishing the trip in Asia and so, they could come travel with me for couple of weeks before going home. I soon learned the life on road, the apprehensible magic of being lost and eventually giving up on promises. So, I ended up just staying in South America and Europe for a year instead of finishing it in Asia.
So, it was time to make up for those promises. This was a trip with mom, dad and my brother. My parents are hard-working people, they come from a middle-class family in a small town which means a daily hassle for water, unclean drainages, power, paying bills, dealing corruption etc. Overcoming those, they helped me study in USA and have me a different perspective about life.
I can never repay them but this trip with them was meant to have ourselves wrapped in friendly conversations, tiny adventures, relieving from their daily hassles, experience different cultures and getting lost in those unacquainted territories. I intended to show life that is different than ours in India, one that would swallow some our existing beliefs, welcome fresh thoughts and wallow in unfiltered experience of joy that I recently drenched in. And the end of this trip, I can't emphasize enough on how important it is to travel with our parents, till they are with us, and while they are healthy.
Budget planning & Itinerary build up before we left
I hate traveling fast for which I would never plan 4 countries in 15 days. However, this time I'm with my parents. Like many they wanted to see more, had the fear of missing out. So, my father came up and suggested like 7 countries in 15 days. Many don't understand how exhausting traveling is and making the same mistake of over-planning. I don't want to disappoint them but had to make sure we have a reasonable time spent in a place, then saving up the energy for next one. So, I went ahead and figured out this route map so that we could spend 3 days/place.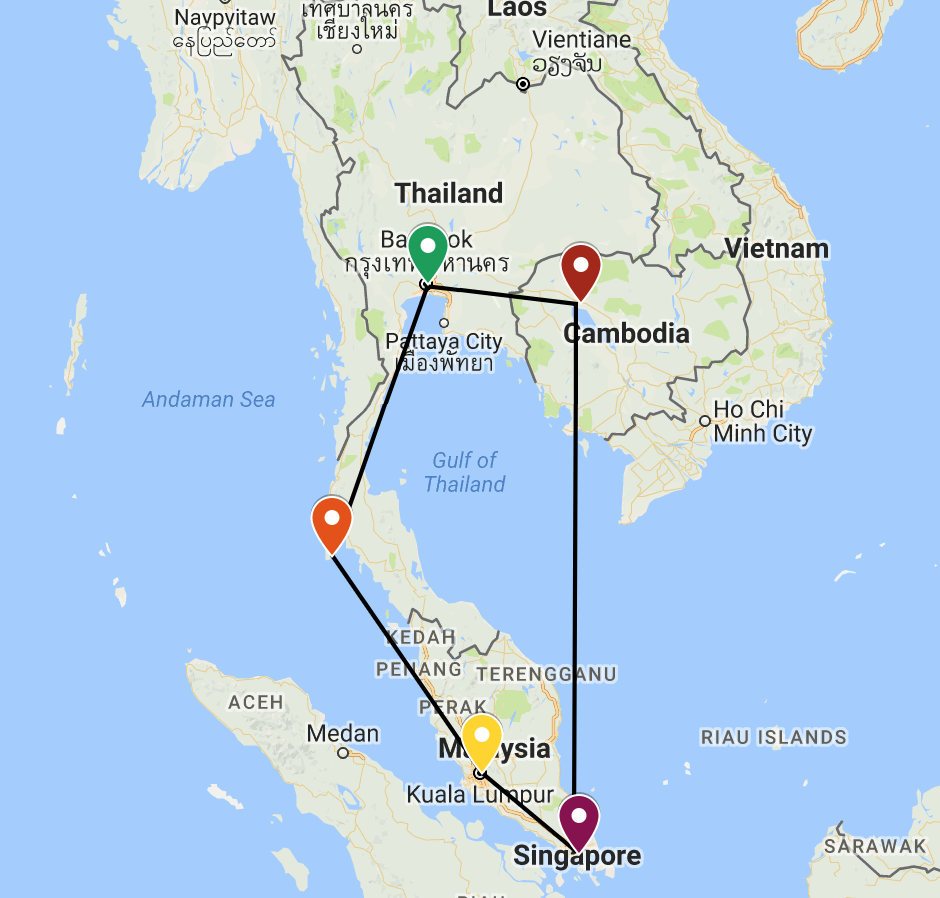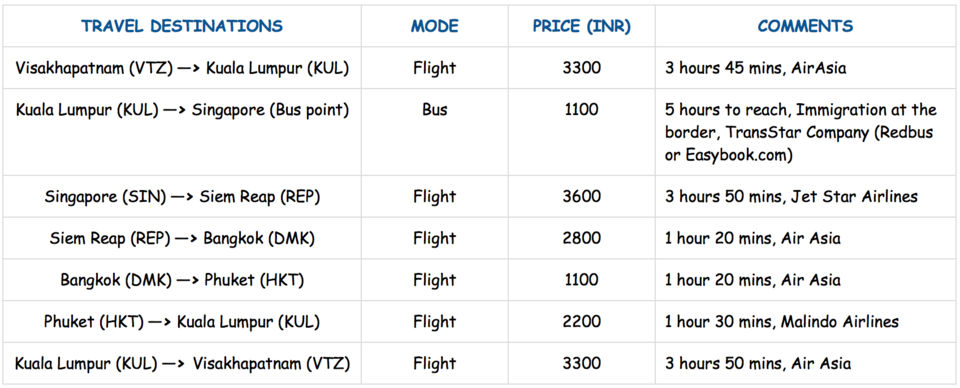 Obvious choice to pick KUL as starting point from Visakhapatnam is cheap flights. My round-trip costed me just 6600 INR with AirAsia and are direct flights. I was little skeptic to take return flight from KUL because I'm like why to same place you visited before. However, there are 2 reasons why I had to. One, there are no direct flights to Visakhapatnam from else where like Bangkok, Siem Reap, Phuket except from Singapore but the prices are over 10,000INR one-way. Second, its more expensive even to places like Hyderabad or Mumbai.
For example,
Phuket --> Kuala Lumpur --> Visakhapatnam was 3300 INR + 2200 INR (5500 INR) but from Bangkok --> Visakhapatnam its costing 7700 INR, also not a direct flight.
So, to give a number for all our main tickets, it costed us 17400 INR/person.
The Journey itself!

Malaysia! Many may argue that you just need two days in Kuala Lumpur whilst we spend four days and is the best one in this our trip. We rented a fine two bed apartment with swimming pool in Bukit Bitang, a central location which made our travel easy and relaxing. On the first day, we saw the iconic Petrona twin towers. Watching them from the bottom of the towers to the top gave a crack in the neck. Malaysia is a melting pot of various cultures and a trip here cannot complete without visiting Little India, Chinatown, famous Mosques in the town and see how people co-exist together in the fast paced environment. Meeting familiar outside our own country give us a special feeling especially as a first time visitor. We went to see how Hindu temples are here, visited the famous Batu caves with 140 ft gold statue of Lord Murugan, tasted some good Indian food. Our mother tongue is Telugu but my father can speak fluent Tamil, so he enjoyed talking to those familiar Indian people with a language he know. Man, I can see in his eye - the happiness of a timid foreign traveler on finding his space.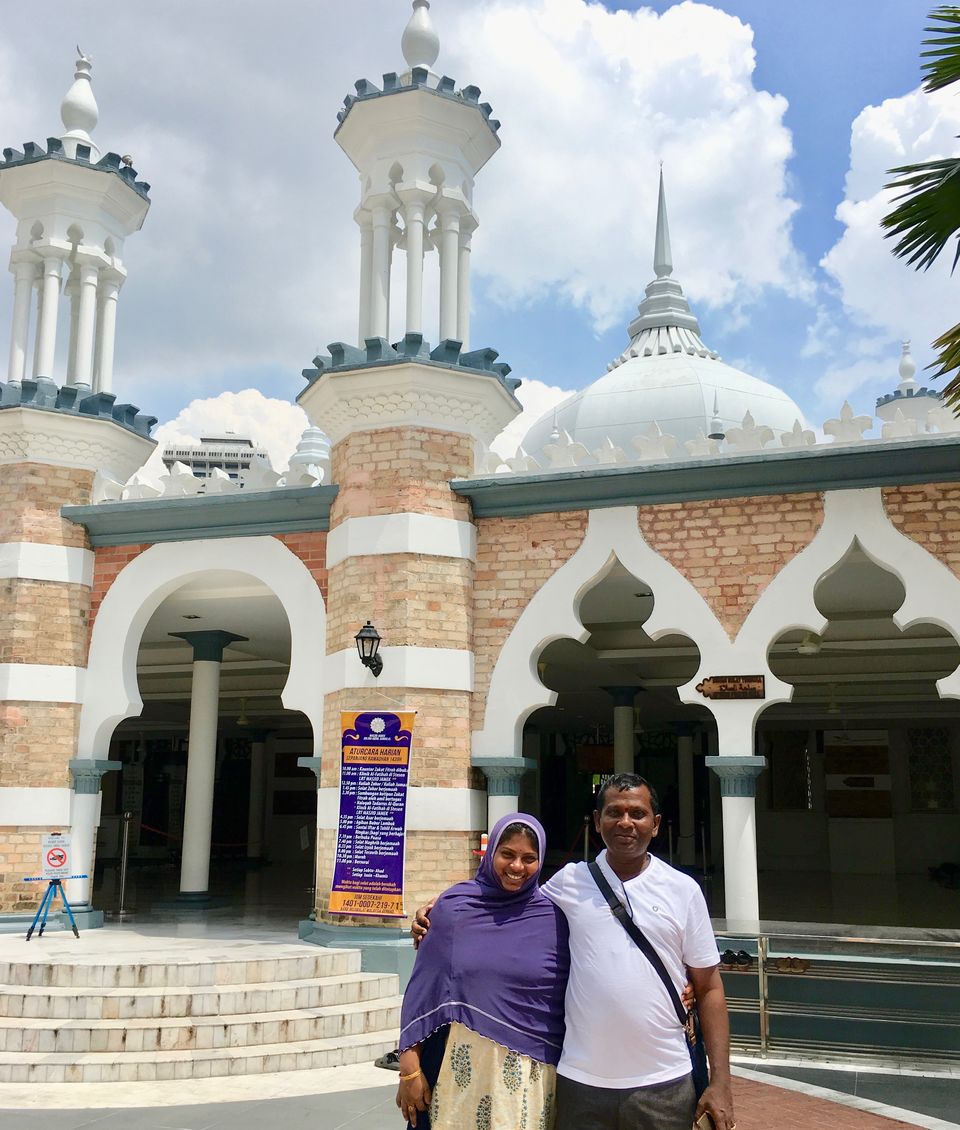 This was the first country my parents visited outside India, their eyes were glued to everything around - the unfamiliar zone. We enjoyed energetic street performances, lively food courts, big shopping districts, Merdeka Square, KL city gallery. Sometimes, my parents literally stared at people, their clothes, servers in a hotels & restaurants bringing their own judgements. They had Wow faces looking around the big sky scrapers, ease of living there - no hassle for water, power, food etc.. And one night mother took it to next level, as we were walking near Jalan Alor she saw something and exclaimed "Hey! Look, there is a Moon here too". The rest of us three looked at our faces, laughing and explained Mom a little geography. These are probably some silly things but nevertheless my brain memory told it will imprint it very strong. I'm like how innocent is she? Doesn't a mother like her deserve a trip like this if we can make it happen?
Our favorite things here are - 1) Jalan Alor - a food street with many asian dishes, importantly we liked the vibe there. 2) The view from KL towers. 3) Batu caves
Singapore! Man, its a expensive one especially when you got used to backpacking and budget traveling. So, it was time I showed my parents how backpacking is like, plus it's cheap(Don't tell them). I booked the stay in a hostel but made sure it was comfortable. I booked a four dorm room with couple bunk beds so that we can have our thing, neither get disturbed by any. Unlike hotels, backpacking hostels are like a close community for most. My mother received frequent "Hello"s, "Good morning"s and "thank you!"s stuff which she was never used to and don't know how to reply them. First she was surprised but she looked happy receiving them. She wondered by the fact that how nice people are and she started offering "Hello"s and "Thank you"s to people around in Restaurants, Hotels and other services. I thought this is what I wanted to show.
Well, this tiny place is a magic amount of stunning skyscrapers, glorious architecture, colonial buildings and ultra-touristy stuff. Sentosa island is ultra-entertainment paradise. It got everything covered; Universal studios - got you; Big Aquarium - got you; Casinos - got you; Beaches - got you! What I need to make sure is have my bank cards with lot of money. First, this is a no-no place for me but my mother saw the famous Aquarium in a Telugu movie and she was stubborn to see it, and then go rant about it with her friends back in India. It was the single highest amount I spent on a single day for four. We visited Universal studios and the big aquarium, and my parents, brother says this was their favorite activity of all in this trip.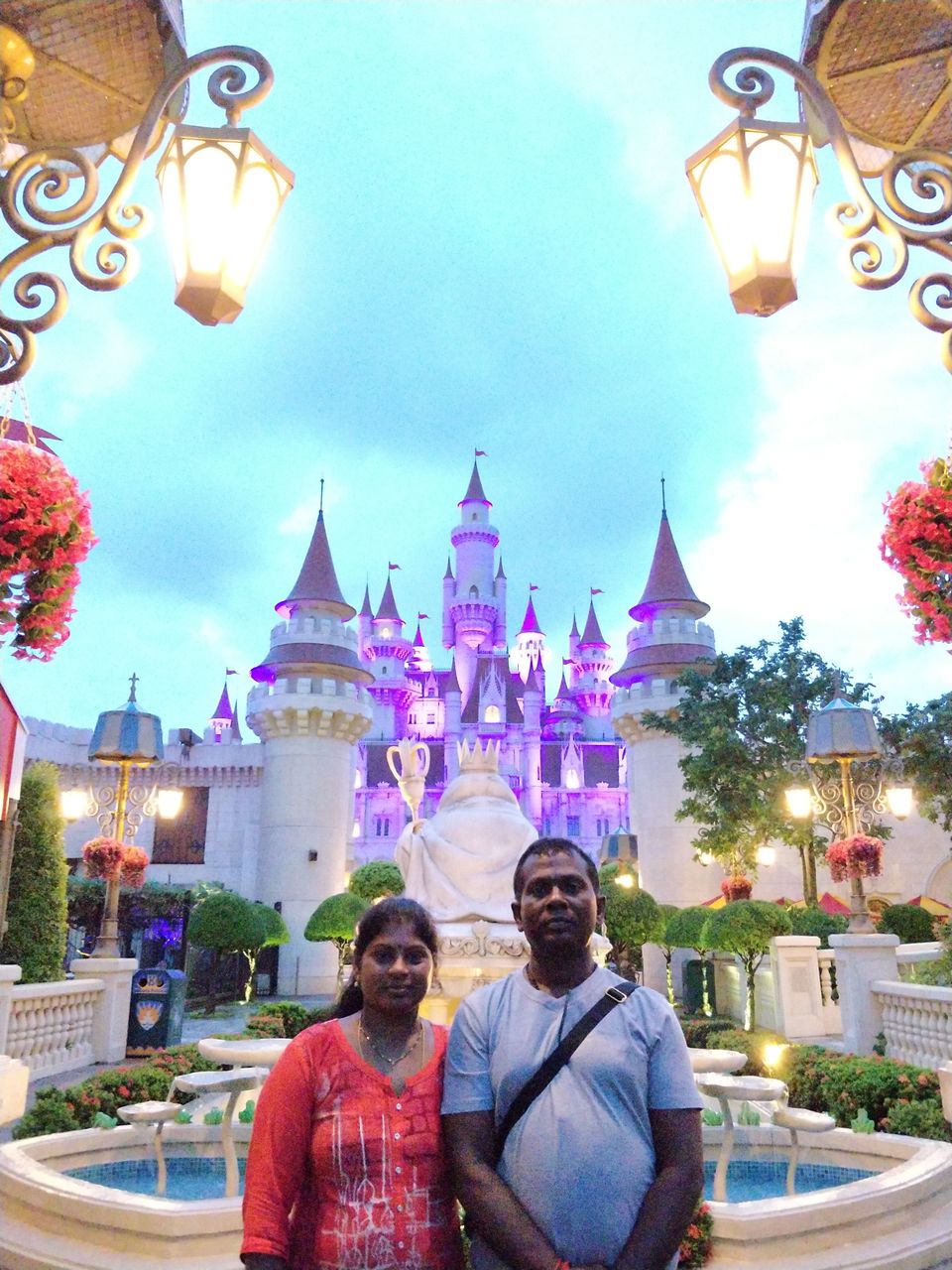 To conclude Singapore, We got entertained, inspired, multi-cultured, and humbled.
Cambodia! - Time for Spiritual stuff. Couple years ago, my father told it's one of his dream to go see the Angkor War temples. So, this has to be the center of our itinerary, everything else in the plan won't make a trip for me. I could leave Singapore or Thailand but not this.
I booked a hotel that has free pick-up service from the airport. As we came outside, we were received by the hotel guy generously and walked us to his Tuk-tuk - the famous Cambodian street wagon. It was a element of surprise because we expected a car/some sort. We chuckled a bit and got on to the ride. Eventually, he became our super man for the next 3 days we spent in Siem Reap. He toured us through the Angkor Wat temples, floating village and local farms near by. Walking through the temples is exhausting, the Sun sits right under your head and drain you like anything. It's better to plan your energy levels considering the size of temples. Carrying enough Sun-screen, hats, snacks and plenty of water is a must.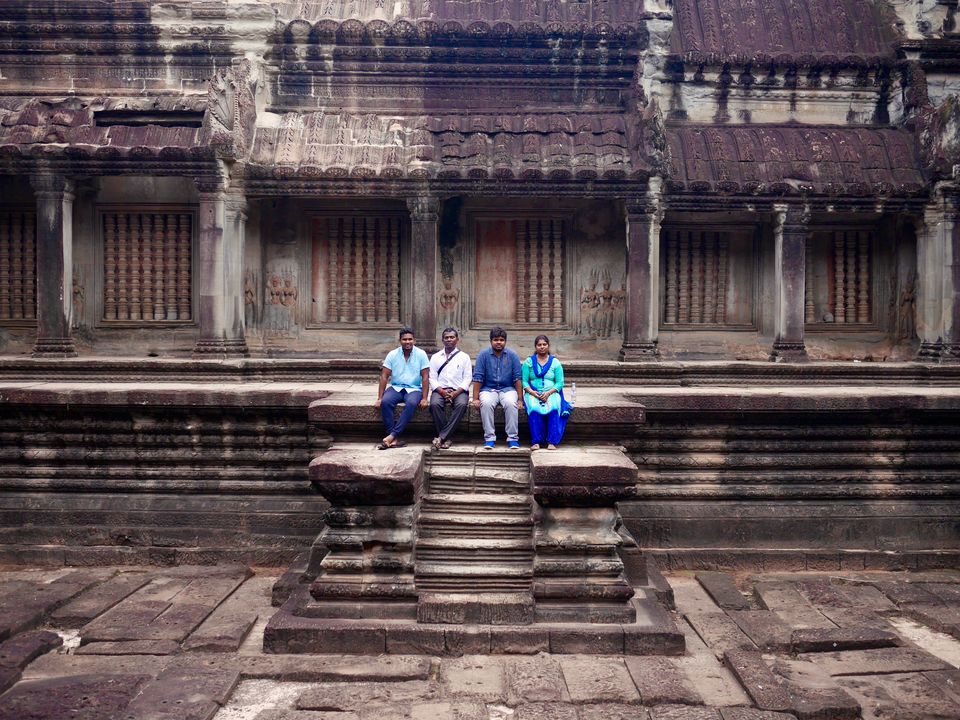 We toured first two days in Angkor Wat temples. The sun-rise at Angkor Wat temple is a true spectacle with such queer intensity that draws hunger for spirit. Even if you are not a early morning person this is something you can't miss it.
On our final day in Cambodia, we took Floating village tour. There weren't many tourists here because it lacks glamour. I asked our local guide, "Why do people stay here on water? Wasn't it difficult?" He replied,"Sure, it is difficult. We don't have power, drainages, public transport, plus it's dangerous in severe weather conditions but we are poor and can't afford to pay taxes. Here on the river, you don't have the government infrastructure and there is no need of paying taxes. However, everyone here live with a community feeling, helping each other on the river to sustain our lives". Sure, it inflicted some pain thinking about their lives, we contributed some to their families and left from there.

Thailand has been a magnet for beach-lovers and budget travelers. Personally I'm a great fan of Thai food and was planning to backpack since long. However, I came with my family and didn't explore the backpacking way. We spent 3 days each in Bangkok and Phuket during our travels. Food, Phi Phi Islands, Tiger Kingdom are our favorites here.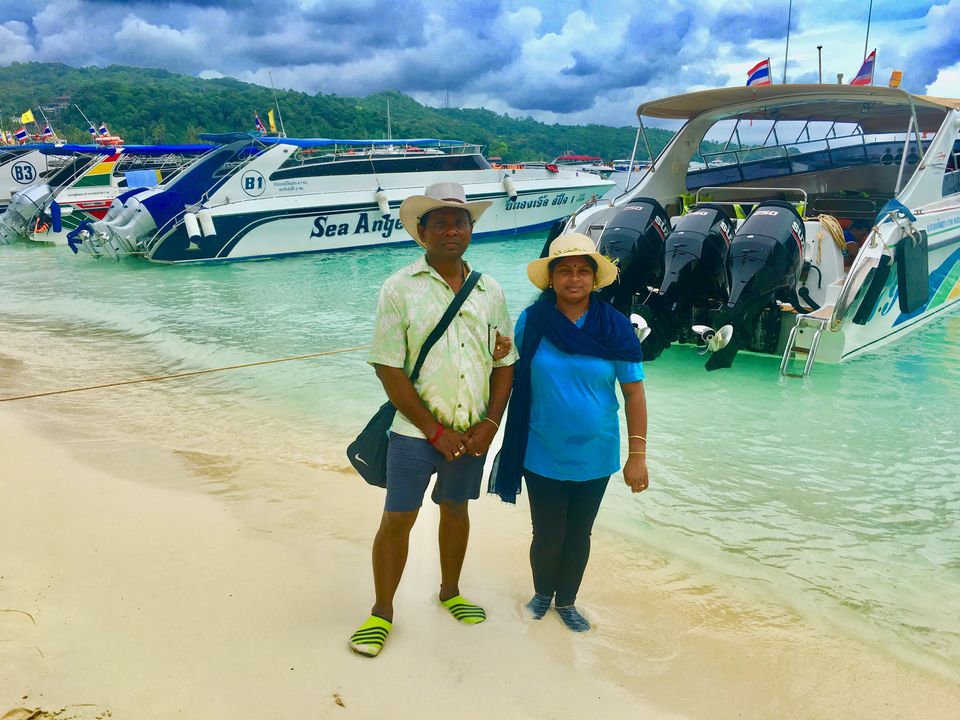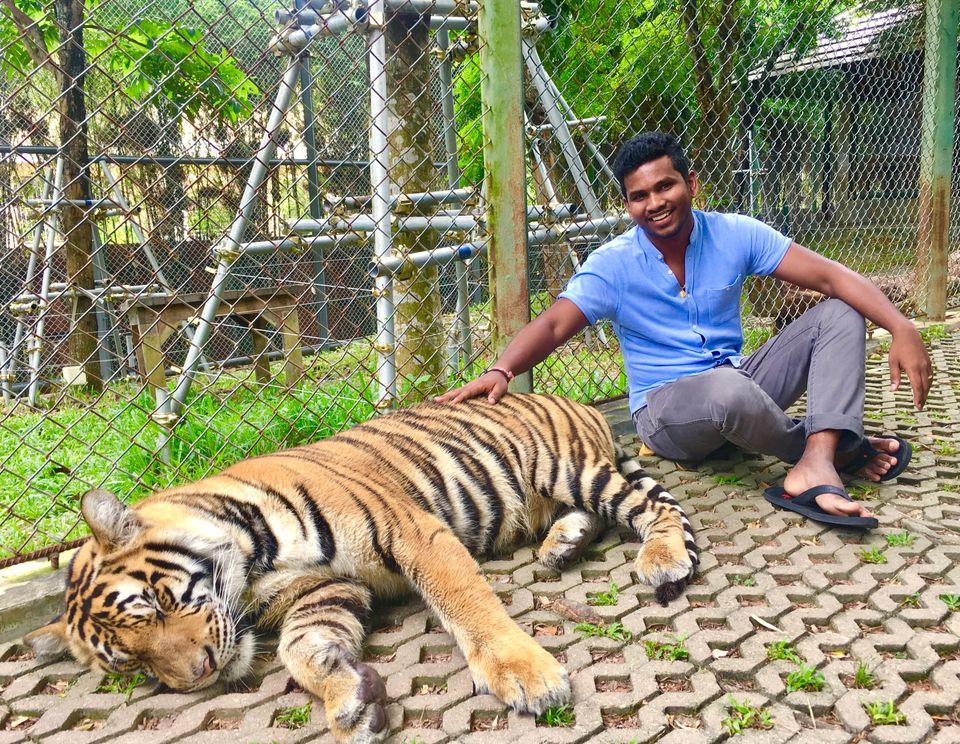 We took our final flight back to Vizag, for a few minutes the lights of city remains visible, then slowly making the way among the thick clouds, the city lights and mountains around growing smaller and smaller, and then it's gone. We were home in four hours.