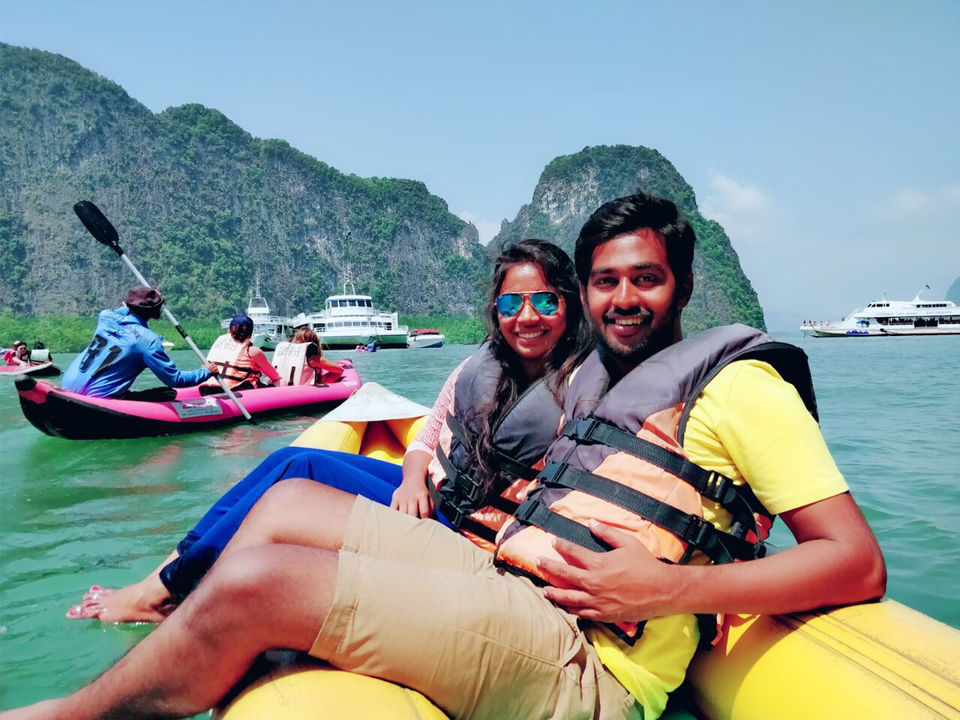 We would rather have a passport full of stamps rather having a house full of stuffs....
Planning for our honeymoon like every other couple we were looking for a beach getaway . Scouting various places like Bali , Bora Bora , Mauritius we narrowed down to Phuket, Thailand as had limitations of our holiday availability . Since it was our first international trip we were cautious to go through a travel service named vacation feast located at Chennai . It was a 4 nights 5 days package to Phuket in February . The initial trip cost included the flight charges , accommodation, breakfast , sight seeing and other transfers with a total of 1 L Indian rupees . We had converted our currency for about 10000 INR to Thai Bhat and rest of the amount in a forex card for safety . We were expecting our other expenses to be around 25k to 30k.
We had our to and fro flights by Air Asia . Our flight journey was Chennai- Kuala Lumpur-Phuket. We started from Chennai at8.00am and reached Kuala Lumpur by 2.30 pm at their local time zone. It was a four hours journey in total . Wandering around the airport we satisfied ourselves with a slice of pizza for the lunch . Our next flight was at 6 pm and it took half an hour to reach Phuket . We had opted to get the Visa in prior to avoid any time consumption and hassles during the trip. We were taken to the hotel IBIS patong 40km away from the airport.
After refreshing ourselves we went for a walk around the hotel and finish our dinner .The entire lane was filled with food stalls and restaurants with all the Thai sea food delicacy .you have a large variety of sea food right from fishes , lobsters , prawn , shrimp, crab to choose from.
Finishing our dinner we crashed in to our bed as we had a early start the next day .
We started at 8 am in the morning from the hotel after having the breakfast . We were transported in the minivan to board the ferry to reach Koh phi phi Don island . Traveling in the ferry ,it was a beautiful two and half hour journey with the stunning sea and corals present around . Make sure you carry your sun screen , hat ,scarves and coolers . The weather is pretty hot out there. After reaching the phi phi island you can either opt to explore island beach or you can travel to maya bay for snorkeling at hour own expense . Wandering around the island and engaging in to some street shopping we had our typical Thai lunch arranged for us there . We did meet a few Indian couple on the way . By the time we started at 2 pm and to reach back to the hotel by 6 we were completely exhausted. Picking ourselves we headed out as it was our first Valentine's Day night celebration. Patong beach was 1 km away from the hotel so we went for a walk on the sea shore and had a great dinner at a restaurant.
The day was scheduled for a visit to James Bond island but due to the mis communication of timing we had missed our transfer van .so the plan for the next couple of days was altered . Seeing as a opportunity to find out about the city we went for a walk . You have a number of water sports to try in the beach . Finishing our paragliding , lunch in one of the food stall we went for a nap in the room . You can opt to take a dip in the beach in the evening which is very much refreshing .
We had a pretty tight schedule for the day . The day was great starting with kayaking in phang nga bay .Then visit to James Bond island . We had our lunch at fruit orchid .and visit to elephant camp on the way . Elephant safari , monkey show and elephant show were the key highlights. We reached back to hotel at 6 pm in the evening with our Fanta sea show scheduled at 9 pm. The entire park was absolute pleasure to eyes . It was a true Disney land of Thailand portraying their culture . You get to the see the magic of colours everywhere around . You get to see a real tiger cub and allowed to take a photo with it .
This was our final day at Phuket . We checked out at 12 pm. We had our city tour for the rest of the day . You have lot of options to choose from . We decided to go to tiger kingdom . This place you get to play with the tigers of different size of your choice with a trainer nearby. Holding a tiger cub was a long time wish and one in my bucket list . We played with the smallest tiger . The tigers are categorised to smallest , small , medium and large . The price varies accordingly with the smallest one being the high in price range . We had half an hour to play and click can photos . I was on cloud nine when I held the cub and my husband couldn't have done anything better to make my day other than he being with me . Next stop was the visit to the Phuket biggest Bhudha temple . We went for a ATV ride in the middle of the way . The temple was a true beauty . We pinned the golden lead with our wishes in the tree which is a practise out there . Our flight was at 9 .15 pm .we were dropped around 7pm inthe airport . We had our connecting flight to Chennai at 6 in the morning the next day at Kuala Lumpur. We landed at Chennai around 9 . After checking out and refreshing we reached back to our native place krishnagiri by cab .
Thailand is best option for couples who are planning for a beach trip. Phuket is definitely mesmerizing as you have a number of things to do and places to visit . One thing to keep in mind is the weather as it quite hot . You can also opt to have your own itenary and visit places with the help of the number of local travels present in the city instead of a tourist package. You can shop for handmade soaps , bags, beach wear , candles and massage kits which are popular in Phuket . We had a wonderful time in Thailand for our honeymoon. No doubts it is gonna be one of the the best trips of our life.