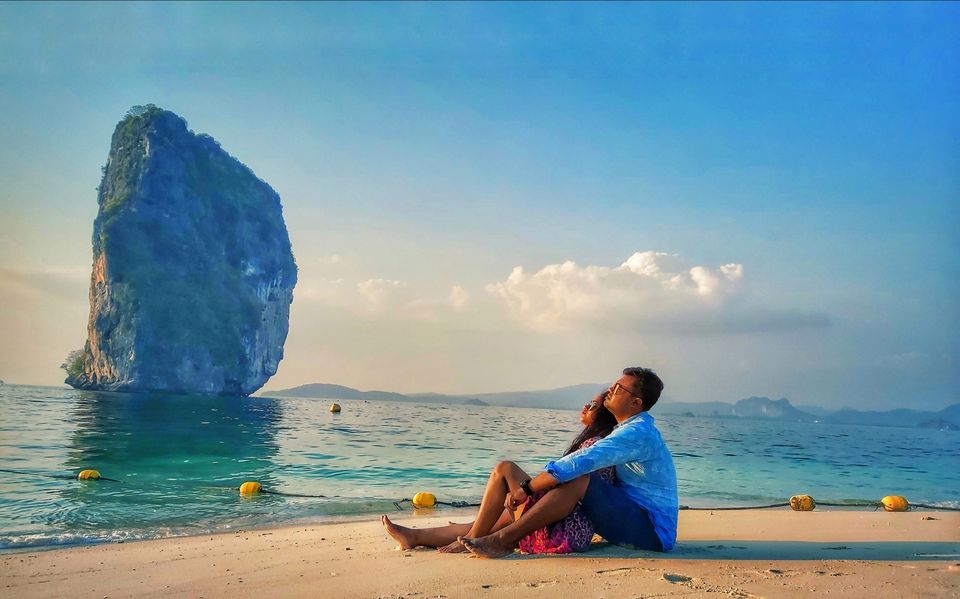 Thailand is one of the most popular tourist destinations in the world. And for an Indian it is the most admiring country when it comes to foreign travel destinations. From beaches to mountains, street food to world class restaurants, hostels to 5 star hotels, Thailand has it all. From backpackers to honeymooners and family trips to group travel Thailand has something for everyone. But whenever we think of a foreign tourist destination we think of a hefty budget and we often think that all foreign tourist destinations are expensive to travel and we drop out our plans. So in this blog i'm gonna tell you how you can plan your Thailand trip in a budget and even lesser then an indian tourist destination.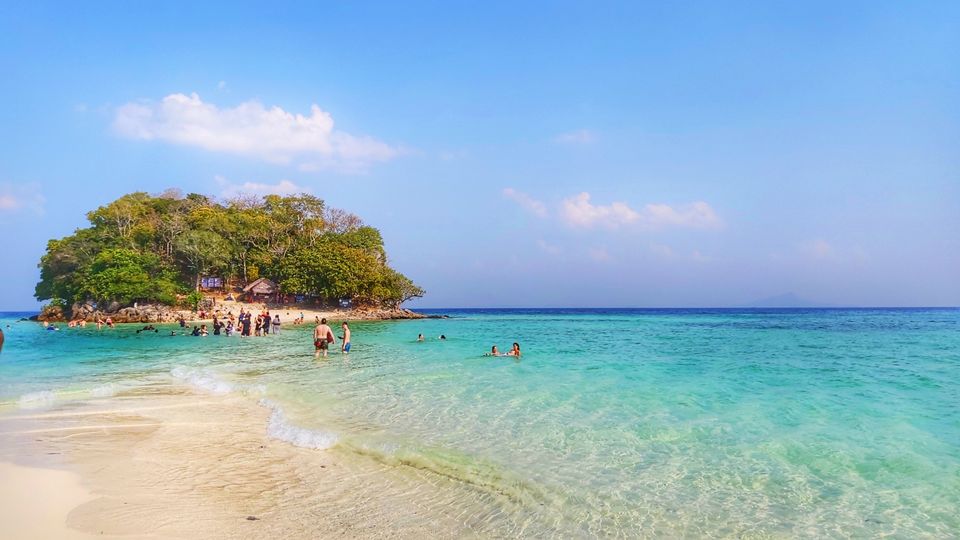 Flight Tickets
First thing first, you have to be flexible about certain things such as travelling dates, source city and layovers. Airlines like air asia, malindo air, nok scoot runs sale on their flight tickets in which you can get Bangkok return tickets for 8000 Inr or even lesser then that from cities like Bhubaneswar, Vishakhapatnam etc. You have to keep checking the prices or subscribe to their newsletters to get updates about offers and promotions. I got it from Bhubaneswar to Bangkok via kuala lumpur for 2418 Inr and from Bangkok to Vishakhapatnam via kuala lumpur for 127 Usd (9525 Inr) total 11,943 Inr for 2 pax. Which is approximately 6000 Inr per pax to-and-fro. Which is i guess cheaper then any domestic airline ticket fare. Also check for the check in baggage genrally which is not added in this price. Only 7 kg. hand baggage is allowed.
Bangkok has two international airports. Suvarnabhoomi airport and Don meuang airport. Both the airports are located to different direction of each other. There is free shuttle bus available in every half an hour to travel between both the airports.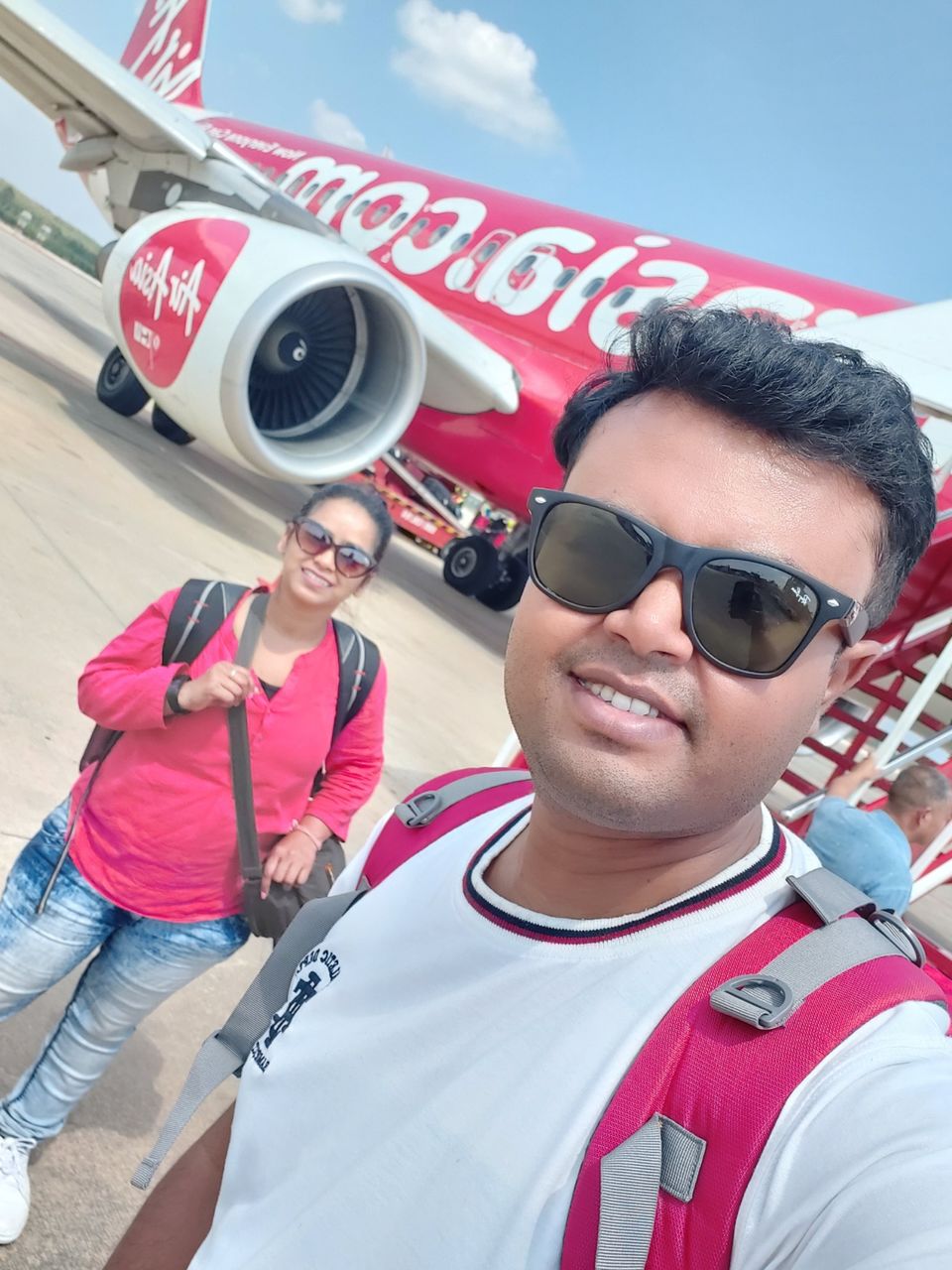 Visa
Although Thailand has a visa fees of 2000 baht per prrson (5000 Inr approximately). But it has been offering free visa on arrival for some coutries residents from past few years and it is keep getting extended. They offers free visa on arrival to indian travellers for 15 days (at the time i travelled). In your case check on their official tourism website and plan accordingly.
Currency
Thai Baht is the currency of Thailand. You can carry dollars also which you can convert at the airport or any local money exchange counter. But conversion rate at the airport is very low. In my case i carried Thai baht as well as a few dollars. which i converted in india only. There are few shops who accepts Indian rupee also. My suggestion to you is carry thai baht from India and few dollars and Inr for backup. You can also carry International debit and credit cards. And if you convert your money from any local money exchange counter make sure it is authorised because lot of scams and frauds are very common related to money in Thailand.
The rate which i got was
Rs. 2.43 Inr = 1 Thb (Thomas cook)
Also make sure you carry the reciept of the exchanged money which can be asked by the airport authorities at the time of visa on arrival.
Accomodation
Thailand can be super cheap when it comes to accomodation. If you are a solo traveller you can get hostels for Rs.300 per night. Or if you are travelling as a couple or with family you can get a decent air conditioned room in a decent hotel ranges between Rs. 1000 to Rs.2000 per night.
You can check different websites for prices which varies as per season. Places like Sukhumvit in Bangkok, Ao nang in Krabi, Patong in Phuket are famous among tourists.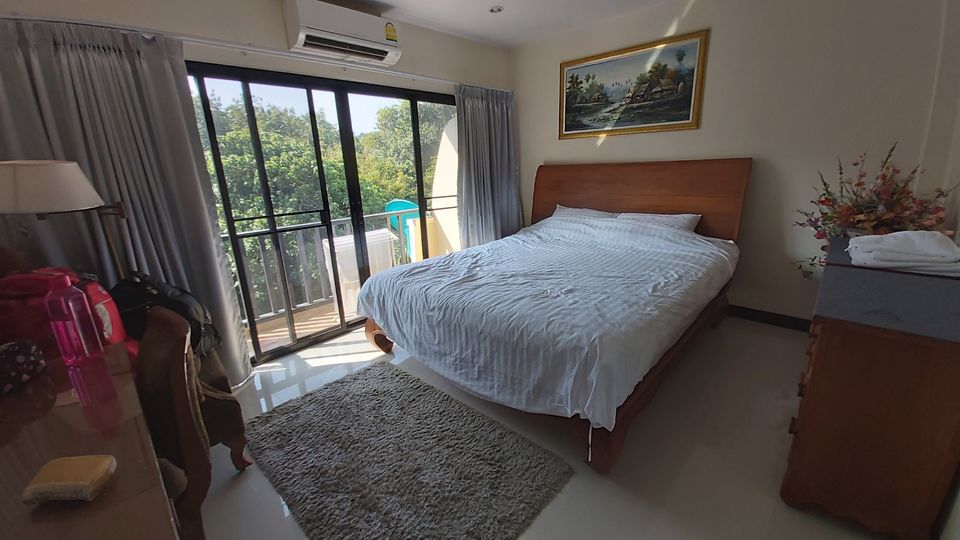 Food
Let me say Thailand is literally a peradise when it comes to food. From street food to roof top restaurants and bars you will get everthing depending how deep your pocket is. There are lot of options are available not only for non vegetarians but for the vegetarians as well. Being a budget traveller and a foodie i prefer to eat local cuisines. There are so many pocket friendly restaurants you will find on every corner of Thailand. Prices for a dish ranges between 60 - 150 baht which is approximately Rs.250 per person for one time. Indian food is easily available in Thailand but it can be a little expensive. In the evening so many street food hawkers sell local and international food on roadside. In the evening you can explore night markets where you will find varity of delicious cuisines from one stall to another which is really a cheap option for food in thailand.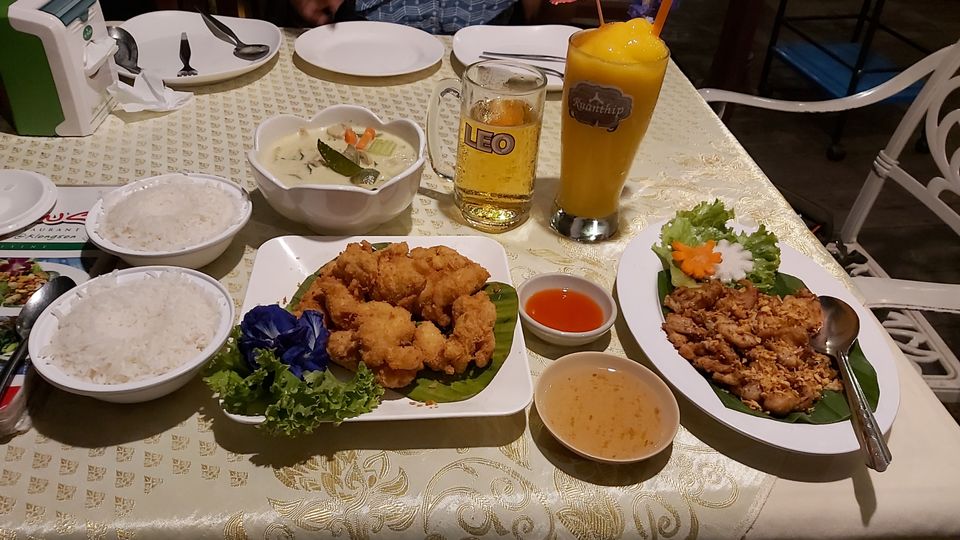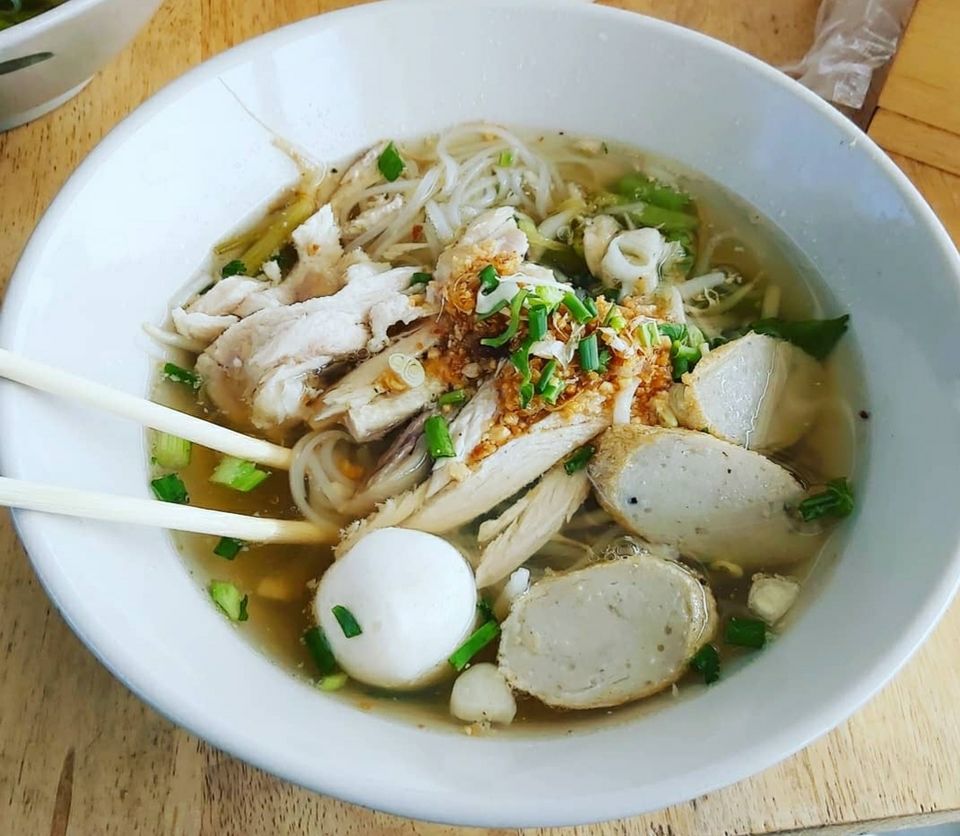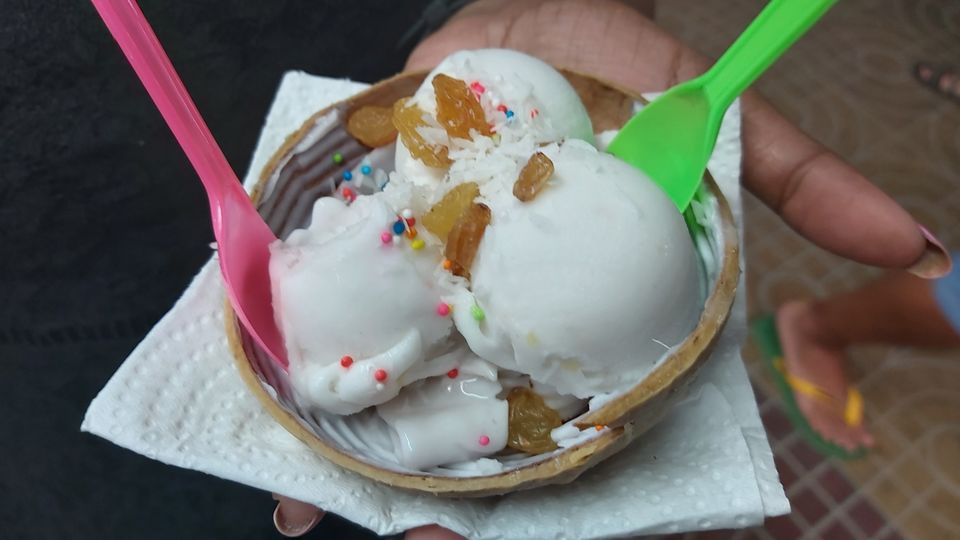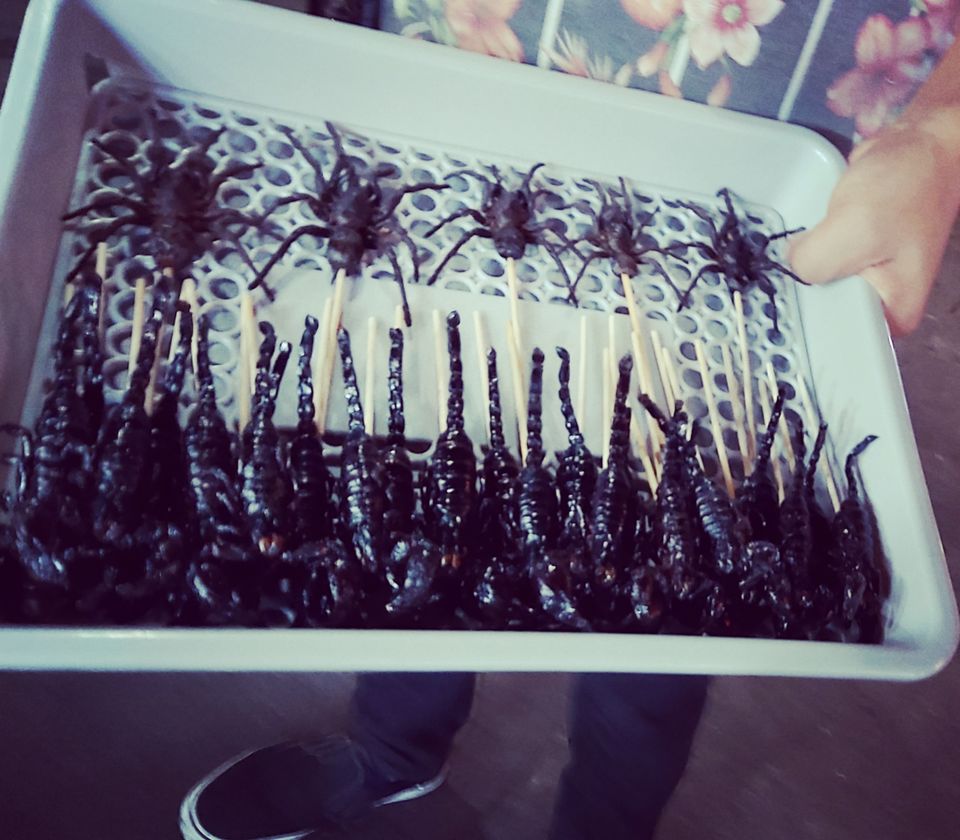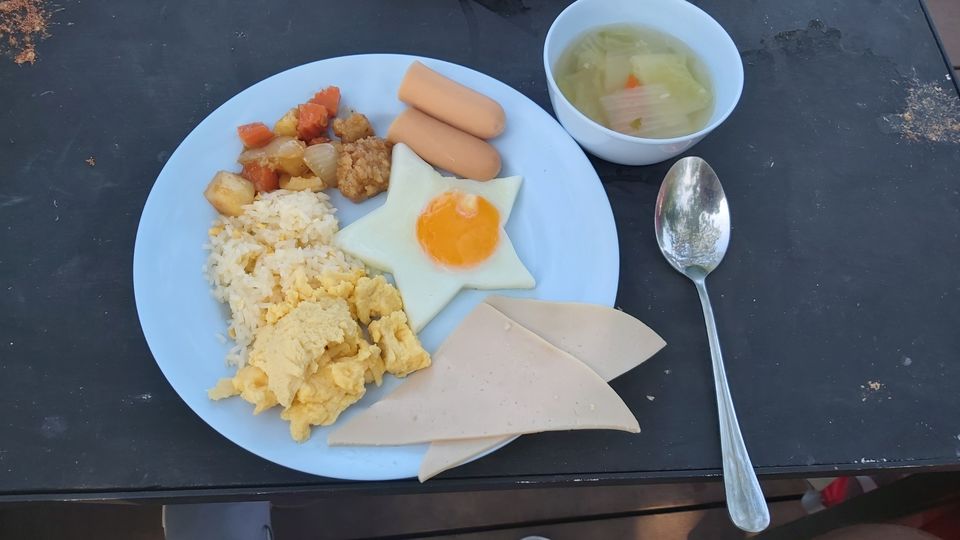 Transportation
Thailand is well connected with modes of transportation like flight, train, bus, ferry and taxi. You can travel from one city to another easily. You will get direct flights between cities like bangkok, krabi, phuket, surat thani, chiang mai, etc. Flights are the fastest way to travel within thailand and can be cheaper then any other mode of transportation. I got my tickets from
Bangkok to krabi Rs. 1326 per person (air asia)
Phuket to Bangkok Rs. 1469 per person (nok air)
Above mentioned prices were promotional. Better you check at the time of booking.
Bangkok is well connected by metro, bus, taxi and tuk tuk (auto rickshaw). Metro is the fastest and cheapest way to travel within the city. If you are travelling solo or couple. Taxi is the good option for families and groups. Buses are also a cheap option but My recommentation is to not travelling by bus. Because bangkok has huge traffic problems. I literally completed a journey of 4.5 kms in more then 1 hour. So avoid bus in peak hours.
If you are a solo traveller or a couple you can rent a scooter on per day basis which varies between Rs. 500 - 600 per day. It is the most preferable mode of transportation by many budget travellers. At the same time it is money and time saving option.
Ferries are also available from certain places to certain destinations like i took
Krabi to Phi phi don 1100 per person
Phi phi don to Phuket 900 per person
I booked ferries online. There are various websites available on the internet.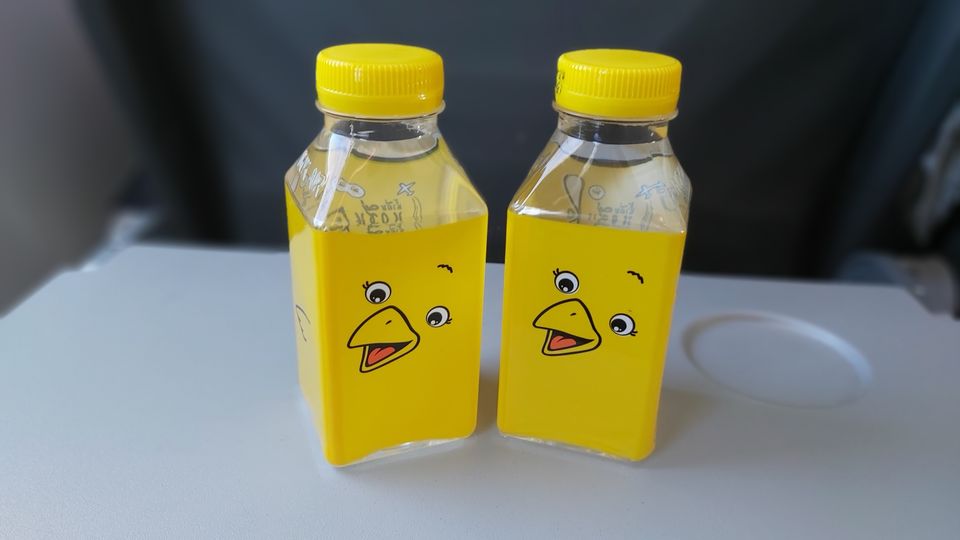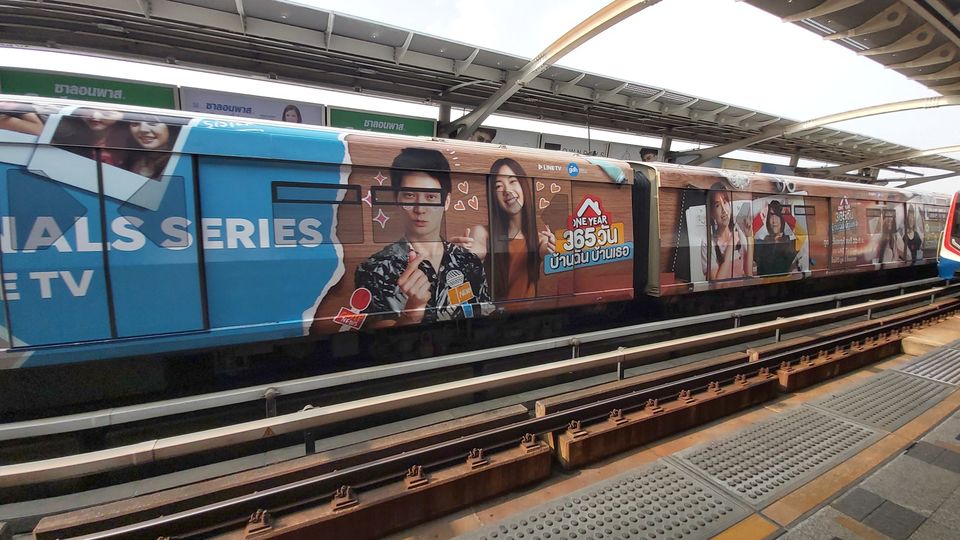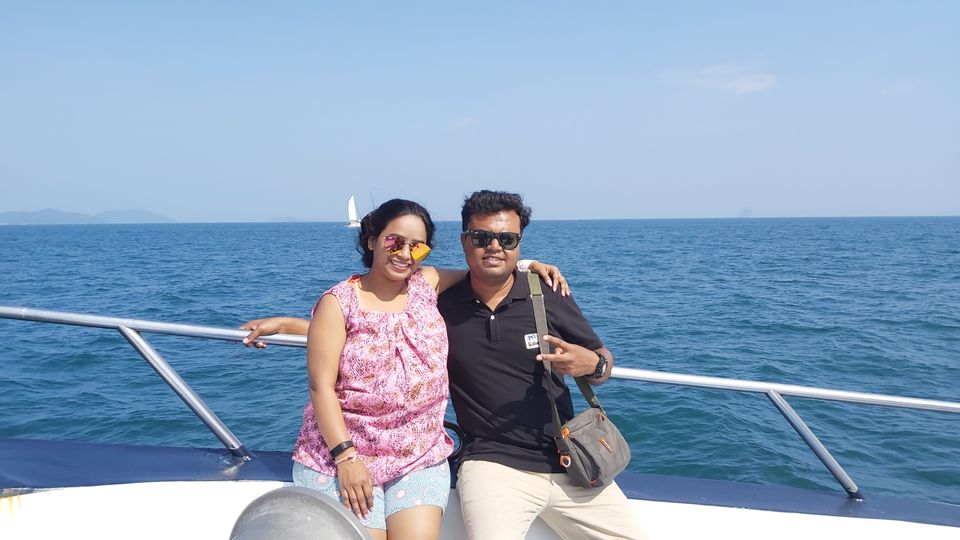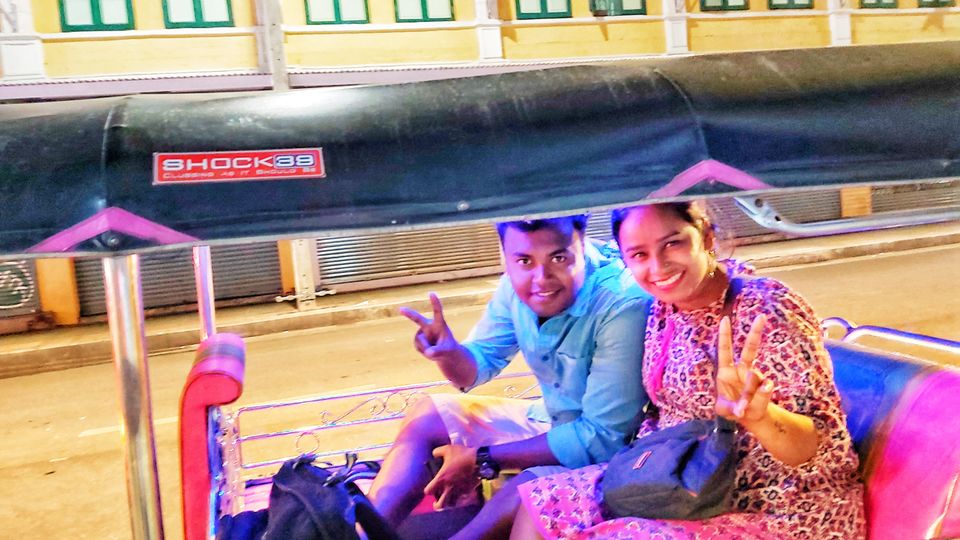 Sightseeing
From kids to senior people evryone can enjoy in Thailand. There are lot of options available for sightseeing and activities like island hopping, zoo, bird watching, marine life, water sports, adventure sports and what not, depending on your budget. There are so many websites available on the internet where you can book your tours and sightseeing easily. The activities that i did was
4 island tour krabi Rs. 800/person
Emarald pool krabi Rs. 1000 / person
James bond island tour Phuket Rs. 2500 / person
Wat pho temple Rs. 500 / person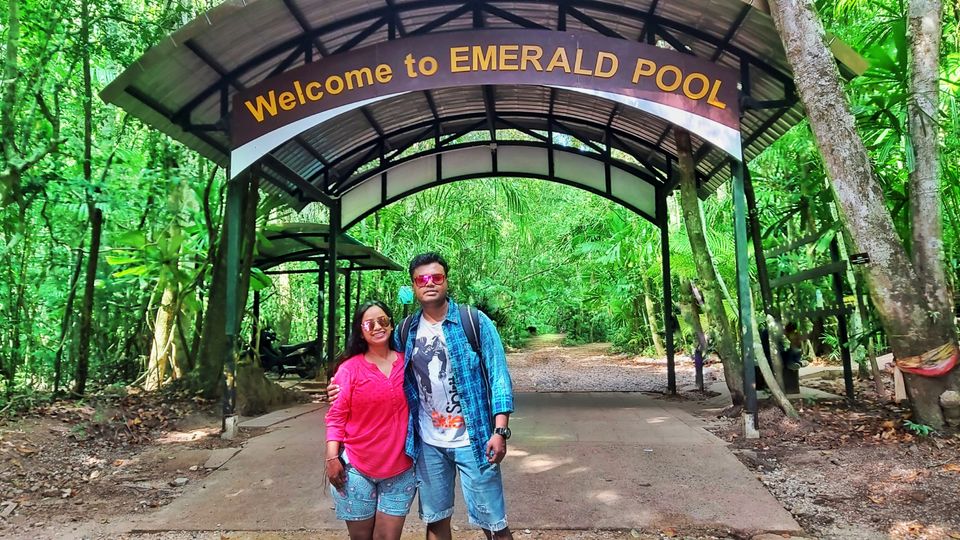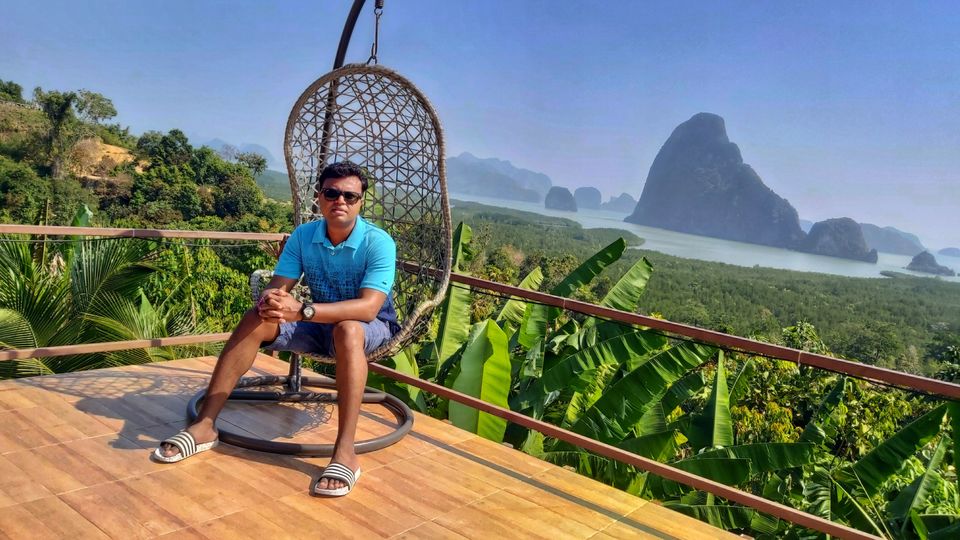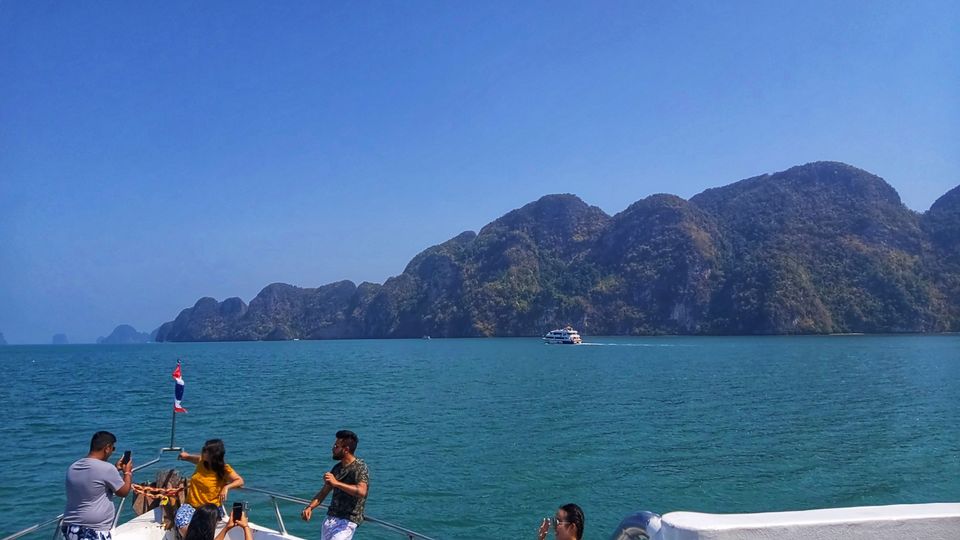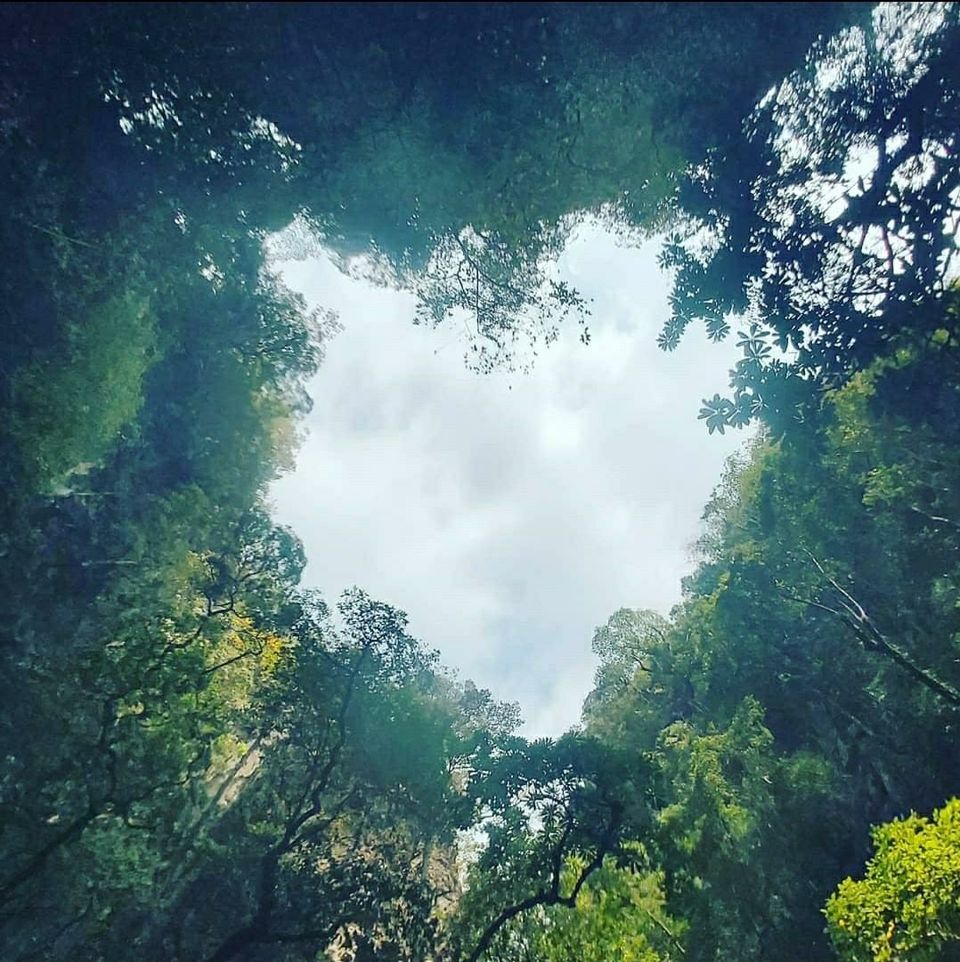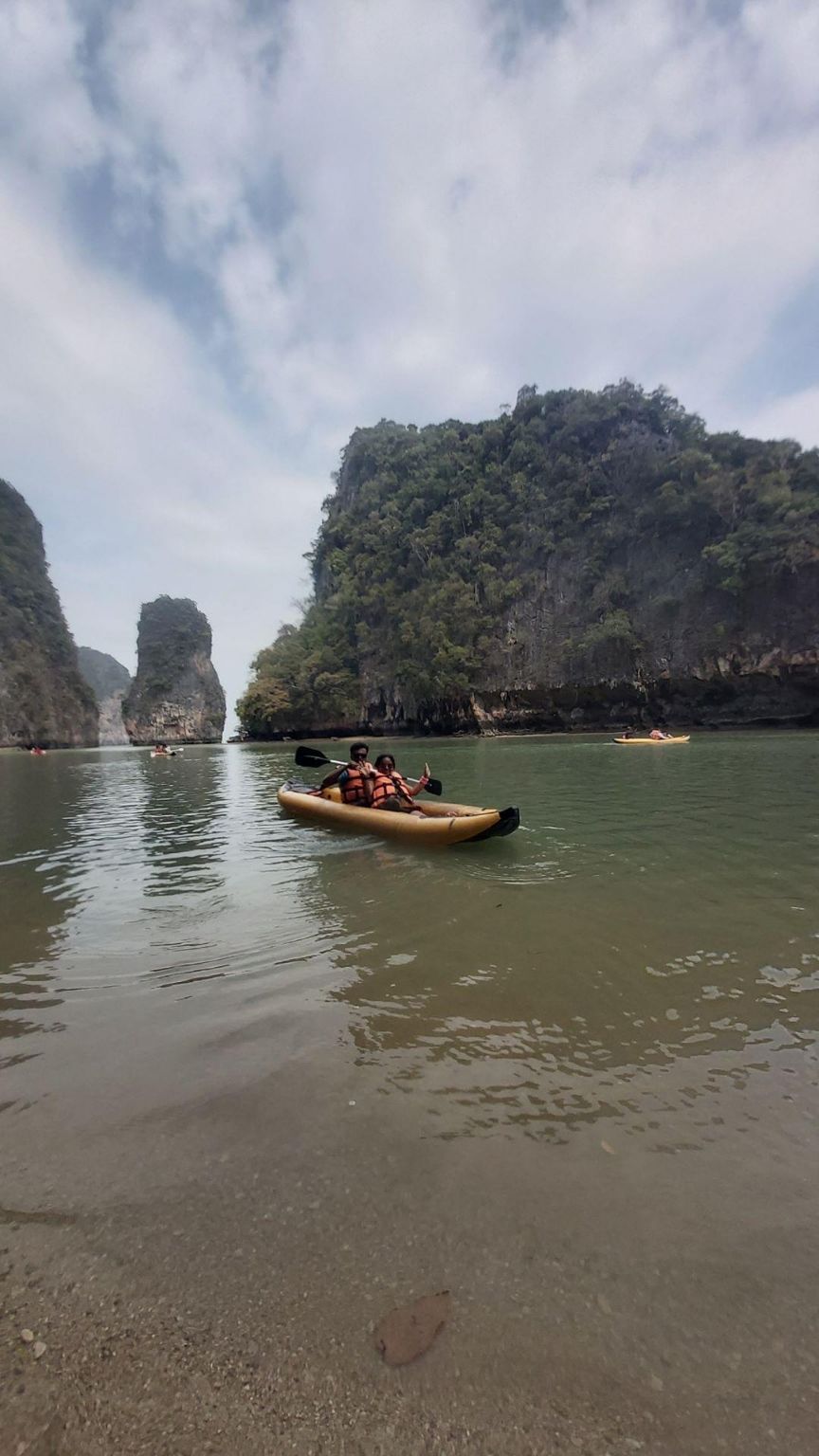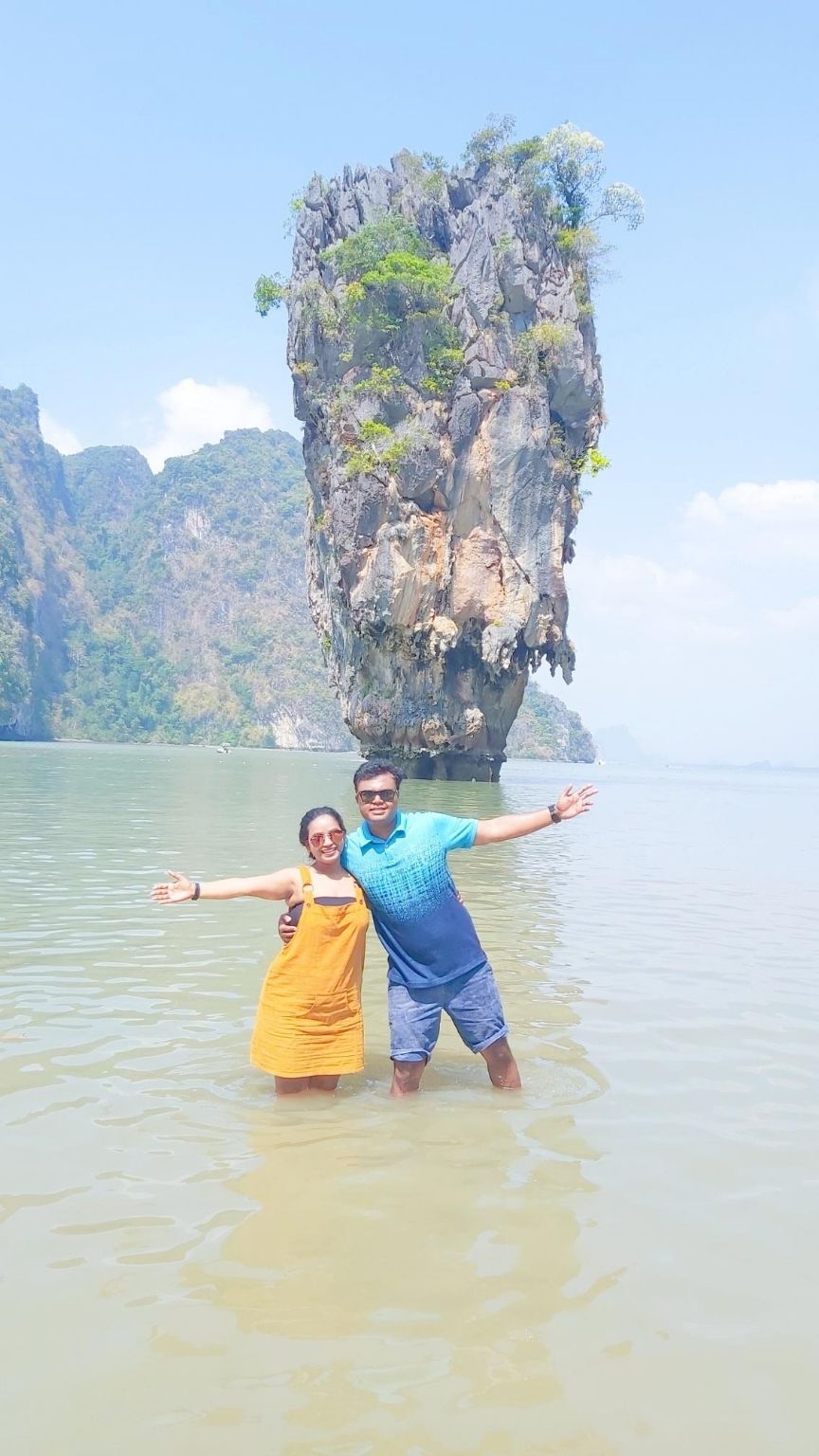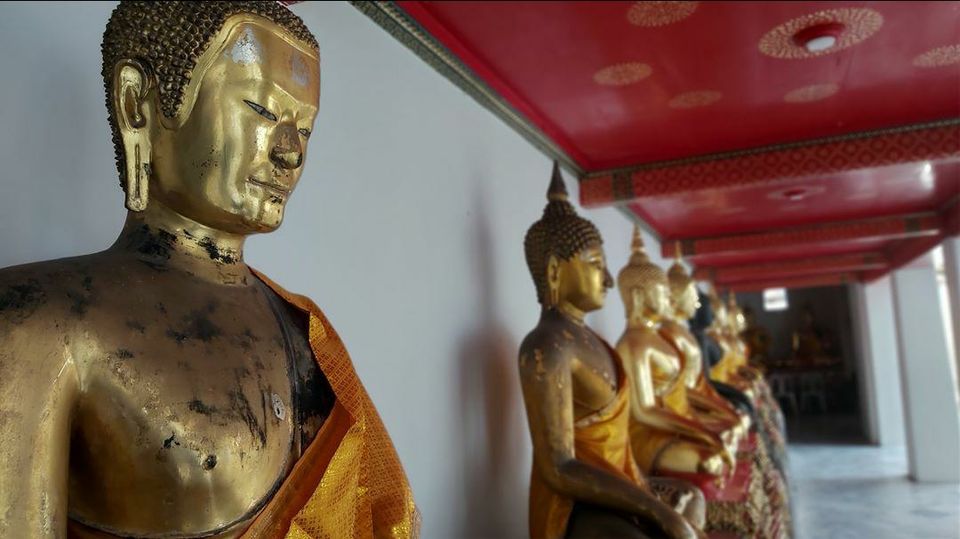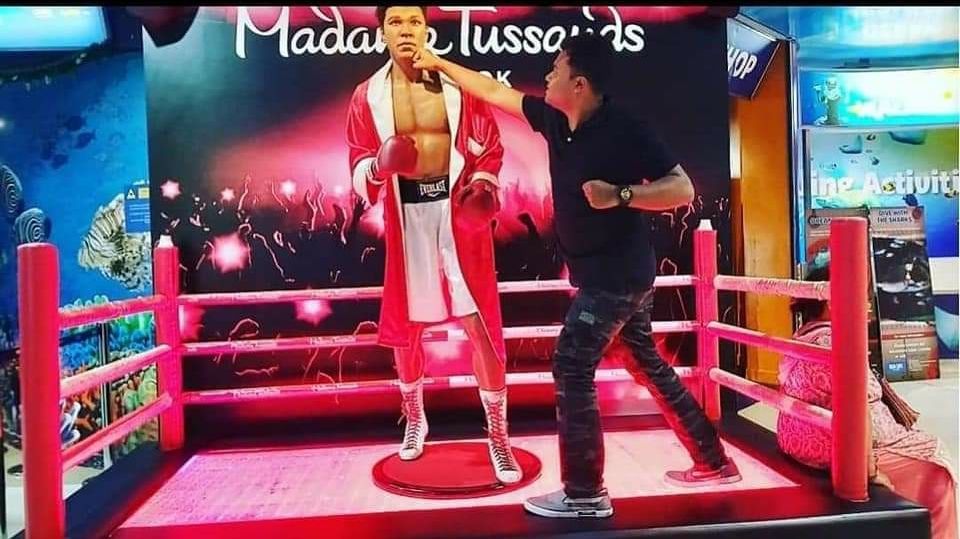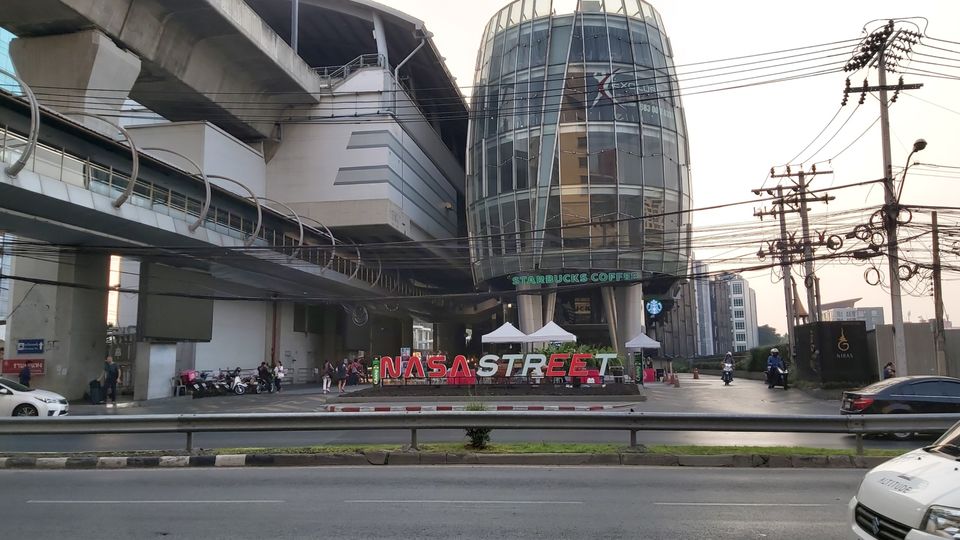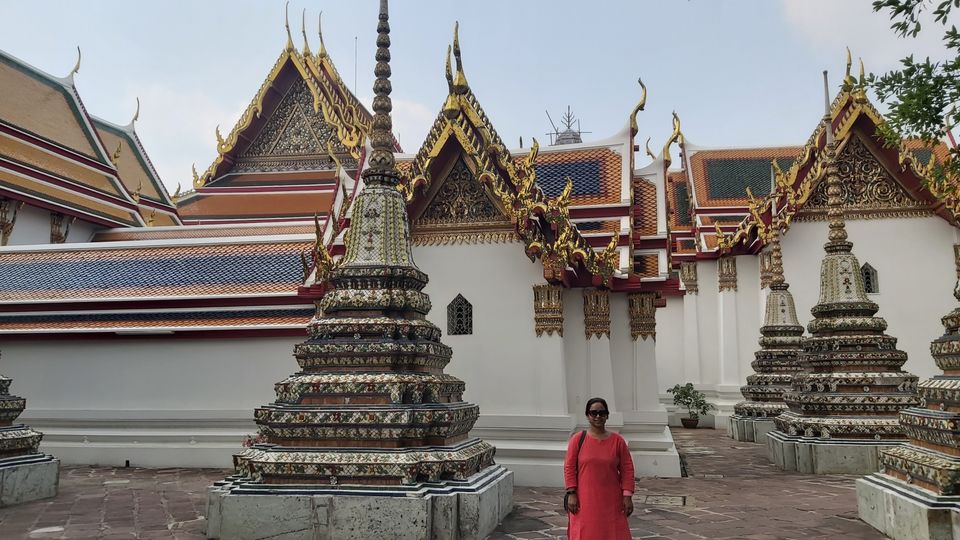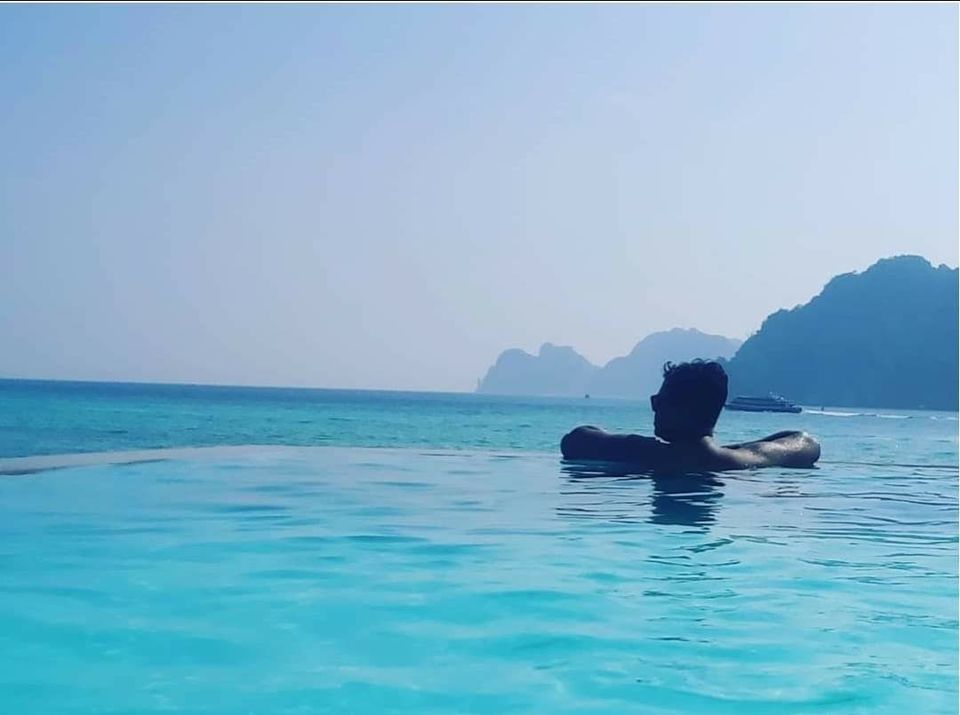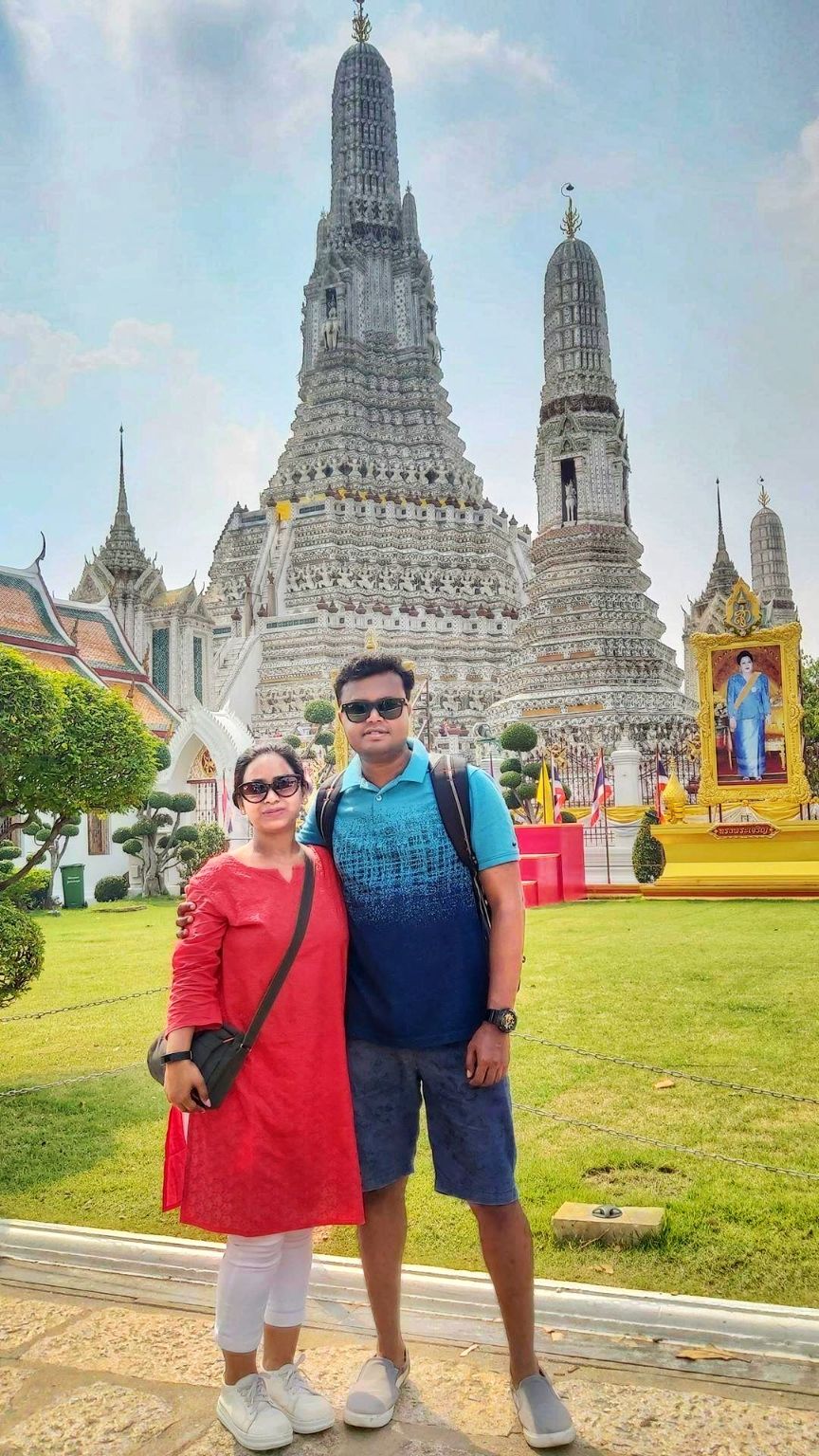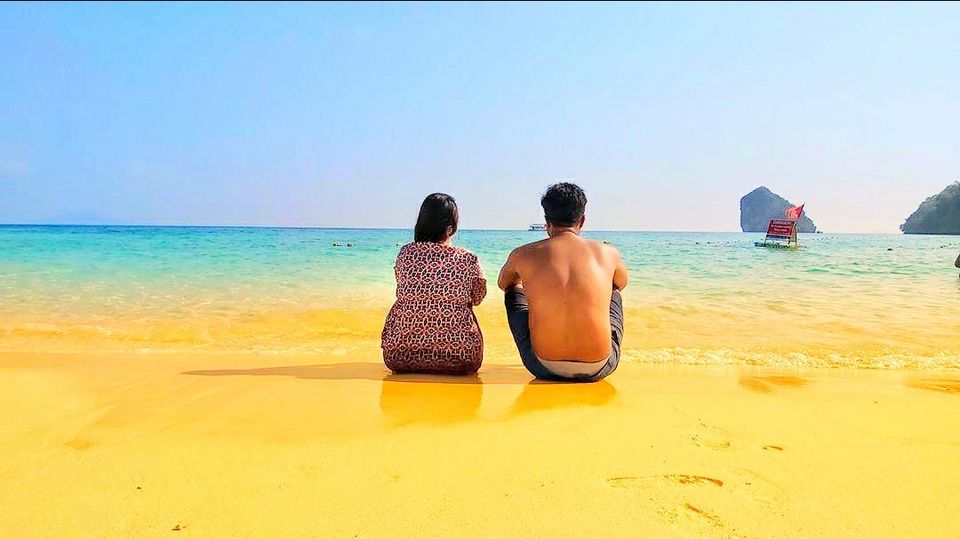 Now coming to my expsenses i spent about days days in Thailand in which i stayed 3 nights in krabi, 1 night in Phi phi island, 2 nights in Phuket and 2 nights in Bangkok. So here it is
All prices are approximately and converted into INR.
Flights Rs. 18100
Visa Free
Hotels Rs. 10300
Food Rs. 12000
Bike rent Rs. 2000 + 500 Petrol
Sightseeing Rs. 9600
Transfers Rs. 7100
Shopping Rs. 5000
Miscellaneous Rs. 2000
Total Rs. 64600 for 2 person
So you can see how i travelled 4 destinations in Thailand in less then Rs. 35000 per person with shopping. You can also plan your trip as per your budget and convinience. Different people have different circumtances. But this will give you a rough idea how an international destination can be travelled in less then the budget of a domestic travel destination.
Through this blog i like to thank entities who made my trip wonderful and helped me to plan. I also like to thank the people of Thailand for their hospitality. Thailand is an amazing host. You plan and see by yourself.
one more thing i would like to mention as per my opinion do not get indulge in any activities which hurts the animals or any other species in any way. They are also a part of our eco system. As a traveller it is our duty to conserve the animals and our nature. If you go for such activities that means you are funding the people who wants to make money out of it. So it is my humble request please please please avoid such activities and make this world a beautiful place.
Thank you for reading this blog If you liked reading this blog please like and comment. Which gives me motivation to write about my travels and trips.